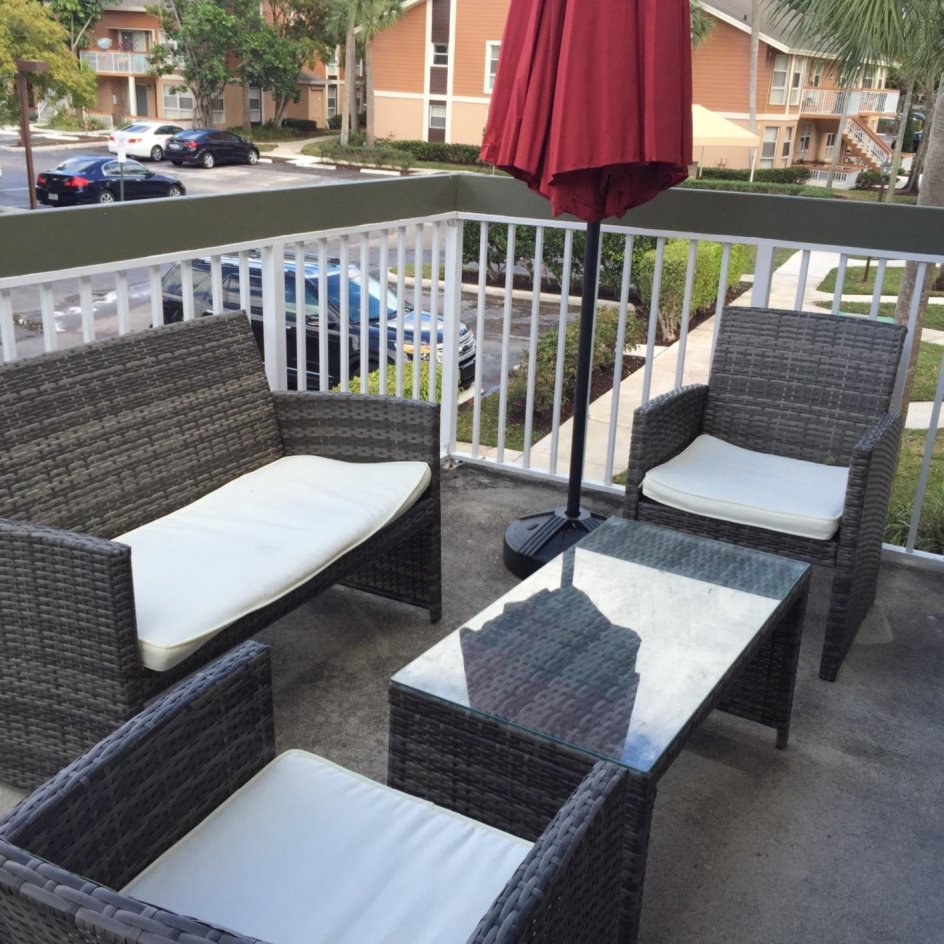 [Review] Four Piece Rattan Patio Furniture Set by Goplus
First Impression
The patio set came within a week after I placed the order, just in time for us to use it for my husband's birthday party last year. I commend the company for the prompt delivery. The set came in one box. I didn't expect that considering that there are four pieces to this set. Nevertheless, everything we needed was inside.
I suggest laying out the screws on the floor first and sort them out. You can take on the job of assembly faster this way. I had no trouble aligning the pieces with the pre-drilled holes. I've read a couple of reviews that said otherwise, but I think that's because they tightened the bolts too early. A tip I would give is to put all the bolts in and then tighten them only at the very end. Do take your time, so you don't need to redo any steps. I and my husband completed the setup in an hour. I believe one person can do the assembly, but an extra hand would speed up the process.
There is one loveseat, two individual seats, and one coffee table. The table comes with tempered glass. Since the set is cheap, I worried about the quality being cheap too. That's not the case though.
If you thought you can't afford outdoor furniture, think again. I was surprised with the price myself. We've checked out a couple of furniture stores and they sell sets like this at more than thrice the price. This set is well worth your every penny. Let me explain why.
Comfortable seats
The dimensions match with the actual size of the pieces. I found this the right size for our small patio. The whole patio set is compact and designed for small spaces. Nevertheless, the pieces are not too small. The seats are not as wide as the usual wicker seats I see in hotels and resorts. They are, however, roomy enough for regular adults. The depth is great too. They sit a bit close to the ground, but my husband who is 6'4 finds the height just right. I'm a little on the petite side, and I'm fine with the height as well.
The only bad thing about the set are the cushions. The cushions aren't the best there is. They are thin, but they're not uncomfortable by any means. Anyway, they are standard-sized. You can replace them with those from home improvement stores. They're a cream color, so as you can imagine, they dirty rather easily. I may have to replace the covers in case of discolorations. I would get black or gray covers in case that happens. Aside from that, I have zero complaints. Plus, I can't complain that much given how inexpensive I got this set for. I and my husband would always fight over who gets to sit on the loveseat. What we do is extend our legs over the cushion. It's a very relaxing way to end a busy and tiring workday. We also enjoy drinking our coffee every morning while sitting on the loveseat.
It is worth noting that the seats are comfortable even without cushions at the back. That's a big plus for the set. The back has a good lean to it, and that's just perfect for lounging. I imagine adding back cushions would make a lot of difference in terms of comfort. However, I'm already satisfied the way it is. I did add some red throw pillows to make the set pop from afar. The pillows also make up for the absence of back cushions.
We typically sit on the set for an hour. Perhaps if you sit for two hours straight, your back or buttocks would start to hurt. Who sits for that long anyway?
Spacious coffee table
One of my favorite things about the set is the coffee table. It has a large top, giving me enough room for food and drinks. We especially like having Chinese take-outs on Friday nights. We eat as we lounge on the set. I've been looking forward to Friday nights ever since. Our family likes playing board games as well, and the table comes in handy for that. The coffee table doesn't wobble too. It's completely safe to put drinks on top. In case of spills, it's a breeze to wipe clean.
Stylish and chic set
I got the set in black, and I love the color. It would easily go well with your existing decors and furniture. The contrast between the black wicker and off-white cushions looks beautiful. The entire set has an elegant look to it. It appears much more expensive than it really is. One time, a guest even thought that it's worth over 500 dollars. Many guests have been asking where I got the set from. In fact, I've received so many compliments for it.
Durable and weather-resistant
PE rattan is commonly used in outdoor furniture due to its sturdy and weather-resistant quality. The use of this material has made this patio furniture very durable.
I've had big people sit on the seats, and they've held up with no problem. The durability is put to the test whenever my in-laws come over. They are on the heavy side, but the wicker doesn't sag under their weight of people. Sagging in the middle of the seat is common for wicker furniture, but I have yet to see that. The wicker doesn't loosen or fray apart, so I'm pleased. I know that at some point, the weave would start to tear apart. I'm just hoping that it won't be anytime soon.
Though the steel frame is completely covered with wicker, I can say that the frame keeps the pieces more stable and durable. It also helps the pieces hold their original shape. The table has a bar near the bottom, which I believe keeps it stable.
The wicker is indeed weather-resistant. I have this on my patio where the elements can reach the wicker set. The sun reaches our patio every morning, and the set holds up well. I do get the cushions inside when it rains. They are not completely waterproof. Make sure that you bring them in since the inside is foam. It tends to absorb water. I'm not confident enough to leave the set under the snow. We kept the seats and table in our garage when it started to snow last year.
The pieces are light enough to be moved around, but they don't get blown around by the wind. It's kids-resistant too! You need not worry about your kids falling over the seats. The tempered glass on top of the table is thick and heavy. It stays put, so tiny hands won't be able to push it off.
It is always a smart decision to purchase a cover for outdoor furniture like this. You may look at it as an additional cost, but in the long run, you'll get to save by extending the lifespan of the set. There's no need for a cover if you have the set in a shaded area.
Fuss-free to maintain
This rattan patio set doesn't require a lot of effort to maintain and keep clean. There is no need to buy any special cleaning solution for the set. Just grab your garden hose and hose any surface dirt off. You can zip off the cushion covers when they need cleaning and toss them to the laundry machine.
My Two Cents
This will come in perfect if you have a small space on your patio, yard, or garden. It won't leave your space all cramped up because of its compact design. At the same time, it seats people comfortably. Everybody in the house loves it. It has served its purpose very well. I can't believe it took me so long before I got an outdoor furniture set for our patio.
Naturally, the set's lifespan will vary according to its exposure to elements. A set kept under a shade would most likely last longer than one that is constantly under the sun. Only time would tell how long ours would last.
It's a very stylish addition to our home. I got this mainly to fill up an empty area on our patio, and it fits perfectly. Guests would not leave the house without complimenting it.
This outdoor wicker patio set is a steal. At less than 200 bucks, it's hard to find a better deal. Considering the price, the set's durability is outstanding. That's all thanks to the tough wicker and sturdy steel frame. Wicker furniture are usually expensive, so I'm glad I came across this one. I will happily recommend this one to others. If you're looking for a patio furniture set and you don't want to break the bank, here's your match.
---
Brand Reviewed: Goplus
Product Reviewed: Four Piece Rattan Patio Furniture Set
---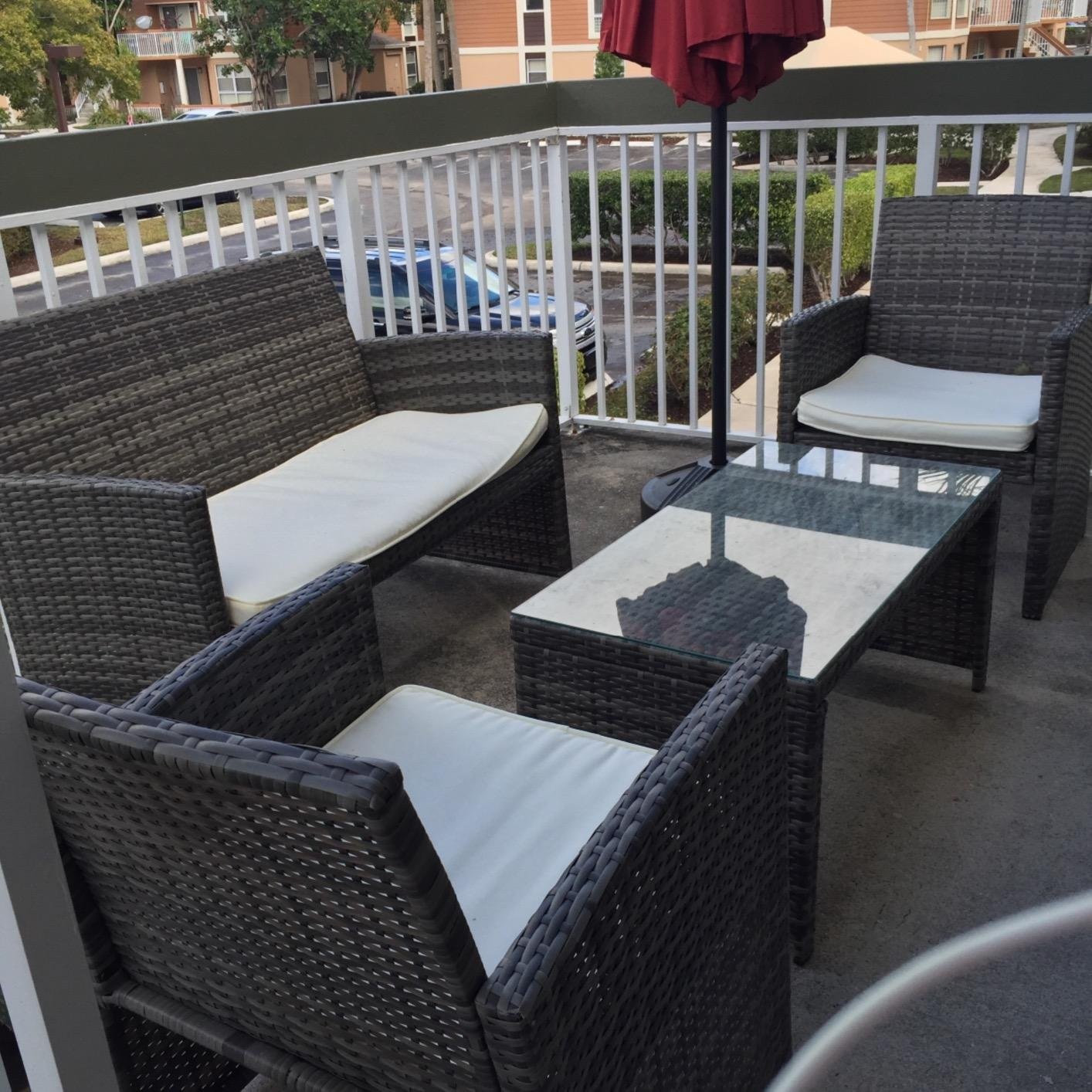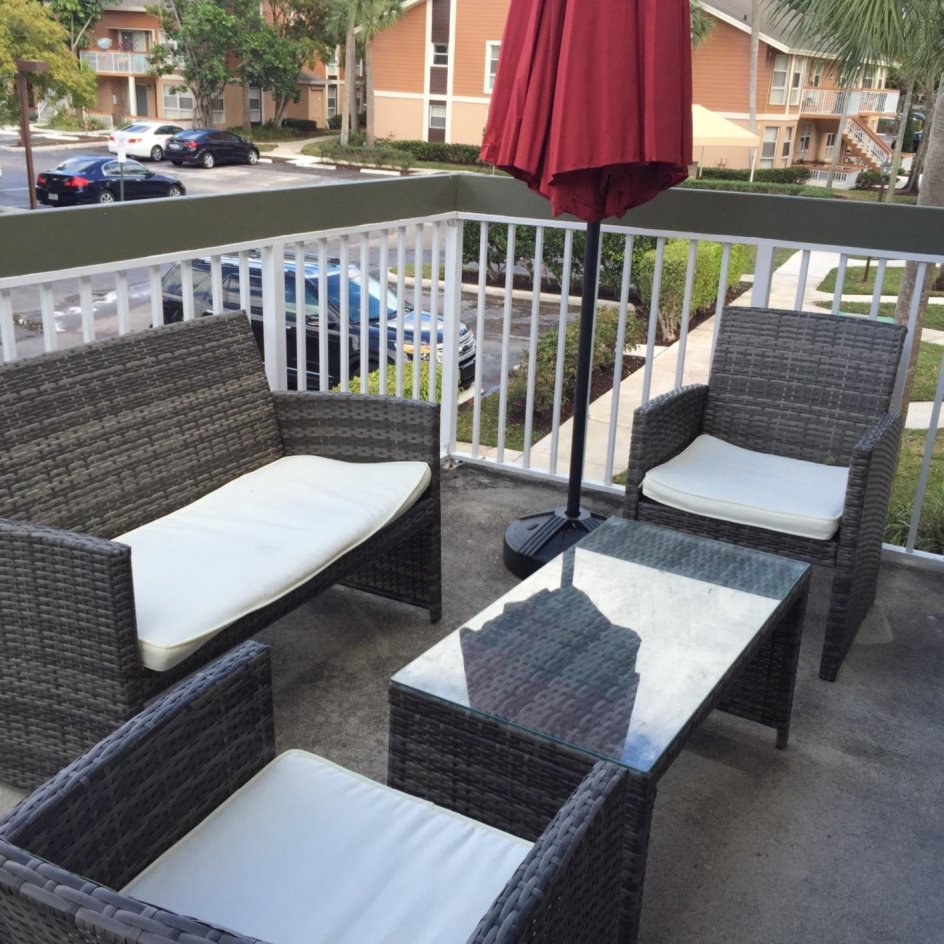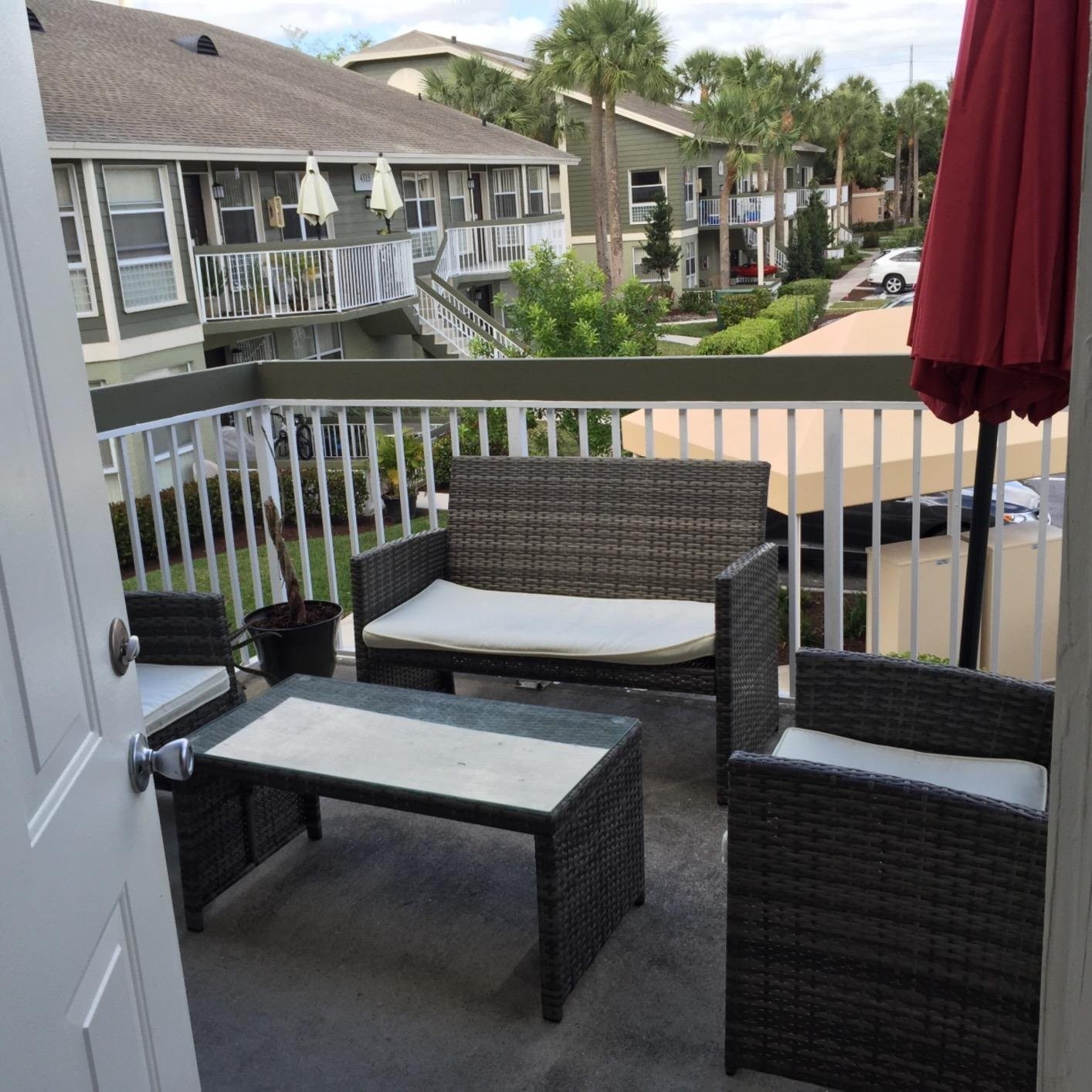 ---
Purchase the product on Amazon Marketplace