[Review] VASAGLE Industrial Nesting Coffee Table
Product Highlights
This set of 3 coffee tables with stylish triangular top and legs suits any space and decor
Nesting tables can be slid under each other for compact storage
Metal legs ensure balance and durability
Assembly
Holes are pre-drilled under the tabletop. There are metal inserts where you simply screw on the legs. This gives the table a seamless look. It looks as if it doesn't come with any screws. The screws are completely hidden from view. You can only see them from underneath the tables. The screws come in a bag. This keeps everything organized. The assembly is pretty straightforward. It would be almost impossible to mess it up.
Design
The tables have identical shapes and style but they come with different size and height. You can use the triangle tops to create an interesting layout for your tables. As it comes with various heights, you can slide the tables under each other and end up with an entirely different look. The possibilities are almost endless.
Nesting tables are suitable for spaces with the extra square footage to spare for additional tables. At the same time, it's good for small apartments. You can slide the tables under each other and make it compact to make more room. The construction is impeccable. The height of the tables are just perfect so they fit right under each other.
Nesting tables are a good buy for people who like to change up their interiors every month or so. I know people who like to rearrange their furniture just because they get bored with how the room is set up. I am guilty of that too. Nesting tables allow you to indulge on that compulsion. Nesting tables create a layered look that you can customize to your liking. Thanks to thr triangular top, there are a lot of looks you can create with the table. You can have the 3 tables next to each other or have them in separate areas. They make beautiful end and side tables. The shortest one make a fantastic ottoman.
This nesting table instantly gives you 3 tables that you can use anywhere. By purchasing a single set, you get to have a nightstand, end table, and coffee table without looking far and wide. On the plus side, they all come with the same design so matching them is not an issue at all.
Durability
The metal legs keep the tables from wobbling. While they don't have a conventional design, they are sturdy. The legs do not seem like they can keep their balance but in reality, the legs offer sufficient support. You have to make sure that your tables sit on a flat floor. Otherwise, you will surely have stability issues and notice some wobbling. Note that the legs do not have adjustable screws underneath that would allow you to adjust the height.
The tables' dimensions are exactly as described online. Not surprisingly, the tabletops are small and can only fit a few things. These coffee tables are not meant to hold all your books and magazines. The table does not come with an additional shelf underneath so the only space you have is on the tabletop. Anyway, you can set some food and drinks when you're entertaining. However, if you are looking for a spacious table so you can have everything at reach then you should find yourself a regular coffee table.
The finish is really great including the edges. Walking right into the tables won't hurt as the edges are not sharp. Thr side tables do not have any rough sides. The top does have a texture to it, so this will show up when you write on paper directly on top of the table.
In My Opinion
Nesting tables make a great buy for people who value versatility. They offer owners the freedom to style their space without breaking the bank. It is usually less expensive to buy a set of nesting tables rather than 3 individual tables. This set provides you with functional pieces that can fill up an empty spot at home.
This nesting table is one of the cheaper options I've found with great design and promising durability. You won't get disappointed for sure.
Other Popular Reviews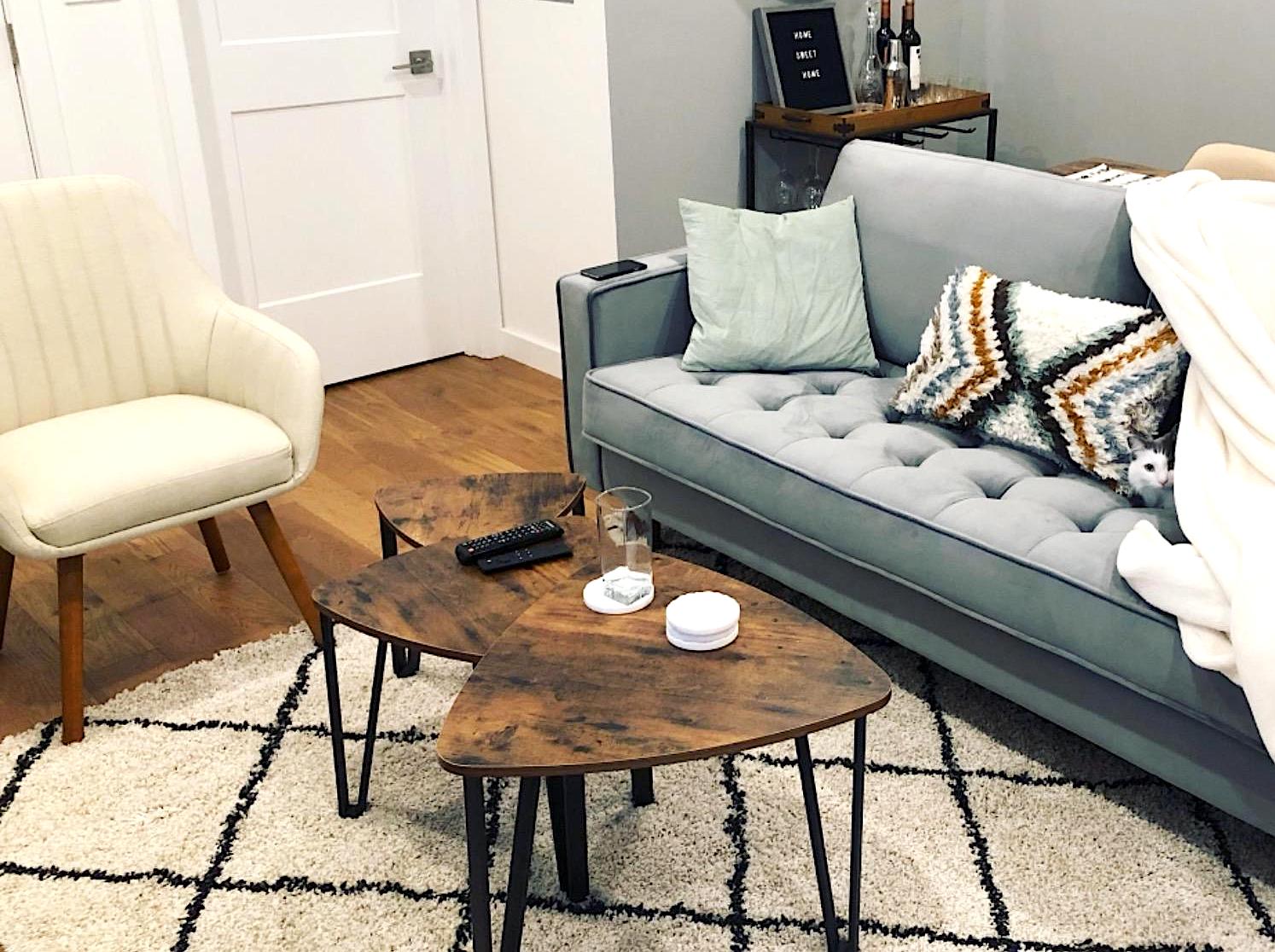 "Easy assembly & the wood style looks real. Matches my mid century modern apartment very much! I needed something small & somewhy compactable because I have a small apartment and this hits the nail on the head." – Sara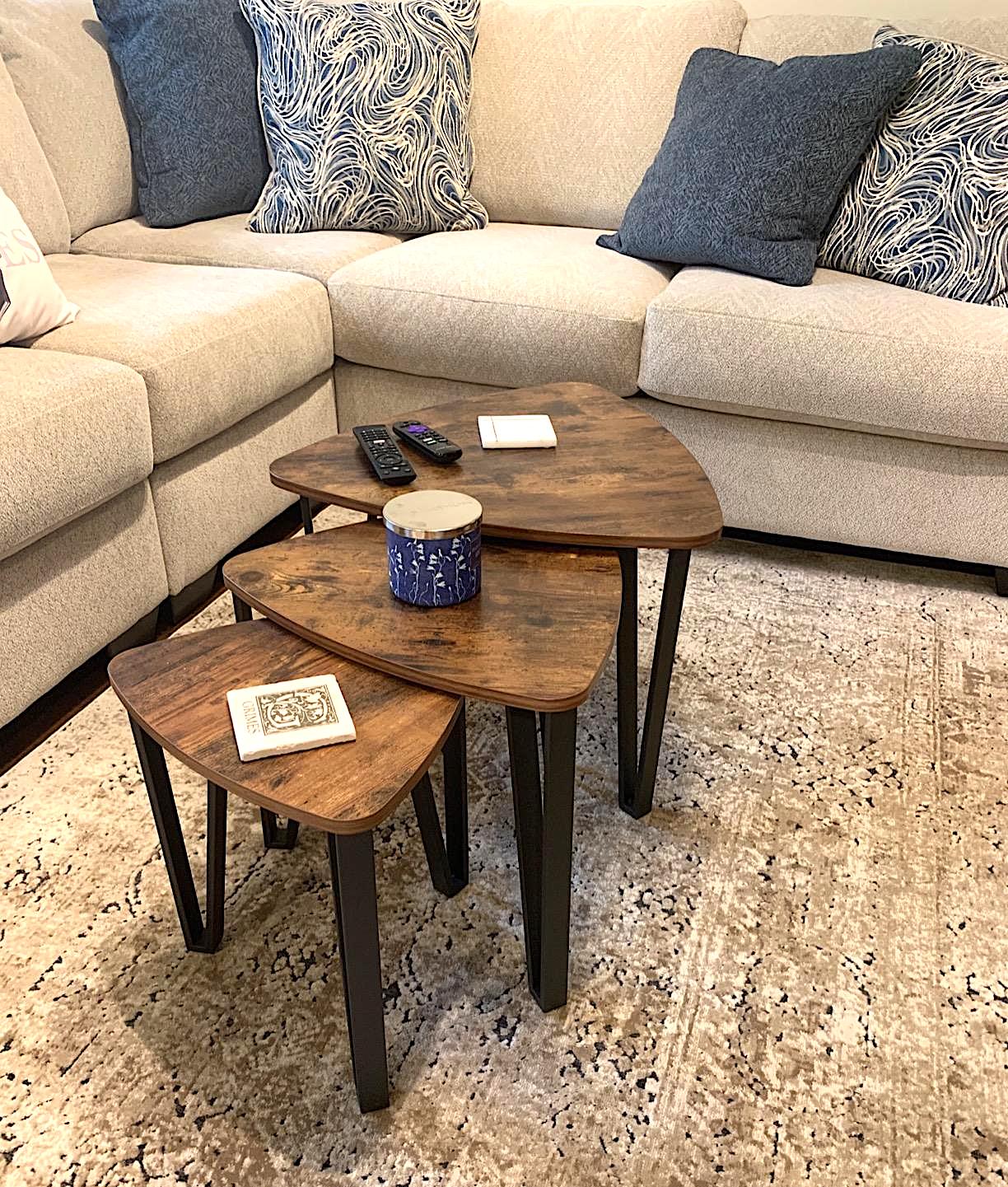 "So easy to assemble and sturdy! I love these tables. As In the pictures I posted you can arrange them any way you would like and I love that you can move them apart if you need them in different areas of the room during a gathering." – Shire1022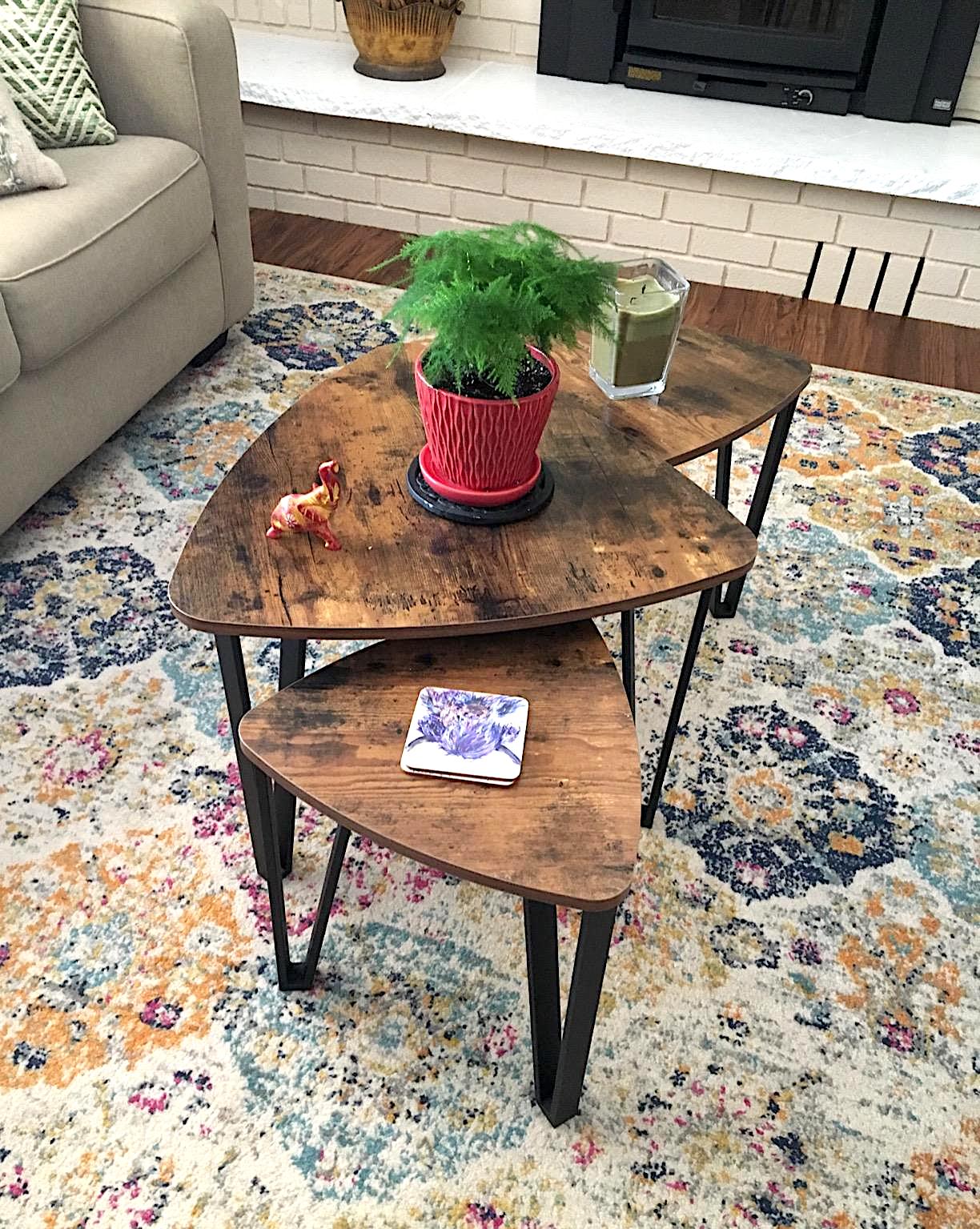 "Perfect tables for our awkward shaped living room. Unlike other stacking tables I've had in past, these seem pretty sturdy. I wouldn't sit or put a really heavy plant on them, but think they will hold up well. Assembly couldn't have been easier." – Oztrucks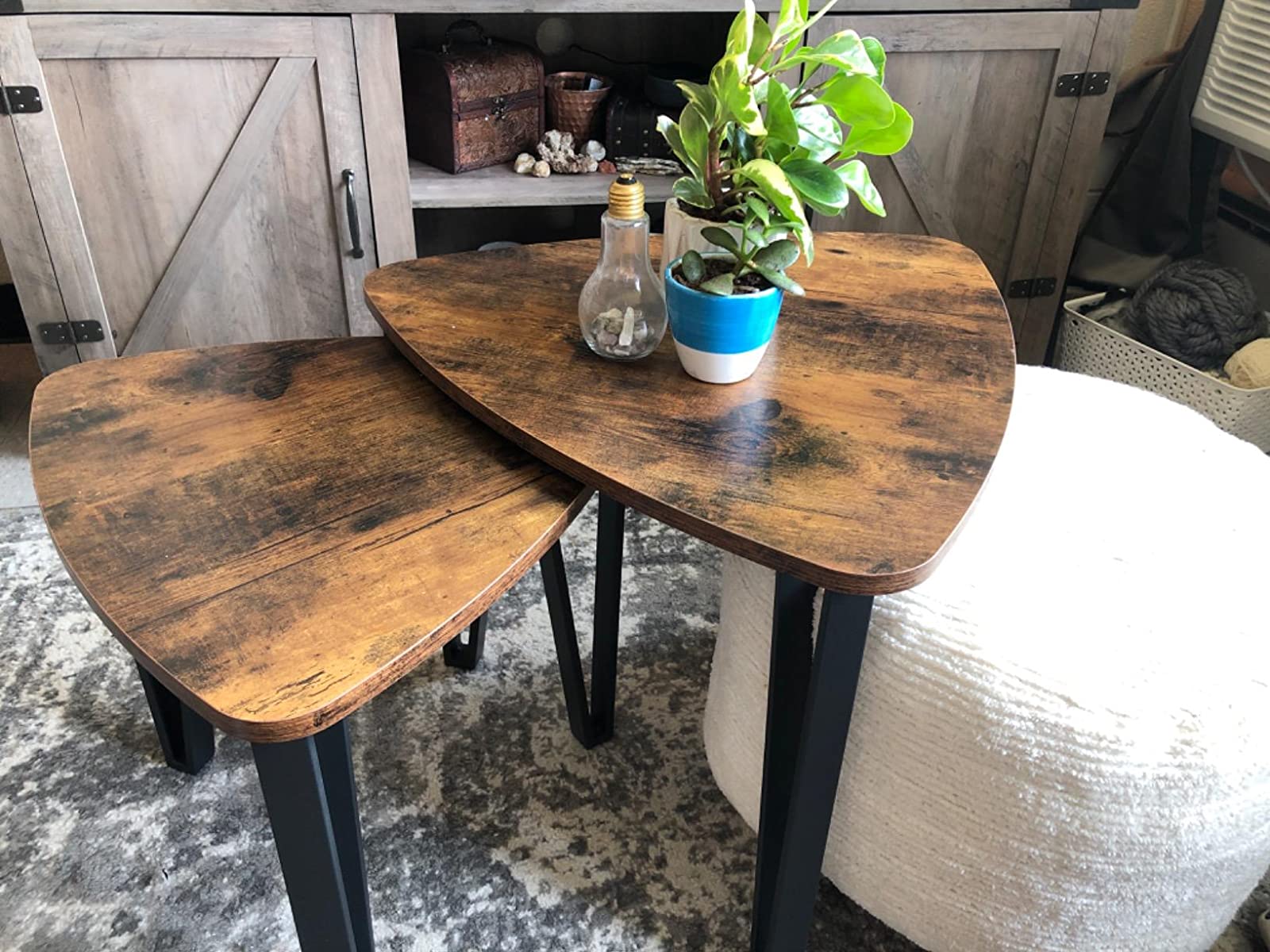 "Worked perfect to set my poof under. I live in a very small apartment and these are perfect to fit in my tiny living room." – Kassi
---
Purchase the product on Amazon Marketplace (USA and CANADA) with free shipping
---