5 Best Affordable Futon Sofa Beds, According to Thousands of Amazon Reviews
---
When looking for a futon, it is important to look for comfort, flexibility, and affordability. Additionally, choosing a futon that matches the room's style is important. Below are the top 5 affordable couches as listed on Amazon, judged by not only their price but their style, structure, and ability to bring together a room in both small and large spaces.
This bed has over 3,000 reviews on Amazon, and it is ranked as #2 in their overall sofa selection. Equipped with both armrests and cupholders, it is a perfect small space solution for those trying to outfit a studio apartment or dorm room. Best Choice Products Linen Upholstered Modern Convertible Futon Sofa boasts enough room for two people with its 300 pound weight limit and three lounging positions, and its tufted linen and chrome legs make it a fashionable piece for any living space.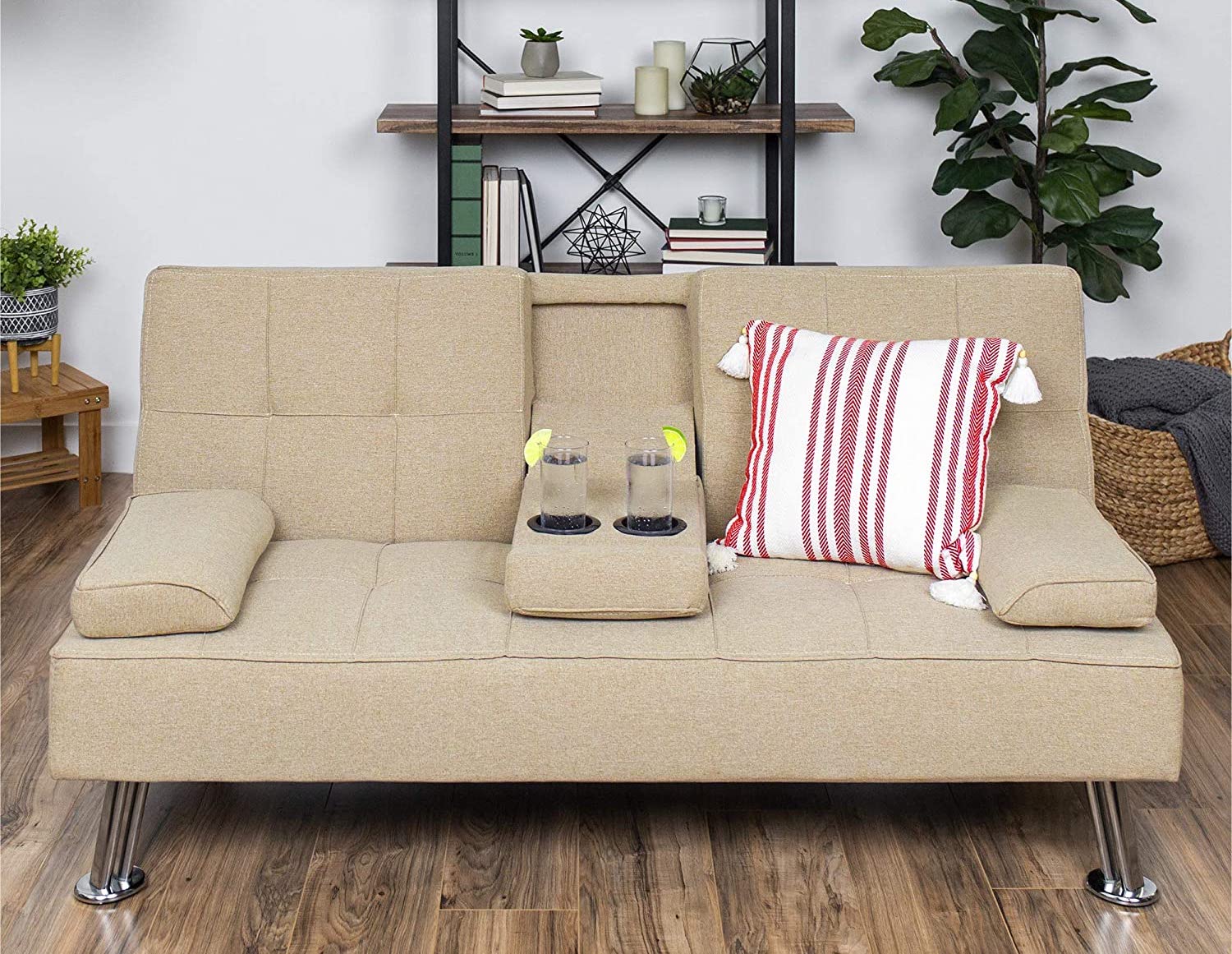 Below are top reviews we found quite informative & promising:
"Perfect fit for our daughter's room. Now her friends have a place to sleep when spending the night. I was bummed, that it took longer to receive than what was originally scheduled, however, with all the craziness going on right now, that was out of the sellers control. The couch is firm, but I like that it is and it will hold its shape." – Rachael
"Despite what some reviews say, it is actually really comfortable. It isn't super soft, but I like a sturdy couch to sit on while I watch tv. It is adequate for guests, I am a 20-something who doesn't have people over for an extended stay. I would say as a bed, it's comfortable for a single person for 3-4 nights. The space we put it in is about 8' so it's perfect for small side tables as well." – Anonymous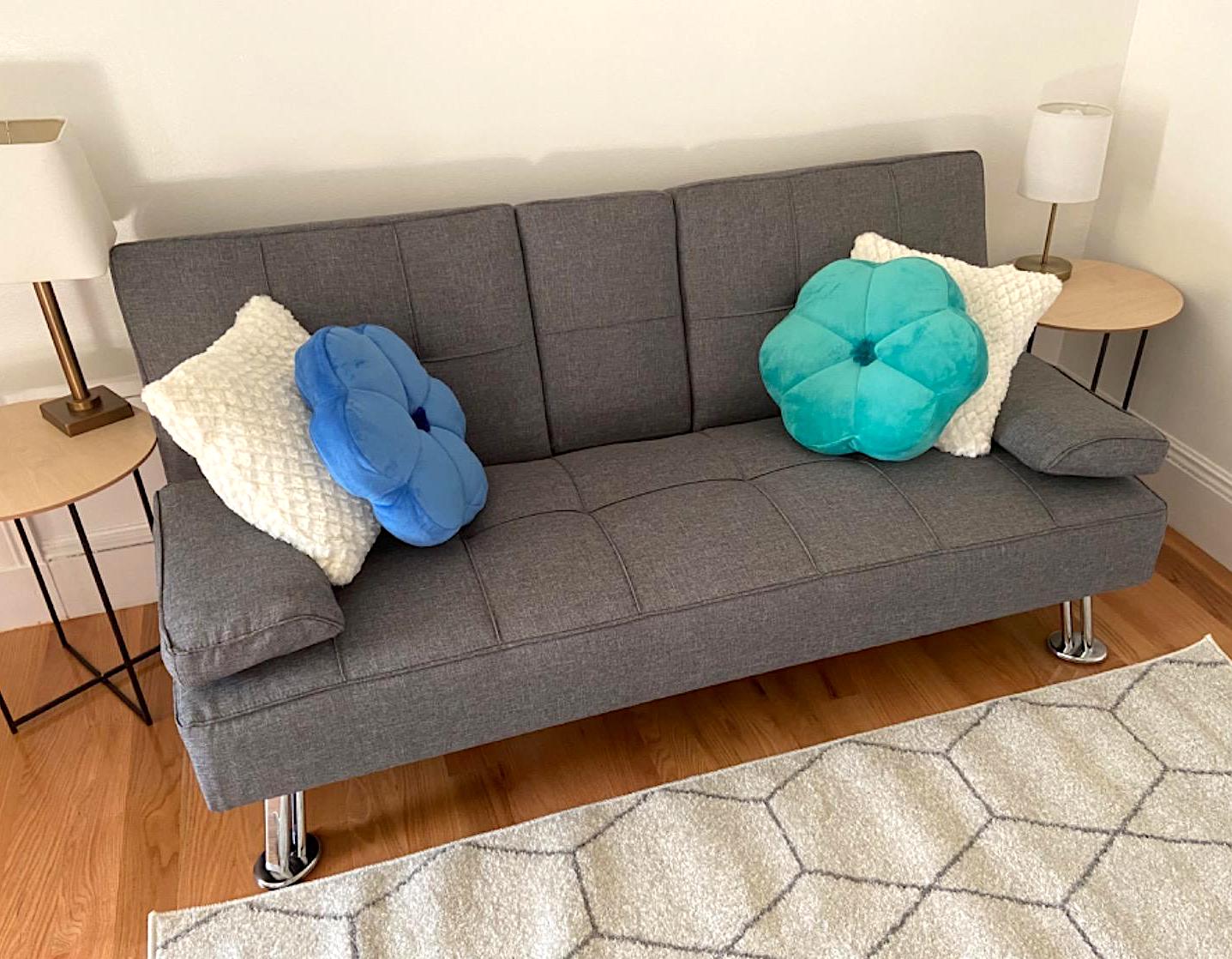 "This little sofa bed meets, and exceeds, all of our expectations. This was purchased to fit under a twin loft bed so my teenager can lounge around and watch tv comfortably. We haven't tried to sleep on it, but sitting on it isn't bad at all. It looks great, it feels good enough for daily, but not excessive, use. Two people can sit perfectly fine on it. A third would be okay… but I like my space LOL" – Yeraldina
"We got this for my daughters room for when girls spend the night and it's been great so far. It reclines to a third position too which is cool. It's not as hard as I thought it would be and works for what we need it for!" – Anonymous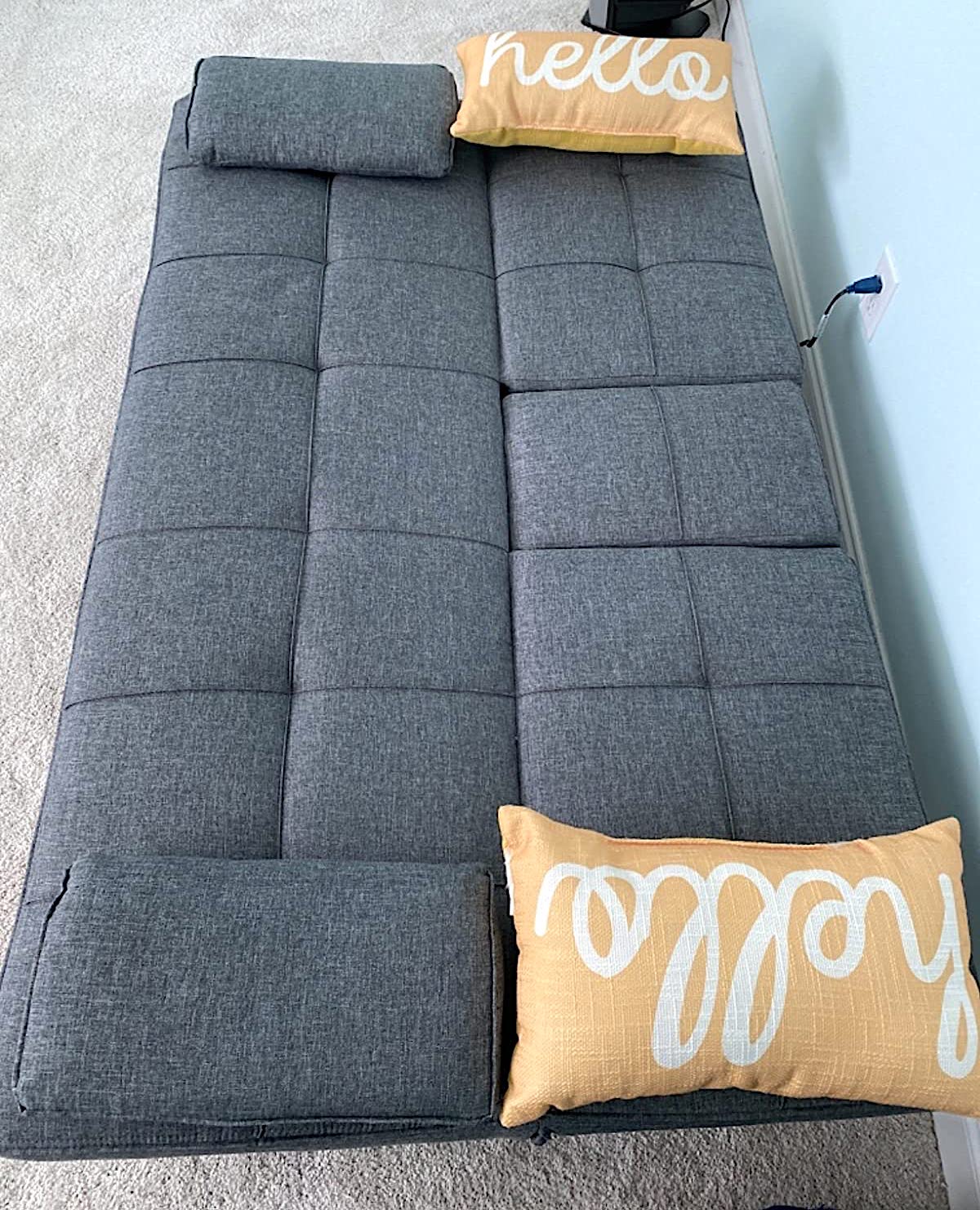 "Easy to assemble- Yes! Firm – Yes! Very low to the floor. Easy to adjust flat. Removable Velcro side pillows. No center support underneath, so "plopping" down on it would be a mistake. Great for my 12 year olds' new tweenage room" – Sal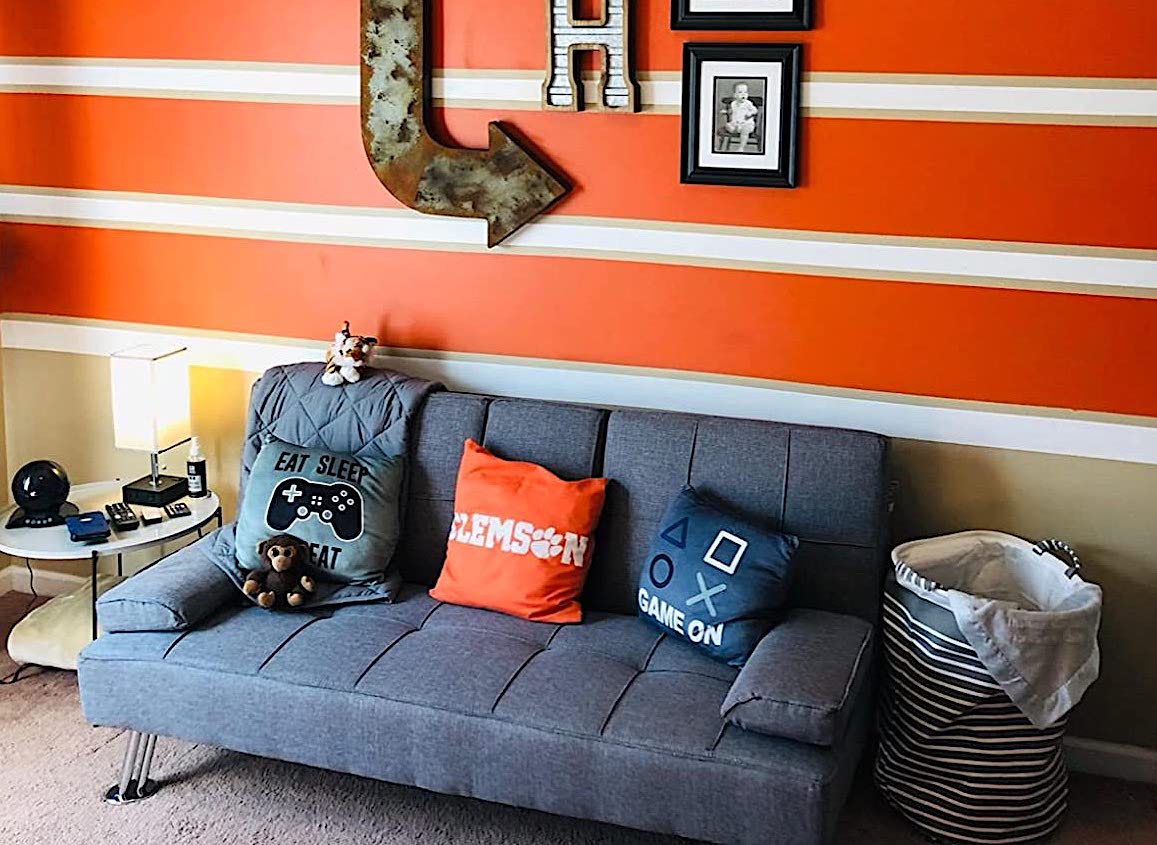 "I bought this for me son room he's 8 and has sleep overs but his room is small. This futon is good for sleeping, I've slept comfortably in it and I weigh 200 lbs. The cup holders is really good when they are playing the game and want to have snacks in their room." – Erin P
"This little futon is perfect for our daughter's room "re-do". She loves the cup holder and it's a breeze to flip down for sleepovers. We are so glad we found this adorable addition to her room!" – angieleighb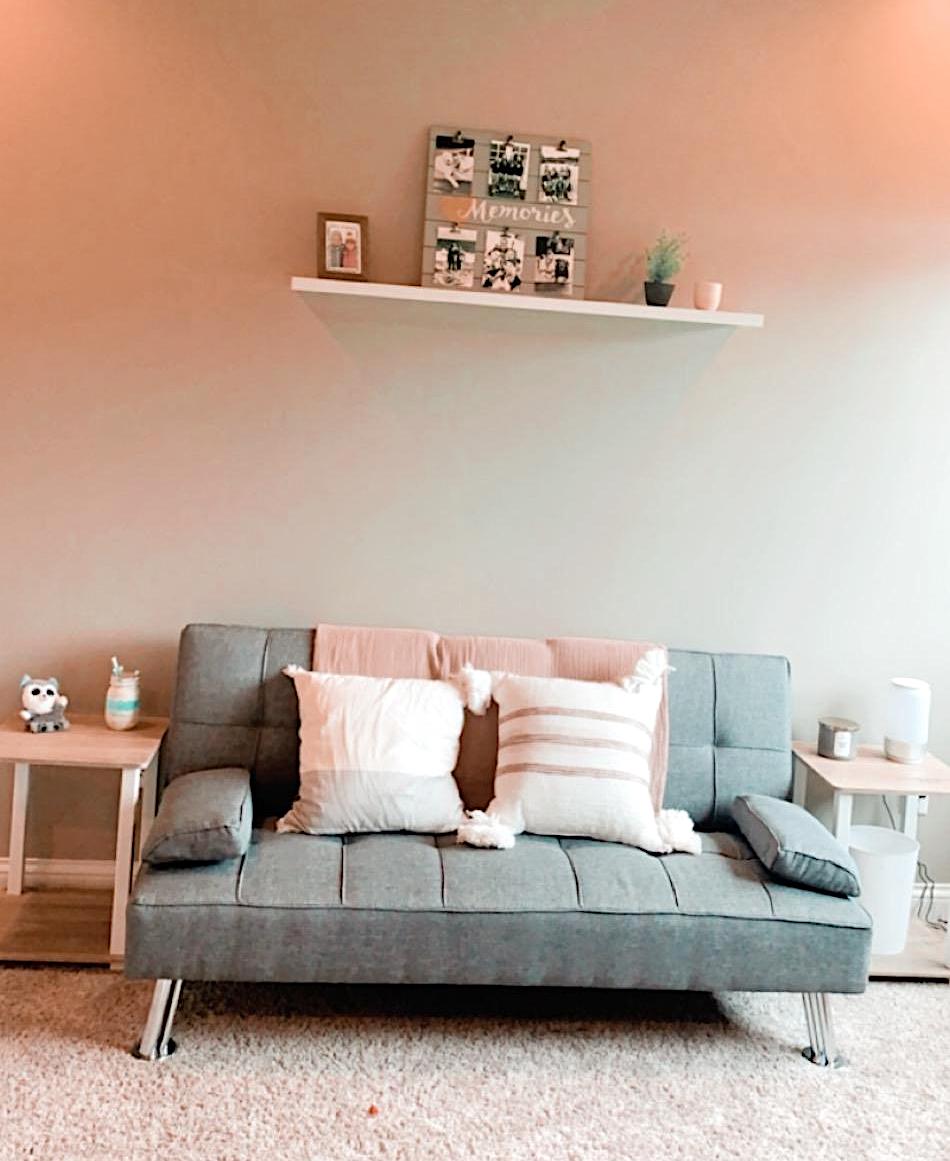 Serta is a household name when it comes to mattresses, and this convertible sofa bed is proof of that. The brand's guaranteed quality shows through in this minimalistic piece that fits with any apartment design. The Serta Rane Collection Sofa Bed comes in a multitude of colors, is easy to assemble, and is designed with safety in mind with its Finger Guard guarantee. It offers a lounger function in which the back folds halfway down to provide comfortable seating for up to 3 people, and it is assembled with ease thanks to Lifestyle Solutions patented Click Clack Technology.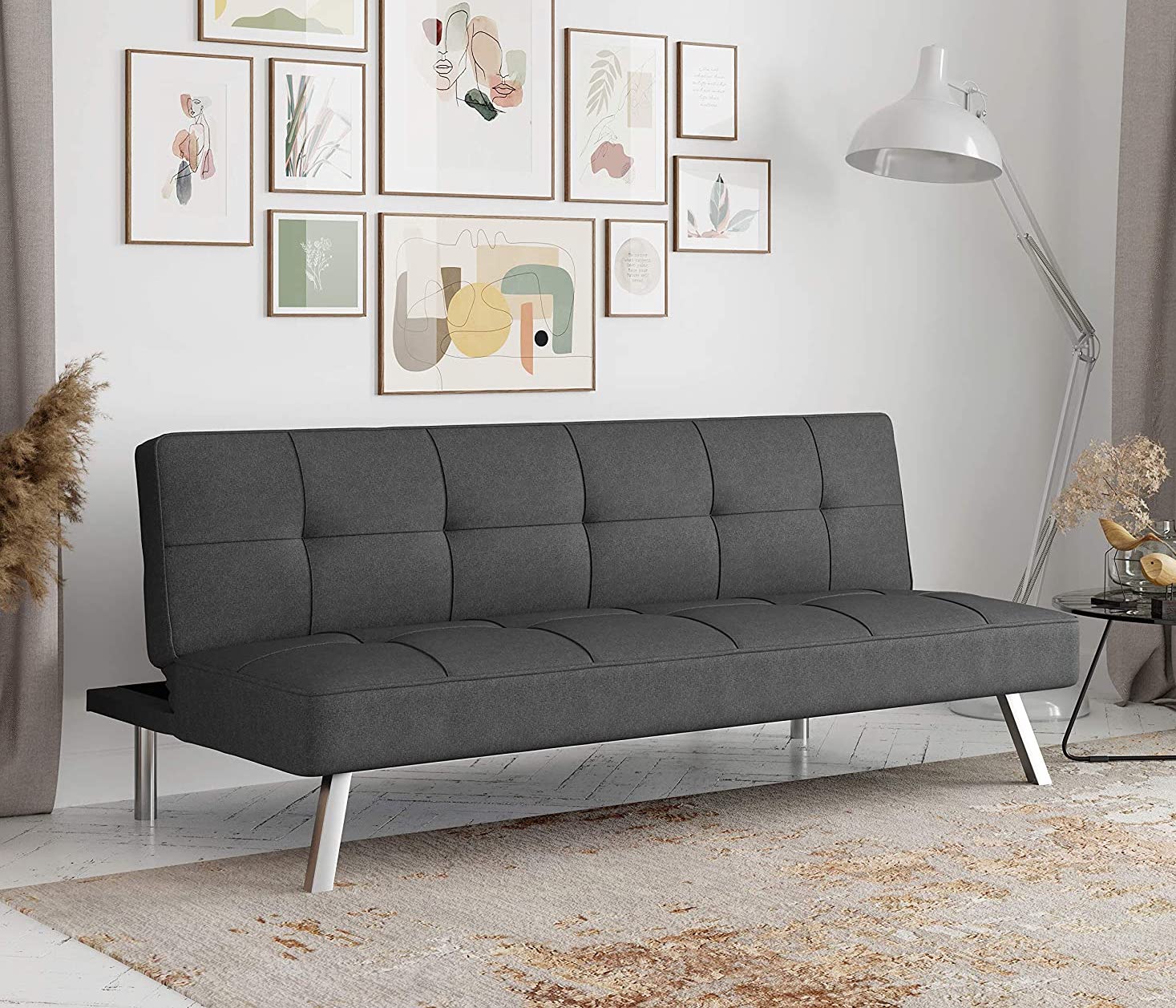 Below are top reviews we found quite informative & promising:
"Got here super quick, opened it and it took me 5 mins to assemble. It's a bit smaller than I had pictured in my head, but that's on me because the measurements are stated clearly. For my needs it's perfect as a temporary solution until we purchase an L shaped sofa here with the roomies. We are all very average size and weight people so we should be okay chilling on it. It's sturdy, easily turns into a futon if you felt like napping. I don't expect it to last a long time considering what I paid for it. It's cute looking and more comfy than the IKEA futons I have sat/slept on at friend's homes." – Vic Vega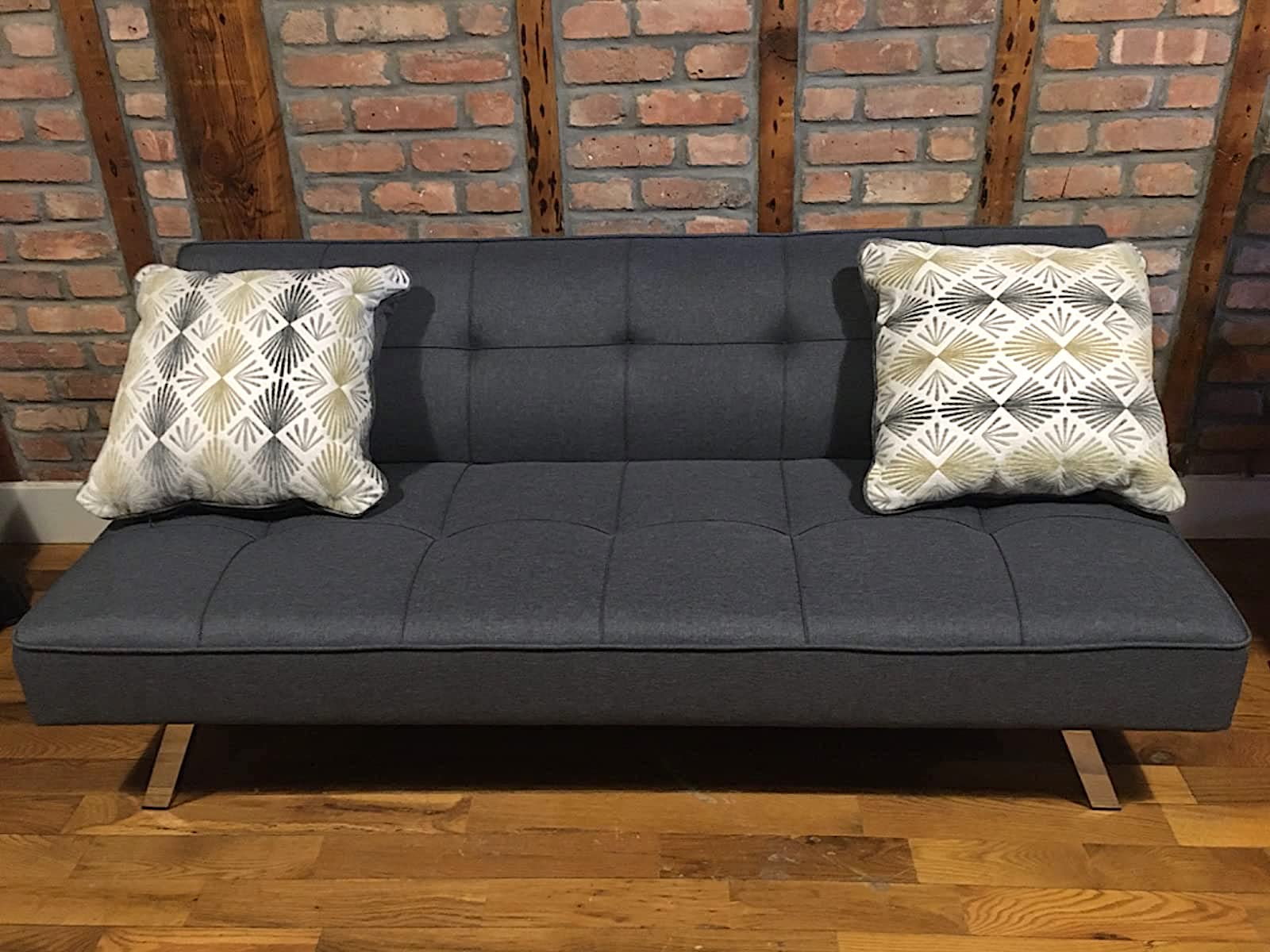 "I wanted a futon to use in my home office for guests to sleep on. I like the color, size, and quality. Perfect for this small space. Exceeded my expectations. Excellent value for the cost, looks and feels like it cost a lot more than it did! I would buy it again." – Stacey Thompson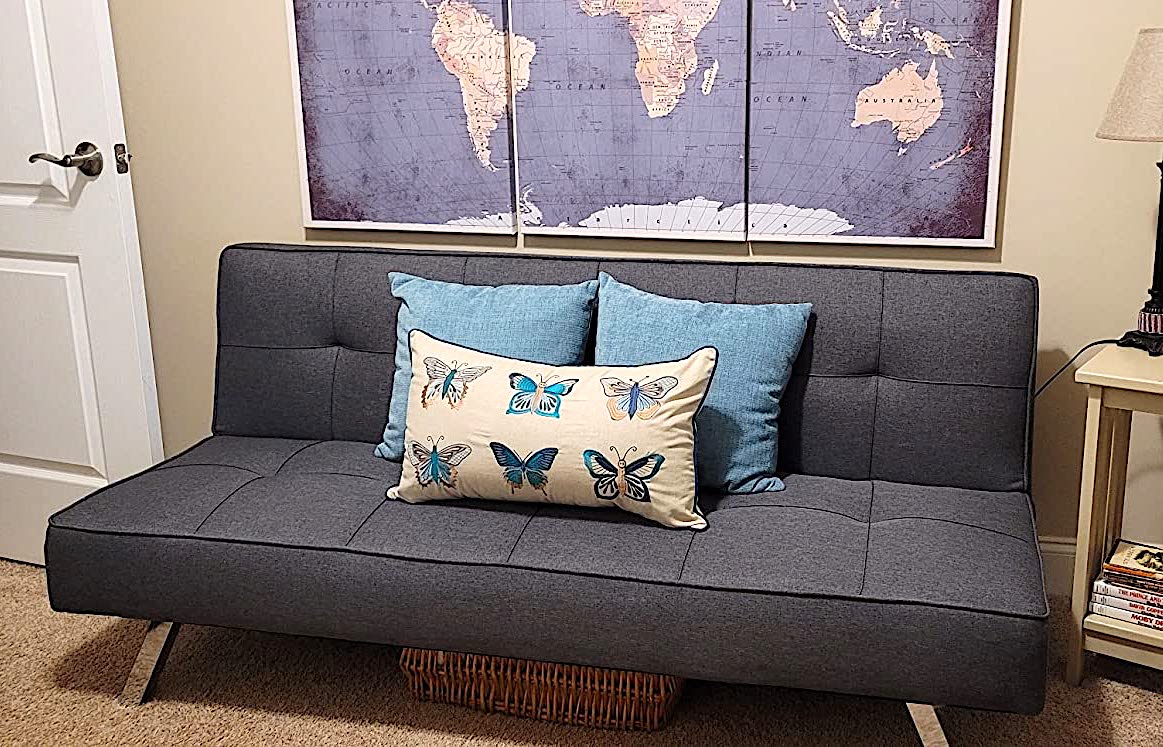 "Small couch, used for our bedroom… perfect for the space we needed it for! Great quality for price!" – Kara Carpenter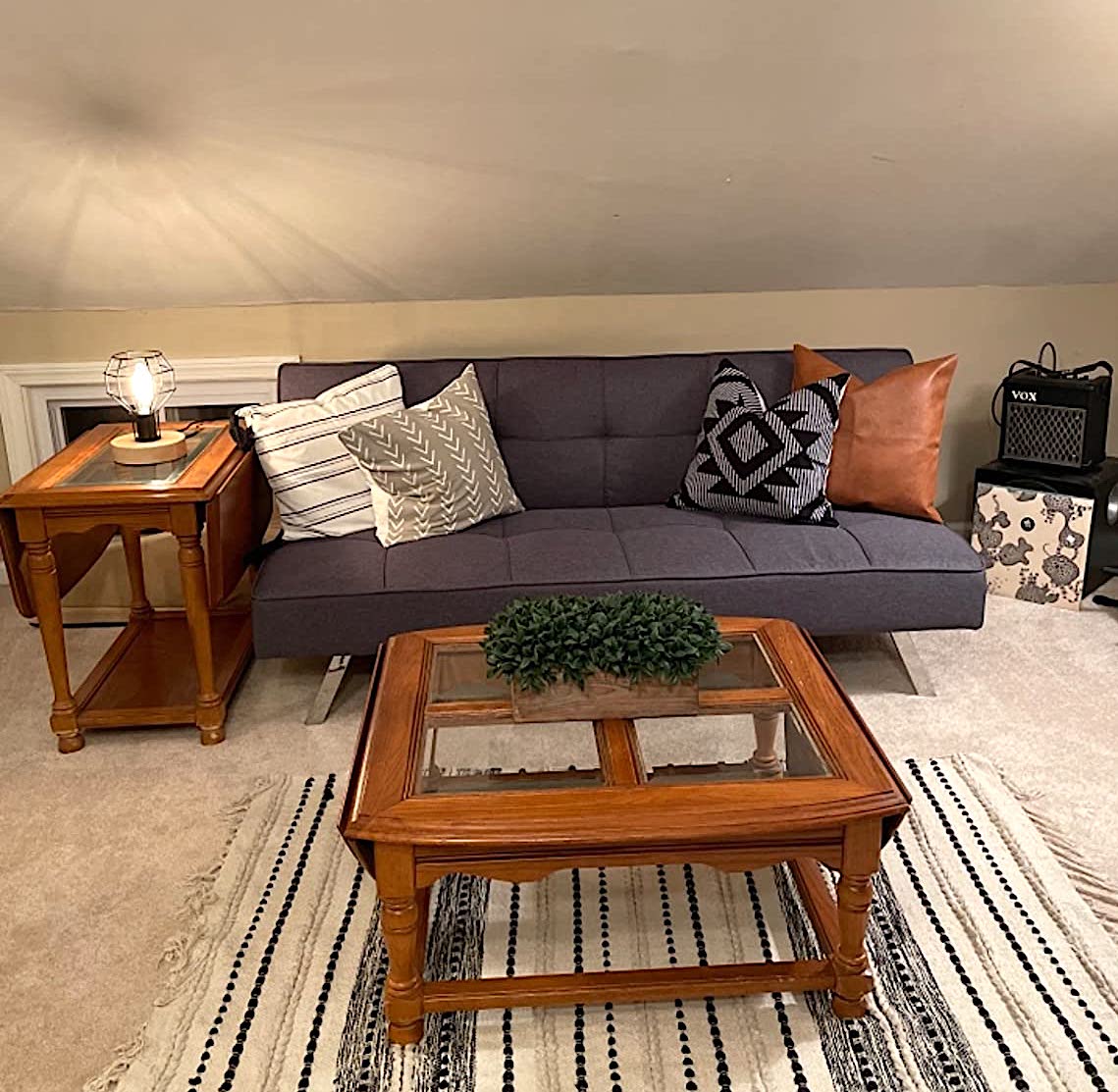 "The couch is absolutely amazing. Very easy to clean and comfortable. Looks great ? and the price is worth it." – Wanda Skaggs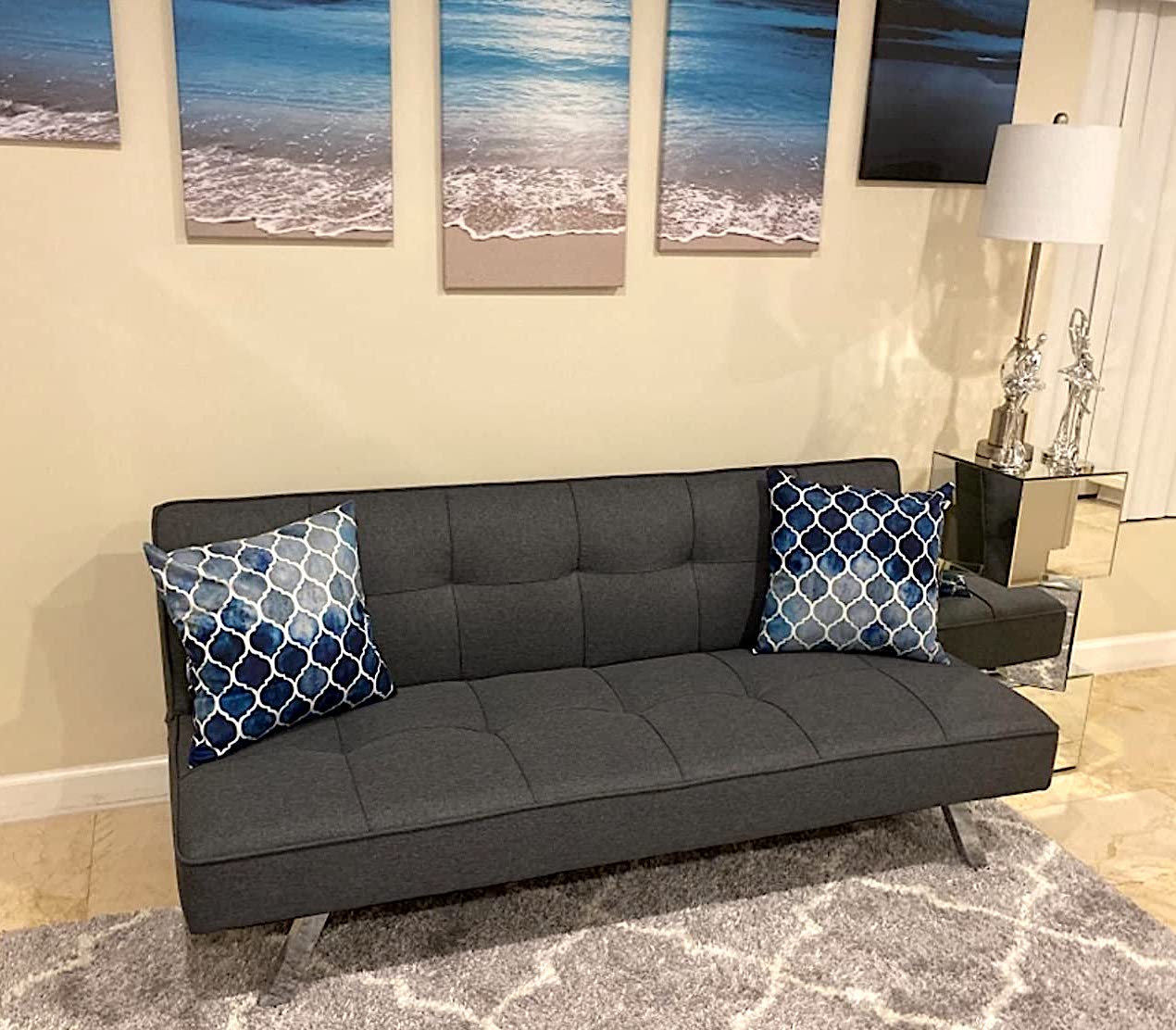 "It was very easy to assemble and perfect for my son's room. It is easy to convert to a bed but the bed is a little small (but perfect for my son's friends when they spend the night). So for the price it was perfect." – Victoria Powell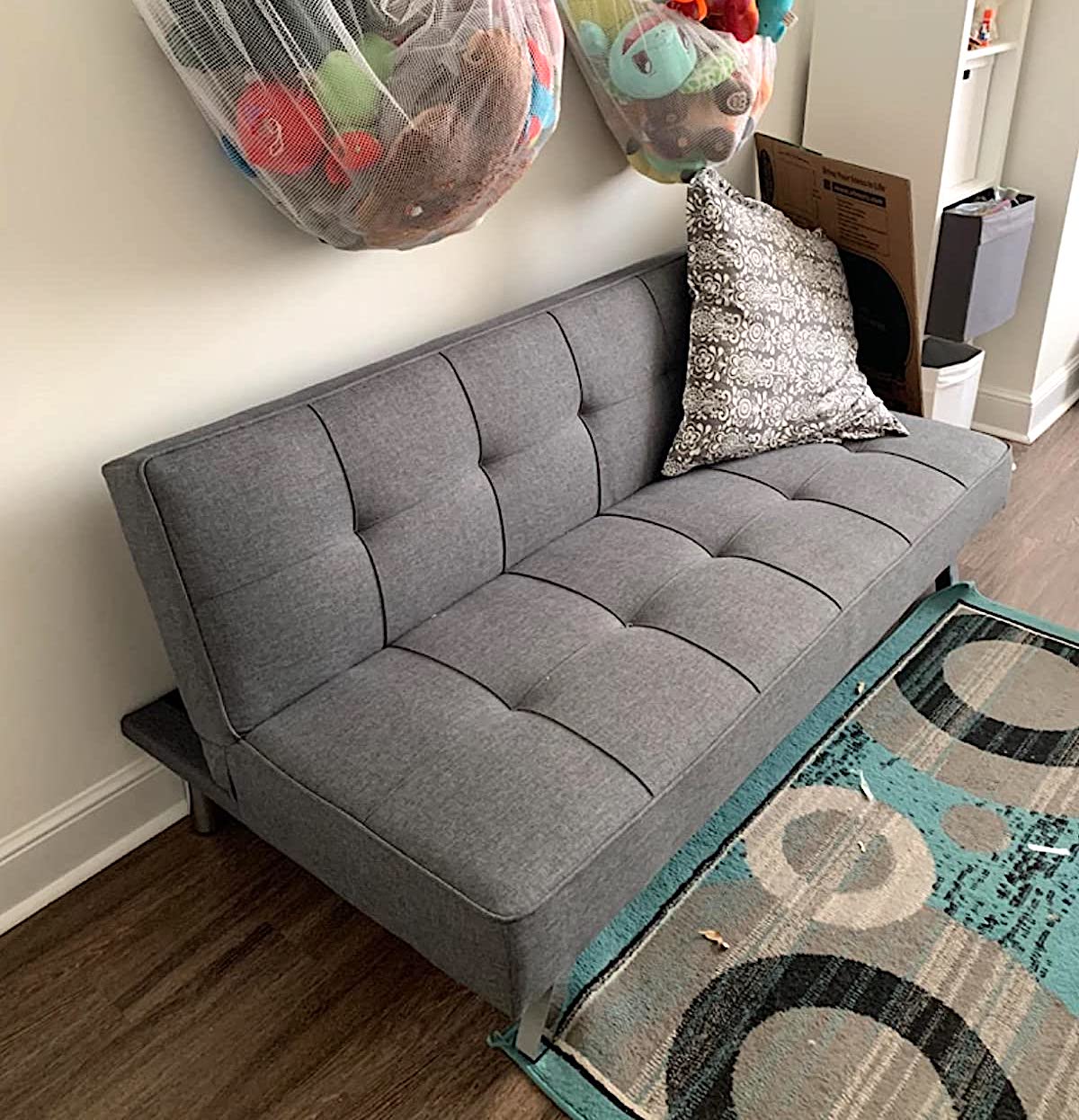 "I've read a few negative comments however we were nicely surprised. For the pricing, I think this was a great deal. Shipping was slow but it's Christmas and COVID so completely understandable. Extremely easy to assemble. Overall a nice futon!" – Rebecca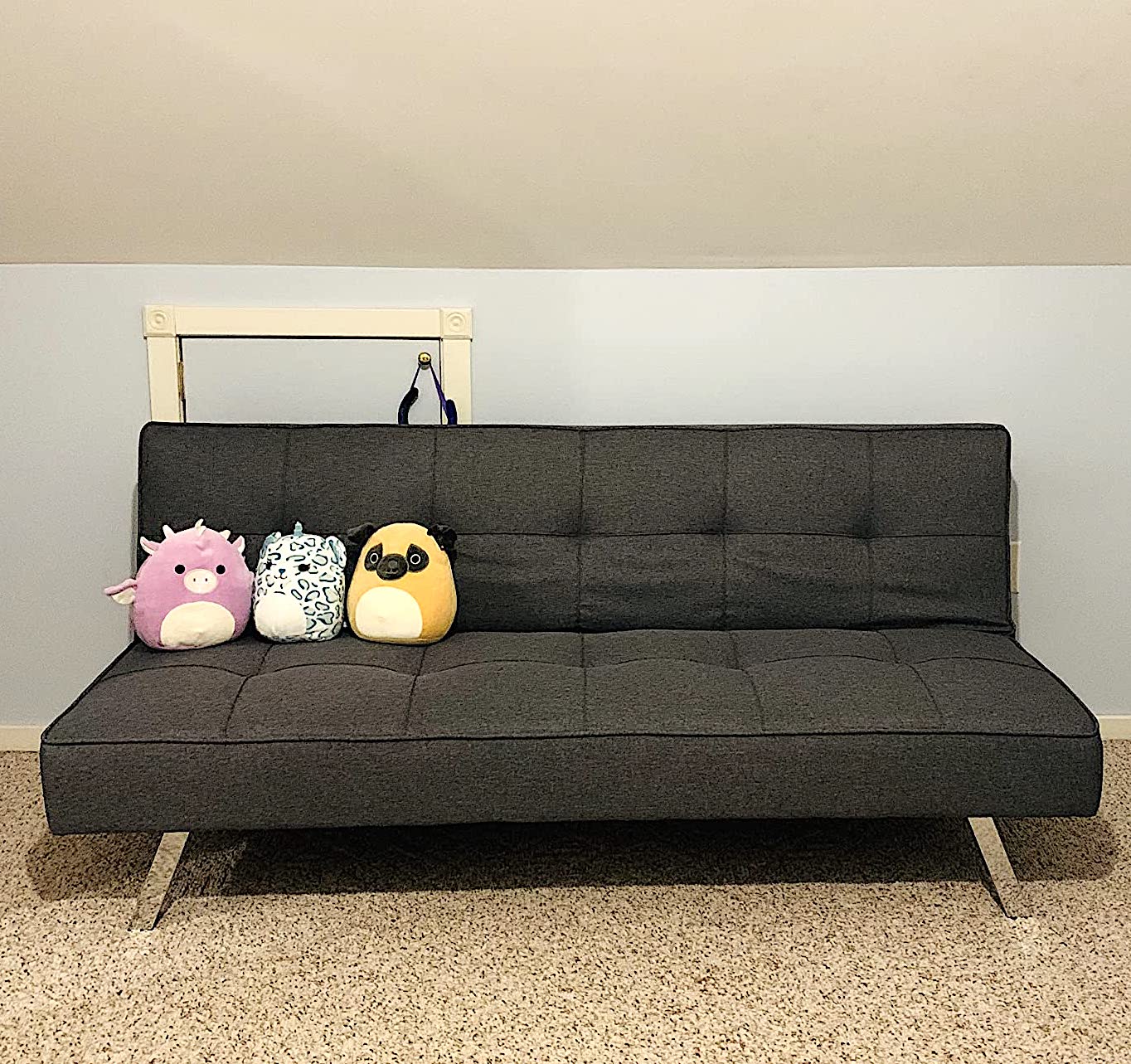 "I was sketchy about buying this futon, but honestly I'm happy I purchased it. It's very nice and inexpensive!! The brand it Serta! If you know Serta you know they are known for their mattresses! Anyways this futon goes well in my office, the fabric is nice and thick. It took me about 10 min to assemble. Me and my gf loved it!!" – JMorales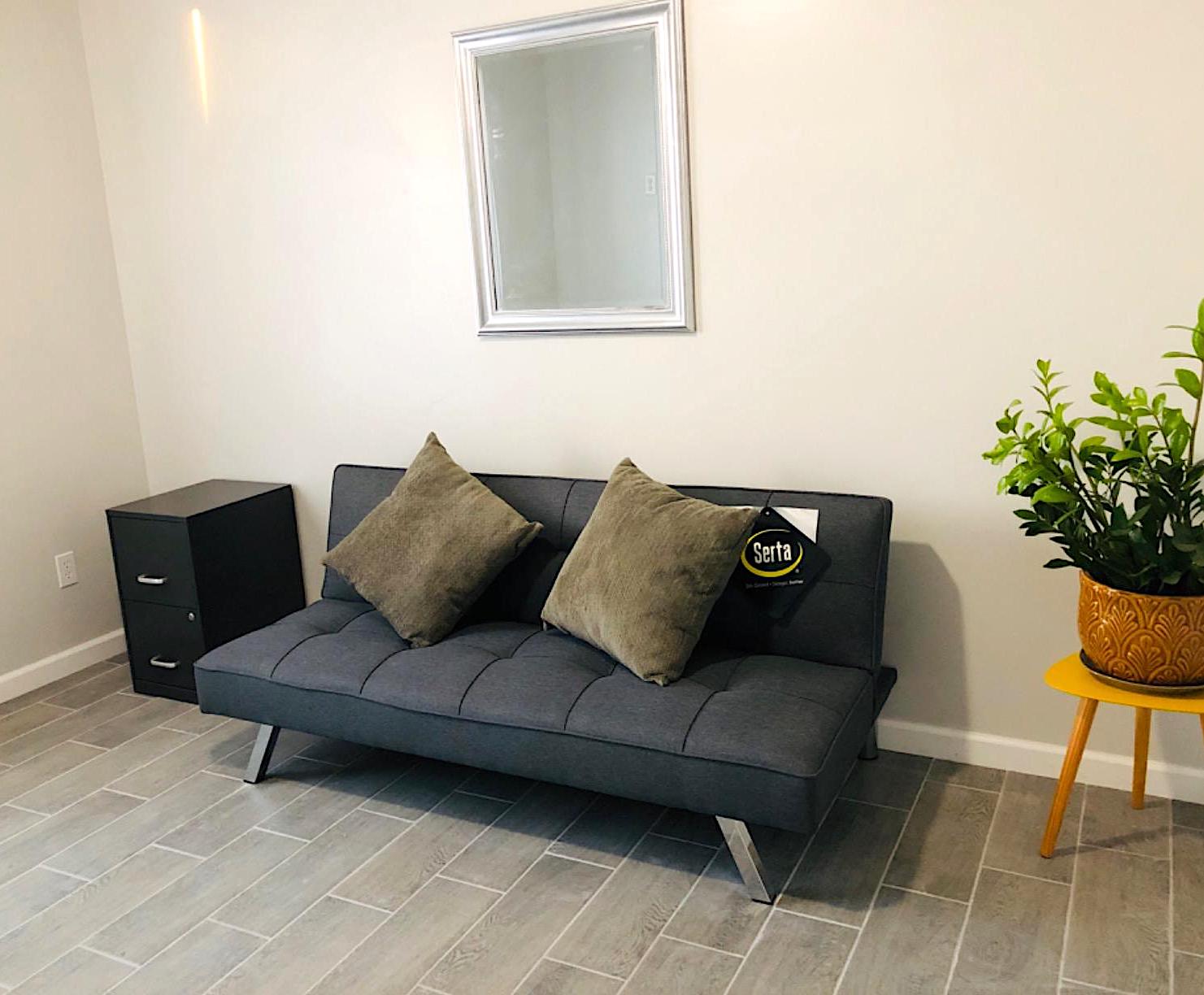 This bed has over 1,000 reviews on Amazon, many of which rave about the bed's sleek look, and is the best-selling leather option available. With a weight limit of up to 550 pounds, it can easily sit three people. It also comes with a fantastic warranty–5 years of protection for only $21 or 3 years for $15! The combination of the Best Choice Products Convertible Lounge Futon Sofa Bed's tufted leather cushions and wooden legs lends a classic look to both small and large spaces. Although many reviews state that this bed looks more expensive than it actually is, it is reasonably priced at around $150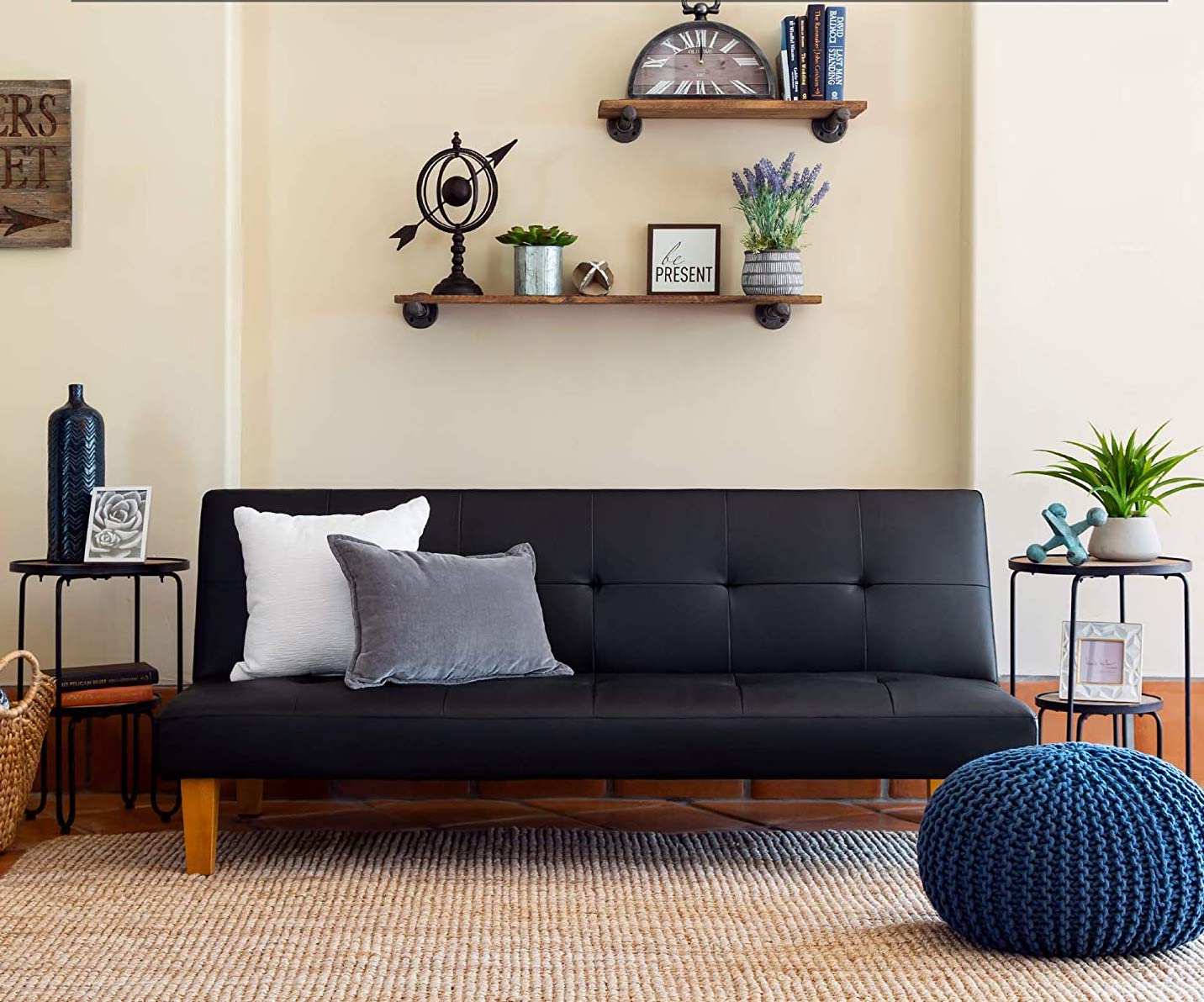 Below are top reviews we found quite informative & promising:
"Shipped fast and works great! Used this in a nursery I'm putting together. Nice!" – Malissa Childers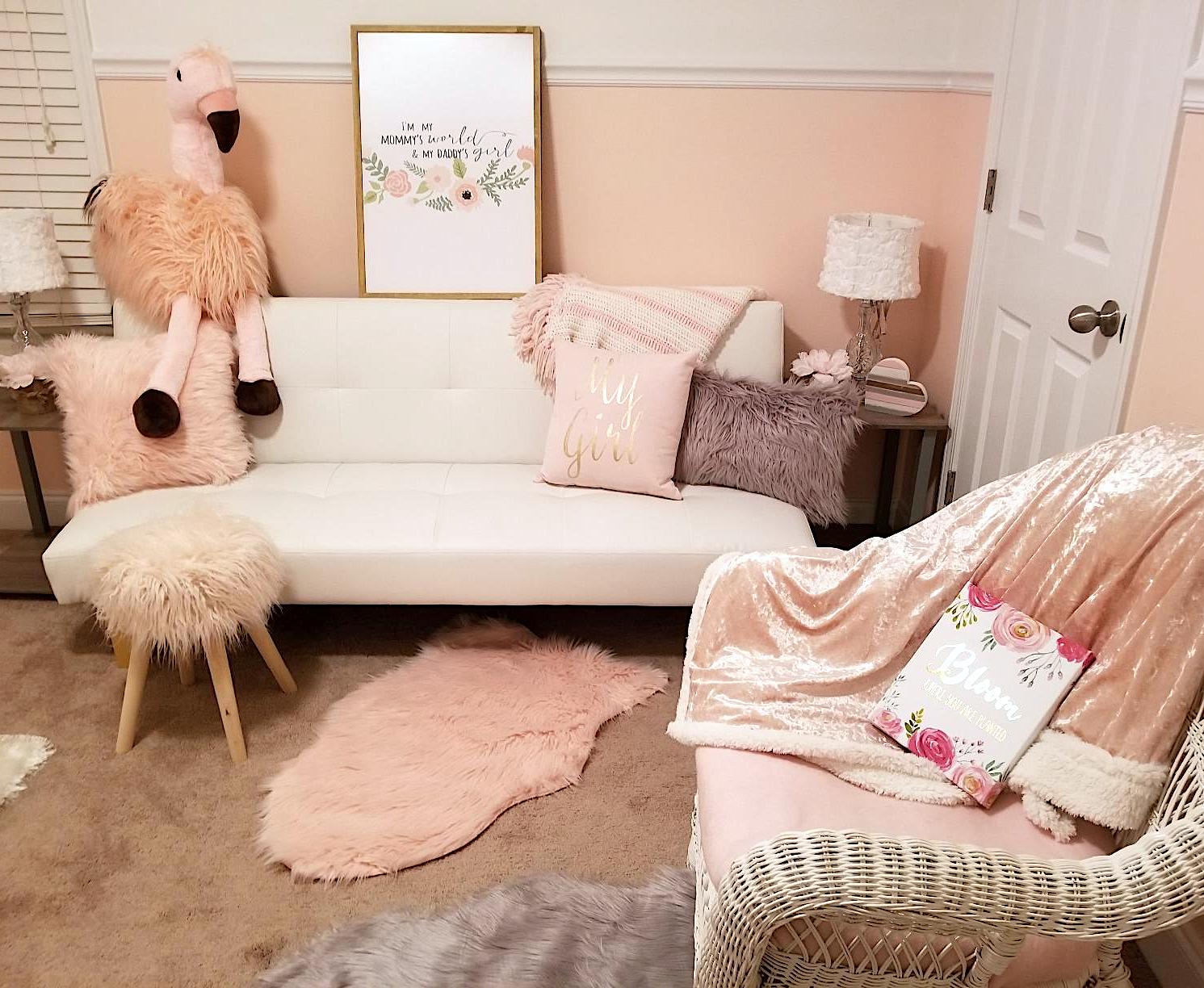 "I love this!! its super easy, modern and looks lovely" – Cat Klein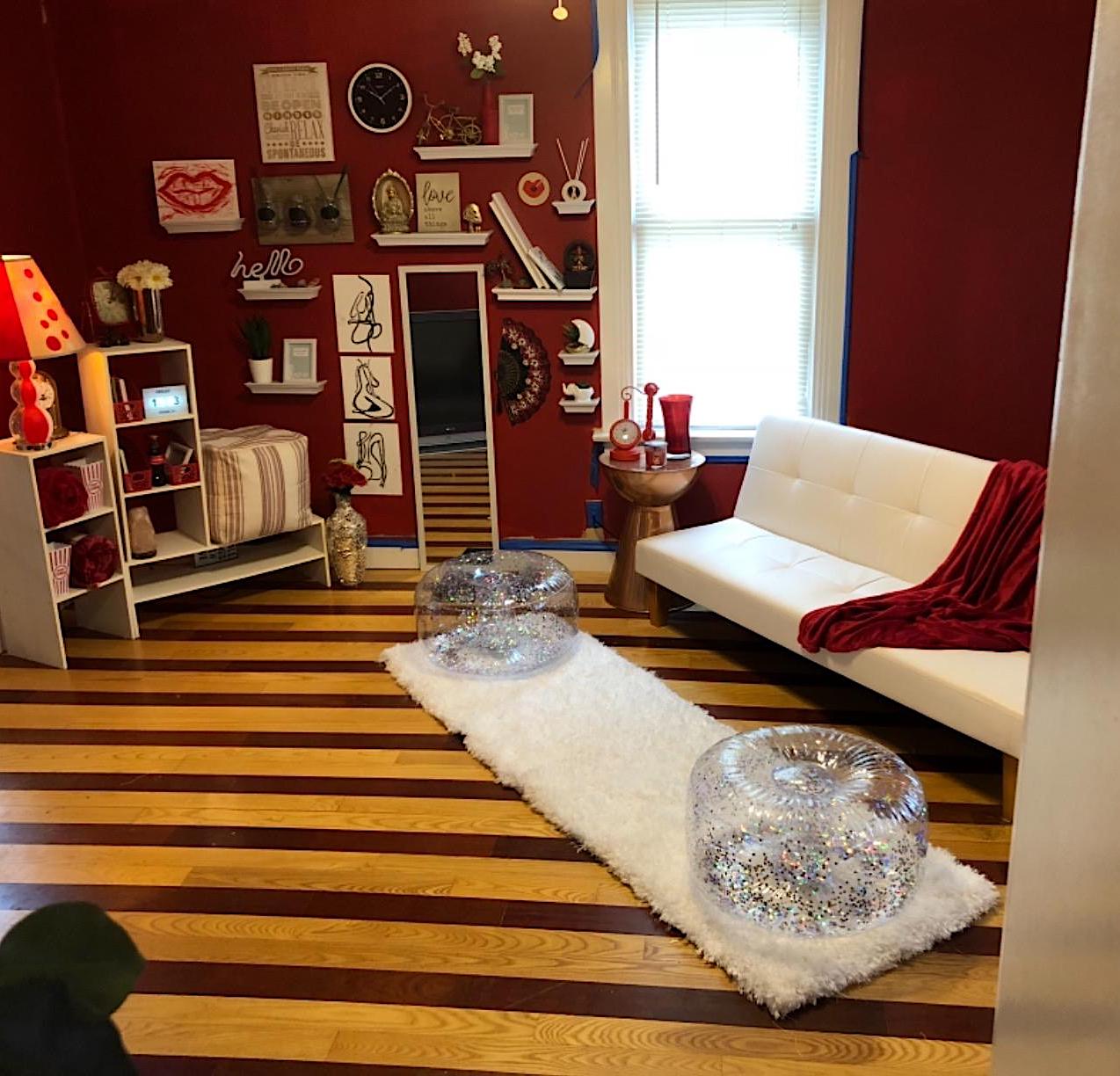 "Great condition and as pictured! Took seconds to put together." – Miranda Williams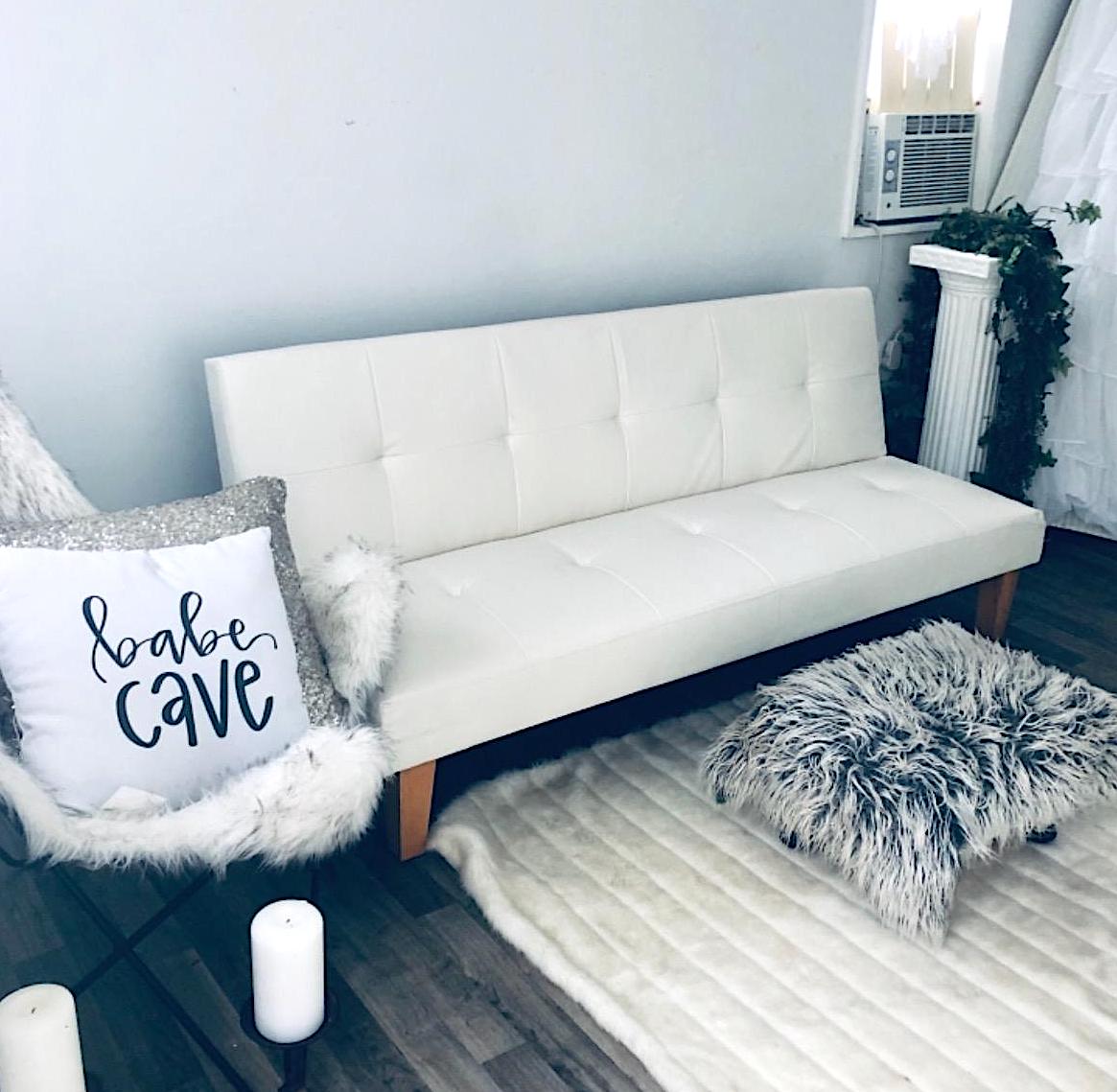 "Looks classy and it's very soft, perfect size if you don't have much space. It doesn't feel extremely sturdy but definitely enough for the price paid. Overall very happy for this purchase!" – Erika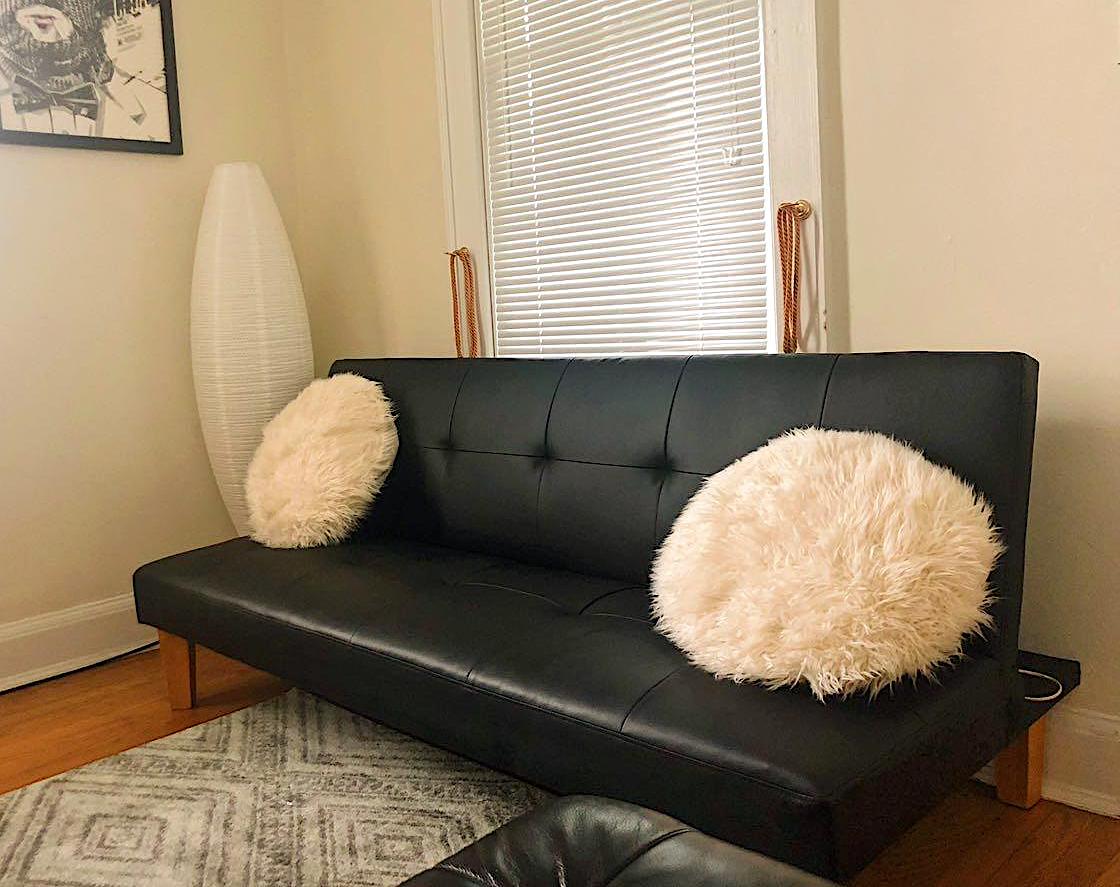 "I'm extremely satisfied with my purchase. I bought it for my nursery, and it looks great! Very comfortable so far, and also, it was super easy to assemble. I strongly recommend it!" – Livvie
The Novogratz Brittany Sofa Futon has been reviewed over 6,000 times and is generally praised for the ease in assembly, sturdiness, and ability to function in a small space. This is the best-selling futon available for those looking for a mid-century modern piece. This futon has 5 different conversions and comes in 11 different colors. It is one of the larger futons, with its length measuring 81.5 inches, giving it the ability to seat more people. It is also on trend with the hottest Instagram influencers, so ideas for styling the Novogratz Brittany Sofa Futon are in abundance. It is also nearly pet proof, with a sturdy wooden build and stain proof linen fabric that is easily cleanable, no matter how messy the pooch!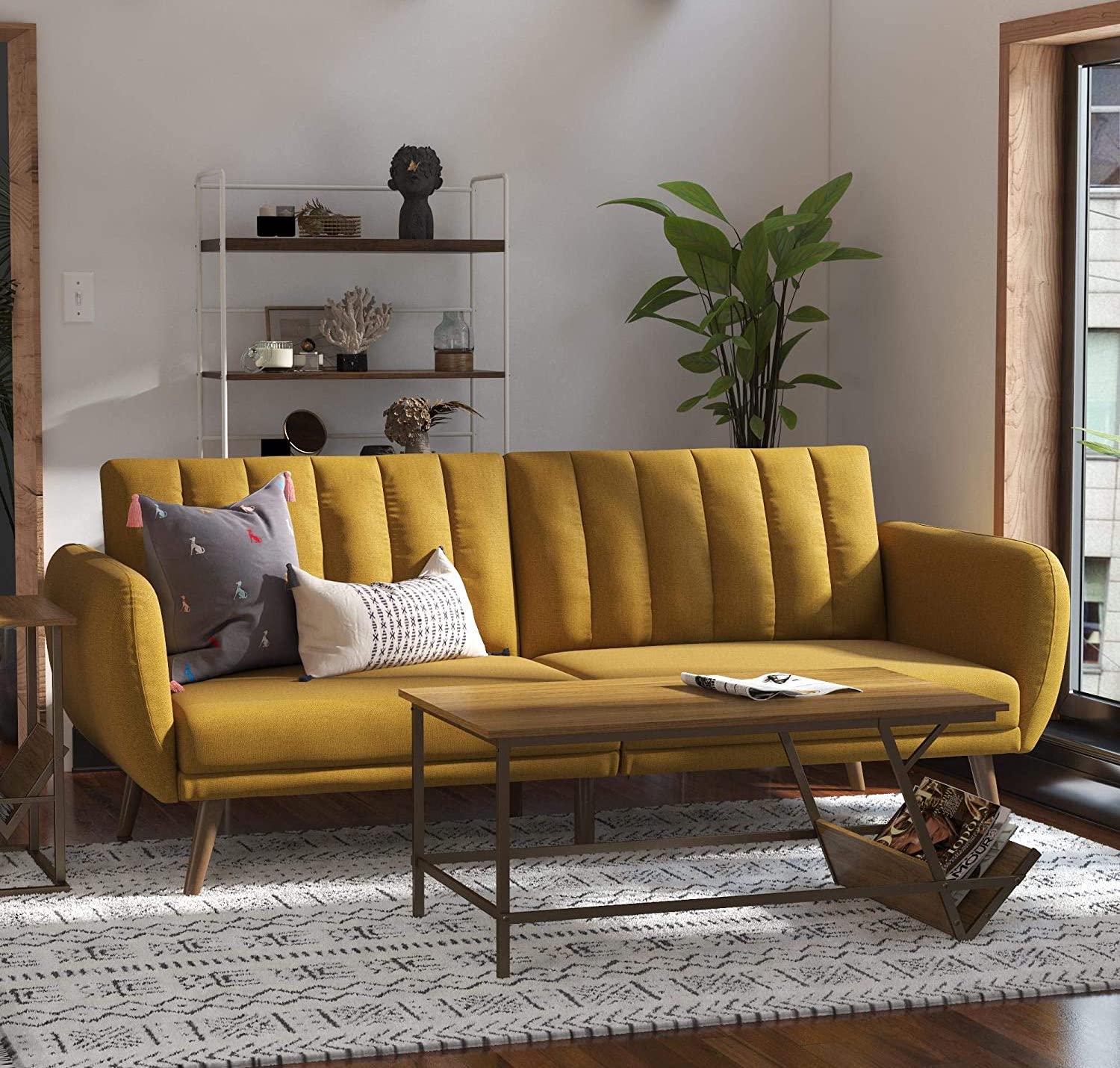 Below are top reviews we found quite informative & promising:
"I am SO impressed with this futon couch. I follow this company on pinterest and never thought anything made by them would be this affordable. After seeing the price i thought it would be mediocre quality, but it's not only easy enough for me to assemble (i'm a giant wuss. i hate hard work.) the quality is amazing!! The "leather" is soft and it's comfortable to sit on. So happy i chose this as a guest futon/reading couch. I would order this again no question!" – Court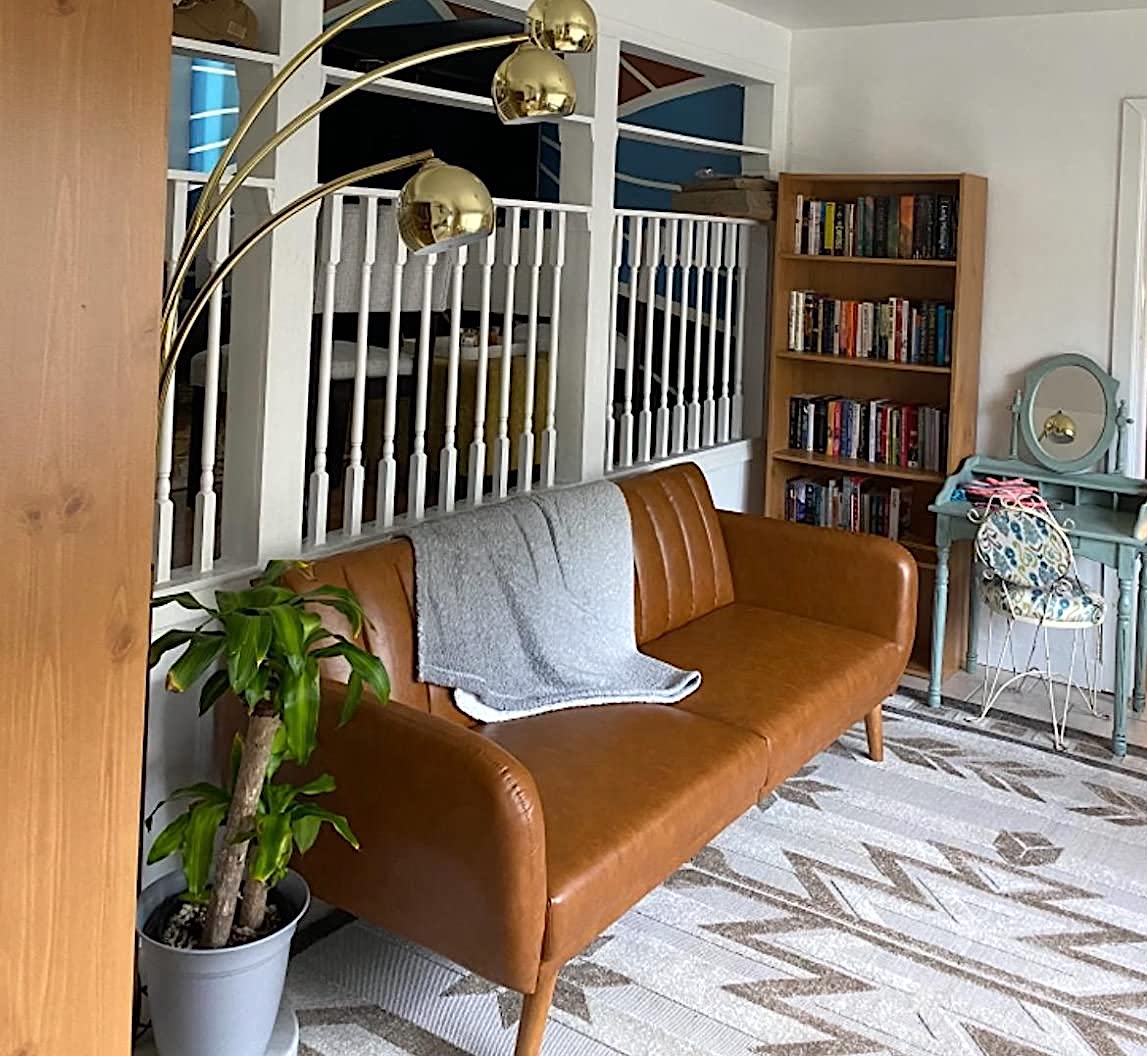 "Great price! Quality seems to be great too! Very stylish, I have already had so many compliments on it. I searched and searched for a decent used couch and came up with nothing good, I love that it's brand new! It's even longer and deeper than I hoped. Not disappointed. Easy to assemble, took me about an hour. It's pretty heavy though! A couple pillows in the corners will be the perfect extra comfort. Doesn't look like a futon at all, but that's a nice feature to have if you need it. Great color selections. Time will tell if it spot cleans easily, but the material seems like it will. Charlie gave it two paws up before she took a snooze!" – Alexandra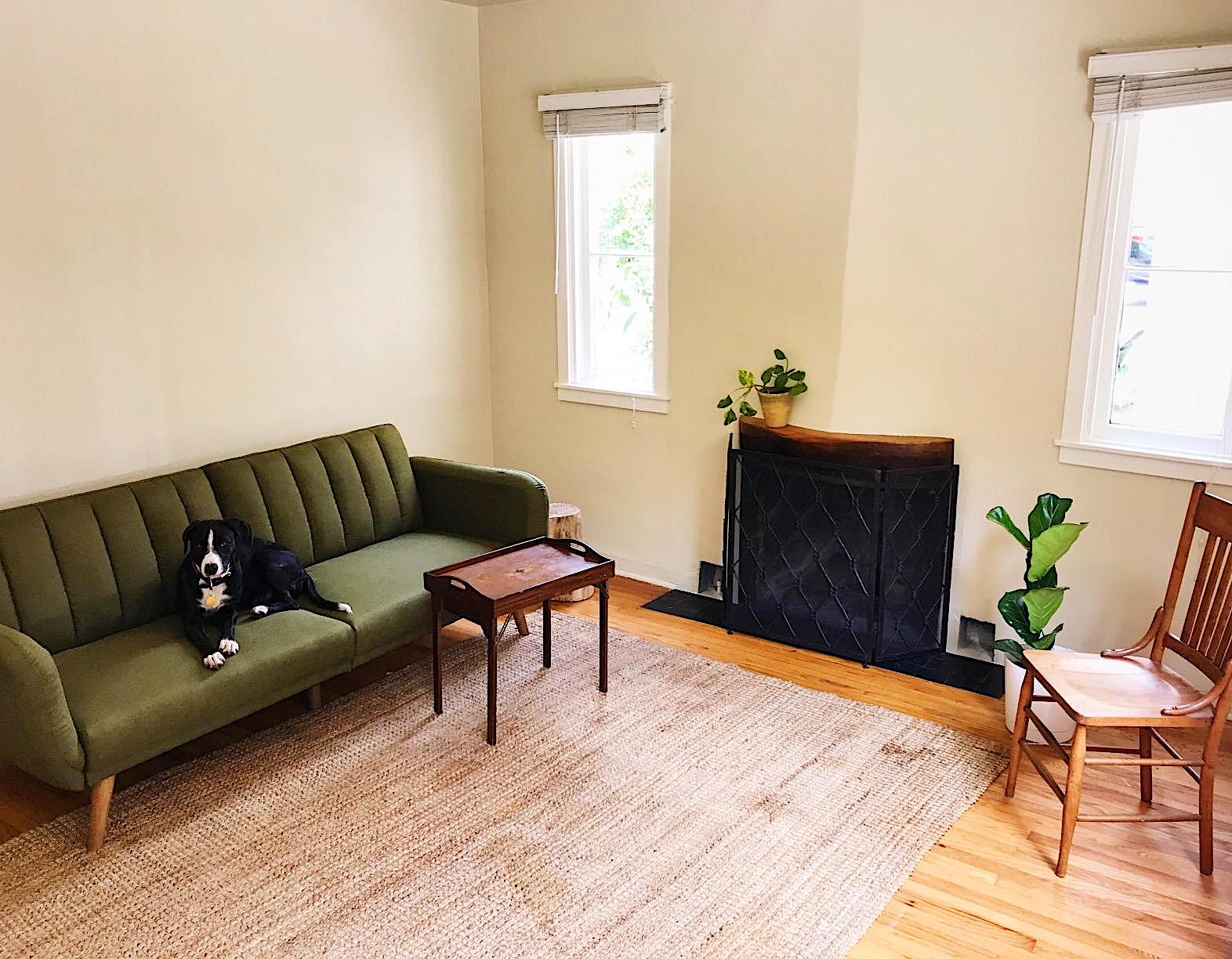 "Every year we seem to buy a low quality couch to hold us over till the next. It's always a gamble buying furniture online that you have to assemble and usually is lose, rickety junk from the start, however this seem like it will be an exception! It was very impressively packaged, was very time consuming to put together (2 hours or so), but it feels solid! Like no wriggling, the legs are in place good and I don't feel like I have to hover sit on this. I've bought other couches on Amazon for twice the price that while assembling I knew they were junk and I knew I'd made a mistake. I did just assemble this today but I have three rambunctious boys (2, 4 and 6) so I will update my review with time if I feel it doesn't hold up, but we are happy and it's just the pop of color our living room needed!" – Christina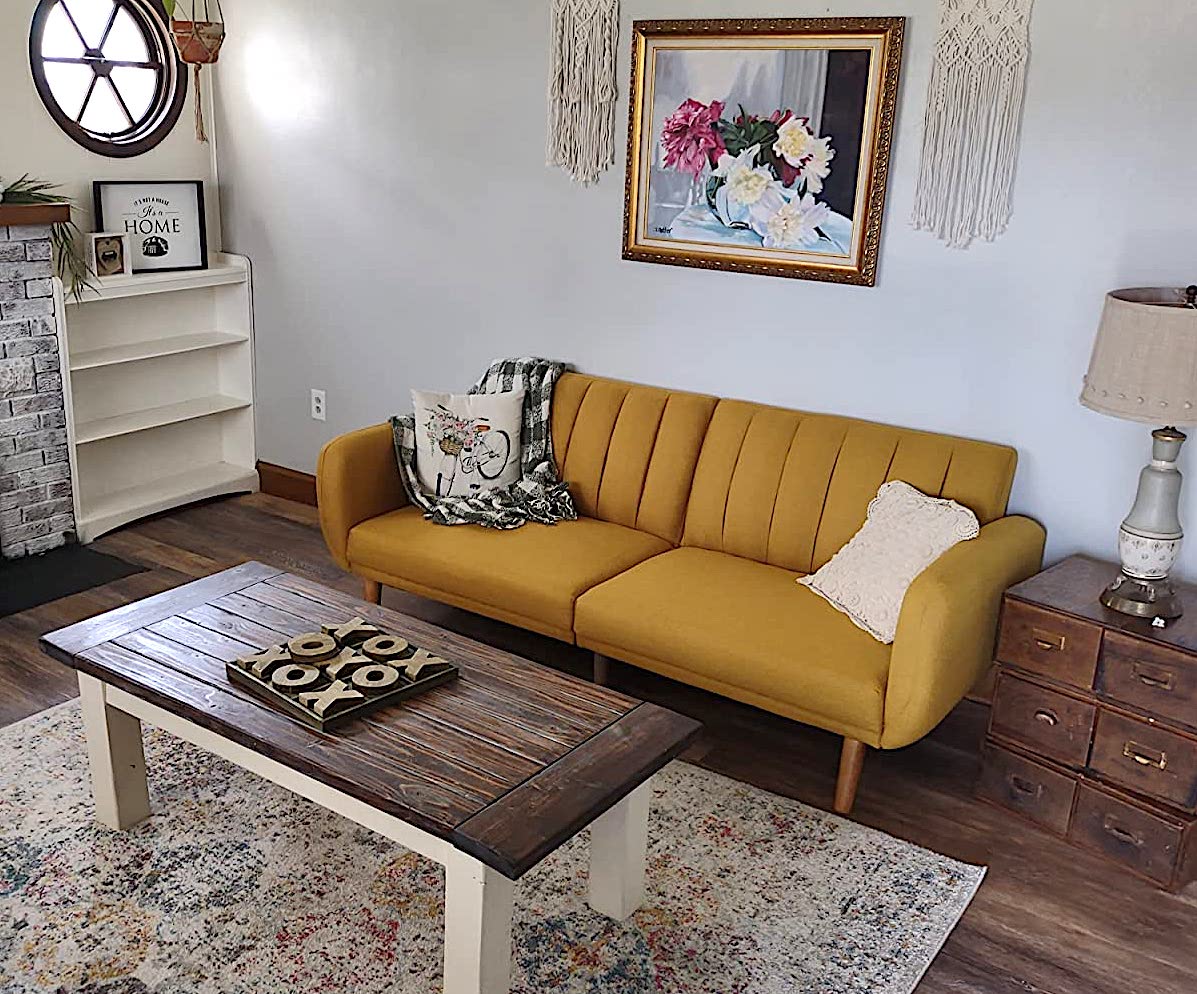 "Just got my couch today. It was pretty easy to assemble, just by myself it took me about a half hour. I got the mustard color because it was cheaper than the other colors ($260 when I ordered it) and it also matches a new rug I got. It is pretty firm but its not uncomfortable. I got this for whenever I have family come to visit and I think I'm going to buy a cheap mattress pad to put on the top if anyone who sleeps on it prefers it softer. But it works great and it fits perfectly for where I needed it." – Lindsey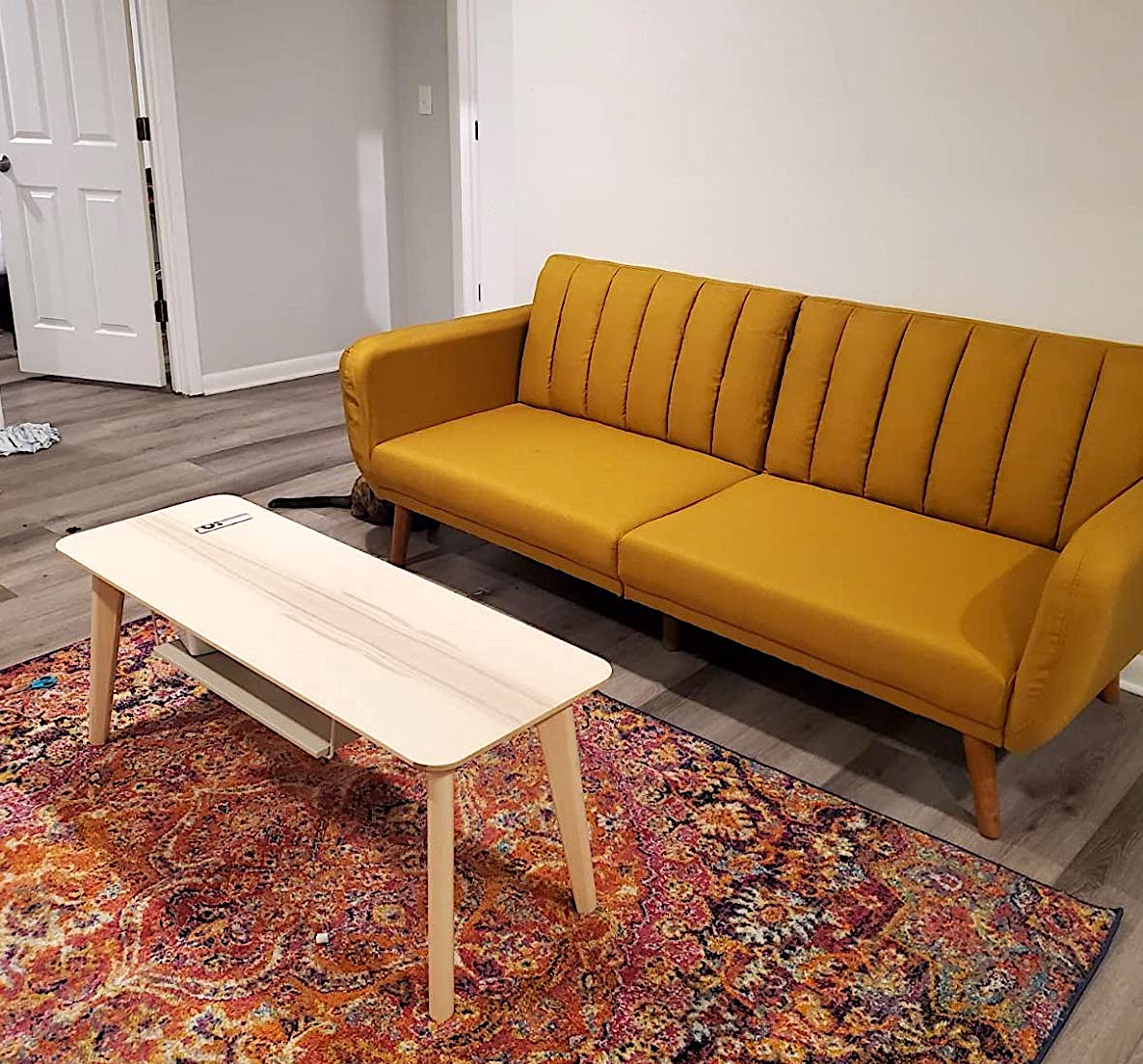 "I went to Ikea prior to ordering this futon. Ikea have various futon but they don't offer many option around $100~&300 price range. I test out the cheap simple $119 entry level futon first and I can't say this is even a sofa for people to sit on, it was really shallow in the padding and it was low to the ground with no support to your back and the size was small. I tried the $279 black leather futon next which look promising, I sat on it and it was the same shallow feeling from the first one, there was not much padding inside the sofa, when I sat on it I felt like I am sitting in a hole and falling down and I was quite disappointing twice the price didn't provide much improvement. Then I look on amazon and found this futon which has great review and price. I received the futon in 4 days and put it all together in 1 hour, and this futon is simply amazing and beat everyone in the price range, I would say this futon is as comfortable as the one in world market selling for $400+ . Let's talk about this futon, I was surprise by the size first , this sofa can sit 4 people comfortably, and the color I order 'pink' is just beige color so you don't need to worry you will get a pink futon, the back fold easily, and the padding on this futon is a real sofa quality nice and thick. This futon has 6 supporting leg so it is very durable and that's it I am going to enjoy this sofa from now on glad I ordered it." – John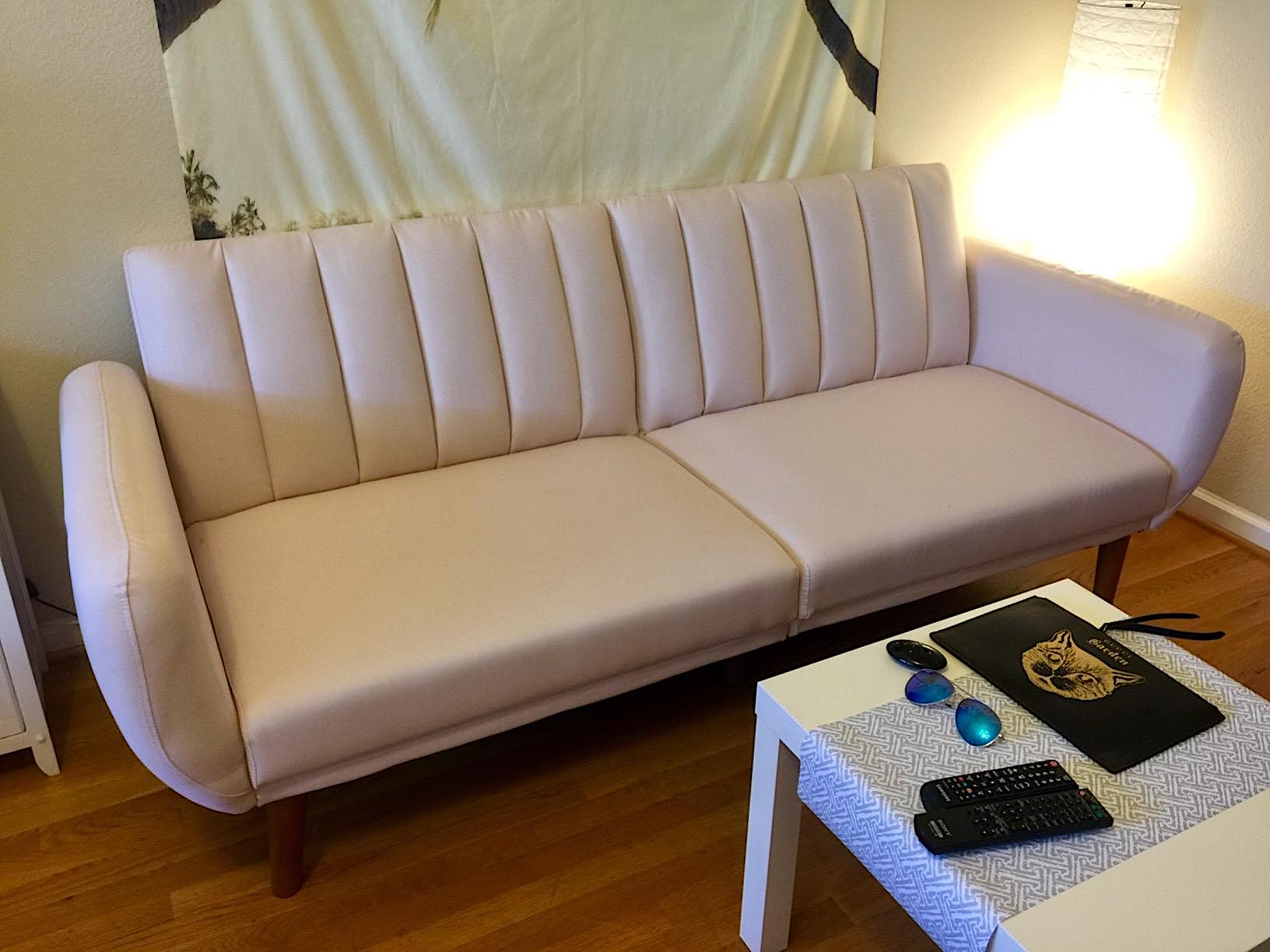 "It's not everyone's cup of tea but if you like this style and want an affordable couch, go for it! It's not super plush like your traditional sofa but we have found it to be quite comfortable. I'm impressed with the quality for the price. I really like how deep the seat is and honestly, this is way better than many of the sofas we sat on at IKEA. I would definitely considering purchasing again if needed." – Amanda Miller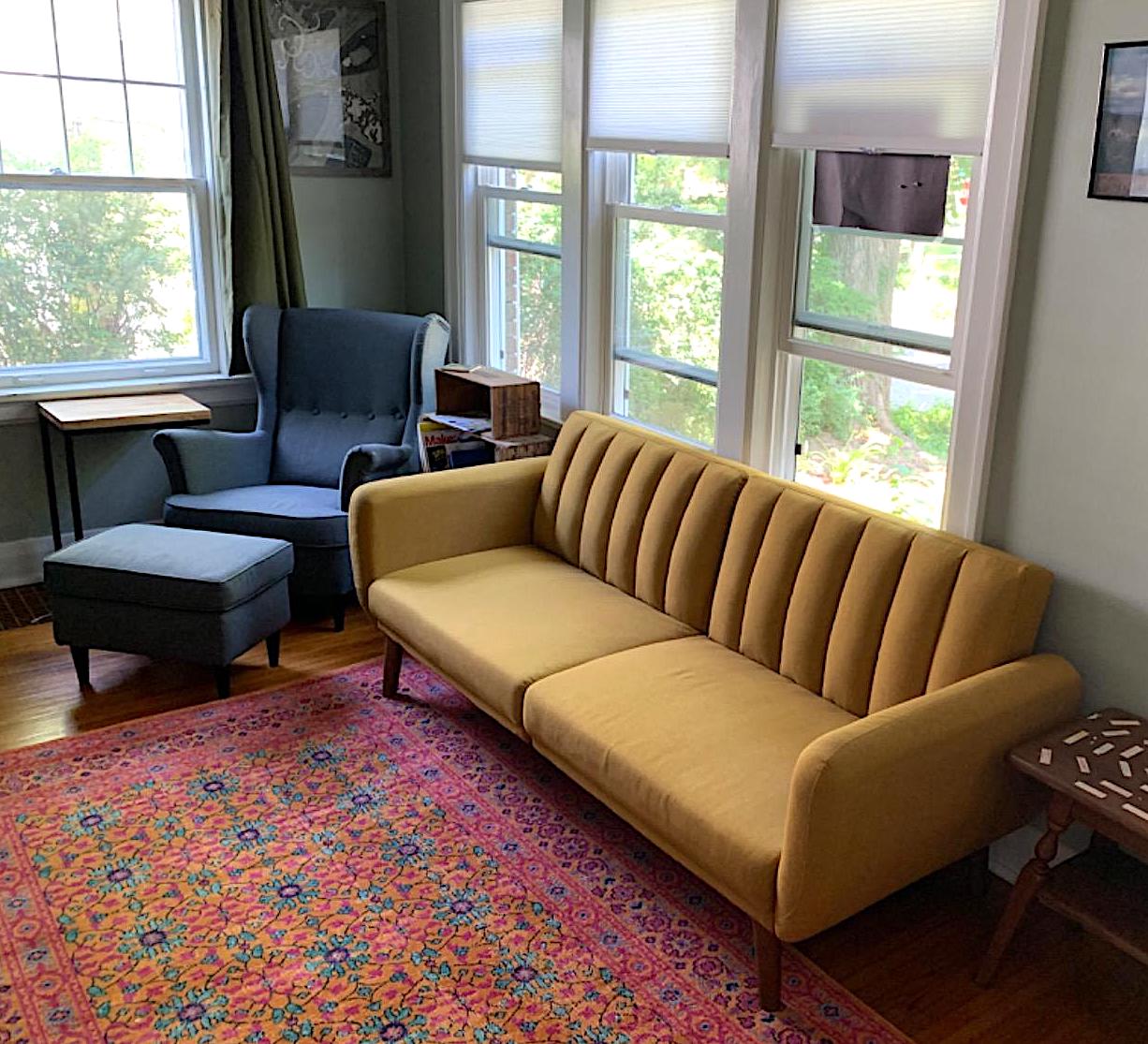 The DHP Emily Futon has over 7,000 reviews on Amazon–over 60% are 5 stars! Accompanied by over 1,000 questions answered, the DHP Emily Futon boasts a level of transparency that is not often seen when shopping for a convertible sofa bed. It is similar to the Novogratz Brittany Sofa Futon in that it is able to be styled many different ways and comes in a myriad of colors. However, its design is more minimalistic and low profile. Additionally, matching chairs, ottomans, and chaise lounges are sold separately for a more complete living room look on a budget. This piece, however, retails for around $200 and is overall the sturdiest minimalist futon available on Amazon. The product can be guaranteed for 3 years for $24.49 or 5 years for $34.99–a price only second to the Best Choice Products Convertible Lounge Futon Sofa Bed.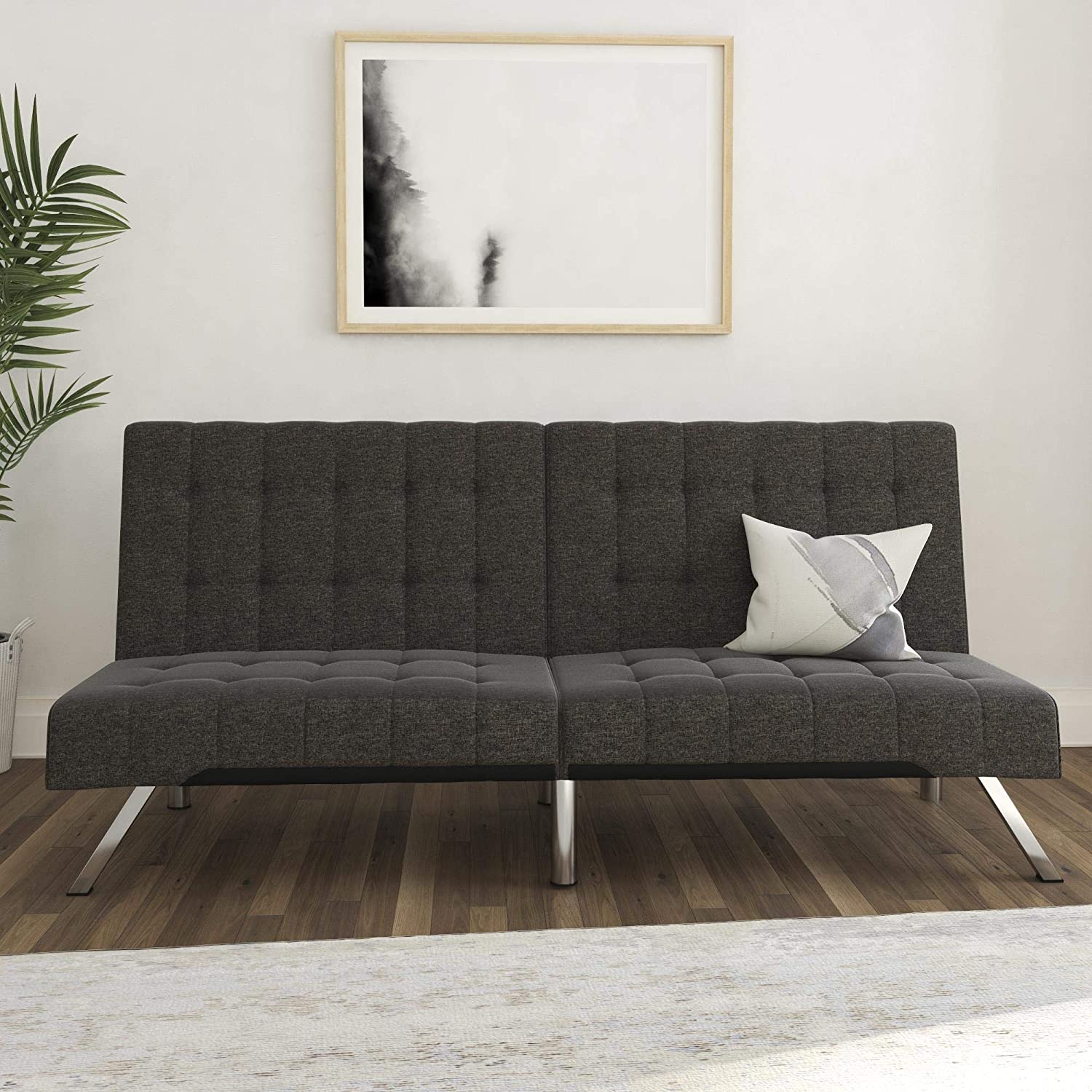 Below are top reviews we found quite informative & promising:
"Dog approved! ??? But seriously, we got this futon for the guest room as an extra sleeping/entertainment area. It was extremely easy to assemble, you literally just attach the legs which came in a secret stash pocket underneath the futon I will totally be using to hide my snacks from the kids ? the fabric is great quality and upon reading past reviews I was happy with how comfortable it is. Im 5'5 and I can comfortably lay down across it. Definitely recommend for the money!" – Marissa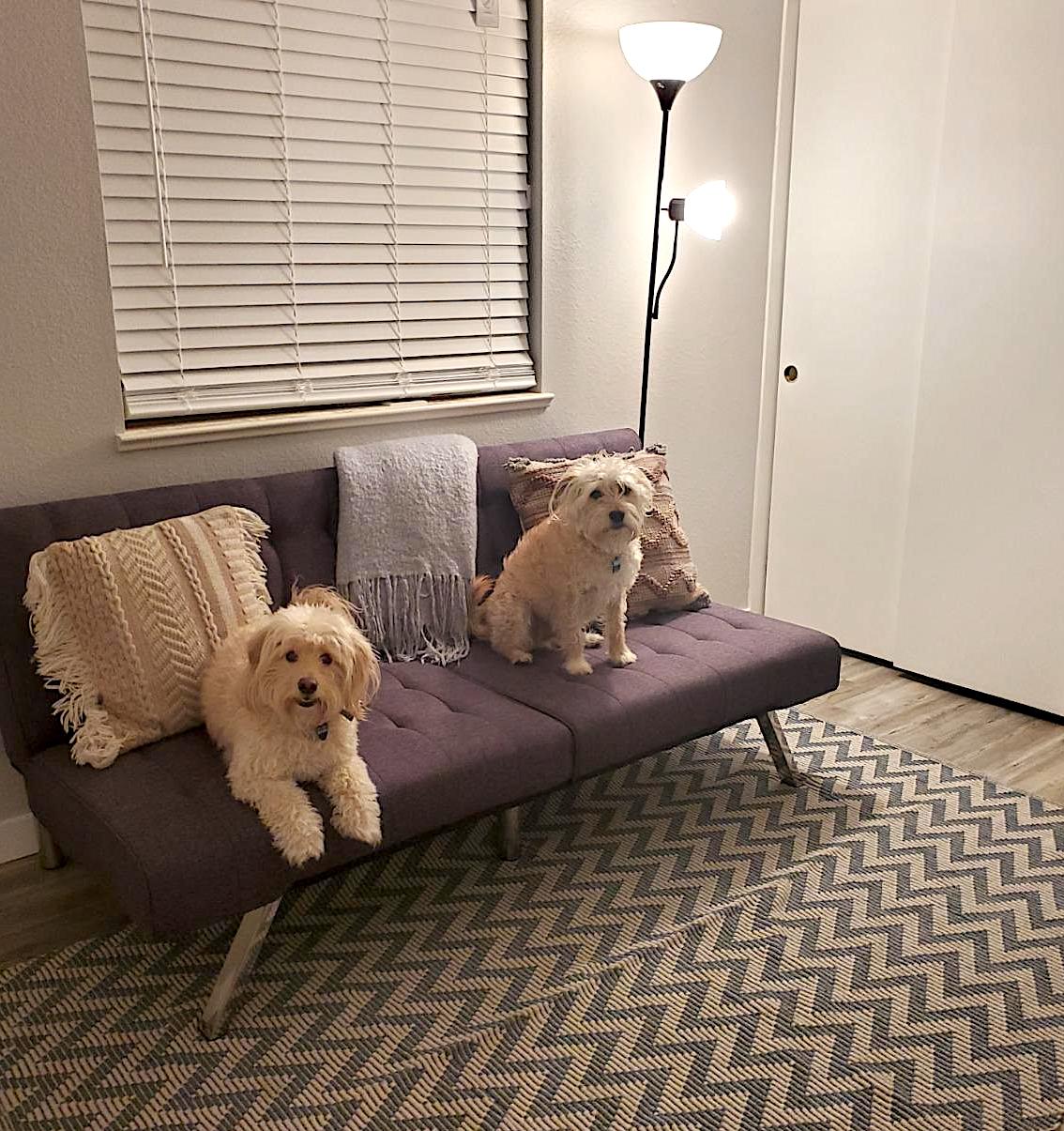 "I saw this futon in white at a friend's house and it was exactly what I needed for our loft. I was happy to see it came in vanilla. It came well packed and it was easy to assemble. It looks great! Perfect!" – Davud J OLoughlin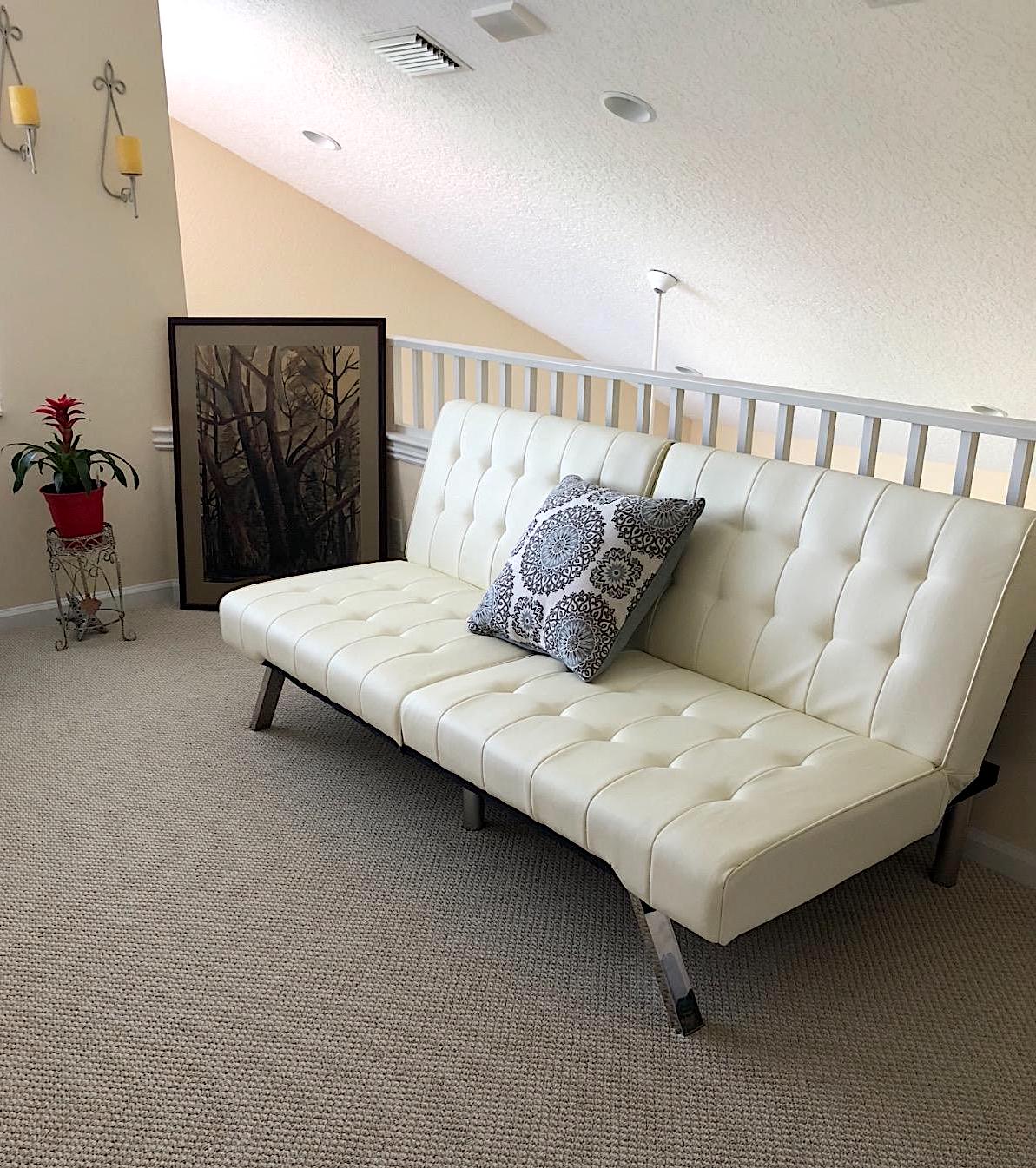 "This Futon is very attractive and it looks beautiful. The mattress/sofa is firm, but it's a very nice futon for guests to sleep on for a few days. I purchased it to stage an apartment I'm selling and it really made the room look gorgeous." – Anonymous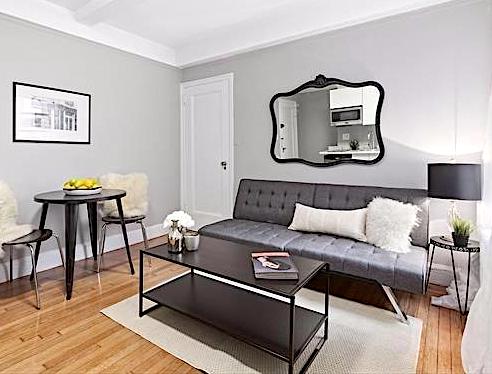 "Newly single with an entire house to furnish I decided I was going ultra femme. I am so sick of oversized leather couches and dark wood finishes I could scream, anyway… My living room is tiny so I started looking at loveseats then I saw this futon and I immediately fell in love. I fell even deeper when it arrived. The color is exquisite, and the fabric is as soft as a puppy's ear. The design is brilliant and super easy to assemble. I couldn't be happier with this purchase." – Sfnyny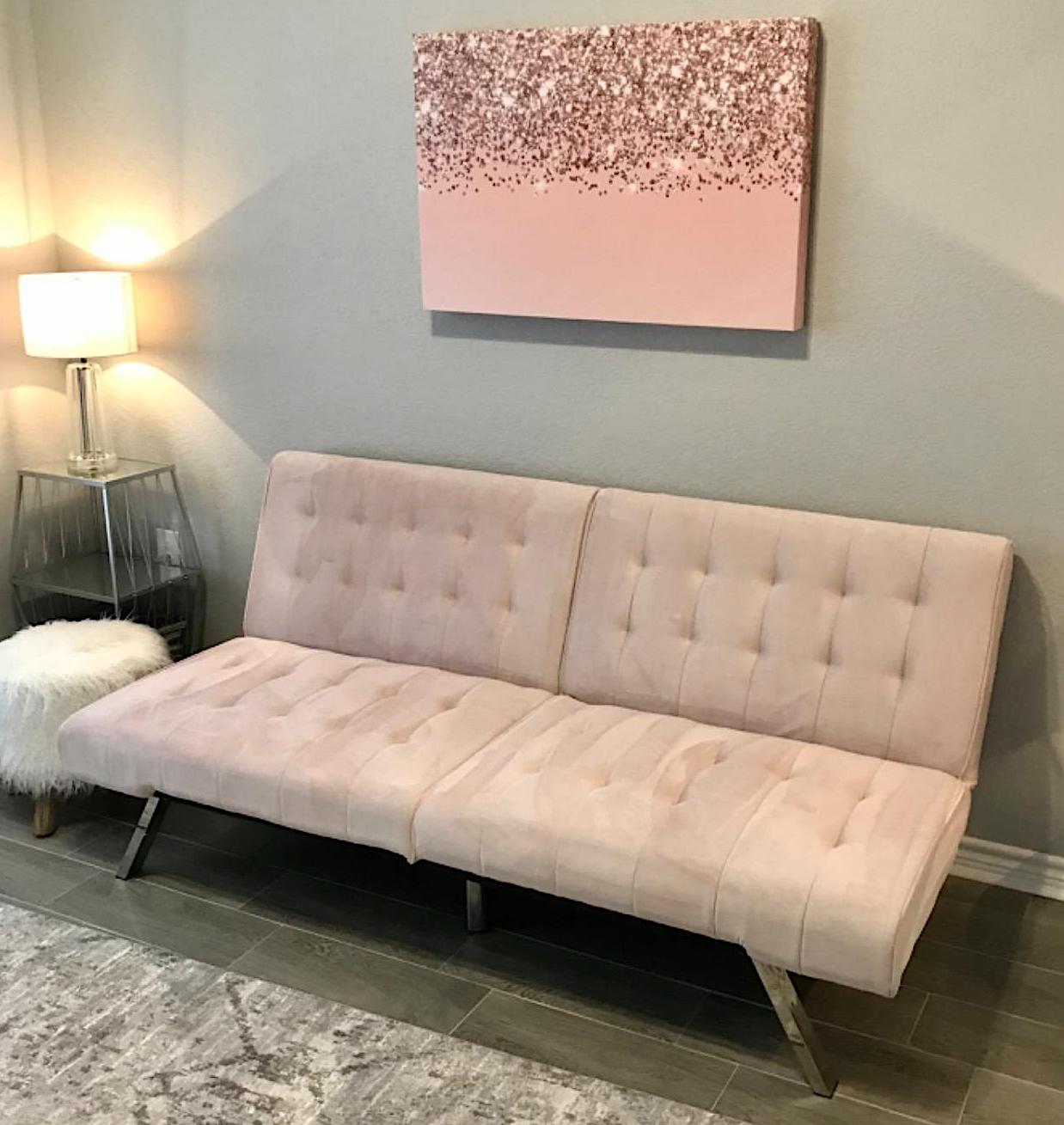 "I love this! I live in a small one bedroom apartment, so I wanted a couch that could turn into a bed for guests. I couldn't have picked a better/cheaper option. I feel so good about this purchase! It's firm, but comfortable. The back is adjustable, and the great thing is it looks like it's worth hundreds of dollars! If you're debating on going with this one, GO FOR IT!" – Jackie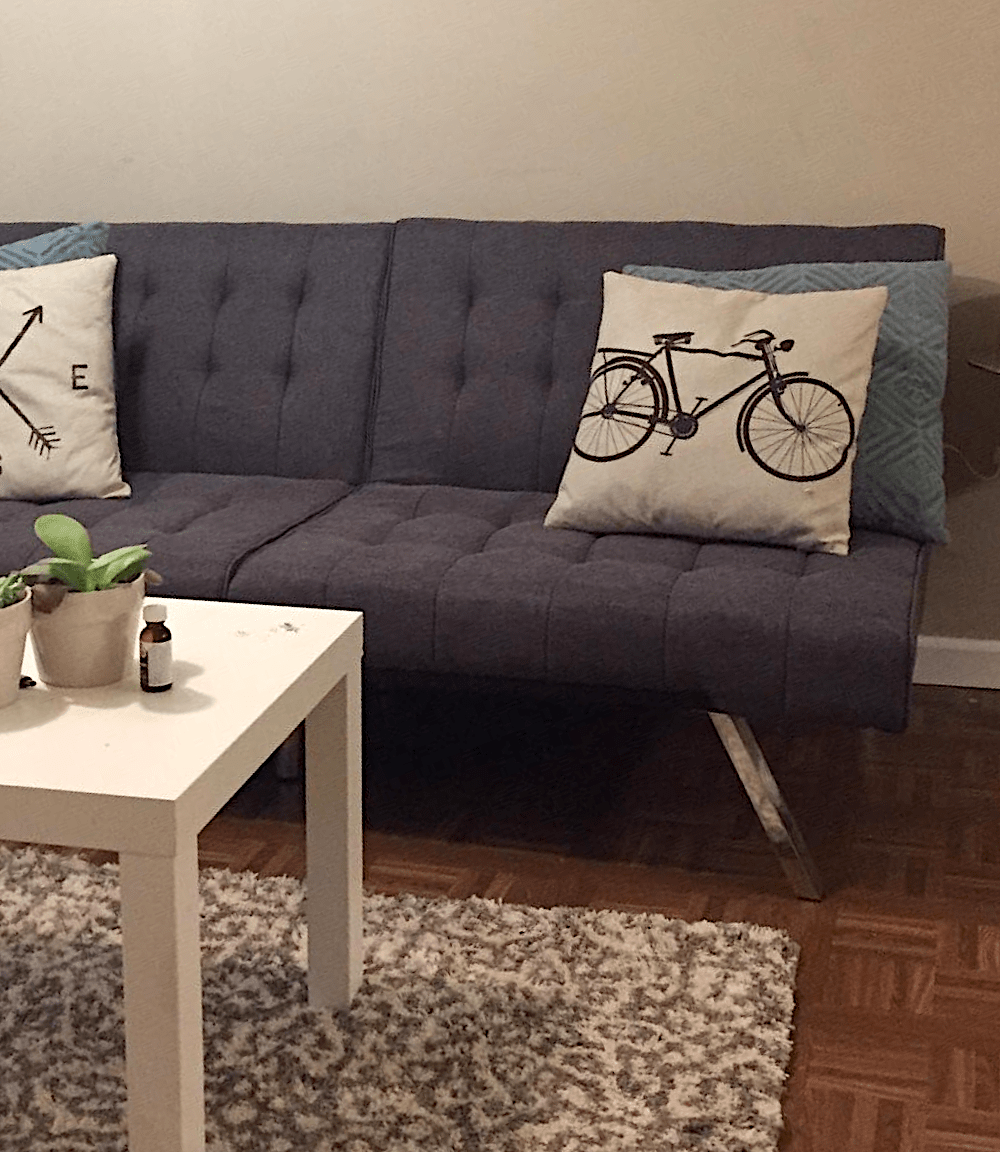 "Beautiful!!! I'm so happy my new sofa bed! Looks so luxury in my living room. Easy to assemble, fast delivery. The only thing I didn't like was the package that use to wrapp the futon, it came so bad damaged, one side was opened and the sofa was dirty…. they should charge couples dollars more and use a better quality box to deliver it. Anyway I loved my futon!!♥️♥️" – Sandra Caminha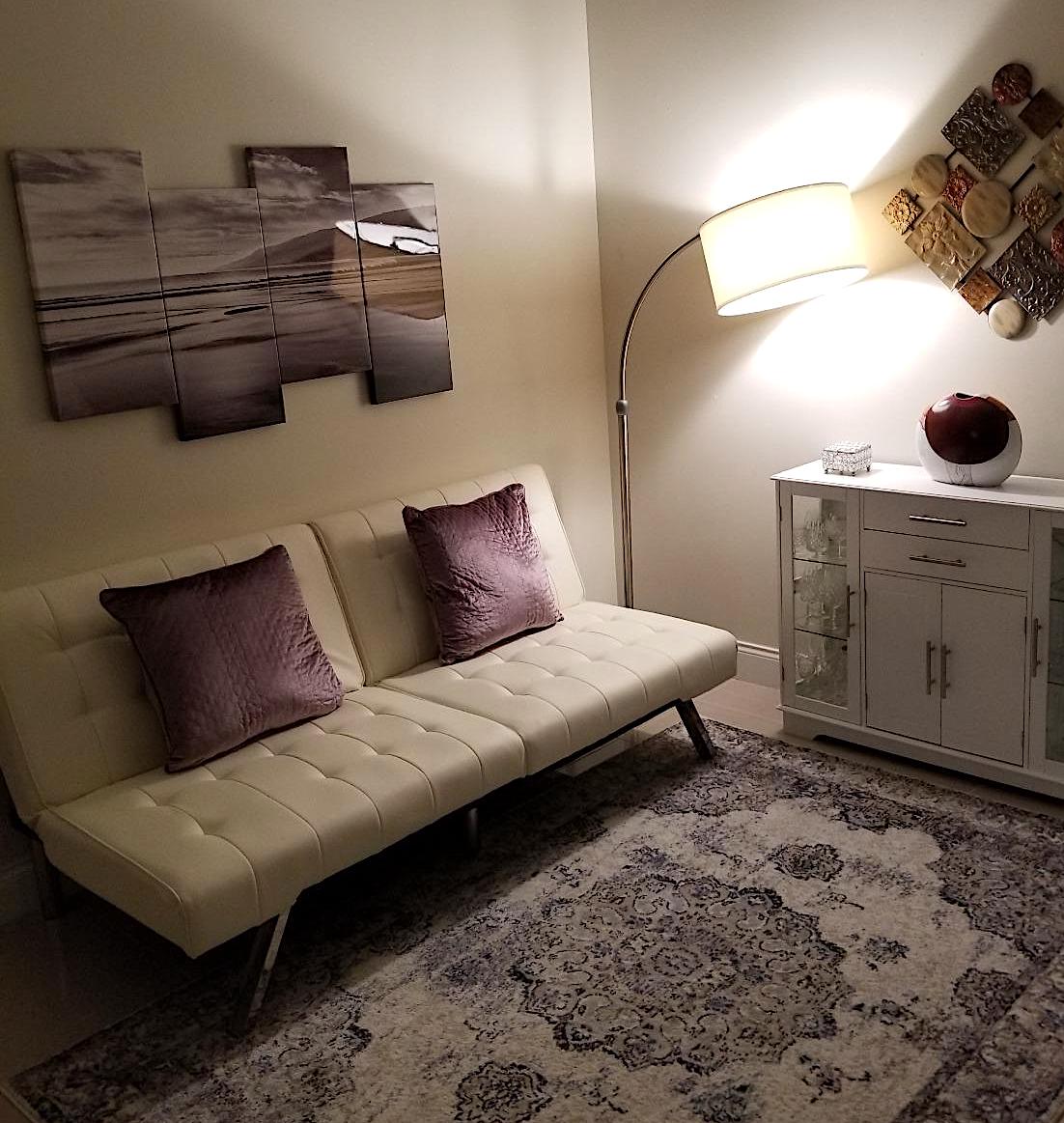 Why the DHP Emily Futon?
When purchasing a futon, any one of these would be an adequate fit. However, when judging by sturdiness, ability to style, and other options, the mid-range priced DHP Emily Futon wins every time. Backed by a multitude of reviews and 5 star ratings, as well as concise, transparent answers from the seller, its quality is all but guaranteed. The styling options are abundant with or without the availability of stylish matching add ons, and its minimalist look is right for spaces ranging from a full house to a studio apartment. While it is not the cheapest futon available, it is well worth the mid-range price setting, as it is sturdy, comfortable, and stylish.
Purchasing a futon can be stressful, especially since half of the work is to research products that meet the level of sturdiness, comfort, and stylishness needed. This comprehensive list of the top five futons on Amazon will cut that research time in half and help to narrow down exactly what features are needed before a purchase is made.