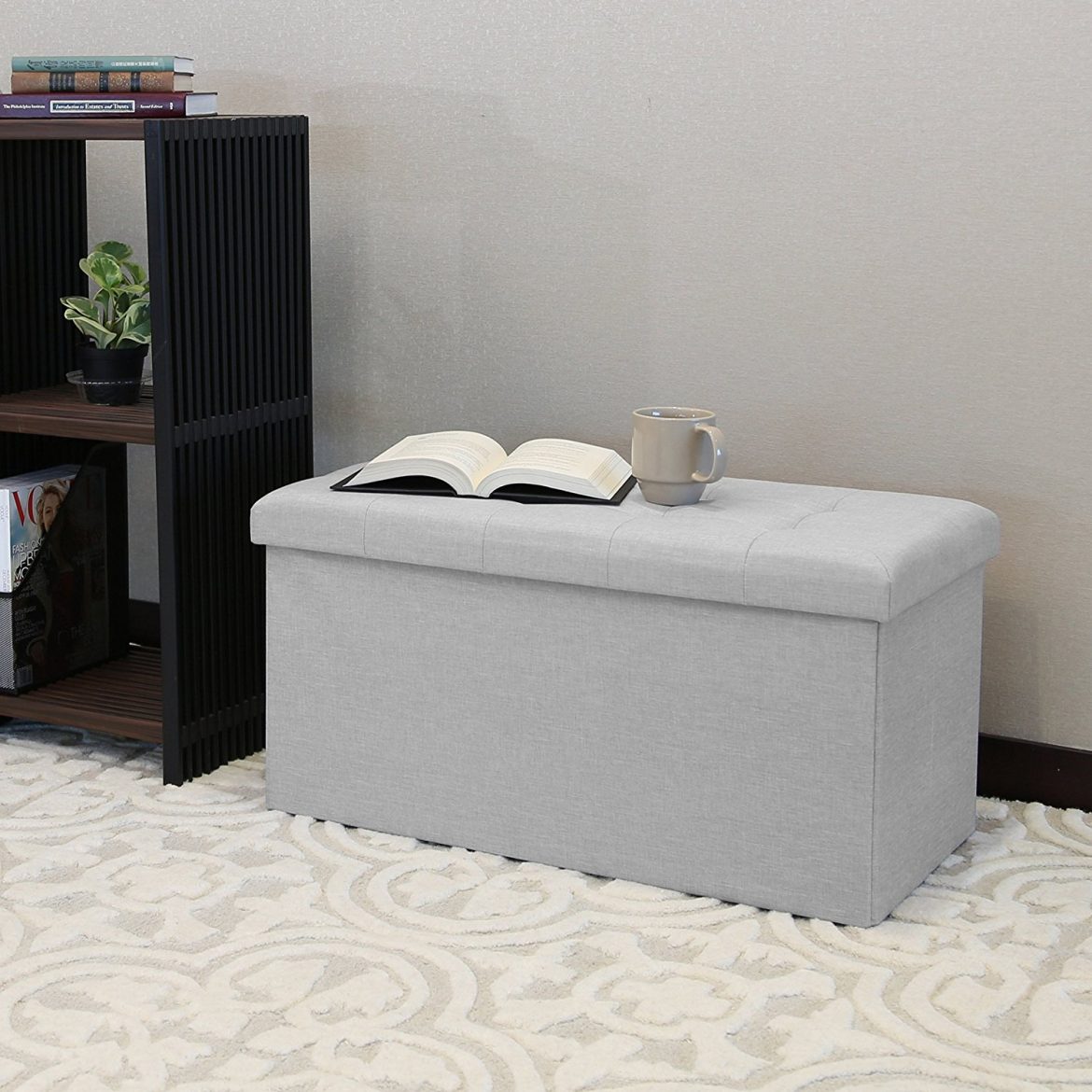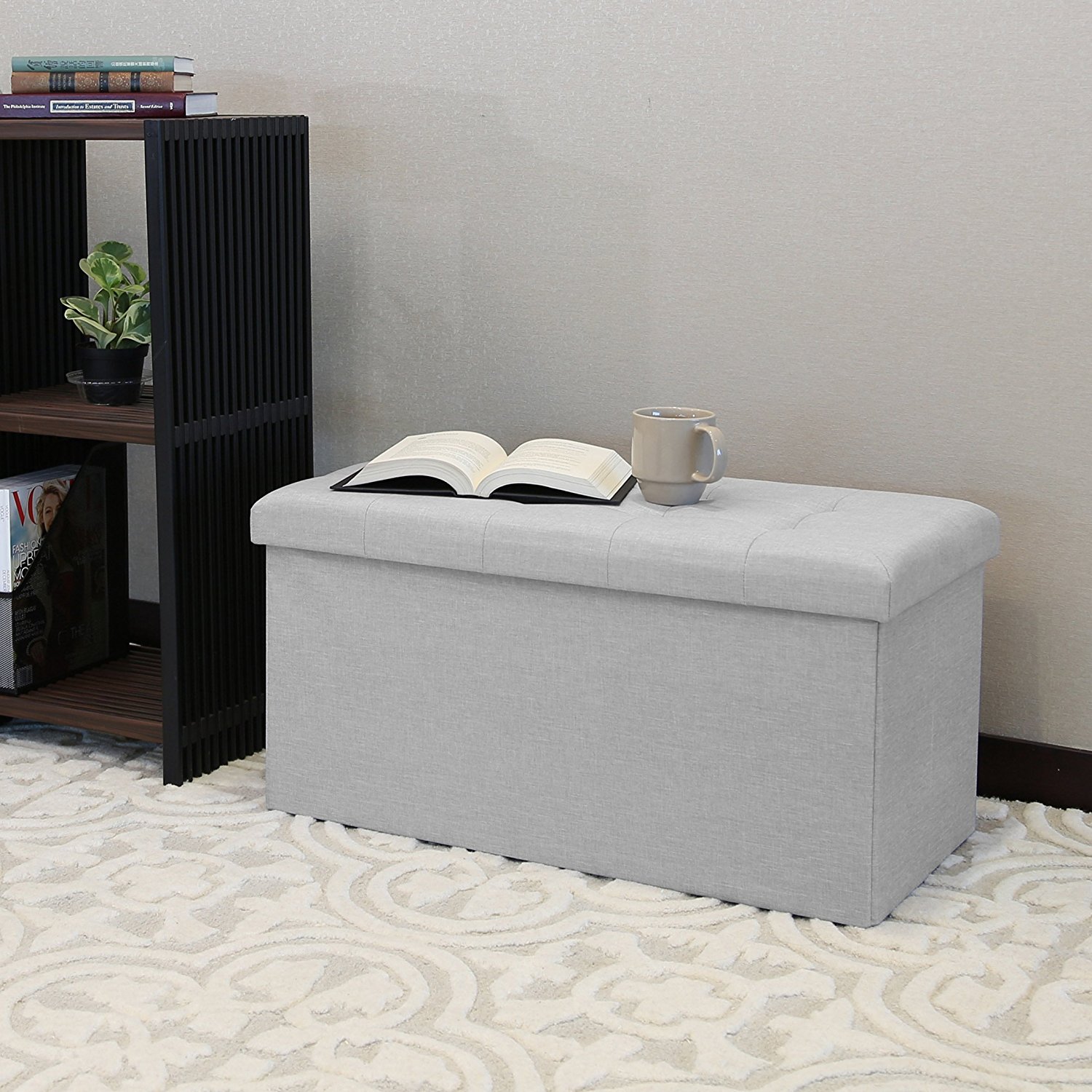 [Review] Seville Classics Foldable Storage Ottoman Bench
First Things First
We already have three of these ottomans, and that says a lot about how much we love them. The very first ottoman I got from Seville Classics was for our bedroom. I wasn't so sure if the actual thing would be anywhere close to the pictures. Thinking that only I and my husband would see the ottoman in our room, I decided to take the risk. It's cheap, so I kept my expectations low. I also know that there are items on Amazon that look perfect in the pictures but don't look as good in person. When I folded out the ottoman for the first time, I've never felt better to be mistaken.
The ottoman arrived in a very secure package. I think it took me longer to figure out how to get it out of the box than to set it up. It took me less than a minute to set up. You just fold it out, insert a stiff panel at the bottom, and put on the top. You can't beat the ease of the setup. There is a little bit of a smell after getting the ottoman out of the box, but it's nothing unbearable. I aired it out for a day, and that got rid of the odor. Someone with a more sensitive nose may find it necessary to air it out longer, but that shouldn't discourage you. It will be worth the wait. The ottoman is a great storage solution that will look beautiful in any space. I would like to add that airing it out is important. If you put in your towel, sheets, and clothes inside the ottoman while the smell is still there, the smell may pass onto them.
After having the ottoman for a week, I got two more. That's one for the living room and another for our entryway. Why not? We were so happy with the look and incredible storage space. Our house has never looked as neat as it is now! The difference is staggering. I am not exaggerating. I'm the type who is too lazy to clean, so if you visit us unannounced, you will most likely see our house in such a disarray. This ottoman is heaven-sent, to say the least.
Storage Space
I would have to say that the ottoman is more spacious than expected. We were able to fit more things than I have imagined. For instance, I was planning to store just a few winter clothes, but we ended up fitting more of them. This gave our closet more room for other clothes.
The possibilities are endless. You can use the ottoman to store your sheets, blankets, clothes, toys, shoes, board games, and anything you could think of. It would also make a sneaky hiding place for kids.
The ottoman also comes with a small bin for smaller items. It has Velcro strips, so you can stick it anywhere inside the compartment. This bin is great for tiny things that you don't want to get lost at the bottom. The bin gave me the fantastic idea to get storage cubes to go inside one of our ottomans. We use the one in our entryway to store our shoes, and the cubes organize them nicely. Instead of shoving our shoes into a pile, we now place them in their respective cubes.
The ottoman is collapsible. Once you had it folded out, you can fold it in again. That way, you can fit it in your cabinet or under the bed when not in use. You can easily transport it in a move too. Although the ottoman has a collapsible structure, there is nothing to worry about its stability.
Comfort
The top has a cushion inside, making it very comfortable to sit on. My previous ottoman failed in the comfort department, so I couldn't be happier with this. A friend of mine has the cube version of the ottoman, and she uses it as a seat for her dresser. The ottoman makes a soft footrest too. It sits a bit close to the ground. The height allows you to rest your feet on it as you sit on the couch.
Versatility
If you have limited space in your home, you should prioritize finding storage that doubles as furniture. In this ottoman's case, it can serve as a seat or footstool. I am an avid reader, and I usually read in the living room. I sit on the carpet and use the ottoman as a coffee table. My mug balances well on the top, as do my bowl of chips or popcorn. If you don't feel comfortable about leaving your mug on top, you can use a tray.
Our living room is quite small, so it's great that the ottoman is just the right size – not too small nor too big. The ottoman doesn't occupy considerable space, but at the same time, it provides extra seating for guests.
Exterior
The upholstered exterior is very attractive. I love that the outside of the ottoman is fabric. I have come across a couple of leather ottomans, and they look classy. However, the thought of having to deal with peeling leather in the future kept me from going for it. The high-quality cloth makes the ottoman look more expensive than it really is. The cloth is sewn tightly. The tufted buttons are elegant finishing touches. I have the ottoman in light grey and two in charcoal gray. All colors are pretty, but my personal favorite is the light grey. The pictures depict the colors accurately.
At first look, you won't be able to guess that there is a compartment beneath the top. Adding throw pillows on the ottoman could fool your guests even more. It looks like a normal cozy bench. That's great if you're getting the ottoman primarily for extra seating.
This ottoman won't catch your eye when you get to a room. However, there is no doubt that it is very stylish. It would work well if you're going for a contemporary look for your space.
Durability
This is more durable than I have expected. It holds my weight and my husband's with no problem. I'm roughly 150lbs., and my husband 190lbs. The manual does say that it can hold a load of 500lbs. That means two full-grown adults can sit on it. There are times when I use the bench to reach for things on top of my dresser. I stand on top of the ottoman, and it feels very solid. While you can stand on it, I won't recommend jumping on it even if it's just your child.
You have to know that the ottoman is not made of solid wood. It is made of MDF. It is a type of engineered wood that's stronger than particleboard. Considering that it's made of MDF, the sturdiness of this ottoman is impressive. As I have mentioned earlier, I stand on the ottoman and it holds up with no problem.
The top removes all the way. It doesn't open and close with the use of hinges, and I like that. Hinges can break with continuous use, so having none means there is one less thing that could break.
I have had my ottomans for nearly a year now. The top and the body haven't lost their shape too.
The ottoman is lightweight, so it's easy to move around. If you fill it up with many items, I suggest you remove some and lighten the load first before you go carry the ottoman. You can also push it across the floor.
My Two Cents
This amazing ottoman and storage area in one is an outstanding buy. If you're struggling with a small space in your home, a storage bin that doubles as furnishing is the answer. That's exactly what you'll get with Seville Classics' ottoman. Nothing tidies up as fast and efficiently as this ottoman. With the surprisingly large compartment inside, you can fit A LOT. It is a brilliant solution to your storage woes. It also provides you with extra seat or footrest to make your home a more comfortable place to live in.
The ottoman is what practical people would buy, and the price is what practical people would approve of too. You're lucky if you catch it at a discount. Nevertheless, at its original price, it is still very much worth your money. For the price, the durability of the ottoman is a lot better than what you would expect. It is not made of some flimsy material that would break easily. With moderate use and proper care, it's designed to last well into the future.
The sophisticated look of the ottoman would make an excellent finishing touch to your room. The benches are available in neutral colors, so it will complement your interiors with no problem. If you're considering whether to buy this or not, take the plunge already. You won't regret it. As for me, I would buy this again in a heartbeat. – Jenny K
---
Brand: Seville Classics
Product: Foldable Storage Ottoman Bench
---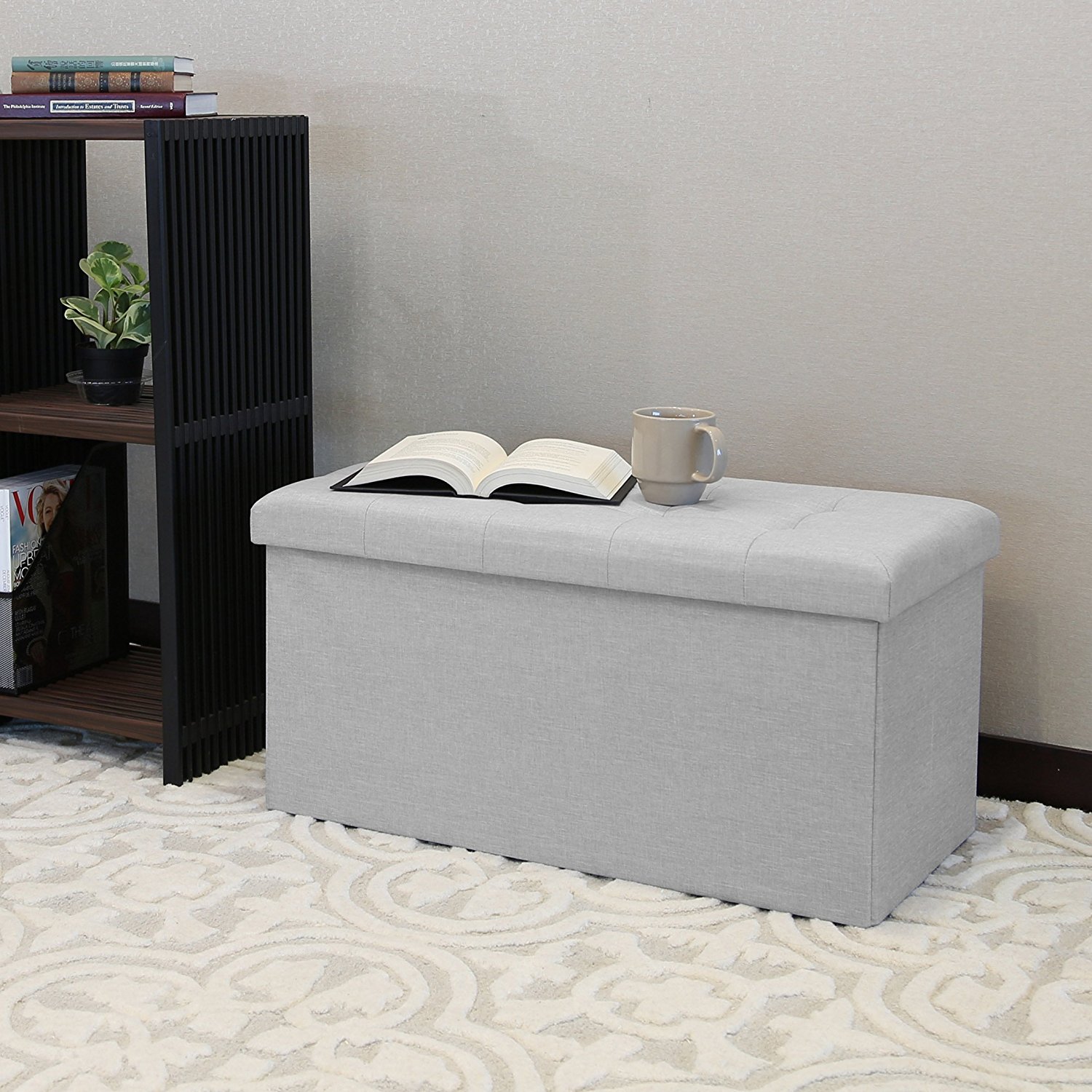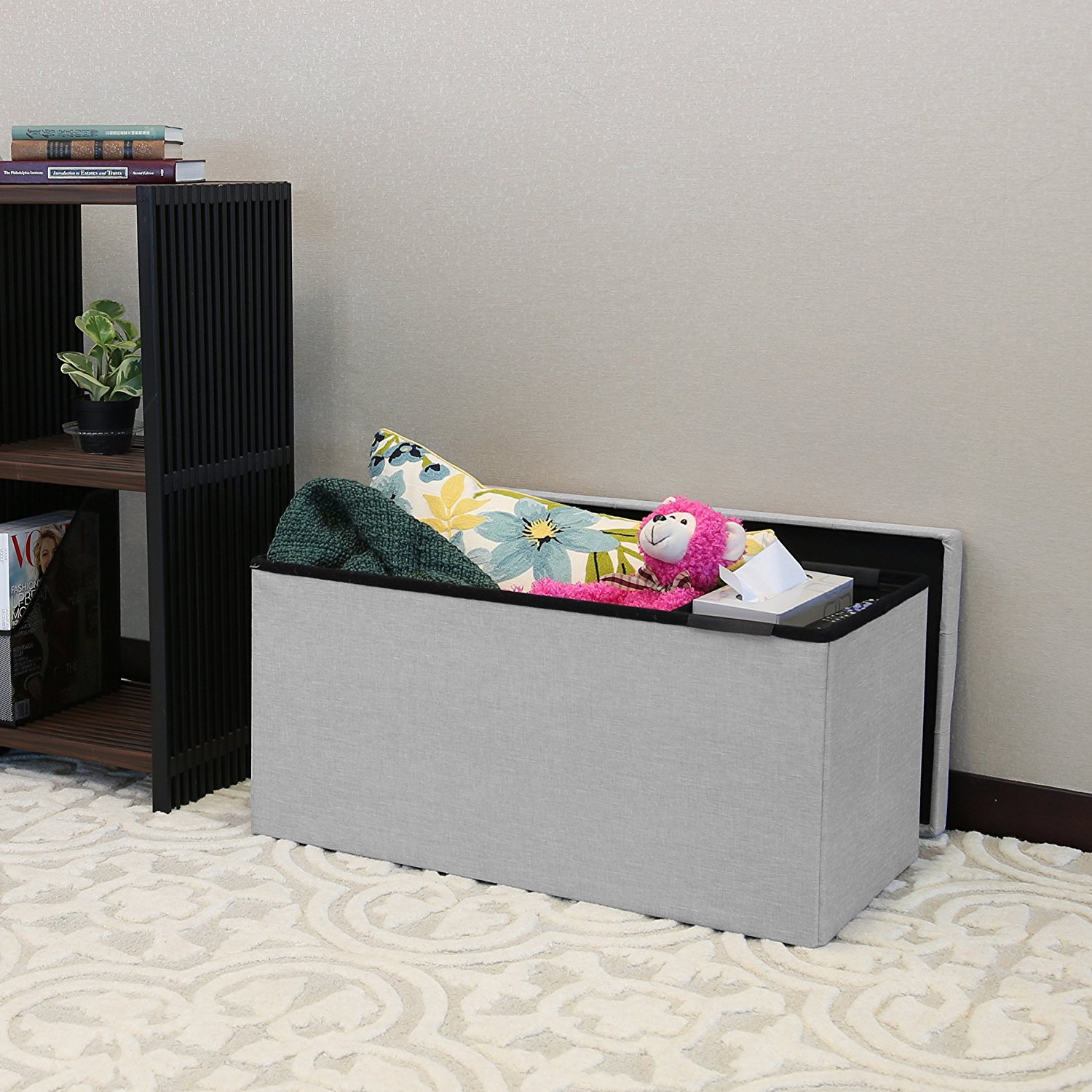 ---
Purchase the product on Amazon Marketplace