[Review] Ameriwood Home Parsons Desk
I have this desk in my room and use it as a vanity table. What I had in mind when I was looking for a desk on Amazon is one that's chic yet functional. I already got a minimalist mirror to hang on the wall, and what was still lacking is a desk that is equally utilitarian. The simple design of this desk plus the drawer made me jump ahead and get this one for my bedroom. So far, the makeup junkie in me is very happy.
Assembly & Construction
When I first opened the box, I saw that the parts were in individually numbered bags. From then on, I knew assembly was going to be pretty easy. I wasn't mistaken. It was straightforward because all I needed to do is assemble the legs. A diagram clearly shows the placement of the legs at the table corners.
The package comes with a wood glue. If you're wondering why, it's to secure the wooden dowels into the leg post. After that, I had to use 2 screws on each leg and tighten them with the Allen wrench. The said tool is included in the box too. If you're the type of person who doesn't keep any tool at home then this is your safest bet.
The table is made of a laminated particleboard. It's not flimsy at all. Though I got the desk at an affordable price, the construction of the legs, tabletop, and drawer were not cheaply done. The white color has even contributed to its high-end and elegant look.
Function
The desk does not occupy that much space in my room. I'm sure it can fit in a small bedroom. It is not as large as the usual vanity table, but it does the job. I would recommend you to buy mini drawers if you're planning to put a lot of objects on the tabletop.
Any regular chair or stool will fit under. But in case you want to make sure before you go chair-shopping, the desk's dimension is 30"h x 39"w x 19.7"d.
This desk does not wobble. That's exactly what I need when I put on eyeliner with my elbow resting on the table. It helps me draw the perfect wingtip!
My only concern is that I can't pull out the drawer all the way. Nevertheless, there is room for my eyeshadow palettes and other makeup tools. I simply place the more bulky things, like my skincare products, on the tabletop. That doesn't bother me as long as I have enough space to do my hair and makeup.
Price
If you're willing to spend more for a desk, go for it. But if you're working with a budget of less than $100, this would do great. With its impressive functionality and style, you can't find a much better deal anywhere else.  – Sharon H
---
Brand: Ameriwood Home
Product: Parsons Desk with Drawer
---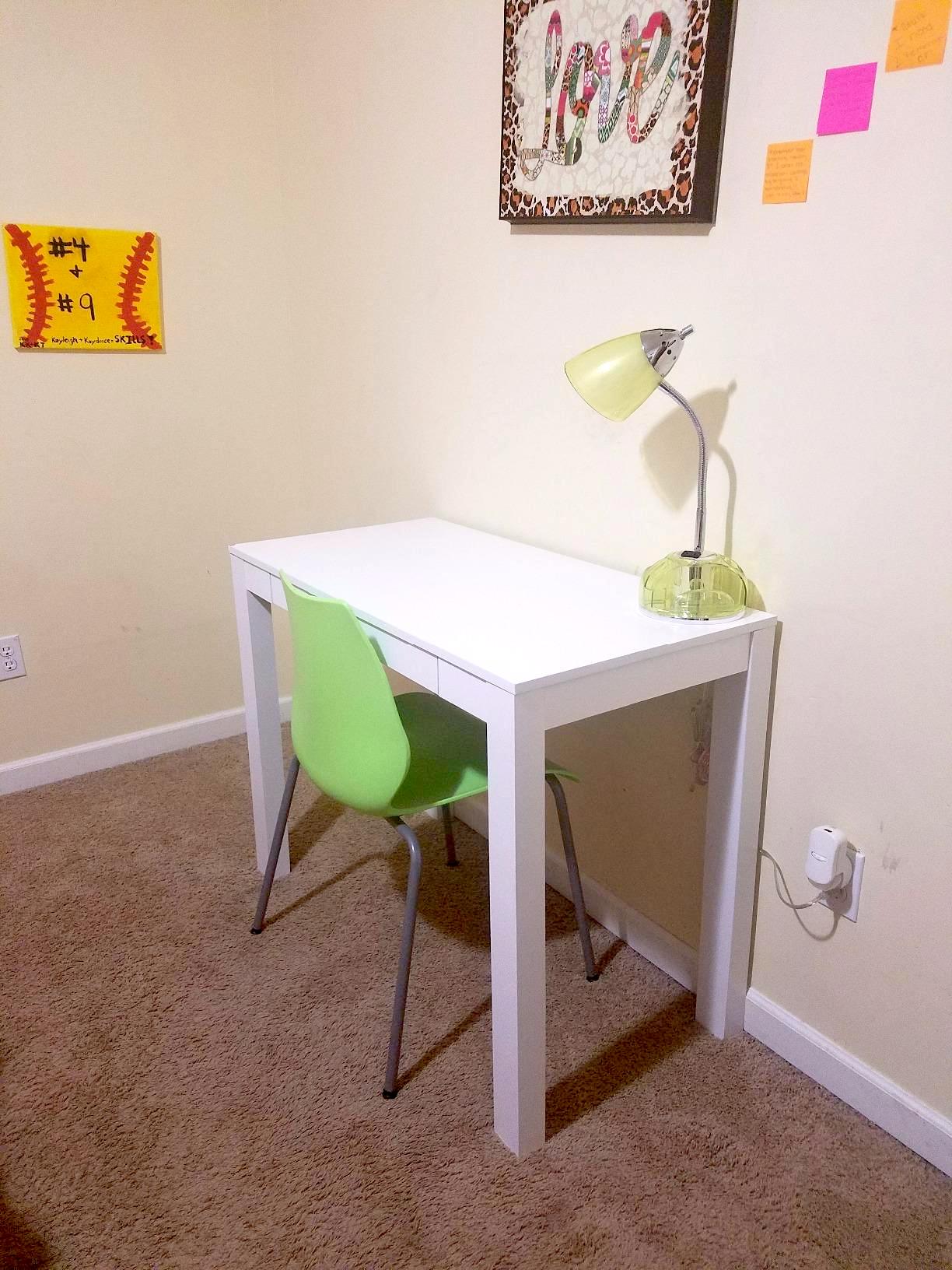 ---
Purchase the product on Amazon Marketplace