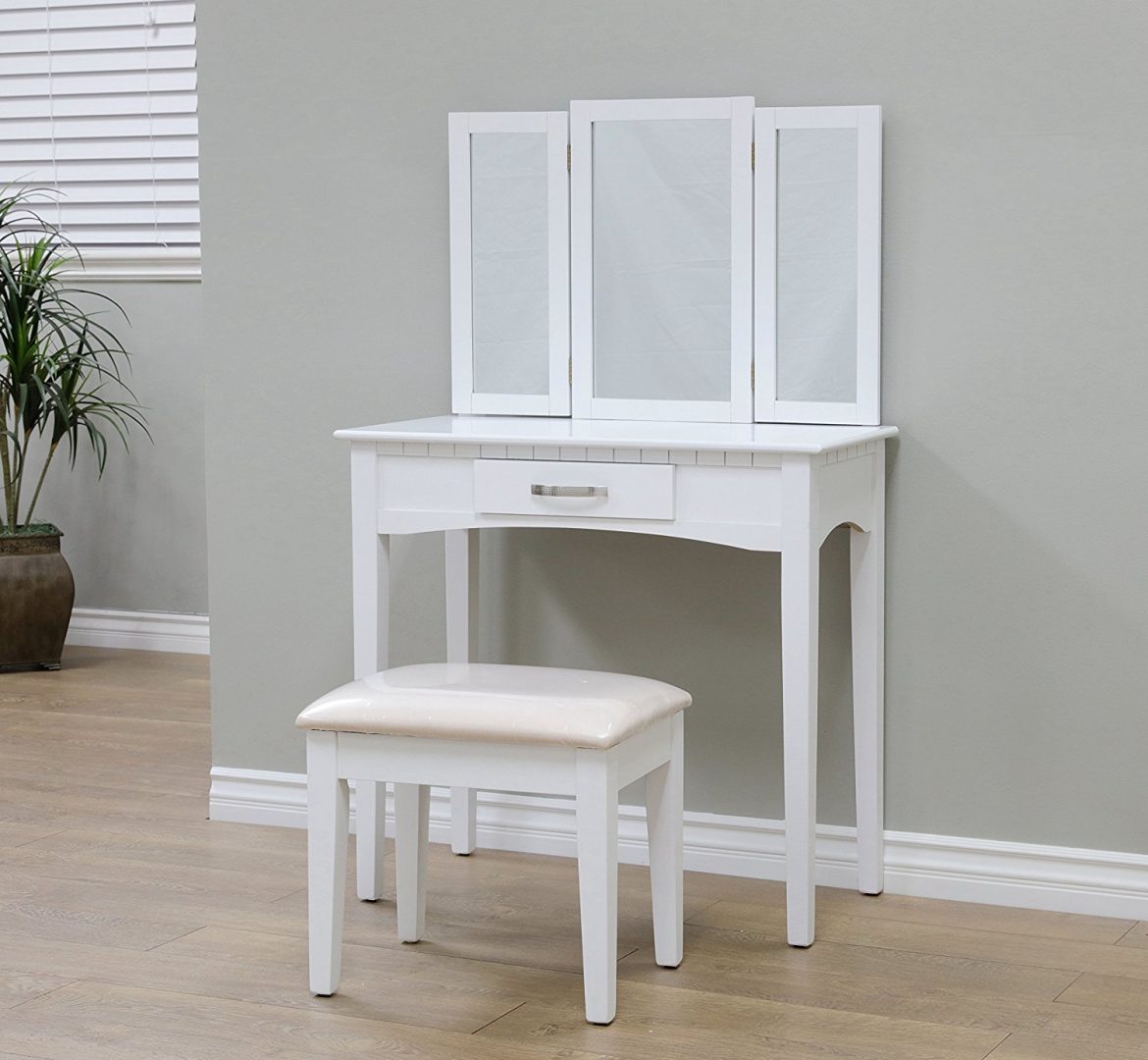 [Review] Frenchi Home Furnishing 3 Piece Wood Vanity Set
My First Impression
Delivery was prompt and everything in the package were intact. Initially, I was worried that the mirrors on the vanity may have cracks due to handling and shipping. To my relief, there was none whatsoever.
Assembly involved screwing in the legs onto the table and the bench. After securing the mirror in place, that's it.
Everything is made of wood, and the finish is remarkable. The stool is covered with beige suede, and it's comfortable to sit on. It's stable so I won't worry about tipping over or falling from my seat. The whole set is lightweight, so I can easily move it around if I wish to.
What I Think
I got this in white because I was instantly attracted to its clean and subtle look. It hadn't crossed my mind that my makeup could easily get the table dirty until after assembling it. To prevent that from happening, I got a placemat for the table top.
The 3 mirrors are great. With the swivel feature, you can adjust the mirrors' position according to your needs. As for me, I tilt the 2 mirrors on the side so I could check the back of my hair. Applying makeup is easier and more enjoyable if you have not only one, but three large mirrors. Now, I could quickly check if my eyeliner is applied properly under both my eyes and if I've blended my foundation well.
Another thing I love about the mirrors is that they're not the magnified kind. They show me my reflection as it is, which is helpful when I'm applying my makeup in the morning. I am actually considering to buy light strips to add on the edge of the mirrors. It's much more affordable than if I were to buy a separate lighted vanity mirror.
My only issue with the vanity set is the drawer. It is shallower than expected, and has only enough room for flatter objects such as my brushes and makeup palettes. Nevertheless, the tabletop has a large space, where I can place plenty of things. And if you're looking for a vanity set that would fit right in a small bedroom, this will serve its purpose well.
The Bottom Line
At the end of it all, it just comes down to the price. It sure does not disappoint. At the table's price point, the material, construction, and finish are superior and well beyond expectations. I can see that this will hold up well into the future. It's not the type I can pass on to my daughter, but I'm confident that this will last for years if taken care of.
What you see is what you get. The set looks exactly like in the pictures, and works exactly as described. This is indeed another wise purchase of mine from Amazon. – Sharon K
---
Brand: Frenchi Home Furnishing
Product: Furnishing 3 Piece Wood Vanity Set
---
---
Purchase the product on Amazon Marketplace