[Review] Clarice Tall Wingback Accent Chair
Before I decided on this accent chair, I searched for an attractive wingback chair both in stores and online. Most are ridiculously overpriced. Finally, I settled on this because of its affordable price and sophisticated design.
Great reading and accent chair
I ordered this chair to place on one corner of my bedroom. I love to read, so it's only fitting that I get a nice, comfy chair for which to tuck myself in on lazy afternoons.
Assembly was quite easy as well. The instructions did say to ask for an extra set of hands, but I managed. I did find it a little difficult because some holes do not line up. In the end, I realized that I have to put more pressure to get them aligned. If you're not good with your hands, better find someone to help you.
Style
In terms of style, it definitely did not disappoint. It even looks more expensive that it really is. I wanted a fashionable chair, one that would fit my room that I styled on my own. I am very particular about style, so I'm ecstatic that this chair is elegantly designed. It works perfectly as an accent chair. It adds a luxurious quality to my room.
The beige is just the right shade, and the espresso legs look chic. The tufted buttons is a classy touch. The wingback has a smooth curve to it. God really is in the details.
As for comfort, I didn't expect much from a low-priced chair like this. I was pleasantly surprised though. It is quite firm yet comfortable enough to be seated on for an hour or two. The fabric feels soft to the skin. I added a pillow on my back for added support. The back of the chair supports my neck well so it doesn't get strained after an hour of reading.
If you're tall, say 6 feet or up, you may find the chair a little low to the ground. I don't mind that though because I love to raise my legs up to the seat.
This does not wobble at all. Even if I change my seating position every few minutes, I don't feel the chair shaking from my movement. Cleaning is easy too. I simply take a damp cloth and wipe off any dirt. With the thick fabric and sturdy legs, it looks durable enough to last longer than expected.
Great buy
I feel like my money went a long way with this chair. It is now a statement piece in my room. Anyone won't believe me I told them I got it for under $200. If only I had a bigger room for myself, I would surely go for another one.  – Helen L
---
Brand: Great Deal Furniture
Product: Clarice Tall Wingback Light Beige Tufted Fabric Accent Chair
---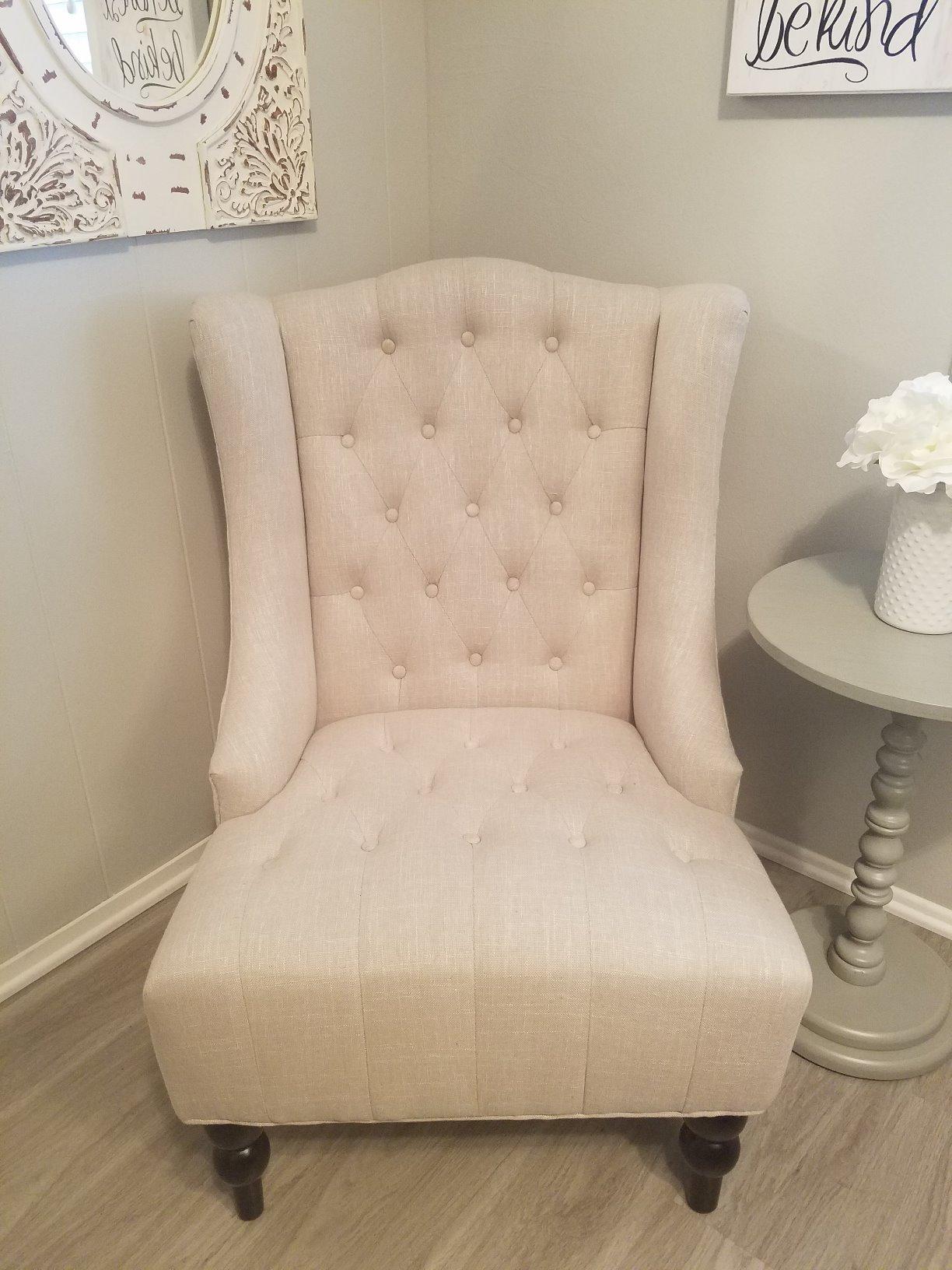 ---