[Review] Sauder Carson Forge Desk
Assembly
In my years of ordering furniture from Amazon, I've never assembled anything with so many pieces. It was quite overwhelming, so I had my husband assemble this Sauder desk for me. He took his time and read and reread the instructions, so he wouldn't get it wrong or break anything. He used a Phillips screwdriver and a hammer. Some pieces were missing labels but with the process of elimination, he did just fine. All holes are pre-drilled and well-aligned. Remember to take your time and assemble at your own pace. It took my husband around 2 hours, and it surely is worth the wait. I'll explain why next.
Exterior
The box that the desk came in with was beaten up from shipping. Fortunately, the pieces were packaged properly. There's no damage, scratch or nick at all.
After the assembly, everything pieced together beautifully. The desk looks twice or thrice more expensive than it really is. There is even an attractive sheen to it. It is rustic and matches our wood furniture perfectly well. It appears to be made of real wood, but upon further inspection, you'll realize that it is made of a thick particleboard. The metal accents on the corners and the drawer handles are nice touches. The 2 metal panels forming a cross add a distinct flair to the desk.
Quality
The wood of this Sauder desk is not some flimsy particleboard. It's actually thicker and sturdier than expected. You won't worry about filling your drawers up because as I've mentioned, the material used is dense and solid.
Function
The desk provides me with a wide workspace. I can fit my MacBook, desk lamp, notebook, pen holder, and a cup of coffee. Even with those objects on the tabletop, it doesn't feel cramped up. I still have enough room to move around. I like that I can place my coffee mug at a safe distance away from my laptop. Aside from that, it is not wobbly. I easily get distracted by the smallest things, so that's a big deal for me.
There are 3 drawers. One is shallow and ideal for my paperclips, Post-it, and other stationery tools. The other two drawers on the right have more room. The highlight is the one on the bottom. It is a deep hanging file drawer, which I use to organize my documents with. The drawers slide in and out smoothly. Additionally, I love that they have ample space to keep everything I need near me when I work.
The Bottom Line
This desk is a no-nonsense desk that helps me get the job done. That's all that I need from a work desk, so I'm very happy with my purchase. If all you want is a utilitarian desk with plenty of storage, look no more.
Other Popular Reviews
"It took longer than I expects to put it together. Like four hours. The instructions even make jokes about how long it will take. Some parts arrived damaged, but Sauder replaced them via express mail free of charge, and it was extremely easy to order replacement parts on their website. The desk looks classier and more expensive than I expected for the price. A lot of people have asked me where I got it. The drawers are sturdy, level, and roll smoothly. The file drawer is very handy. This is a great purchase." – Rabbit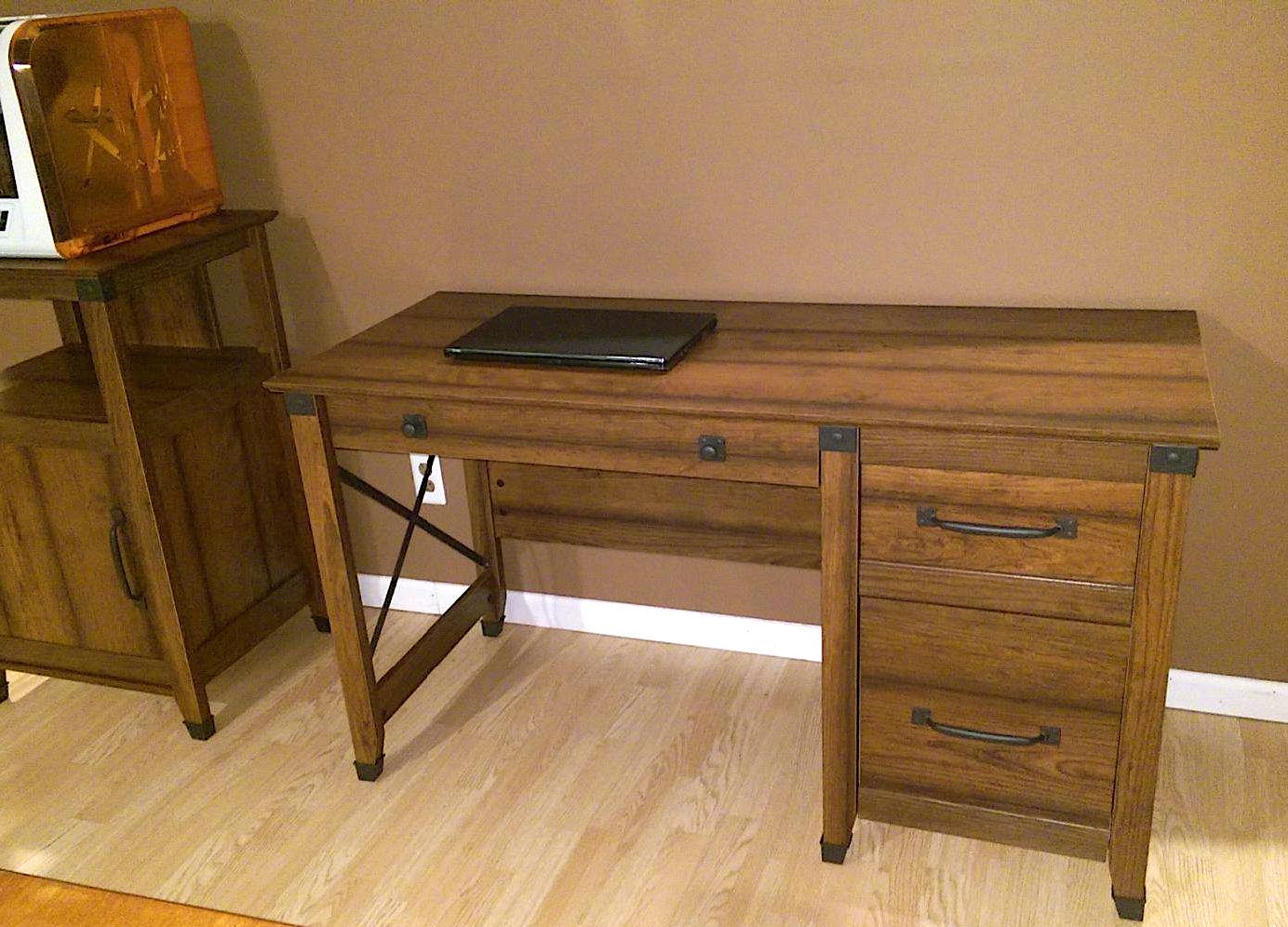 "An engineering masterpiece. It's amazing the number of holes and pieces and screws that line up exactly one after another until complete. Overall, it's a very nice desk and looks like it's more expensive than what you pay on Amazon." – Anonymous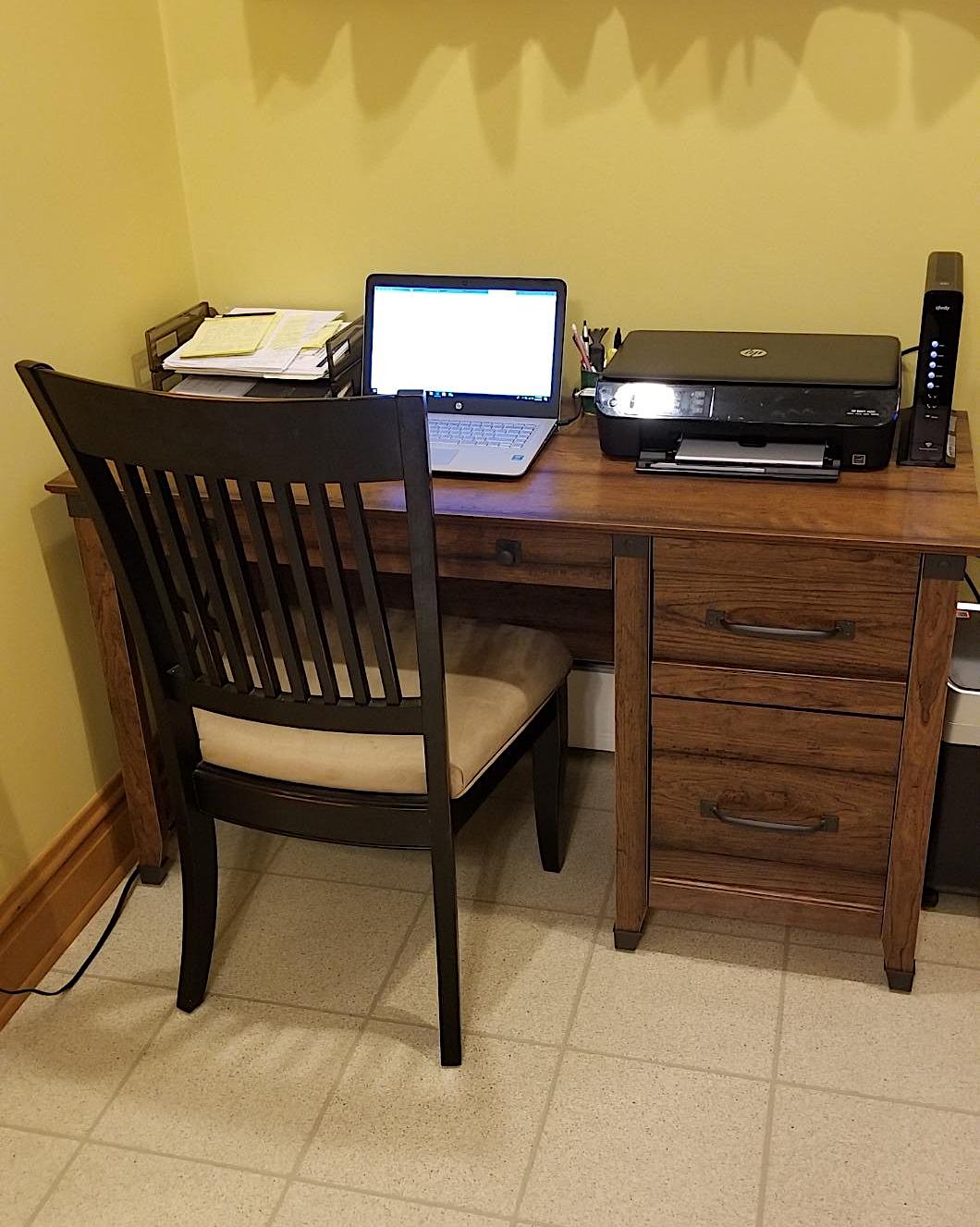 "I ordered this product a couple of weeks ago and the delivery was extremely fast. Like everyone had said in the reviews, it does take time to put together so take your time, fix a drink and listen to some music and it will work out. All the pieces were there and the instructions were easy to follow. I was very satisfied with the completed desk and to me, it was worth the money. I had also purchased the chest of drawers and can say the same thing about it." – Barry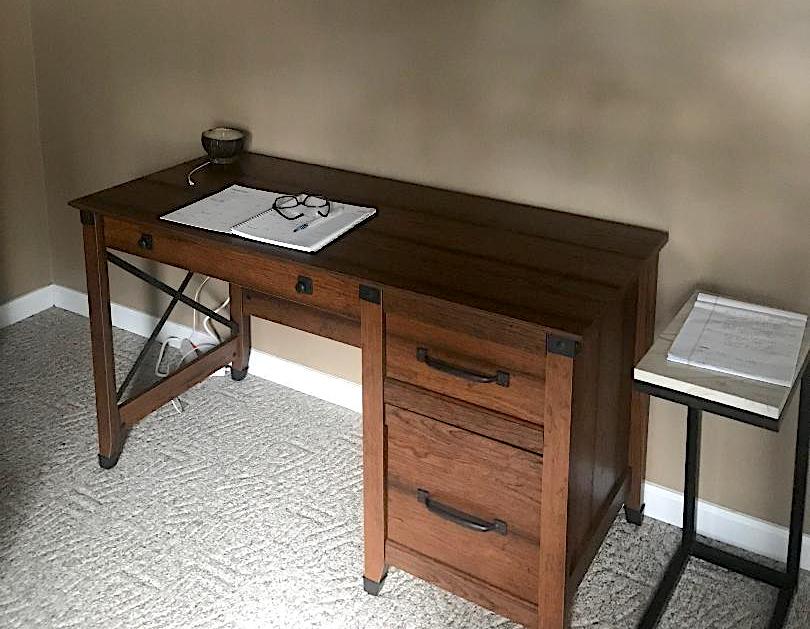 "This is an awesome desk for the price we paid. Instructions are good. It's mostly visual picture instructions. It tells what piece to use and amount needed per step. It has small instruction boxes that tells what to do once the pieces are installed and how certain pieces need to be turned to perform the step. If you follow the instructions per page and get in no hurry you'll have it together in less than 3 hours for sure. Great buy! My wife is in nursing school and needed it for her studies." – Wesley Glover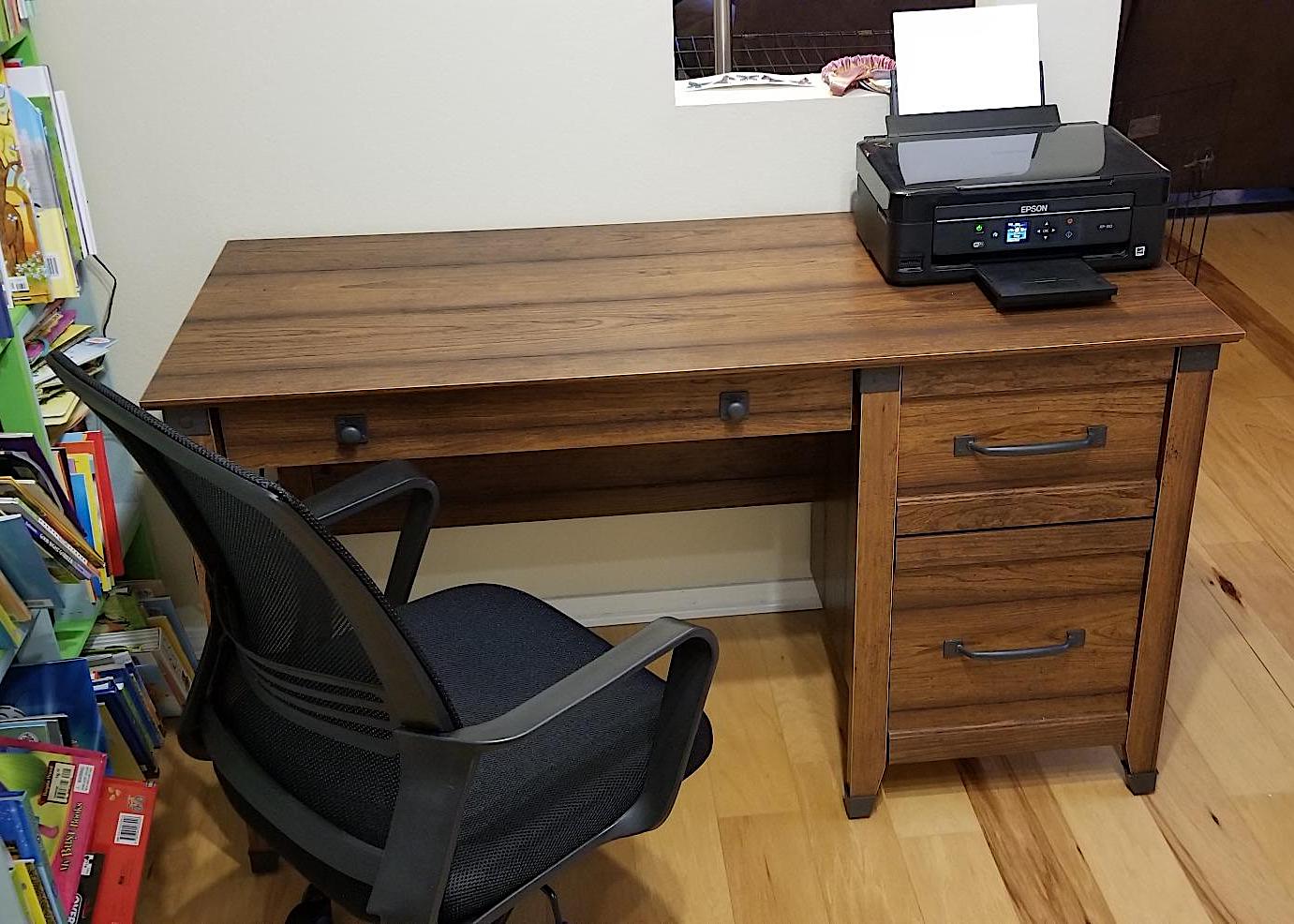 "This desk was much sturdier than I had expected. It took me about 3 hours to assemble as I took my time to ensure it was done right. The instructions were clear and easy to follow. Most parts were clearly labeled and the stickers came off cleanly. The few parts that didn't have a part sticker could be identified by pictures in the assembly instructions. This is for my teenage son to use at home for distance learning and it has Fulton to store his school supplies, hold his laptop and an extra monitor. He is thrilled with it. I definitely think this desk is a great value. Looks really nice, is sturdy, has storage, can be assembled with just a screwdriver and hammer." – T. Jordan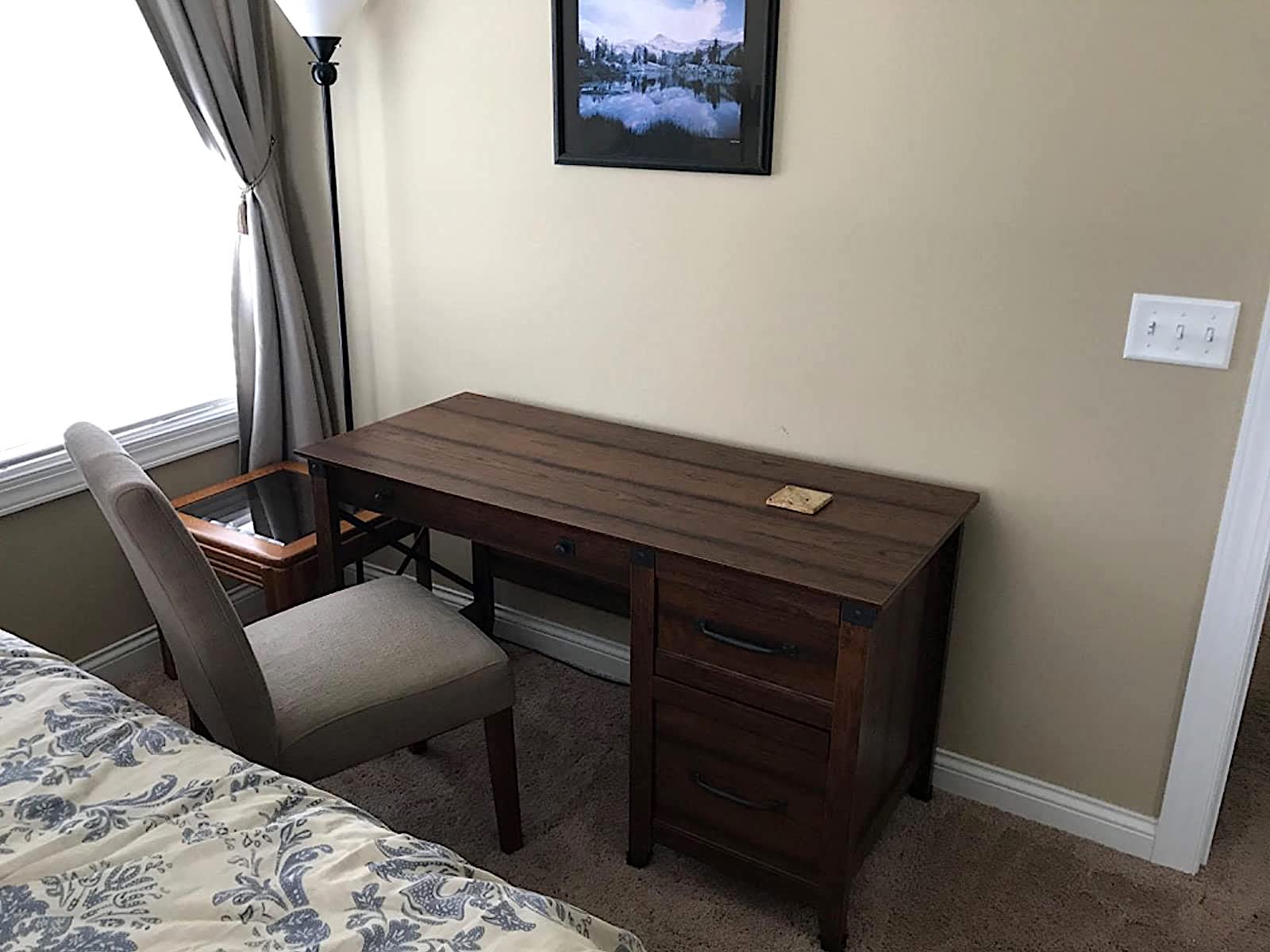 "I was initially frightened by how many pieces came out of the box, but after carefully reading the instructions and being patient it all came together. I also had a missing leg that was not included. Amazon customer service and Sauder customer support had me the missing piece in about 3 days. Super sturdy desk and is exactly the piece I was looking for to complete my office." – Jason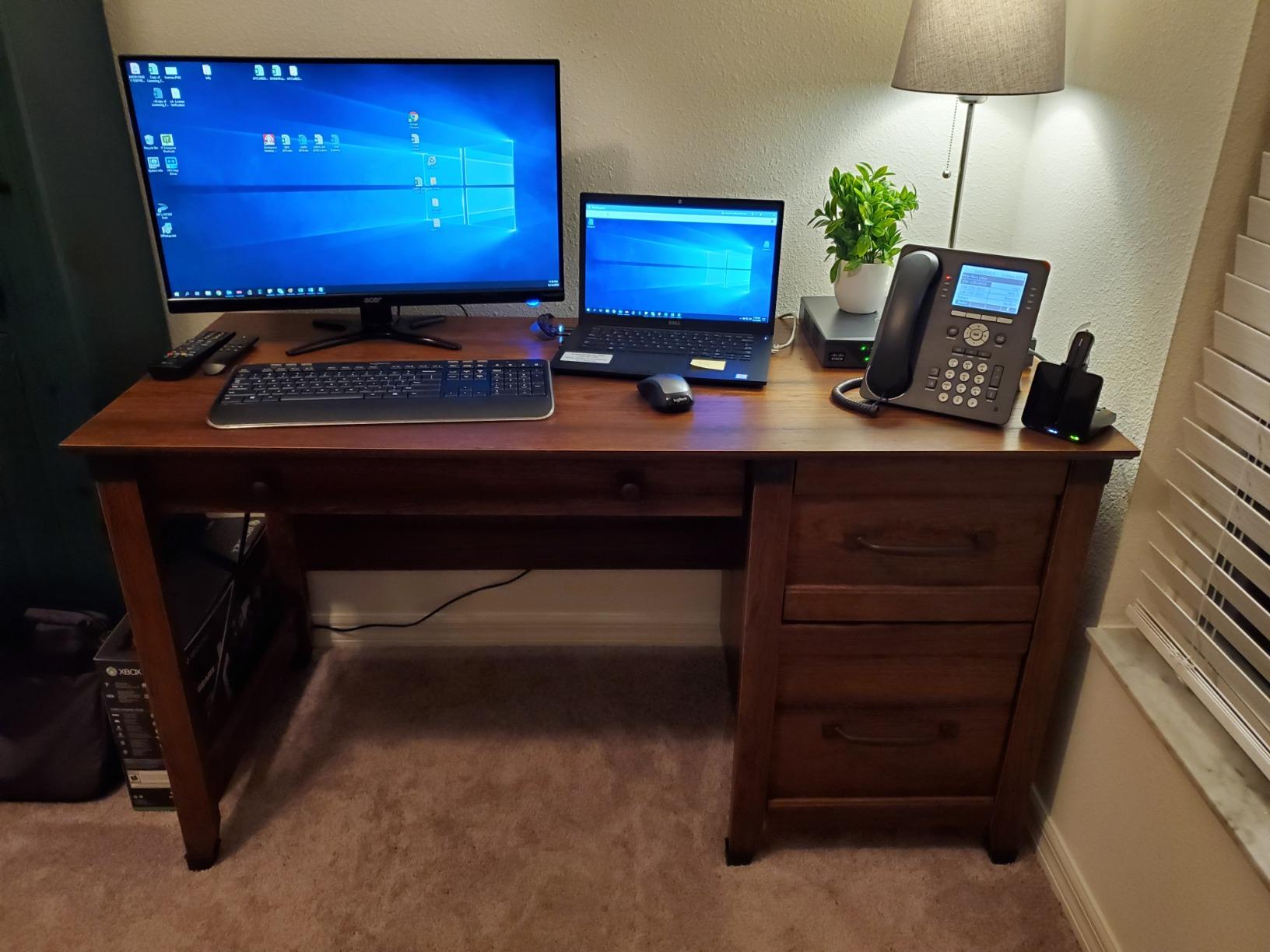 "My wonderful husband put this desk together for me. When we opened the box and he laid the gazillion pieces on the floor I gulped. But he read the directions and took his time. The end results were both satisfying and stunning. This is a solid well thought out piece. And a great price!!!" – Annette Blazon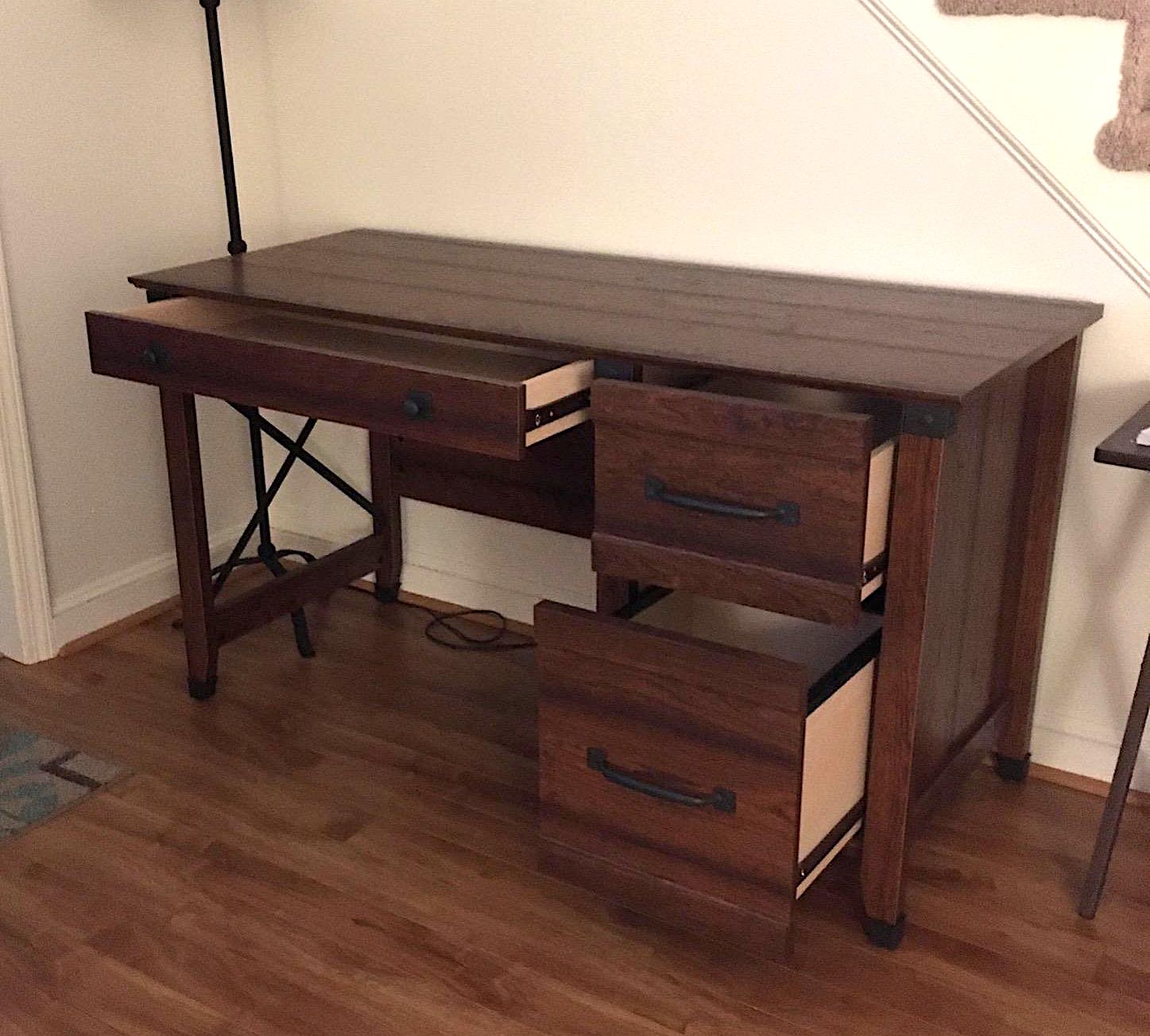 "Took a bit to set up but that's to be expected for such a nice desk. My wife and I finished project in roughly 2-2.5 hours, make sure you have some wine and some time !" – Lawrence Buss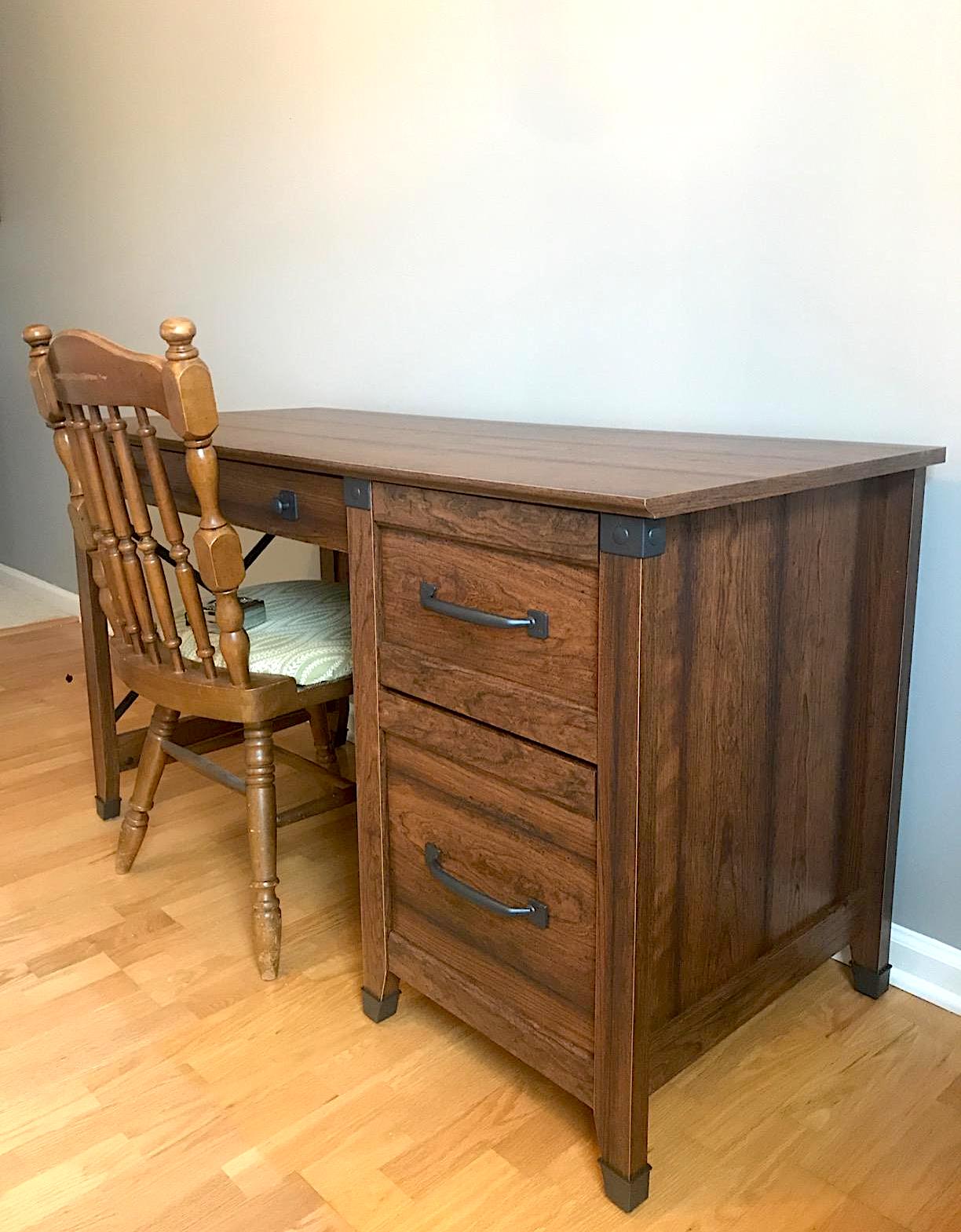 ---
Purchase the product on Amazon Marketplace (USA and CANADA) with free shipping
---