[Review] Zinus Ironline Metal and Wood Platform Bed
First Things First
This is my second bed frame from Zinus. As expected, the assembly is a breeze and the finished product looks amazing. I thought the company did a sensible job of packaging all pieces in the box. They were well-protected, so my pieces came without any unwanted nicks or dents. If yours do come with some defective parts, you can ask for a replacement from the company. I've heard that Zinus offers exceptional customer service.
The box was a lot heavier than I expected. I attempted to carry it myself, but I ended up waiting for my husband to come home so we can carry it to my daughter's room. The weight, I believe, goes to show how solid and thick the metal and wood components are.
Assembly
In terms of assembly, this bed frame deserves five stars. Each piece has a small sticker with a number. I love that you can easily peel the stickers off. You don't need to take too long just to remove the adhesive. The numbers are there, so you can easily follow the instructions. It almost doesn't feel like assembling. It's only a matter of matching parts with the same numbers. The only tool that you need is an Allen wrench. You'll find one inside the box. There are a couple of spare hardware just in case. We still have them in a plastic bag. You'll never know when you'll need them. A bolt or two may loosen in time, and if that ever happens, the spares would come in handy.
The slats already came connected with Velcro strips, so there's no need to set them on the frame one by one. At first, I thought I had to spend so much time arranging the slats one at a time. Imagine having to measure the spaces to make sure they are equal distances apart. I was delighted that's not the case.
The platform bed looks just like in the pictures. I think the wood panels are a lighter brown in person though. It took me a little over 30 minutes to complete the setup. Someone with less experience assembling furniture would maybe take an hour. Nevertheless, the instructions are so simple that anyone would have no trouble following them.
Design
We bought this bed frame for our daughter who had her room remodeled. She personally prefers beds with a low profile, and this came in great. She's petite, so that's exactly what she needs to easily get in and out of the bed. It's great if you sleep with your pet too. The low profile would make it easy for them to jump up. This is also excellent for active sleepers. If you do fall off the bed, it won't hurt as much as it would with regular bed frames. It's better to use a thinner mattress for that purpose. Needless to say, the bed frame has a low clearance underneath. You have to look somewhere else if you want a bed with room for your stuff under it. The platform bed sits around 7 inches from the floor, which is a good height for a low-profile bed. You are close to the ground, but you don't feel as if you're lying down on the floor.
The bed frame features a metal frame and wooden headboard and footboard. When you get to my daughter's room, the dark brown wood would immediately catch your eye. It actually gives off a rustic vibe. A big part of the bed frame that's visible is metal, so I initially worried about the platform looking cold. The wood panels, however, provide warmth to the overall look. The bed frame has a modern-industrial look while still looking classy. With one look, you can already tell that it's expensive. We had no problem getting this to go with the bedroom's furnishings. My daughter's room happened to have a mix of wood furniture as well as modern metal fixtures. There are bolts on all the right places, but they almost look invisible or are hidden from view. The sight of bolts won't take your attention away from the beauty of the frame. I use a dry cloth to keep dust off the surface of the frame.
Headboard
The headboard is a good height. I believe it's better not to use a box spring. We got a 12-inch memory foam mattress with this. My daughter can lean back on the headboard as she uses her laptop in bed. It makes for a relaxing breakfast in bed too. Nevertheless, you can still use a box spring if you prefer a high-profile bed frame without having to buy one. Any type of mattress would work as long as you stick to the size of the platform. In our case, we got a full for the frame and the mattress, and the mattress fit without a hitch.
The slats are thick. They are spaced evenly, with only a few inches apart from each other. The slats provide full support to the mattress. Because of the small space between the slats, your mattress won't sink in. The ends of the slats stick along the length of the frame with Velcro strips, so they don't move around. There are even adhesives on the slats that keep the mattress in place. I don't really find that necessary as the mattress stays put with the footboard.
It has foam tape in areas where there are metal parts touching. No noise comes out of the platform bed. There is no creaking even when my daughter gets on the bed. It did creak once, and that's just because there were loose screws that needed tightening. Don't underestimate the effect that your bed frame has with your quality of sleep. A quiet bed frame warrants a good night sleep. This is truer if you're a light sleeper and just a little bit of noise wakes you up.
I commend Zinus for the thoughtful design and excellent construction. The tiny details like the non-slip tape and noise-dampening foam allow for a comfortable sleep.
Durability
Upon purchasing this bed frame from Zinus, you automatically get a 5-year limited warranty. That's great considering that this thing gets beaten up with daily use. We've had this for 10 months, but I don't think we'll be needing that warranty soon.
The construction is impressive. The pieces feel very secure together. There are no worries of breaking parts. The metal is very solid, so they won't dent or bend under normal circumstances. What needs taking good care of is the wood panels. Make sure not to scratch the wood with sharp objects. The wood looks very beautiful when it's free from scratches and blemishes. My daughter is the type who's careful with her things, so the panels still look brand new. If you had this in a kid's bedroom, the wood may end up having so many scratches on them. You can put on a coat of varnish if you'd like a more shiny finish.
If you're worried the wooden slats would not hold up as well as metal ones, you should know that they are thick and solid. It's alright for you to set a heavy or thick mattress on top of the frame. The slats won't bend nor snap under the weight. My niece would sometimes jump on the bed without any incident to report. I think that's enough evidence that the slats are tough.
The bed frame feels very stable. It doesn't wobble on our hardwood floor. If you have a carpeted floor, I imagine it won't wobble as well. I don't recommend pushing the bed frame on hardwood floors though. We did once and it left some scratches on the floor. Aside from that one incident, I have nothing but good things to say about the bed frame. There is a support bar in the middle of the frame. That gives the platform better stability.
Final Thoughts
I recently placed an order for another one of this bed frame for our guest bedroom. That's how much we loved this! I'm confident my parents – who will get to sleep on it the most – will love it too. This is a modern bed frame with a classic twist. Thanks to the wood panels, the bed frame manages to still look cozy enough for a home.
This isn't the bed frame if you're working on a tight budget. But if you're after the quality, it's better to go with this frame than regretting your purchase in the end. This is a great case of 'you get what you pay for'. Durable furniture may come at a cost, but it's well worth your money. If you're tired of furniture with subpar quality then this bed frame is for you. This is a worthwhile long-term investment, made even better with the included warranty.
Other Popular Reviews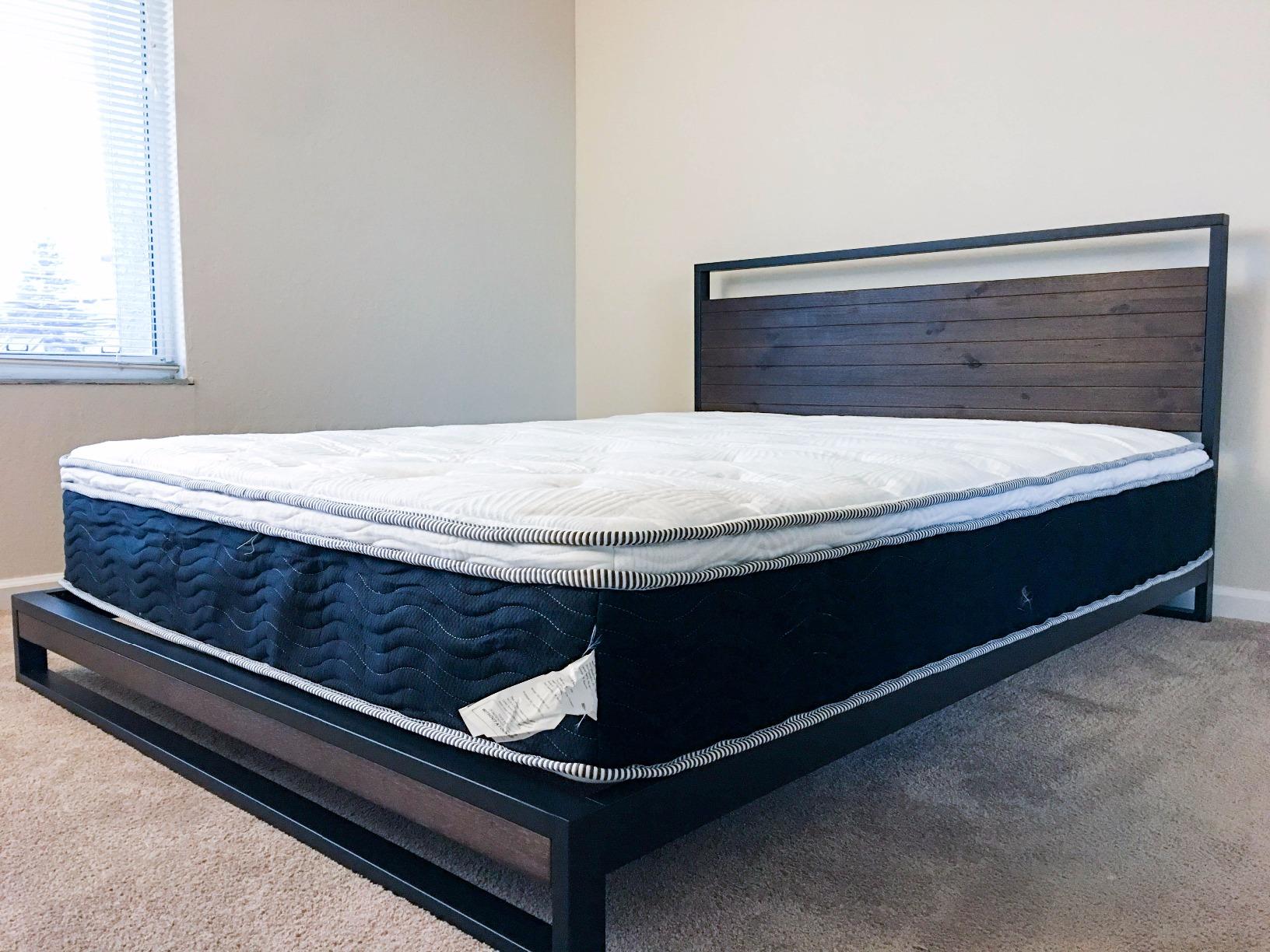 "There's no creaking whenever the mattress moves, because the frame is so solid, and I haven't had to worry about anything breaking or weak pieces or issues with the construction of the bed frame! The bottom of the frame that supports your mattress is a lining of cedar slats that velcro onto the frame, and there's even an added rubber strip down the center line that keeps your mattress from making noise as it moves around. I'm thankful and very satisfied with this purchase, and I know that it'll keep my bed and mattress solid for probably the next many years." – Brian Tan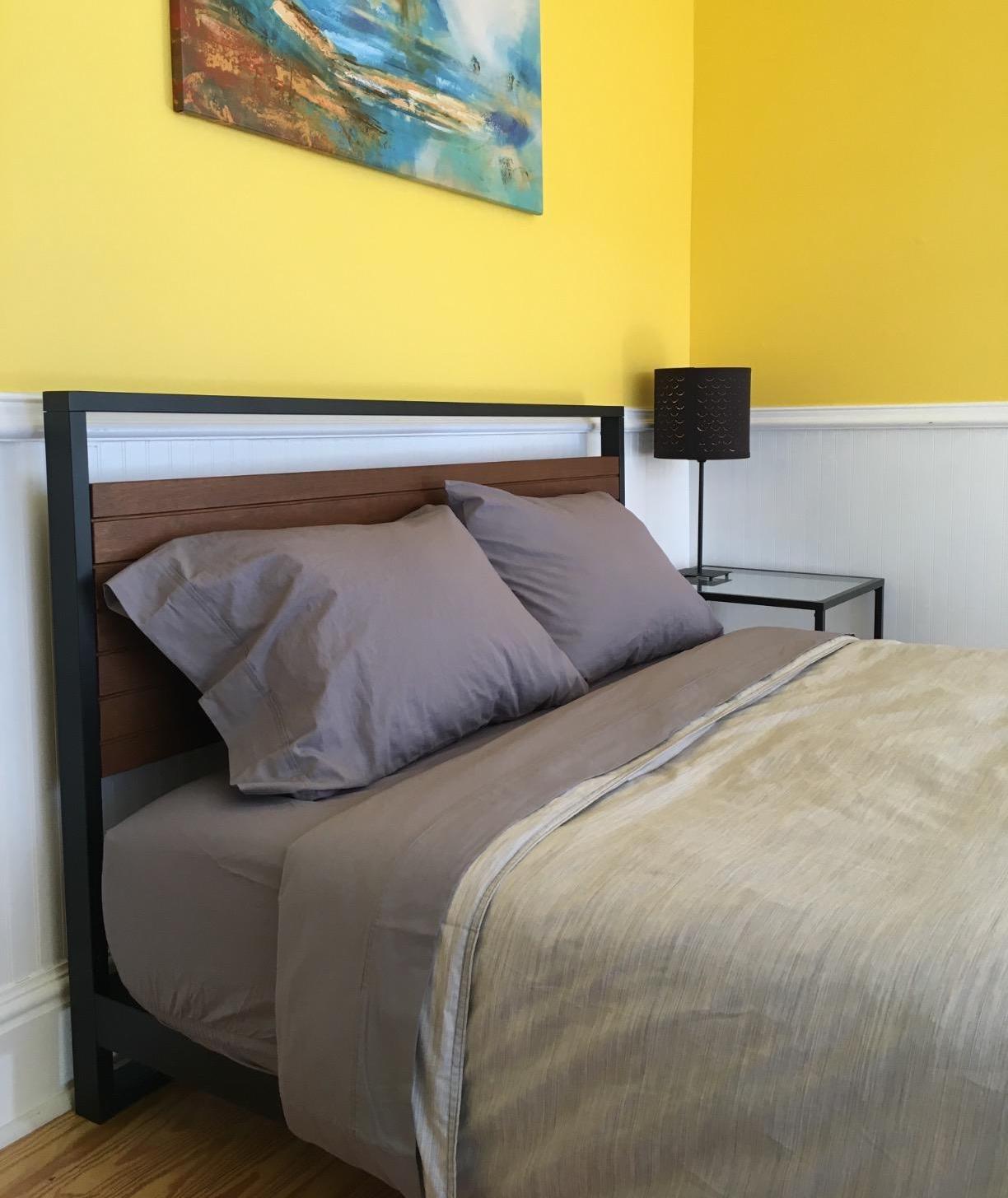 "Let me preface this review with the fact that my parents own a home furnishing and flooring store and I worked for them and in that sector for many years. I have put together my share of assembly furniture and delivered factory made/assembled and consumer-assembled furniture. This bed is BY FAR one the best combinations of PRICE and QUALITY. The materials it is made of are quality. They are not the highest and the best kind you can buy, but you aren't paying for that here. What you are getting is a bed frame made from highly durable material that looks nice. Take my happiness about the quality of it and amplify it by ten for the assembly process." – Lex C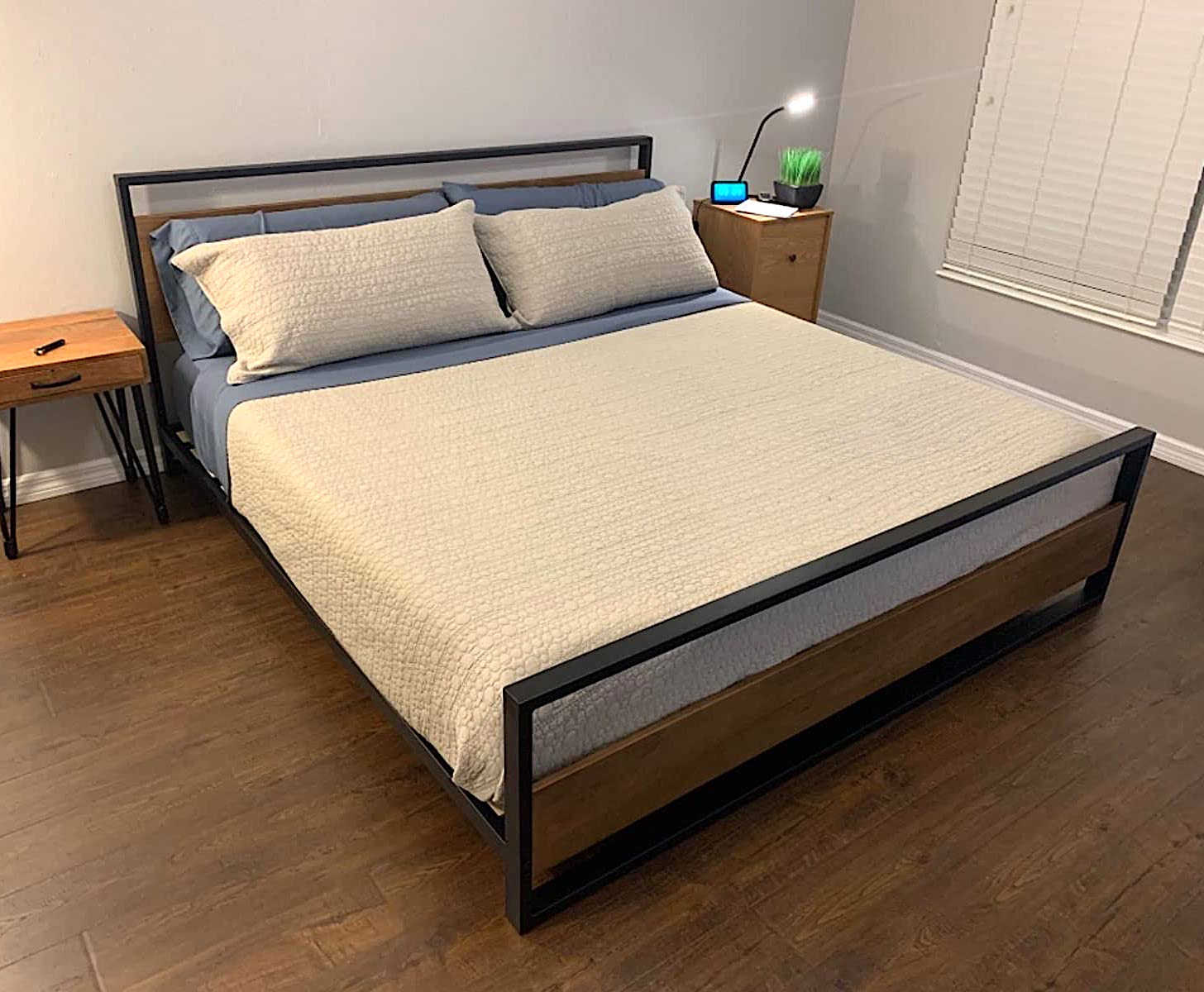 "I'm sure that there are some mixed results with this bed. But frankly I've had mixed results with IKEA stuff too. My bed went together very easily and it's VERY sturdy and heavy so it doesn't side on the floor. Very happy with my purchase. Everything fit together perfectly and it's just very very sturdy. No squeaks flex whatsoever and I'm 240lbs. Also, it is a low sitting bed like my previous IKEA Malm bed, but I prefer that personally. Makes the room feel bigger. Also it sits higher than the Malm bed I had too." – 1080p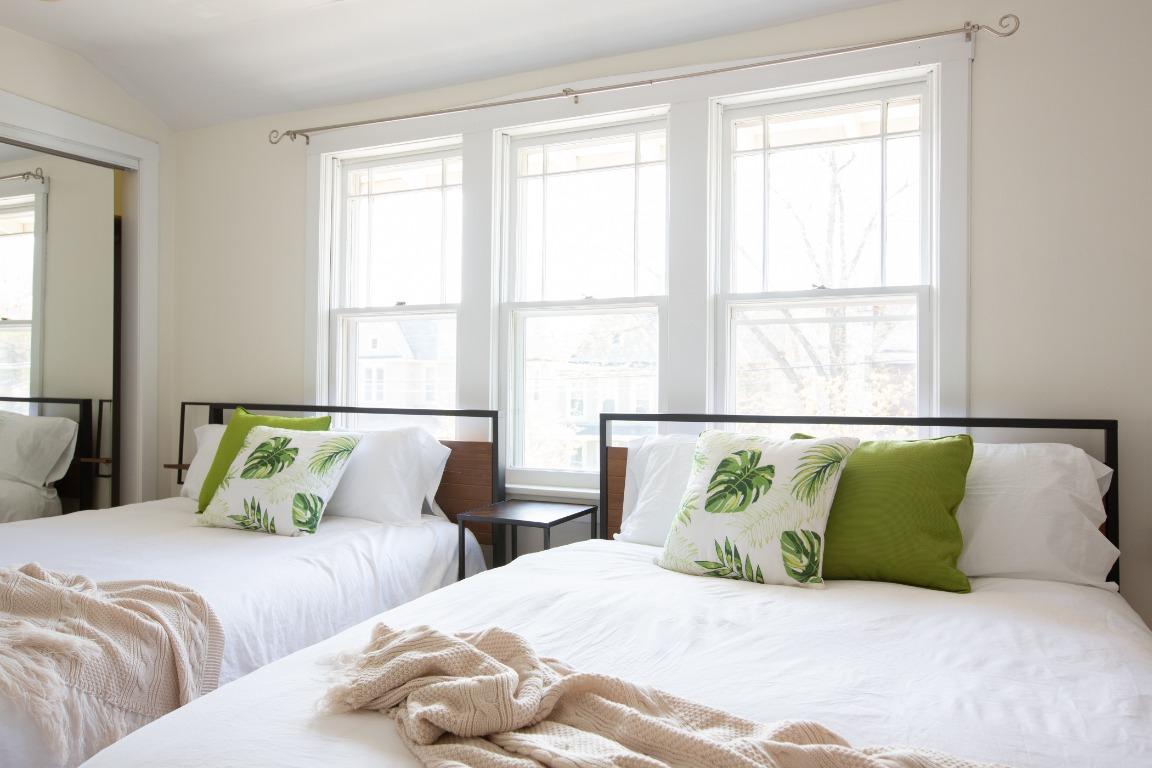 "This bed looks very nice and is sturdy. I'm using in an airbnb (bought 2) and am very happy with them. I'm using without a box spring, but with pillow top mattress, so the height works well." – Felicity Britton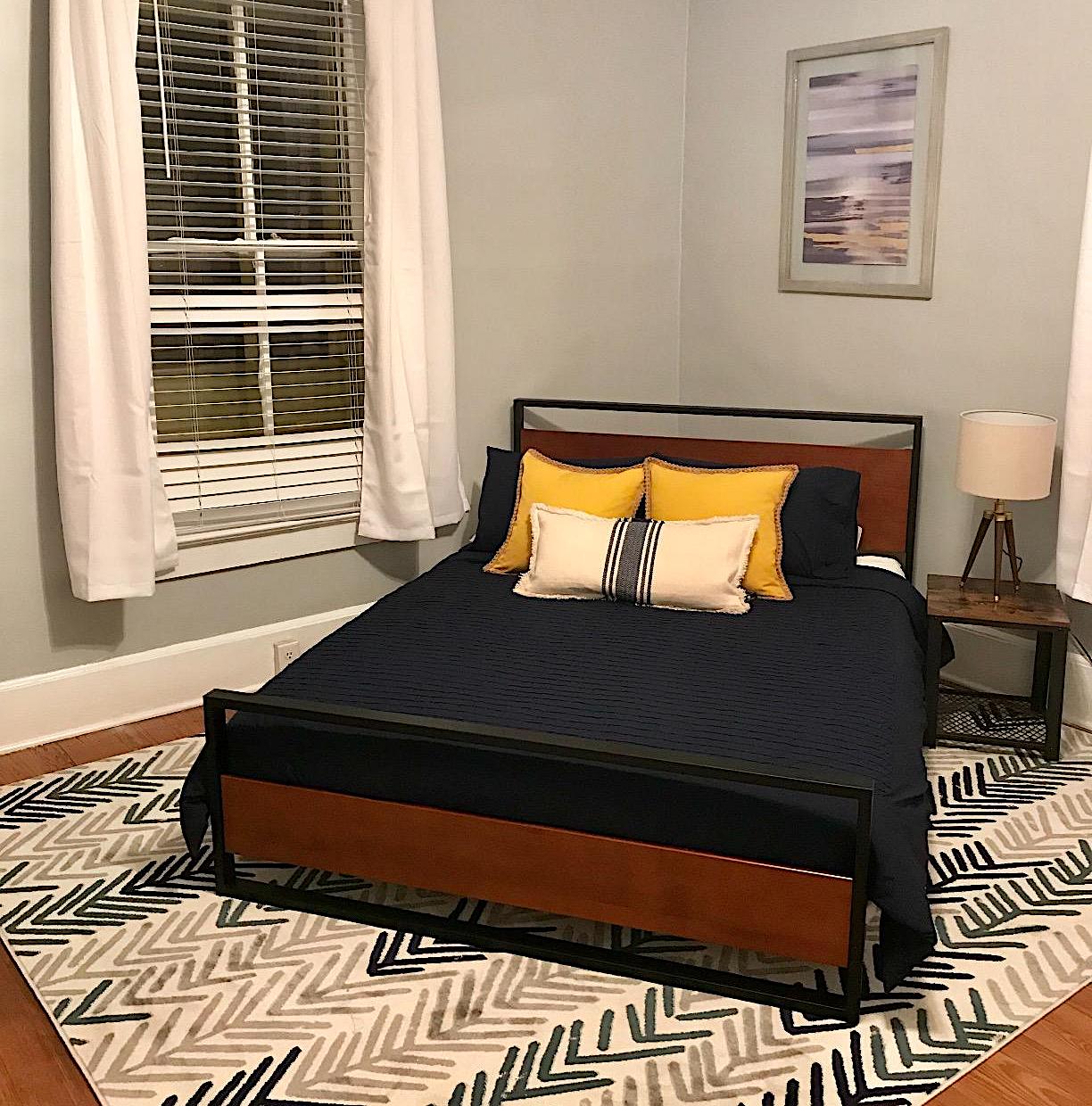 "Just installed this bed at our Airbnb today – arrived on time, was easy to put together, sturdy, and looks great. Great brand and option if you need quick turnaround, quality product, and a stylish look." – R. Clifford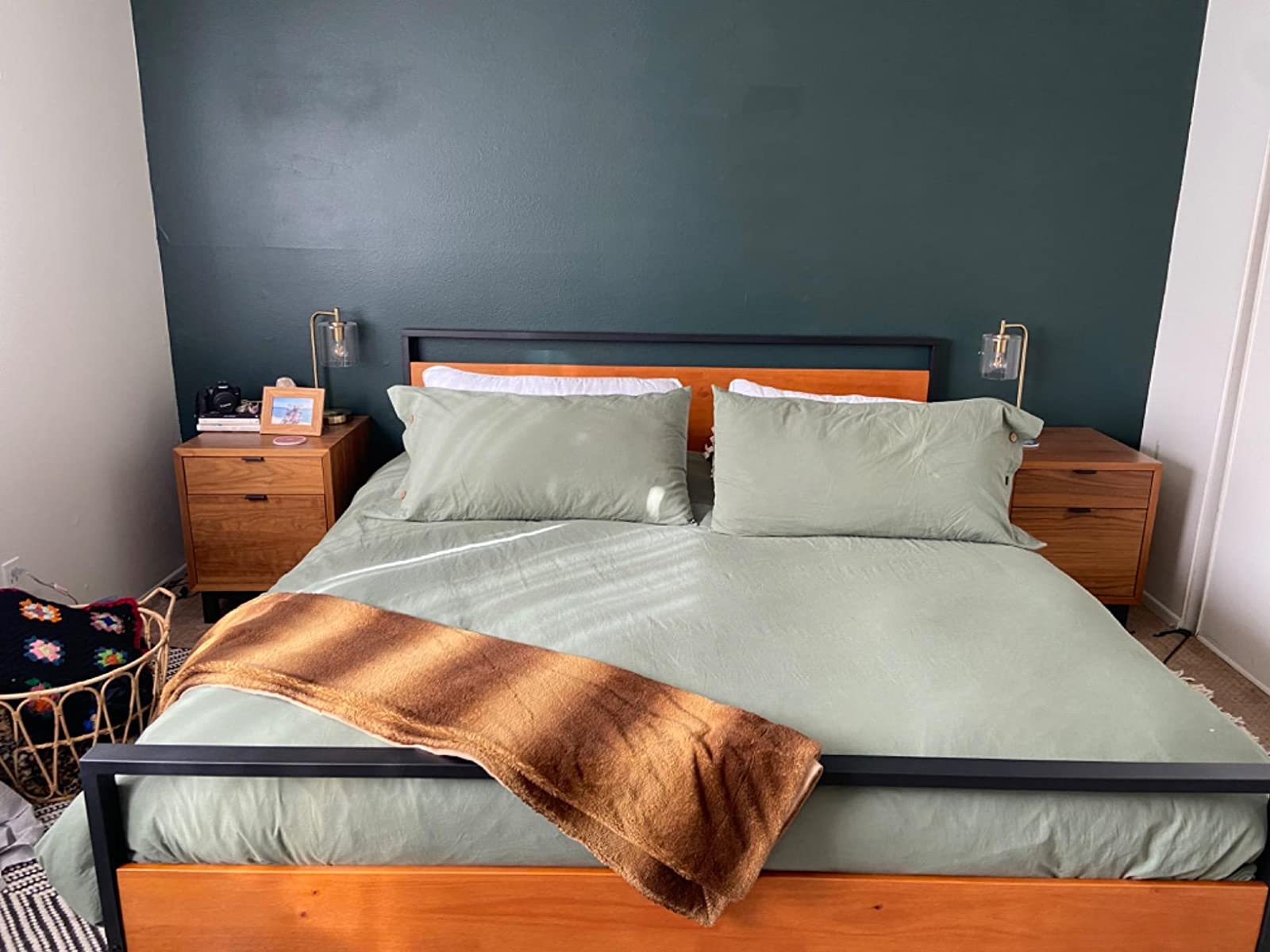 "This frame was very easy to assemble, the instructions are clear and all of the parts were labeled so you know where exactly each piece went." – Cristina Leon
---
Purchase the product on Amazon Marketplace (USA or CANADA) with free shipping
---