[Review] VASAGLE Retro Coffee Table with Storage Shelf
Product Highlights
Vasagle brings yet another beautiful coffee table with mid-century style.
Wide tabletop and open shelf provide ample of storage area. They can be used to hold electronics such as speakers, gaming consoles, and Blu-Ray players.
Real-wood legs give the table reliable support. The slender legs lend an interesting look to this accent table.
Avail of free shipping if you're an Amazon Prime member.
First Impression
This accent table is simple yet stylish. It has a subdued elegance that give off a rustic ambiance to any space. It is not an eye-catching piece but it is as stylish as it is utilitarian. It adds a vintage feel to the room without looking outdated.
As expected from Vasagle, assembly was seamless. The instructions are direct to the point. There are just a few pieces to the table, making it easy to put together.
Storage
Small spaces would benefit well from the storage space that this coffee table offers. The spacious top plus the open storage underneath provides you storage for different items. The shelf is 8 inches tall, which is a good height. You can put electronics on the shelf and not have any issues with cord management. The cut-outs provide you with holes where you can fit through the wires and cables. Just get cable ties to keep them from tangling and looking messy.
The shelf is also a good place to keep books, magazines, and board games. It allows you to have everything conviniently within reach in the living room. You can turn it into a mini entertainment center. I imagine this would work well as an accent table in a waiting room. Due to its elegant style and spacious top, the cocktail table would work well in homes and offices.
What's great with the open shelf is that there is a small covered spot. This leaves you additional space to fill. If you have anything that you want near you but don't want people to see, this would make a great hiding spot.
Design and Stability
The slender legs are unexpectedly very sturdy. They are real wood pieces, so they have the strength to support the weight of the entire table. During the assembly, make sure to tighten the legs onto the table. Be careful not to overtighten too. This will keep the table solid. This will also prevent the table from wobbling.
The legs give the table significant clearance underneath. You can stretch your leg under the table. You can even cross you legs under it. Another advantage to this is that it is very easy to clean under the table. You can either sweep or use a vacuum without having to lift up or move the table. The leg space makes it comfortable to sit on the floor when you're eating or playing board games with the whole family. A wide tabletop means more people can sit around the table and a bigger play area for everyone.
The legs also give the table that extra height. This allows you to put your feet up on the table while sitting on the couch. The legs won't scratch the floor, as they come with felt pads.
This cocktail table is heavier than it looks. The weight says a lot about its quality. Worry not, you can still lift the table up even if it has a good weight to it.
Owning this table is fuss-free. It requires zero maintenance. Like all wood furniture, what it needs is proper care. Keep it away from sunlight and moisture and the table should stay beautiful for a very long time. Touch-ups may be needed moreso if you have kids around. You can get a touch-up pen with a similar color to conceal any scratches and stains.
Excessive moisture is very bad for wood. It can cause warping and even stains. To prevent this, liquids should be wiped dry as soon as practical. Coasters are a good idea too. It is a good habit to use coasters under your drinks as that would ultimately keep liquid off the surface.
The table comes with free shipping exclusively for Amazon Prime members. Non-members can sign up with the monthly and annual plans. There are a lot of other benefits to signing up, so it is worth checking out.
Other Popular Reviews
"I absolutely love it. Our apartment space is pretty small and the living room had a massive coffee table that was just too big. I love the mid century modern vibe and this fits perfect. It does take a while To put together so you have to have a lot of patience" – Jesse Jay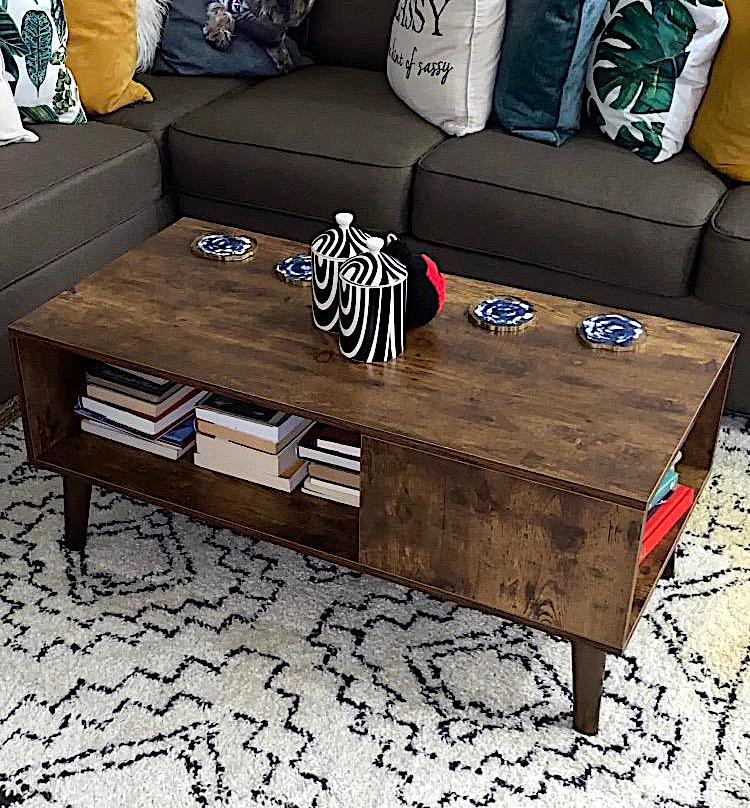 "The instructions were pretty good and easy to follow. I think it's a great coffee table for this price. I like the old fashioned design. Table is perfect for little space and provides us a lot of storage Inside. It could serve for different kind of purposes whether it's a TV or just a coffee table." – Annette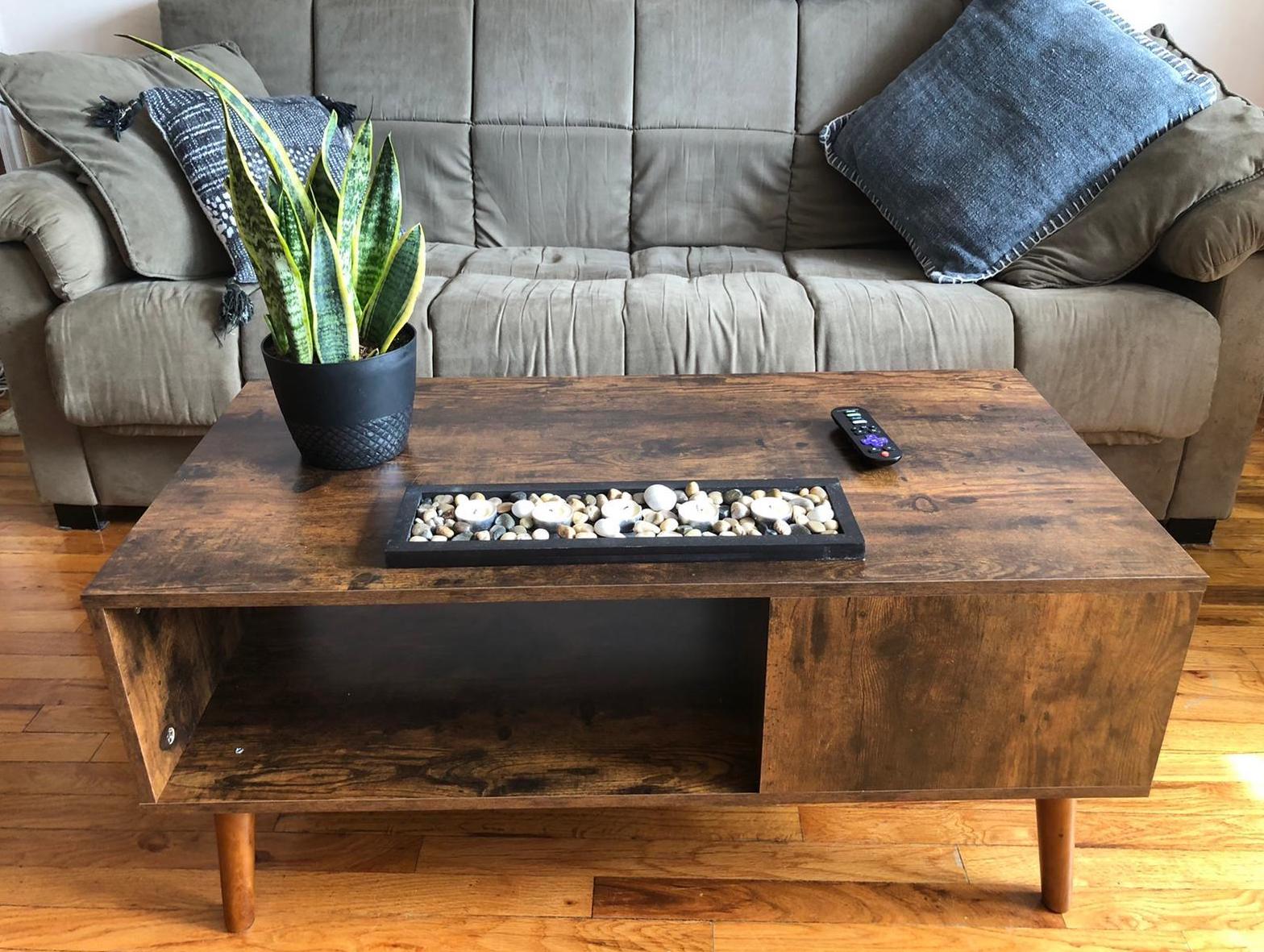 "Love the way this mid century modern piece looks along with the quality. I was a little nervous with the look of the wood- but it turned out great!" – Nancy Guthrie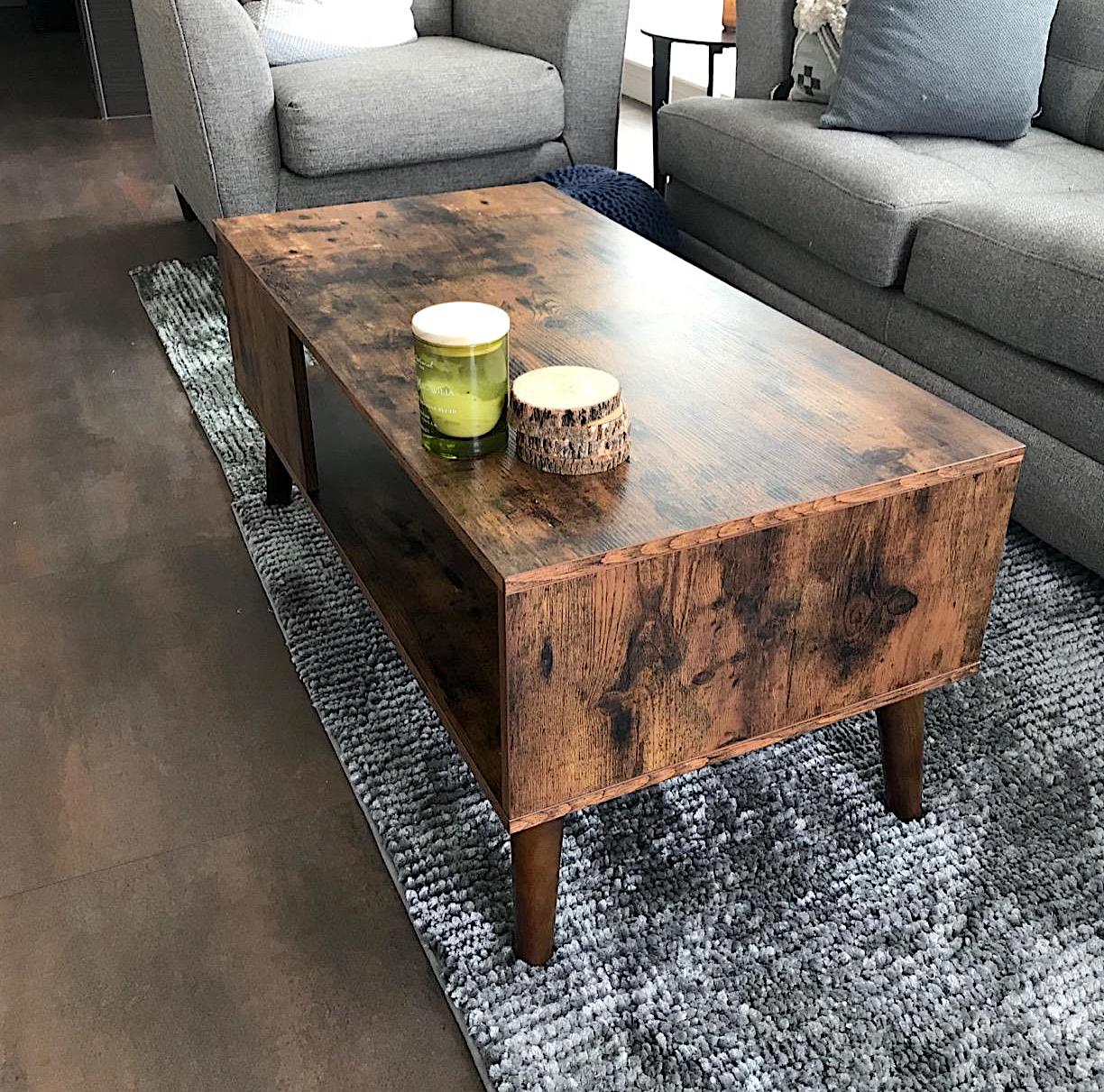 ---
Purchase the product on Amazon (USA and CANADA) with free shipping
---