5 Reasons Rivet Revolve Sectional Sofa is The Absolute Best on Amazon
---
Amazon has several of its own brands of quality furniture for less money. It is the biggest reason why so many pieces of their furniture sell so well, along with the incredible customer service and no hassle return policy. If you are looking for a new sofa sectional for your living room or den, you really should consider the Rivet Revolve Sofa for its modern looks and very easy and convenient ability to reconfigure the whole sectional. Here are five other reasons why this sectional sofa is the best modern sectional sofa on Amazon.
1. The Revolve Collection From Rivet Has Multiple Sofa Configurations
Usually, when you buy a sectional, it has this L-shape that cannot be changed around to fit your living space. Not this sofa. This sofa has a chaise lounge cushion that can be placed at either end of the sofa, or if you so desire, right in the midsection of the sofa to form a T-shape. If you don't want the chaise part, use the chaise cushion for the back of the sofa and a back sofa cushion as the seat of the third area of the sofa. The resting foot end of the chaise turns into an ottoman if you don't use it for the chaise section.
Additionally, there are several matching pieces to the chaise convertible sofa. You can buy the matching chair, the matching loveseat, and a sofa without the chaise feature. Mix and match as you like.
2. Eight Different Colors and Three Different Textures
This sofa and its matching pieces comes in eight different colors, including denim blue and dark green. You can also choose from three different textures; blue denim, linen, and faux leather in three colors. It is the perfect piece of furniture to mix with any decor and any interior design model that is currently on trend and viral on multiple social media platforms.
3. Rivet Is Another Furniture Love-Child of Amazon
Amazon has been working overtime in the last few years to create furniture brands and designs everyone will love. As a result, it has created AmazonBasics and Stone & Beam. Rivet is another furniture love-child of Amazon, well on par for quality and design features with the aforementioned AmazonBasics and Stone & Beam. Amazon uses its own brand companies to attract consumers and get them to buy high end furniture from Amazon, rather than having consumers hunt around at dozens of other furniture retailers trying to find something they like.
The customer service for these Amazon brands is always top-notch. The quality and cost is highly competitive too. Many consumers are lured away from other stores by Amazon's ability to provide exactly what consumers want for less at higher quality and ease of transaction and shipping.
4. The Rivet Sofa Sectional Is Less Than $1,000
If you have already checked out sofa sectionals with other sellers, it is easy to compare prices with Amazon. A lot of the other sellers want $2,000 or more for the same sort of convertible sectional sofa. Amazon is offering a very affordable piece of furniture for less than $1,000, and it ships right to your home for free. Most other furniture retailers will charge you a delivery fee or charge a freight charge to get your furniture to you; not Amazon. If you want to finance it, Rivet offers 0% interest on monthly payments for the first 12 months.
There are also two protection plans you can buy. The 3-year plan and the 5-year plan will protect your sectional (or other Rivet pieces) in shipping and up to three or five years after you have received it. They are completely optional, but with their low cost and high value, you may want to buy the plans anyway.
5. Rave Reviews Rank Rivet Really High
Amazon never asks for, pays for, or endorses fake reviews of their products. Consumers can rate products at will, and ask as many questions about the products as they want. As a result, the most favored of products receive a higher ranking that is truly reflective of the value and quality of the items reviewed.
That said, there are over 1,000 reviews on this Rivet sectional sofa. At least 70% of them are 5-star ratings, placing this sofa in the highest rankings for all sectional sofas on Amazon. It's a virtual guarantee of the quality and value of the furniture Amazon produces and sells under its own brand names.
Below are some reviews we found quite promising and informative:
"LOVE this couch. Great color & the delivery was very easy, just had to screw on the feet. Very comfortable and compact for a smaller space. Was skeptical with the cheaper price but definitely worth it!" – EJA
"Absolutely in love, it's cozy, is minimal, is comfy… perfect for small spaces, just add the legs and is ready!" – Ellie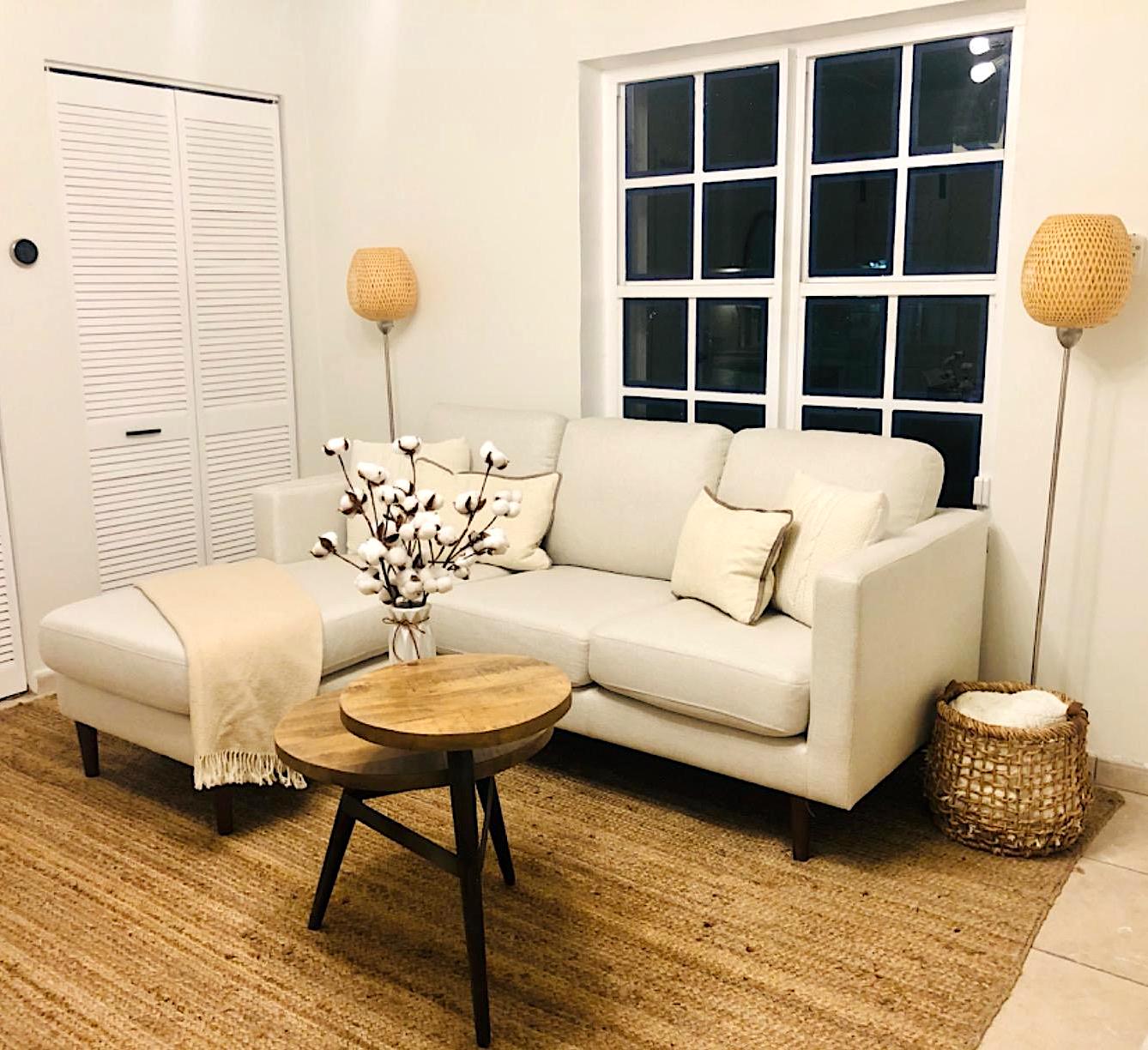 "My new apartment is super compact so I wanted something that is stylish, but practical. This hit the nail on the head, the color is absolutely beautiful, and it fits my space perfectly. I dropped it one star because it is a bit firm for my taste, I am hoping that as I break it in it will get a little softer! Amazon delivery service was amazing, they were prompt, and even brought it up three flights of stairs into my apartment. Definitely worth the money!" – Christ A.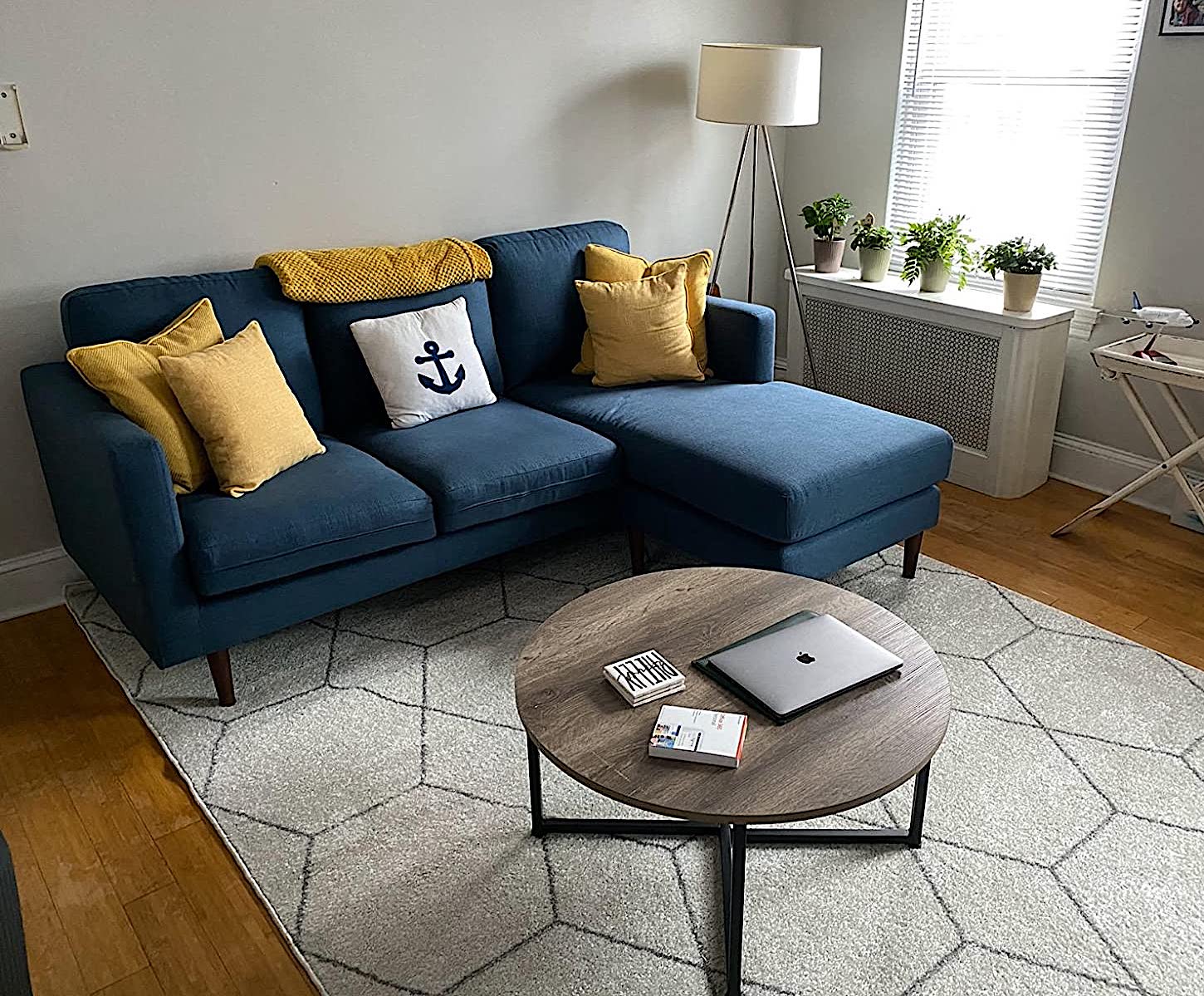 "I SCOURED the internet and half of my city trying to find the perfect couch for my space in my budget. I kept coming back to this one and I am so glad I followed my gut. It's so cute, the fabric isn't itchy at all but has a bit of a tweed look, dog hair sweeps off easy enough, it's sturdy, firm-but-not-too-firm. I read some reviews that mention that the chaise sits a smidge higher than the seat and its true – it's not so much that it sits any higher but more so about the fact that when you sit on one end of the cushion, the other end see-saws up a bit. This does mean, however, that my feet go numb after having them propped up too long. But if I've sat on the couch with my feet propped up long enough that they fell asleep, it's probably time to go do something else so I don't mind. I'm thrilled with my purchase!" – Maggie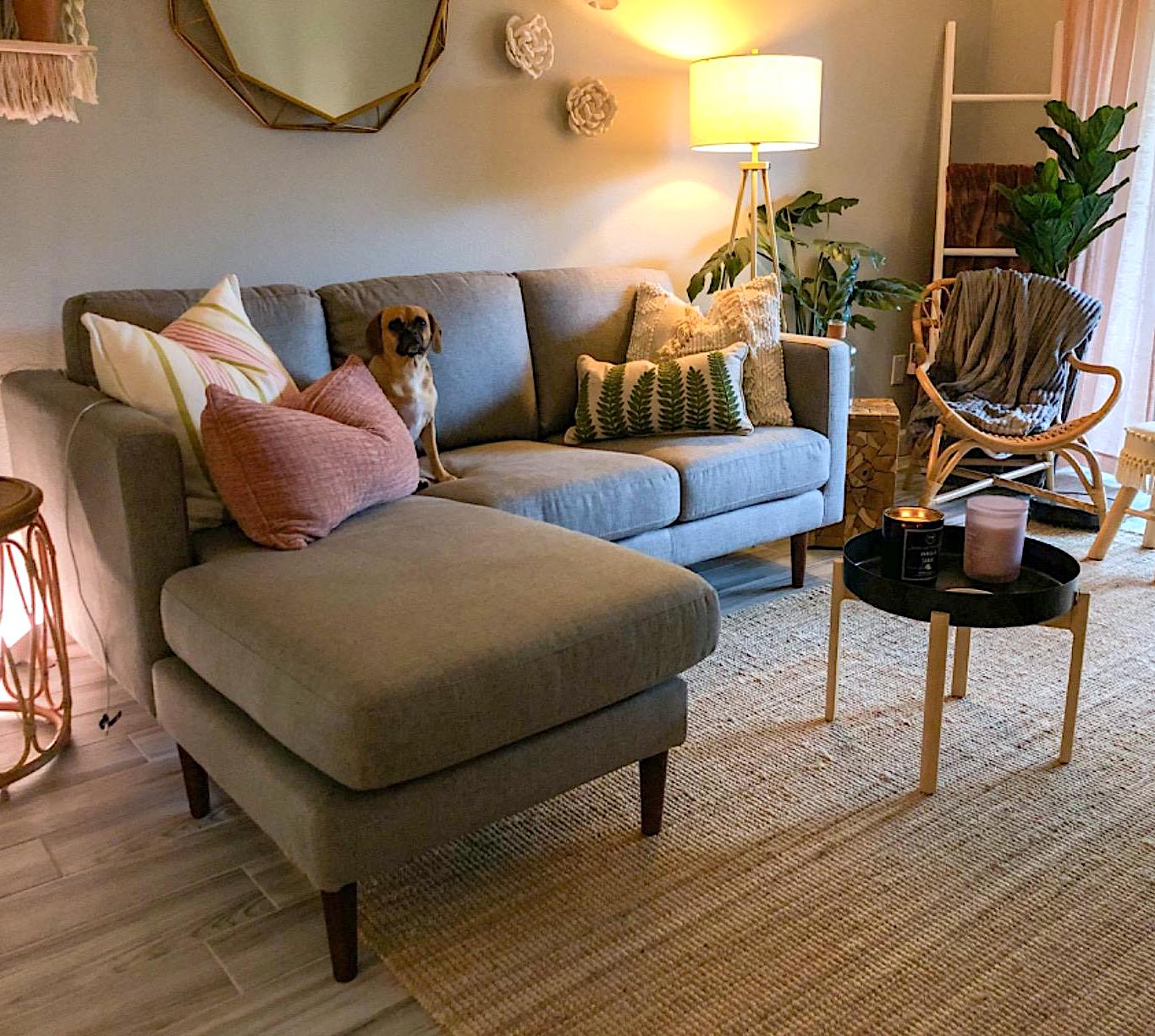 "We are very happy with this couch. The material and color are beautiful. The cushions are comfortable and so far are holding up well. Good size for our apartment and fits 3 people comfortably. Delivery men delivered to our 2nd floor apartment with no problem. Just had to screw the legs in and now we have the perfect couch for our new apartment." – Louie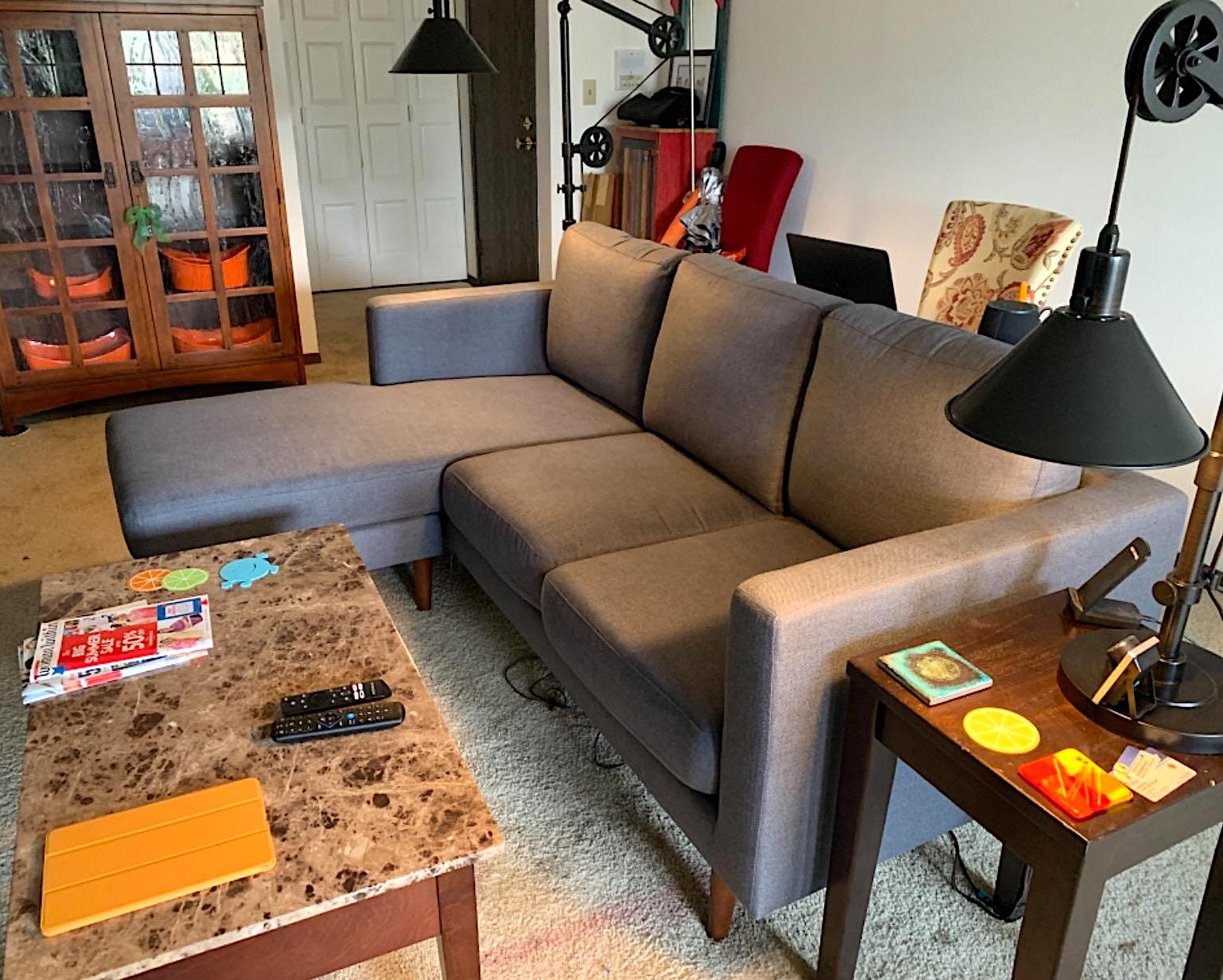 "This couch far exceeded my expectations in comfort, easiness to assemble and quality. While I was nervous ordering a couch off of Amazon I absolutely do not regret it. I have a small space so I needed a smaller piece with the most seating possible and the chaise adds that." – Jolene Potter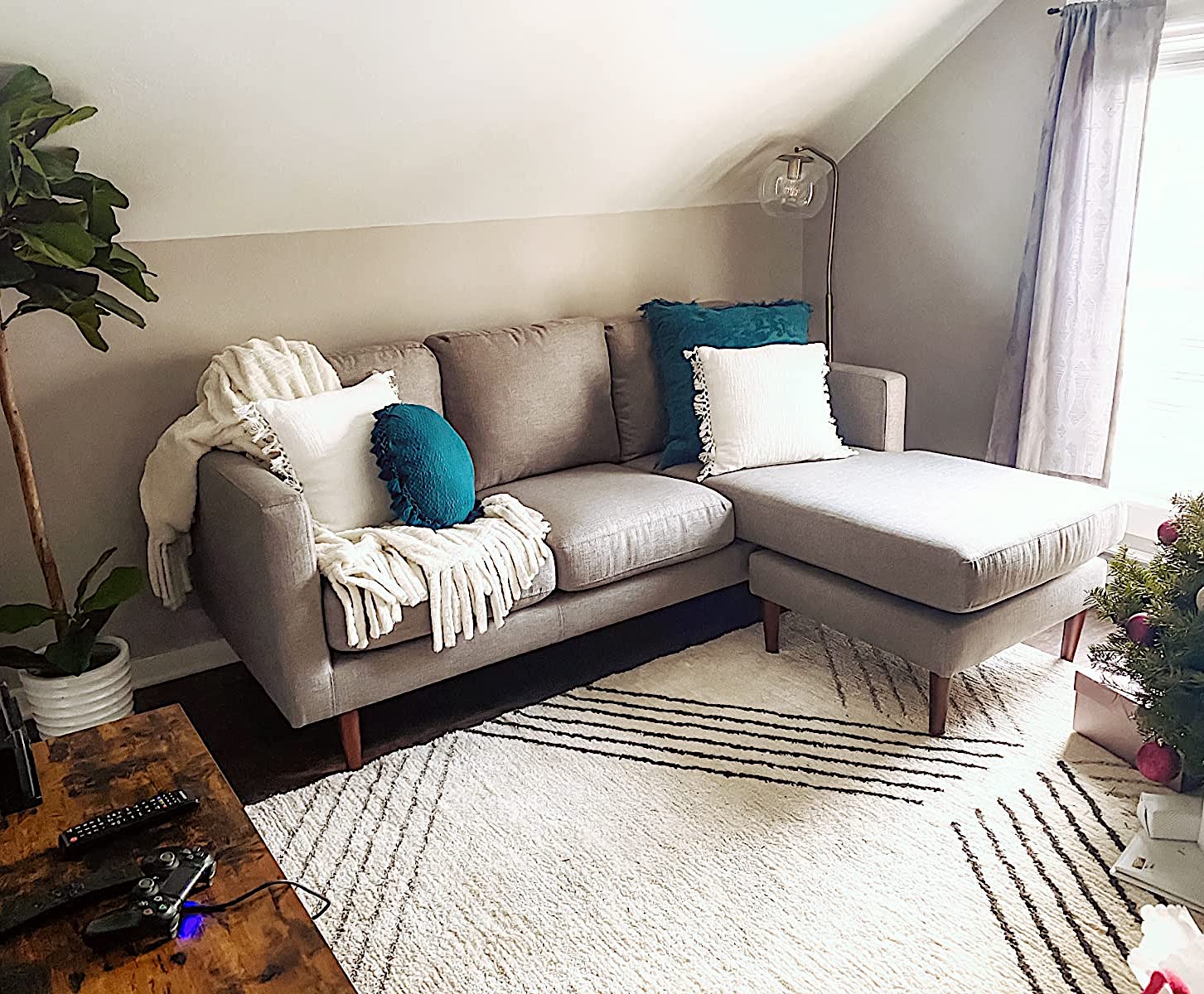 If You Need To, Compare to Amazon's Other Furniture Offerings
If you want, you can always compare this sectional sofa to some of Amazon's other furniture brands and products. However, you will find that everything is equally affordable and very comfortable across the board. It's just a matter of personal style, design aesthetic preferences, and space you need to fill in your home. If you want to see what the furniture looks like in your home, you can always order it, place it, see for yourself, and then return it right away if you decide it isn't for you. You never feel pressured to buy or keep anything Amazon sells, unlike all of those other furniture stores. In so many ways it is impossible for competitors to even really compete with the list of Amazon-owned brands and the furniture Amazon makes and sells directly to consumers.