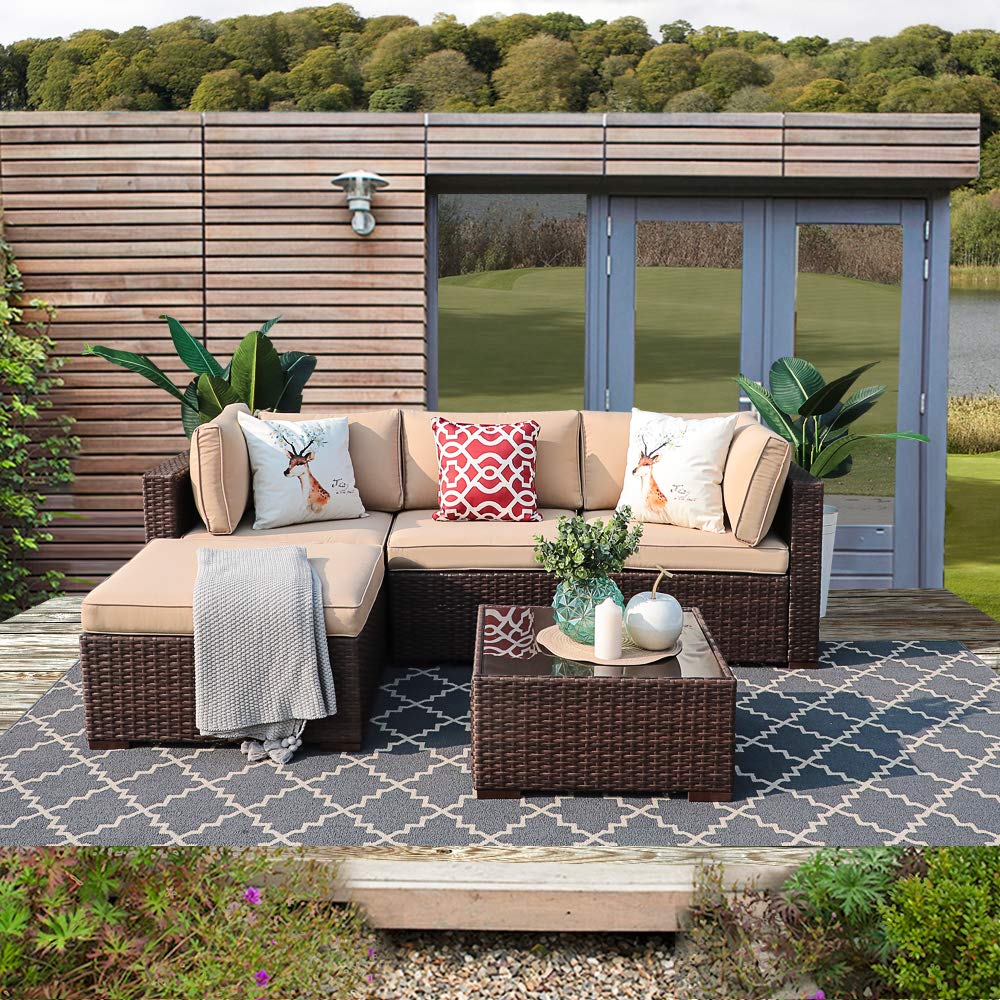 [Review] Patioroma Outdoor Rattan Sectional Furniture Set
Assembly
The set, which came in two boxes, arrived promptly. I laid out all the parts first before starting with the actual setup. It came with several wrenches, which is a nice touch. This allows more than one person to work on the assembly at a time. I used a drill to fully tighten the screws. I recommend you to do the same. It will make the process faster. Although I can imagine putting this together with the wrenches alone, it would take much more effort. My hand may hurt from all the screws that have to be tightened. The instructions specifically mention putting all the screws in first before you tighten them all the way down. Make sure to follow that. There's a reason why the company included that part in the instructions. The assembly is quite simple in my opinion. Don't expect to finish the setup in under an hour because this is a 5-piece set. It took me and my husband almost 4 hours to finish, with breaks and a few glasses of wine in between. It's all worth it.
There are three individual seats, an ottoman, and a table. It also includes two red throw pillows with a geometric pattern. It's exactly what we were looking for. It has that pop of color that I like, and you can arrange the pieces the way you want. It is not difficult to change the layout since the pieces are lightweight. I don't even need my husband's help to move them.
For a furniture like this, it is a must that you check the dimensions and see if it would fit in your space before you order. Don't order thinking you can return it anyway. While you can get a refund, customers have to shoulder the cost of shipping it back to the seller.
Seats
Every morning, I and my spouse would drink coffee on our patio. We used to have foldable chairs for us to sit on, but we decided that this outdoor sectional is worth the upgrade. It really is. We end up taking much longer to finish our coffee, and several times, my husband would come in late for work. He doesn't mind that at all. He says he appreciate it that we get to spend more quality time together.
The seats are a good size. I and my husband are both 6 foot tall, and we find the height of the seats just right. I can't say that we can sit on it for hours without feeling uncomfortable. Anyway, we just lounge on our patio for an hour or less. For those who want to know if you can use the seats without the cushions, my answer is no. The wicker and solid steel frame may hurt your back.
The ottoman can be used as an extra seat for guests or a footrest. The ottoman would still maintain its balance even if you try to sit on the edge. We sometimes bring it into the living room when we're in need of additional seats for our guests. It makes an excellent footrest even when you use it with your couch in the living room.
Cushions and Pillows
The only bad thing I can point out with this set is the cushions. They are actually thinner than those shown in the pictures. Luckily, the cushion covers have zippers on them. You can easily remove the cushions and replace them with thicker ones. You can also toss the covers for a quick wash whenever they look dirty. The cushions are off-white, so you may have to wash them often. I don't mind that though. I can easily toss them with the rest of my laundry. I'm happy with the color of the cushions. The off-white looks great with the gray wicker.
I also have to point out that the cushions won't stay put on the frame. They tend to slip off the seats, but that's nothing Velcro can't fix. I bought Velcro strips and glued them onto the cushion covers and the frames, and that did the trick.
While I was looking for a patio furniture on Amazon, this was one of the first products that caught my attention. The set already comes with throw pillows, which is a big plus. A lot of sellers showcase their outdoor furniture with throw pillows, but they don't actually come with the set. They are only included in the pictures for aesthetic purposes. The pictures may fool some customers, but not me!
As advertised, the cushions and pillows are not waterproof. That's why I always make sure to get them inside whenever it looks like it's going to rain. And just like any human being, I forget things. I would sometimes forget to take the cushions and pillows in. They do get wet when it rains, but the water doesn't soak through. I just leave them under the sun, and they dry very quickly. The red in the pillows do not fade even after washing or getting them wet in the rain.
Wicker and Frame
While the wicker completely covers the steel frame, I can say that the frame is solid. It is lightweight, but it won't get blown away by the wind either. You can actually lock the seats together with couch connectors. If you have kids around, you may find that useful. No more having to rearrange the pieces every once in a while. I don't think the connectors are necessary though.
The rattan is woven beautifully. I have had this outdoor furniture for 7 months, and there are no loosening strands. PE rattan can crack like plastic does, but I don't see any of that here. Only time would tell if my set would end up cracking just like any other cheap sets out there. The wicker doesn't sag too. I have had a lot of heavy guests, and that already says a lot about the wicker's durability.
The finishing touch is a black plastic cap on each leg of the seats and tables. The caps protect the floor from scratches. Other wicker sets don't have caps under the legs, so that's another reason for you to choose this set over the others.
I highly recommend you to get a waterproof cover together with the set. It would last longer if you protect it from the elements and take good care of it. I decided to buy a cover 3 months after having this, but I wish I got one earlier. Nevertheless, I have yet to see signs of wear and tear on the wicker.
This patio furniture is very easy to clean. It is virtually maintenance-free. Most of the time, hosing it is enough to keep it clean. You can use an old toothbrush to remove stubborn debris. Anyway, the wicker does a great job hiding dirt. If you're too lazy to clean and you won't have guests over, you can even skip cleaning altogether! Kidding aside, all I just want to say is that it doesn't take much effort to maintain the set.
Table
The table is very spacious. It fits more than enough food and drinks for guests. It's also great for playing board games. The table has a decently thick glass on top, and it doesn't scratch easily. Mine has several scratches here and there, but with two kids in our house, that is more than acceptable. As long as you place the table somewhere flat, the table won't wobble. You don't need to worry about spilling your cup of coffee.
Final Thoughts
This 5-piece outdoor sectional is a must-buy. If you're looking for a furniture with ample of seating space, you have found your match with this set from Patioroma. It's also a beauty. It would surely make your space look less empty and more elegant than ever.
The construction of the sectional is outstanding. The durability of the materials makes the set longer-lasting. Just get a cover for the set, or at least have it under a roof. I would have preferred it if the cushions were plusher, but they can easily be replaced.
This is also one of the less expensive sets I've found here on Amazon. I know how a low price tag can give an impression of subpar quality. This one won't disappoint. I am the type who read almost all – if not all – reviews on Amazon. This particular furniture has more positive reviews than the others. Don't get me wrong. You can't compare the quality of the set with those that range from 600 dollars to over a grand. Those products are for people who are willing to go big for their outdoor furniture. If you like to stay within a reasonable budget, this is the right set for you. – Jenny L
---
Brand: Patioroma
Product: Outdoor Furniture Sectional Sofa Set (5-Piece Set)
---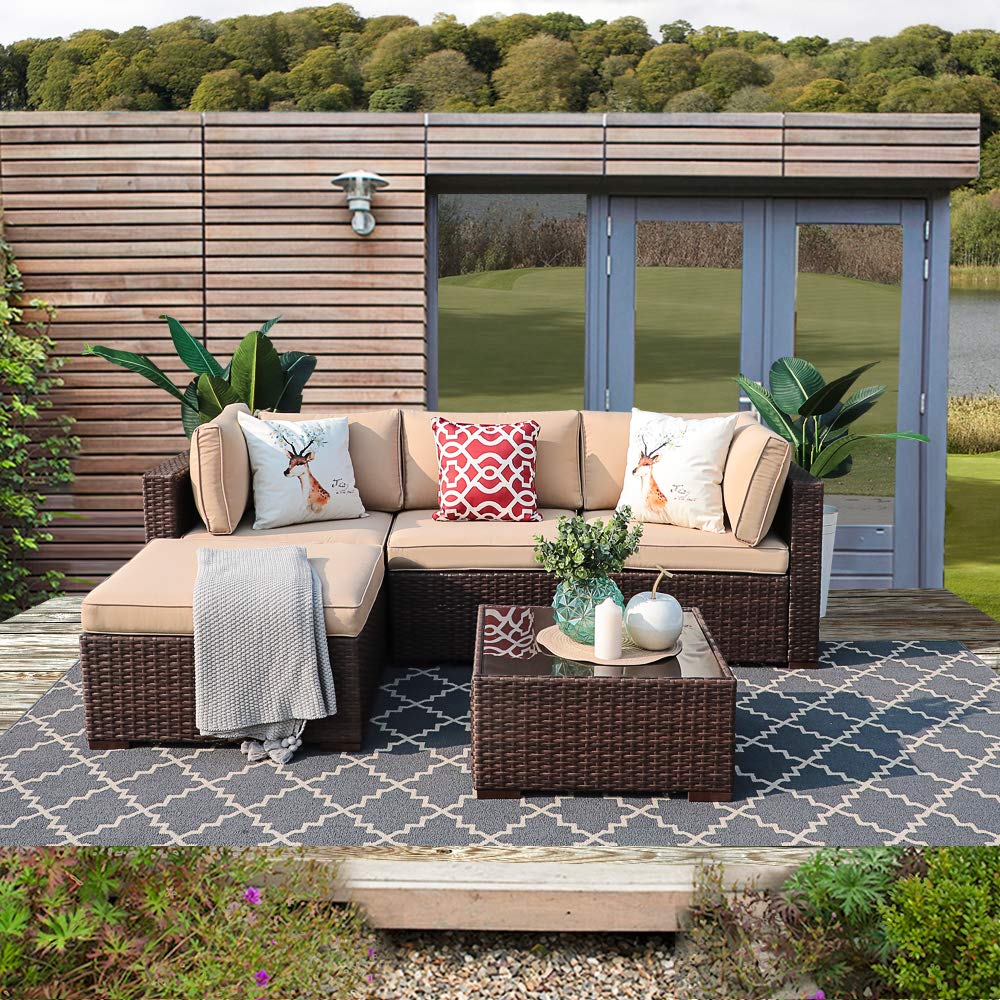 ---
Purchase the product on Amazon Marketplace