[Review] Zinus Metal & Wood Sonoma Platform Bed
I'm glad I took the chance on this Sonoma bed frame. Its quality is definitely better than those sold in IKEA, plus it was shipped right on my doorstep. I would have had a hard time if I got a bed frame from IKEA. It's a relief that the delivery guys were kind enough to carry the box all the way into my bedroom. It is very heavy, especially for a middle-aged woman like me.
Putting this together took me less than an hour. If you have had experience assembling furniture, you won't have any trouble with it. All holes were pre-drilled and all the needed hardware were already included.
Features
This bed frame far exceeded my expectations. I weigh around 230 lbs., and the frame doesn't make annoying squeaks and creaks. If you're looking for a frame with more than sufficient support, this is your match. The slats give optimum support for my mattress. The frame has 4 legs on the corners, but that doesn't stop there. There are 3 additional legs on the center, which provide better stability. I'm impressed because the typical bed only have corner legs. So far, I haven't noticed any wobbling. I've always encountered that with my previous bed frames.
There is also a spacious clearance under the bed frame. Based on my measurement, it is around 12 inches. It's convenient that I can put storage baskets and my suitcase under my bed. If you have a small bedroom with limited storage space, this is a smart buy.
The non-slip tape on the slats is also a smart touch. It keeps my memory foam mattress from sliding. I got mine from Zinus as well. The frame has no footboard so it's crucial that there is something that holds the mattress in place.
Style
The entire Sonoma bed frame looks simple and sleek. The steel gives it a modern look, but the wooden headboard balances it off with a homey feel. The headboard is made of pine wood that is thick and sturdy. That's important because I like resting my back on it while watching the television or using my laptop. It is also high enough, so it gives comfortable support to my neck and back. The color and finish of the headboard are beautiful. It looks natural with an elegant wood grain. It is easy to clean too.
Why Buy This
This Zinus Sonoma bed frame is a steal given its price point. The 5-year warranty makes the purchase all the more sensible. It may be affordable, but this bed frame doesn't sacrifice quality. Its durability gives me confidence that it will last with me for years. If I were you, I won't think twice about getting this.
Other Popular Reviews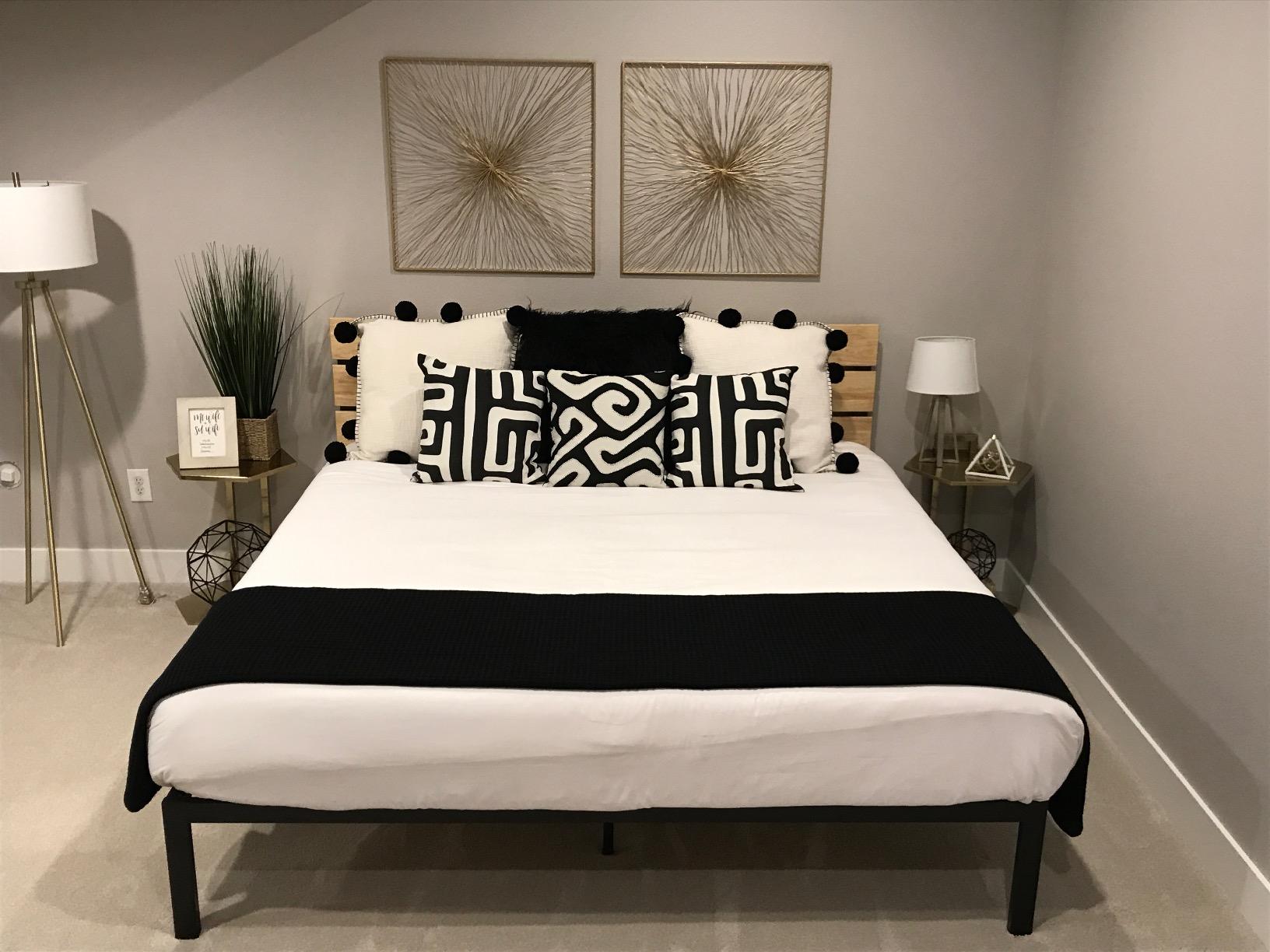 "I am not a frequent reviewer, but this bed deserves the rave review! I am so hesitant to buy things on amazon (or anywhere else online) that are difficult to return, but I took a chance on this bed and I am so glad I did. It is gorgeous- such a statement piece. It was quick and easy for my husband to assemble- nothing screwy like uneven holes where you have to drill your own to make it fit (actually has happened to us before). It looks so good in our guest room. This is a somewhat rare case of an item looking just as good in person as it does in the advertising. I would highly recommend!" – Ashton T.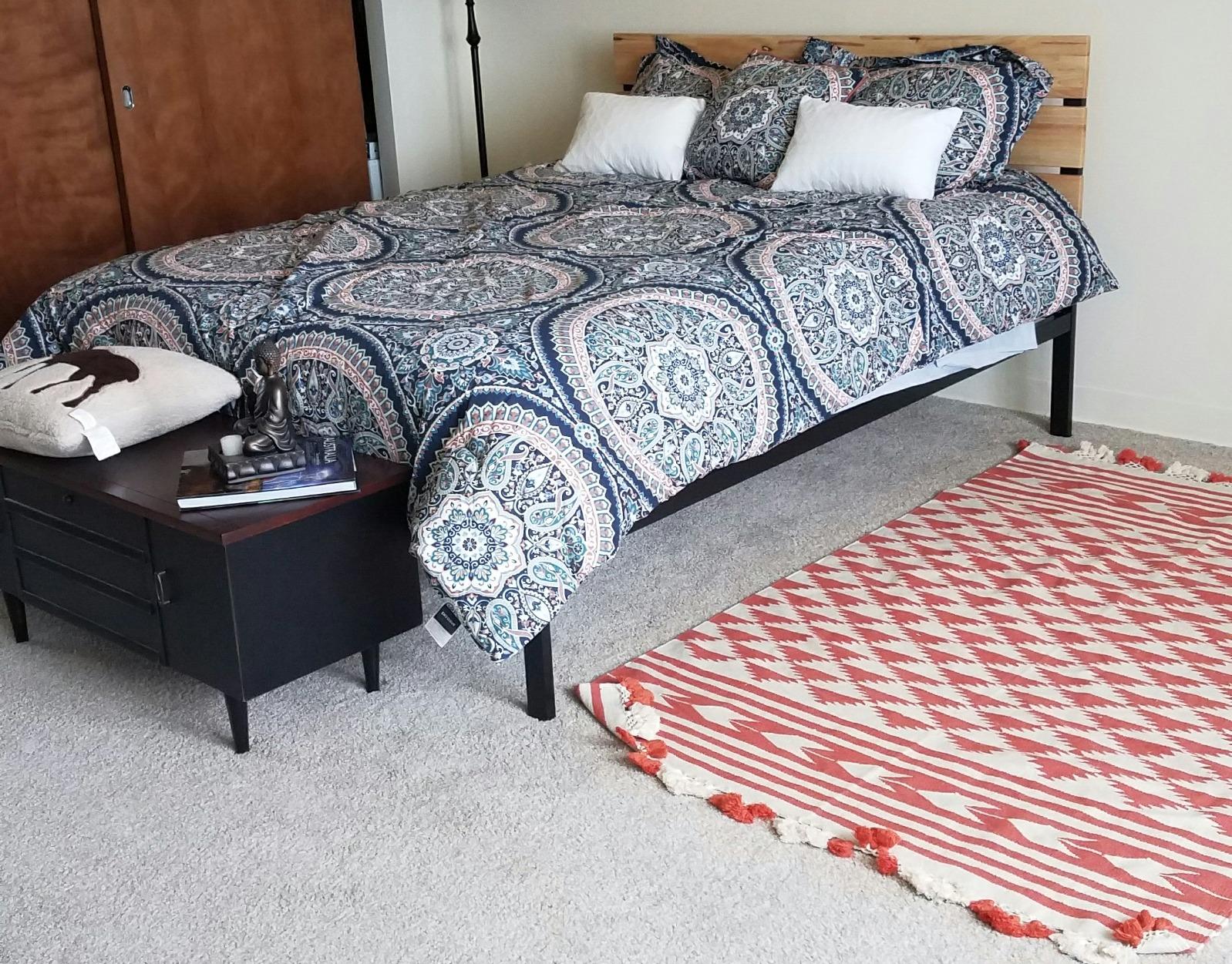 "This bed frame has exceeded my expectations. It was packaged very nicely and was easy to transport. I was able to put it together in about 45 minutes. It is the most sturdy bed frame I have ever owned and does not make noise (I'm 250 lbs). The design was even cuter than the profile picture on Amazon when I fit it into my space. I could not be more happy with my purchase. Great value too!!!" – Rebbecca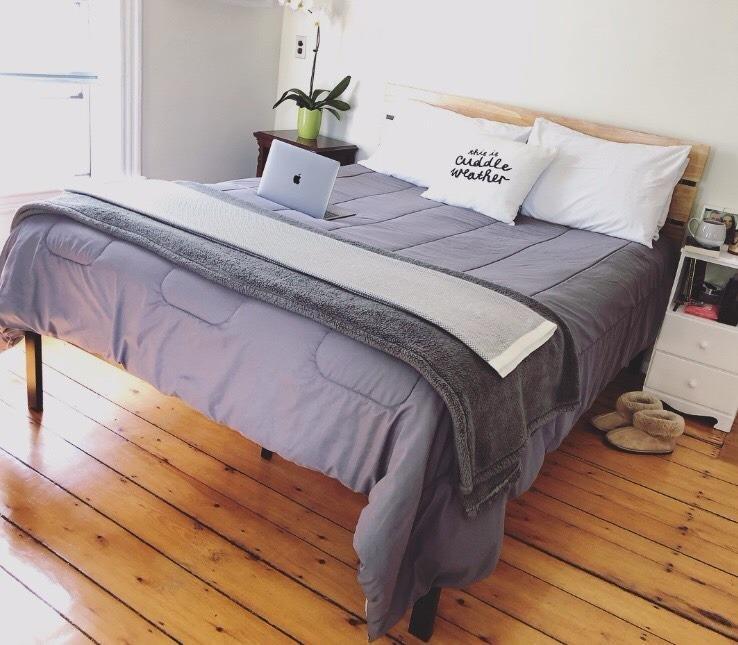 "This bed is amazing. It's super sturdy, extremely easy to put together, and looks really expensive (especially considering it was cheaper than anything I saw at IKEA). Admittedly, the box that arrived was really heavy and I had to commission my rugby player boyfriend and ex marine roommate to get it up the stairs. BUT I came home after work and put it together completely on my own (a tiny helpless female), in less than an hour. All pieces are numbered and the instructions are super clear and logical to follow. Other than almost smashing out a light with one of the poles, it was quick and painless and it looks AMAZING. Makes my humble college room look clean and sophisticated. So happy with this." – KDR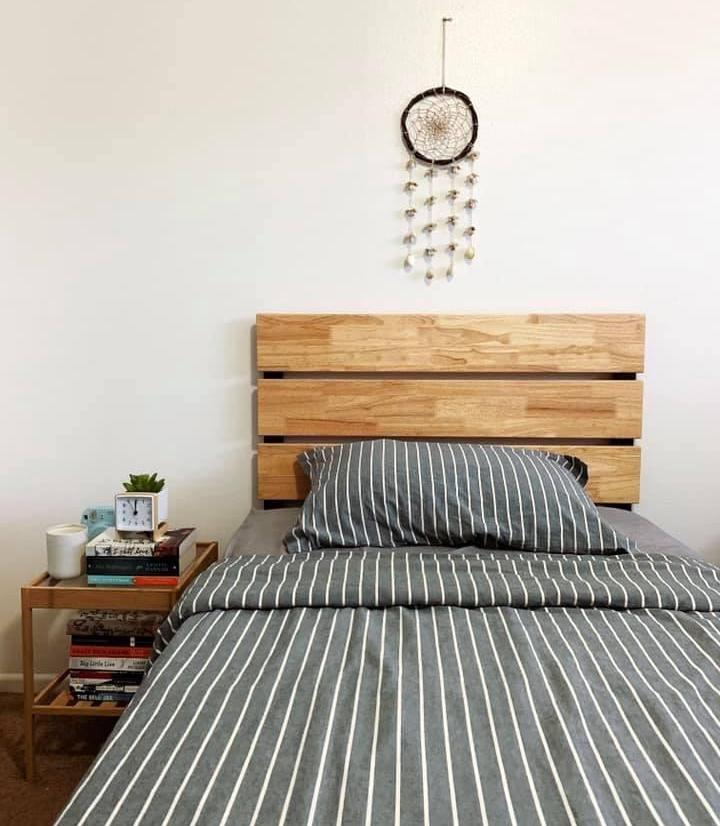 "I bought this bed in a twin size for my college apartment. It was super easy to put together and looks beautiful in my room. It's also very sturdy and the wood headboard has a great smooth texture. There's a ton of space under the bed for storage. It's a great platform style so I only needed a mattress and not a box spring. I used it for 2 years until I graduated and I never once had any sort of issue. I love this bed!" – JPJavier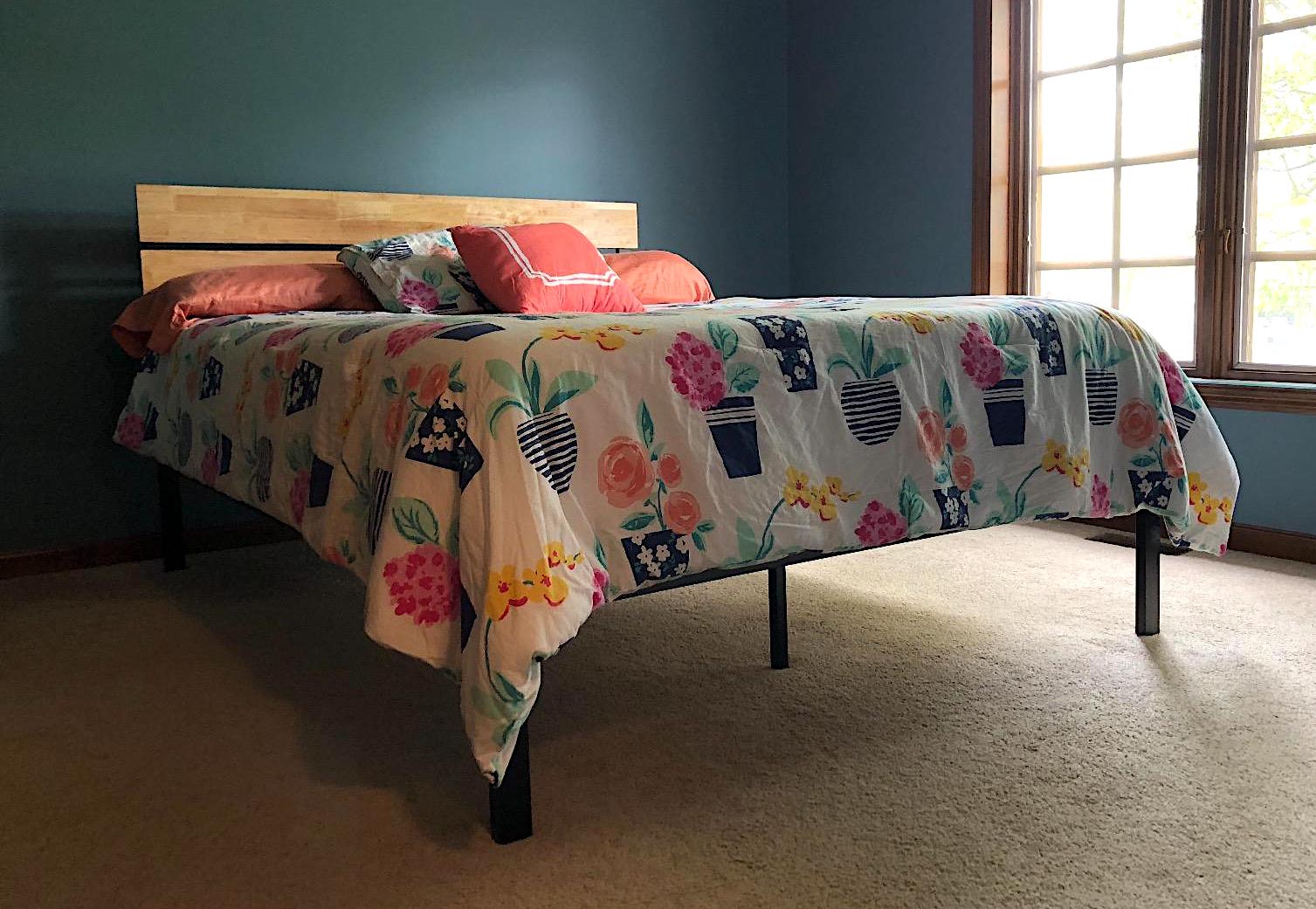 "This bed was amazingly easy to assemble. The instructions couldn't be clearer. Instructions have big font and pictures. The bed itself is very well made and solid. I love the Hook and loop attachments of the slats to the frame. I had an Ikea bed with slats and the slats moved all the time- but not these! Fantastic bed and a fantastic price. Don't hesitate to buy. Plenty of clearance under the bed too. Only con is that I wish the headboard was taller. It's on the short side and is as high as a standard pillow- see my pic." – Melanie Tye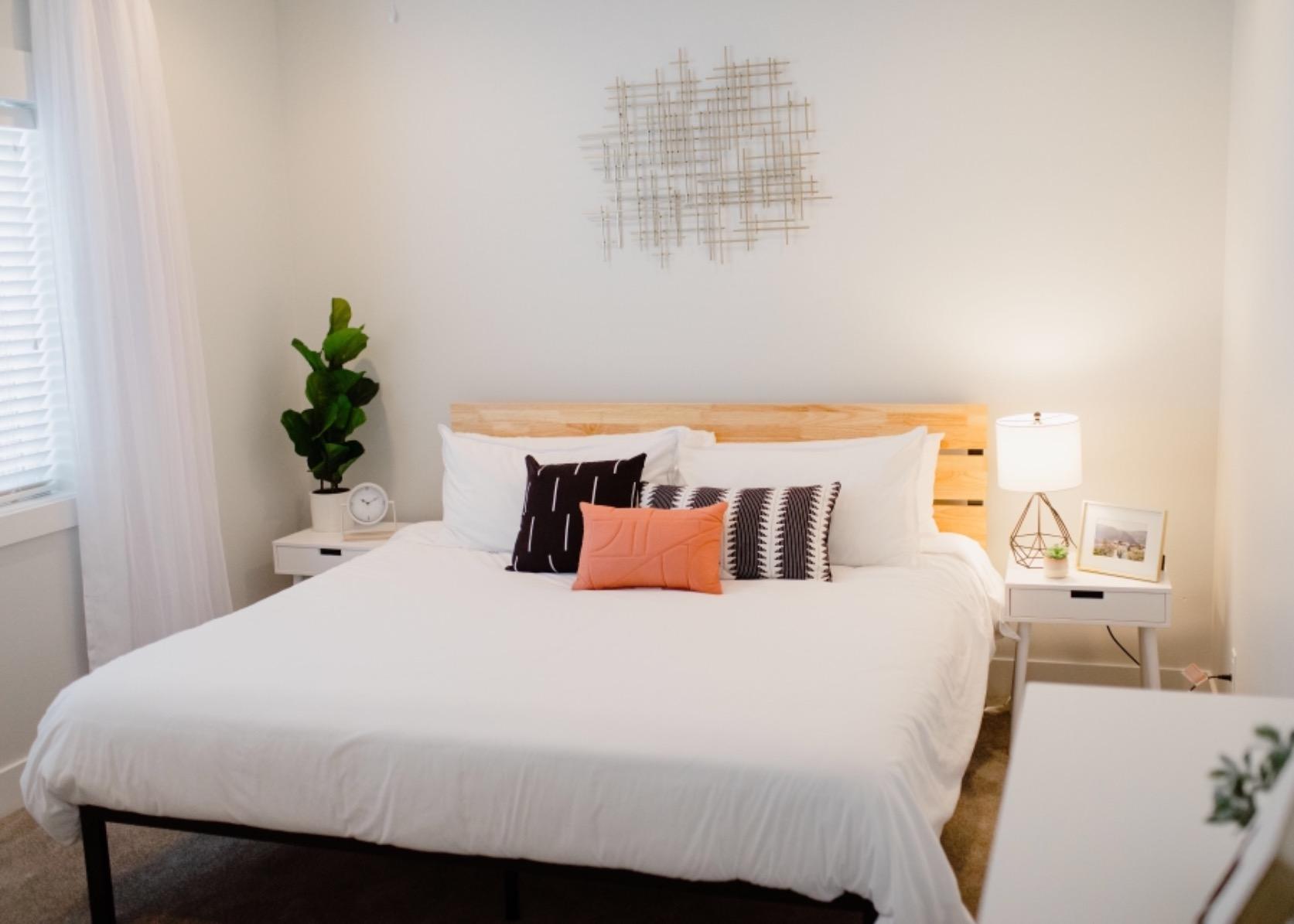 "We love the look of this! It was easy to put together and is very sturdy. Good buy!" – Maggie
---
Purchase the product on Amazon Marketplace (USA and CANADA) with free shipping
---