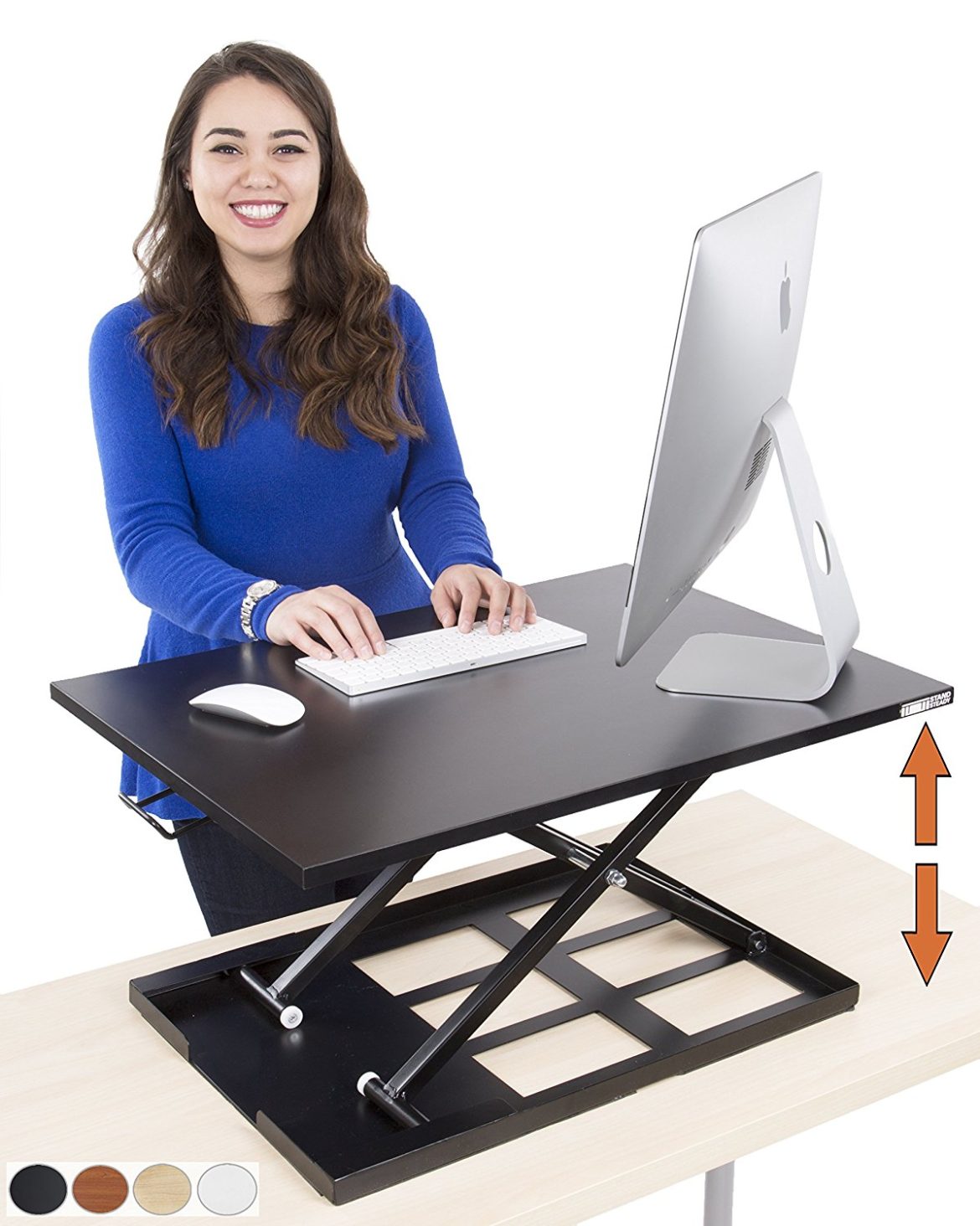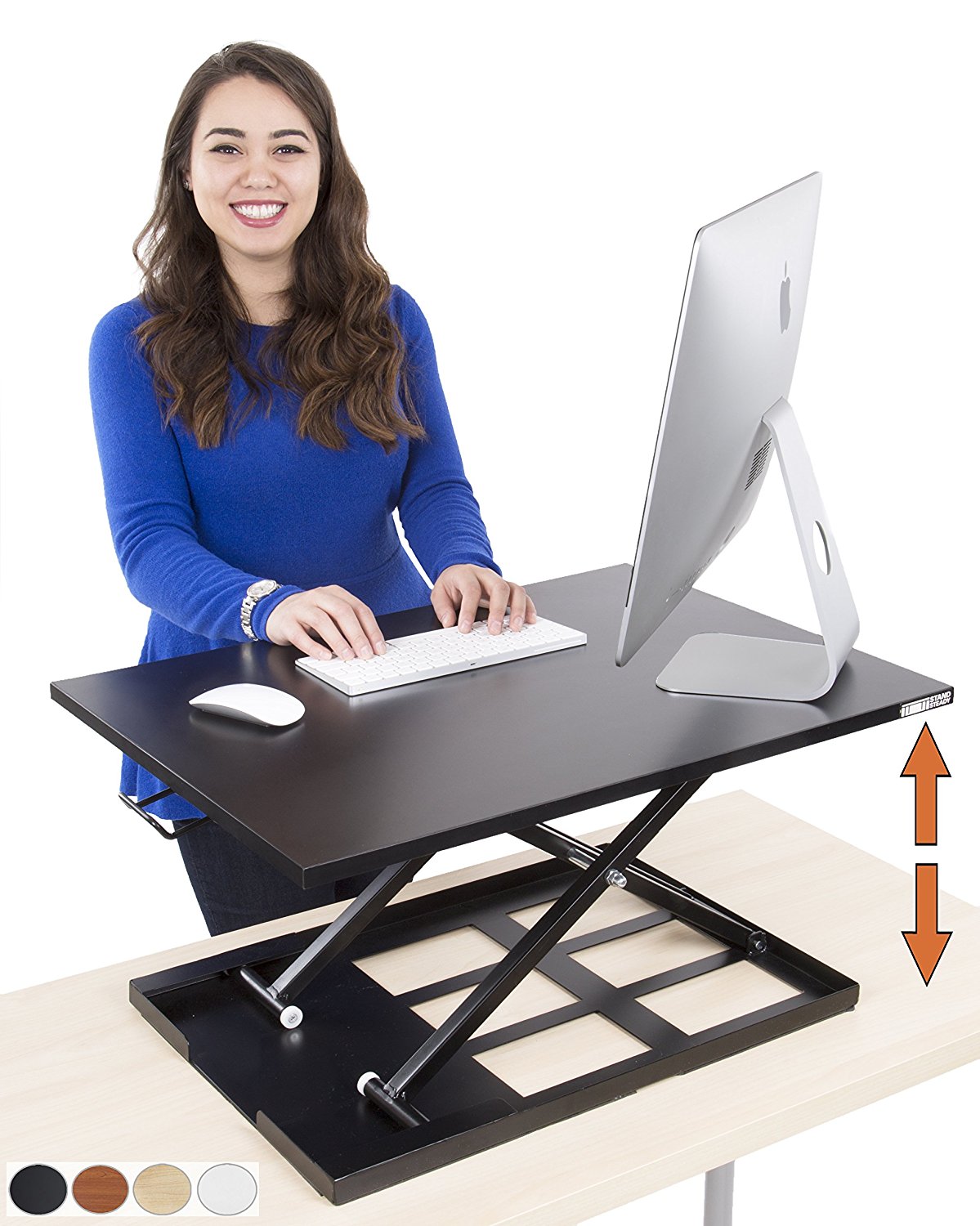 [Review] X-Elite Pro Height Adjustable Desk Converter
I bought this desk converter after my chiropractor advised me to avoid sitting on my office chair for too long. This came in perfect. It has helped improve my posture and considerably reduced my back pain. The convenience to switch from sitting and standing in a matter of seconds is just fantastic. Not to mention that my productivity has upshot too. Every time I feel sleepy in the afternoons, I just raise the desk up and stand as I work. It works wonders to keep me alert, even better than a cup of coffee!
My First Impression
One of the first things I noticed is that it is heavy. It does not feel cheaply made. In fact, it feels sturdy and durable. This desk converter sits right on top of any regular table.
The metal lever to raise and lower the desk is on the side. You can have it situated either on the left or the right depending on your hand dominance. It works the way the mechanism on adjustable office chairs do. If you need to raise the desk, you simply press the lever. To lower the desk, you press it as you push the surface down. You don't need a lot of force when pushing down the desk. There is also a spring underneath that keeps the desk from lowering too fast. It goes up and down smoothly and without any noise. You can do so with your equipment on it. Even as you adjust the height, the desk keeps steady.
Function
This is a great alternative if you don't have sufficient space for a full standing desk. The surface is wide enough to place up to two monitors. I place my iMac Pro, keyboard, and mouse right on top of it. There is still ample space for my coffee mug on the side. The surface is completely flat, so it didn't take me a while to get used to my improved workstation.
What I like most about this is that it doesn't wobble at all. I type away without any unnecessary movement to distract me. The steel base provides stable support. There is a foam underneath to protect the table where it is sitting. The desk provides ample of options for the standing height. You can set it anywhere from 7 to 16 inches, so the user's height won't be an issue.
It is easy to store too. If you need to put it away after a day's work, you can simply lay it flat and stow it in a cabinet.
Style
This desk converter is plain black, so it looks neat. It will fit right in any office setting. The surface is smooth and a bit shiny. Cleaning is as easy as wiping the dust off from it. The surface also repels liquid, which I learned when I spilled my coffee one time.
My Two Cents
Office work demands that you sit in front of a computer for 8 to 10 hours per day. That's very unhealthy though. If you want to improve your overall health, increase your energy level and address back strain, this desk converter is exactly what you need. – Renee H
---
Brand: Stand Steady
Product: Standing Desk – X-Elite Pro Height Adjustable Desk Converter
---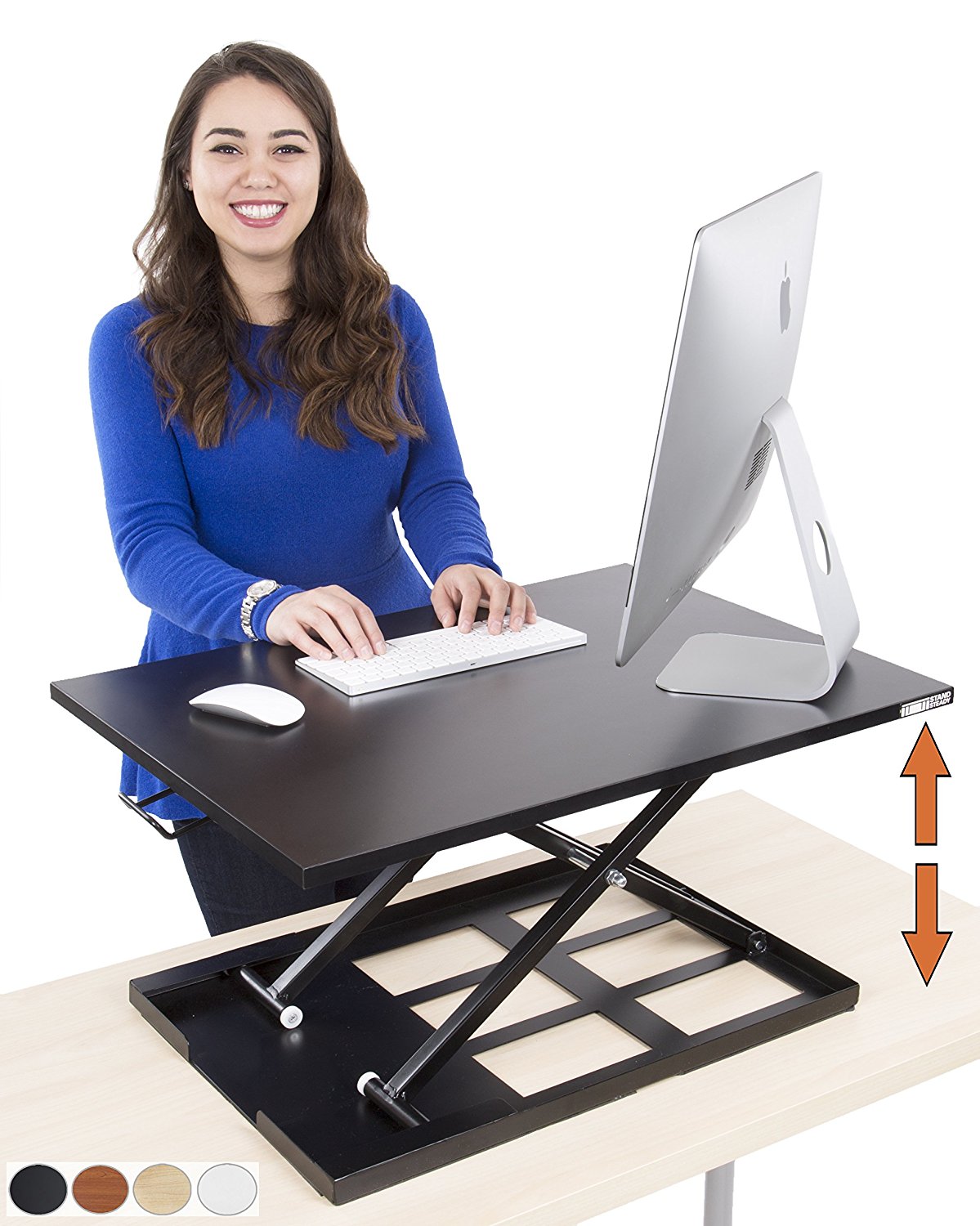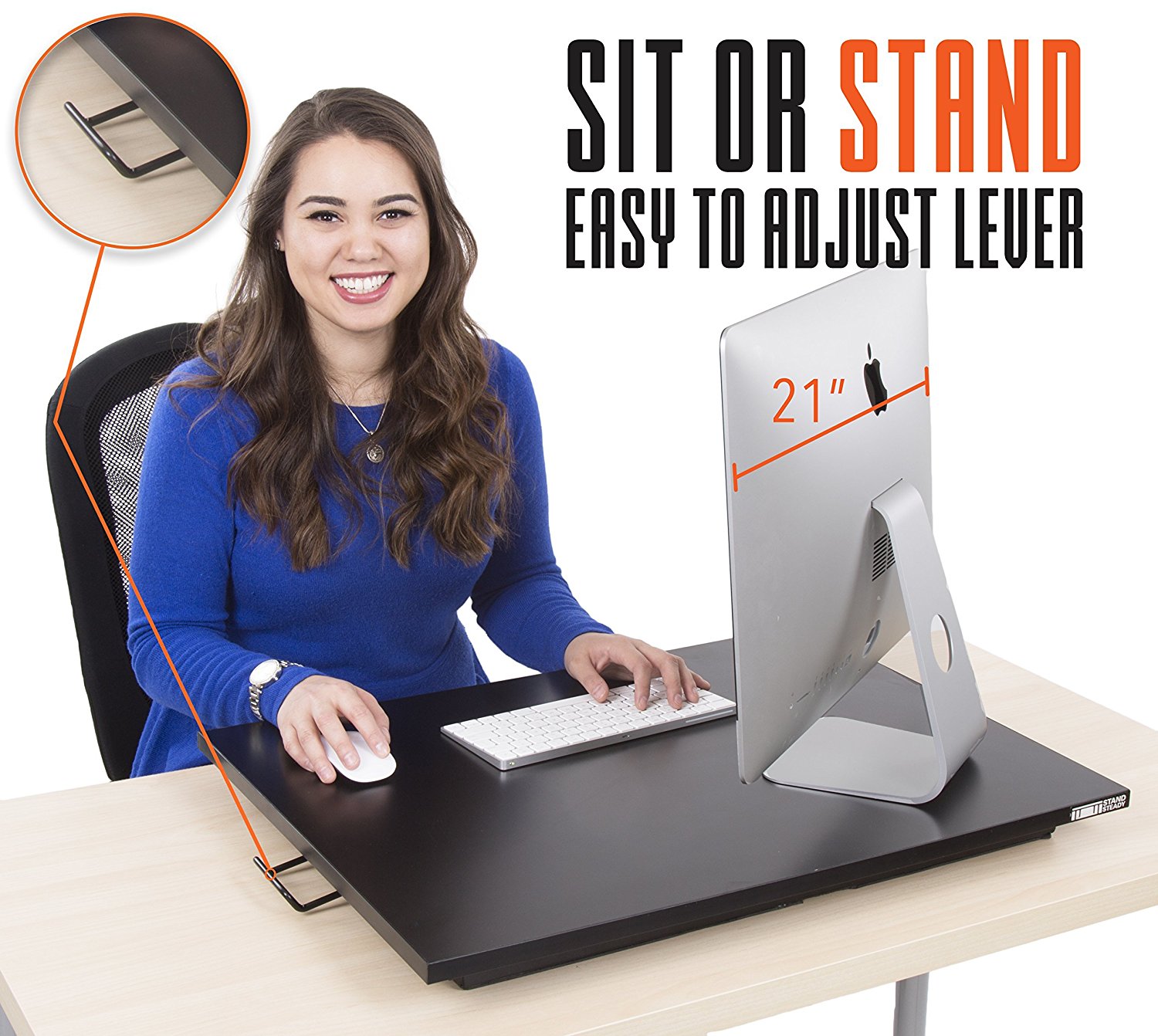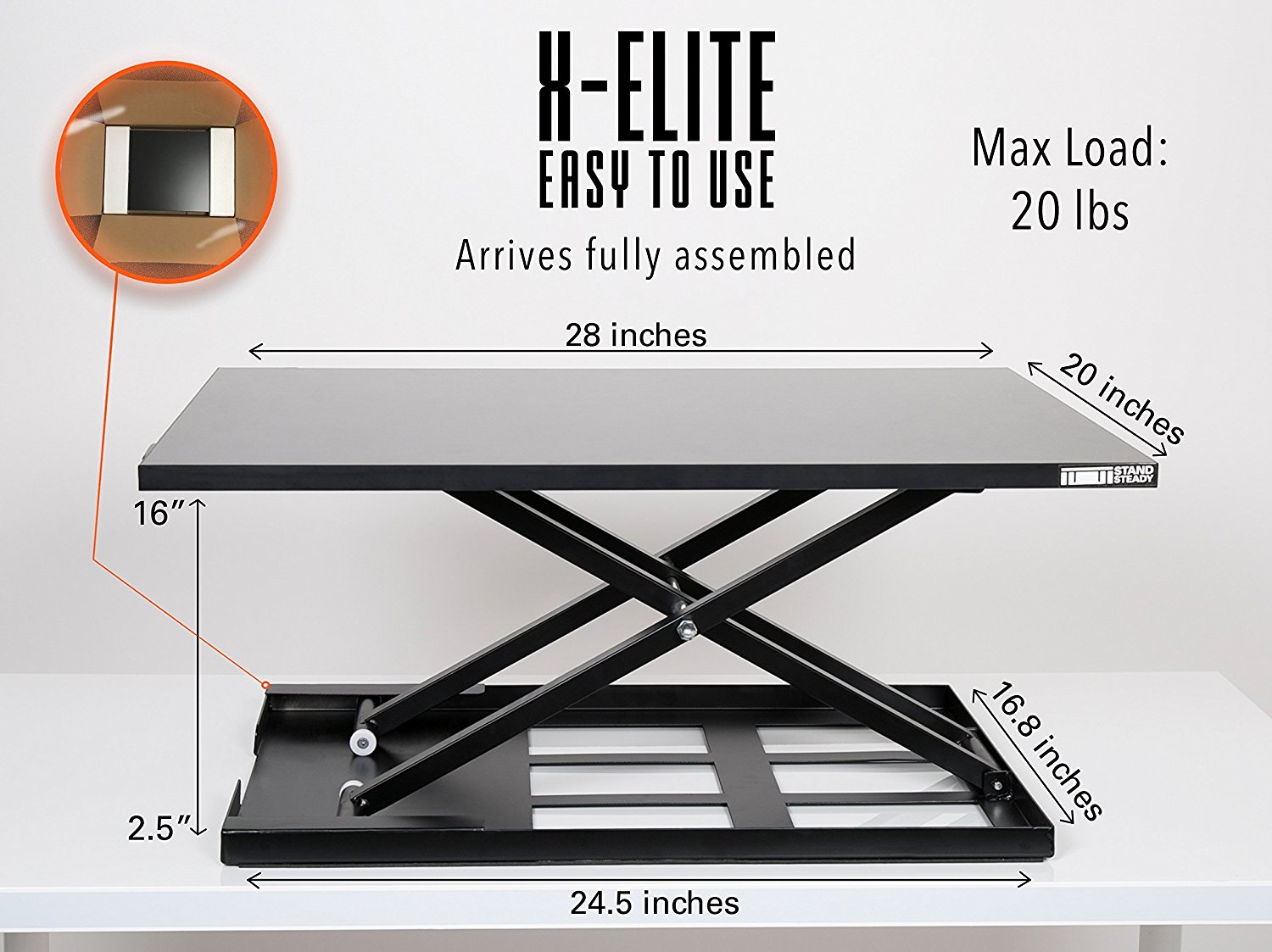 ---
Purchase the product on Amazon (2-Day Prime Shipping also Available)