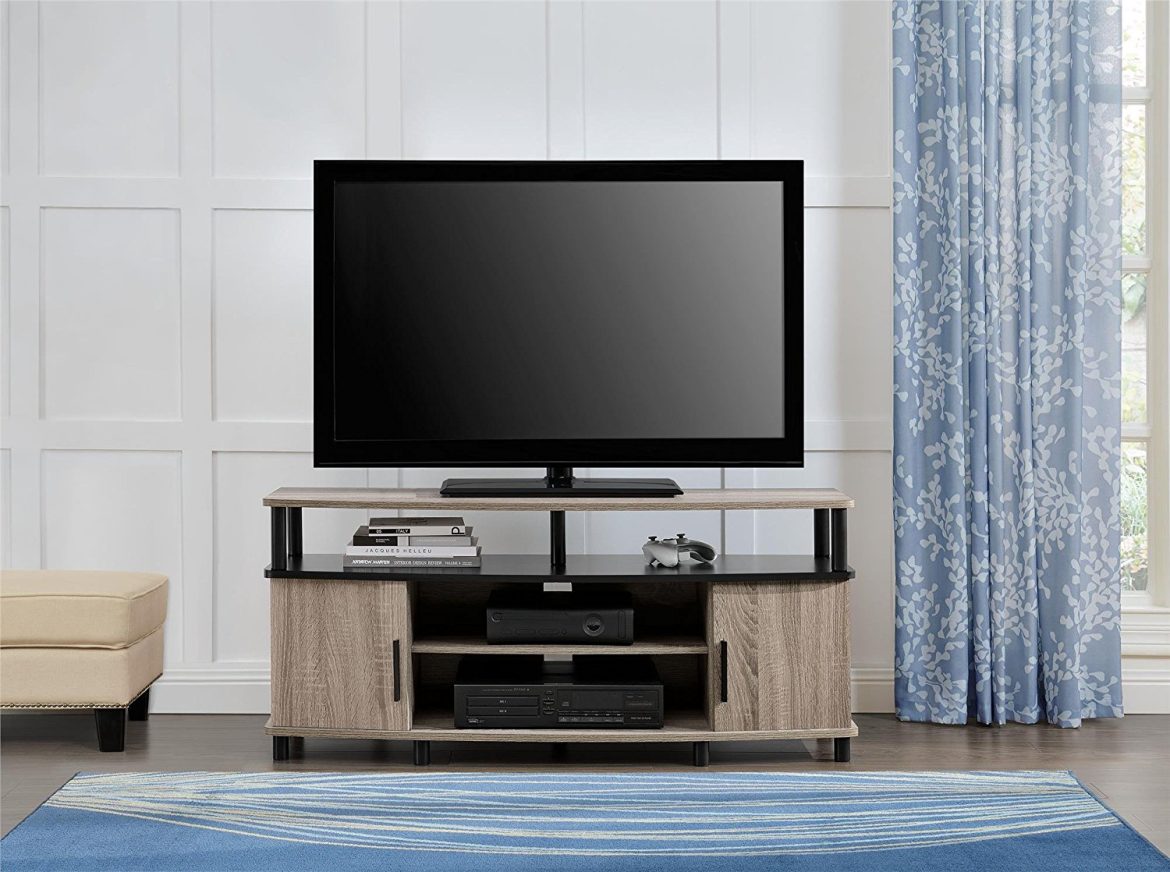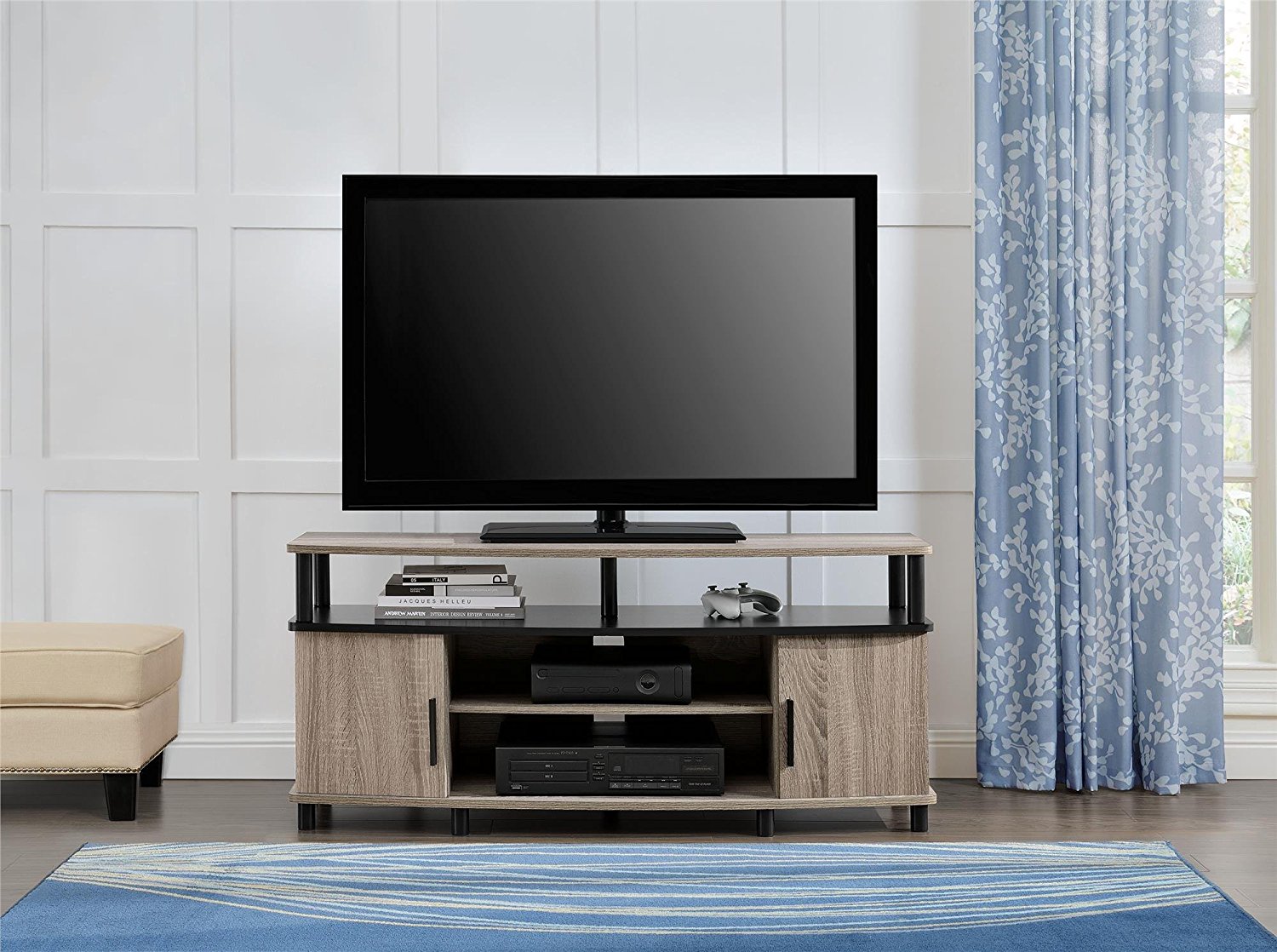 [Review] Ameriwood Home Carson TV Stand
Assembly
This Carson TV stand came in one heavy box, so make sure you ask someone to help you carry it into the house. An Allen key came in the package. Aside from that, you just need a screwdriver to put the stand together. I can imagine a drill would get the screws in faster, but you don't need to use one. The company clearly went the extra mile to label everything, including the screws. That made the assembly much simpler. That is not to say that putting this together is easy. In fact, it took my husband almost 2 hours to complete the assembly. That is understandable though since there are so many parts to work with.
First Impression
I decided to give this Ameriwood TV Stand a go after reading multiple positive reviews. I'm happy I did. The TV stand looks a notch more expensive than it really is. I took the one in Sonoma Oak, and the light brown finish is beautiful. It will instantly brighten up your living room. The oak wood looks good against the simple black accents on the stand. The surfaces of this TV stand is made of laminated particleboard, but it sure doesn't look like it. Some guests would mistake it for wood.
Storage
My Samsung 50-inch Smart TV sits on the stand as if it was custom-made for the TV. The dimensions specified on Amazon is spot on. If you have limited space for the stand, take note of the size and you won't have any issue.
The TV stand provides so much room for storage. On the open compartment below the surface alone, you can already fit a lot of items. It's the best spot for the things you want to keep within reach. I put my remote controls and PS4 controllers there.
When I opened the cabinet, I was surprised to see the large space inside. You can even remove the shelf, so you could fit larger objects. I keep a few books, movies, and video games inside. The shelves in the middle compartment can be adjusted too. This is where I put our DVD player and PlayStation in. The back has an opening where you can insert the cables and keep them away from plain view.
Durability
It's been 4 months since we got this, and it still looks good as new. I think the trick here is to wipe it clean regularly. The particleboard and the metal components of the stand seem tough. The surface where the TV is sitting doesn't sag under its weight. I also have kids who would sometimes hit the stand while playing. I'm happy to report that the particleboard has no chips or scratches on it.
Why Buy This
If you're looking for an equally beautiful and functional TV stand, this is your best bet. I am extremely pleased with my this Carson TV stand. In fact, it is much better than anticipated. It comes with a decent price tag too. Seeing my things kept in a more organized way gives me a great sense of satisfaction. Nothing can beat that feeling! – Jen H
---
Brand: Ameriwood Home
Product: Carson TV Stand for 50-Inch TVs (Sonoma Oak)
---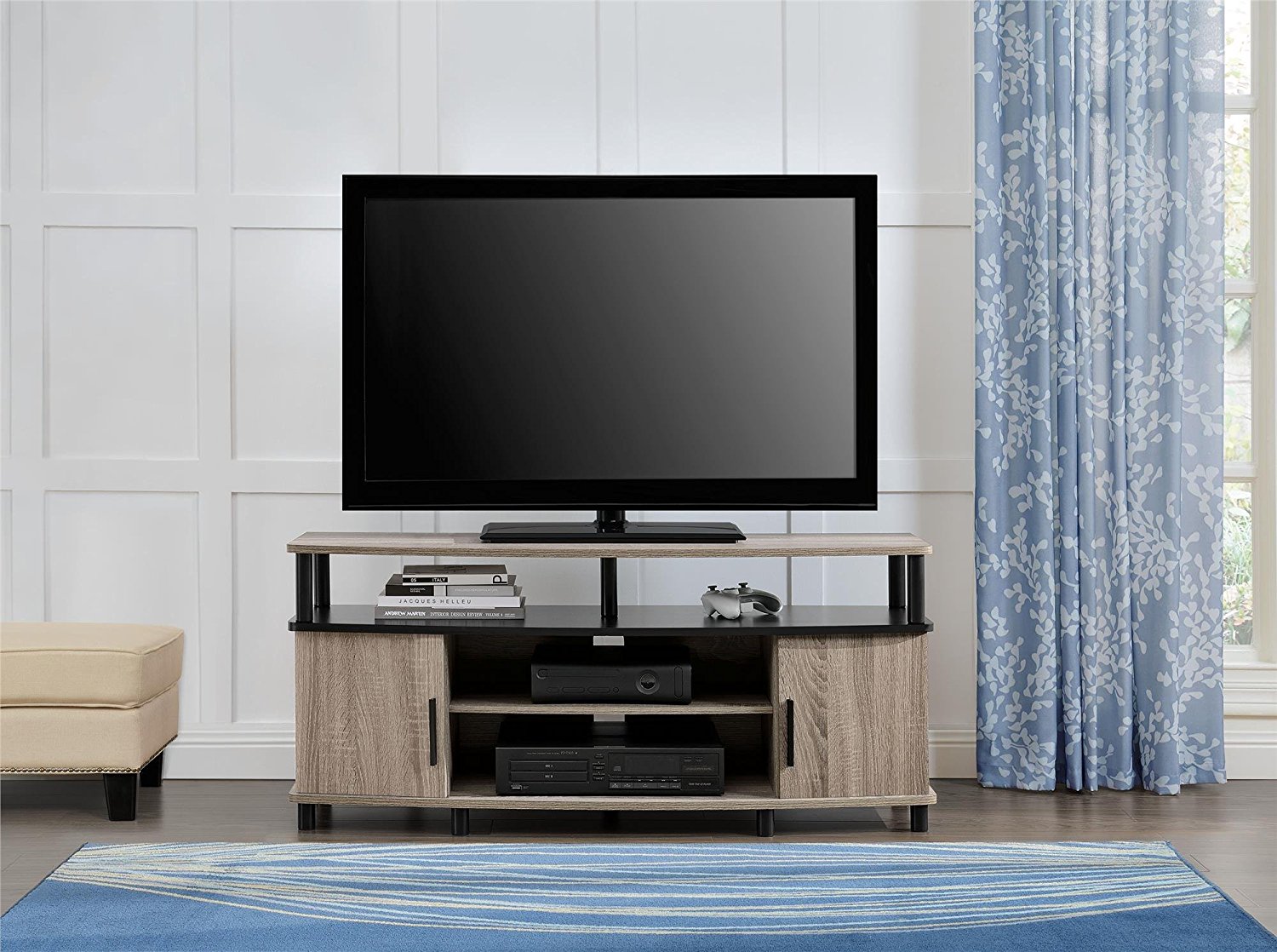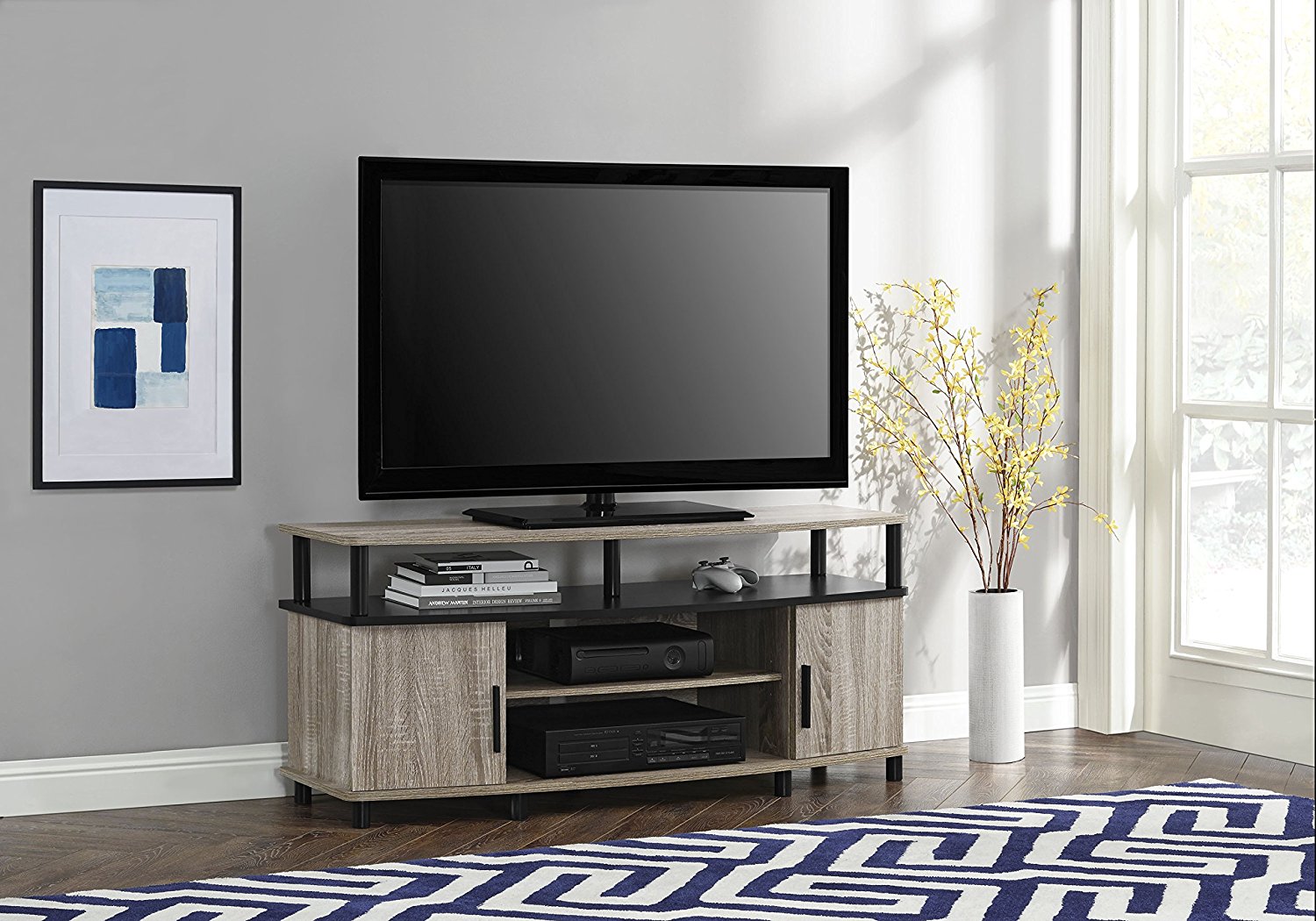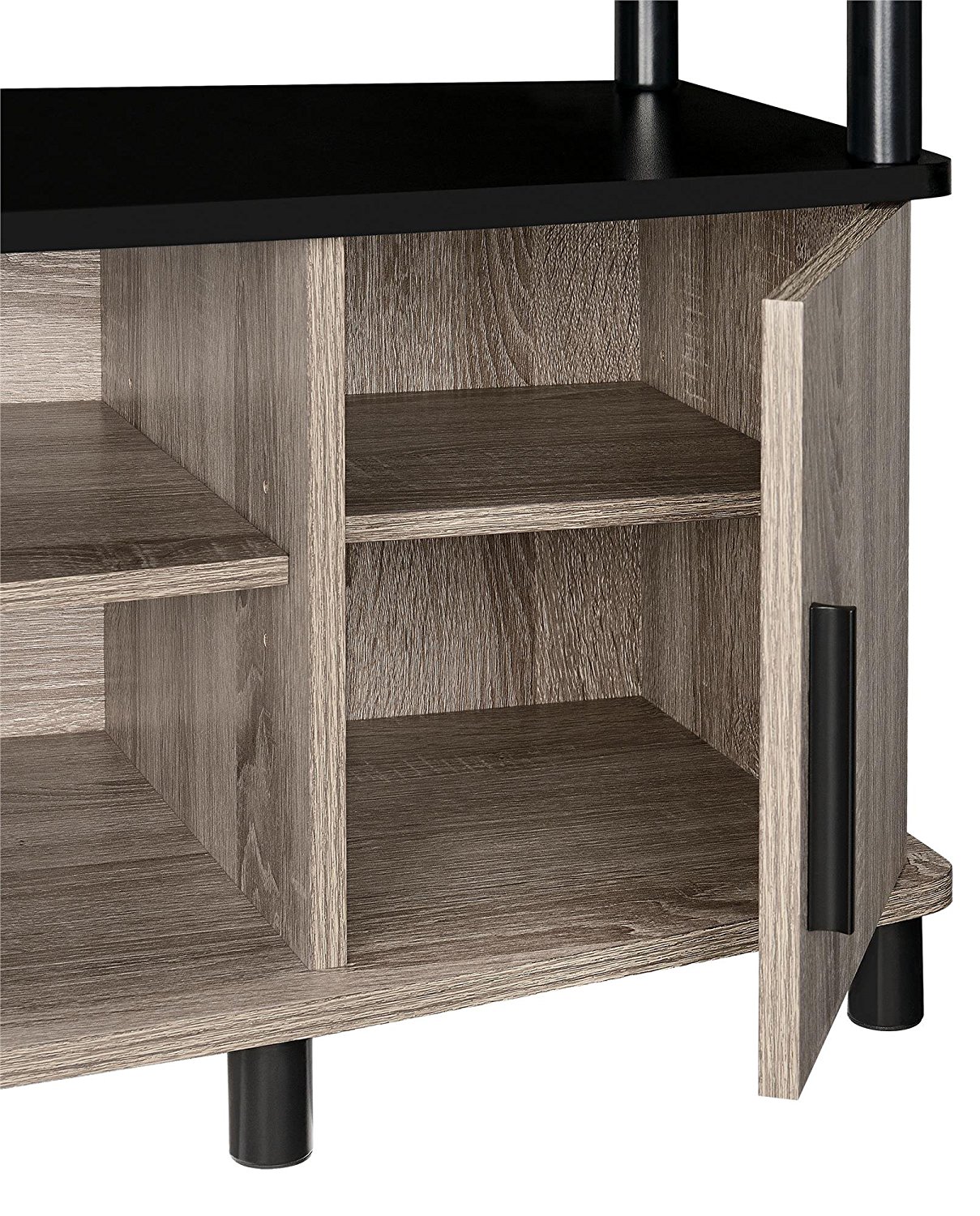 ---
Purchase the review product on Amazon Marketplace