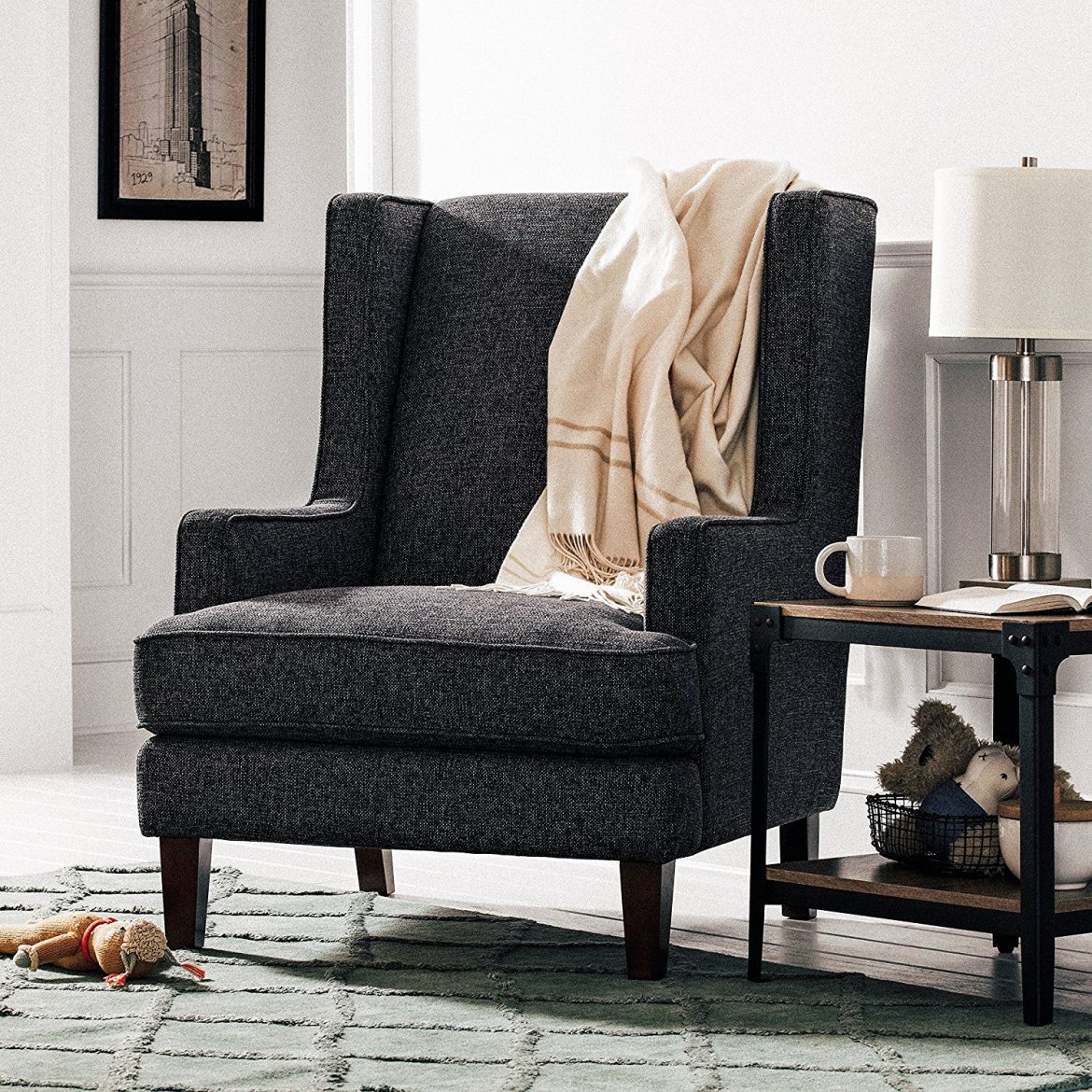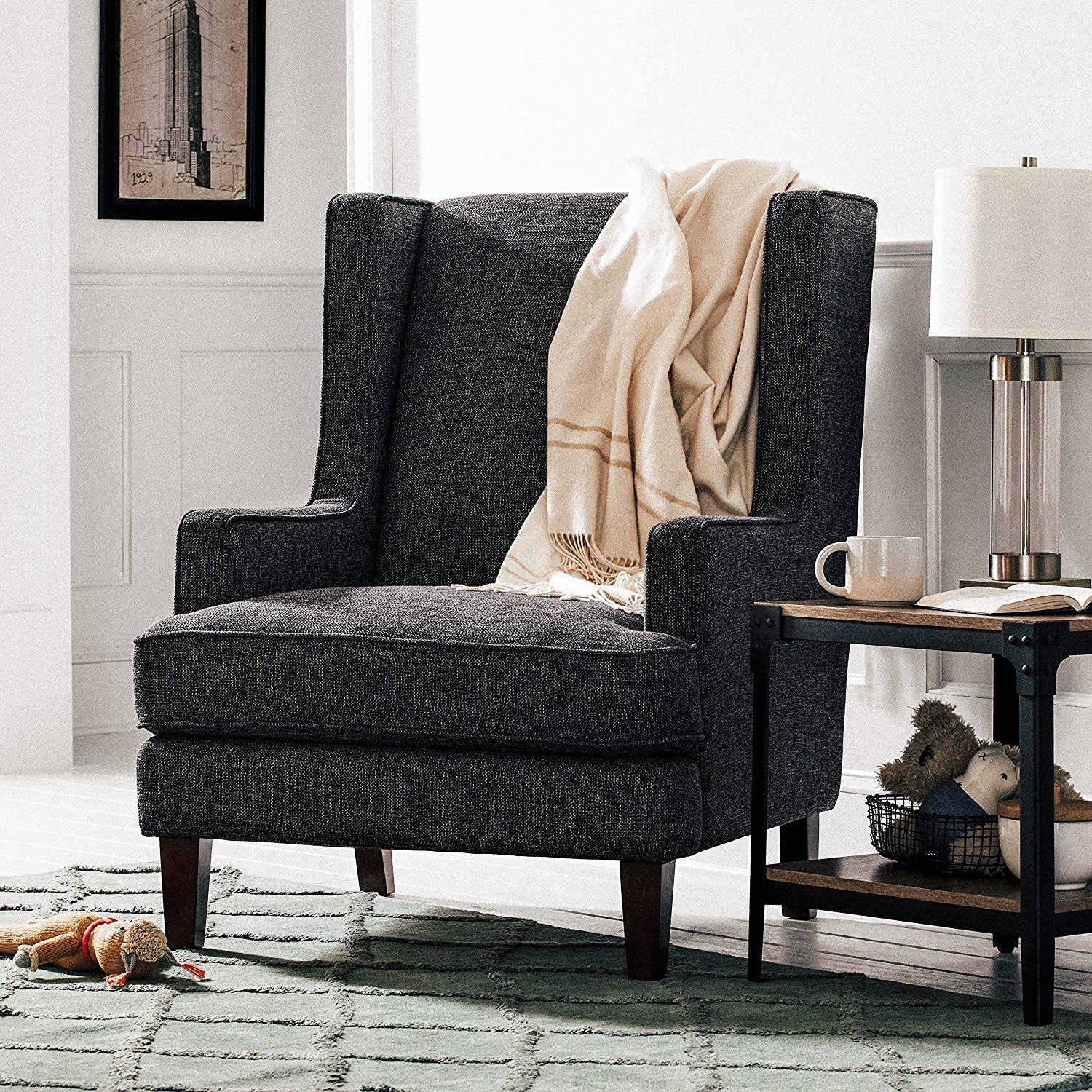 [Review] Stone & Beam Highland Accent Chair
First Impression
Our Highland accent chair from Stone & Beam arrived earlier than expected. The seat came in one piece. All I needed to do was to screw the four legs in. There is no need for a screwdriver or any other tool. I think it took me longer to figure out where the legs were than to do the setup. At first, I thought the seller forgot to include the legs in the package. Turns out, they were hidden in a secret compartment below the seat. It's a very good hiding place if you ask me. In case you're moving, you can easily unscrew the legs and return them to the compartment. In just less than 30 minutes, I was off lounging on this wingback chair already.
I fell in love with the chair the moment I got it out of the box. Even without the legs, I could already see what a beauty it is. The color is exactly the same as shown in the pictures. Caviar is an attractive shade of grey. It's subtle yet striking. This wingback accent chair has a luxurious air to it. It looks like it costs a grand. It has added personality and flair to our master bedroom, and I couldn't be happier.
I'm glad I went ahead with the purchase. I was uncertain about purchasing an accent chair without seeing it in person. However, after reading a lot of good reviews, I decided to go for it. The company accepts free returns for 30 days, so that eased some of my worries. Anyway, I don't have any need for that because I'm keeping this chair with me!
Exceptional Comfort – 1
I have the chair in one corner of our bedroom. Beside it is a nightstand with a lamp. I have intended it to be a place where I could read every evening before I get to bed. It's a great size. Because the chair is huge, I can sit on it and still have around one or two inches of space on either side of me. I can even curl my legs on the seat. The back of the chair is high enough, so someone tall could lean their head on it. I like that the back has a comfortable lean to it. It is reclined ever so slightly to provide comfort, but it's upright enough to allow you to talk with someone as you sit. For those with a bad back, you can add a small pillow on your back.
The depth of the seat is great too. Tall people like me and my husband would appreciate how deep it is. Given the large size of the chair, it takes up considerable space in our room. That being said, I can only recommend getting this if you have a large space in your room.
We recently got an ottoman in the same color for us to rest our feet on. It's so comfy, I would usually fall asleep on the chair! I suggest you buy an ottoman with this too. You won't be able to resist lounging on the seat after a busy day at work. The accent chair does not wobble. If yours does, try placing a rug under the chair. That should get rid of the wobbling.
Exceptional Comfort – 2
On the first few uses, the chair felt quite firm. With more use, it got softer and much more comfortable. Although it did get softer, it remained firm enough so you won't get that sinking feeling when you sit. Thanks to that, I can have my 5-year-old daughter sit on my lap without feeling as if I'm getting sucked up by the cushion.
The armrests have sufficient padding. It doesn't hurt to rest my elbows there. The wings are cushioned well too. I would often rest my head on a wing as I curl my legs up and read a book.
This wingback chair is fully upholstered save for the legs. The fabric feels good against my skin. There is a bit of texture to it, but it doesn't feel rough. The chair does not wobble at all. Even if I change my seating position, the chair doesn't rock back and forth.
This wingback chair has a good weight to it. It is a bit heavy, so it's not that easy to move it. On the bright side, the chair won't tip over if you try to sit on the edge. That makes the seat safe enough for kids. It won't lose its balance when kids try to lean on one side of the chair. I won't recommend dragging it across the floor. The wood legs may scratch your floor. Ask for someone to help you carry the chair if you want to move it to another room. If you have a sensitive floor like hardwood floor, you can get felt pads and put them under each leg. A rug or carpet under it would work too.
Outstanding Durability
The cushions hold their shape despite having this chair for almost a year. We have been using it on a daily basis, so that's pretty outstanding. Although the legs are very short, they are solid.
The fabric used for the upholstery is not the cheap kind. It is thick and withstanding wear and tear very well. It has managed to appear relatively new despite the frequent use. There is no fading or discoloration to speak of. Unlike leather, the fabric won't peel in the future. Leather wingback chairs are much more expensive too! If you have pets and they tend to pee everywhere, it's better if you keep the door to your room closed. While it's easy to spot-clean the fabric, I don't know how the fabric would hold up to frequent scrubbing.
I have to mention that all cushions, including the seat's, are attached to the chair. You cannot take them out for cleaning. Instead, you have to clean the chair with a damp cloth or spot-clean it when needed. Don't get too rough when you're cleaning it. Make sure to show some love, so your chair would love you back. I rarely drink coffee when I'm on the chair for fear of spilling it. My daughter did spill a glass of orange juice on it once. It wasn't that hard to clean off the stain.
Despite our frequent use, the seat cushion has not sagged at all. It has remained plush and comfortable. This is the same case for the back cushion as well as those on the armrests.
This wingback chair comes with a 3-year warranty, which is a big plus. If you're apprehensive about the chair's quality, the warranty should provide some comfort to you.
Refined and Sophisticated
I am the type of person who is very particular about furniture and interiors. Since we moved into our house, I have been the one in charge of decorating the house. I got this accent chair to serve as a statement piece in our bedroom. And boy does it make a statement. Your eyes are automatically drawn to this wingback chair once you enter the room.
My favorite part of the chair is the tapered legs. They say that God is in the details, and it's exactly the case with the legs. I like that only a small part of the legs is visible.
The chair has a contemporary look to it. Most of the wingback chairs I've seen on Amazon had tufts, which I don't like. I preferred something simpler and more modern. Tufts have that traditional air to it. The wingback chair went along perfectly with other furniture in our room. Moreover, It's a neutral color, so whatever your color scheme is in your room, the chair would blend in just fine. Just like with any piece of furniture, proper cleaning is a must to maintain its beauty.
Final Thoughts
There are less expensive options, but as is the case with most furniture, you get what you pay for. At under $500, you'll get a high-quality accent chair worthy of your guests' compliments. If you try to check out wingback chairs in furniture stores, you'll find many with ridiculous price tags. You'll have a hard time looking for a deal as good as this one from Stone & Beam.
It's an elegant reading chair, a statement piece, and the highlight of our room. I would not change a thing about it. The textured upholstery gives it an interesting look, making it a beautiful addition to our home. It is a classic piece with a timeless look. I couldn't be happier with it.
I highly recommend this wingback chair if you are looking for a comfortable chair but don't have the budget for a recliner. A wingback chair makes a much more stylish alternative too. For practical buyers out there, you should know that this accent chair is durable. It is long-lasting and can hold up well to daily use. You can't possibly go wrong with it. – Jenny H
---
Brand: Stone & Beam
Product: Highland Modern Wingback Accent Chair
---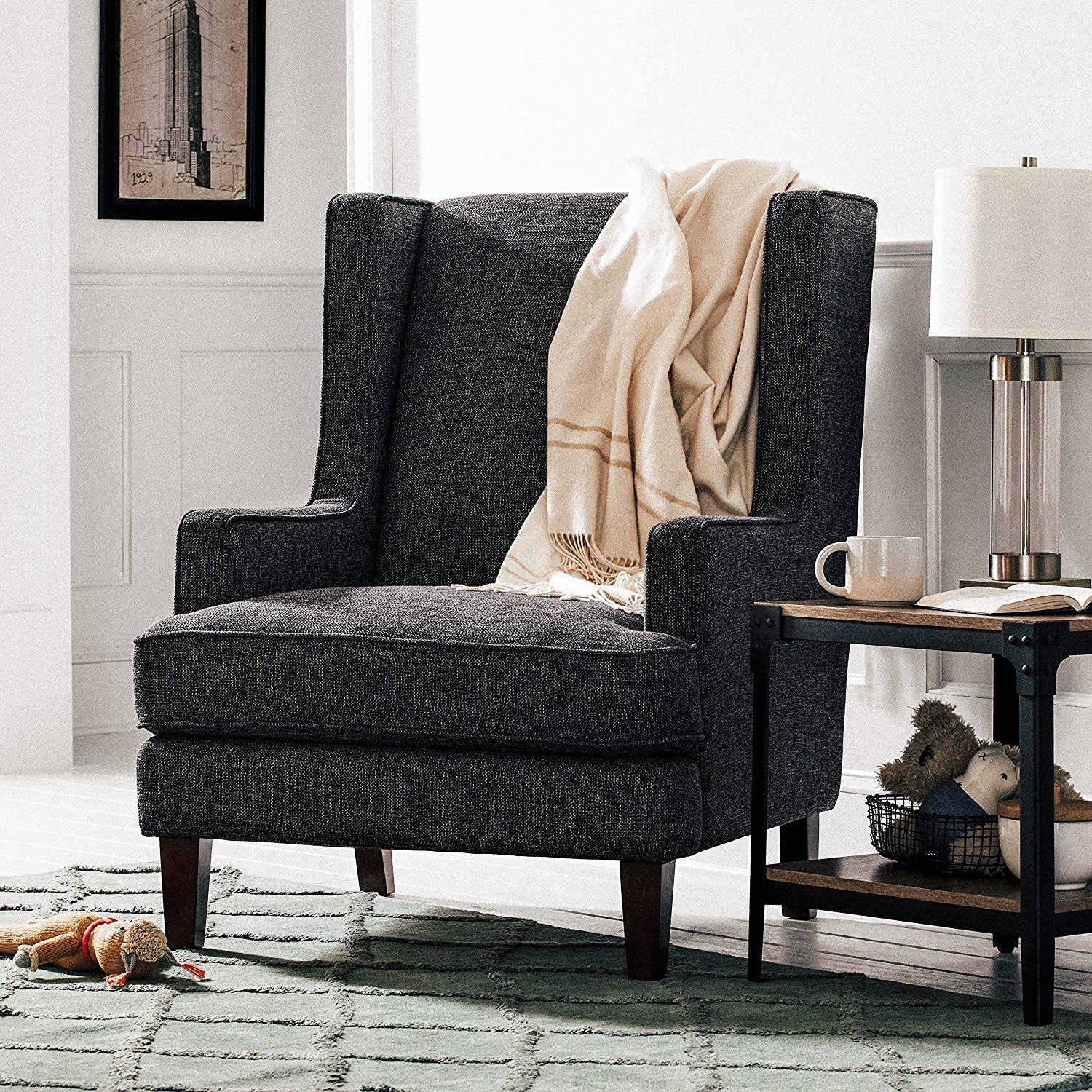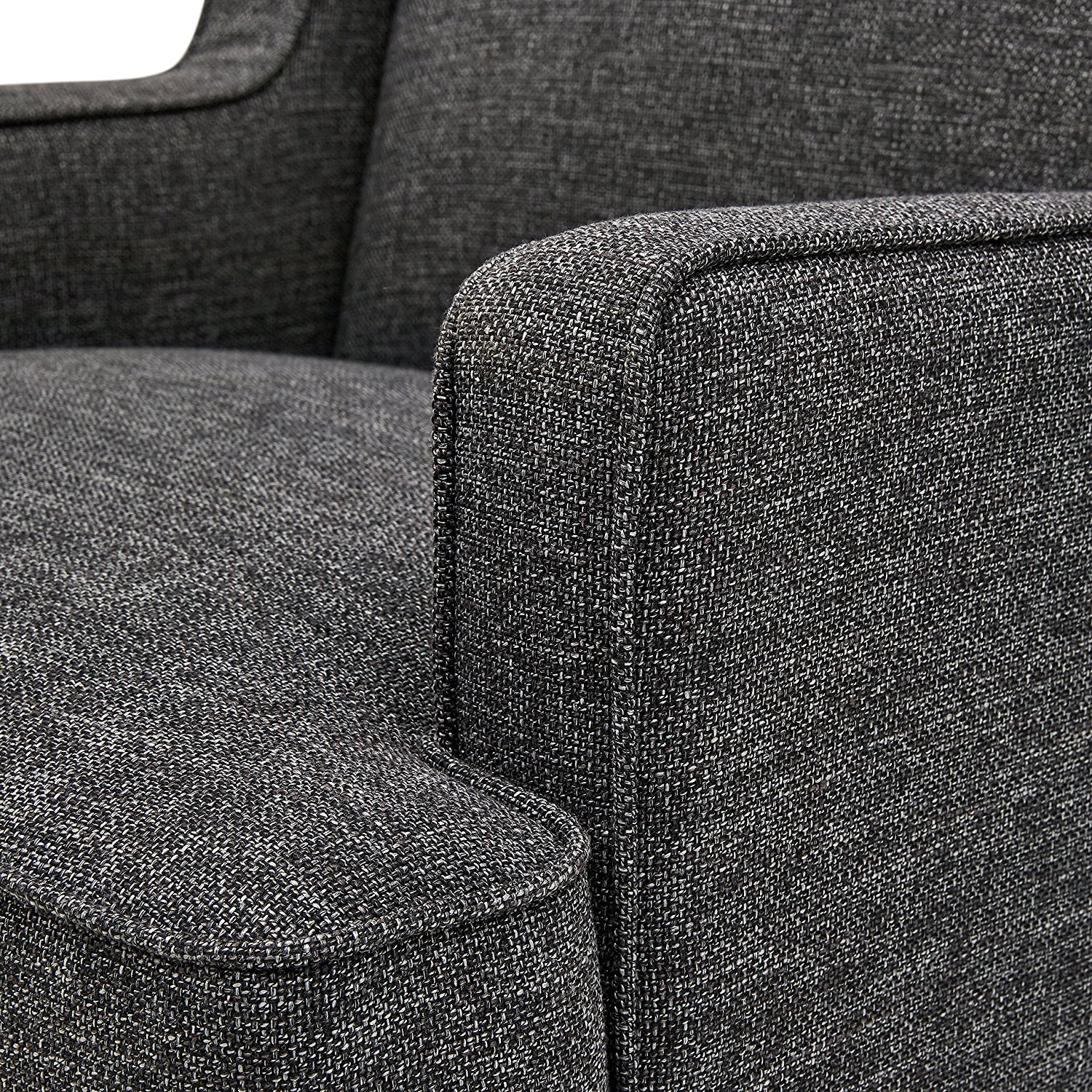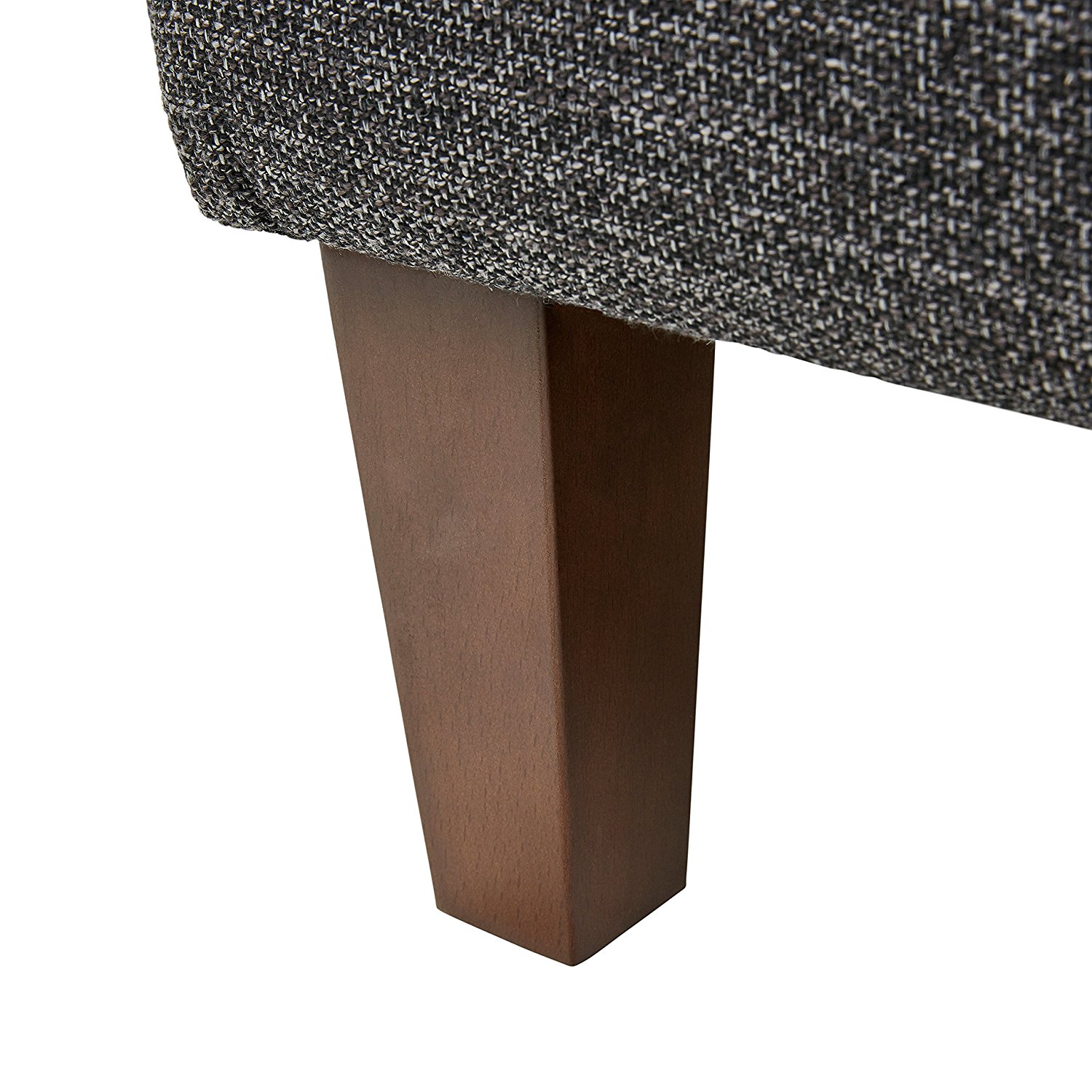 ---
Purchase the product on Amazon Marketplace