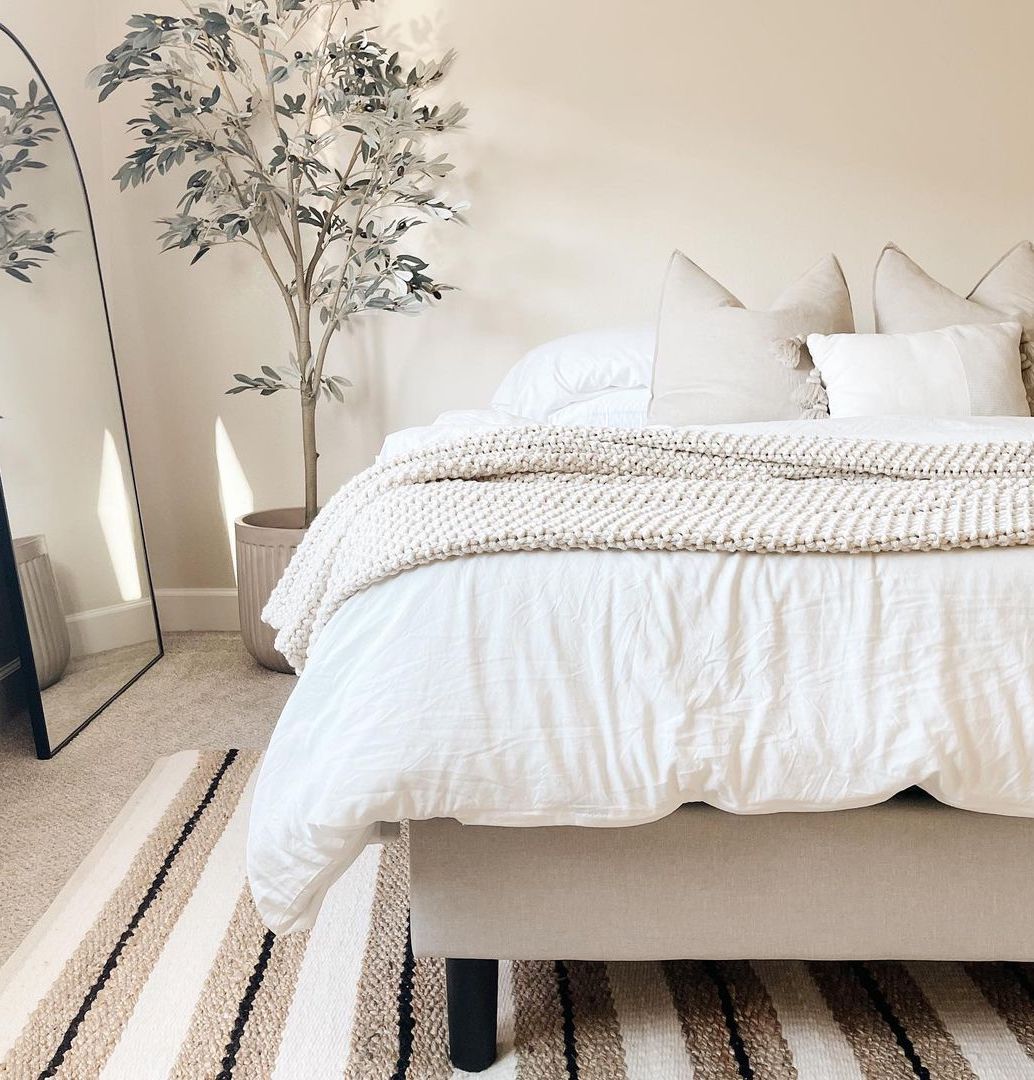 5 Reasons Zinus Curtis Upholstered Platform Bed is The Best Simplified Bed Ever
If you're the type that likes simplicity, you probably want a simple bed that is comfortable and affordable. Not wanting anything particularly overly decorative fits with who you are, and you're not the only one. This is proven by the thousands of people that have viewed and purchased the Zinus Curtis upholstered platform bed sold by Amazon.
This bed is contemporary and is simplified to a platform and mattress. Its simplified modern lines provide a solid foundation on which to sleep and very easy ideas of incorporating this modern contemporary bed into your bedroom. Here are some other points that make this Zinus Curtis upholstered platform bed the best contemporary bed sold by Amazon.
The Highest Amount of Ratings and Highest Ratings of Any Bed Amazon Sells
Amazon has some highly rated beds, but this one takes the cake. It has over 10,000 (!) reviews, and over 80% of them are five-star reviews. It's one highly rated, highly reviewed, and highly purchased bed. Below are some popular reviews we found quite promising and informative:
"Absolutely love this bed. We already had a headboard so we wanted something basic for a bed frame. This came in a couple pieces and was very easy to set up. It took less than 25 minutes to put together. This does not require a box frame so the mattress is just resting on the frame which is nice. This is very sturdy and well made. No noises or settling at all. The fabric is a charcoal gray color and is good quality. Very pleased with this bed and will purchase from this brand of products again!" – JLF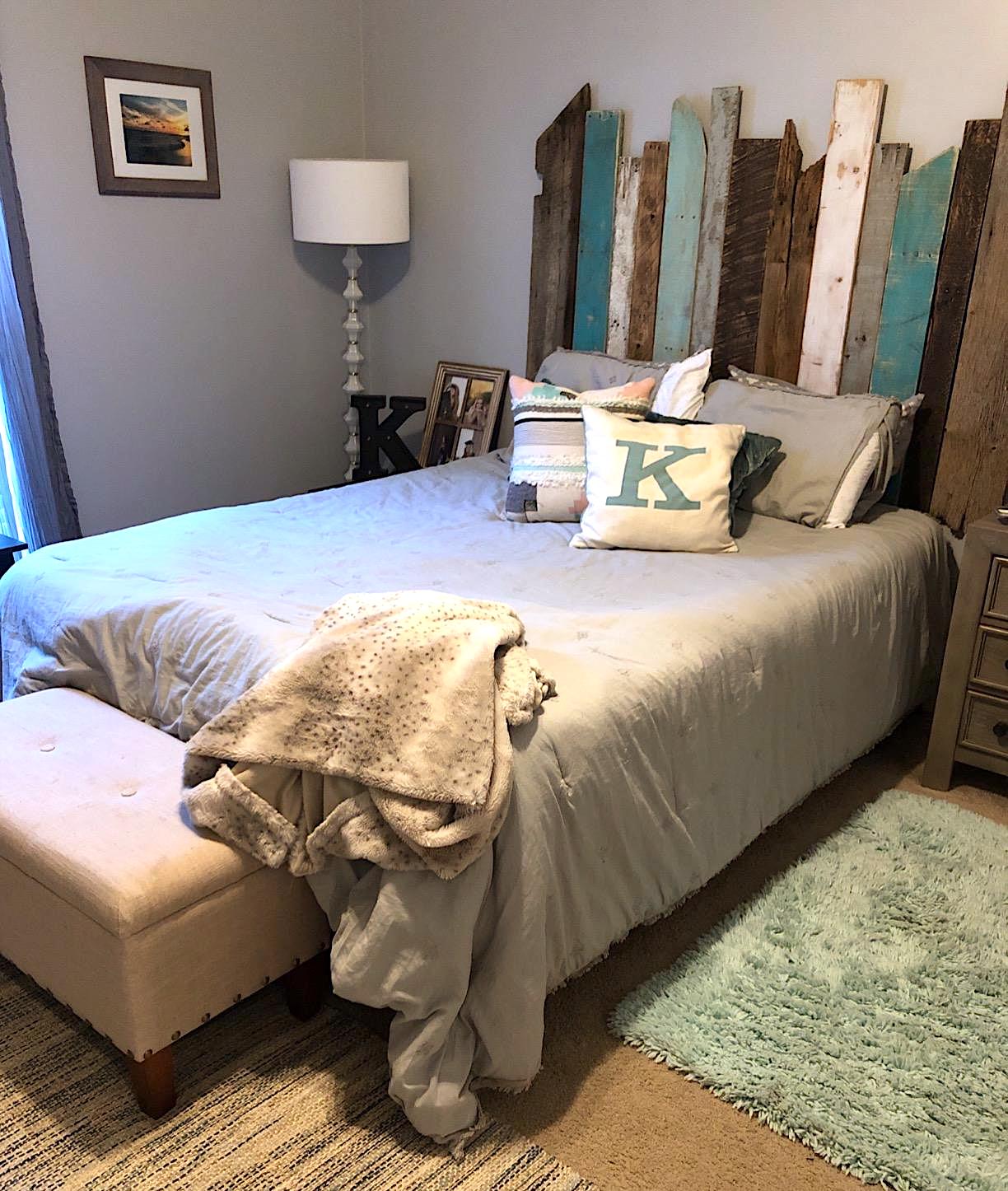 "I am so pleased with my new bed. After buying this bed, putting it together, and sleeping on it, I have vowed never to buy a bed from one of those expensive furniture stores ever again. I got a really great deal on my mattress and was lamenting having to by a new bed frame to fit a king size because of the cost. When I saw this bed and read the great reviews, I had to give it a try. When it arrived I put it together in about an hour by myself. It was a painless and fool-proof assembly. The frame is very sturdy and heavy. I can't say enough good things about it. Whenever I should need another bed, I would buy another Zinus Platform without doubt." – Tara Reed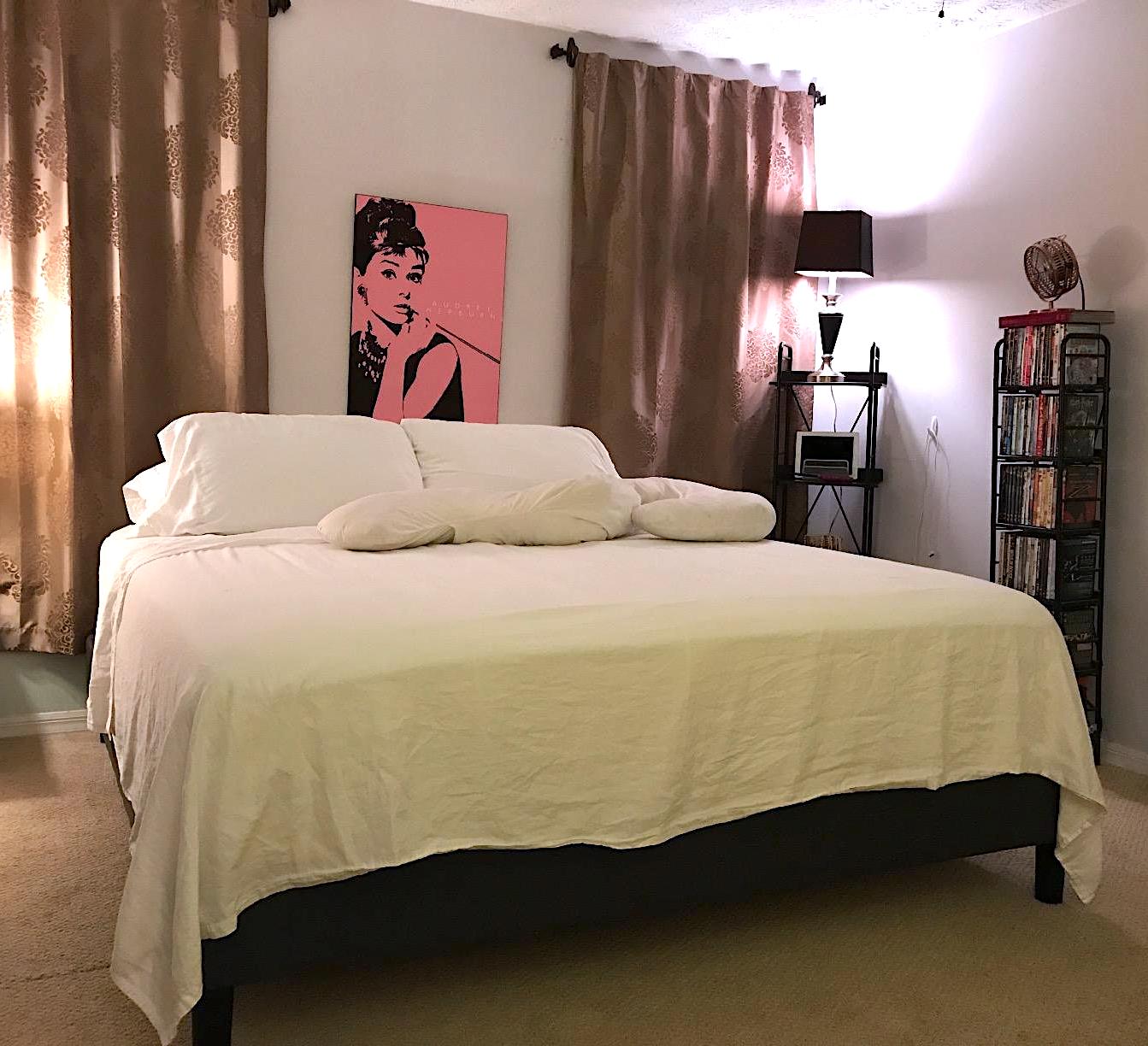 "I had no problem setting this up. I would definitely buy again if I had to. It's pretty and it works for my room. I hope that it lasts" – M. Richardson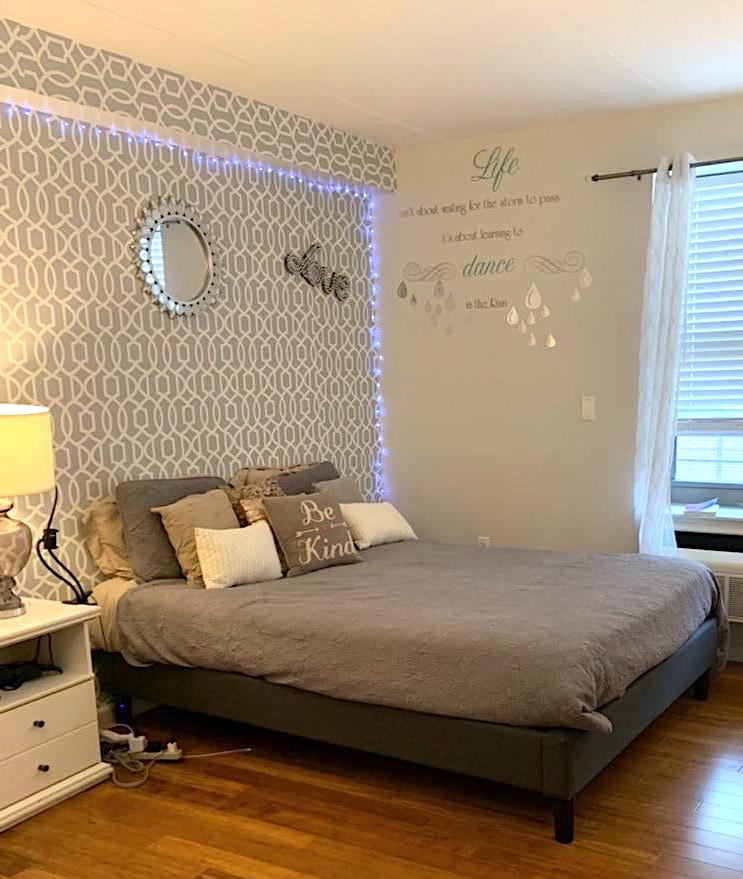 "This product is really study and looks nice. It was easy to assemble. It came with all the tools you need. It does not make noise or move around with two people on the bed. We like it so much we are buying a second one for our son's room." – Anonymous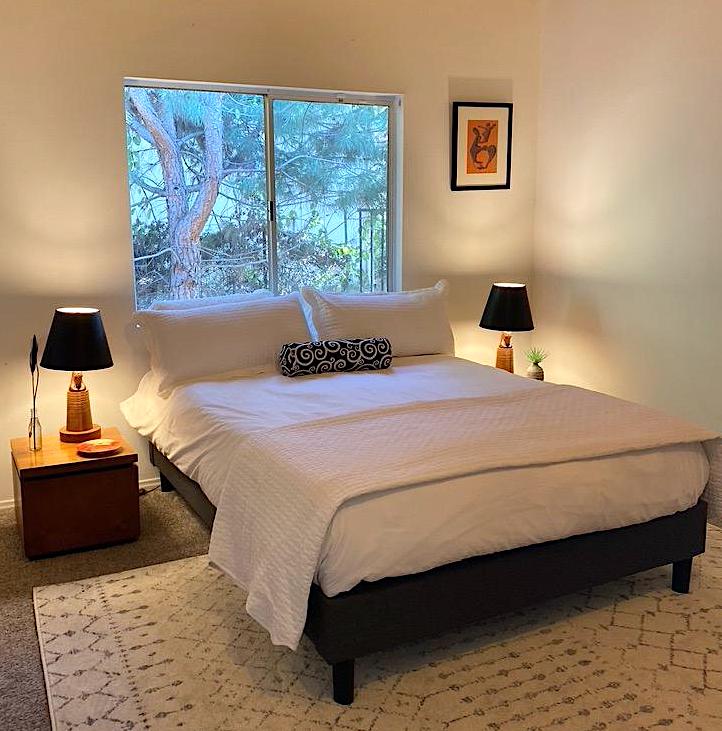 Can't Get Much for Equal or Lesser Money
At around $150, this bed frame offers a great value. At the same price, you're not likely to get much more than a metal bed frame in most stores, if that. With this bed, it's a solid frame upholstered over the top to provide a softer look and a protective barrier. You get more bed frame for your buck, as it were.
High Quality Item Ships Fast and Has a Long Warranty
Despite the low price, this bed is a high quality item. It ships fast with Amazon, and even faster for Amazon Prime members. Perhaps the most exciting and compelling feature that gets customers like yourself to purchase this bed is its 5-year manufacturer's warranty. For five full years the bed is protected against failures and defects. It can be replaced at any time under this warranty.
Options and Flexibility With the Zinus Platform Bed
While you can easily integrate this bed into any sort of decor, sizes and colors of the bed are a little more limited. You can get a full, queen, or king, and purchase it in dark gray, light gray, and navy. On the flip side, you can attach footboards and headboards of any style if you want to spruce it up a bit. If you need a double or twin bed, you should check out the other beds available from Zinus.
How Instagram Influencers Incorporated This Platform Bed Into Their Bedrooms
Instagram influencers who are either professional or amateur interior decorators have their own take on this bed. Here's how ten influencers have incorporated the Zinus Curtis platform bed into their own bedroom style and decor.
Instagrammer @natalialanaeinteriors used the light gray upholstered bed for a room bathed in neutral colors. She's also attached a basket weave style bamboo headboard to the platform bed, and placed the whole bed over a white and beige patterned floor rug. Cream-colored bed linens and curtains accent the space near or on the bed, and white or matching basket weave style bamboo furniture complete the look.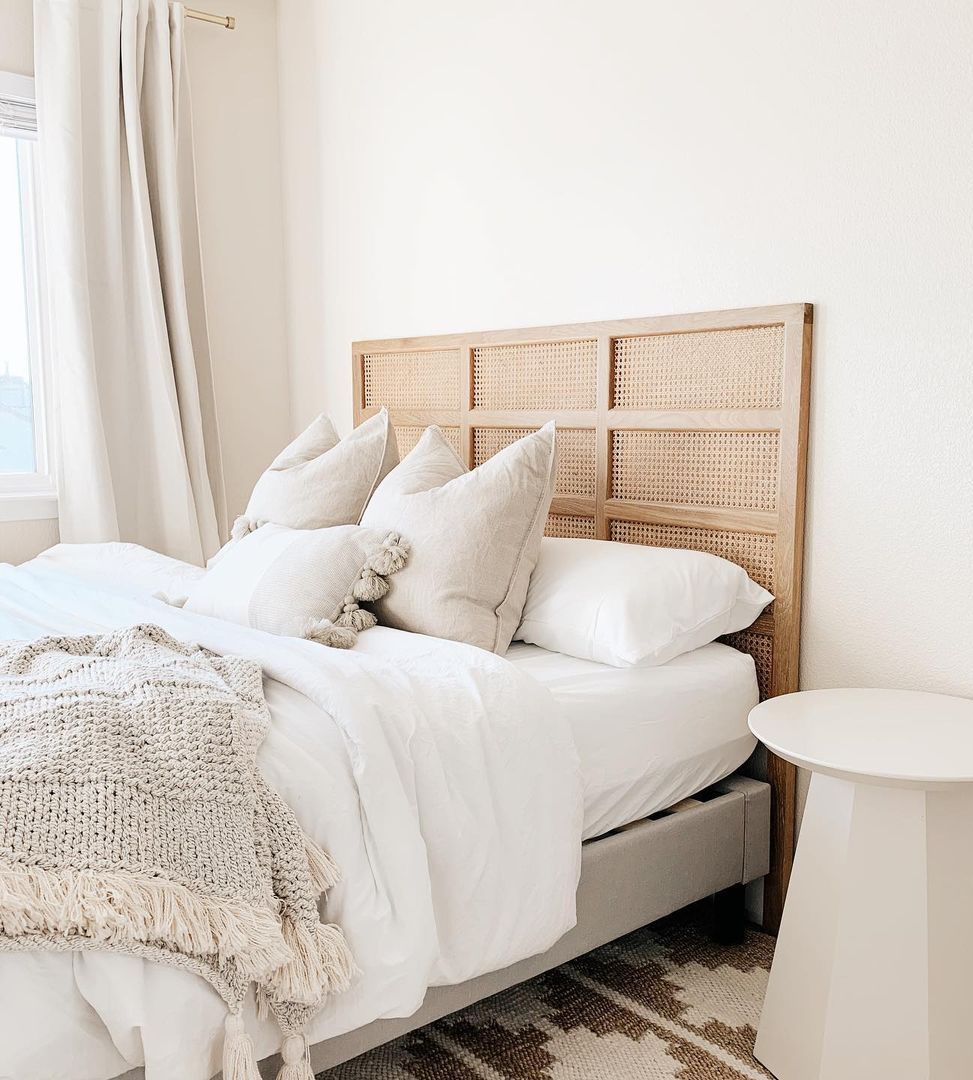 Another take on @natalialanaeinteriors use of the platform bed places it against a white wall with white bedding and no headboard of any kind. The soft gray carpeting matches the upholstery of the platform bed. A black framed floor mirror and faux silver tree accent the corner of this simple room.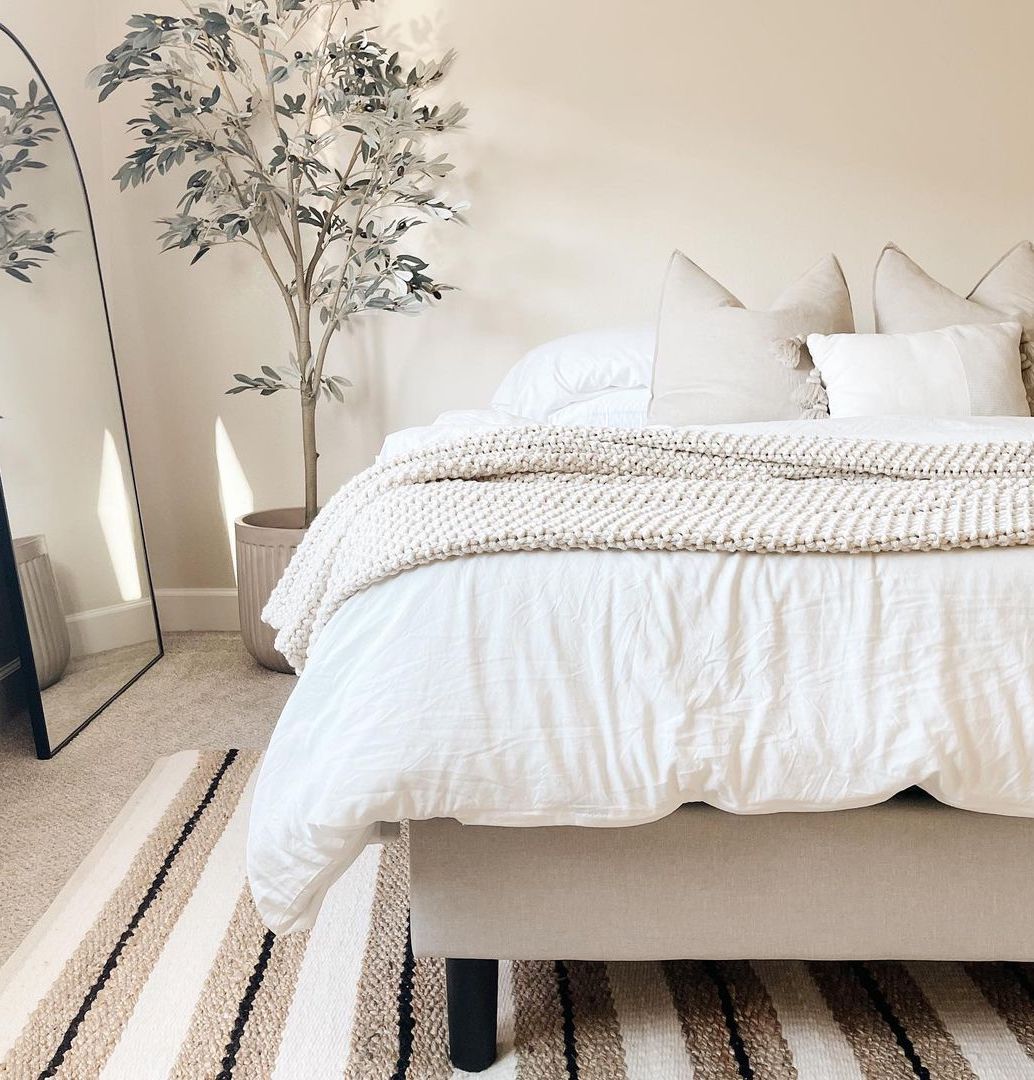 Another Instagrammer, @lakeandlumber, utilizes the platform bed in a heathered, weathered, and cottage chic style. You can't really see which color of upholstery bed was chosen because the lilac colored comforter hides it, but the assumption based on the attached light gray headboard is that the bed itself is gray. Pink, lilac, and white throw pillows make the bed look extra inviting as it sits between two different nightstands, each with their own brass arm lamp and green plants. The weathered look of the nightstands matches the stripes in the massive floor rug.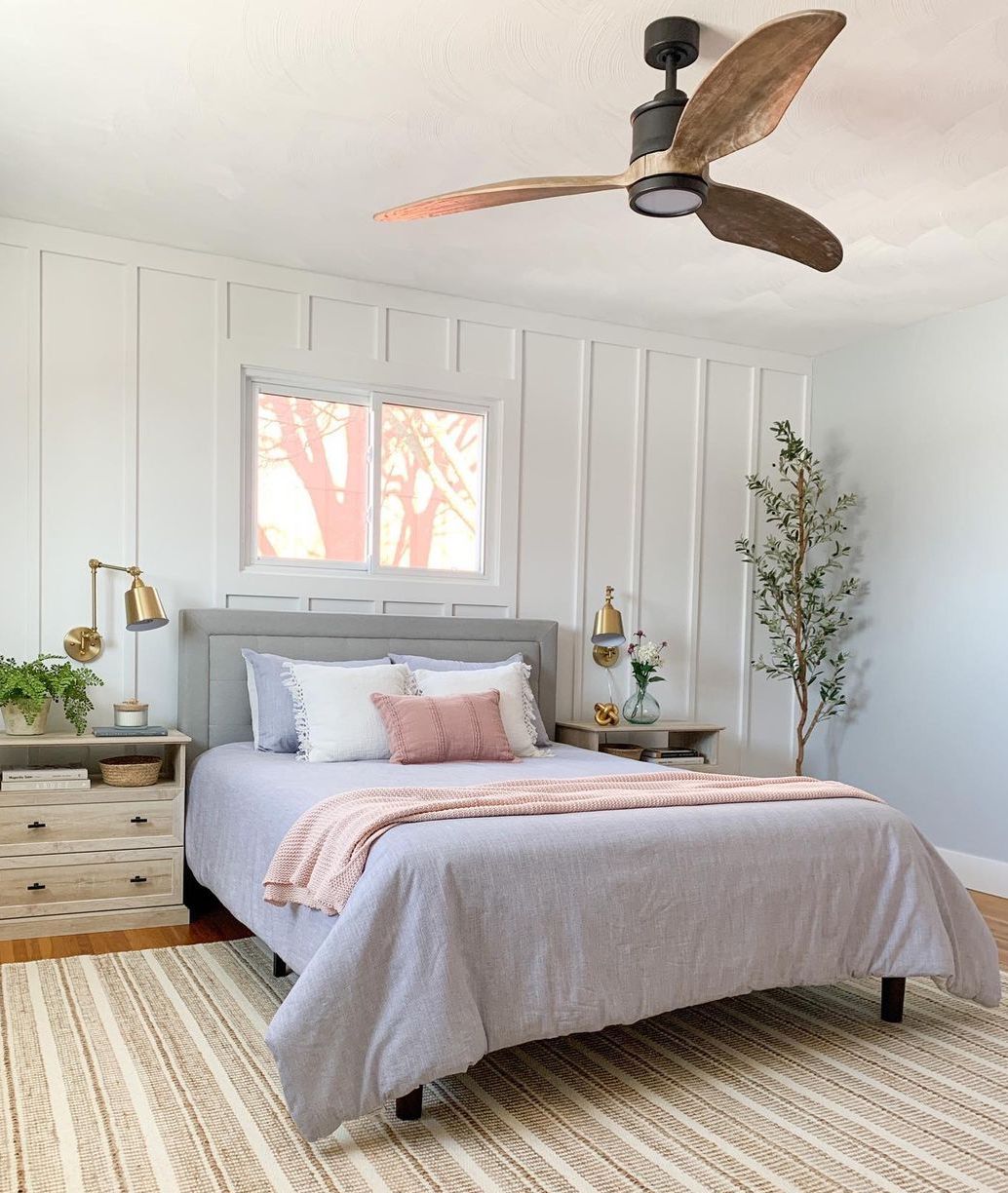 Instagrammer @brittney_gage shows off how you can style the king-sized dark gray platform bed. It is paired with a dark gray headboard, gray linens, and a matching gray bench at the end of the bed. The light gray walls and beige carpeting help make the bed the focal point of the room.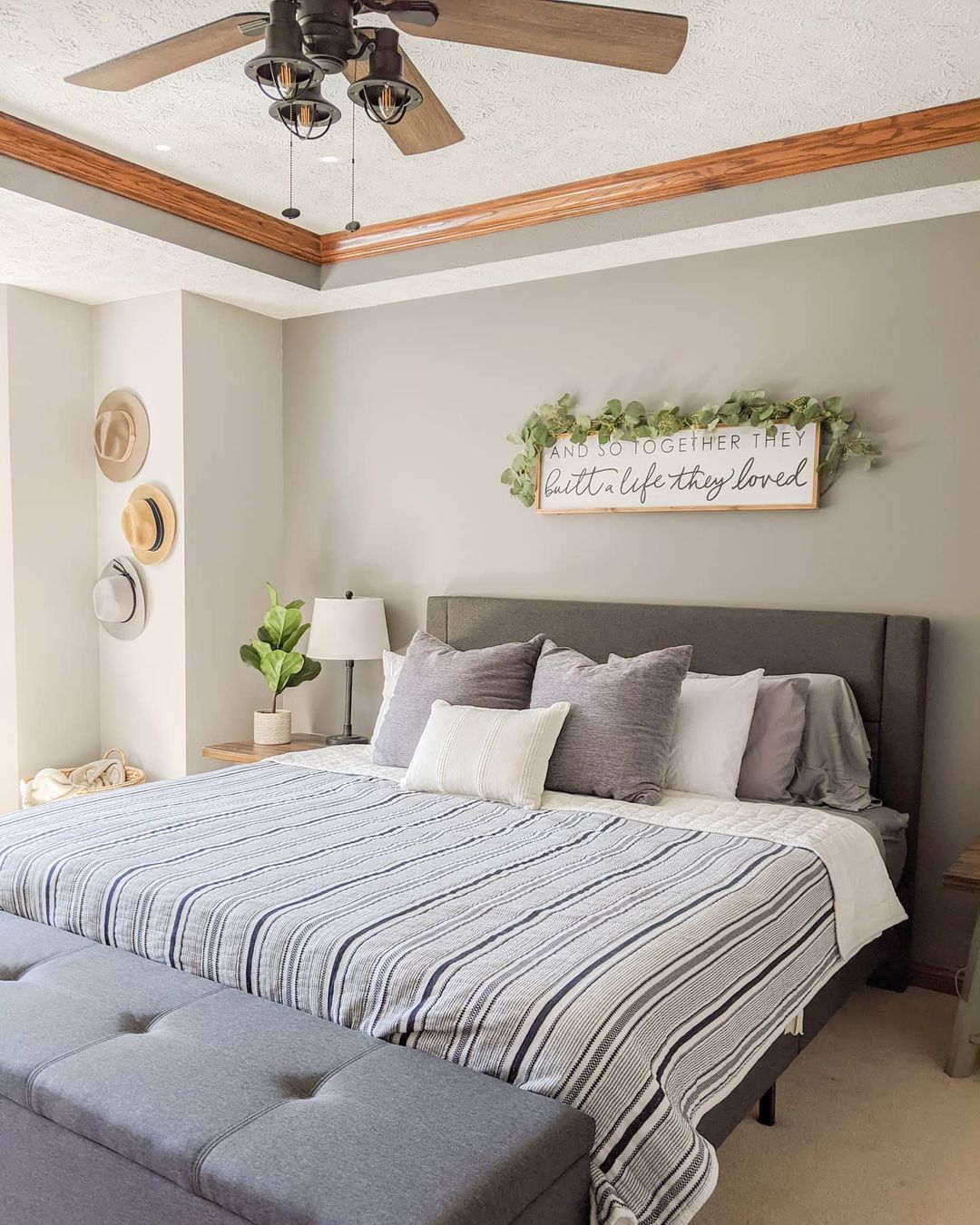 Brown, dark gray and white is the color scheme used by @an.adorned.abode. Here, the dark gray platform bed is again paired with a dark gray headboard, creamy white linens, brown, white and gray-patterned throw pillows, and a wooden nightstand. On the nightstand we see more of the brown, gray, and white color scheme in the vase, the lamp, and the picture frame.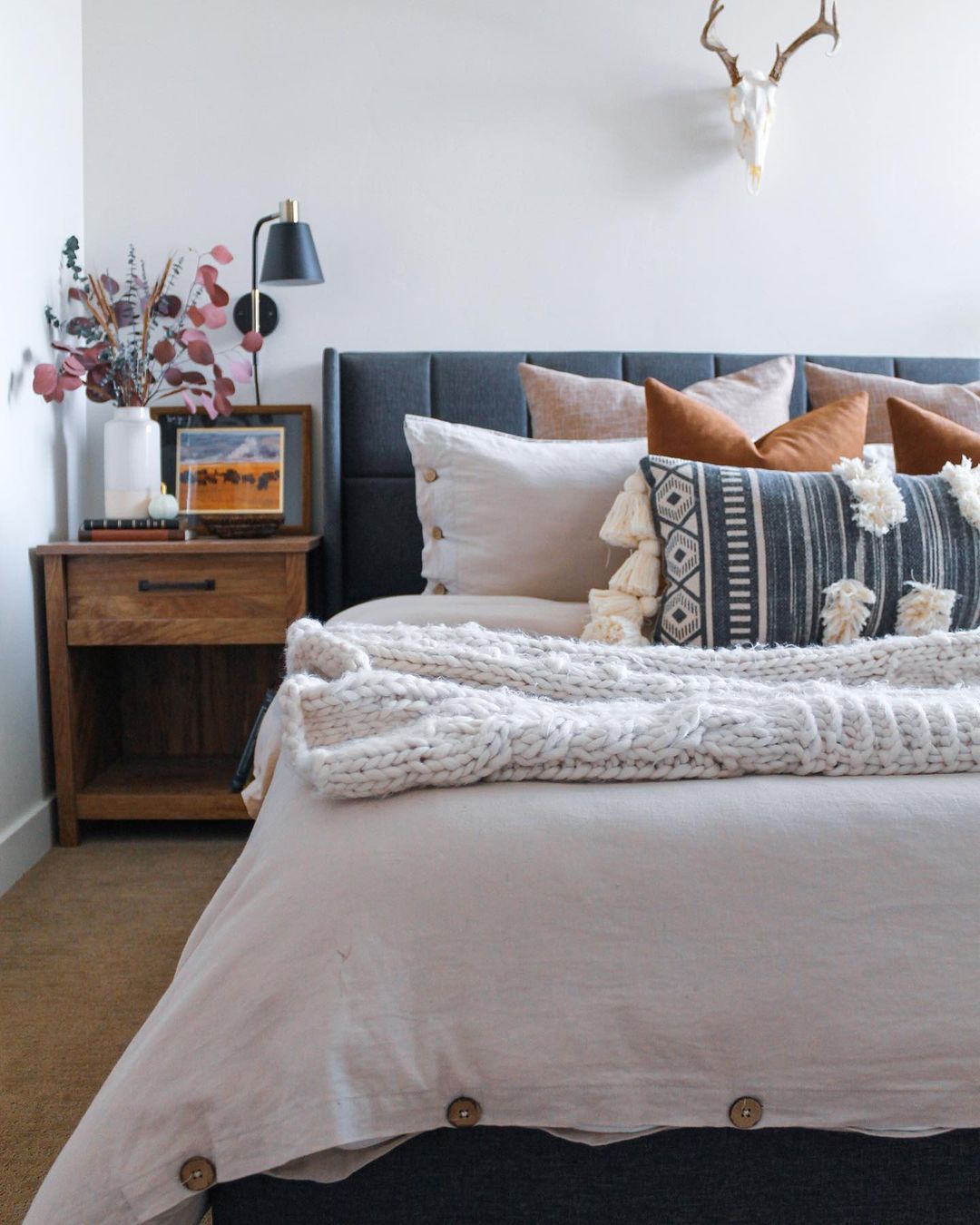 Contemporary and vintage styles are paired up in the bedroom of @hollandavenuehome. She has utilized a quilted dark gray headboard to match the dark gray platform bed and placed it over a colorful patterned vintage floor rug. A soft powder blue quilt completes the scene.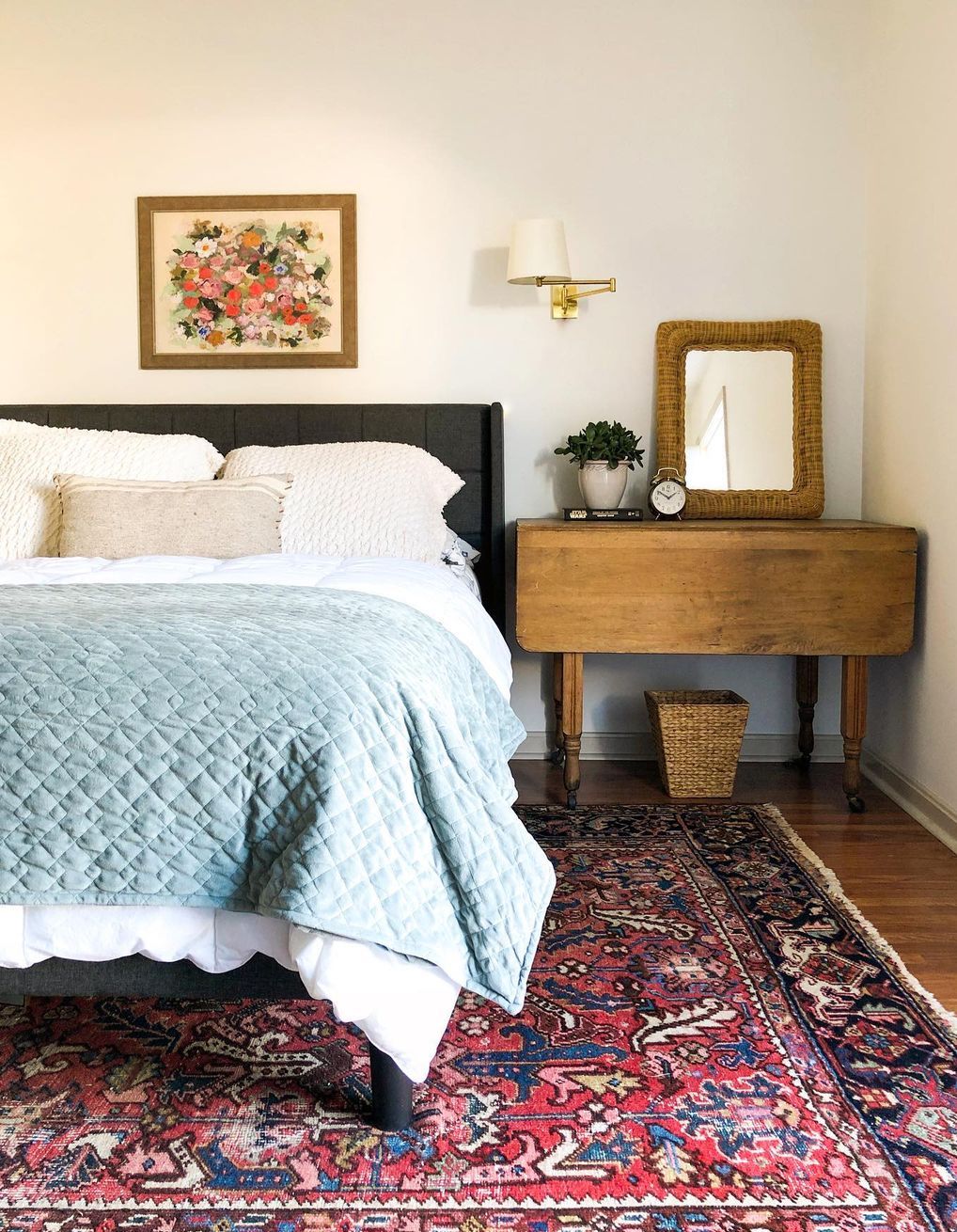 A much darker and more masculine approach to neutrals is taken by @blankslatereno. Here you see the dark gray platform bed again with the dark gray headboard. Dark brown dressers and pillows and black and white patterned pillows accent the room. A dark-colored faded floor rug is underneath the bed.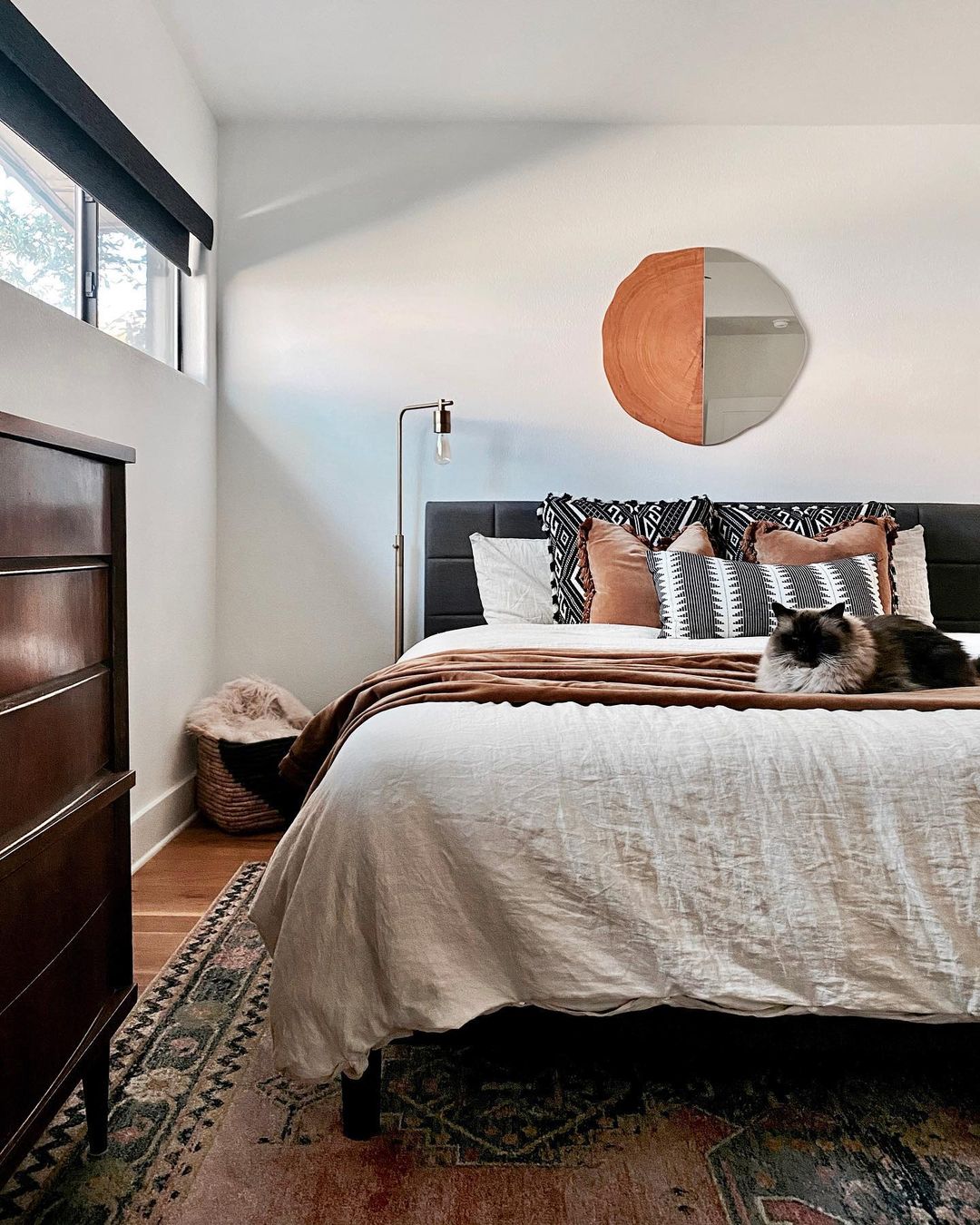 A more feminine approach to the neutral color palette takes a twist when @madelynsmeasure gets involved. You still have the uses of white, cream, and dark brown, but accents of soft pink make the difference. This influencer also adds a dark hardwood headboard to the dark gray platform bed.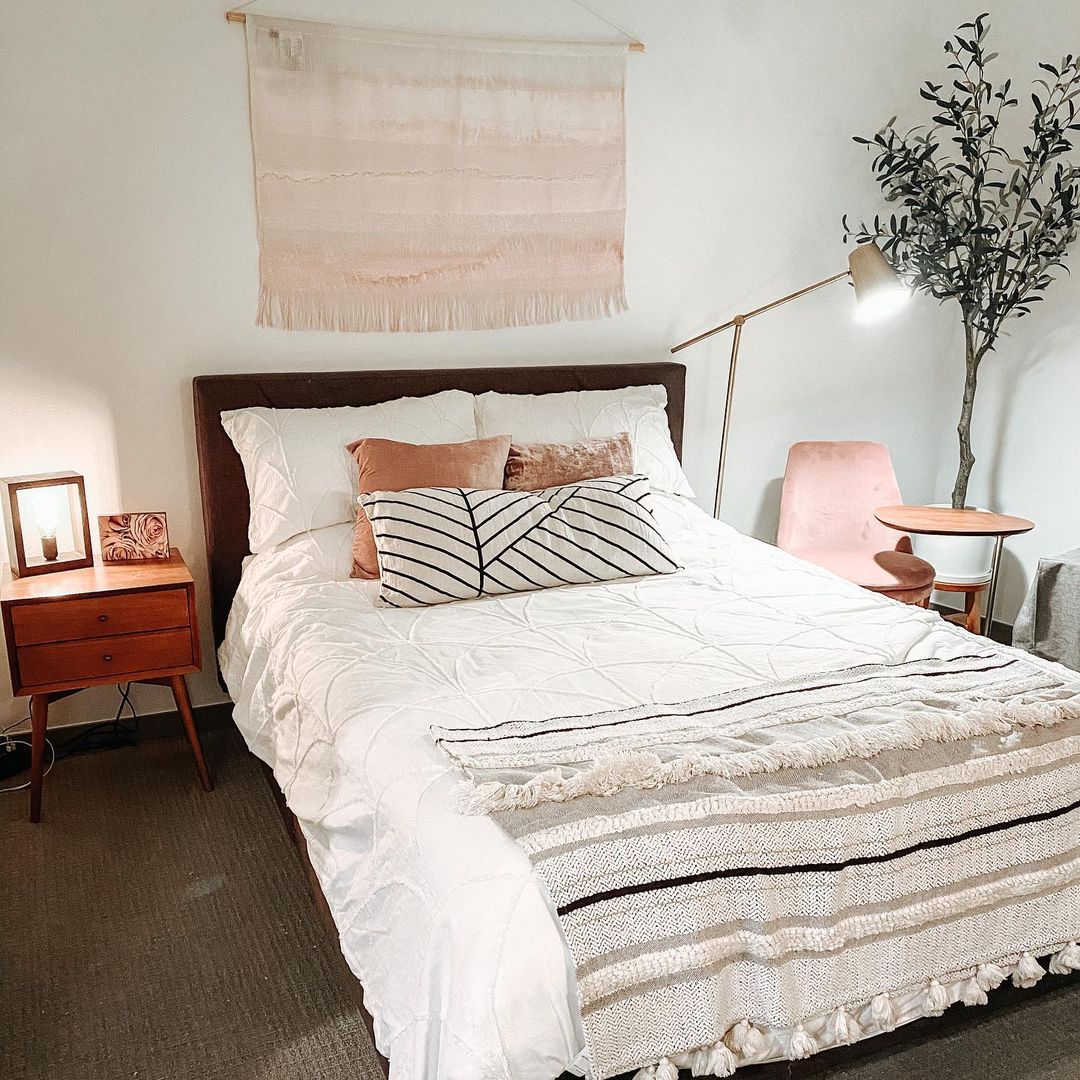 Light gray goes with everything. At least, that's what @cottagestyle thinks. The light gray platform bed is accessorized with gray, white and rose pink patterned throws and a button-tufted headboard. Dark rich woods frame the bed, while the soft gray patterned wallpaper ties in with the bed itself.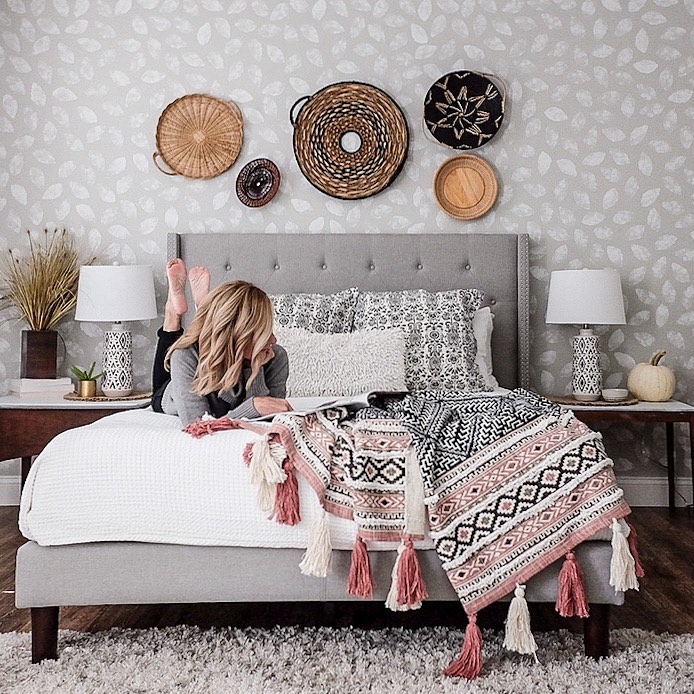 A slightly different take on the same throw rug and the same dark gray platform bed takes us back to @hollandavenuehome's guest bedroom. This influencer mixes up the look a bit by adding a rust-colored throw blanket to match the throw rug and a green accent bedside table.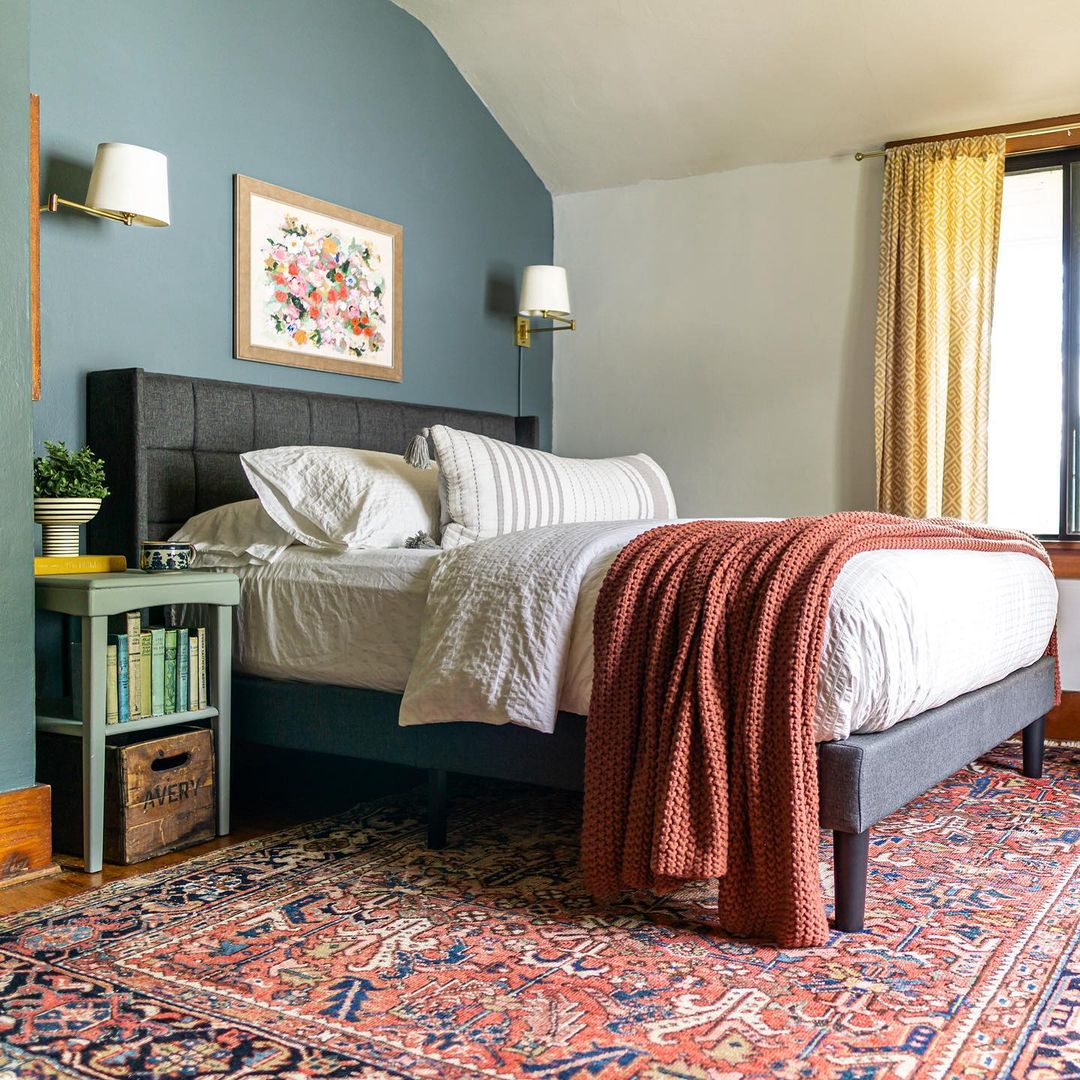 Influencer @pfefferenos decided to go with a solidly black and white decorating theme in this bedroom. The dark gray platform bed looks almost black against the black and white patterned shag throw rug and the very white comforter. The soft gray walls also create the visual effect that the bed is black when it isn't.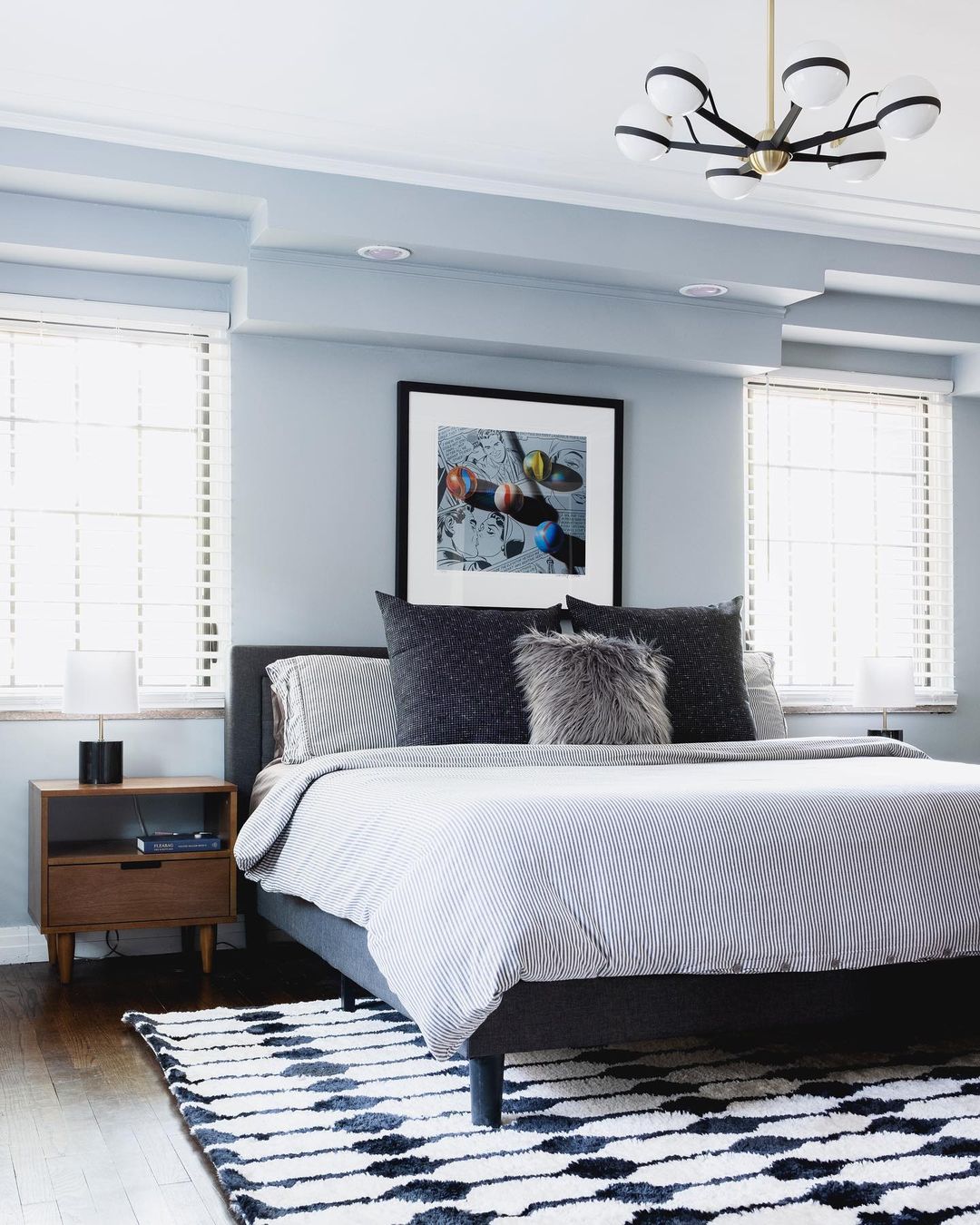 Dark colors aren't for everyone, but as @shenskablog shows us, you can mix dark gray platform beds and dark gray headboards with rich dark colors to get a stunning effect. The dark evergreen/teal color of the walls and throw pillows on the bed make this overall dark-colored room look brighter somehow.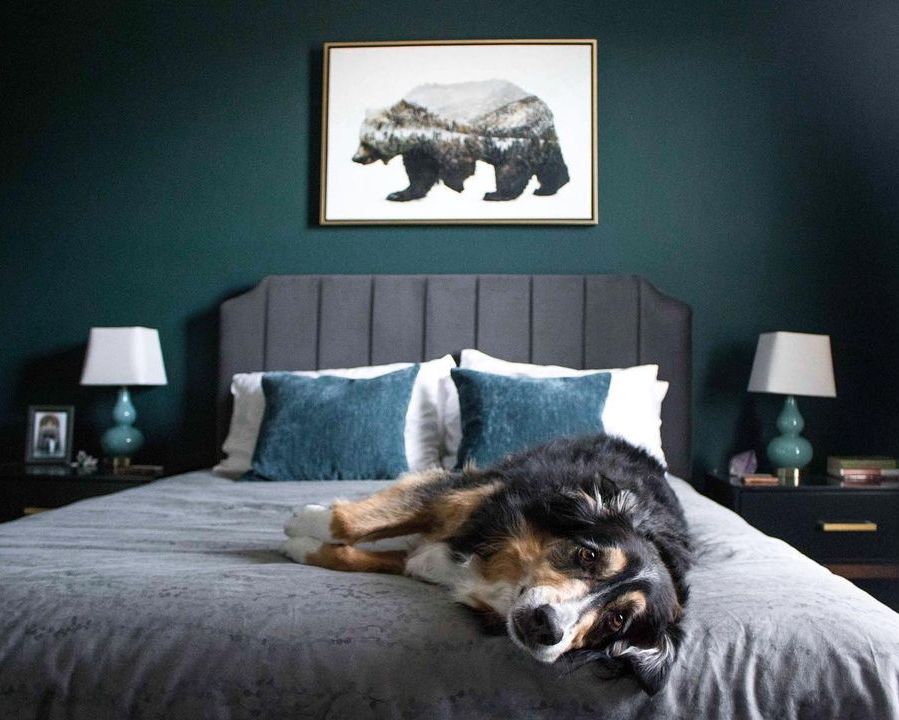 All-natural wood tones and white are at the heart of @homesweetnola's decor. We return to the light gray Zinus Curtis platform bed decked out with a knotty pine headboard and a rough-hewn bench at the foot of the bed.