6 Most Popular Upholstered Platform Beds with Drawers on Amazon
A bed with drawers underneath is a real space saver. They are especially nice in tiny bedrooms where a dresser and a bed are not likely to fit, or where there is no closet space for storage. If you are looking for a bed with drawers, and you're hoping you can buy a really nice one on Amazon, you're in luck. A platform bed with storage drawers is exactly what you need. Here are the top six platform beds with storage sold on Amazon right now.
The tufted headboard on this bed makes it look quite elegant, while the unique drawer setup underneath makes it very convenient. There are two drawers at the foot of the bed, which is unusual for beds involving drawer storage space. There are two additional drawers near the head of the bed. Additionally, the drawers are on wheels, which allows you to move the drawers in and out with ease rather than fighting with them to close and open on wood rails under the bed.
Choose gray or beige, and then choose the twin-, full-, or queen-sized bed. The wheels on the drawers make this bed ideal for wood, laminate, or vinyl floors, but thick or shag carpeting should be avoided.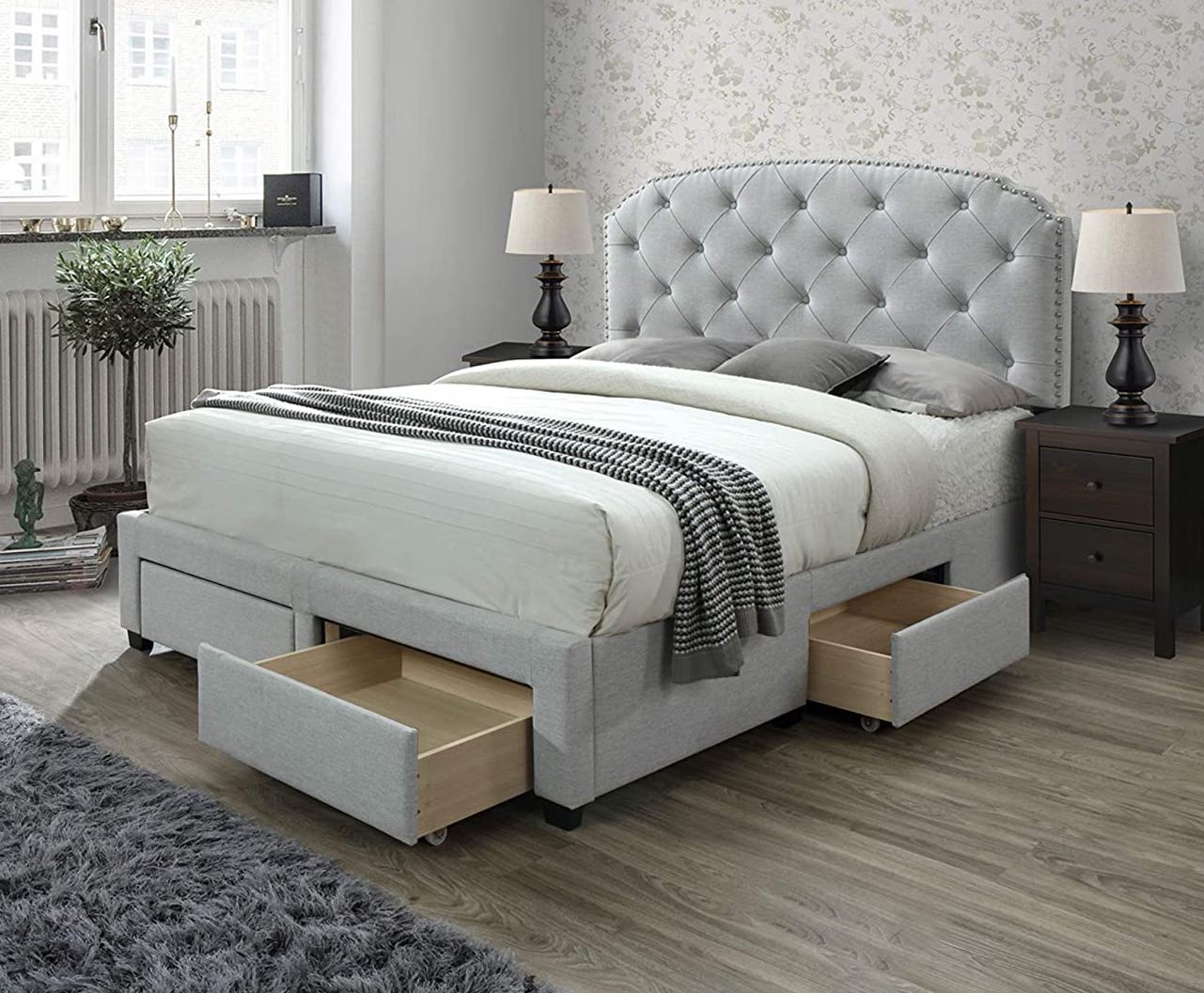 Below are some reviews we found quite promising & informative:
"I ordered this Queen size storage bed for my daughter. It was easy to assemble and the final product looked gorgeous. Not only is it a beautiful bed but the added functionality of the spacious storage drawers is unbelievable. She can now utilize all of the "wasted" space under her bed. I highly recommend this product!!" – Momma 24/7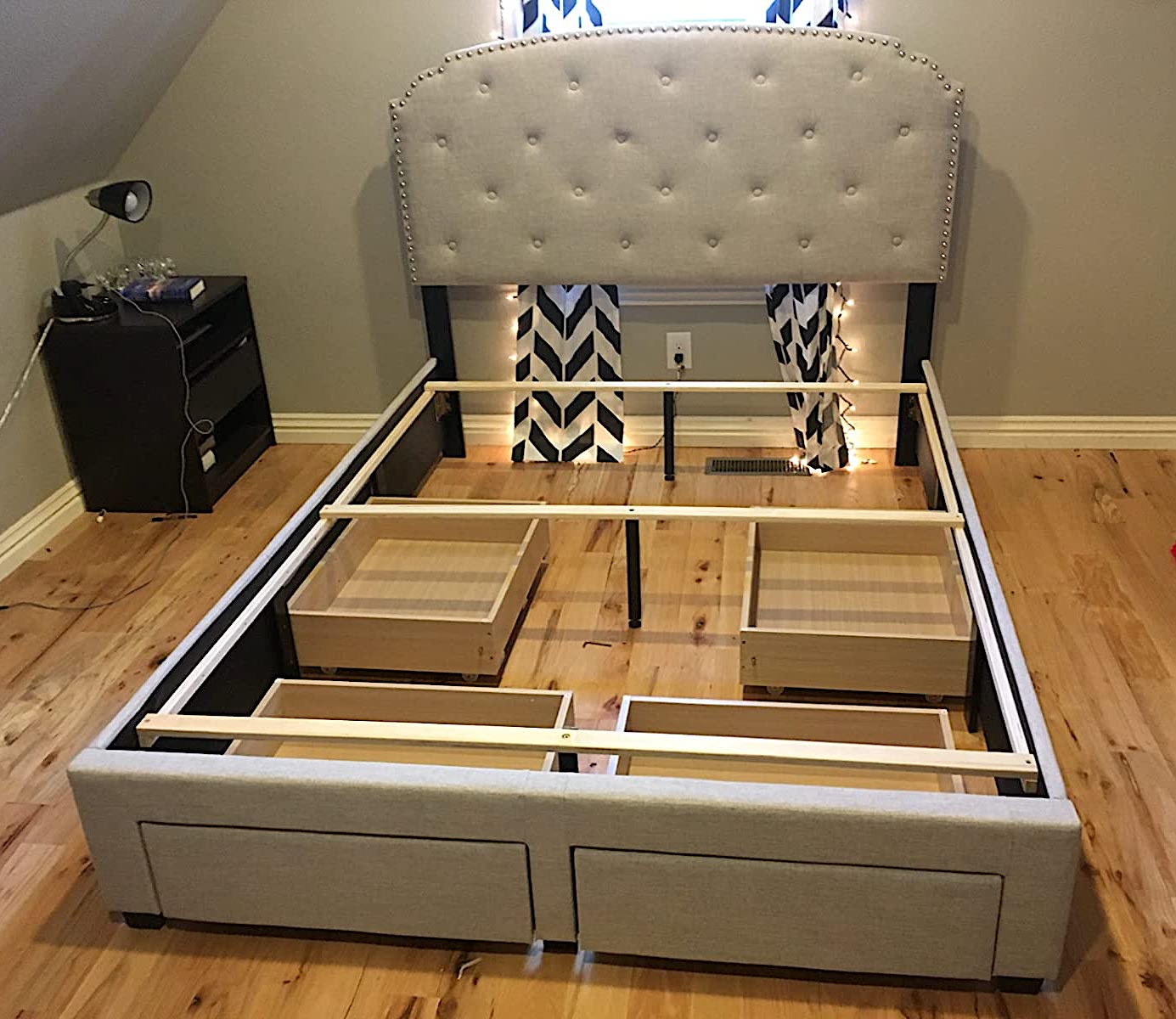 "I love our new bed! It was easy to assemble and looks perfect on our guest bedroom. DG Casa is a wonderful company to work with. I changed my mind after ordering a twin size and wanted the queen instead. I passed the deadline to return the twin sized bed; however, they allowed it. In addition, they explained their policy of not accepting the return of the twin sized bed and asked if I could donate or do whatever I want with it! I donated to a local charity. Great company!!" – Source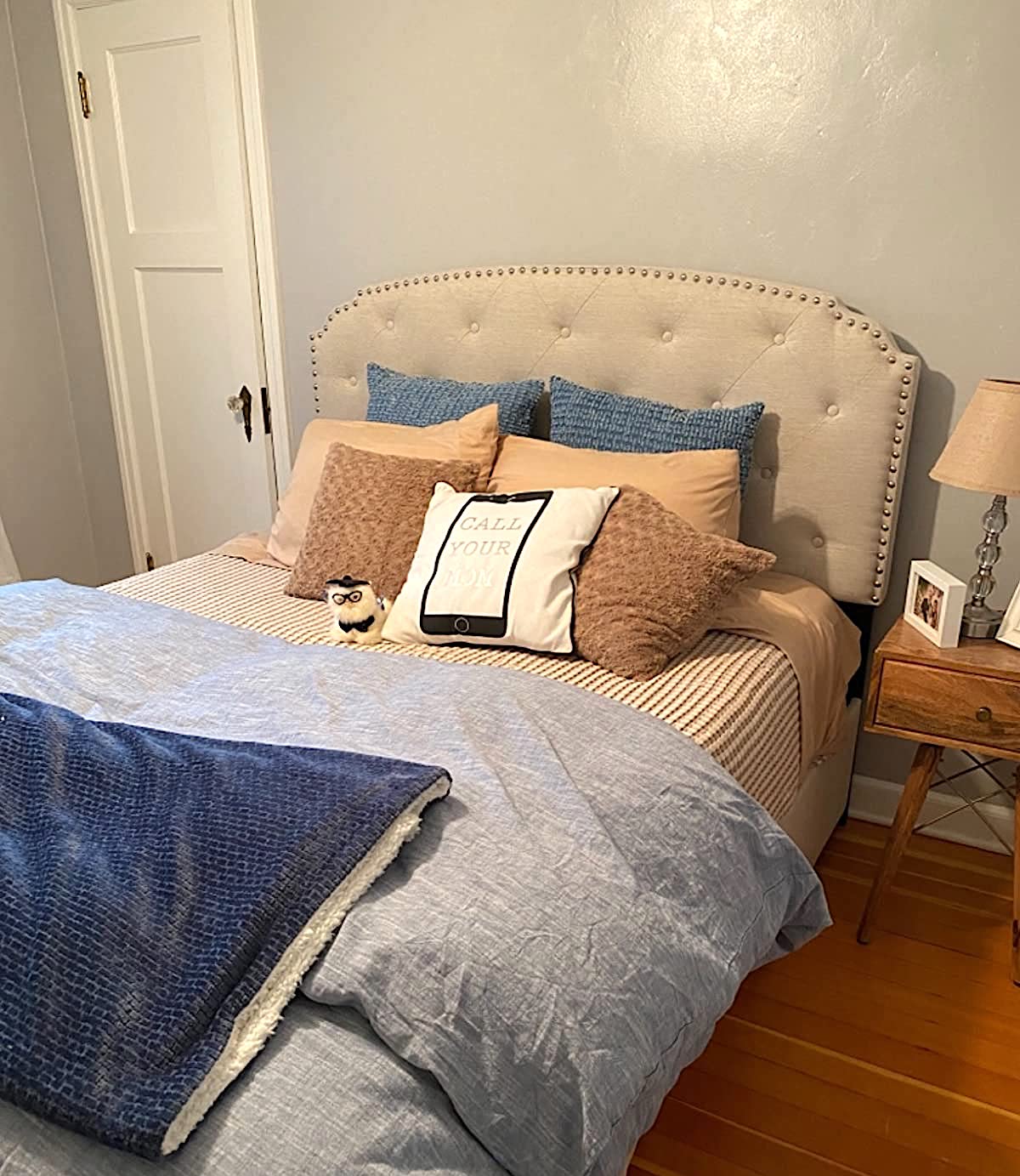 "Pretty simple to assemble but many parts to screw on. The upholstered part of the bedframe is pretty good quality! VERY HAPPY WITH THIS PURCHASE!" – Emi K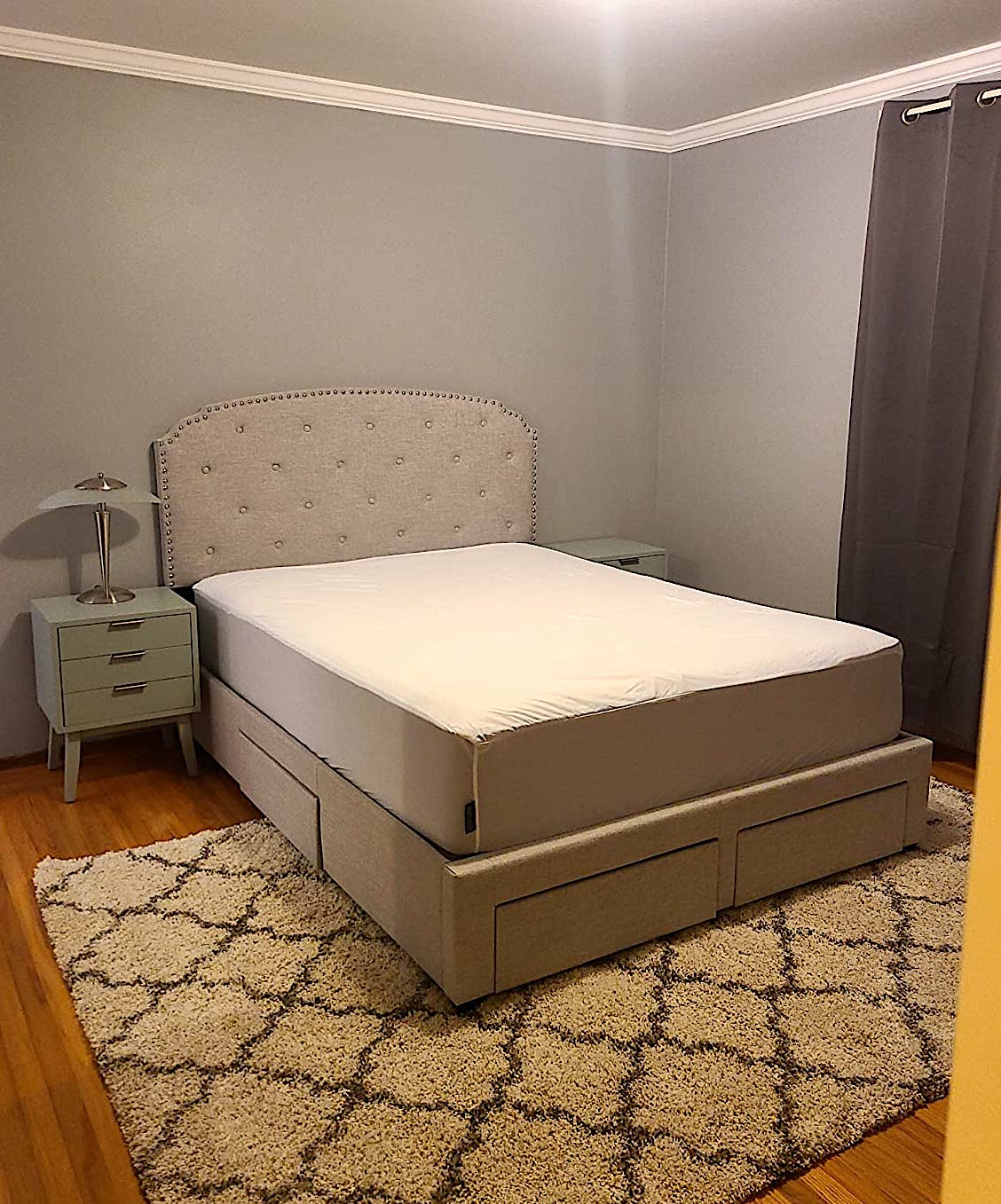 "This bed is beautiful and has been very sturdy. Great value for the price. We have a standard size box spring and it is a little high but looks fine. Plenty of headboard is still visible. The drawers took the longest to assemble. Highly recommend using a drill to screw in wheels. They came with mounts to prevent drawers from pulling all the way out. Fabric is nice quality. My daughter loves it!" – Source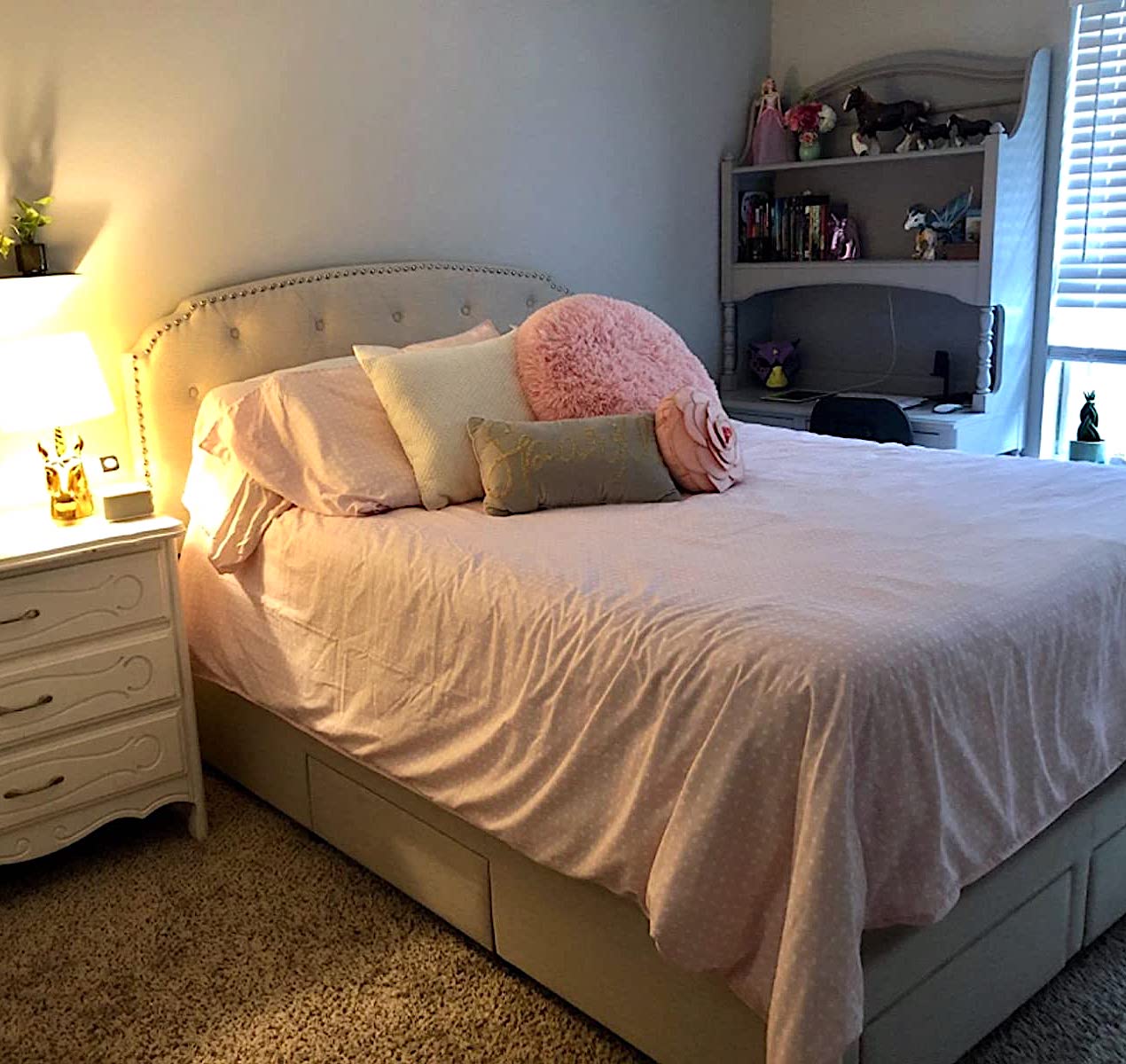 This platform bed is ultra-modern with its sleek faux leather finish and four massive and very deep storage drawers built into the sides of the bed. If you need minimalist design with maximum clothing or linen storage, this bed is perfect for you. The slat support system also places the mattress (not included) way up high in the air, which means that you will not need a box spring for this bed at all while still achieving box spring support and loftiness.
Choose from twin, full, queen or king and the faux leather, gray linen, or black linen. The most popular option is the faux leather since it is a rare thing to find faux leather bedroom furniture these days. Assembly is extremely quick and easy. The drawers are on both rails and casters to aid smooth rollout.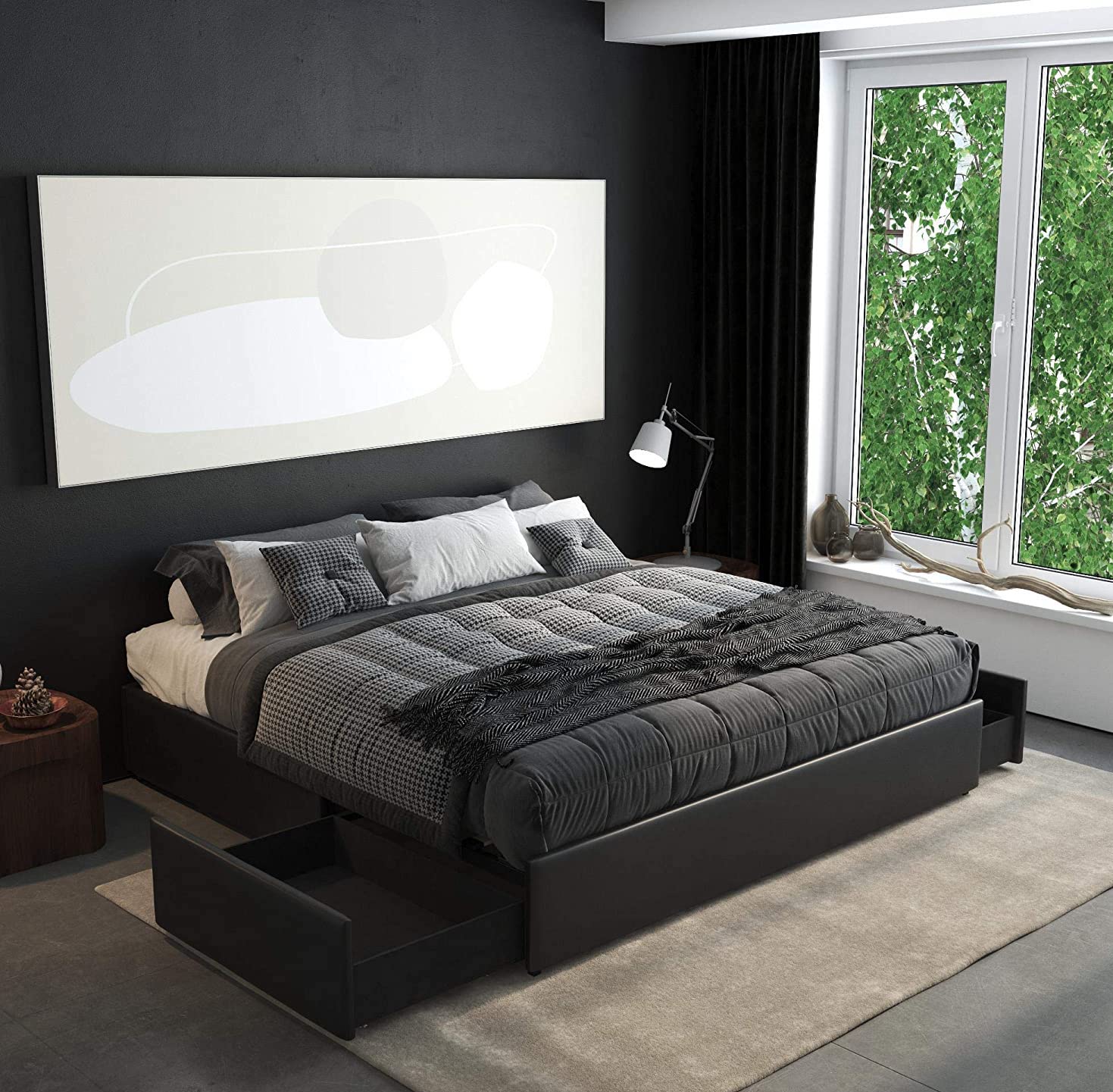 Below are some reviews we found quite promising & informative:
"I love our new platform bed it came with easy to follow directions and was just as easy to put together. Was even able to use my head board by mounting to the wall over the frame. Great buy!" – Cynthia Kirkpatrick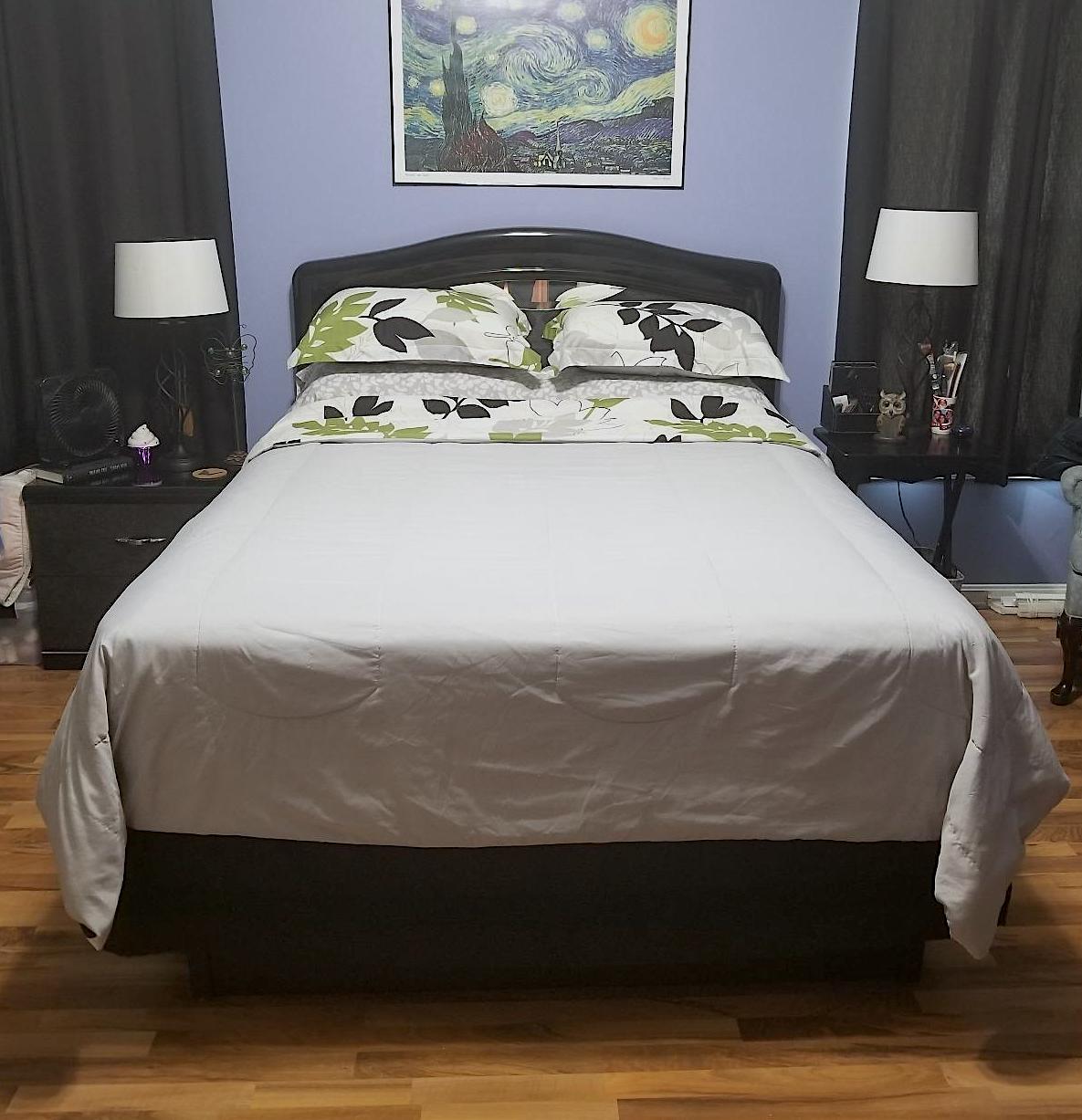 "Order the next size up from your mattress otherwise your mattress will cover the whole top and there will be no edges around the bed. Although there is still some gapage, I just tuck the comforter in and you can't tell. When sitting up against the wall I have noticed the bed does slide so I will get some grips, I do not have carpet. Easy to put together. Overall I am pleased with my purchase." – Kyla J.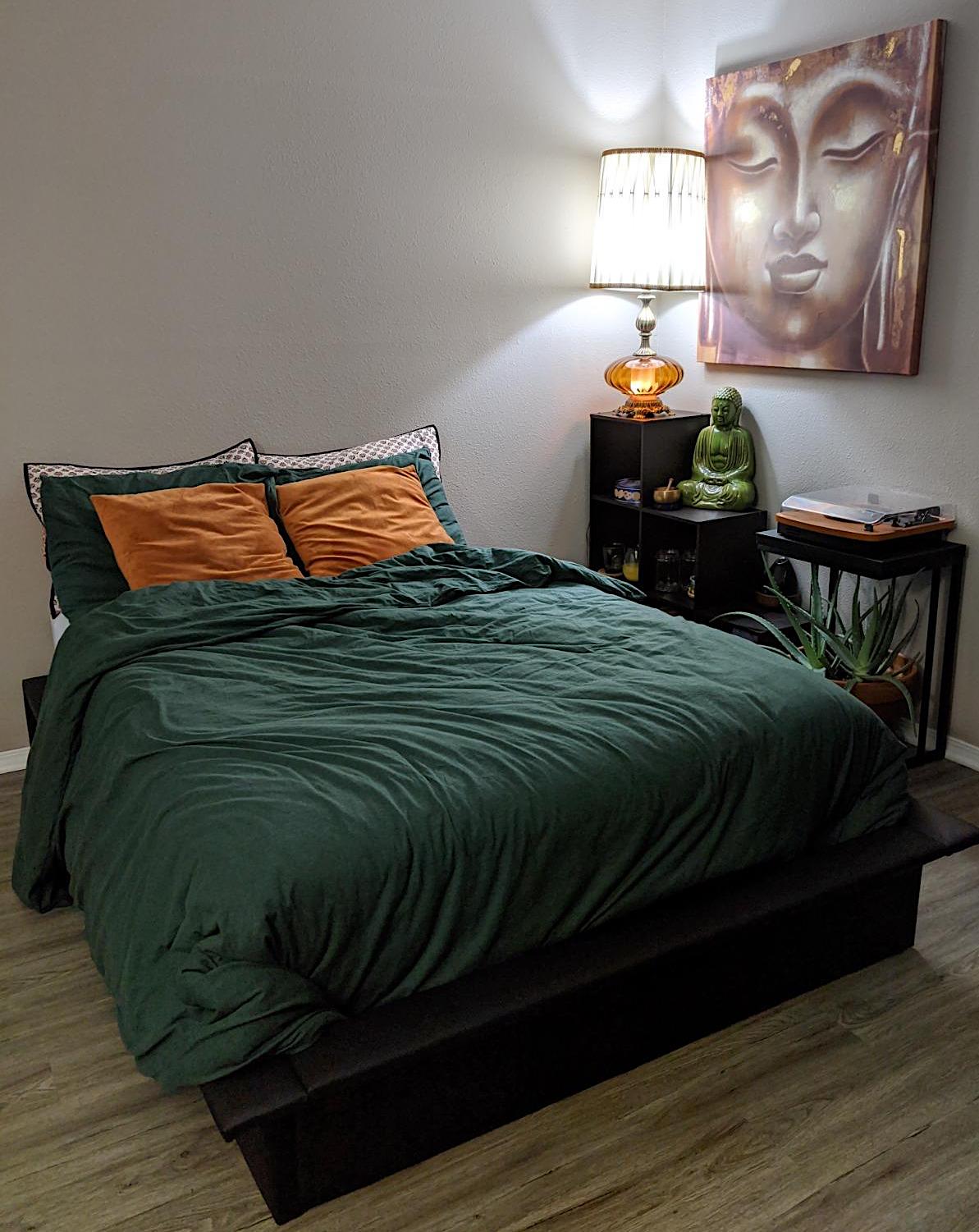 "The hardest part of the assembly was moving the box inside to assemble. The enclosed instructions are excellent and very easy to follow, the only tools needed were an allen wrench (supplied) and a cross point screwdriver. As the instructions state "do not use a power driver"! It's tempting as there are a lot of screws, but the pressboard is not made for over torquing. This is a solid piece of furniture and a good value for the money." – Spicefan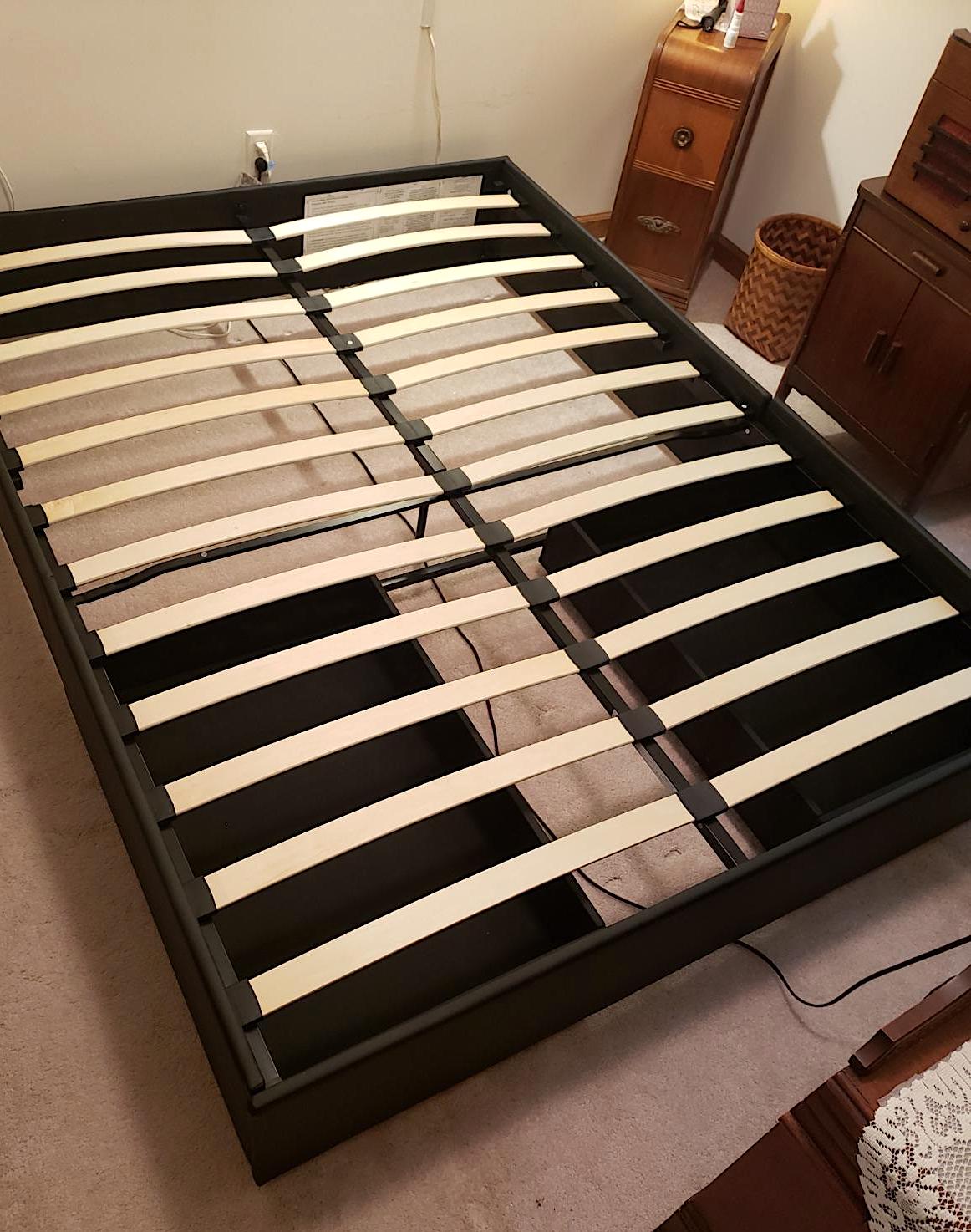 "Just gorgeous. Elegant upholstery. Takes more than one person to assemble, but has well marked parts and hardware and good written directions. My 12 year old is thrilled with his first real grownup bed (he can hide his remaining marvel superheros in the sizeable side drawers). It works really well in a tight space, and looks great. Highly recommend!" – Robin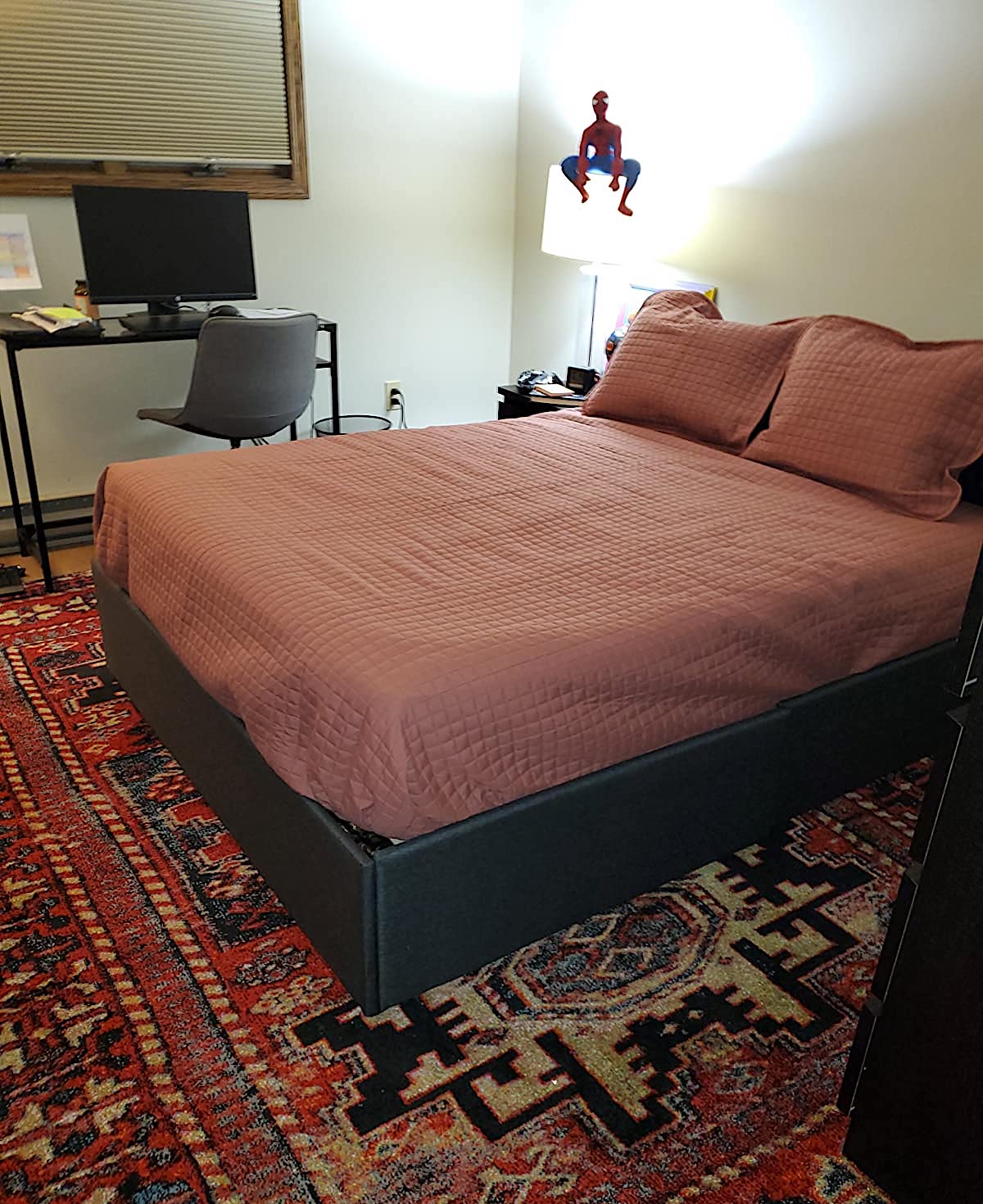 DHP has lots of beds that are popular with Amazon customers, as you can see from this list. This particular bed is similar to the aforementioned Maven Bed in that it has four large drawers on rails and casters underneath. However, the Dakota Bed has a high tufted headboard and a low tufted footboard for an elegant touch. It sits much lower to the ground than the Maven, too.
Choose from the usual four sizes and three colors of faux leather (white, brown, or black). This bed has over 4,000 reviews on Amazon and 70% of those reviews are rated 5 stars. It shows how much customers who have bought this bed have really enjoyed its style and storage convenience. Additionally, there are more than 600 questions answered in the FAQs, giving this upholstered platform bed with storage drawers the most transparent profile you can get.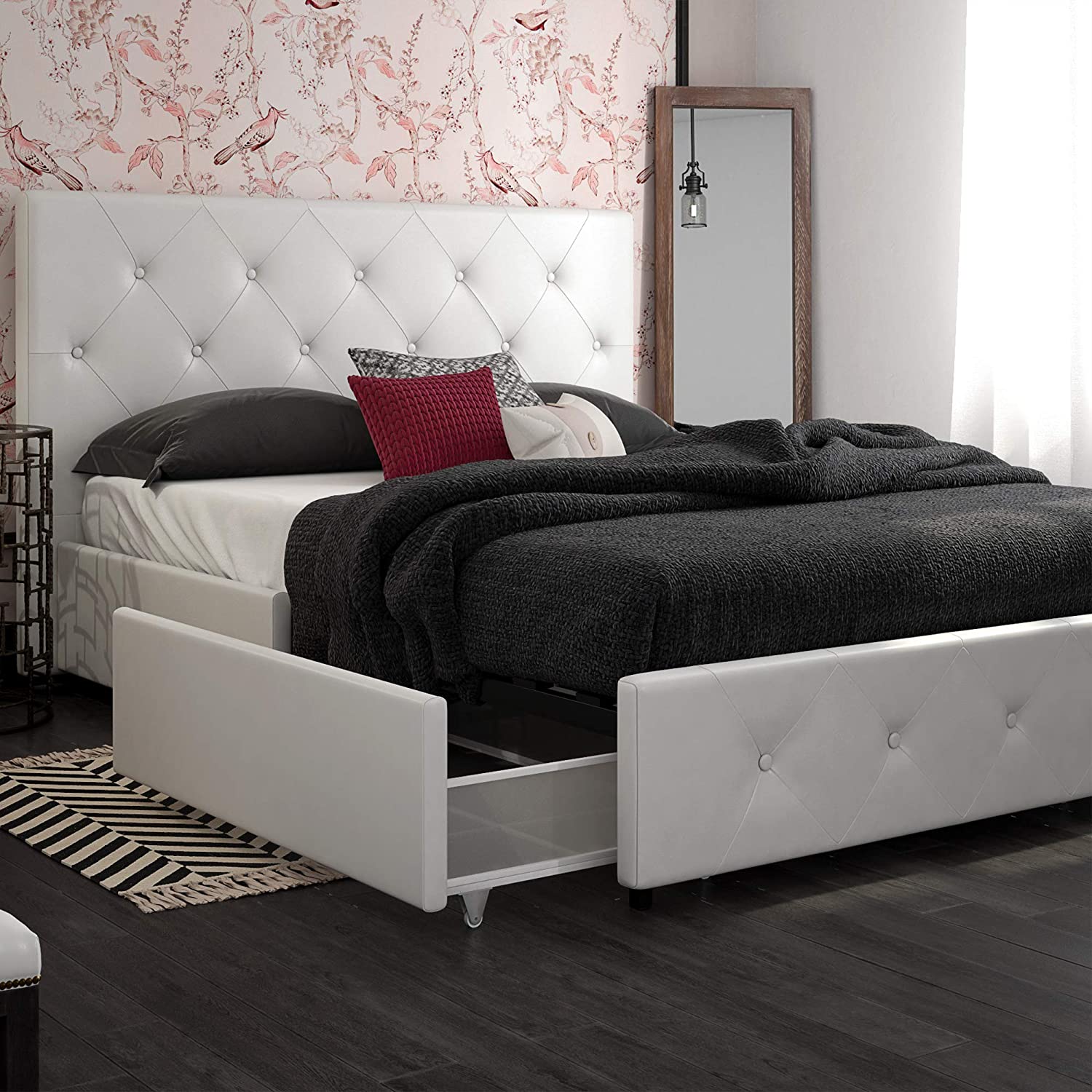 Below are some reviews we found quite promising and informative:
"This was somewhat easy to assemble. Took my boyfriend roughly 2 and a half hours to put together. However, it's cute and holds quite a bit of stuff. It doesn't take up too much space in the room which is perfect." – Europa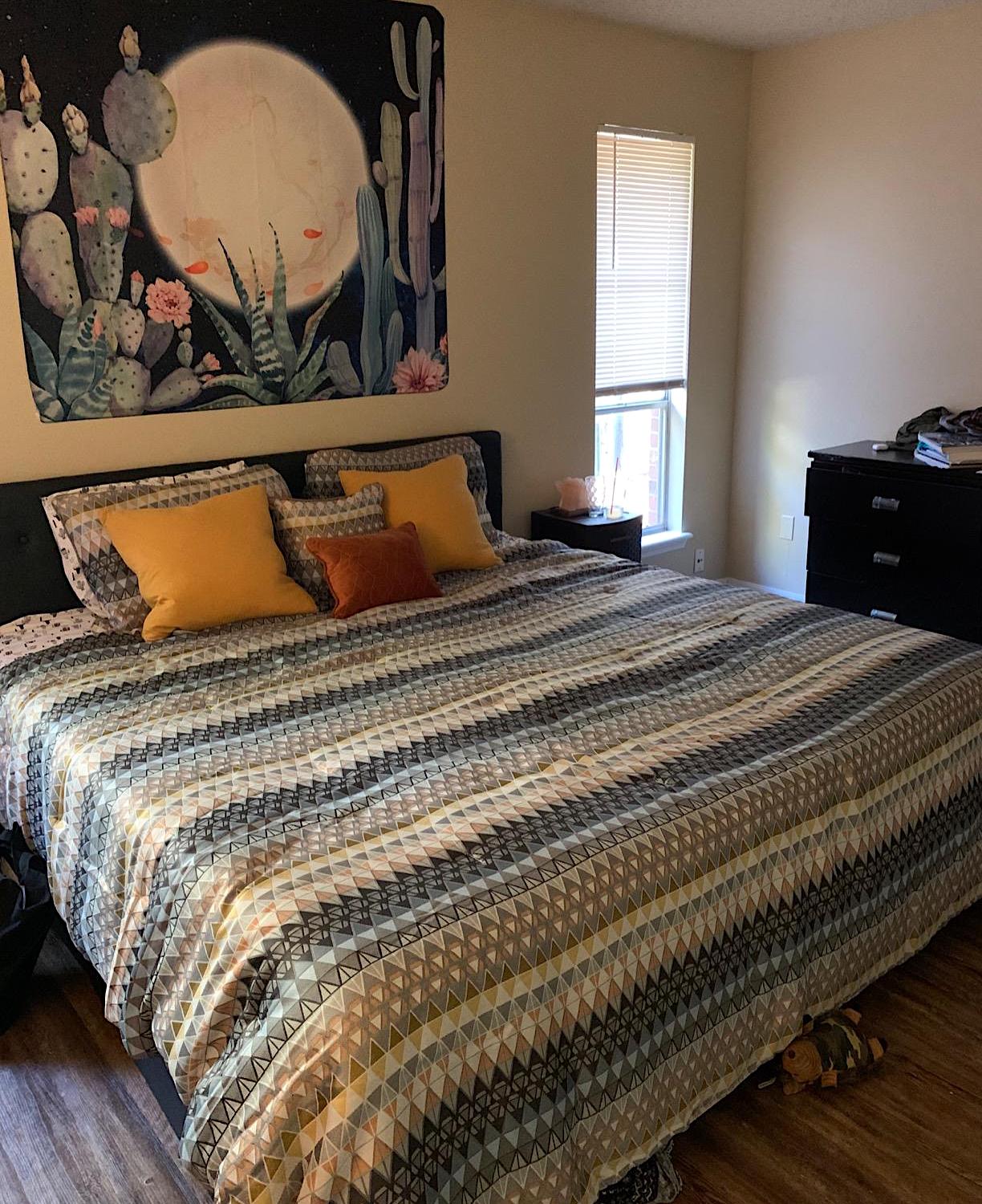 "This bed is amazing! It's the perfect size for my studio, and the drawers are so big!!! I was not expecting that at all. All my non closet clothes were able to fit and I still had room in each drawer. I read reviews about the bed collapsing so I will update my review if that happens to me. So far, I am very pleased with this purchase." – Deejay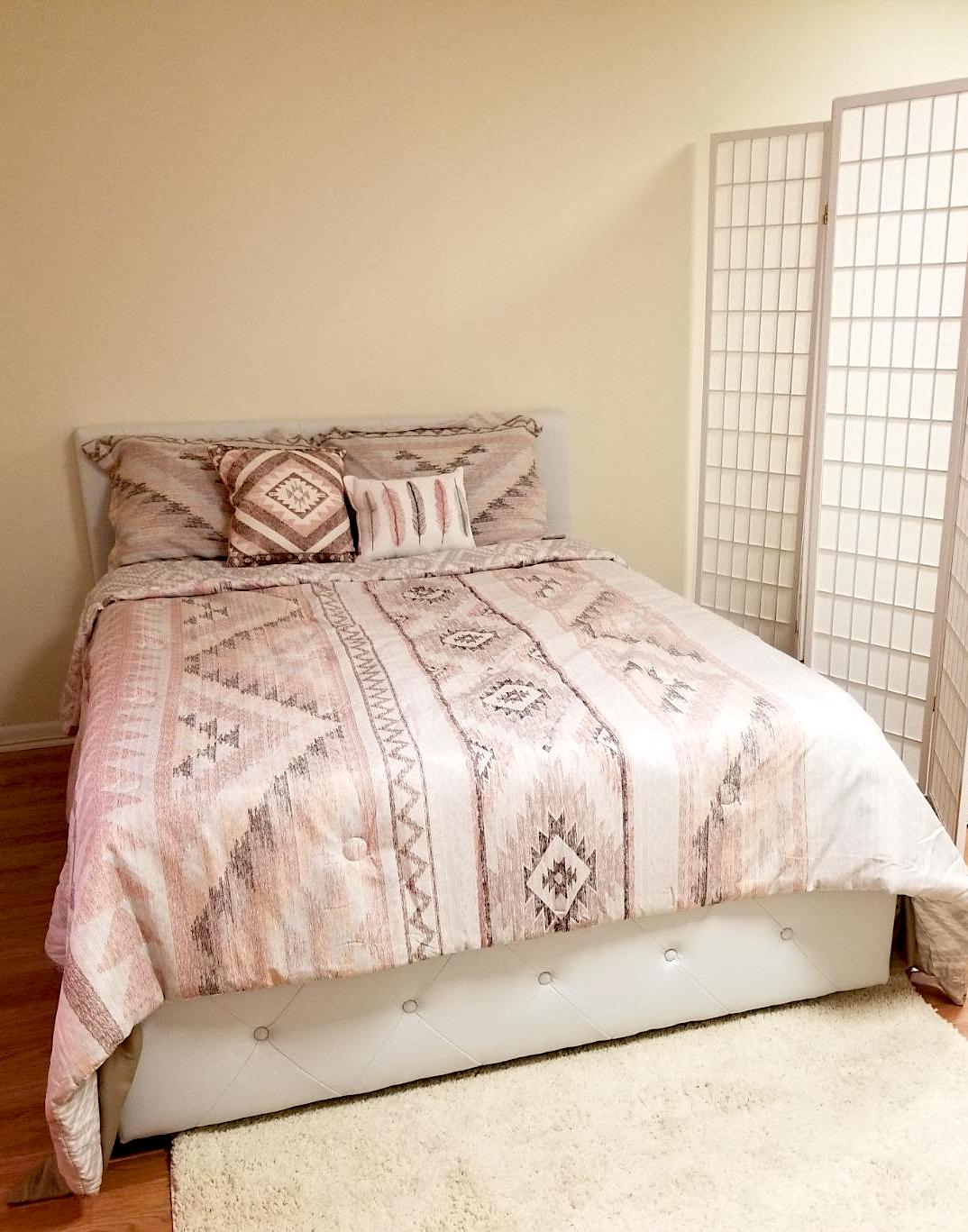 "I have assembled a ton of furniture, but this bed was awesome. Not only was the bed packaged amazingly well, but the instructions were great and it made it simple! I love my new bed! I would highly recommend!!!!" – Marikay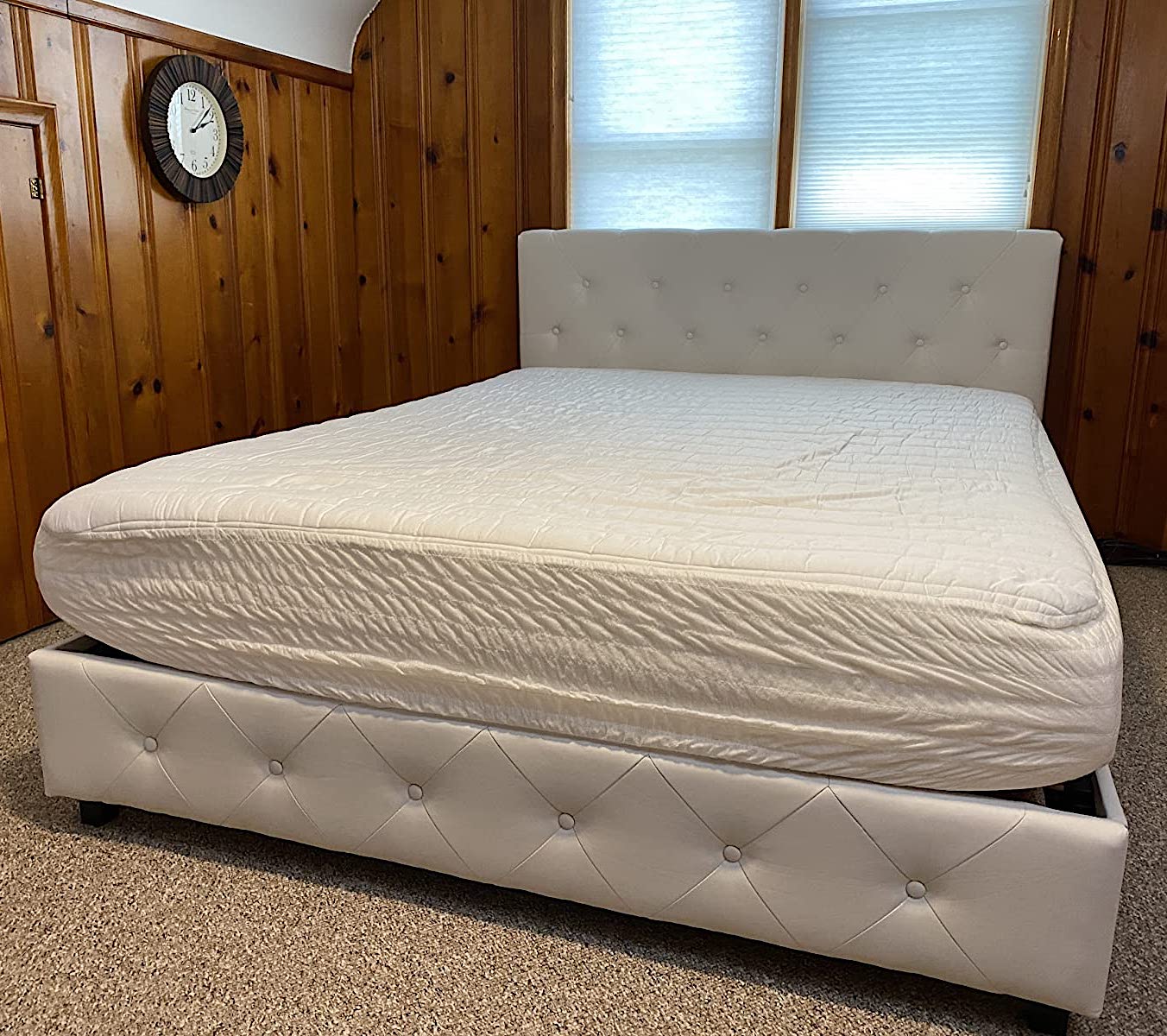 "I highly recommend purchasing, The headboard and body of this bed is beautiful and well made, I also purchased the "Assemble Tech Package" for an additional service fee, the delivery techs built the bed for me!! They followed COVID guidelines, were efficient, and professional." – Kim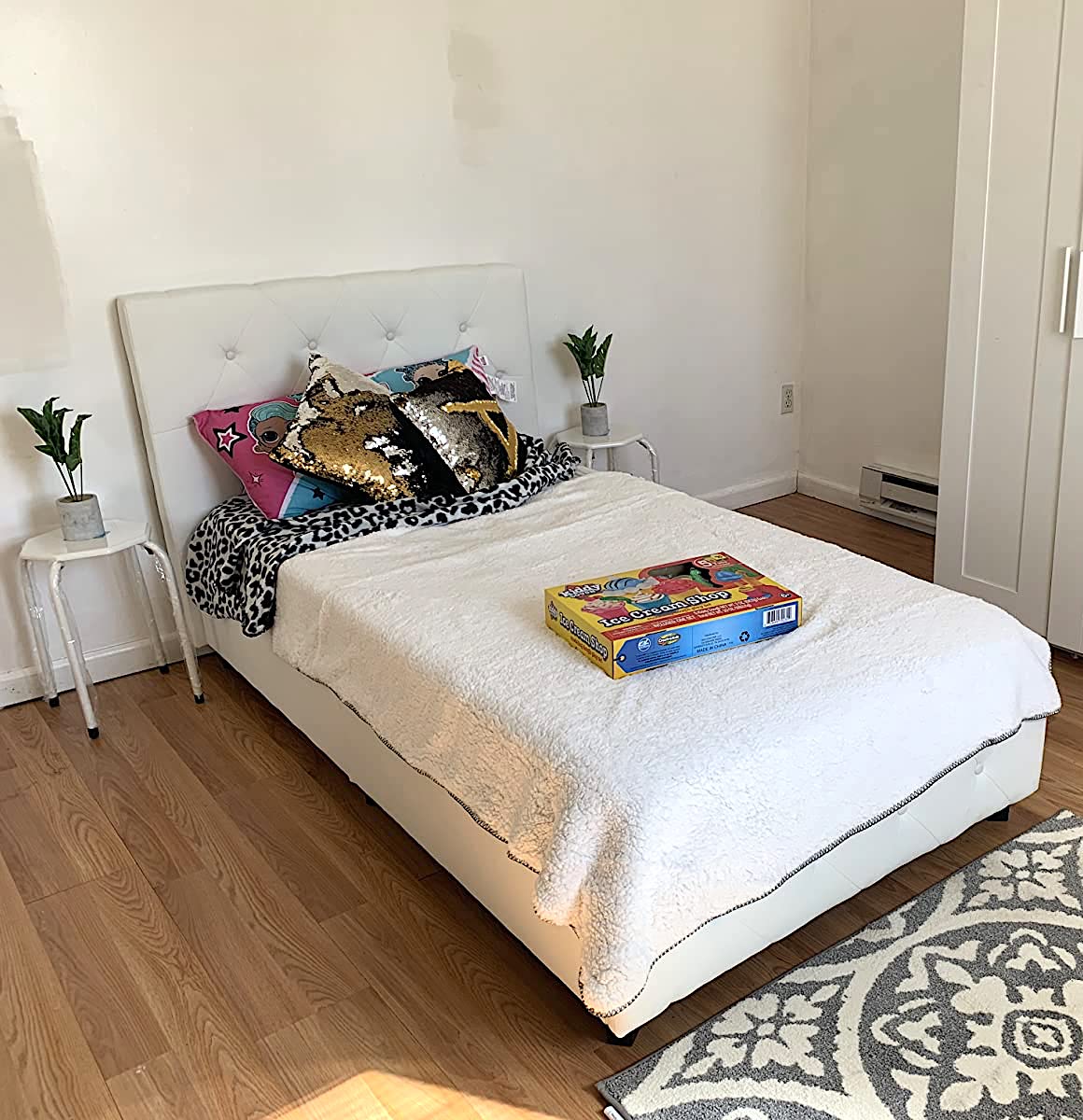 "I bought this bed for my daughter specifically for the drawers under the bed for storage. She has a bedroom set previously purchased in Babies R Us with a Crib that converts to a full size bed, but with a growing wardrobe I wanted something that has drawers under the bed and not rolling plastic bins. My husband assembled the bed under two hours but that's with 2 kids "helping", me distracting him a bit, and eating a little in between. No pieces broke while the bed was assembled." – Johnz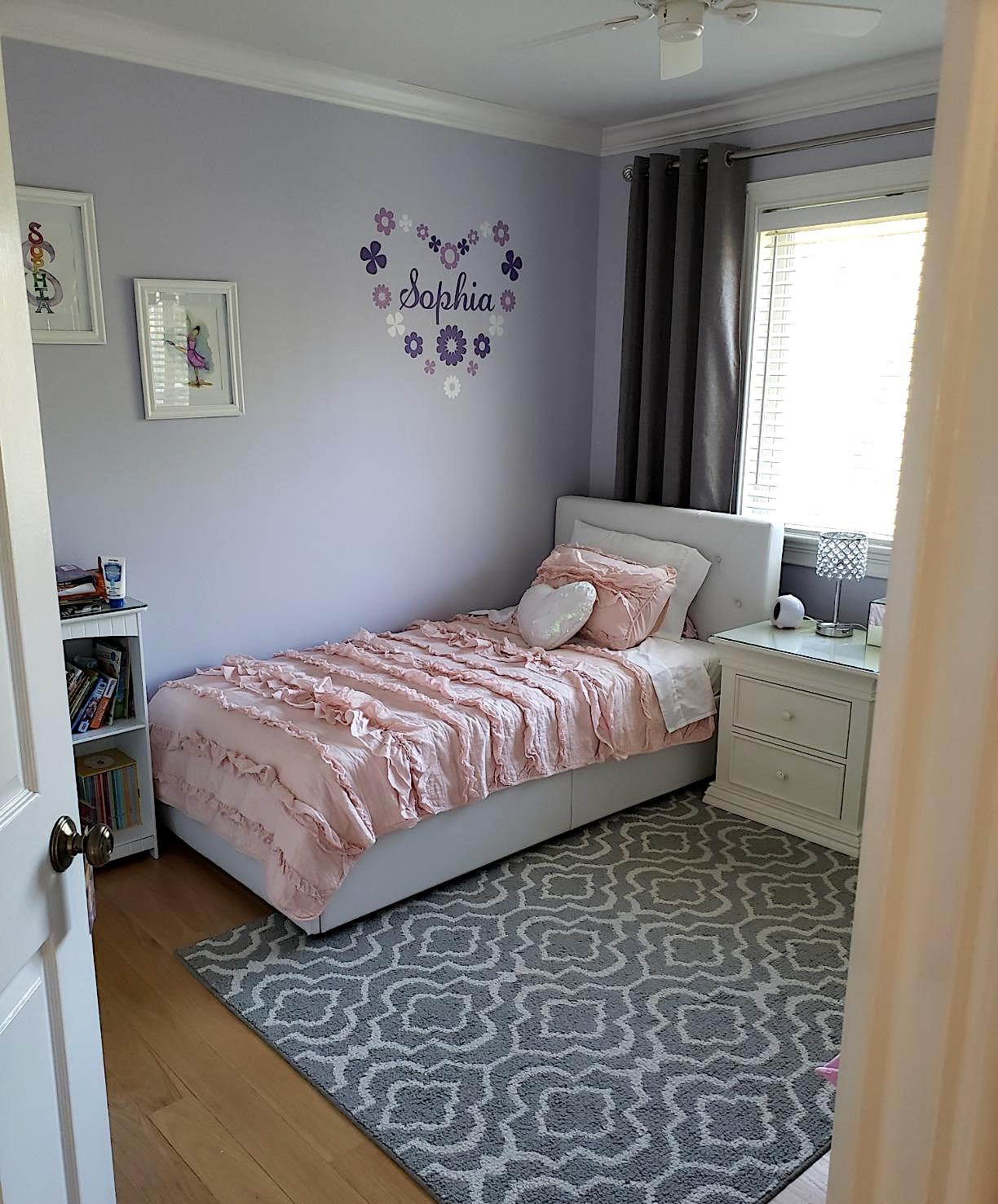 This quilted and tufted linen platform bed is one of the most unique beds so far. The foot end is the same quilted and tufted pattern as the headboard, while the sides of the bed remain very smooth. There's a reason for that; the sides of the bed are the drawers and the smooth fabric makes it easier to grab the drawers and pull them open.
The bed is available in ivory or black velvet, or gray tweeded linen. It only comes in three sizes; full, queen, or king. The Mid-Century look of this bed is what makes it so popular with Amazon customers right now. It comes from a new furniture maker on Amazon, but its ranking is climbing fast and these beds sell out almost as soon as Amazon gets more inventory.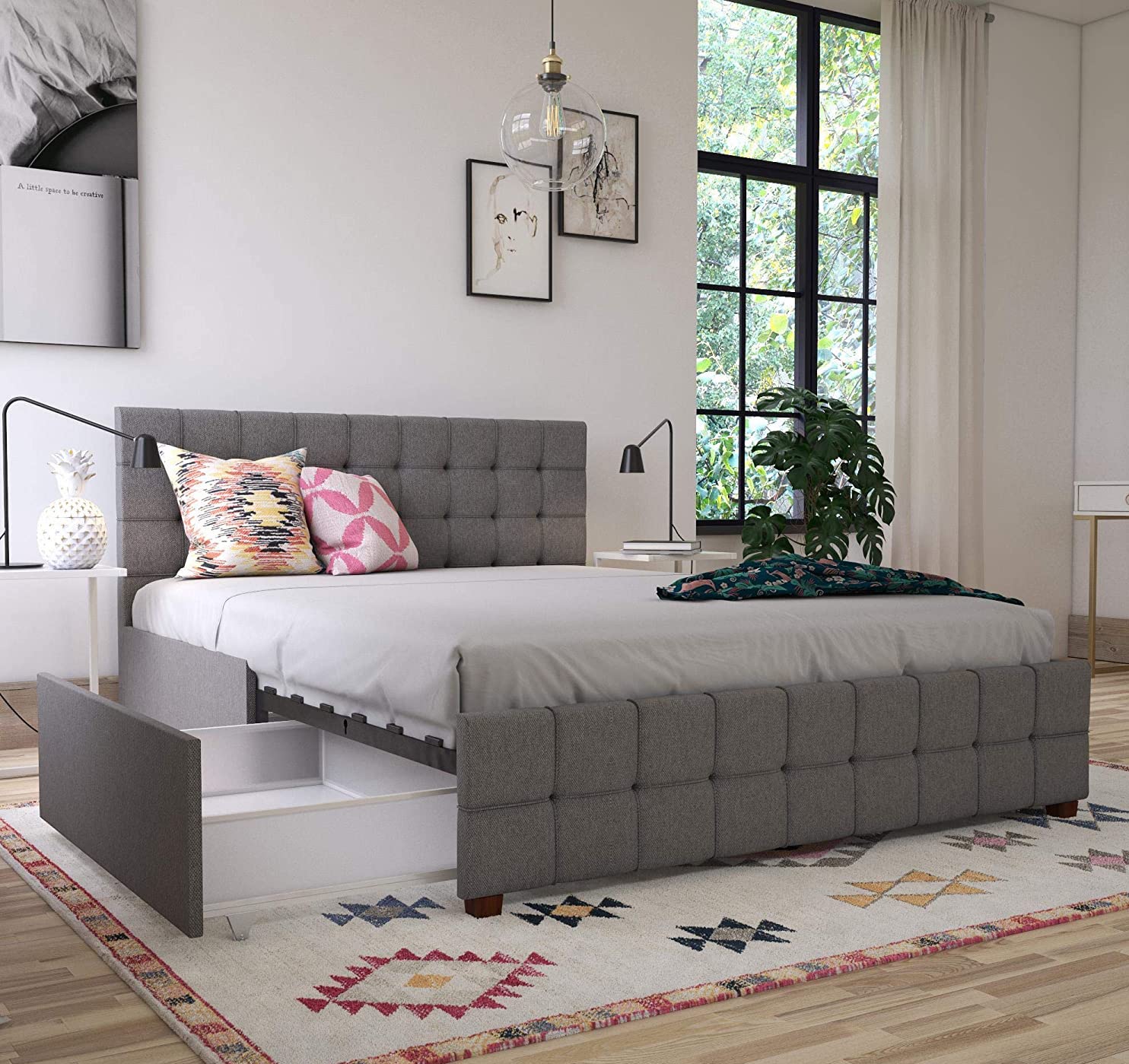 Below are some reviews we found quite promising and informative:
"I love the bed frame. It is a nice modern looking light grey fabric. The four drawers are large, made of a durable plastic and will come in use for a good amount of storage. I replaced a large wooden sleigh bed and this low profile frame gives us extra room all while providing that extra storage. If you're like me, you'd store various things like winter clothes in portables that could be seen beneath the bed. Now everything will fit neatly out of sight and have the pretty grey fabric drawers around the sides. The wooden slats snap into the frame and my memory foam mattress sits upon it fine." – Larkhall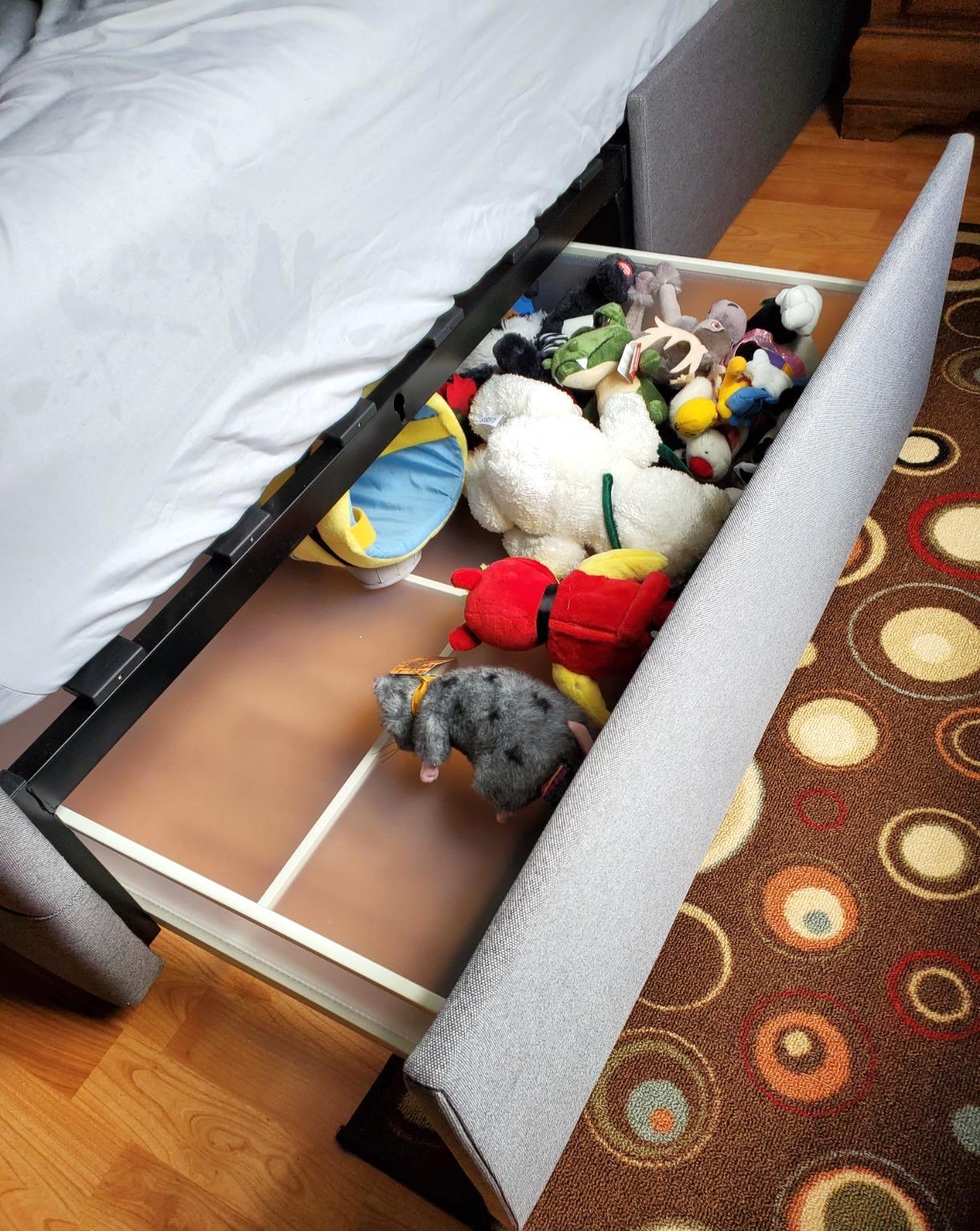 "The result is a really nice modern looking bed (provided you like modern design). The colors are neutral and should go in room really. The under-bed drawers go together relatively easy and provide ample storage space for items that aren't too tall. The drawers have been easy to slide in and out; but the floor in our bedroom is wood so it may be different if you have carpet as the drawers sit really close to the floor." – Jimster480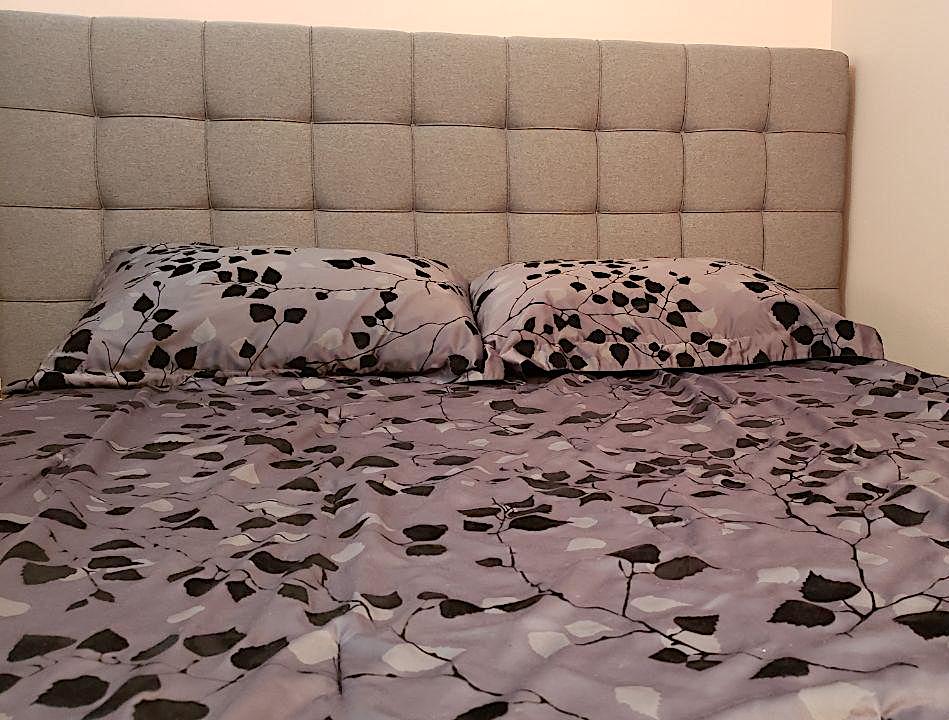 "This bed turned out better than I expected. Put it in my guest bedroom and the quality and sturdiness of it is a lot better than most other bed frames in this price range. Once assembled its solid as a rock and doesn't wiggle around at all. With that sturdiness comes some weight though, and you'll definitely need help moving the box it comes in, or just open it up and move everything a piece at a time. Assembly was fairly easy. " – Rich W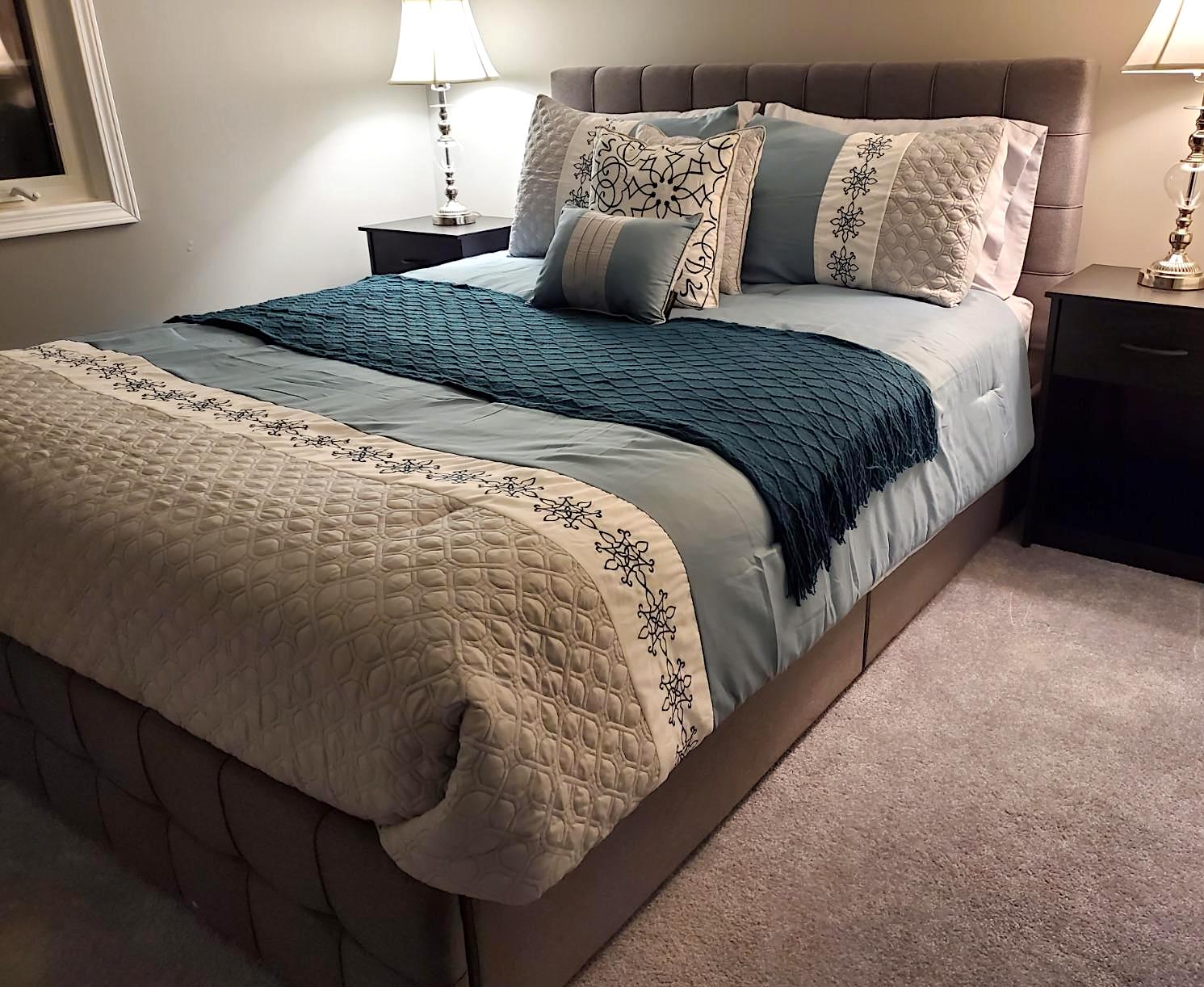 We've shared with you before some of Novogratz's highest ranking beds, and this bed is no different. It is very modern, with simple clean lines and lots of decorative ideas provided by Instagram influencers. In fact, this bed has gone viral on Instagram!
The full range of sizes are available, and its unique mesh ventilated drawers allow your clothes or linens to breathe while they are stored. The drawers are fully locking, railed and caster drawers. The full bed with storage is the most popular size, while the green linen, navy blue linen, and light gray velvet are the three most popular color and texture choices of the five choices available.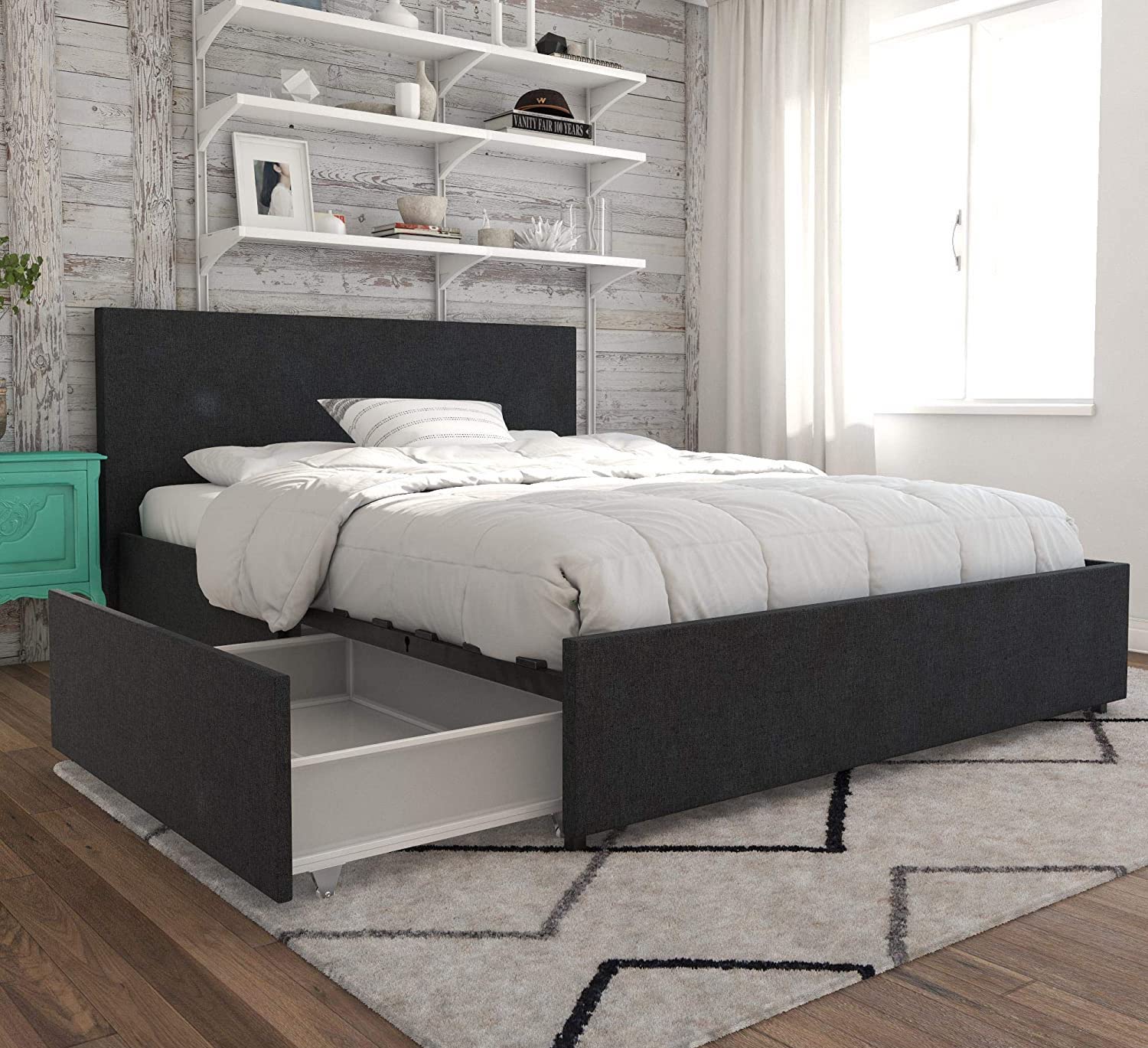 Below are some reviews we found quite promising and informative:
"Absolutely beautiful i love it ive never loved a frame as much as this one! Its a definite must buy! The draws on my side serve as great storage for my craft supplies too!" – Alyssa Marie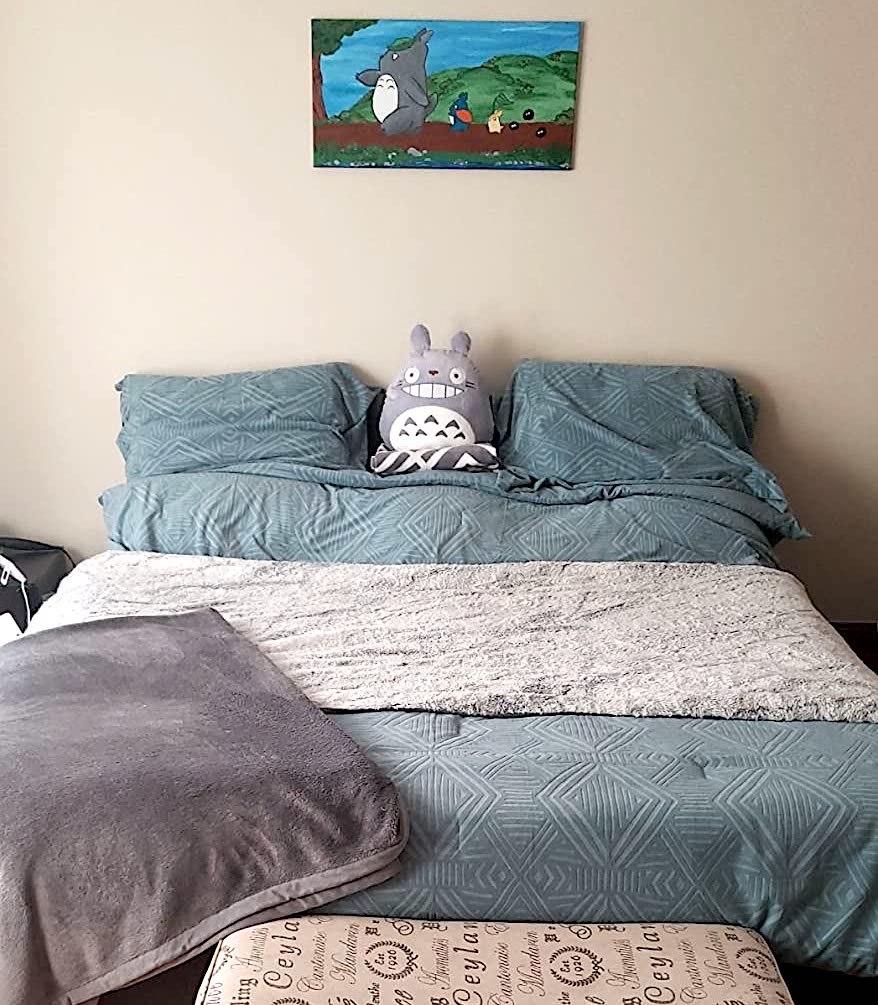 "Looks Amazing. Love the color and plenty of storage. No more toys everywhere" – Meital A.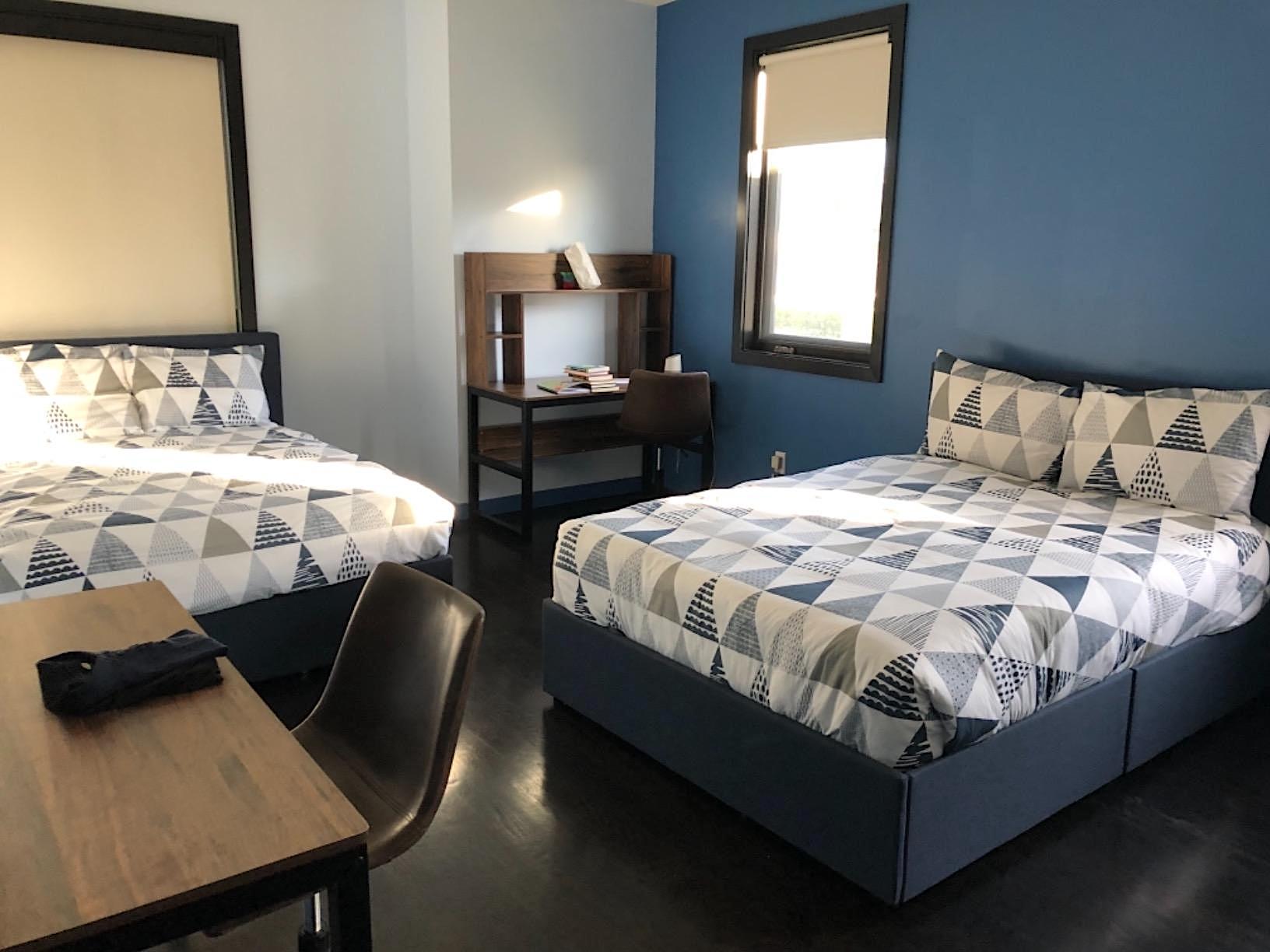 "This bed is absolutely perfect. Very sturdy and surprisingly stylish. The dark grey upholstery and simple clean shape will fit almost any decor. It doesn't look cheap at all. The storage capacity is maximized to use the entire space under the bed – a life saver for small apartment living. The drawers slide easily on my relatively thick carpet and I love that they lock in place on the frame. I've been using it for sleep, storage, and reading/tv watching for 3 months now and it is still very sturdy and looks brand new." – Kayla Tennyson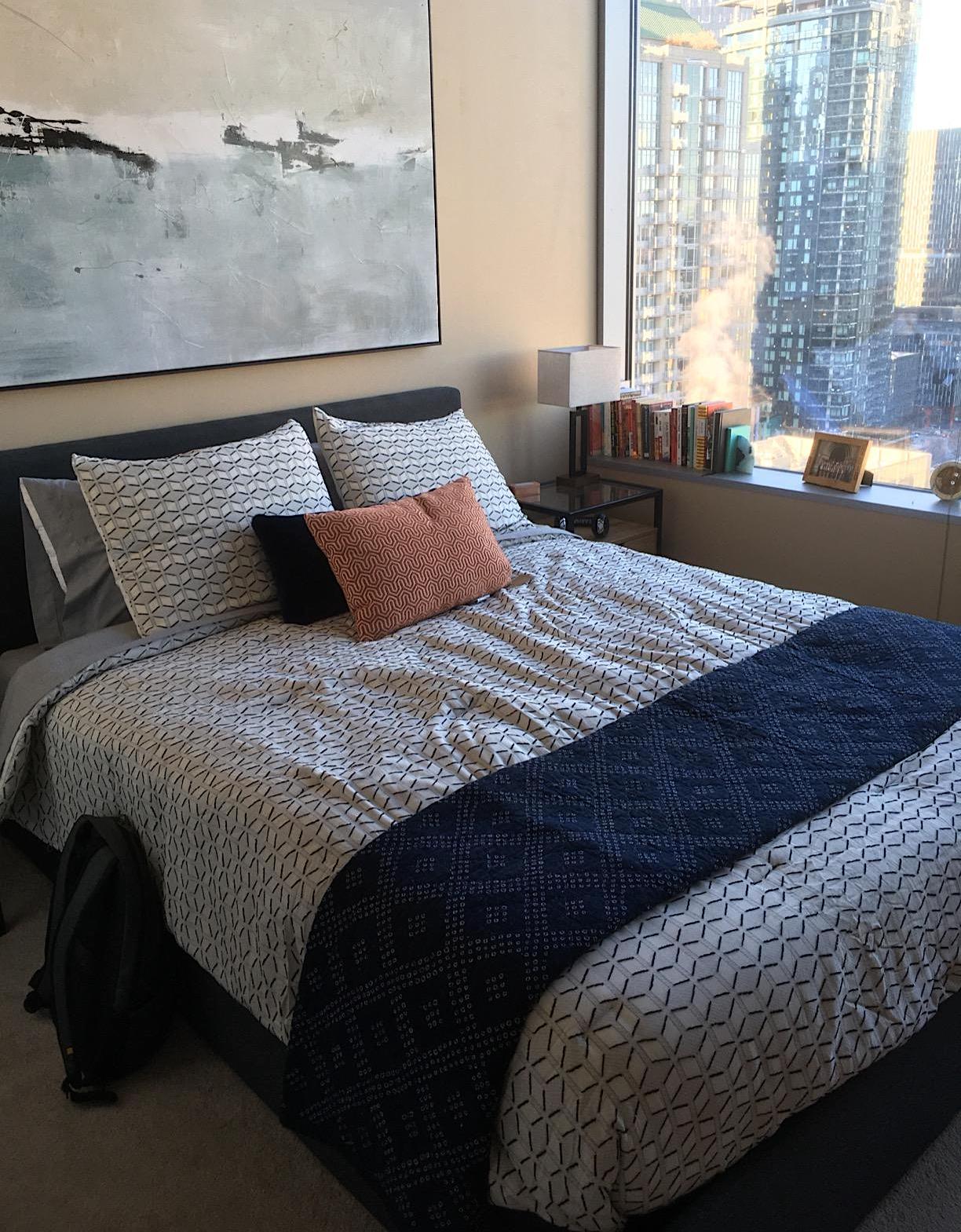 This tufted upholstered platform bed with pull-out drawers is the best Amazon has to offer. It has the most colors and textures to choose from, including blue velvet, blue linen, ivory velvet, gray velvet, and gray or black linen. It has been Amazon's #1 best seller for several years running. Almost 3,000 reviews of which 70% are five star ratings speaks volumes.
The full range of bed sizes are available. You can also purchase a 5-year protection plan for a scant $34, making this bed worth it's solid 450lbs. weight in gold. The price really can't be beat either, and with Amazon's amazing customer service and fast shipping, you could be sleeping on this bed tomorrow if you ordered it early in the morning today.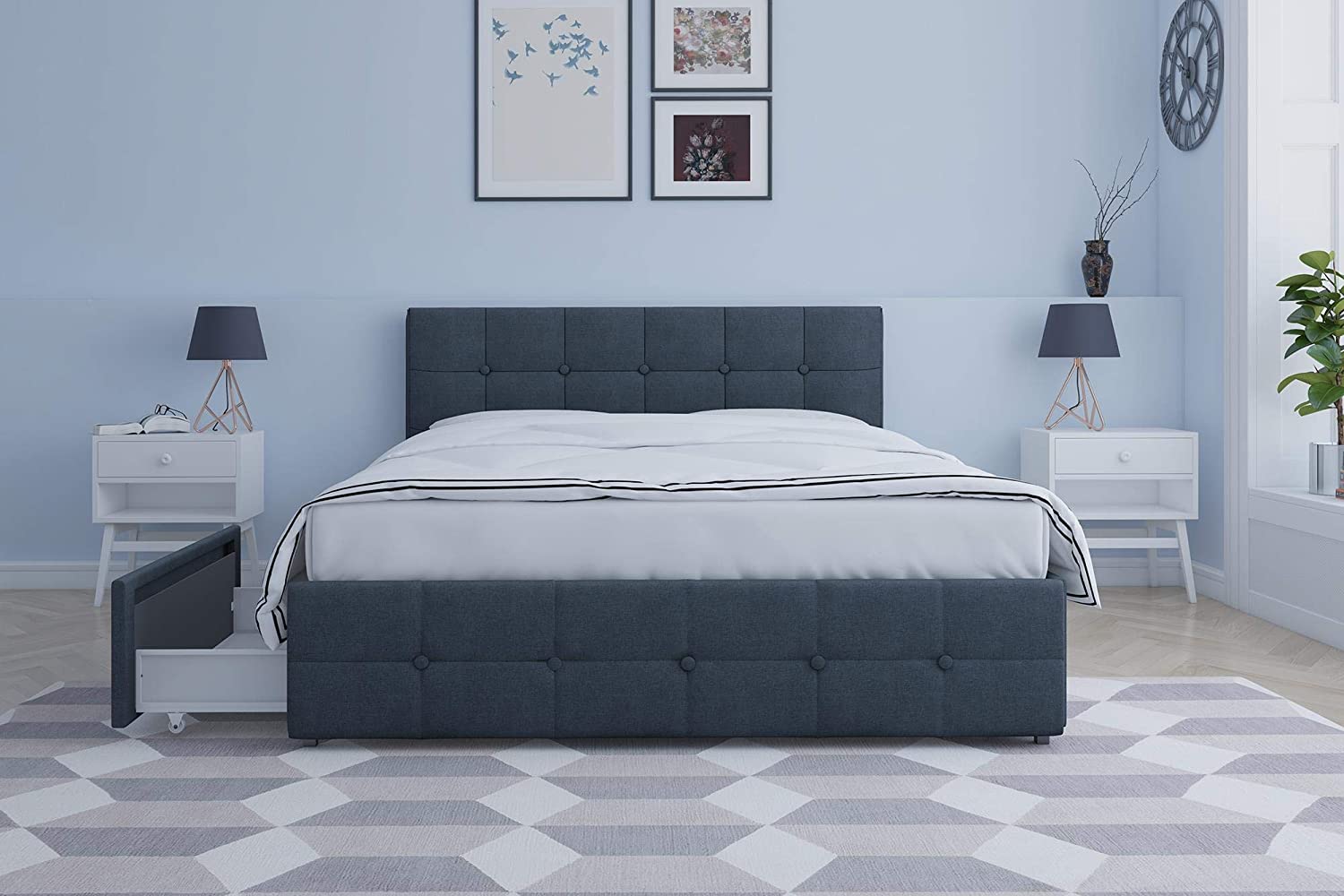 Below are reviews we found quite promising and informative:
"I had pretty low expectations based on the price. Was very pleasantly surprised. It was simple to put together and has held up well. It's fairly sturdy – obviously not solid wood or anything but I'm not afraid it's going to fall apart. It does slide around on the hardwood quite a bit so I am going to put some rug matting under the part that is on wood. I wish the headboard was slightly taller, just because with an 11″ mattress and pillows you can't see the headboard anymore. But other then that it's perfect. Would definitely recommend. We ordered the queen size for reference." – K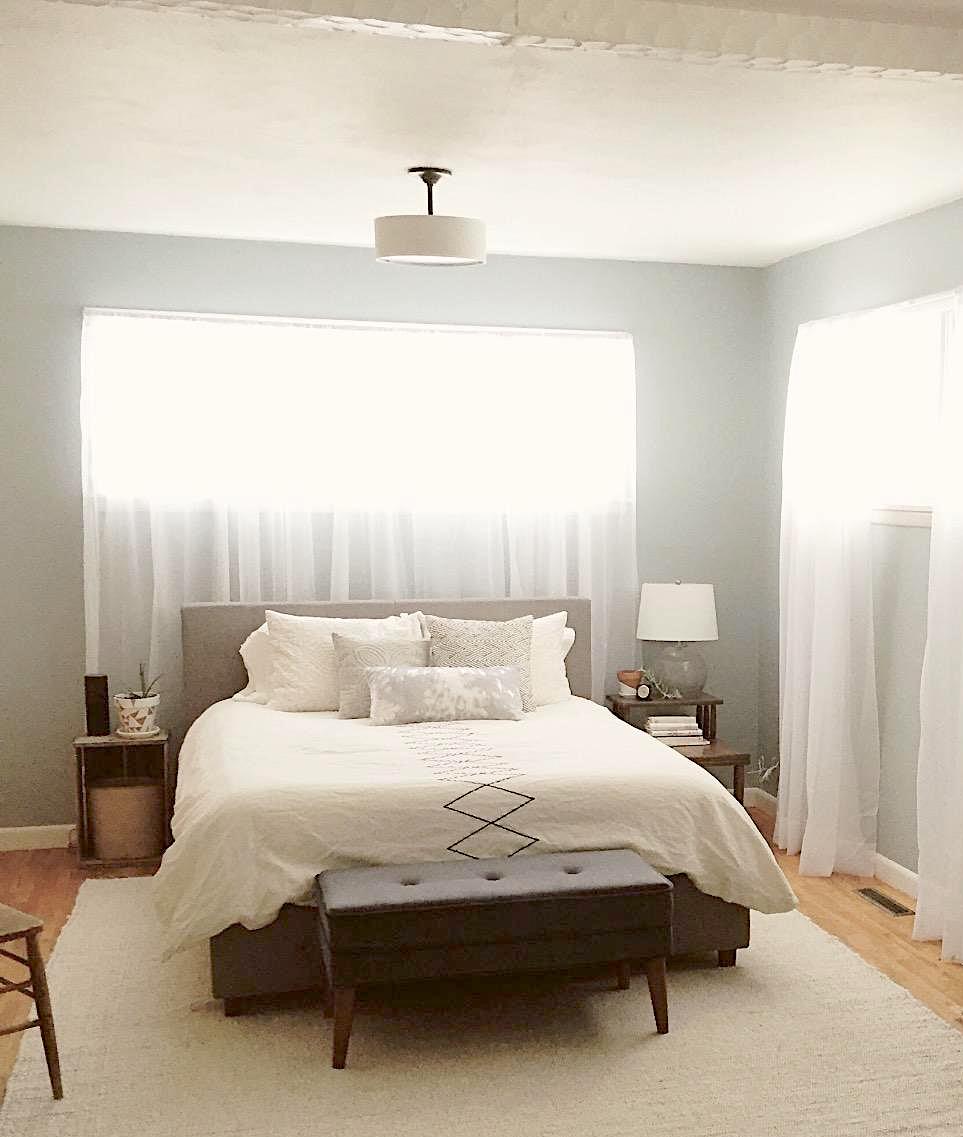 "The bed looks really good and has a lot of storage. My only complaint is that it is hard to close the drawers but not sure if this is due to the mattress being a bit bigger than the frame. Had this same bed in a queen before and I did not have this issue. I hired someone to build it and took 1.5 hrs." – Maria Paula Abadia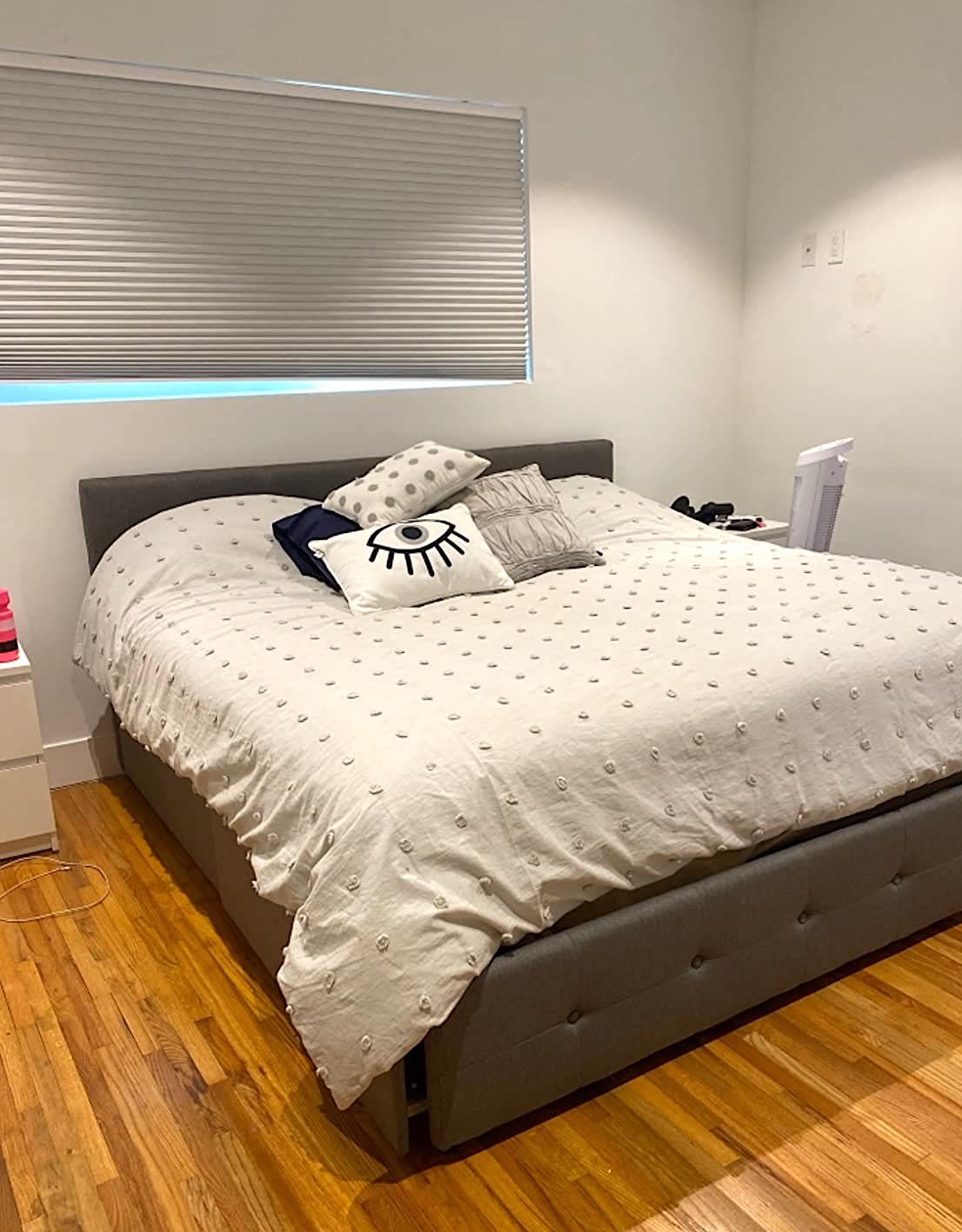 "We purchased this bed for my daughter in college. She moved into a house for her senior year and needed a comfortable but affordable bed. Her room has no closet and limited space. The drawers were big and spacious. The bed is sturdy and really cute! The best part about this bed was the clear and easy-to-follow directions. All the parts and fasteners were clearly labeled – each packaged separately. We had the bed assembled in less than 2 hours. I would highly recommend this product. Excellent value for a high quality item." – Julia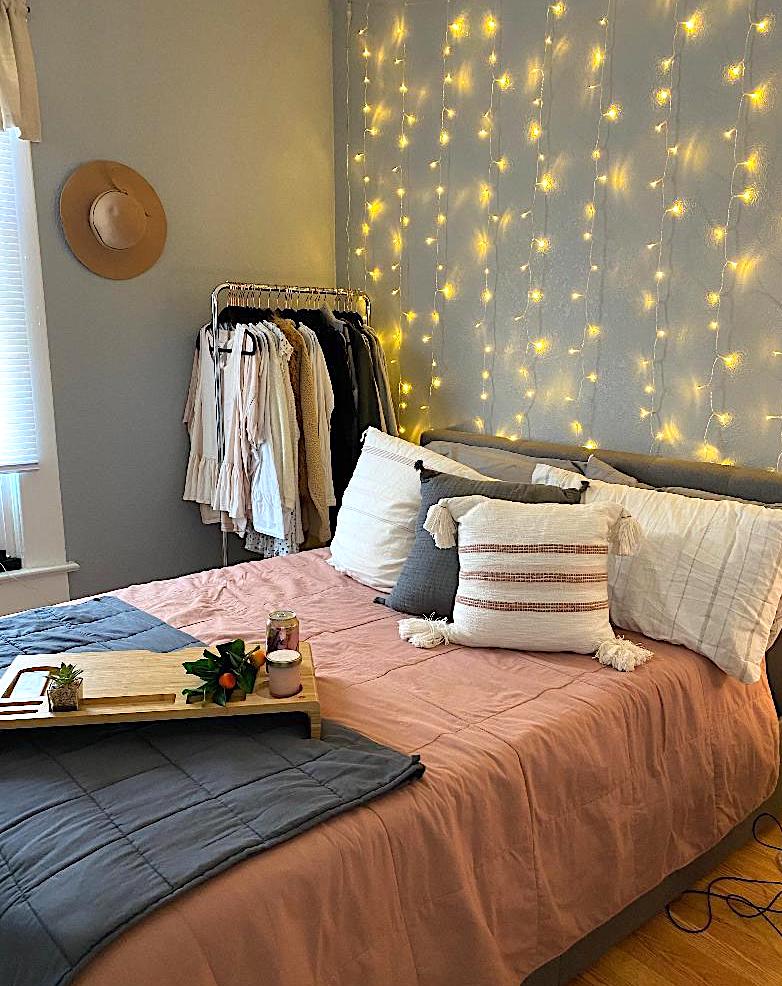 "Our cat hates the fact that she can't go under the bed but our clothing is nicely folded under our mattress. This bed looks good too. The upholstery is great quality and it's very sturdy…we can probably invite some more people to sleep with us LOL. Assembly seemed easy but in all honesty, we paid someone to put-it-together for us." – Rols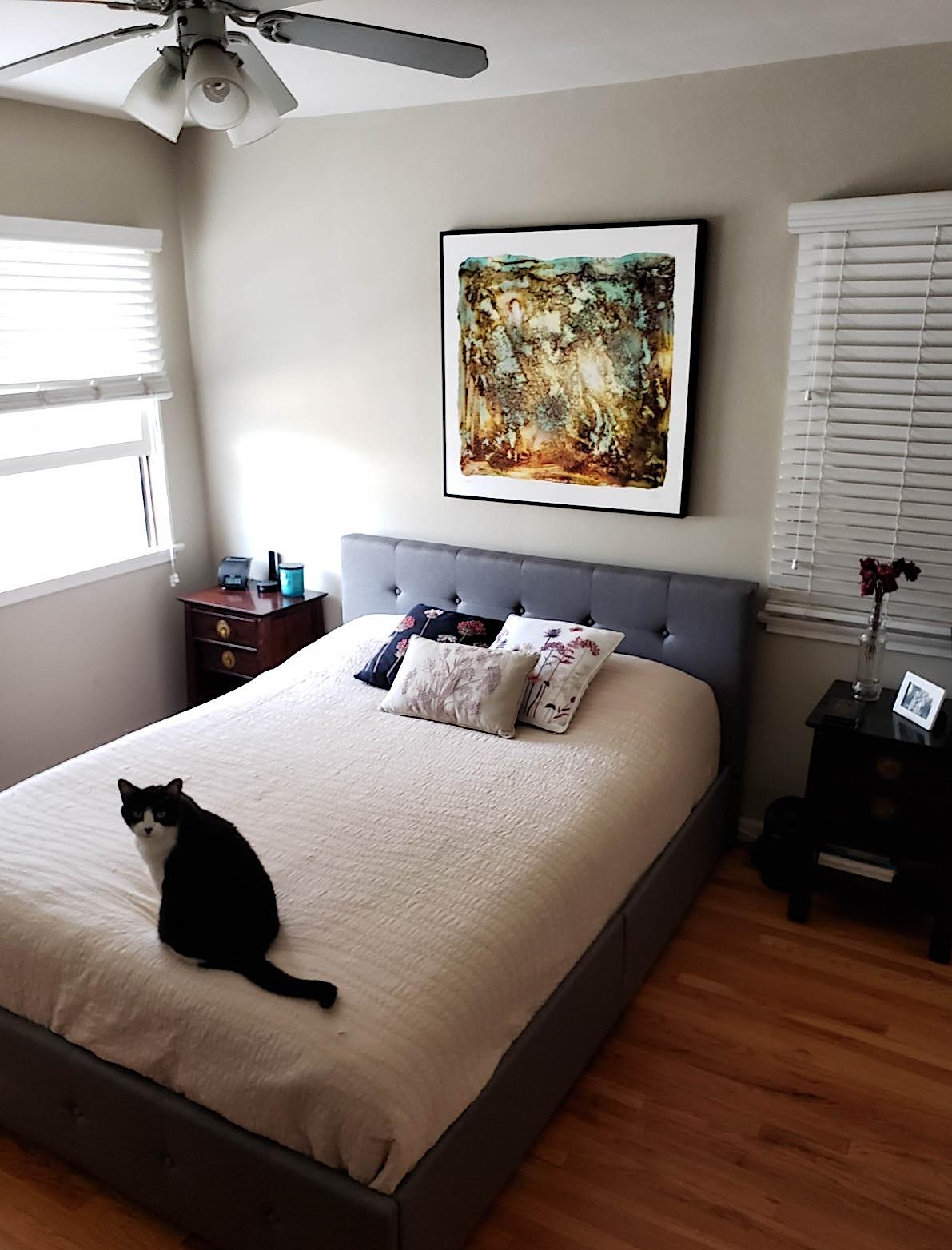 "This bed was easy for me and my husband to put together, I am so glad I ordered it. Had a little problem with shipping but not manufacture fault and they responded right away and sent out what I was needing. For the money I couldn't ask for a more beautiful comfortable sturdy bed." – Tonya Cass