[Review] Keter Rio Chair & Table Outdoor Patio Set
First Impression
The assembly of this Keter outdoor patio set is very simple. The pieces just snap together without any tools. I put it together alone in under 20 minutes. How I wish all furniture can be set up as quickly as this one.
We have this outdoor set on our small balcony, and it looks fantastic. The compact design is excellent for small spaces. Who says you can't lounge outdoors if you have limited space? The grey is stylishly simple. It is sure to make your patio, garden or porch more beautiful than ever.
Weather-Resistant and Durable
The chairs and table look like they are made of woven rattan. However, they really are made from resin plastic. That makes them easy to maintain. Cleaning is a breeze.
The set is indeed weather-resistant. You can leave it outdoors without worrying about how it would hold up. Ours has handled the summer heat and rain well. Since the legs are metal, the main worry here is rust. I am happy to report that I don't see any rusting. The legs seem very sturdy. The chairs have held the weight of a lot of heavy guests. The table is stable, but by no means can you sit on it. Don't attempt to use it as a chair.
The chairs and table are lightweight, but not so much that they would get blown away by the wind. Moving them around doesn't take much effort. On hot days, we would move the set away from the sun so we could sit under the shade.
You may find the table small. However, the size of the tabletop is just right for drinks for two and perhaps a plant to decorate the table. The surface is flat, so you can set things on top without toppling.
Comfortable
I love that the chairs are tilted back ever so slightly. It makes lounging more relaxing. The height is fantastic too. Sitting down and getting up is easy. At first glance, the chairs look like they sit close to the ground. You'll think otherwise once you get to sit on the chair. After getting this set, I always look forward to chilling on our balcony after a stressful day at work.
The seats by themselves are comfortable. You won't need to buy cushions to go over them. The seats are plastic but they won't hurt your legs or back. However, if you insist, you can add cushions to improve comfort. I suggest you add a throw pillow at the back if you're looking for lumbar support.
Worth Your Money
The price is the best thing about this Keter outdoor patio set. You can't go wrong with it. I got it at a regular price, but I won't feel bad if this gets discounted in the future. An outdoor furniture with such quality is definitely worth spending for. This thing comes with a two-year warranty too!
Other Popular Reviews
"Very nice looking set for the price! Looks great on my balcony. Pretty intuitive design. No tools needed." – DrLeBlanc.Online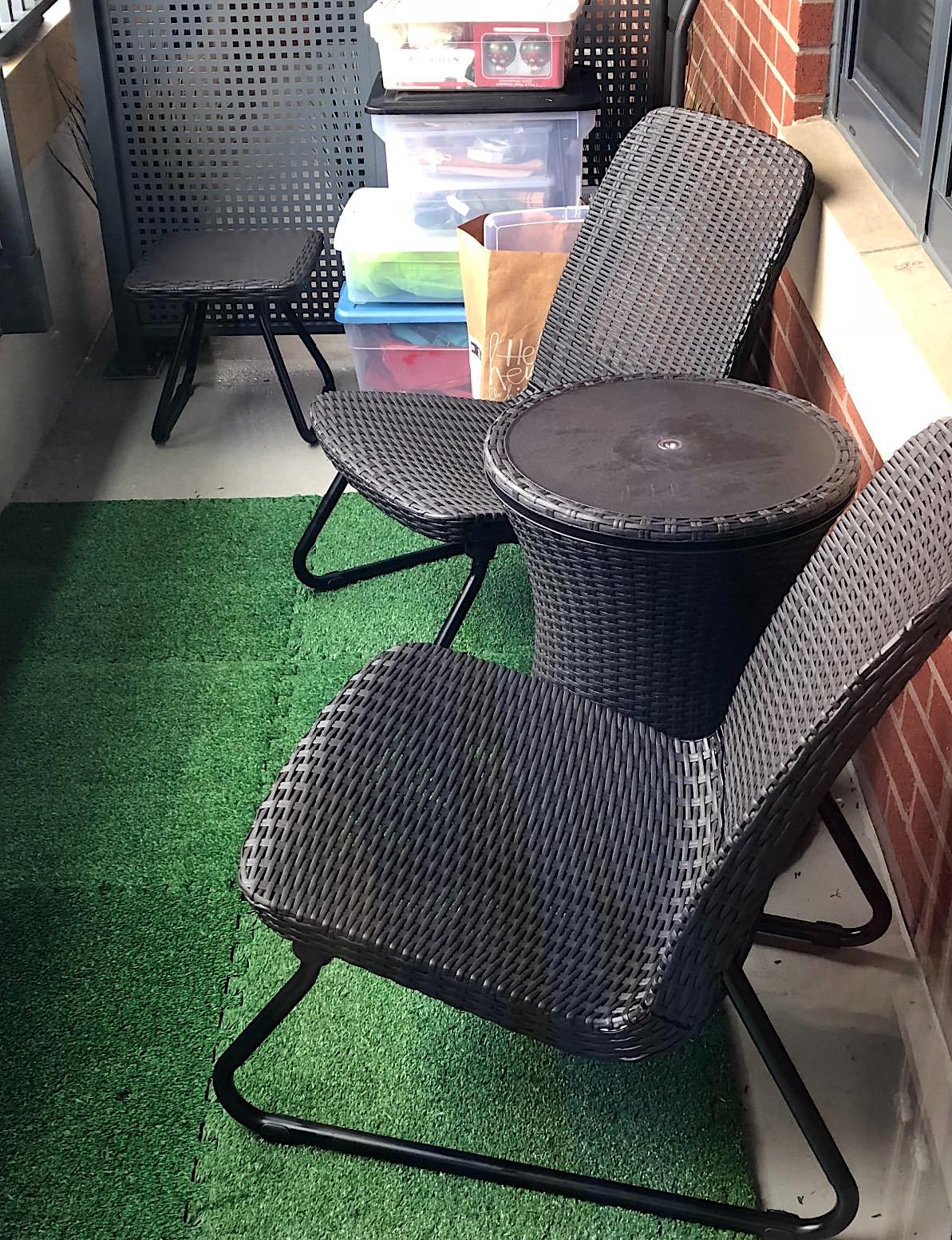 "Wanted something low profile and modern for our condo balcony and these are perfect. They literally snapped together in about 10 minutes. So comfortable. I added chair pads I already had and an ottoman I got here on Amazon. Not using the matching table, but still a great deal!" – Shopper666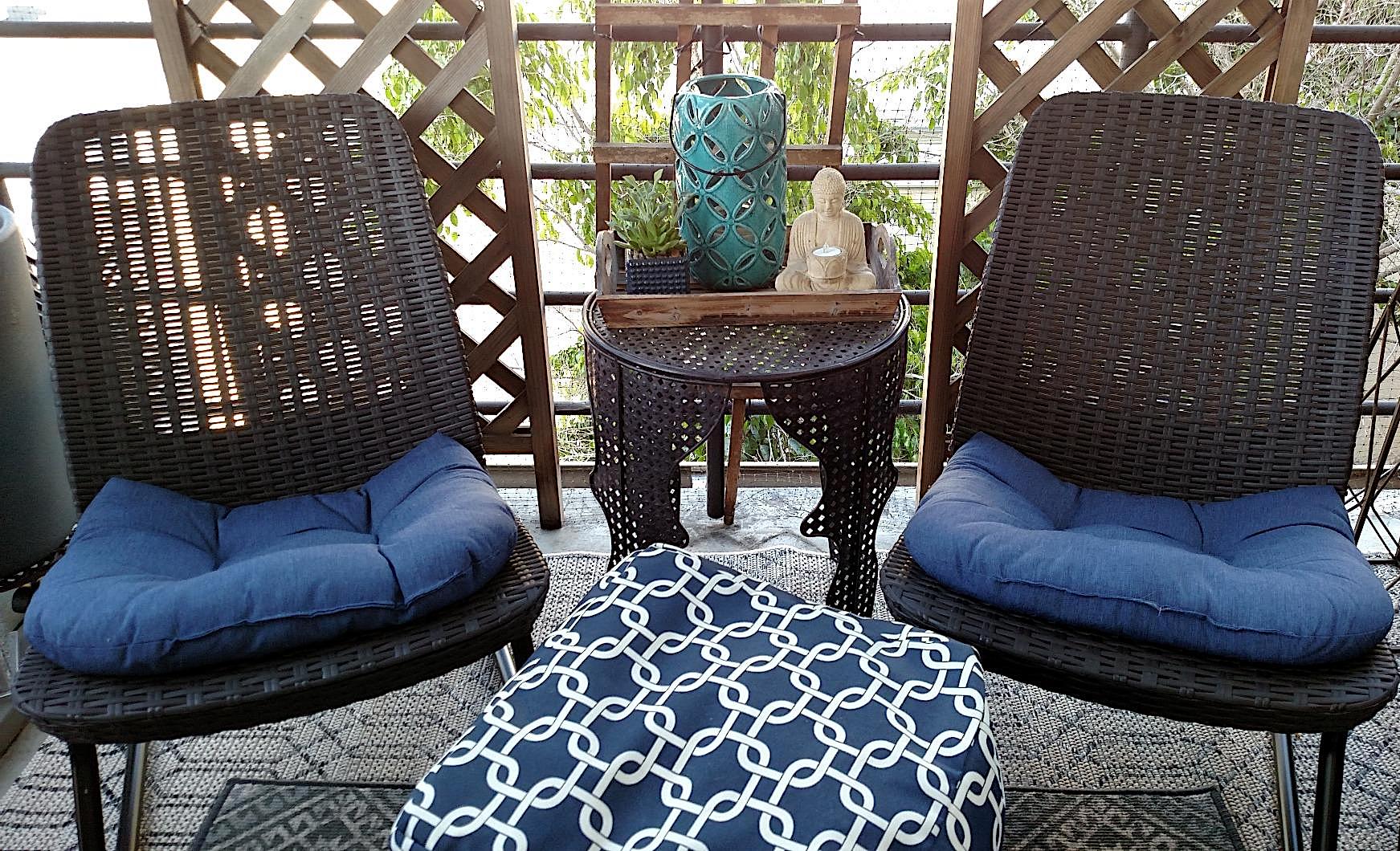 "Living in Oregon, it rains a lot. So I wanted a rust proof and waterproof set that wouldn't break the bank. I'm happy with this. It's strong, quality materials, yet lightweight. Nice color. Looks good, and is comfortable. And the price can't be beat." – Frenchiegirl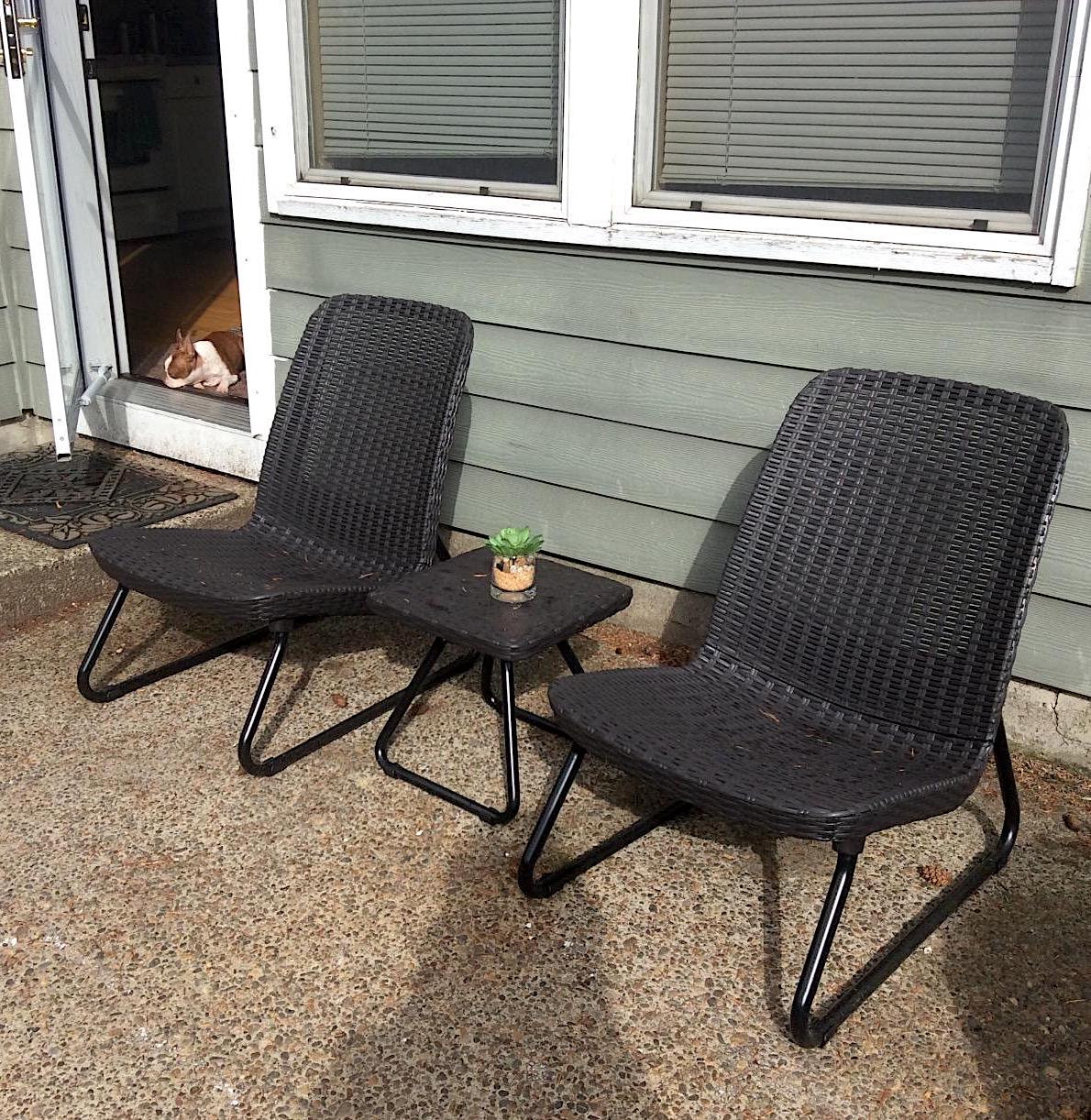 "Amazing quality especially for the price. Looks great on my 10ft x 10ft patio. The table is a little cheap looking but the chairs are perfect. Good sitting position. I added a cushion from target for extra comfort but I don't necessary love the look of them onthe chair. Definitely recommended" – olsen0808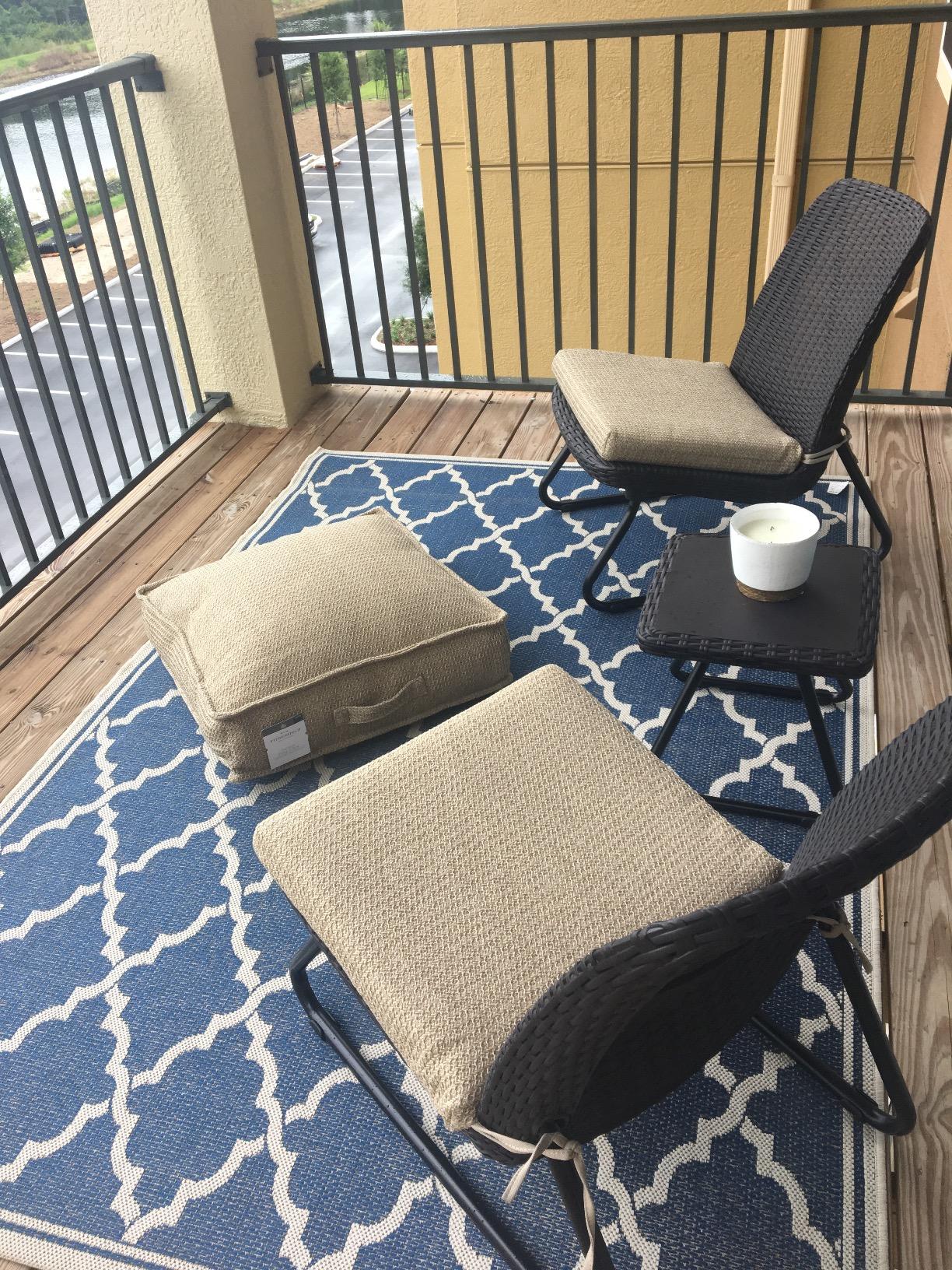 "They are sturdy and surprisingly comfortable – even my husband agrees. They are low profile and have a nice modern look. I was not expecting high-end at this price, but they look really good. The "wicker" is basically solid dark brown plastic, no attempt to make it look much better than that. I still think they are a great value. I ordered 3 sets in total, 4 chairs go nicely around our fire pit." – ShopinMom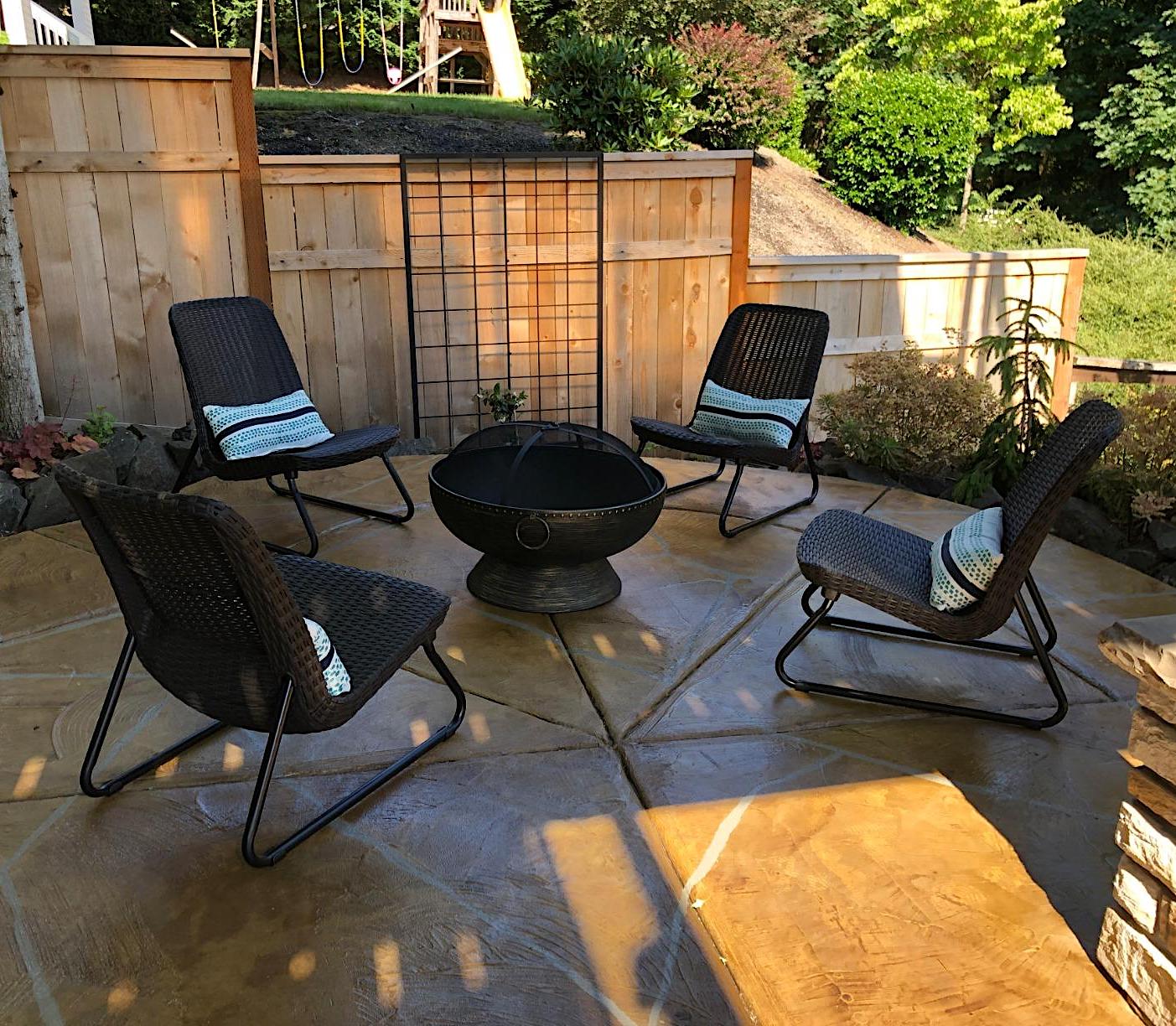 "Bought two sets as a sitting area. I put all of them together by myself. I will say you have to have one set of strong hands to have everything click in place and be able to "bend" the tabs at the same time you are pressing them end, especially the final piece on the back. Overall we live in the PNW and I've been able to rinse them off with the hose. My daughter scribbled chalk on the tables and Ive fed the kids messy stuff while sitting in them and they've held up fine. This is mainly why I bought them instead of something with cushions. For less than $200 for four chairs and two tables I felt this was a good deal. They are comfortable and not too low, I am 5.5 and my husband is 6.1 and we both have no problems with the height." – SarahRN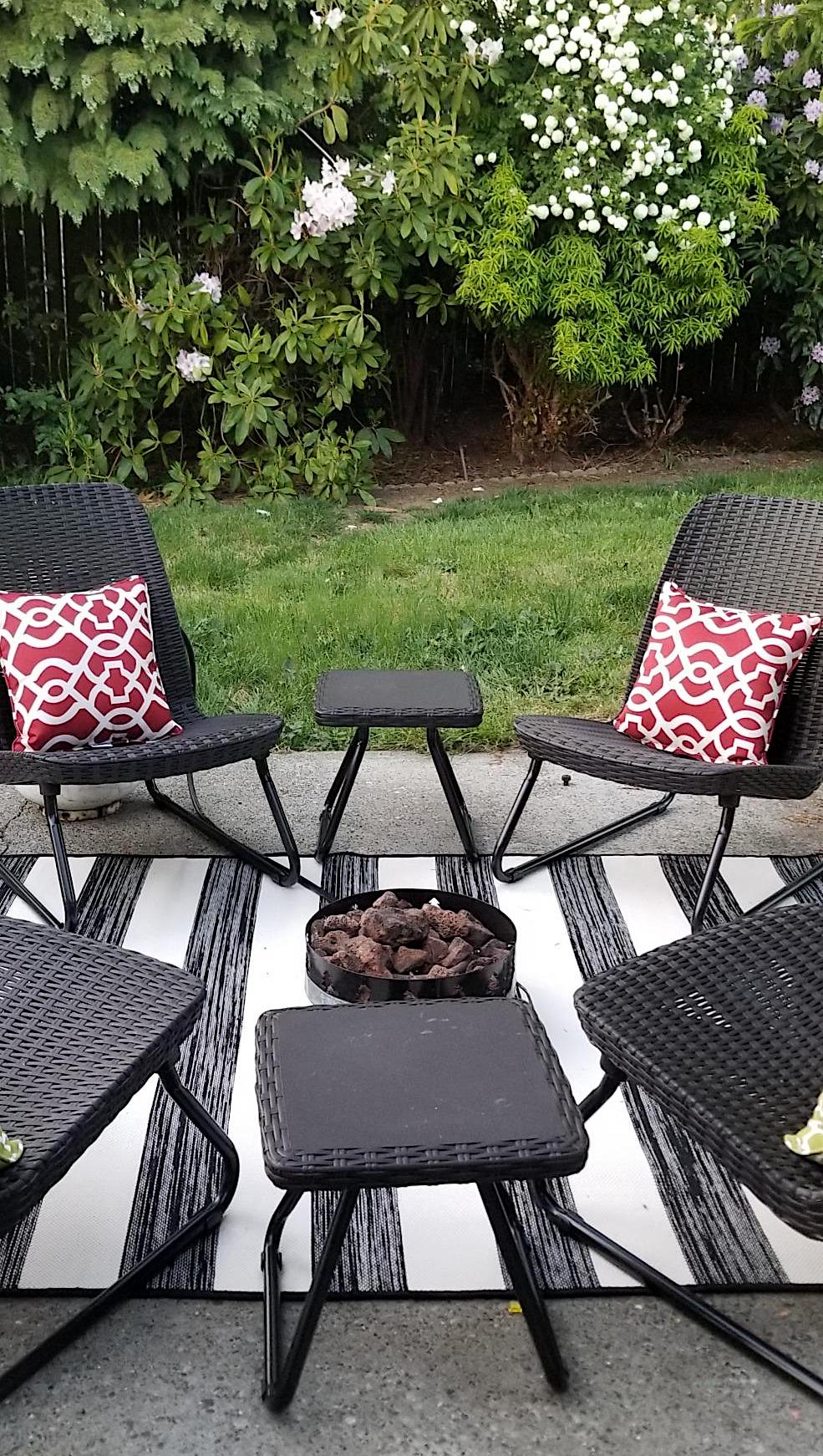 "I love these chairs and tables (I bought two sets). I saw one reviewer mentioned using a flat head screw driver to get the little plastic end piece in place and that worked perfectly for me. I also read that lots of the reviewers wrote how uncomfortable the chairs were so I ordered these foam seat cushions (4 for $25) on amazon as well the same time I ordered the chairs and they are hell of comfortable!! I couldn't be happier with this set and I love the little tables. Again, other reviewers said the tables were crappy but I find them to be really cute and sturdy. I certainly wouldn't ever sit on them but they are perfect for drinks around the fire pit." – Tatum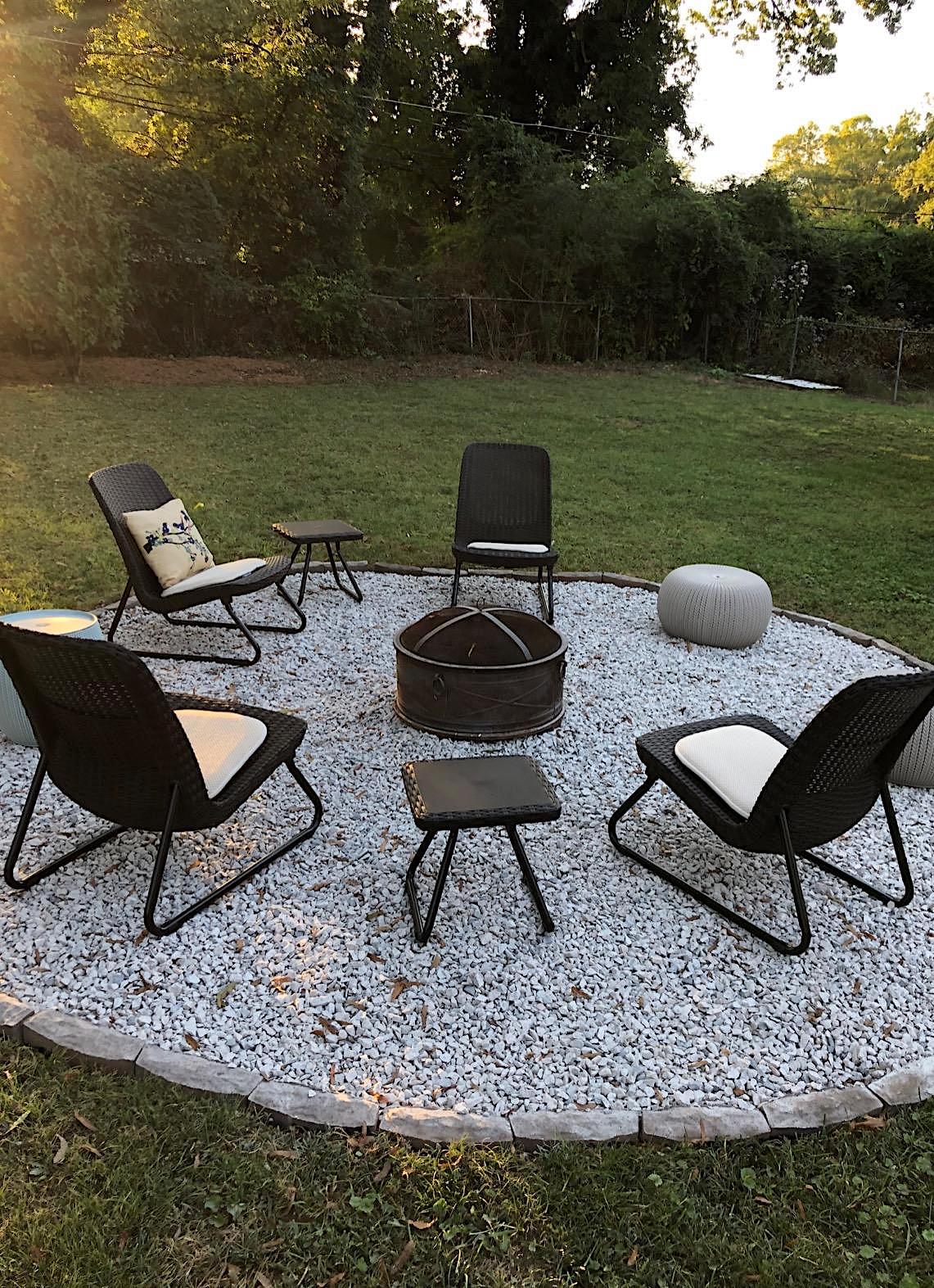 "These just came in today! They look great! All the pieces were present. Everything was fine although I needed a firm grip to snap some of them together. I was also a bit concerned about them being too low to the ground. They're lower than normal chairs but higher off the ground than beach chairs. Ready for warmer weather" – lavenialivinglife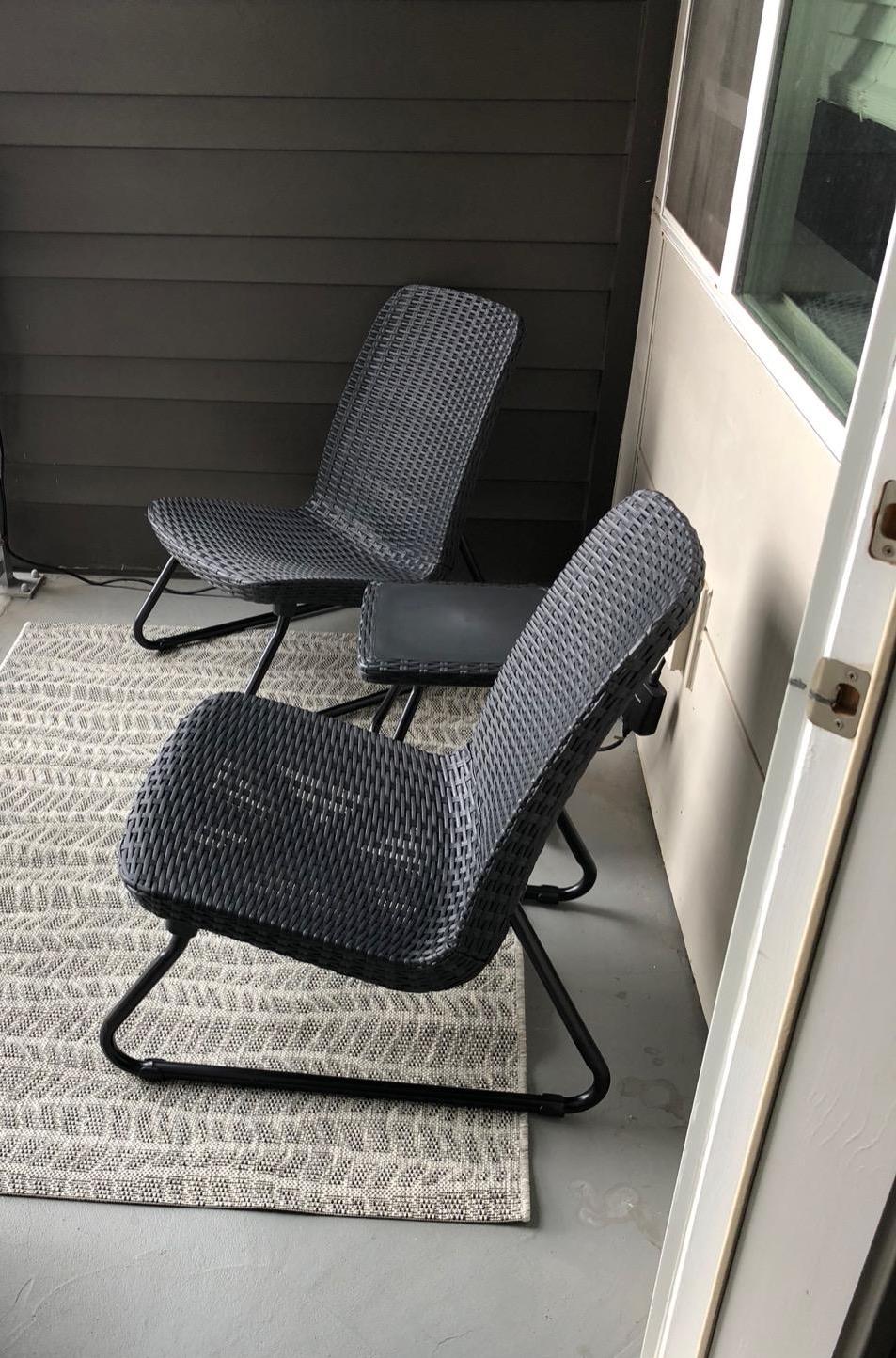 "So perfect. I bought 2 sets to go with my fire table from Costco. They are the perfect size and shape for full relaxation. We have no problems with anything fitting together. It all went smooth. Highly recommend." – Sandi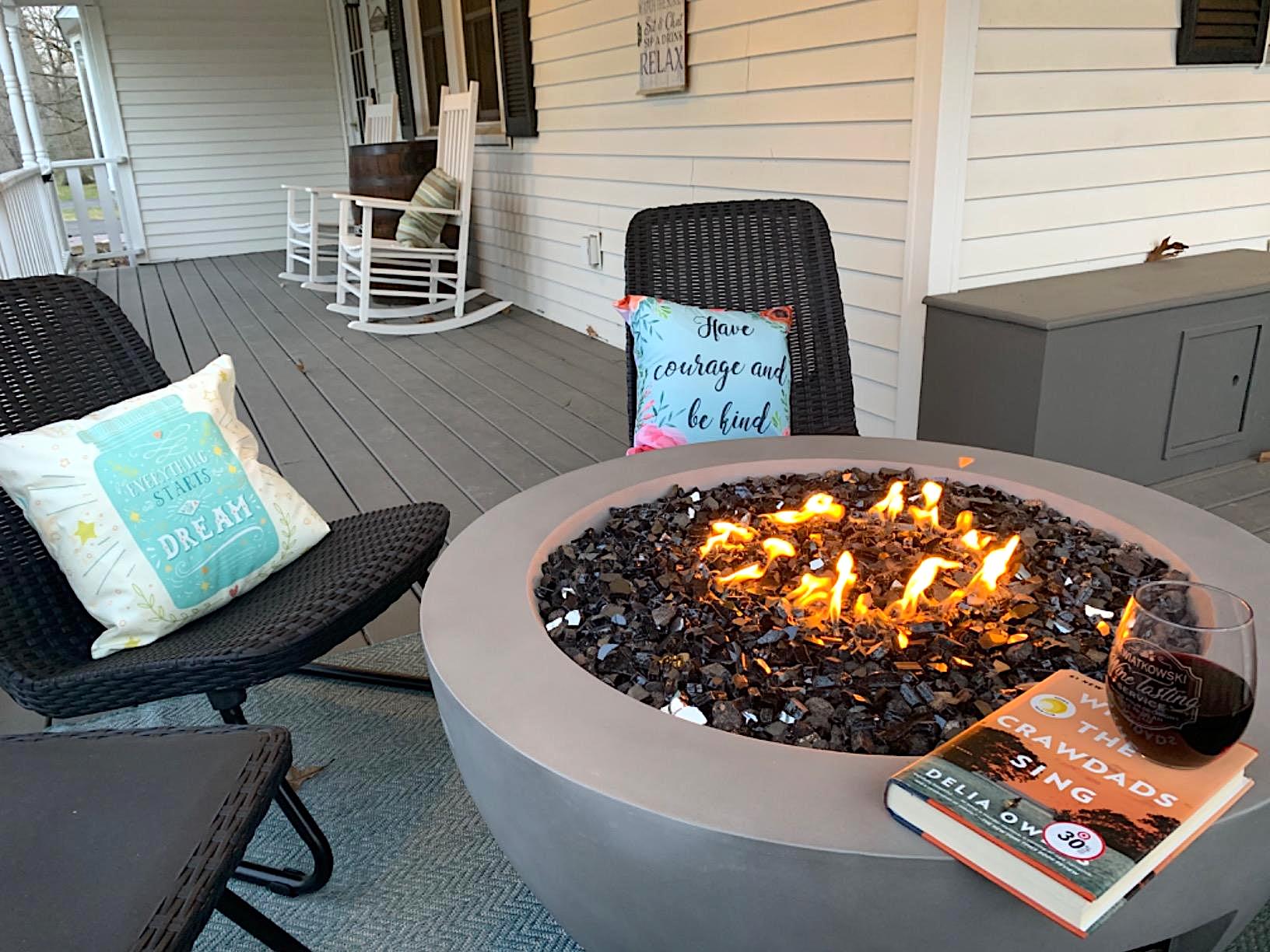 "I love these chairs. They were so easy to put together and I was overjoyed to find that no tools were required! It probably took me a total of 15 minutes to open box and assemble. Huge fan. I wish they made all furniture assembly this easy. I will add the disclaimer that I recently move and I have had to put together several book shelves, tables, etc by myself… possibly why this was so easy for me." – Fashion Diva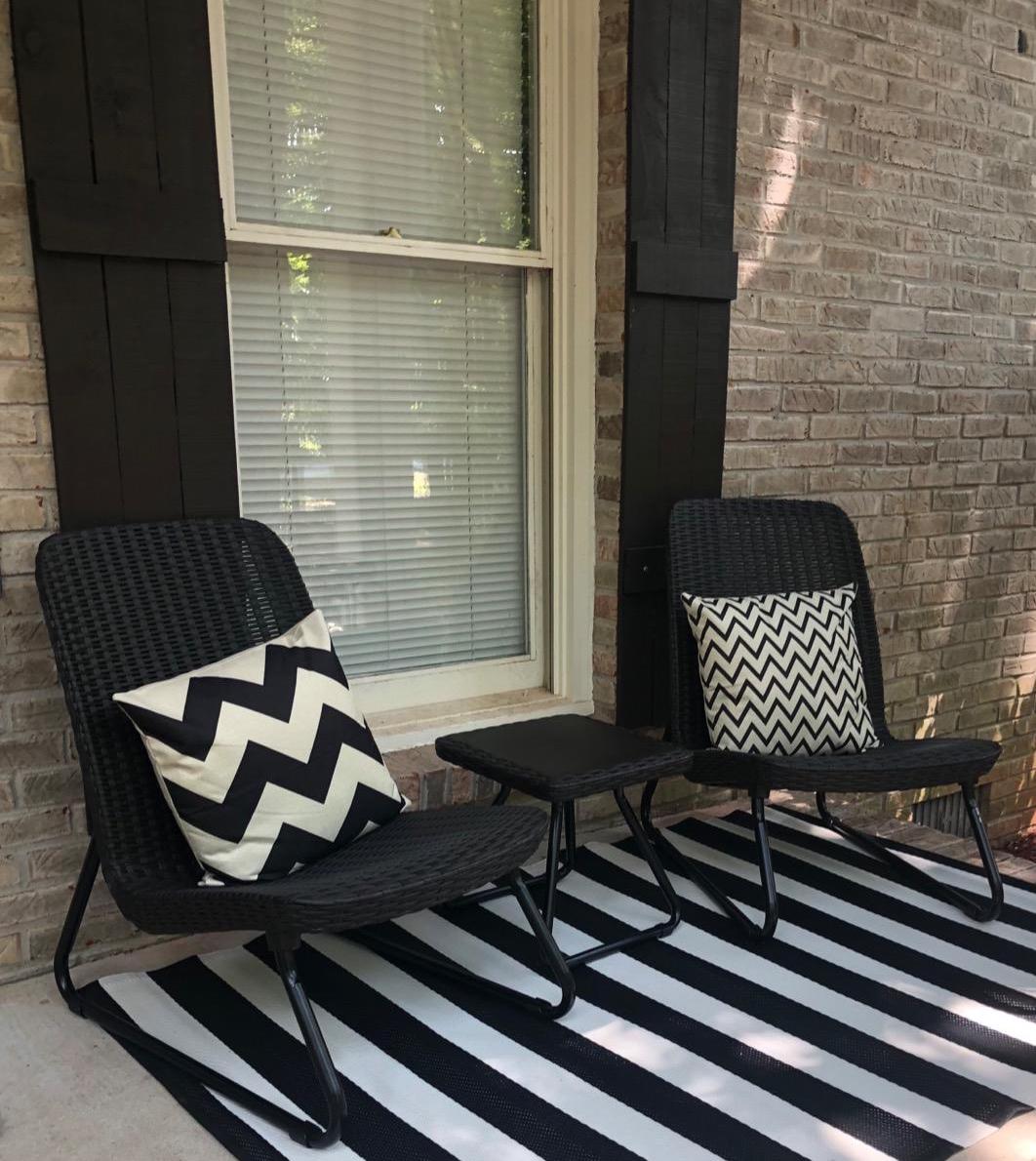 "I was looking for a small table and chair set to add to an empty corner of our backyard. This set is perfect! The chairs match other wicker furniture we have. They are comfortable and durable so far. It was easy to assemble. They are the perfect addition to our yard and have turned an unused corner into a relaxing conversation area. Great price too!" – Kathy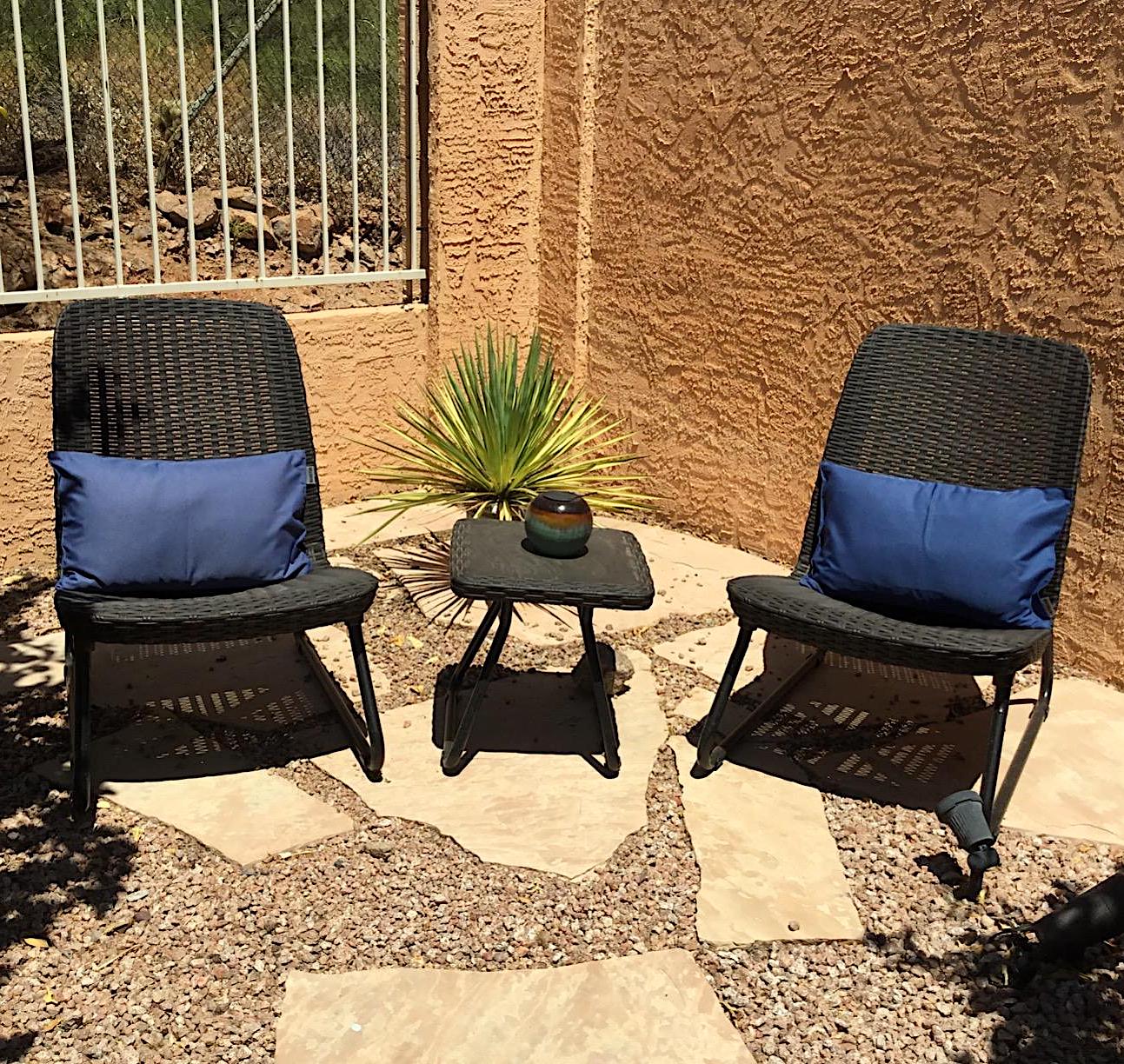 "Overall very easy to put together. I assembled one chair as per the instructions. The other chair I assembled in a different order as a previous reviewer suggested. For me , the manufacturer instructions were better. That chair is more flush but I did use a flathead to help pry two of the final tabs into place, which was easy to do. I'm very happy with my purchase and the whiskey brown color goes nicely with my Keter Urban Bloomer raised bed garden. Also it arrived in perfect condition and was nicely packed." – FaithNveggies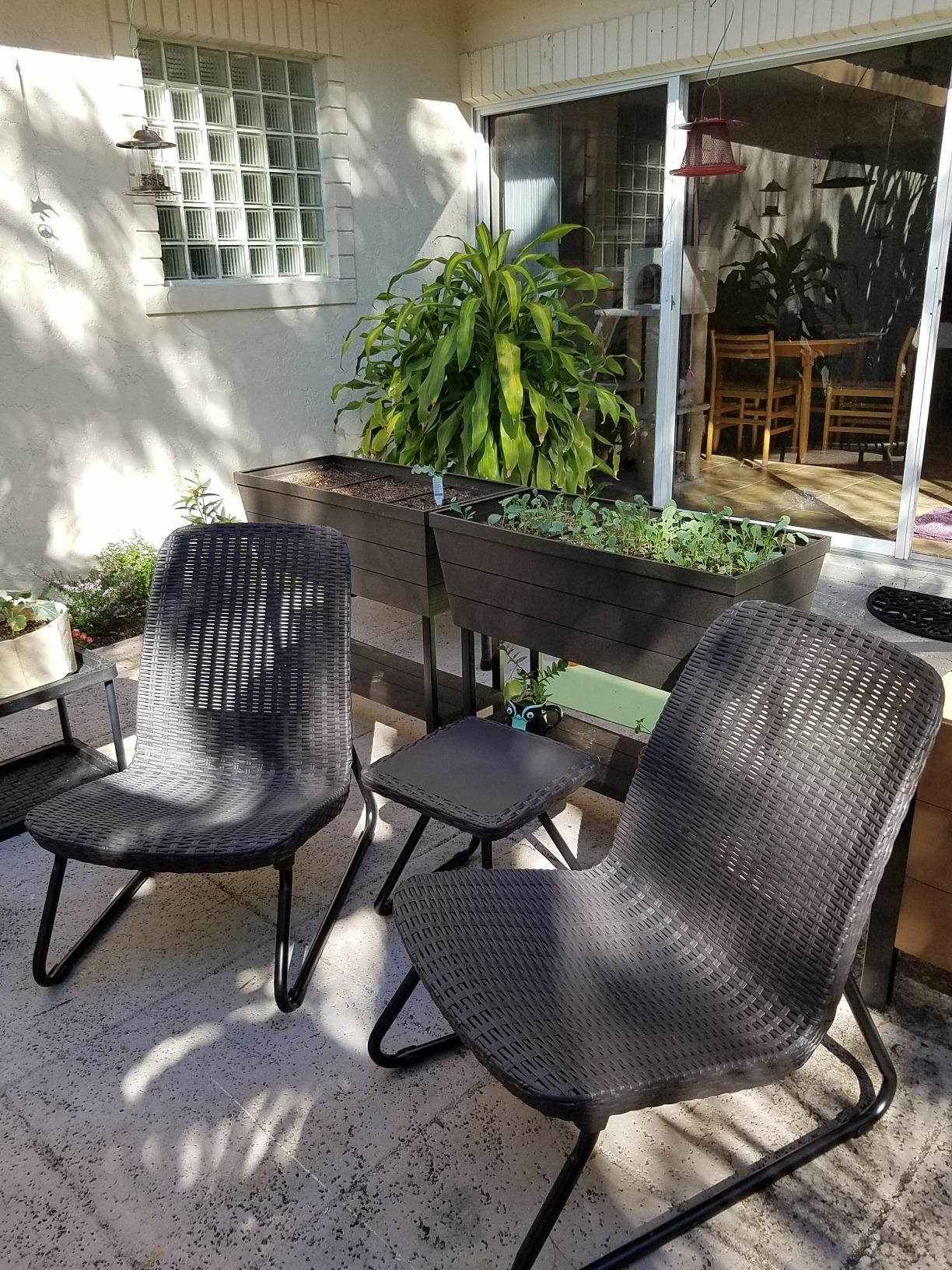 "My boyfriend and I are pretty tall and I kept reading these were too low and difficult to get out of… they're definitely low but we both still find them comfortable. They're similar to beach chairs, with the height and angle. They've held up so far through quite a few Georgia storms this summer. I'm really happy, I couldn't find any set as stylish for a comparable price!" – Sundae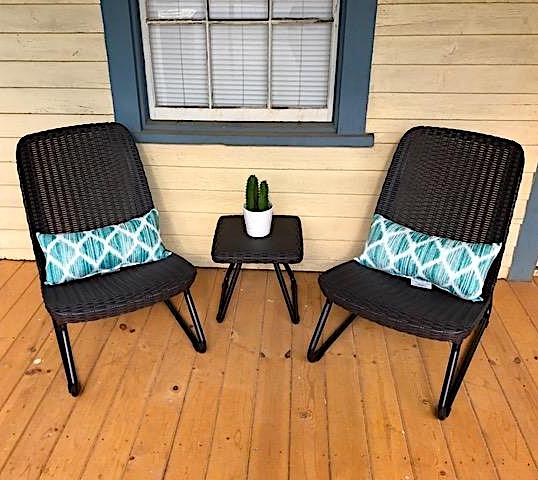 "This is by far the best outdoor furniture I've ever purchased! Not only was it super easy to assemble, it is soooo incredibly comfortable! And what a value! I highly recommend this set. I bought two to go around our fire pit and I could not be happier (unless it came with beer)." – Susan Alford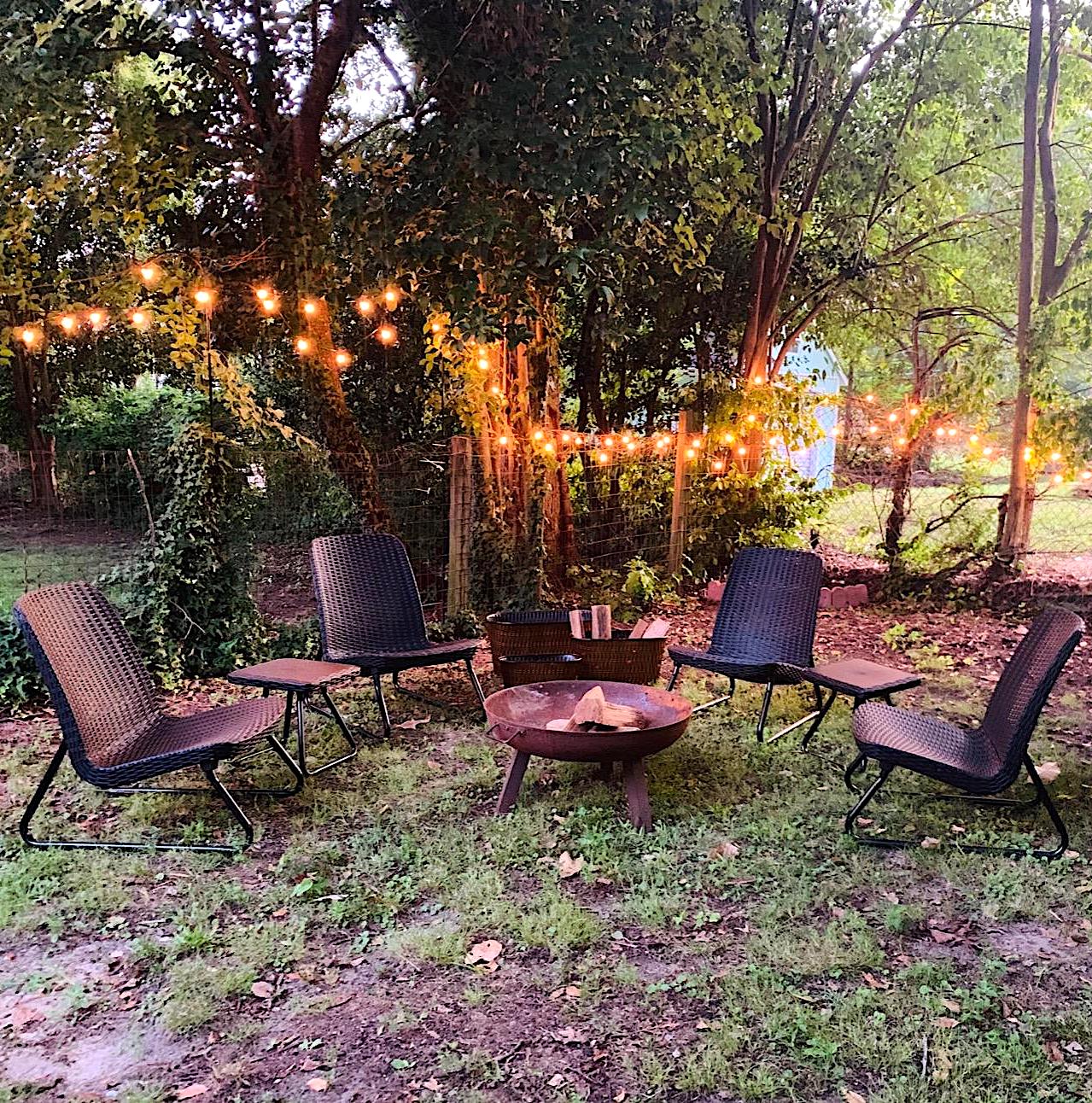 "I like these chairs set very much! I can now sit comfortably around my fire pit, and enjoy toasting marshmallows. They are not heavy, yet they are sturdy. They've been out in the rain and wind. Didn't move an inch. However, when assembling them, the left side hole near the back for the leg insert were both small! I had to filed the inside and edgeof the hole to make it bigger. It worked. Other then that, very very nice chairs!" – Sue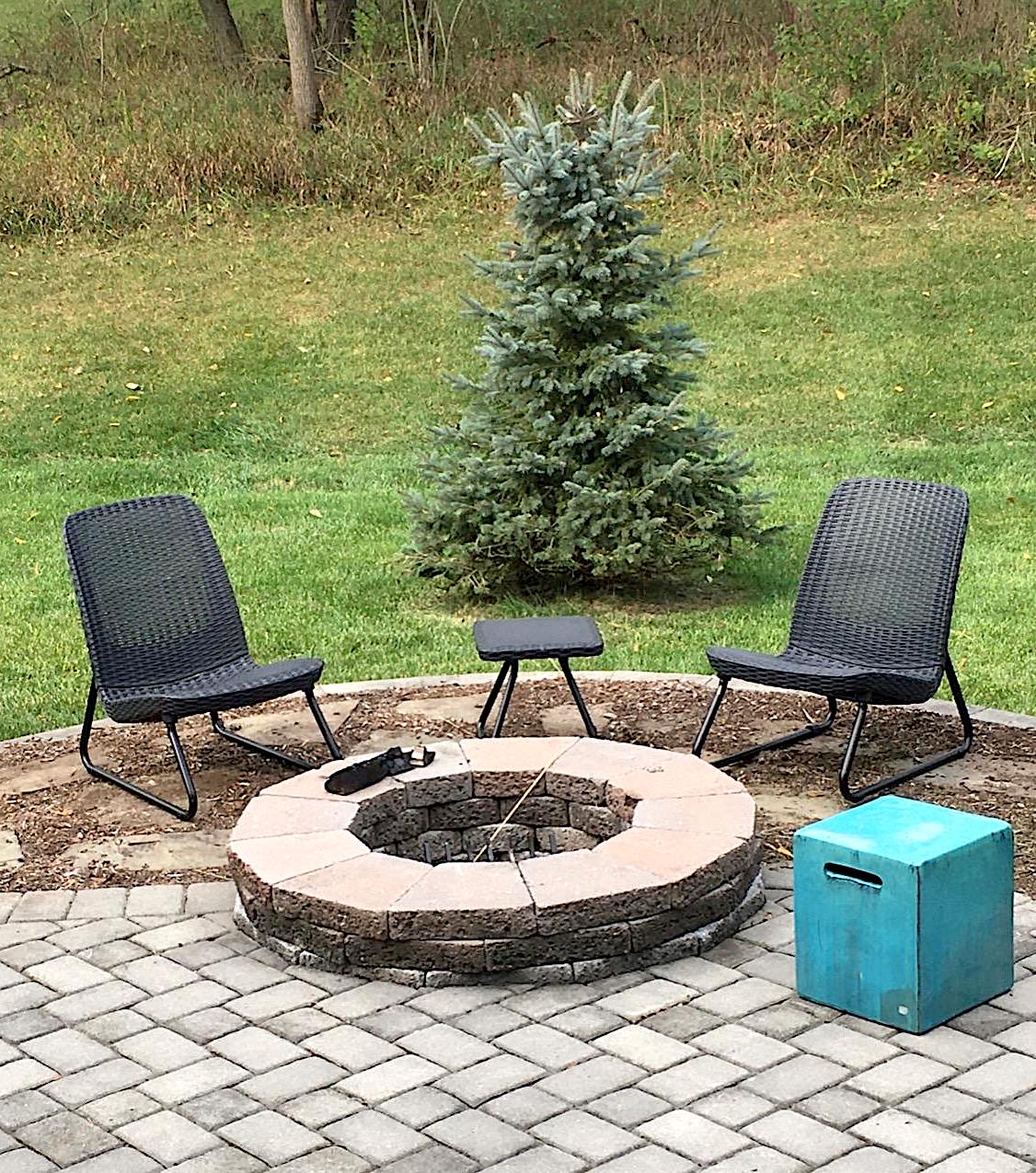 "I am really loving this chair set by my pool. I bought the Keter lounge chairs last year and they have held up well so I got the chairs too. I put a lumbar pillow on the chairs and I think they are comfortable. The material is perfect for poolside furniture." – Jaime Adams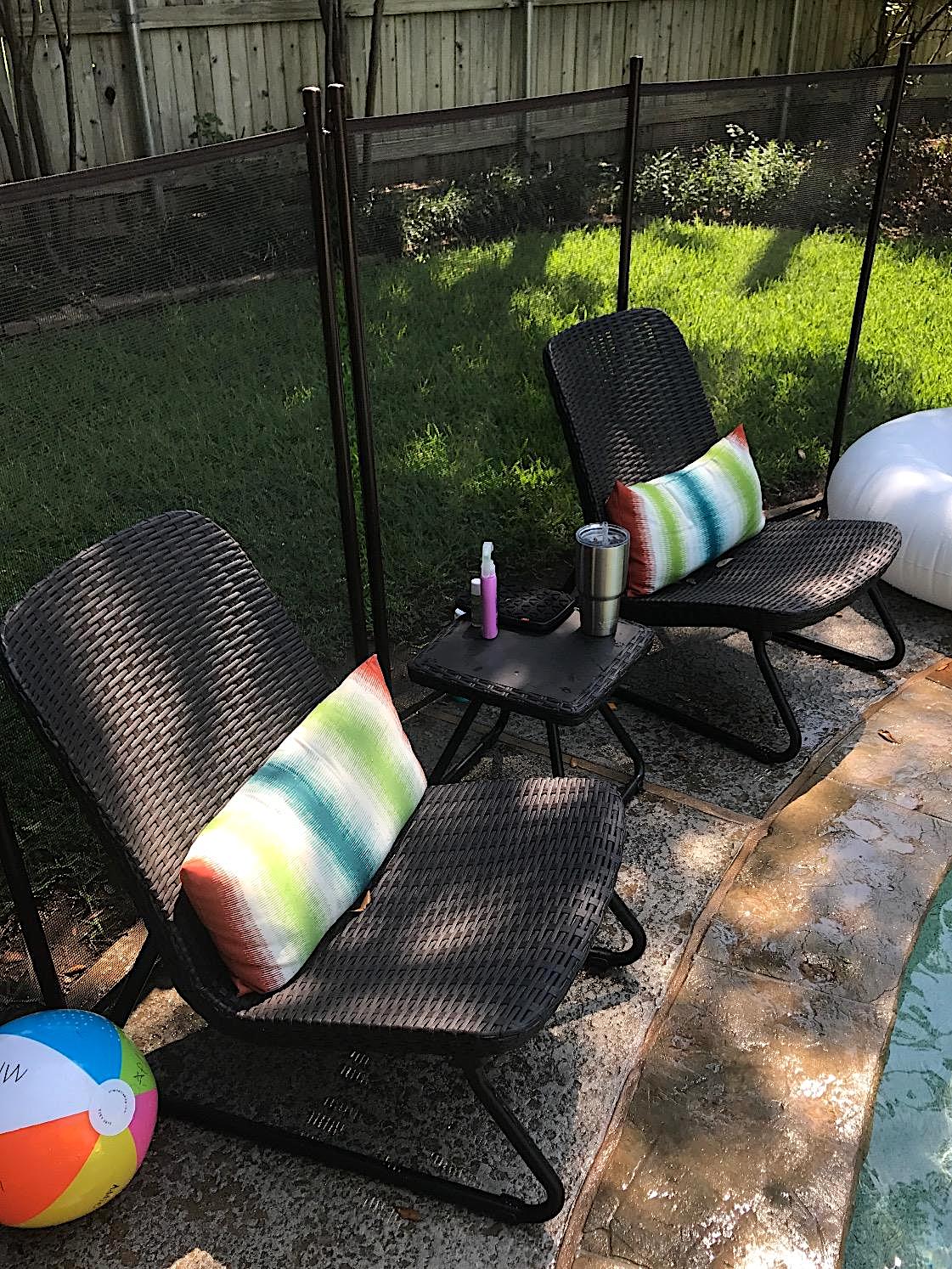 "Love it!! I put it together by myself!! I'm excited!! I wana but the grey!!!! It's a hard plastic but comfy nice!! For the price I love it. I've been looking for outdoor furniture for a long time but I just thought the price was perfect for what it is." – Mandy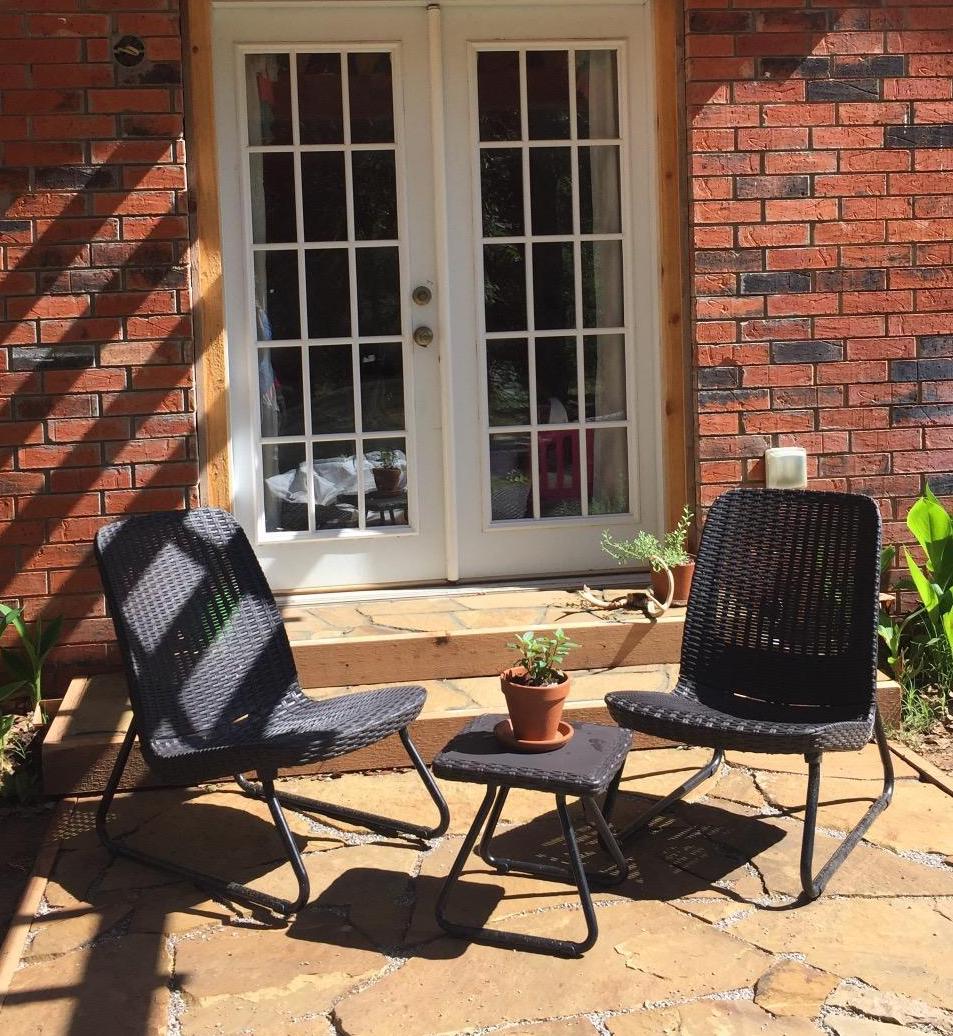 "I put this together after four hours of intense yard work. My arthritic hands were swollen and shaky. I had NO trouble – it was almost too easy – the chairs are lightweight yet quite sturdy. I am very happy with my purchase – a perfect addition to my little lawn!" – TinaC1016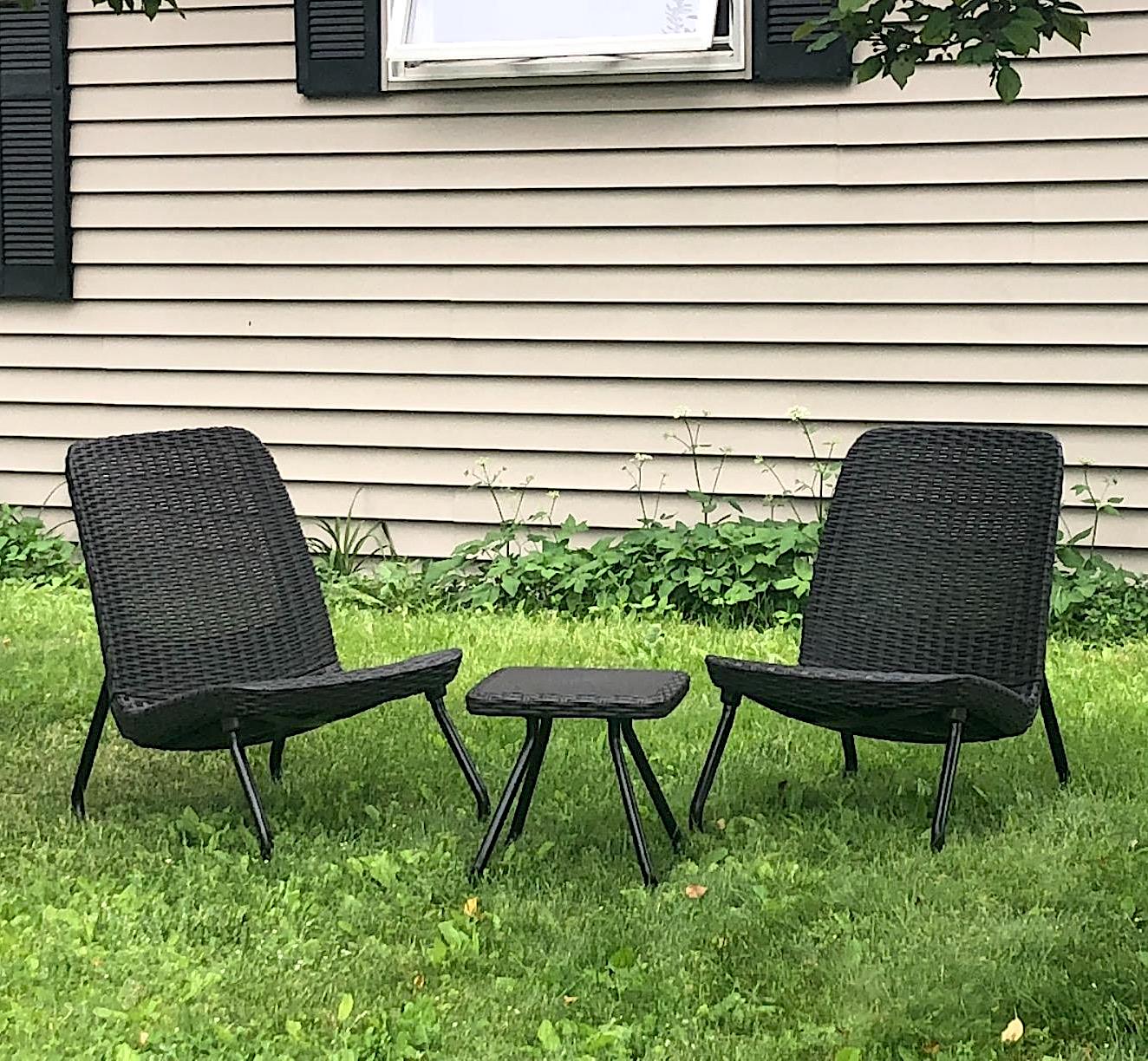 "This was the easiest furniture to put together. It took me less than 15 minutes total and that includes the time it took me to take each item out of the box and put the box away… it's cute on my front porch and very comfy to sit in." – Cyndi Bricknell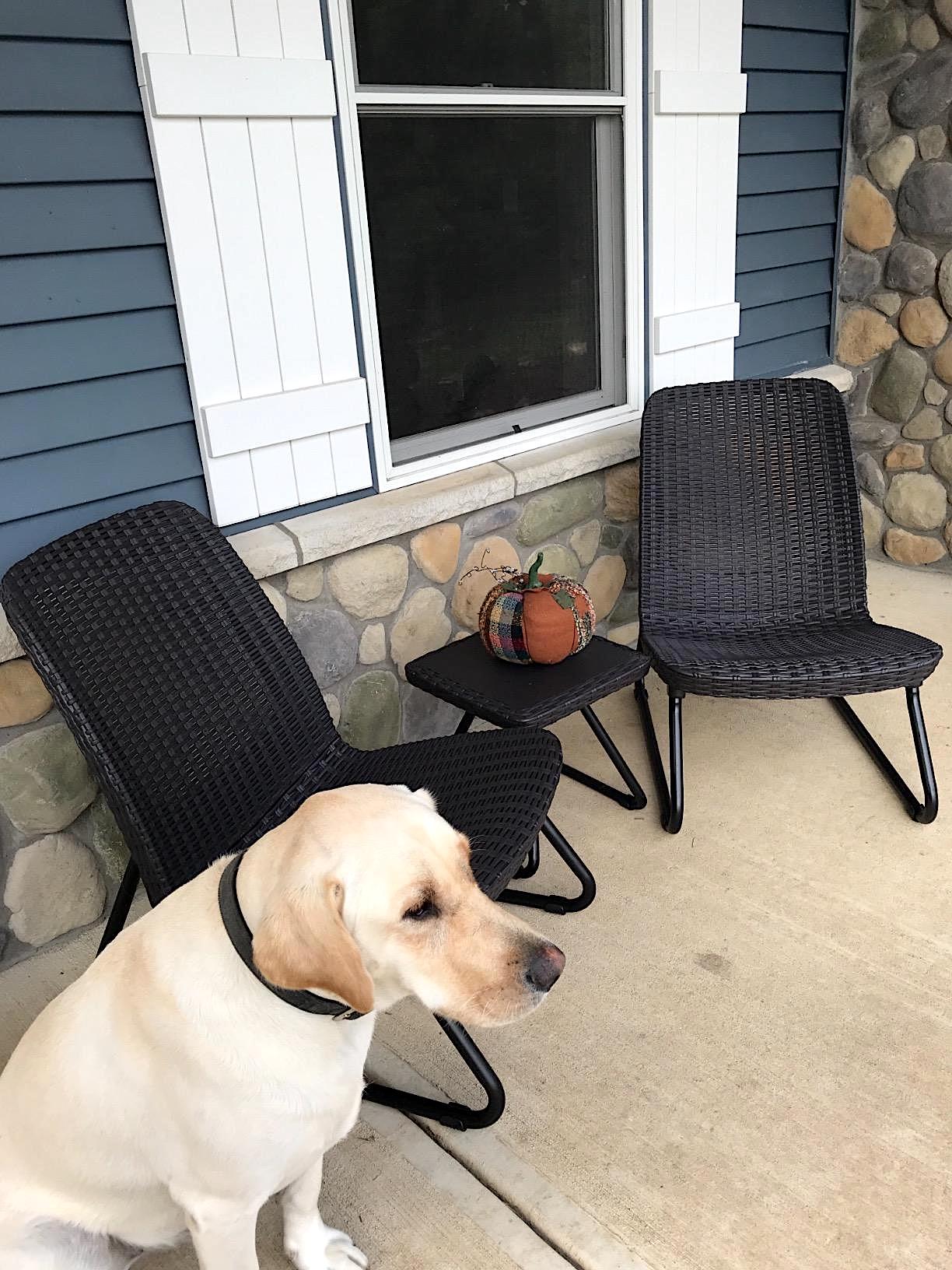 "Love these chairs. I was worried about them being too low to the ground &/or lean so far back it's hard to get out of, but neither is an issue. They are very comfortable." – Loverofbeer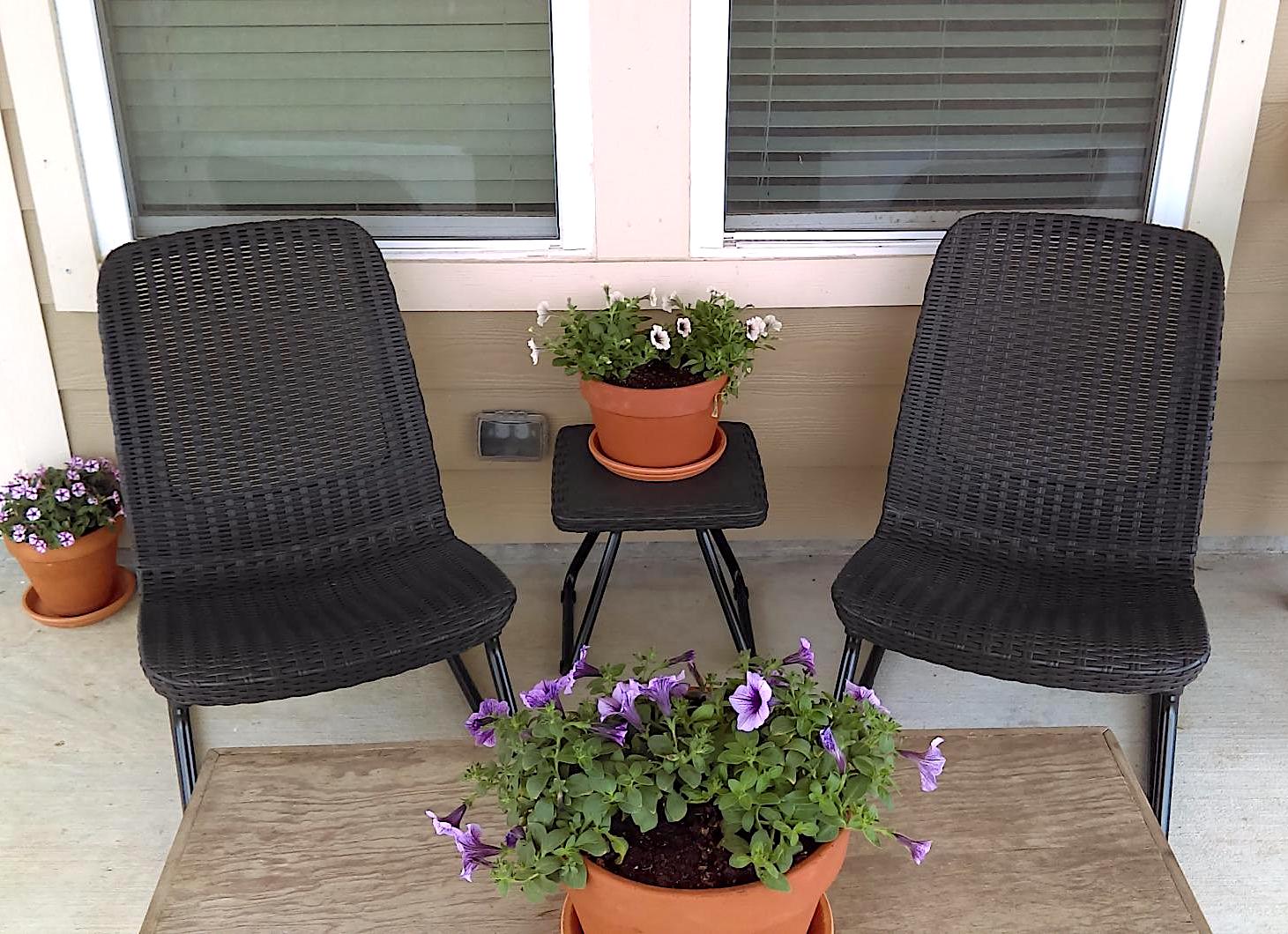 "It shipped so quickly and I reside in Oahu! Nothing was broken and it only took about 15 mins to assemble everything. The only assembly issue I had was that the questions state that you'll hear a "click" when you put the two main parts together, you really don't hear a click..so just push them together as close as possible and you'll be good. They really look great on my balcony, however I would suggest buying some seat cushions for them, they look even better with them and they're just more comfortable that way! All in all a great purchase" – Baileebia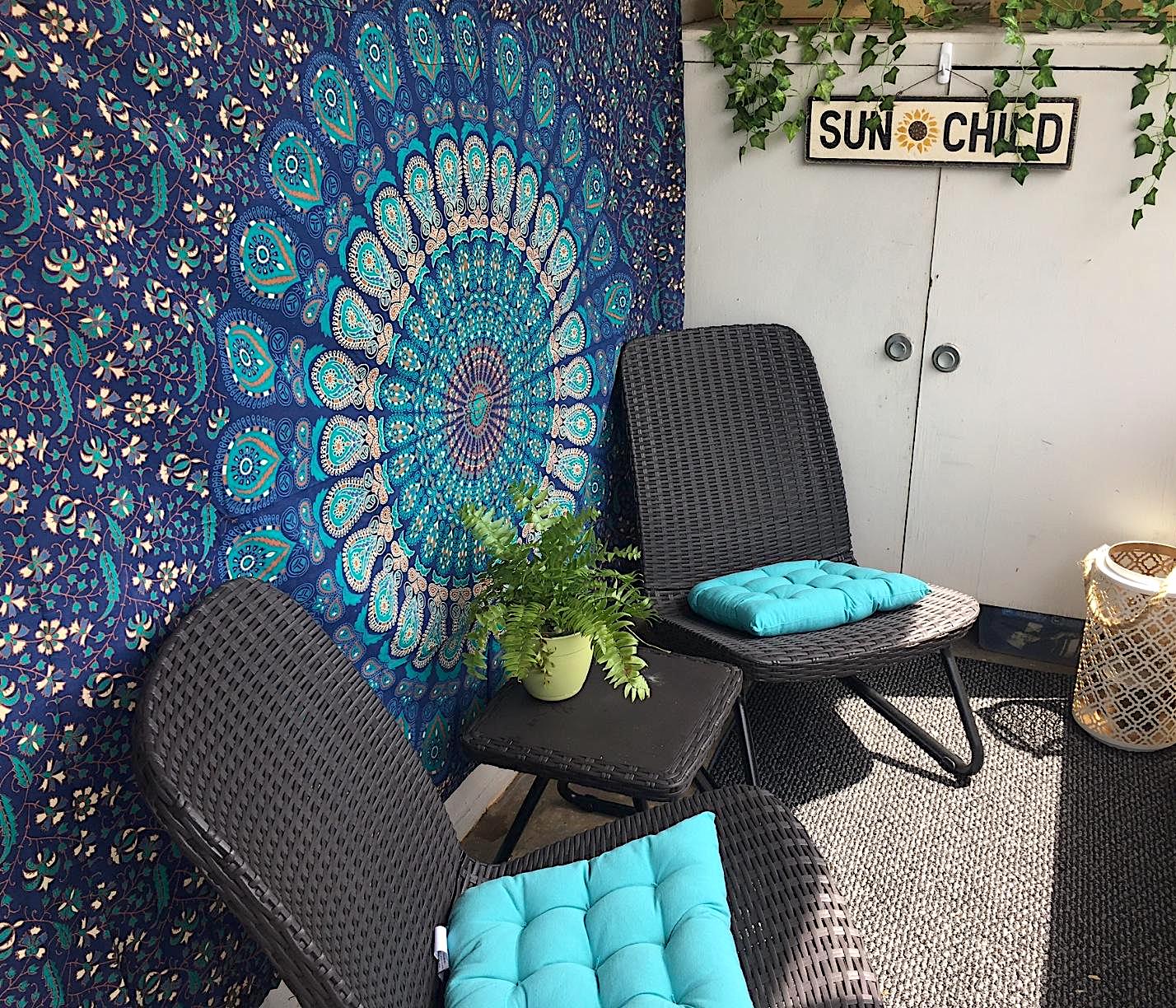 "I really love this set so far. The set was not difficult to assemble at all and my seams where the chair pieces come together fit really well. No gaps present. Needed some effort to bend last part into place, put overall a very quick assembly! I have been looking for furniture for our small front porch area for some time, and these can't be beat for the price. They are very comfortable! They are low to the ground but I preferred this I for my children and we have no issues with them." – Debbie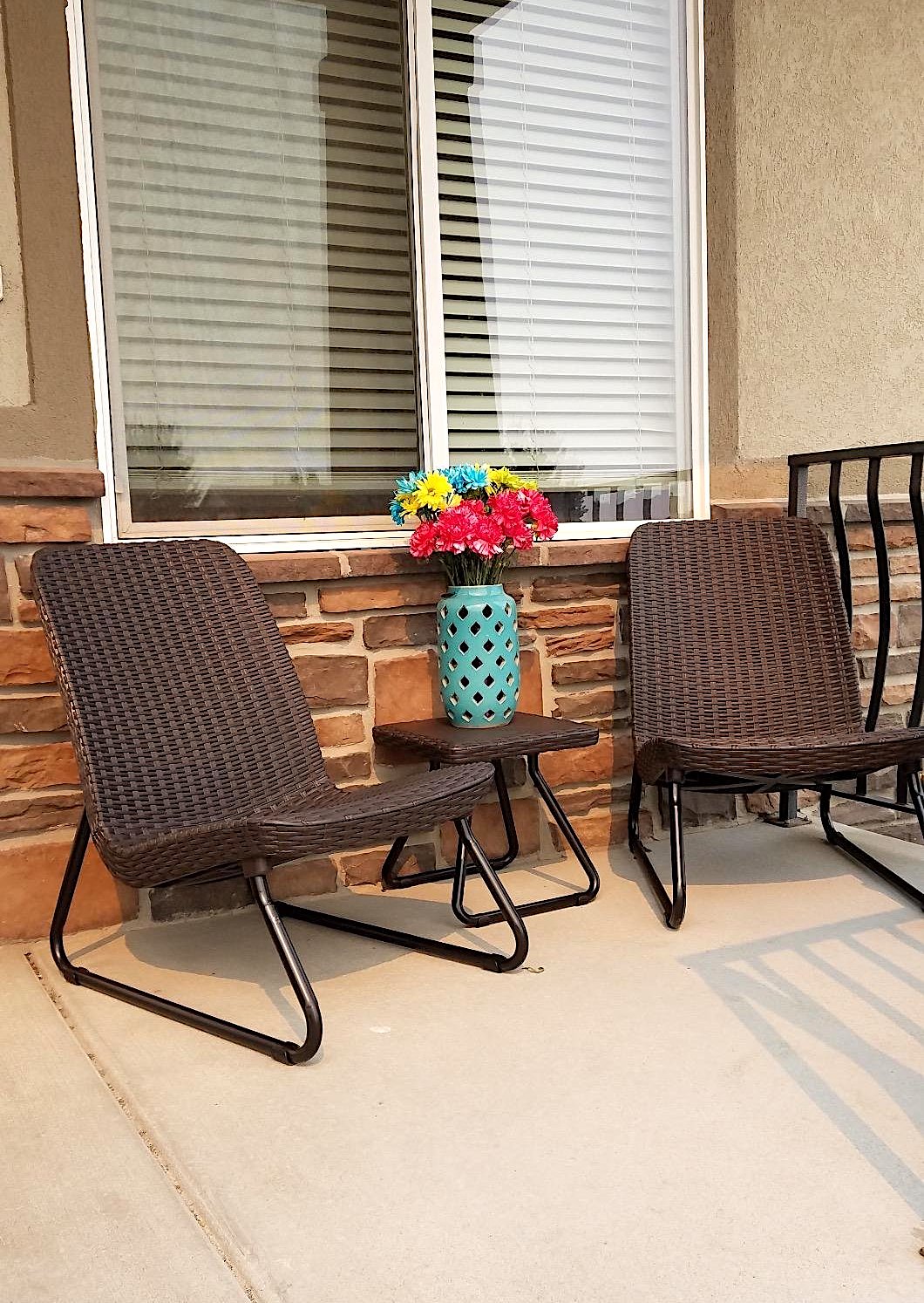 "For the price.. this is a really nice set! Easy to put together. No screws… just clicks together. Doesn't take up a lot of room on dock. Weather proof. Easily zip ties to dock for security." – Ilene Goldman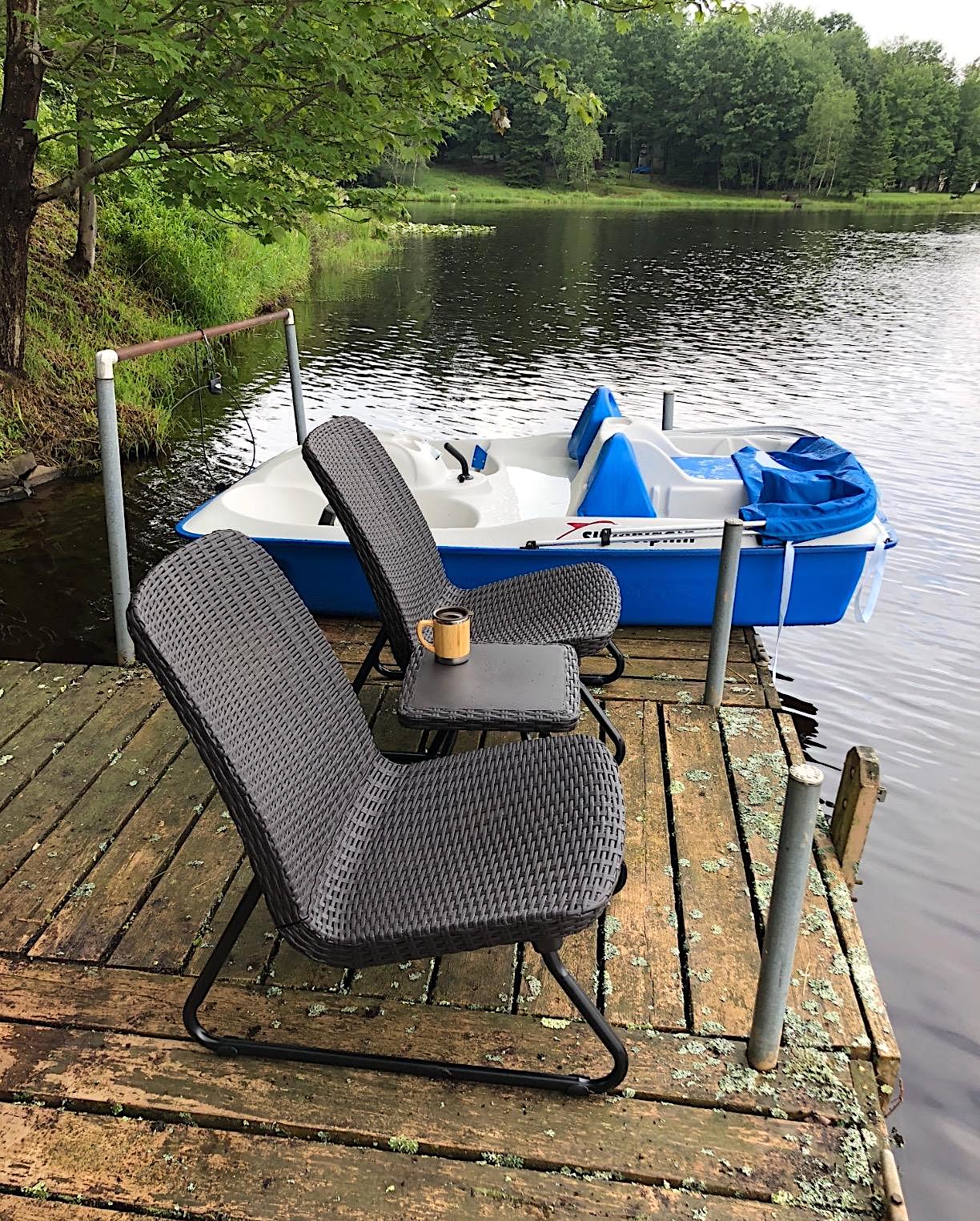 "Perfect! Love how you sit lower than the average patio chair so you feel more secluded when using them on a balcony. The chairs are very sturdy and wide, so there's plenty of room to sit "indian style" on the chair. Easy to assemble, and weather-proof! Overall very happy with this product, and the price couldn't be beat! Add a couple colorful outdoor throw pillows and you've got a great outdoor space!" – BBMJ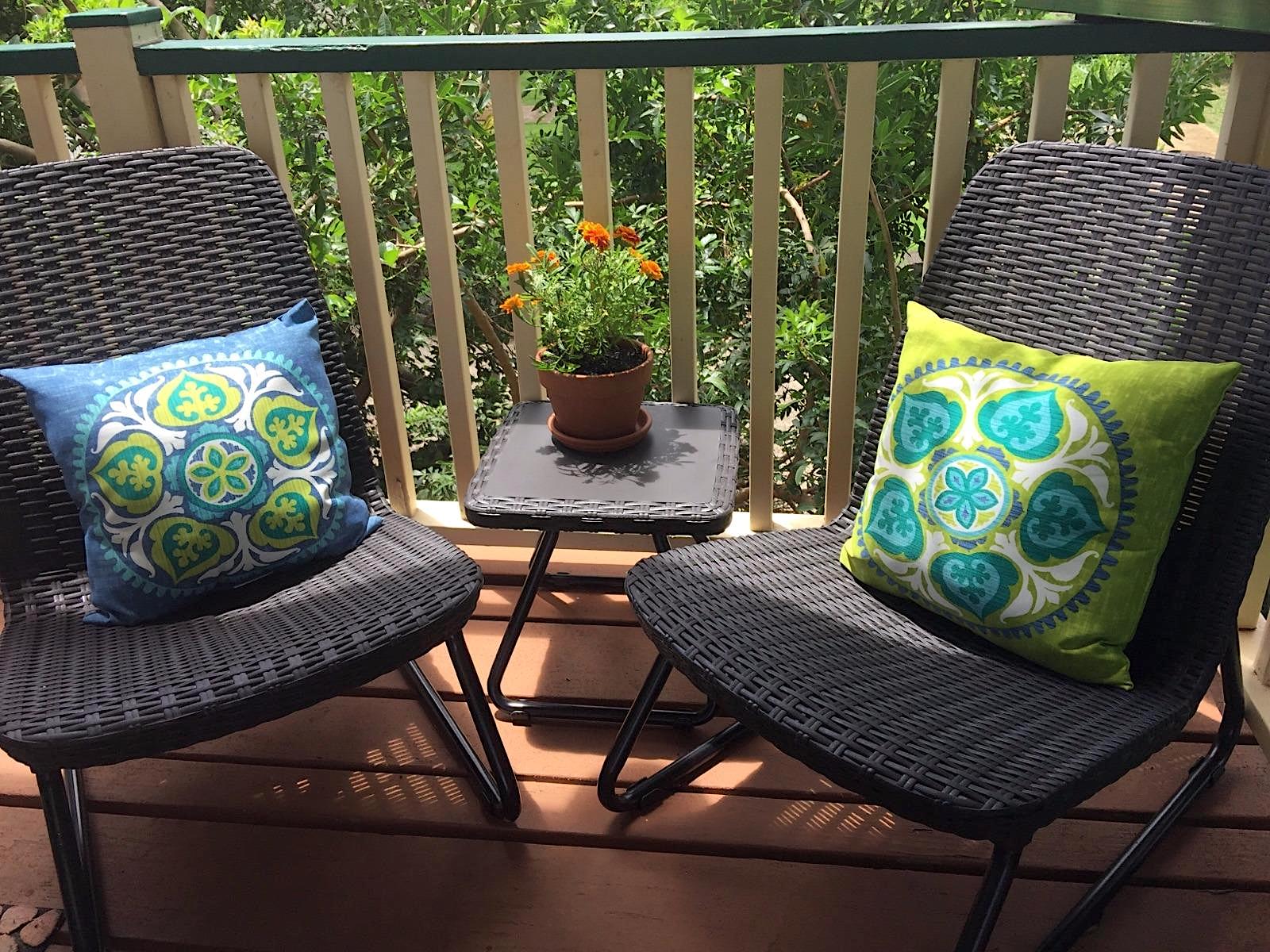 "I loved the chaise lounges so much I ordered this set. Adorable and well made . Putting together was easy though I will admit I usd a hairdryer to warm up the last plastic piece to go in place. What a great product. Big Bang for your buck" – Marianne McKay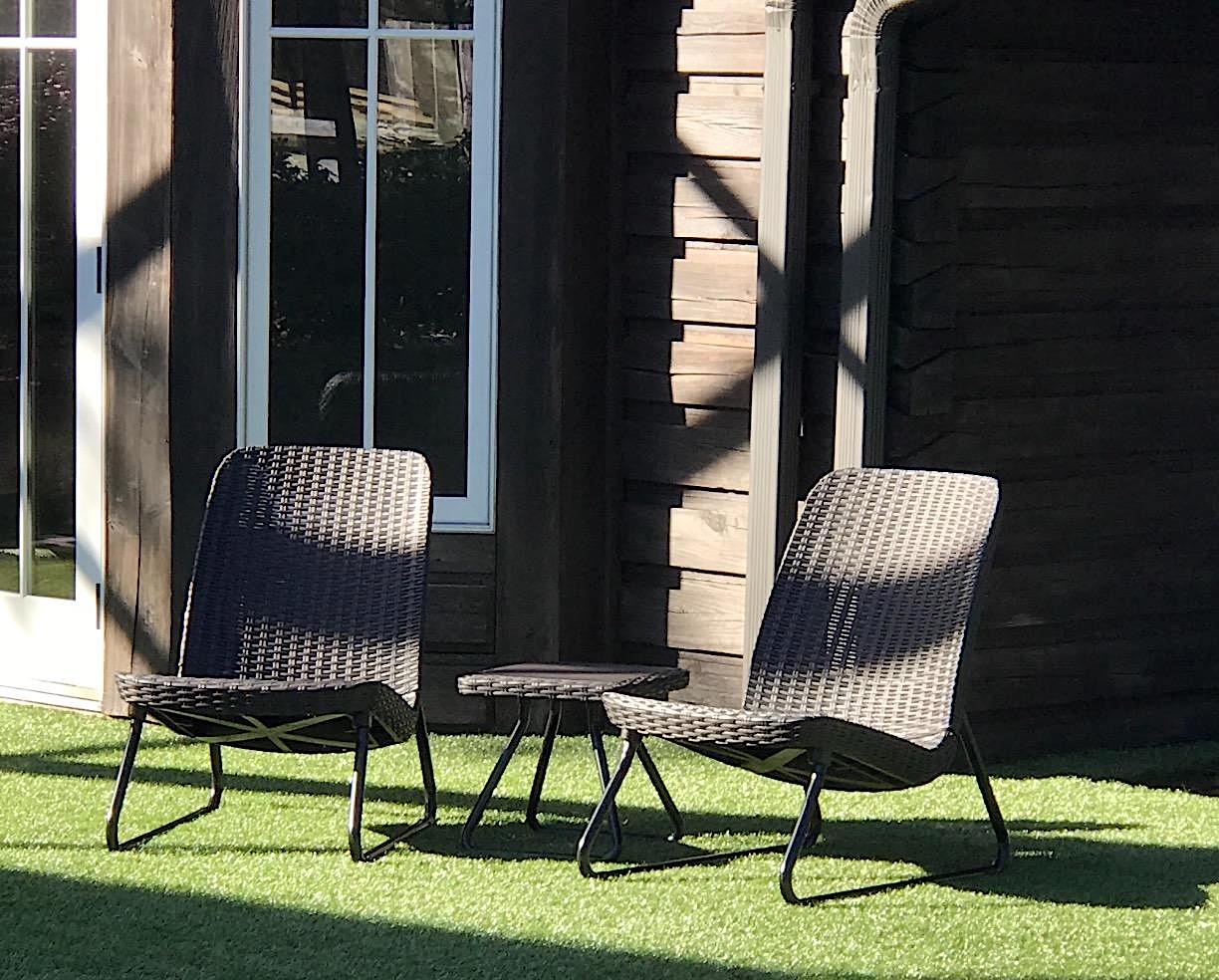 ---
Purchase the product on Amazon Marketplace (USA or CANADA) with free delivery
---