5 Reasons Sauder Harbor View Computer Hutch Desk is The Best WFH Desk
Whether you started working from home during the pandemic, or you decided to start your own business during this time, it's important to have a great desk and a perfect work station. Having the right desk increases one's sense of actually working, instead of sitting in an easy chair or laying in bed to work on a laptop. You will be much more productive, regardless the nature of your work or business.
That said, we can't recommend any desk more than the Sauder Harbor View computer hutch desk sold by Amazon. It is the best work-from-home desk we've seen anywhere. Here are the top five reasons why this desk is the best work-from-home desk for the commuting employees as well as the self-employed.
Storage, Storage, Storage
A great desk has to have room for the basics, but it should also help you store and organize all of the extras. This computer desk does exactly that. It is a desk with hutch unit on top. One large alcove is perfect for a big computer monitor or a large laptop. A second alcove easily fits a printer or a smaller, all-in-one printer/scanner/copier/fax machine. Multiple shelves of various widths and heights in the hutch section allow you to store bills, invoices, important notices and paperwork, even books related to your job or profession.
Down below there are three drawers. The two top drawers are fairly standard pull-out drawers for organizing everything from pens and pencils to paperclips and staplers. The bottom-most drawer is actually a hanging file cabinet; perfect for organizing documents you will need for tax season or other important papers.
The cabinet next to the drawers is typically meant for a computer power tower, but you can put anything you want in there if you are working from a laptop or an all-in-one monitor and computer desktop model. More storage space is available underneath the desk opening for your legs and chair.
The desk itself is made from recycled materials. It doesn't specify what kind of recycled materials, but if you're concerned with saving the planet, this feature is a plus. Wood or plastic recycled desks are all the rage now anyway, and you'll be on trend for having one.
An Attractive Work Space Increases Productivity
If you ever felt yourself just spinning in a chair in a cubicle at work and waiting for break time, you have some idea of why you never completed much. A boring work space devoid of personal style and personal touches causes employees to walk away often just to keep from staring at cubicle walls. Productivity is often low in these types of office spaces, but high when someone has a very nice desk at which to sit and do their work.
Increase productivity at home by having this very nice Sauder desk in a quiet room in your finished basement or an area of the house where kids and pets aren't likely to bother you. You will enjoy coming to your in-home work space at your desk because it's attractive and motivating. Sauder's Harbor View collection has multiple matching pieces to transform any space into a home office, plus you can choose from the salt oak desk finish, antiqued white finish, and antiqued black paint finish.
Well-Known Brand and a Great Warranty
Sauder Furniture is a well-known manufacturer of affordable furniture. They make everything from tables and chairs to beds to office desks and bookshelves. They also provide a five-year manufacturer's warranty, which means that you don't have to buy the five-year extended warranty Amazon offers for $44. If anything happens to your desk in shipping or after it is assembled, simply notify Sauder and they will fix the problem.
The FAQs on This Desk Are Incredible
Over 300 questions and answers about this desk exist on Amazon's sale page. It's quite possibly the most transparent computer desk with a hutch you can buy. What questions are not asked and answered in the FAQs are answered in the many, many customer reviews.
The Reviews Are Incredible Too
A product isn't even good or great if it doesn't rank high and doesn't get the rave reviews and ratings it needs to be a fantastic product. This desk has more than 1500 reviews on Amazon and 74% of them are 5 stars. It is the #1 best selling desk with a hutch Amazon has. The second place desk from Bush Furniture is a cherry desk with less storage and a little more desktop work space, but it can't compare with its paltry 200 reviews and only 67% of those are 5 stars.
Below are some top reviews we found quite promising and informative:
"Great desk. Sturdy & good looking. Just like pics. We use it in a large bedroom used as den. It blends in with furniture & we use it for office work….. love the file drawer cubbies & I do my art work on the pull out computer slab. Souder is always a great buy." – Sharon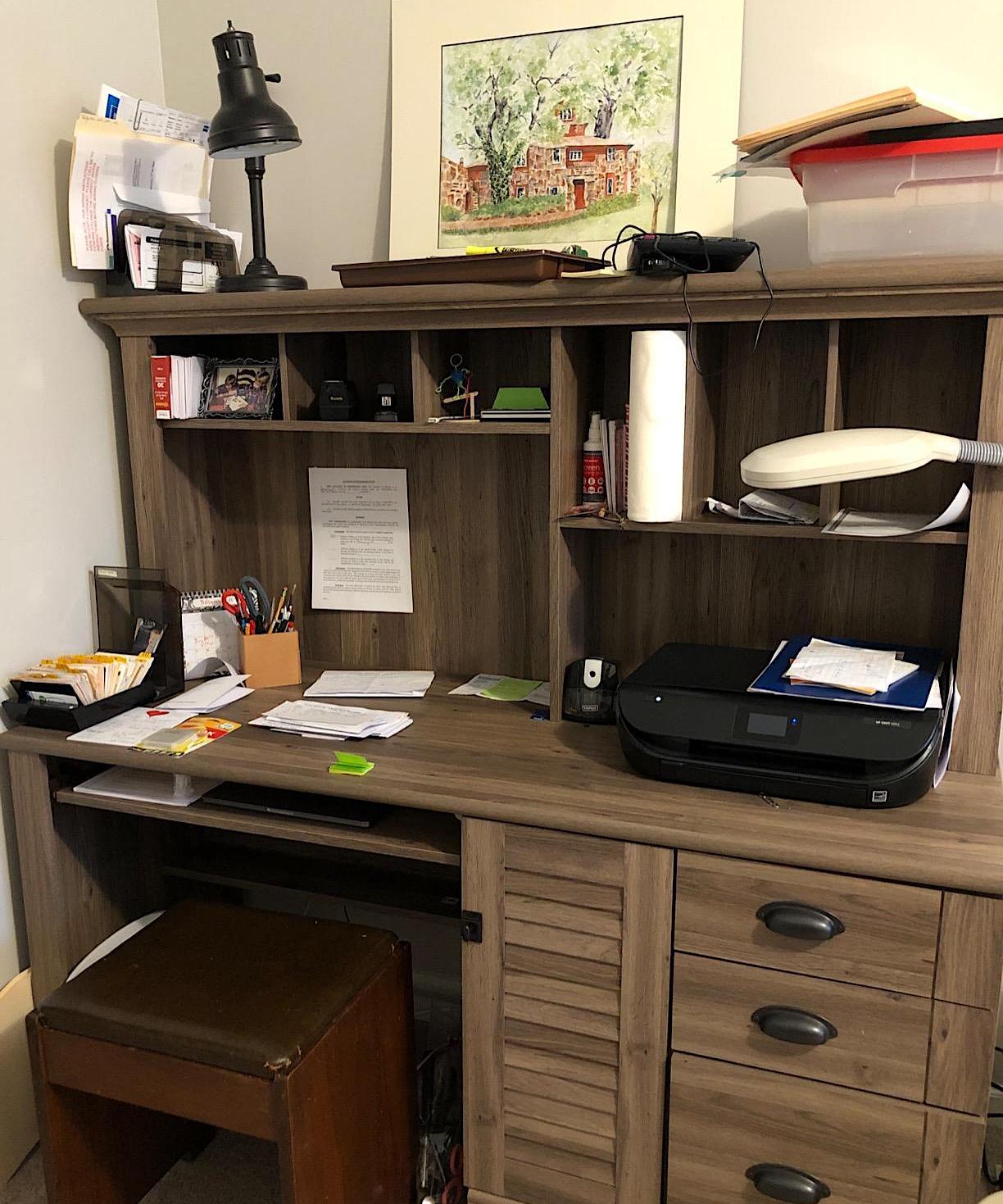 "I ordered this on 1/25/21 and got it on 1/29/21. It comes in 2 boxes (VERY HEAVY). I suggest having another person help you with the boxes if moving it up stairs. The instructions were easy to read. I enjoy the desk and the space it has for my things." – Anonymous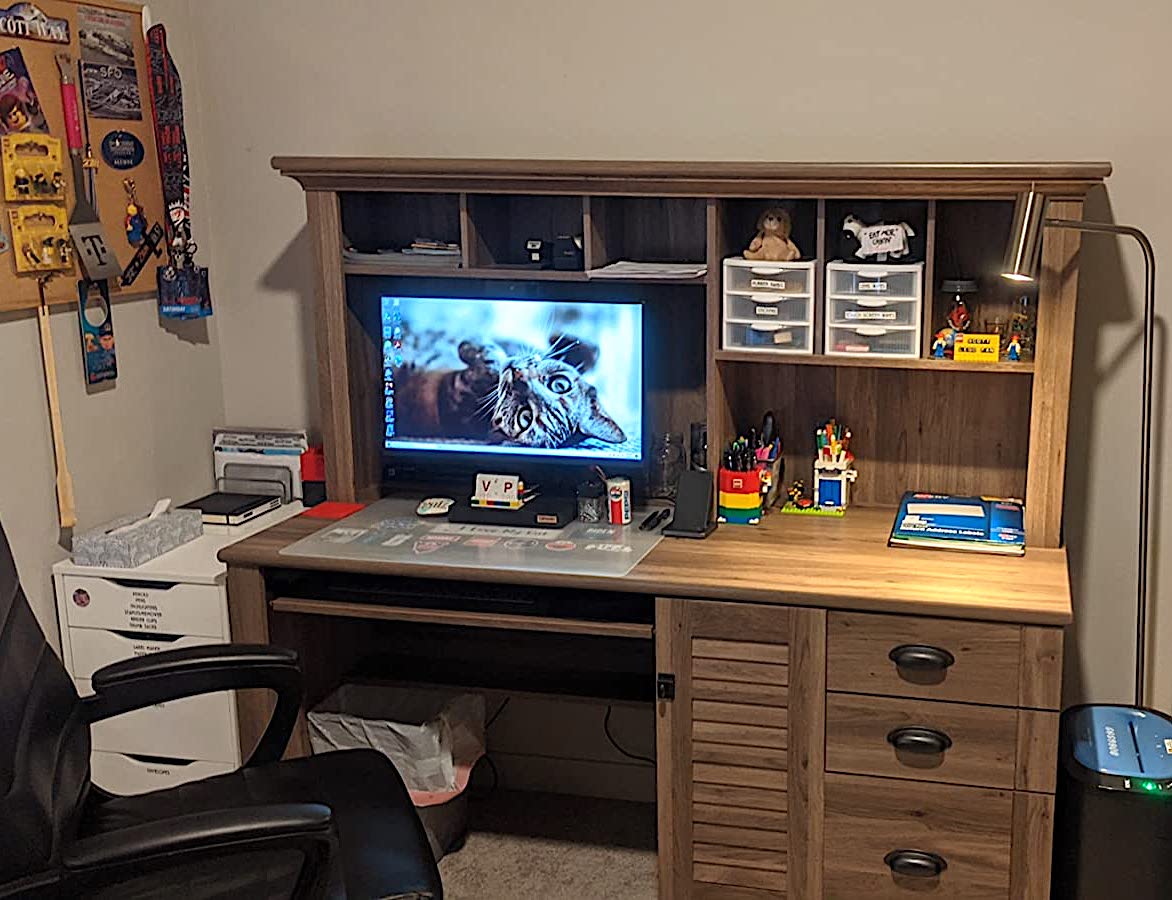 "Great desk, very sturdy. Wasn't as bad as I'd thought to put together after reading the reviews. Looks just like the picture." – Elizabeth C.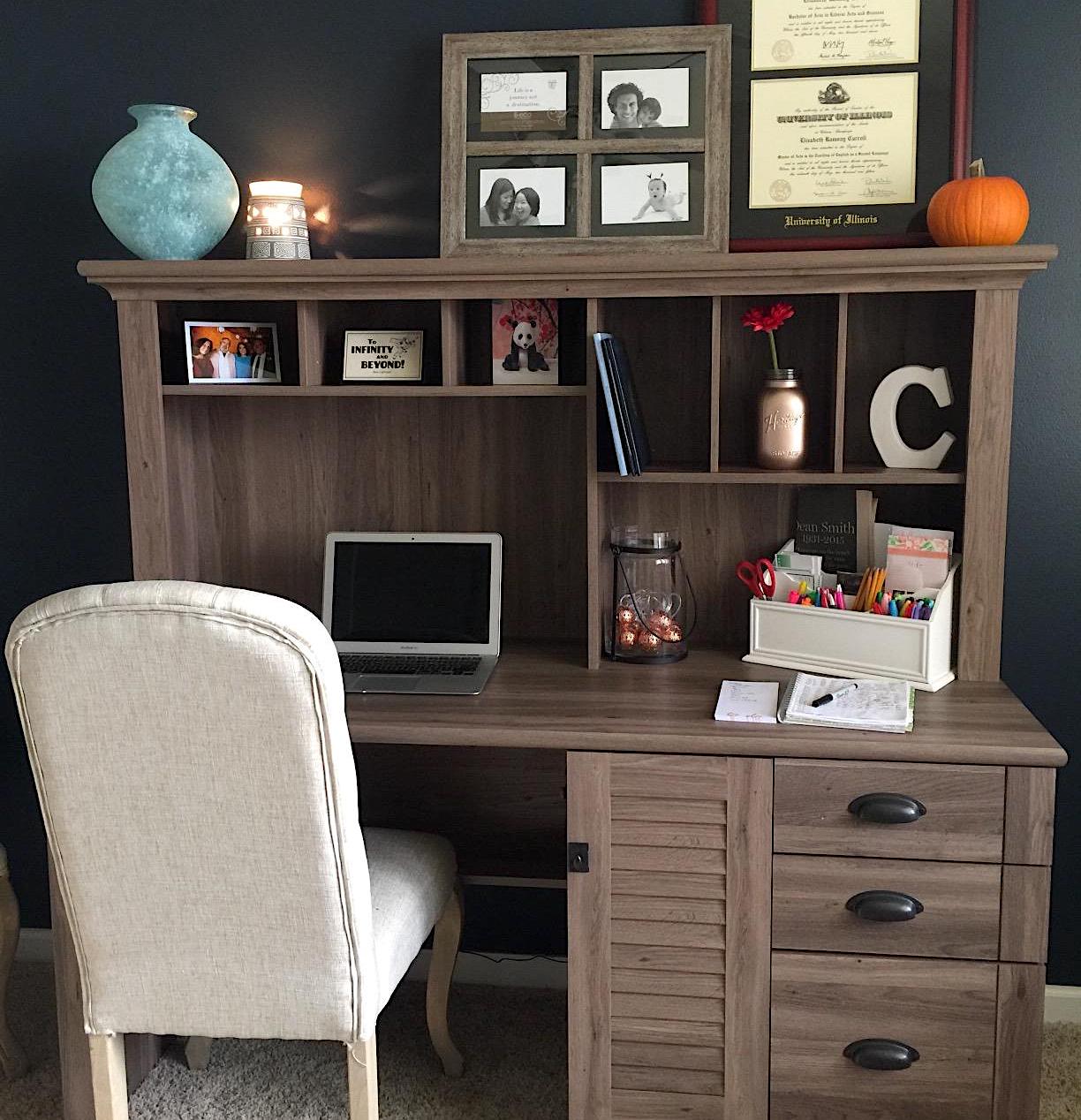 "Best desk I've ever owned! Came in two boxes, one was a little damaged, and a corner was missing a chunk but it was inside so I wasnt that concerned with it. Very nicely built, sturdy, great quality. I would buy this desk again and recommend to anyone!" – KJ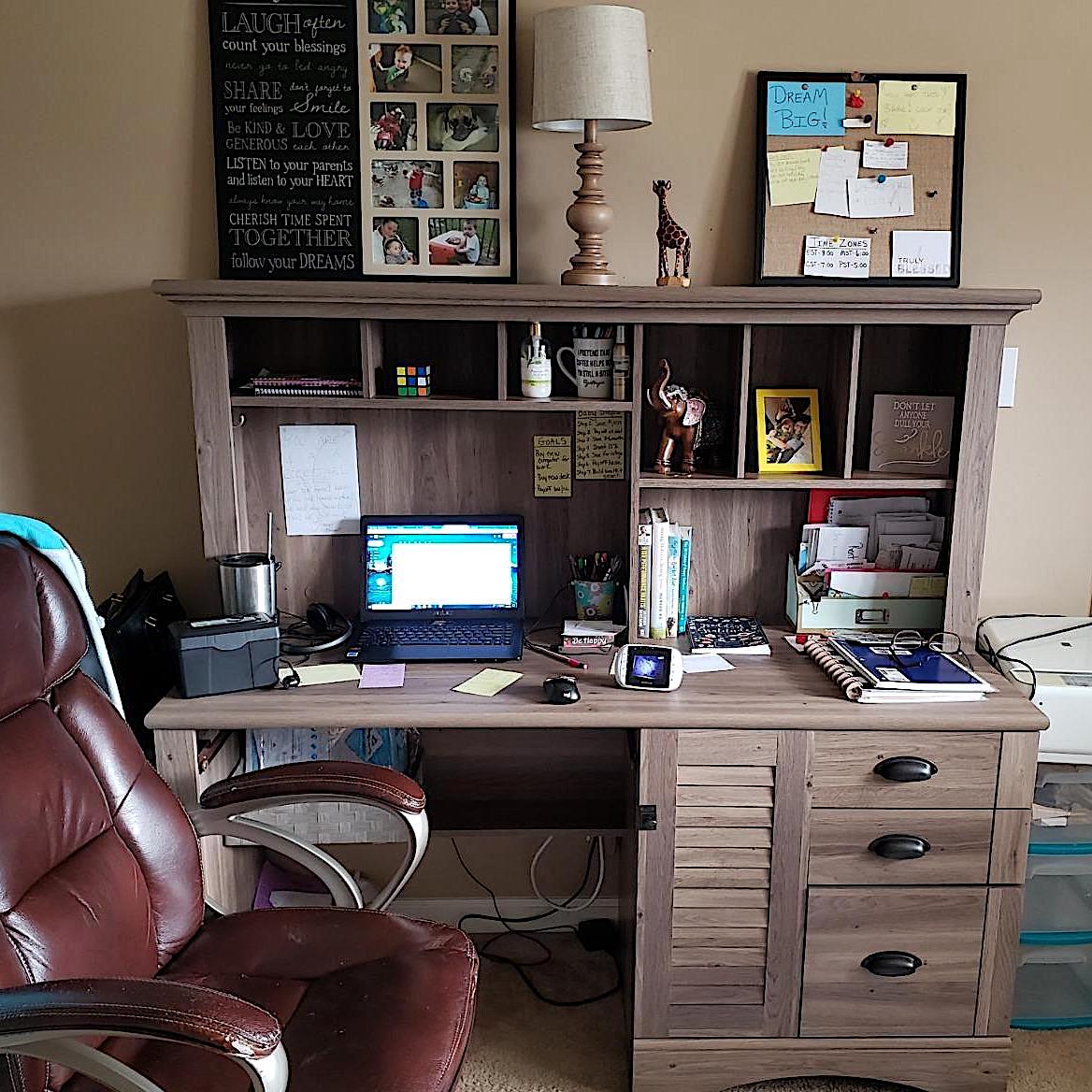 "bsolutely perfect size to hold my cricut and all of my crafting supplies.. Desk showed up with multiple chips and dings but still felt it was a good value. Took about 7 hours to assemble but overall very sturdy. The shelf under the desk was about a half inch too short for space but we off set it so the screws would catch on both sides and its sturdy enough." – Rob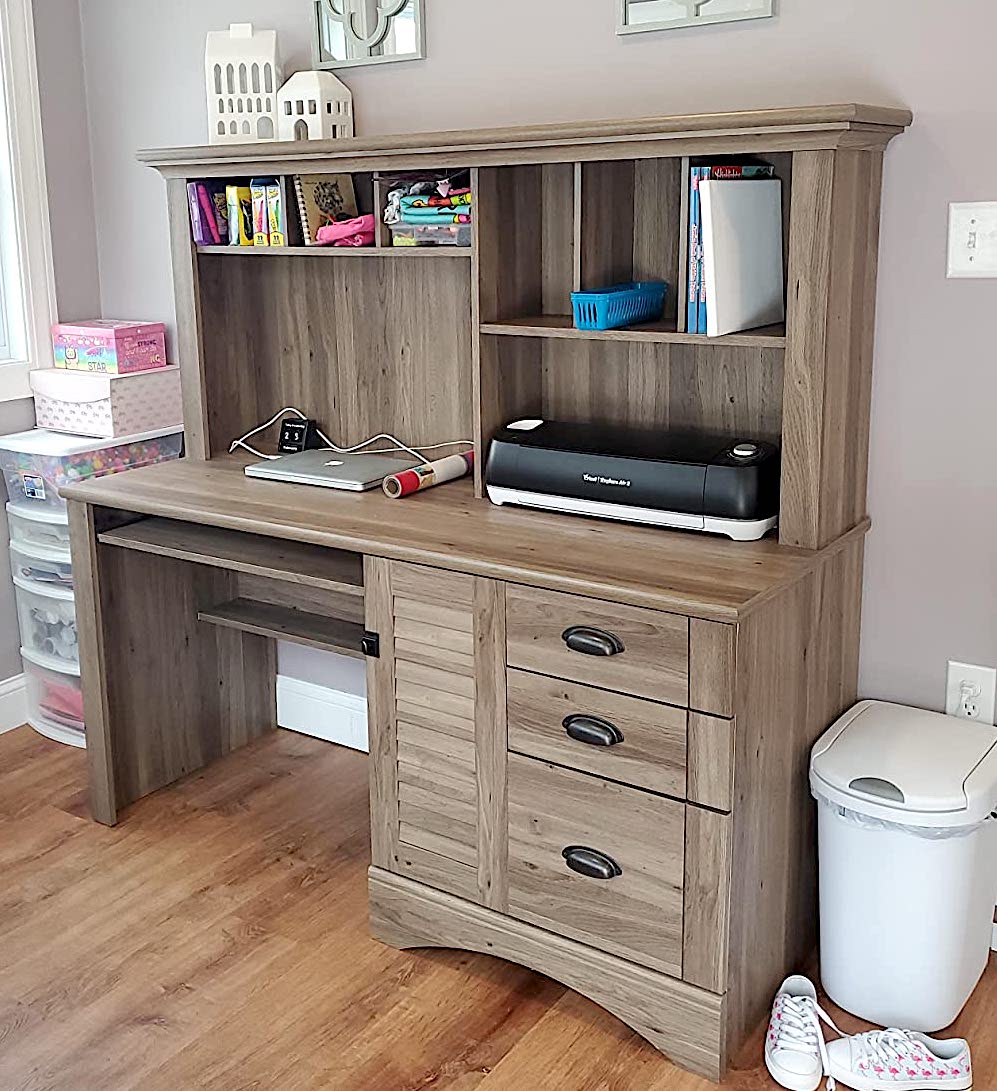 "This is a great desk at reasonable price. The directions are easy to follow if you have any small skills at all. I actually modified the upper right hand pigeonholes in order to provide a space for my laptop, as I do not have a tower. I used the other ones for my docking station, my external hard drive, and my surge protector. I am using the space provided for the tower for storage and to hold my scanner. I have purchased several Sauder products in the past and have never been disappointed. I've attached a photo so that you can see my modifications." – Big Reader
Love this desk! Bought matching bookshelf as well. Very functional and nice! Took a long time to put together but great price and very happy with it overall! – Crue Fan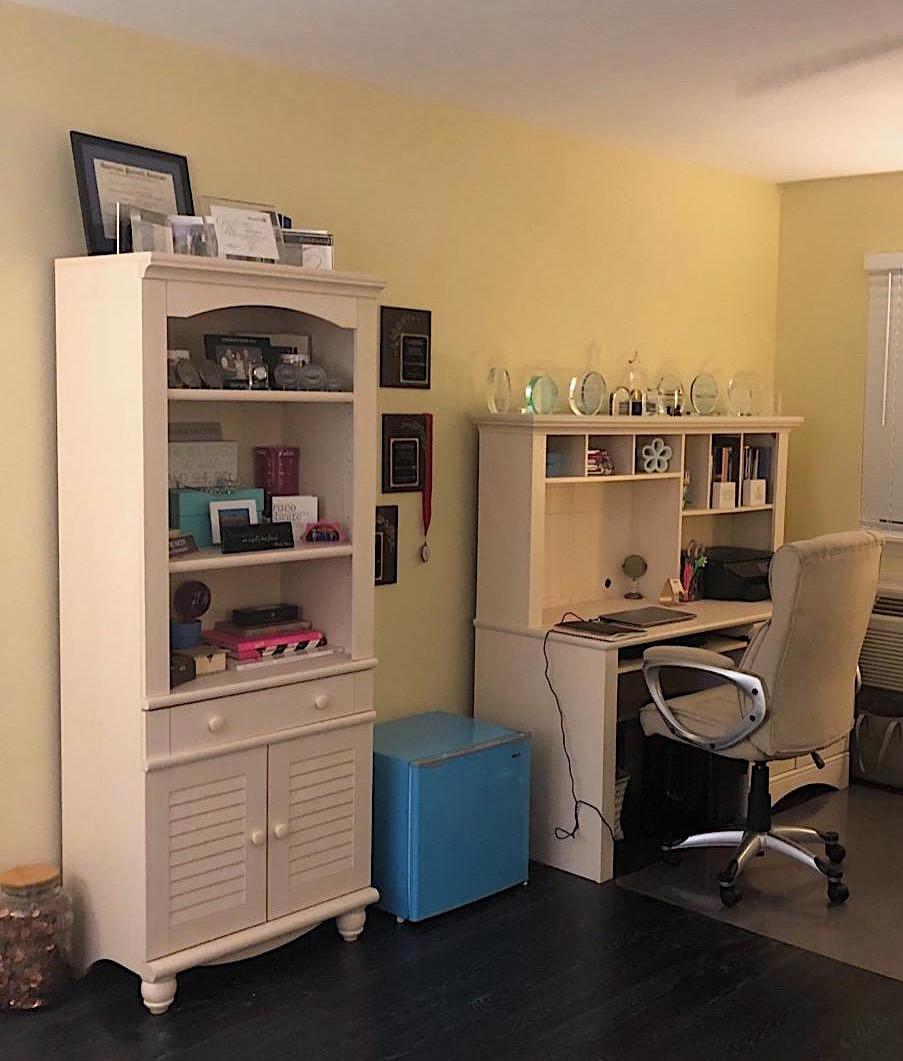 "Even though I rated easy to assemble at 4, sturdiness 4 and storage capacity at 4; the overall rating I gave a 5, because the overall quality of the desk as far as sturdiness, looks and capacity is much better than other self assemble furniture I have bought in the past and the assembly guide is clear and succinct. It did take about 7 hrs to assemble but it went pretty smooth. The one thing I did do that the instructions didn't call for is use wood glue on the edge of the panels to add a little more rigidity to the desk." – Roy65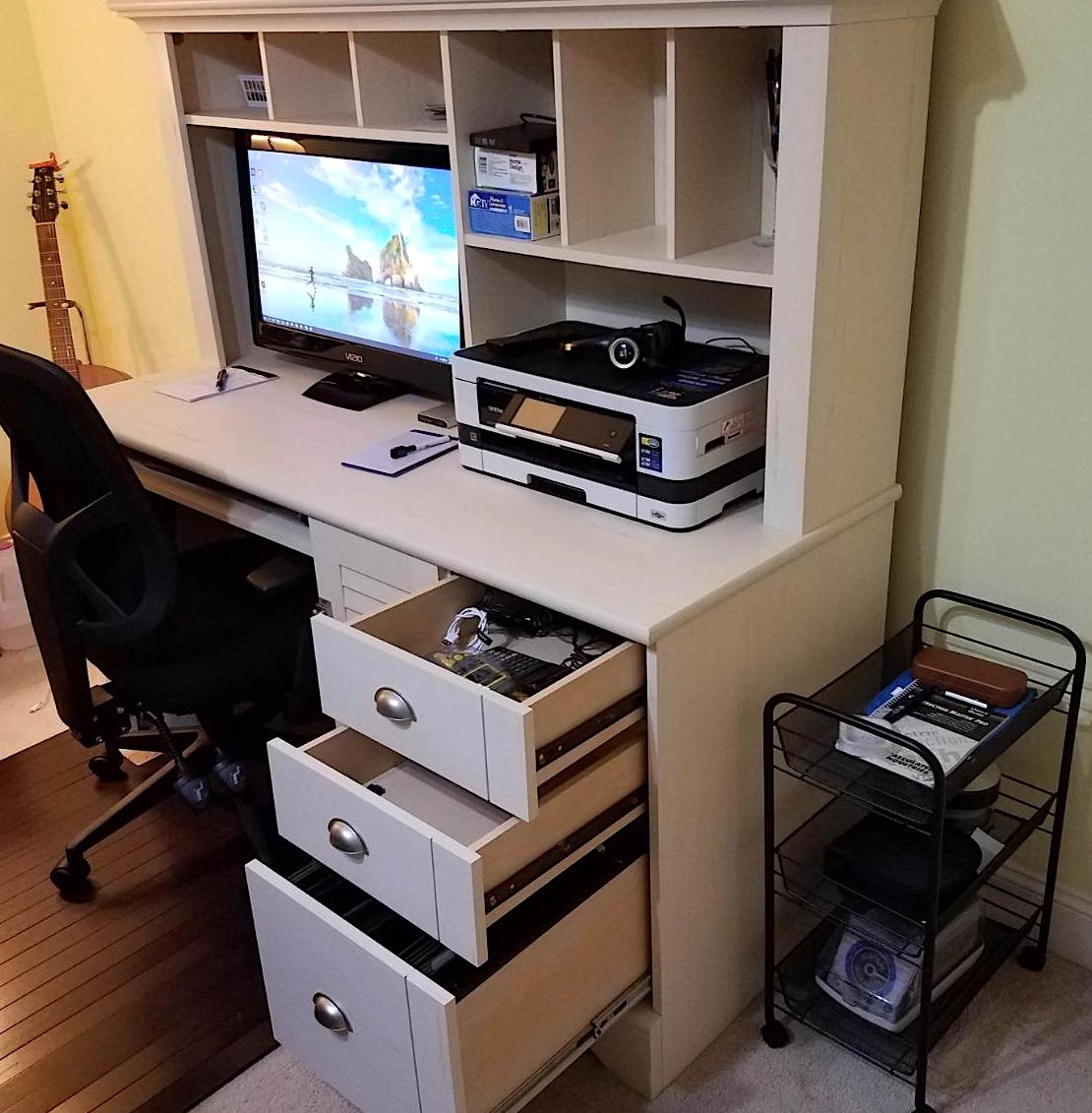 "First off, the desk wasn't supposed to arrive until 12/29 and it made it to the door on 12/23. That's a plus by itself. The desk is very well made and beautiful. It did take my husband quite a while to put together but he did it alone while I was busy with our son. He found it pretty easy and we are both over the moon about how sturdy the desk is and obsessed with the look. It was worth every penny and I can highly recommend it." – Karen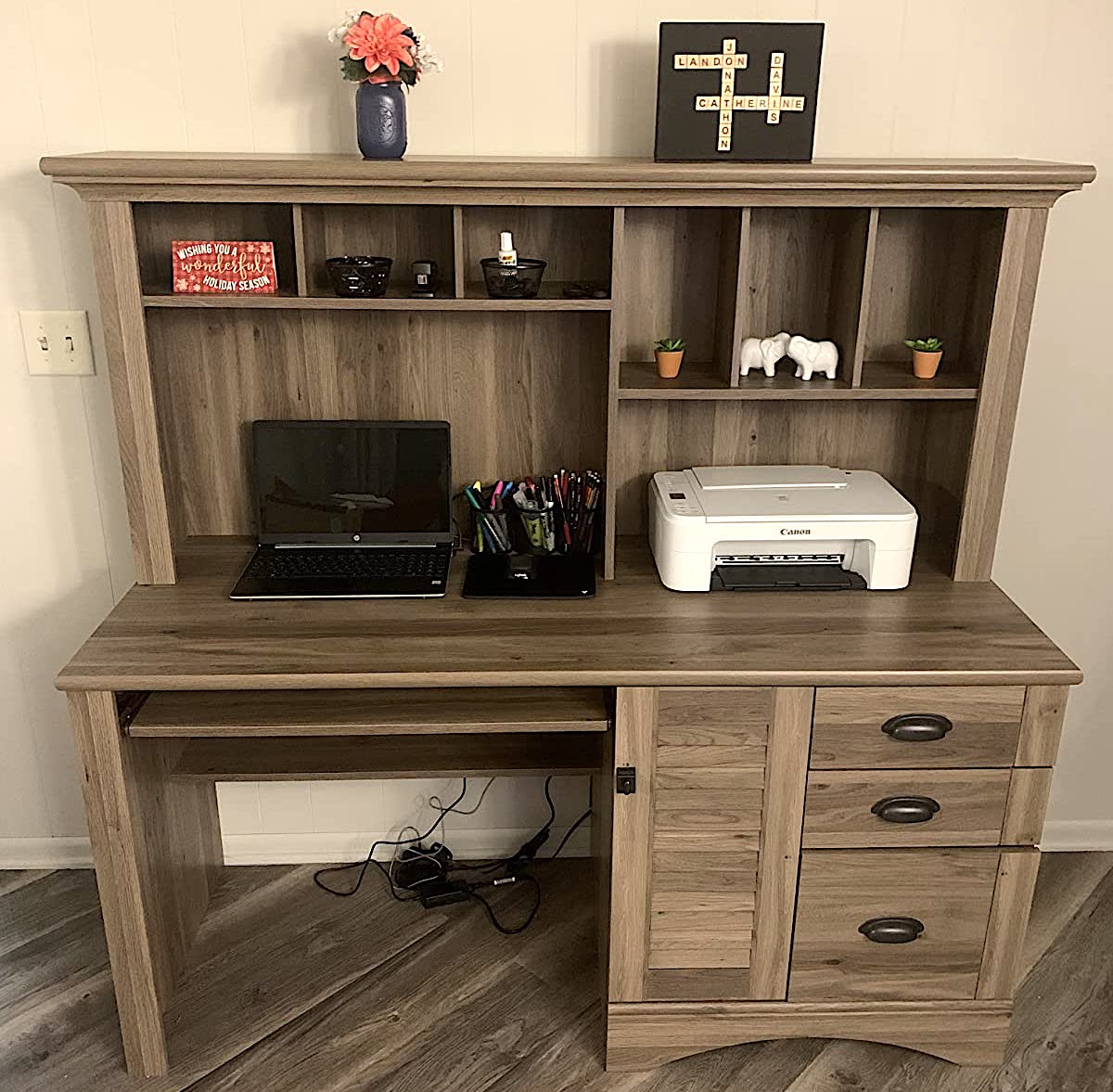 "I love this desk – it's absolutely perfect for the space I had intended. I'm a pretty small person and was able to put this together nearly all by myself in a couple hours or so. It feels very sturdy, has plenty of storage and is great quality! Comes in two REALLY heavy boxes, and is packaged well. I especially appreciated the way the hardware was packaged – super convenient little labeled pouches. Most of the actual desk pieces are labeled, too but the ones that aren't are pretty self-explanatory. I suggest following the instructions in order of the manual… it all makes sense as you get further into it." – Kimberly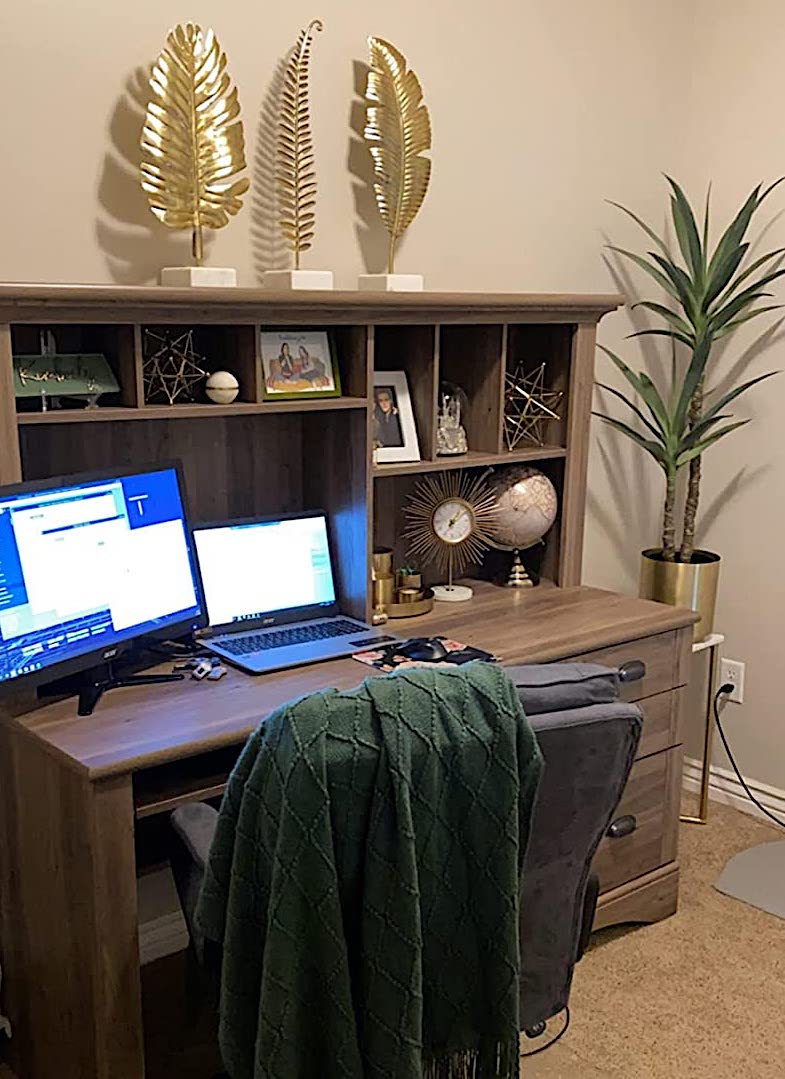 "The quality is amazing! Very heavy and sturdy. I could probably stand and jump on it without fear of it falling apart. It's extremely spacious and has help me get organized. There's a place for everything and everything now has its place. Like the other reviews, it did take a long time to put together. I worked alone and it took me 7 hours by myself. But the instructions were extremely simple to read and has detailed pictures. This is definitely one of those pieces that will last for many many years. This desk is in my bedroom but I think it would have looked great in the living room or dining room. It's just a beautiful piece of furniture that works great in any space. One of my favorite purchases on Amazon. Quality is amazing and well worth the money." – Anonymous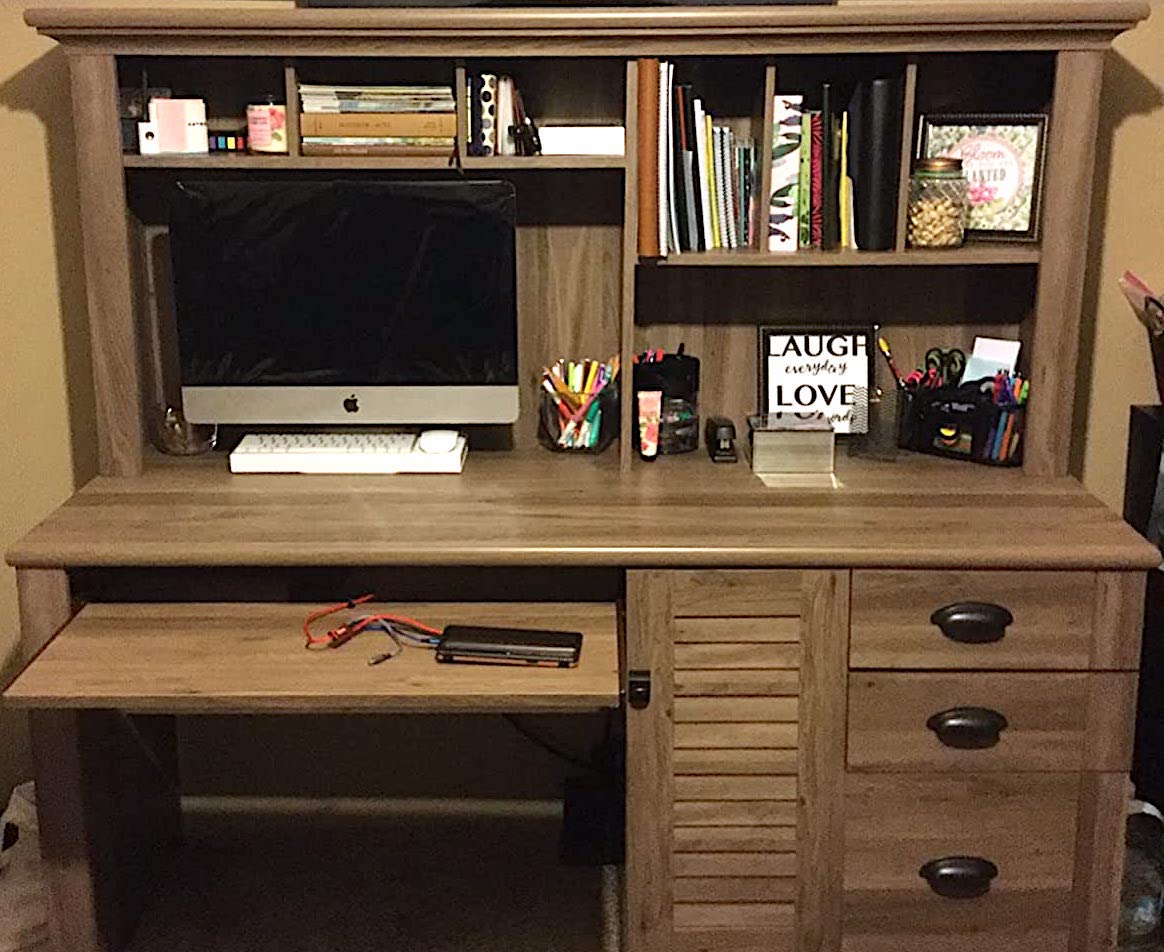 "Love this desk!! It was delivered in 2 extremely heavy boxes and it took my husband almost 3 hours to put it together… but it was so worth it!! The assembly instructions are very clear and simple to follow. The desk is very sturdy and solid weighing approximately 200 pounds. Keep in mind this is not solid wood and the laminate will chip and peel if something sharp digs into it. The color is gorgeous and will go will most any decor. Excellent design and storage, would definitely recommend." – Ransom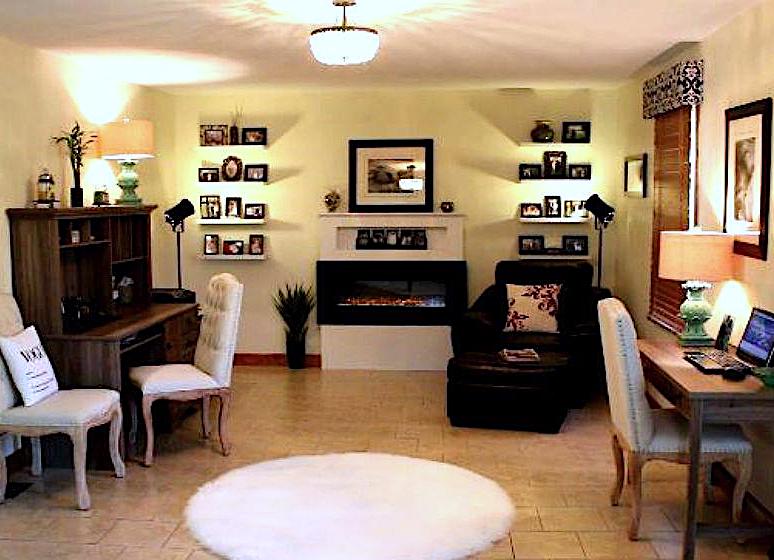 "The hutch and desk pieces are all packaged together, so while you do receive two heavy boxes, it isn't one box for the hutch and one for the desk. It took my husband and I three hours to put the desk and hutch together. All the holes are pre-drilled, so it is just a matter of putting the right pieces together and tightening the screws. The desk is bigger than I expected and has plenty of room for storage. The color is beautiful and while this desk isn't solid wood, it does look very nice and like it cost more than it did. Definitely recommend!" – RK2014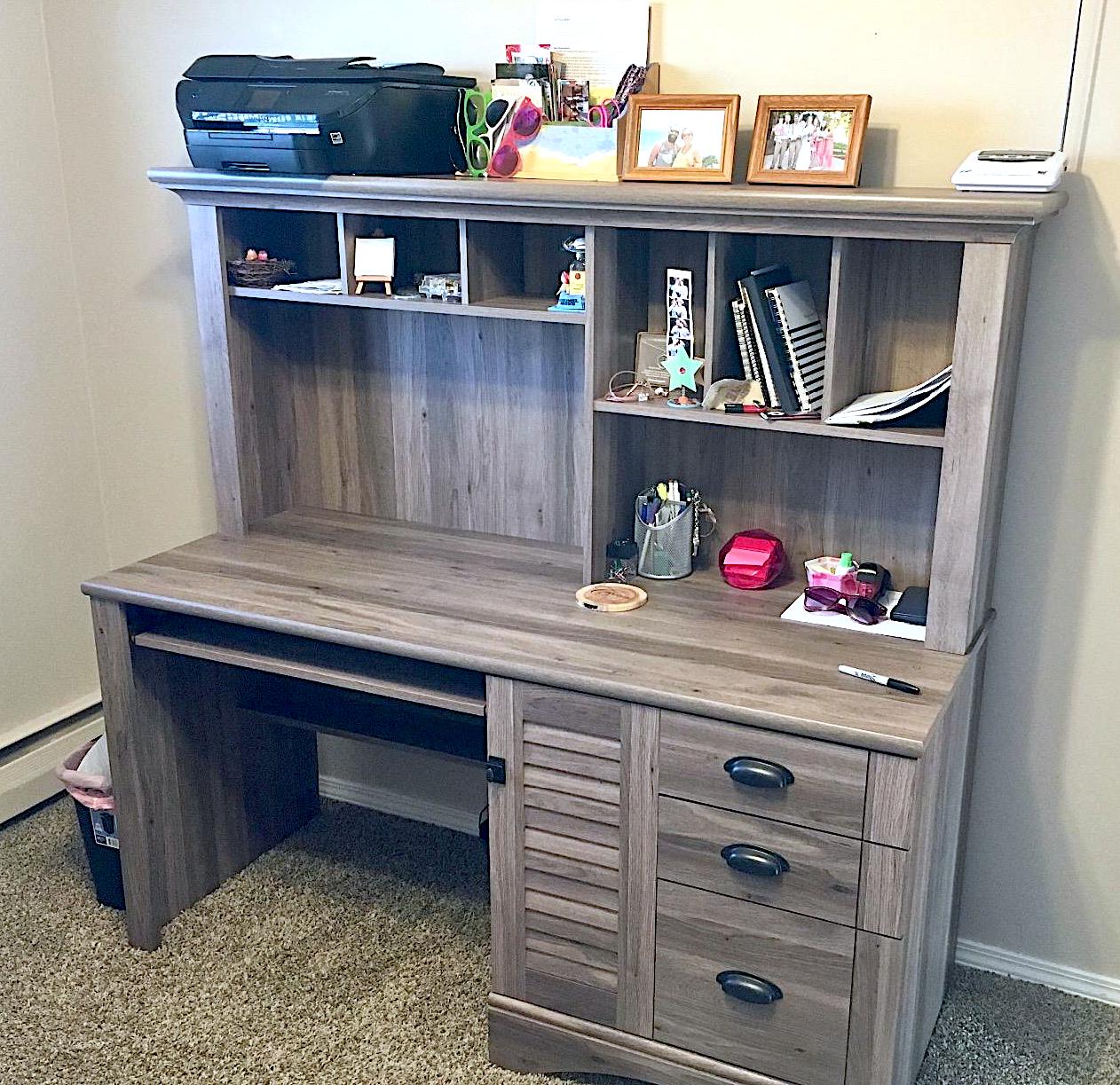 "I love this. It did take several hours to build but I did it mostly by myself (I'm a 42 year old woman) with the aid of a second person only at the stage of turning it over to put on the back panel. It's very sturdy and stable. My only complaints would be (1) the drawers are a little hard to reach due to the CPU cabinet being between you and them, and (2) the drawers are surprisingly small. The top 2 don't extend all the way to the back of the desk which creates a lot of wasted space and the drawers don't hold as much as I would like. The color itself is slightly cooler than the color in the photo but it's actually closer to what I wanted so I don't mind. Also, I was pleasantly surprised to discover there is a removable shelf in the CPU cabinet for those (like myself) who use a laptop, so it doesn't turn into more wasted space." – Aries4475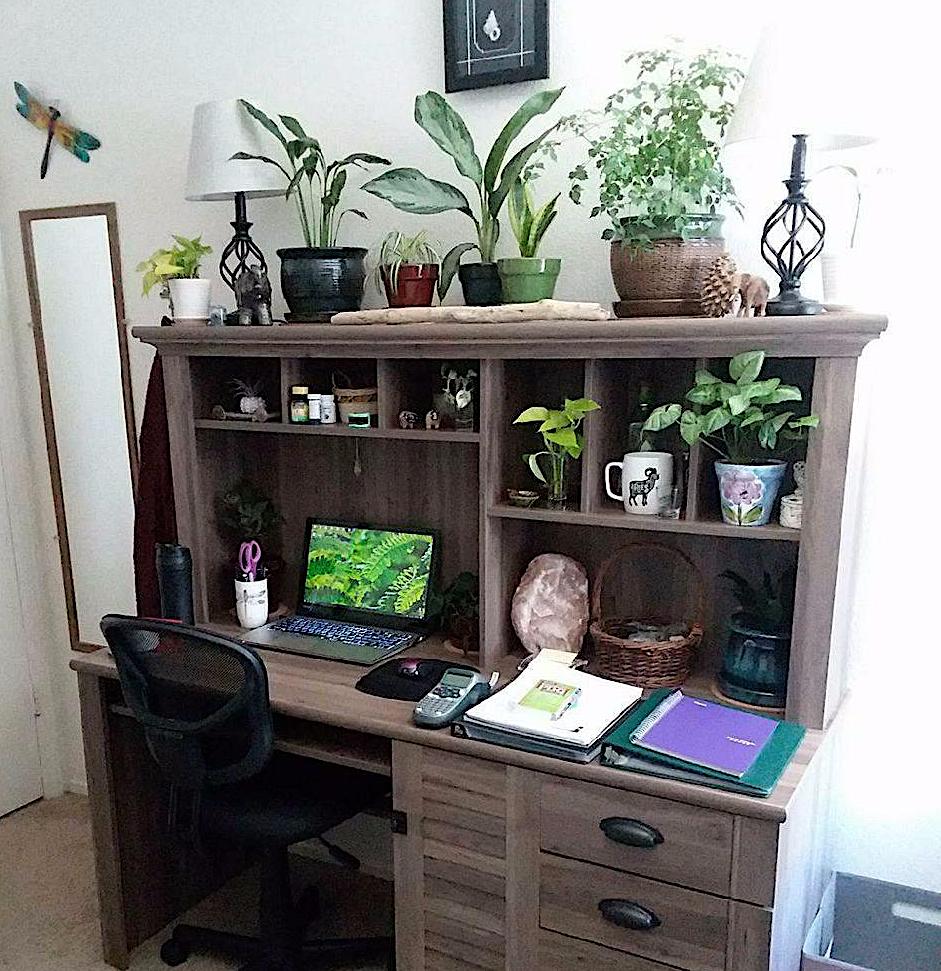 The Harbor View desk is so far ahead of its competition that choosing it is a no-brainer. Buying it from Amazon is also a no-brainer because the shipping is free and the return policy has no comparative competition. Pick the finish you like, order it today, and put it together in your home the day after tomorrow. (Because of the weight of the two boxes being shipped to you, the desk is not available for one-day shipping in most areas of the country.)