[Review] Sauder Carson Forge Lift-Top Coffee Table
Assembly
Assembling this Sauder coffee table took me and my daughter about two hours to complete. I would recommend having two persons do the setup. It gets especially tricky when you get to the top. It is surprisingly heavy. I was impressed with its weight and thickness. You will need someone to hold the top while you put the screws in the hinges. It is important to tighten them for the lifting mechanism to work without any issues.
The Lifting Top
The highlight of this Sauder coffee table is the lifting top. The top is very stable. When raised, the top is flat and level. It lifts up to a good height too. I don't recommend setting a vase or any ceramic items on it though. Items on the surface may slide in the process of moving the top. If you really want to put something on top, you should err on the side of caution and remove those items first before you lift the top up.
The hinges that allow the top to lift up work well. A lot of screws went into securing the hinges in place. The hinges seem tough and more than capable of carrying a reasonable amount of weight. The top stays up even while I type on my laptop. When you lift the top up, you must use two hands to pull it up. You need to support it from both sides. Do it carefully and slowly.
Aside from lifting the top up, the hinges can also push the top forward. That makes the table perfect for eating. We don't need to lean closer to the coffee table just to reach for our food. We can sit comfortably as we eat. I would like it better if the top can lean further in, but for the price and the quality, I couldn't possibly ask for more.
Storage
In terms of storage, this Sauder coffee table nails it. If you lift the top up, it reveals a hidden storage area. I love how the table maximizes all the space there is. You can stuff it with books, blankets, board games, and anything you want close to you in the living room.
Underneath are two open shelves. Because anyone can see what's on them, it's a good idea to get storage baskets to organize your things.
Material
The price pretty much told me that there is no way this could be made of real wood. It really isn't. Even so, it looks like wood from a distance and even up close. The brown looks very natural and not forced. The manufacturer used compressed wood to build this table. However, its thickness and weight all contribute to the coffee table's durability.
Final Thoughts
This can work as an inexpensive alternative for a work desk if you can't fit one in your apartment. It is a beautiful coffee table that would easily go well in any living room. It is very functional too. With the perfect mix of beauty and function, there is nothing to dislike about this Sauder coffee table.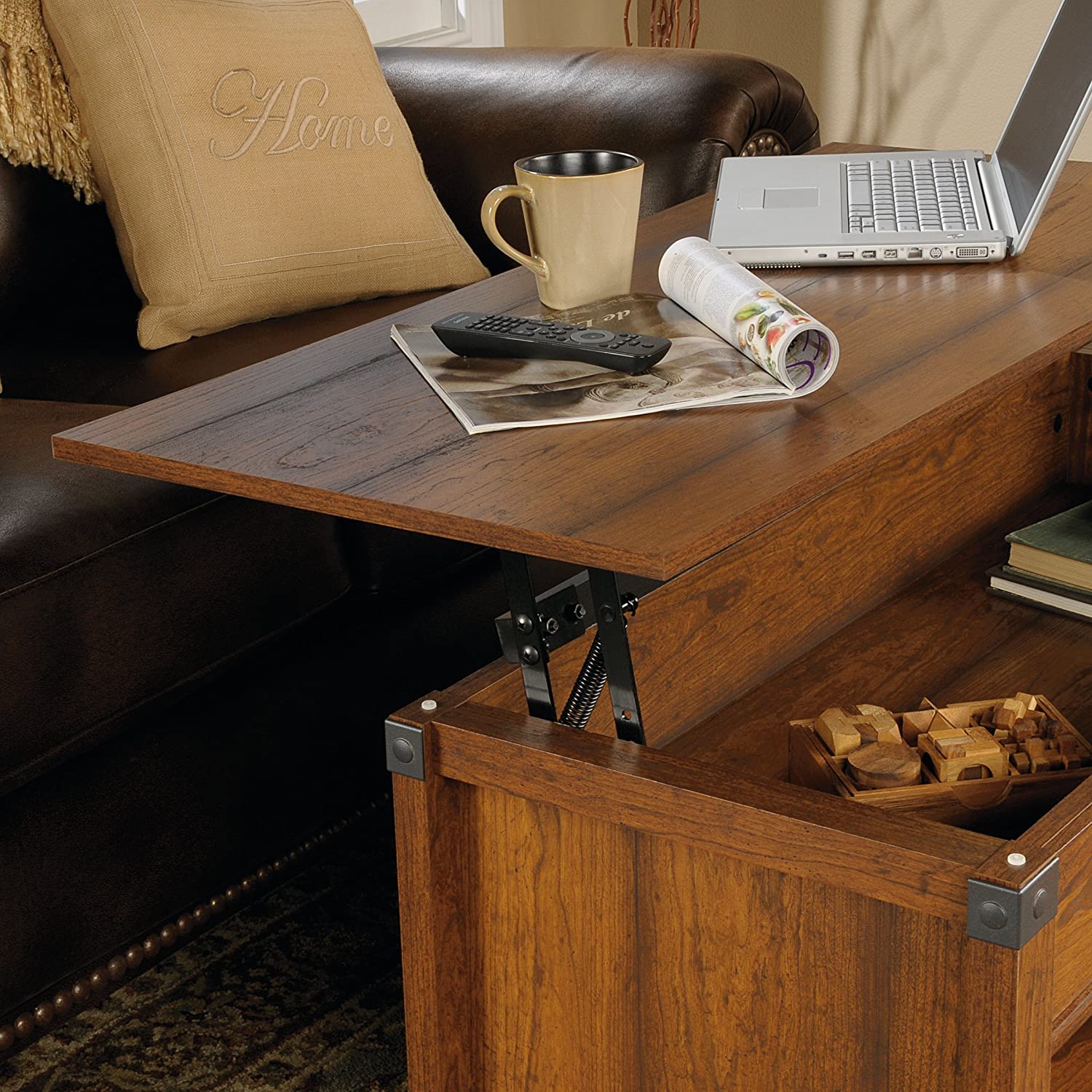 ---
Purchase the product on Amazon Marketplace
---