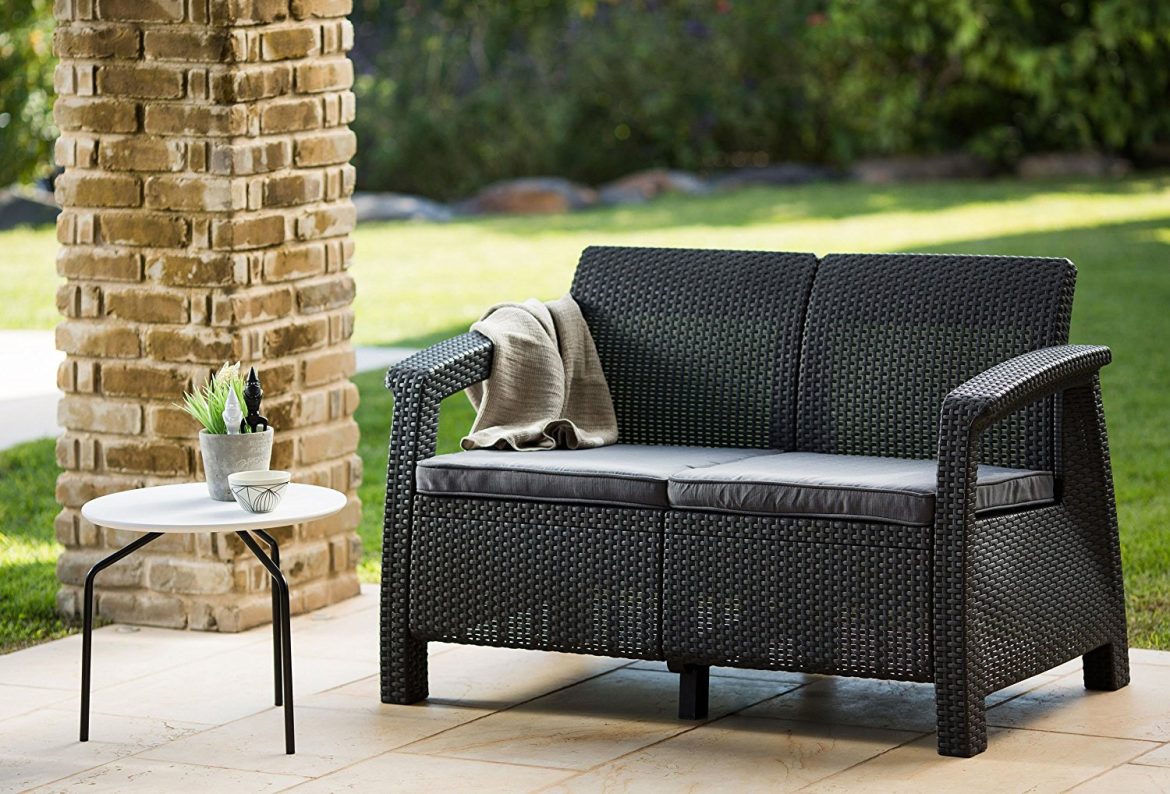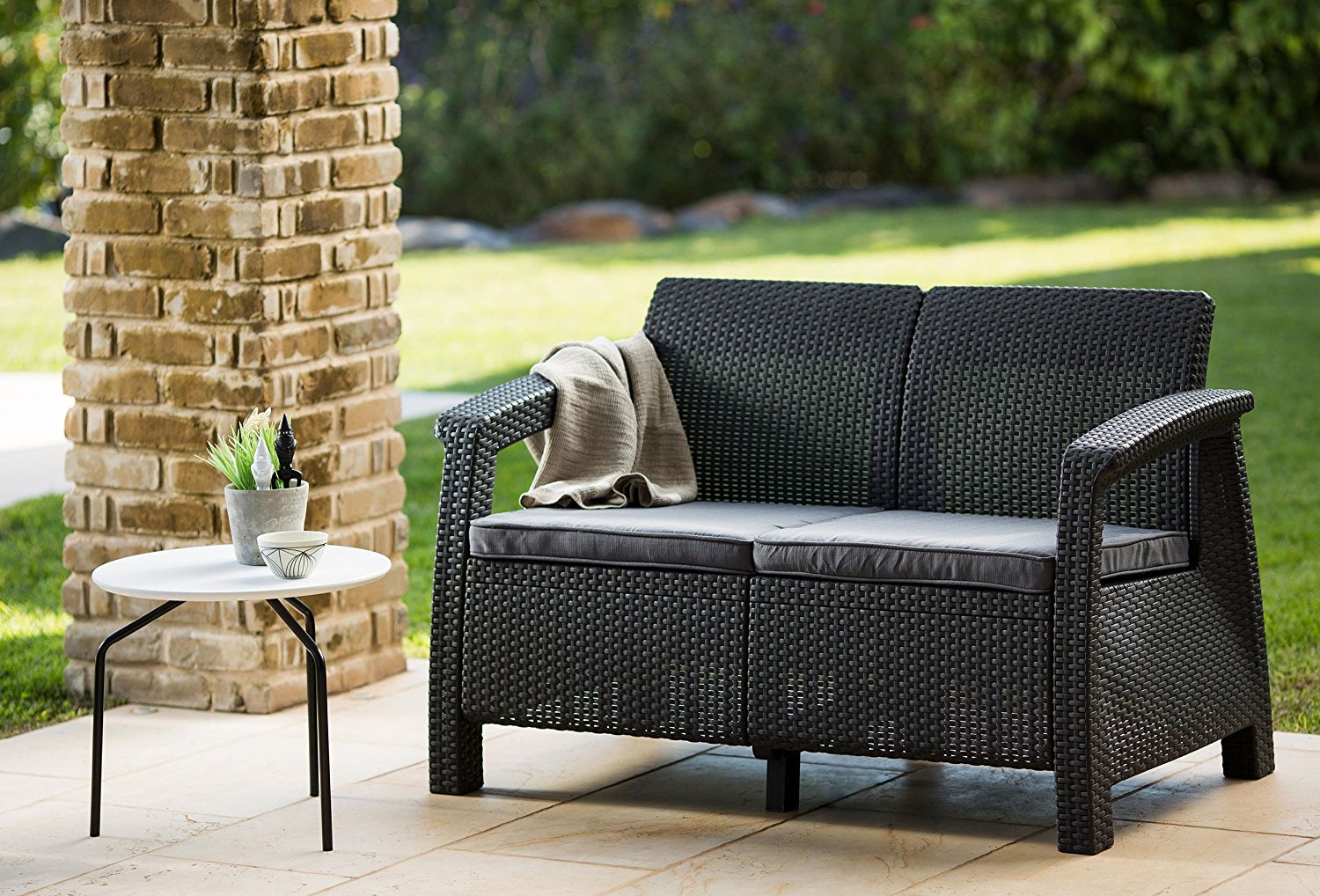 [Review] Keter Corfu Outdoor Patio Loveseat
First Impression
Putting this Keter loveseat together is a breeze. The package already contains a screwdriver, so that's a big plus. None of the pieces were missing, and everything came damage-free. The instructions are very simple. I believe someone very handy could assemble the loveseat without looking at the directions. I am a woman in her late 50s, and I did the assembly in under 30 minutes. If you're much younger, it would take you shorter to finish the setup.
I have already read from the reviews that all pieces are plastic, even the screws. Nevertheless, it still came as a surprise when I saw that everything is indeed plastic! It almost felt like putting Lego blocks together except that I had to use the supplied screwdriver.
The loveseat is a good size. It is actually wider than I have expected, so I am very pleased. That was my main concern when I ordered the loveseat. The charcoal color is black and not grey. I have no qualms about it. In fact, I'm happy with it as the black matches everything. We have the loveseat on our balcony outside the master bedroom. Once you have put this together, you'll find it more attractive than it looks in the picture.
I was honestly apprehensive about the price of the loveseat. It's wider than the other loveseats on Amazon, so I wondered why this one is less expensive. This also has a lot of positive reviews. A low-quality product can't possibly get great reviews. That's why I figured buying the loveseat is a risk worth taking. After seeing the actual product, I instantly knew that the gamble has paid off. My husband couldn't believe his eyes when I told him I charged his card for less than $200 for the purchase. It is very stylish. I love the clean look, and I'm sure anyone who likes minimalist design would too. It's something that would look beautiful from a distance and up close.
Construction – A
The construction is better than I have anticipated. As I said earlier, the loveseat is made of plastic. Mind you, this is not just any flimsy plastic. This is a solid, tough plastic. As long as you don't stand on the loveseat, it should last a long time. Don't be the one to leave a bad review because you weren't wise enough to keep yourself from standing on the seat.
For people living near the beach, the all-plastic construction of the loveseat is perfect. We used to live in a beach community, and we struggled with keeping our furniture rust-free. I've been there, folks. If only I knew that an all-plastic loveseat exists, we wouldn't have struggled as much as we did before. Since there are no metal pieces, nothing would rust or corrode. This means longevity and hassle-free maintenance for the loveseat. It doesn't dirty easily. You can hose it down without worrying about rust. You can leave it in the rain too. It dries fast, but at times, you can catch some watermarks on the surface.
Construction – B
The plastic is made to look like wicker. If you have other wicker furniture, this loveseat would have no problem blending in. The plastic strips are woven tight and flat, so it's smooth enough and won't hurt your back or legs. Thanks to the open weave, the seat does not trap debris and water. It allows air to pass through too. That's something you would appreciate more in the summer.
The fact that the loveseat is made of plastic makes it lightweight and easy to move around. Despite that, it won't get blown away by strong winds. It has a decent weight to it, just enough so it won't topple over or go off balance. That's unless you try to sit on the armrest without anyone on the seat. The loveseat doesn't have a steel frame like other outdoor furniture do, but the plastic is made to retain its shape. You may notice a bit of sagging on the seat, but that happens naturally with use. Even normal wicker furniture are susceptible to sagging as well.
As described, the material can withstand different weather conditions. Do take note that extreme temperatures could make plastic brittle. It is a must that you keep this inside the house during the winter. If you don't have room for it anywhere else in the house, you can disassemble it and put it together again when the extreme cold is gone. We have the loveseat under a roof, but the sun can reach it in the morning. I believe anyone who has the loveseat out without a roof should get a cover for this. The plastic is weather-resistant, but that doesn't mean to say that it's indestructible.
The plastic legs won't scratch your floor as much as steel legs would. We can pull this across the floor and not worry about scratches. There is an extra leg in the center that provides stability to the loveseat. 9 months in, and I don't see any fading on the seat.
Comfort – A
Despite being made with plastic, the loveseat is very comfortable. The plastic has a smooth texture to it as a matter of fact.
As shown in the pictures, this loveseat has seat cushions and none for the back. The back cushions are something you can add, but really, there is no need for one. The padding on the seat cushions are not as thick as I would have liked, but I can replace them later on when they're flat from use. I don't mind that at all, though. Given how cheap I got the loveseat for, the cushions are a welcome bonus. Plus, the cushions are easy to replace. A trip to the furniture store can get you thicker and plusher cushions. The cushion covers have zippers on them, which means you can remove them for washing. The covers are a bit thick, so they won't tear apart easily.
Others may need to find a way to keep the cushions in place, more so if they have the loveseat where heavy winds blow. I think Velcro tabs would do the trick. Anyway, the loveseat is comfortable enough without any cushions. The back is curved, which adds to the comfort. It gives you that lounge-y feel. If you're after back support, throw pillows would be great. Getting pillows with a bright color would be nice, as they would make your loveseat pop. I love that the armrests are angled.
Comfort – B
When the loveseat has been under the sun, the surface does get hot. It is advisable that you wait until it gets cooler before you sit. If you have kids around, you should ask them to stay away from the loveseat while it is hot.
The loveseat sits a little low to the ground. My husband, who is more than 6 feet tall, thinks the height is fine. It allows him to lounge and lean his back even more. I am 5'4", and I find the loveseat very comfortable as well.
With me and my husband sitting close to each other, this leaves us with space on our sides. The chair easily fits two, but you could fit three if you are all on the thin side. A loveseat is an excellent seating option if you have a small space in your home. Our balcony is not that spacious, and this loveseat fits in no problem. I and my husband just wanted somewhere we could lounge in cool afternoons and evenings. Something as simple as this loveseat worked well for us. If you're buying the loveseat for entertaining, you should have another set of chairs too. With just the loveseat, it won't work since it can only accommodate two at best. We also got the matching coffee table. The table is the perfect size for the loveseat, so I would recommend getting it as well.
My Two Cents
In terms of price, appearance,, and size, this loveseat is a steal. I know how hard it is to shop for furniture online since you don't get to see it up front until it arrives on your doorstep. That's why I'm making it easier for you by writing this review.
This is for people looking to add to their existing outdoor furniture set or those who want to create a lounge area in their homes. This Keter loveseat won't disappoint.
It holds up well to the elements, which is pretty much everything you could expect from an outdoor furniture. The beautiful design would surely earn you compliments from your guests. Plus, you don't need to worry about rust making your loveseat look unattractive in the long run. The loveseat does the job I purchased it for, so I couldn't be happier.
This is not the first time I have ordered something from Keter. Yet again, the company has not failed to exceed my expectations. – Sarah S
---
Brand: Keter
Product: Corfu Love Seat All Weather Outdoor Patio Garden Furniture
---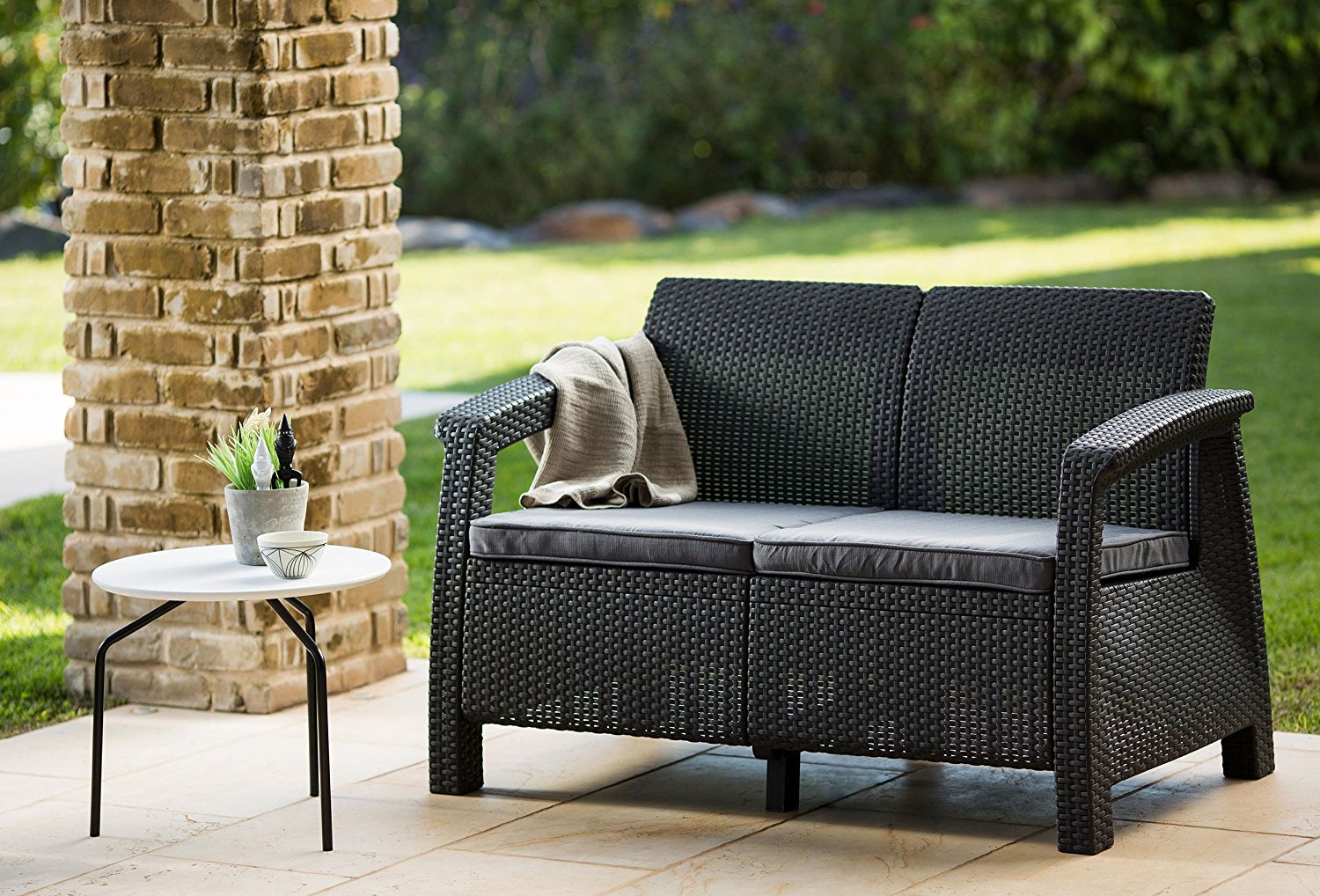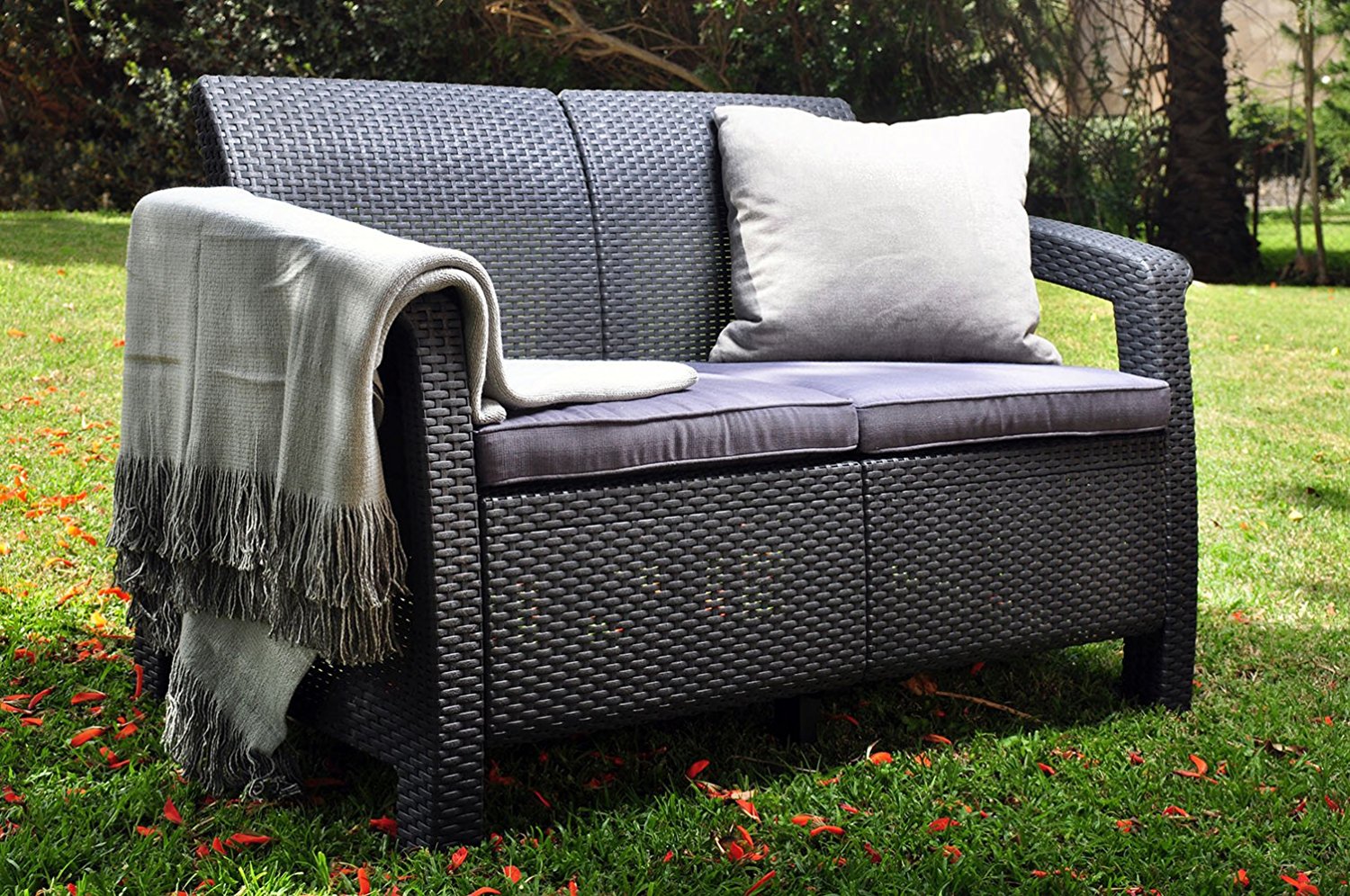 ---
Purchase the product on Amazon Marketplace