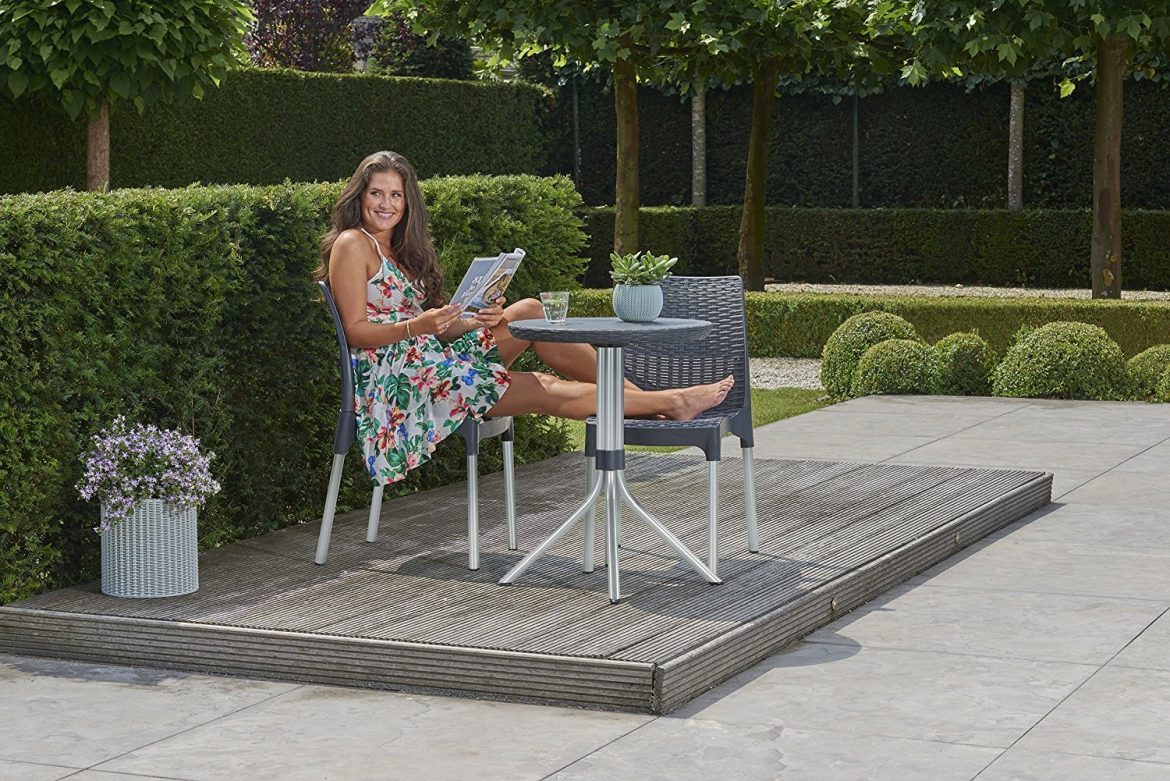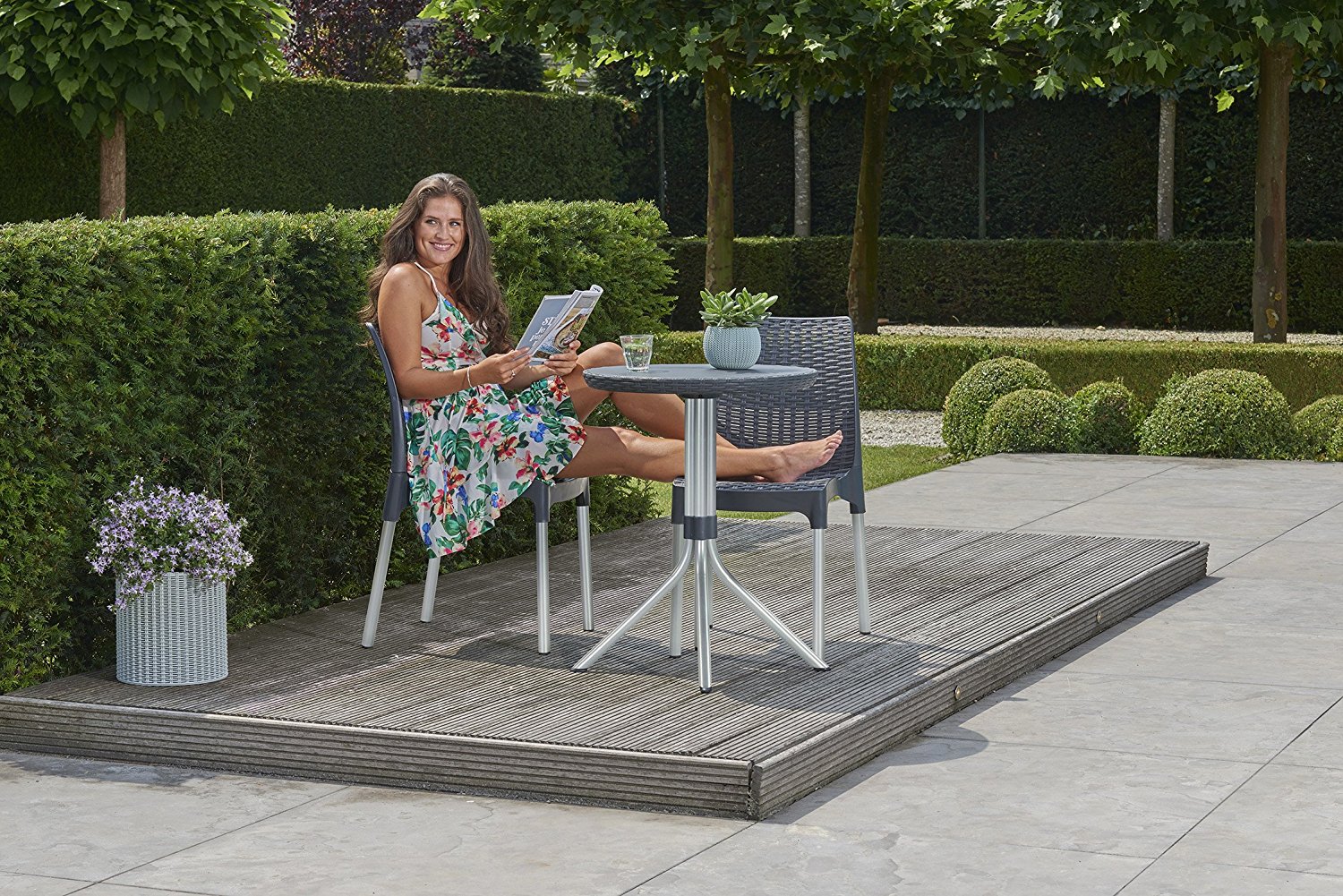 [Review] Keter Chelsea Outdoor Patio Dining Bistro Set
First Things First
I did the setup all by myself. I'm a 50-year-old woman, and I'm not good with my hands. Thankfully, the instructions are very clear and straightforward. If I can do it, I'm confident anyone can take on the job of putting this three-piece set together. There is only one screw, and everything went together like Lego blocks. You just have to push the legs into the holes under the seats. Due to the ease of assembly, I would choose this over those from Ikea a million times over. I did the setup in under 30 minutes. All parts came without any dents or scratches.
We don't have a big space in our yard, so we needed something that's not that large. This bistro set came in perfect. With two chairs and one small table, it's everything we need – no more and no less. It's just me and my husband in the house. We have no kids, and we rarely have guests over. As you can gather, two chairs are enough for us. The set is a practical choice if you're simply looking for a small bistro set for your patio or yard. I could also see this work as a dining table in small apartments.
Design
The set actually looks exactly like the ones restaurants have in their outdoor area. It looks very classy and sophisticated. It also appears more expensive than it really is. The simplicity of the set makes it very easy to go with your existing decors and furniture. The black and the gray would go well with just about anything. It has a modern feel to it, which is something I like.
The only thing I would change about the chairs is to make them stackable. That would make them easier to store when they're not in use or if a storm is coming. Nevertheless, the chairs and table are small enough to fit in our garage. They're light too, so I don't mind carrying them all the way to our garage.
I also considered the foldable options on Amazon, but I felt that they won't last as long as ordinary sets would. I think they're too light and would easily get blown away by strong gusts of wind. They don't look as sleek too. Sacrificing the durability of the set for its portability is just not worth it for me.
Comfort
The seats are much more comfortable than I expected. I set my expectations low because they don't have cushions. I ordered this set thinking I would get ordinary seats, but instead, I got seats that I don't mind sitting for an hour on. The curve on the seat conforms to your back, so you can lean comfortably. It leans back just a little so you can relax, but it's upright enough to use for dining. The resin won't hurt your legs and back. Putting a thin throw pillow on the seat would work great if you want a better back support. The seats are wide enough to fit adults with regular to large built. The height is excellent as well.
The absence of cushions makes this the perfect set for outdoor use. You don't have to run and take the cushions into the house when all of a sudden it starts to rain. I love the convenience of just leaving the set out in our yard, rain or shine.
The seats do wobble. However, once you sit on them, the weight would keep them from wobbling. The table doesn't wobble too, which is great. You can set drinks on top of the table without the fear of spilling them. The table works great for my husband who would occasionally bring work home. It helps that the table doesn't wobble. It keeps him focused on his work.
While the pieces are light enough to be carried around, they have a good weight to them. The wind won't be able to blow them away. The seats are not the type that you would fall over from. Because they have a nice weight, the seats get to maintain their balance.
Table
The table is just the right size for two people to drink coffee or eat without issues. I have no complaints about it, but I could see how others would find it quite small. Anyway, this set is made for people looking for a compact set to save space in their home. The table's height is adjustable, which is a really good feature.
Another thing that I like about this bistro set is that the tabletop is flat. The top is not made of woven strips of resin. Only the edge is. That makes it easier to balance cups and glasses on the surface. The other sets I've checked out have tables with woven tops. It would be a struggle to keep your drinks from rocking on top of those tables. There is also no need to use coasters. You can wipe away any water ring marks.
Both I and my husband are heavy coffee drinkers. Drinking our daily cup of coffee with this bistro set feels like we're in a café. That's without the crowd or noisy chatter typical in cafés. The only thing missing is a good coffee maker for us to brew with. Thanks to this set, we can relax and unwind in the comforts of our own home.
The set doesn't require any special form of maintenance. The resin is very easy to keep clean, while the metal legs don't rust. The company does provide information about the recommended way to clean the set. It's by mixing vinegar with water and soaking a cloth with this solution to remove dirt from the resin. I rarely do that though. I don't know if it's just me, but I think hosing the seats and table is enough. This simple act effectively gets rid of dust on the surface. I hose it around once a week. I think that's why dirt doesn't get to accumulate on my set. Just think about it. The longer you wait, the more dust there will be on your set. The table's surface is easy to wipe clean as well.
Durability
What I like most about the set is that the pieces are supported by metal legs. The metal legs make them more stable than if they were made of plastic. As I mentioned earlier, the legs don't rust. The black resin doesn't peel or fade. I've had the set in our yard and exposed to the elements, yet I don't see any signs of rot, rust, or tearing apart. I believe it's safe to conclude that this bistro set is weather-resistant. You can leave it outdoors without worrying about how it would hold up. Just don't leave it outside during the winter. I can't vouch for its durability in extremely cold temperatures. Plus, the weight of the snow might tear the weave apart. It is better to wait for it to get warmer than risk breaking the set. It's doing fine in the extreme California heat though. If you're still uncomfortable about leaving the bistro set under the sun, you can have it under a shade or roof.
The legs are tough. You don't need to worry about them bending under your weight. The seats' weight limit is at 300 lbs., which is pretty heavy. I haven't tested it out yet with someone who is nearly that weight, but I can tell you that the seats are very sturdy. The pieces are all tough enough for daily use.
By the way, the legs have rubber caps on each end. They keep the chairs and table in place. They also protect your floor from scratches, especially when you slide the seats out from under the table. That's great if you have sensitive flooring on your deck or porch.
The weave doesn't come loose. The thought of unraveling weave almost stopped me from ordering this particular set. However, reading a lot of positive reviews about its durability eased some of my worries. I haven't noticed any sagging on the seats either.
My Two Cents
This is not something you get to entertain guests, but it could be if you get two or more sets of these. You can pair this with other bigger patio furniture too. The more the merrier, right? With its compact design, you can have a bistro set without taking up too much space. That's coming from someone who has a small yard. Believe me, you can.
I am extremely pleased with my purchase. For the set's durability, this is a fantastic deal. The quality is far better than what you would expect for the price. I have been looking for an attractive yet inexpensive bistro set, so I was delighted when I came across this one. I don't regret buying this, and I would gladly buy this again if we have room for another set. – Jenny K
---
Brand: Keter
Product: Chelsea 3-Piece Resin Outdoor Patio Furniture Dining Bistro Set with Patio Table and Chairs
---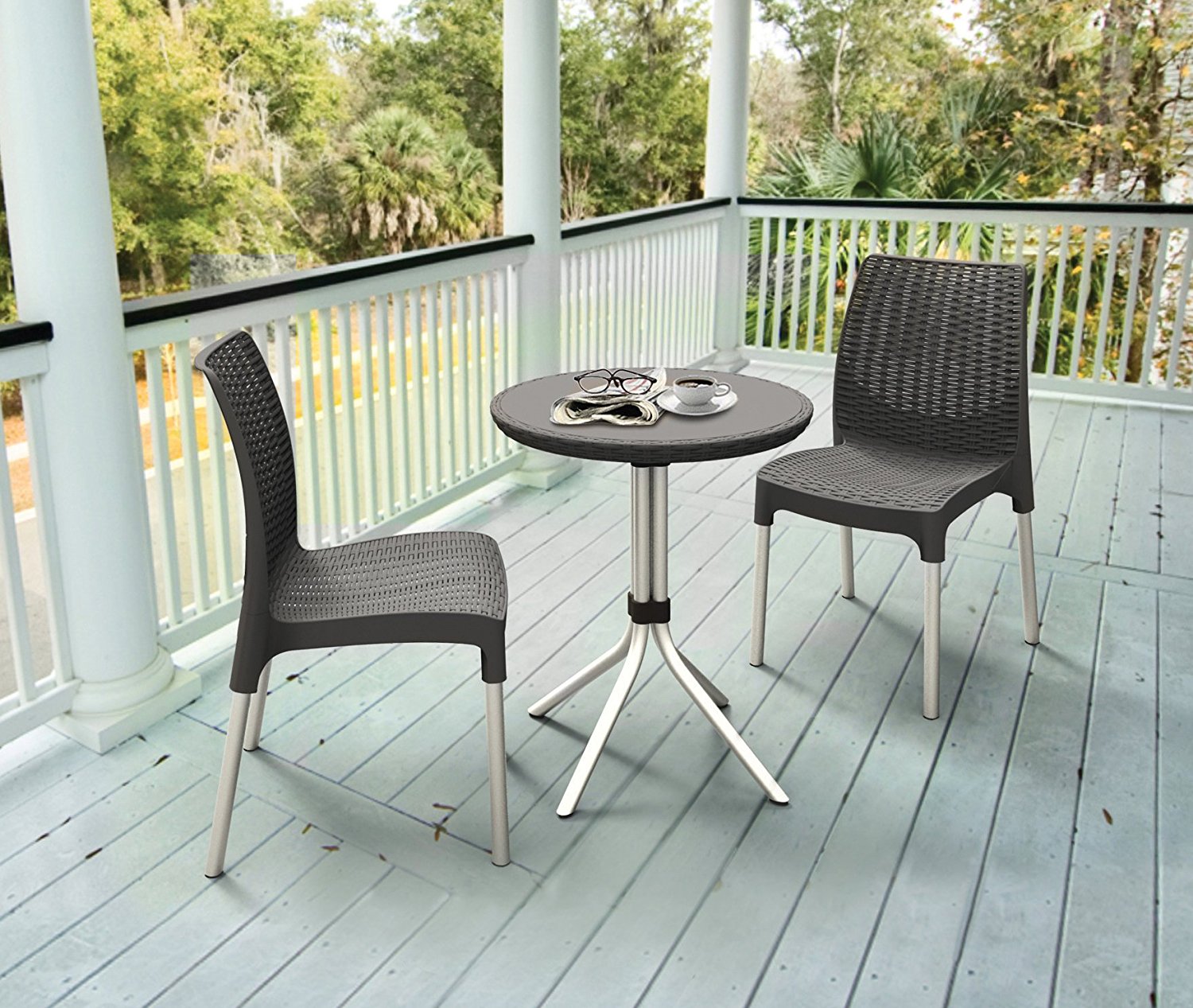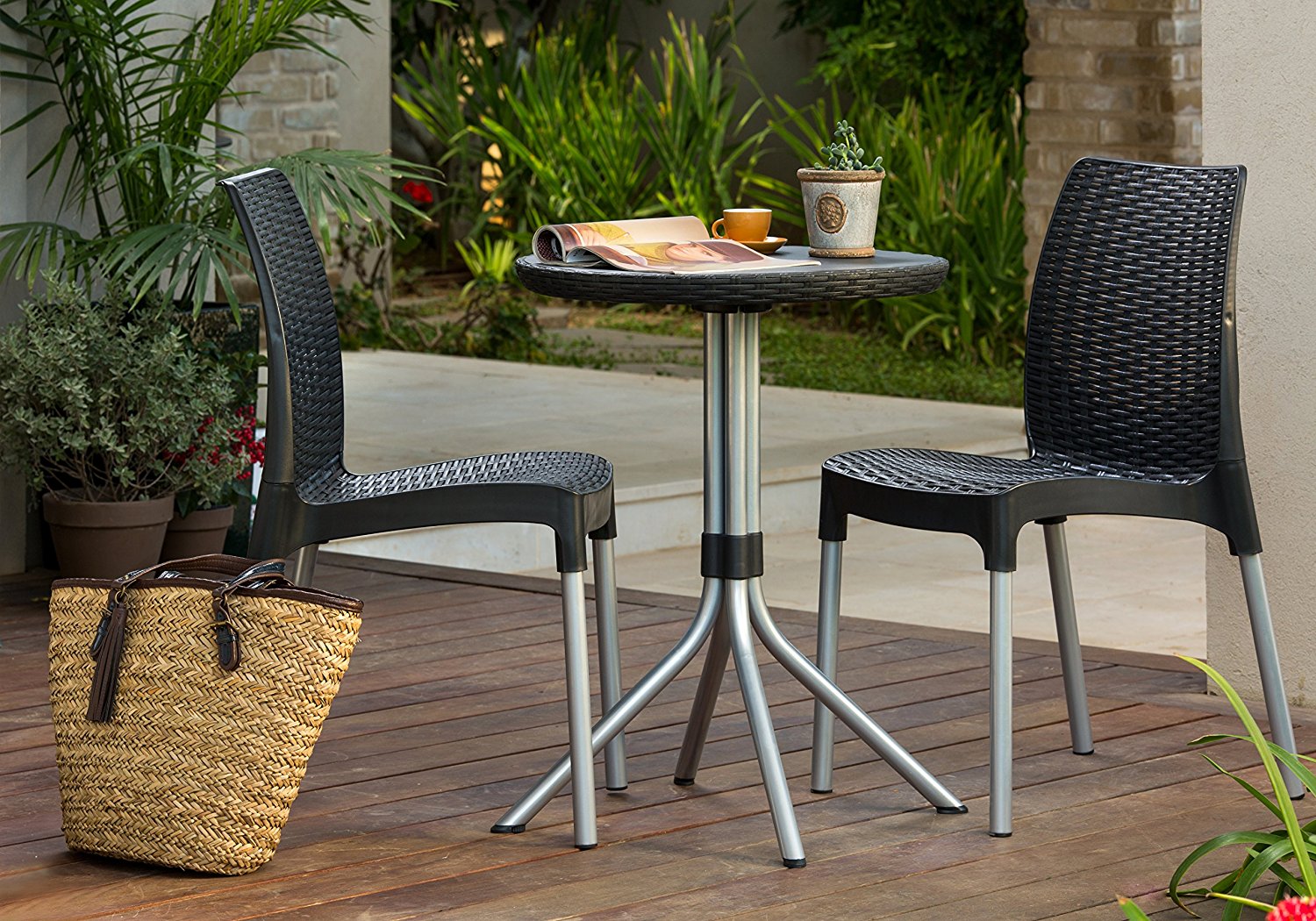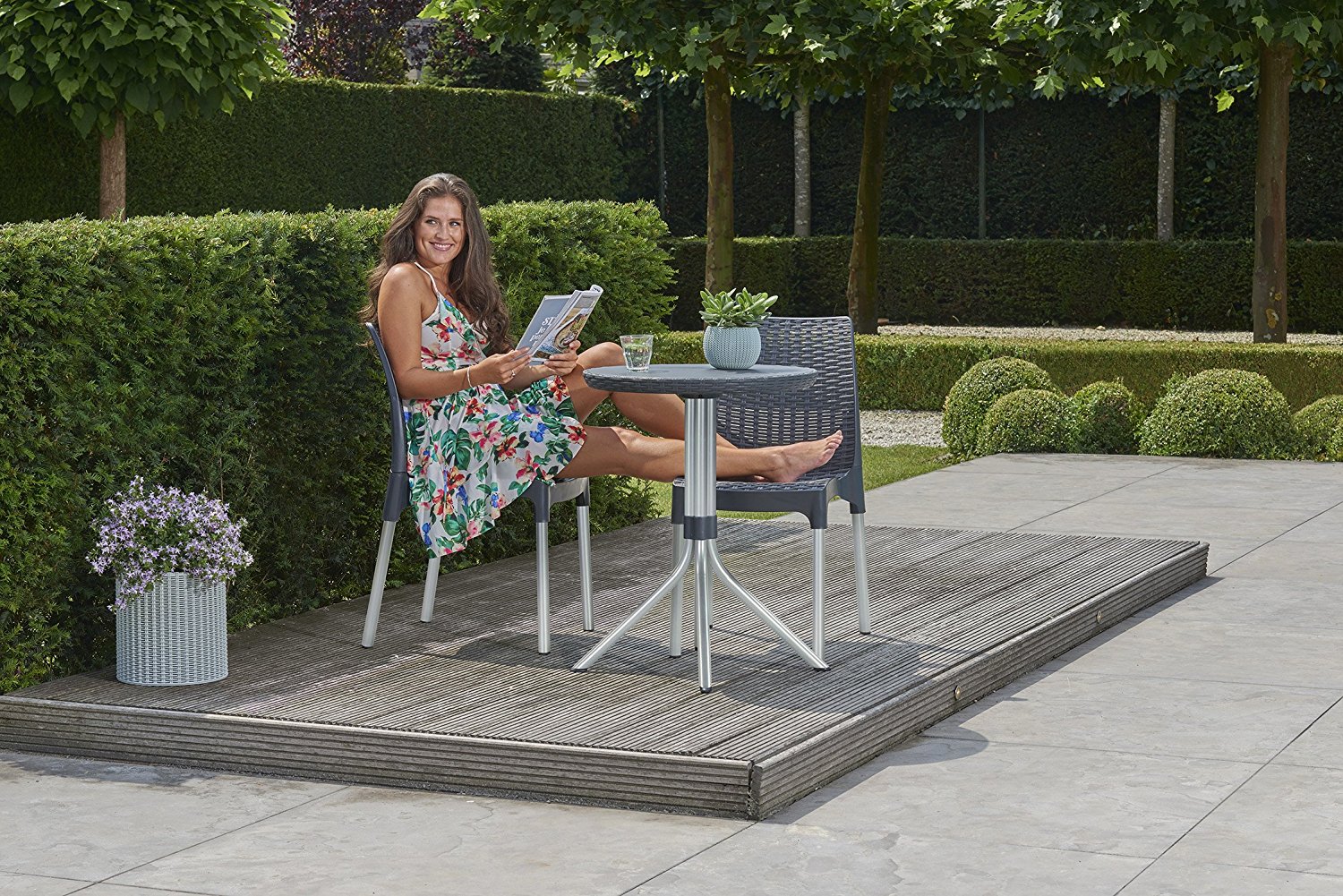 ---
Purchase the product on Amazon Marketplace