[Review] Keter Eden All Weather Patio Outdoor Storage Bench
The Keter Eden 70 Gallon Outdoor Storage Bench is a practical choice if you need additional storage and extra seating space. I have seen many storage benches on Amazon, but I decided to get this one from Keter. Why, you ask? First of all, the 70-gallon capacity impressed me. It was also the closest to looking like wood, and the price is great. The resin construction also allows me to have this both indoors and outdoors. Other smaller storage benches cost even more, so this one gives me the best value for my money. Read my honest and full review of the Keter Eden Storage Bench here.
Assembly
The box the bench came in is bulky but not heavy. The instructions aren't the best there is, but the assembly was quite simple. Although setting it up is relatively easy, you need to take your time to ensure that each piece is snug. Sometimes, it takes a bit of pressure to snap the pieces together. You'll need a Phillips screwdriver for this. It is best if you have a rubber mallet as well, which would prove useful to push stubborn pieces into place. Remember, you're working with plastic, so you should use the mallet wisely and carefully. I don't recommend using any power tool because the plastic may not hold to it. We noticed a couple of excess plastic in some areas. You can trim some of them off by hand. For the others, you would need a box cutter to neaten them up. That is not a big deal, but it made the assembly time longer.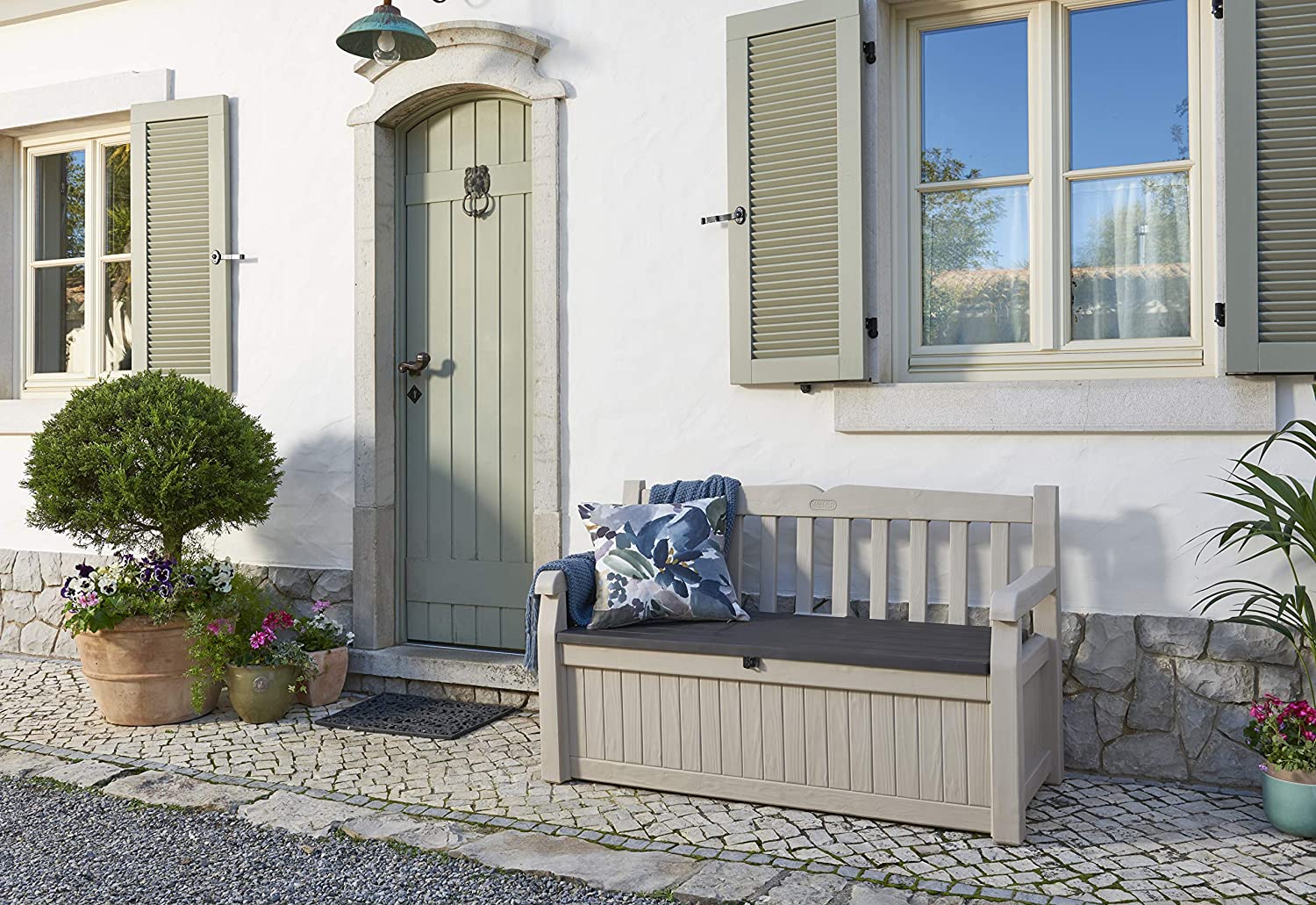 Halfway through the assembly, I realized that I should have asked my son for help. Some steps are a little harder to do by yourself. It took me two hours to finish the assembly. Once put together, the bench appears sturdy and beautiful. There are a couple of reviews saying that their bench fell apart and that they regret buying it. I think those people failed to assemble the bench correctly. Ours is very stable and structurally sound.
Storage
We got this outdoor storage bench to store almost everything I need for gardening. This includes a couple of tools, seeds, and fertilizer. Of course, I couldn't fit my shovel. But hey, 70 gallons is a lot of storage. The box can fit a ton of items and way more than I expected. This storage bench happened to be the best fit for my needs. Before, I couldn't find a place where I can hide my gardening stuff from sight. I also wanted to have them near the garden. I also wasn't keen on spending big on something I would only use for storing items. This thing hit two birds with one stone by serving as a seating area and storage space at the same time.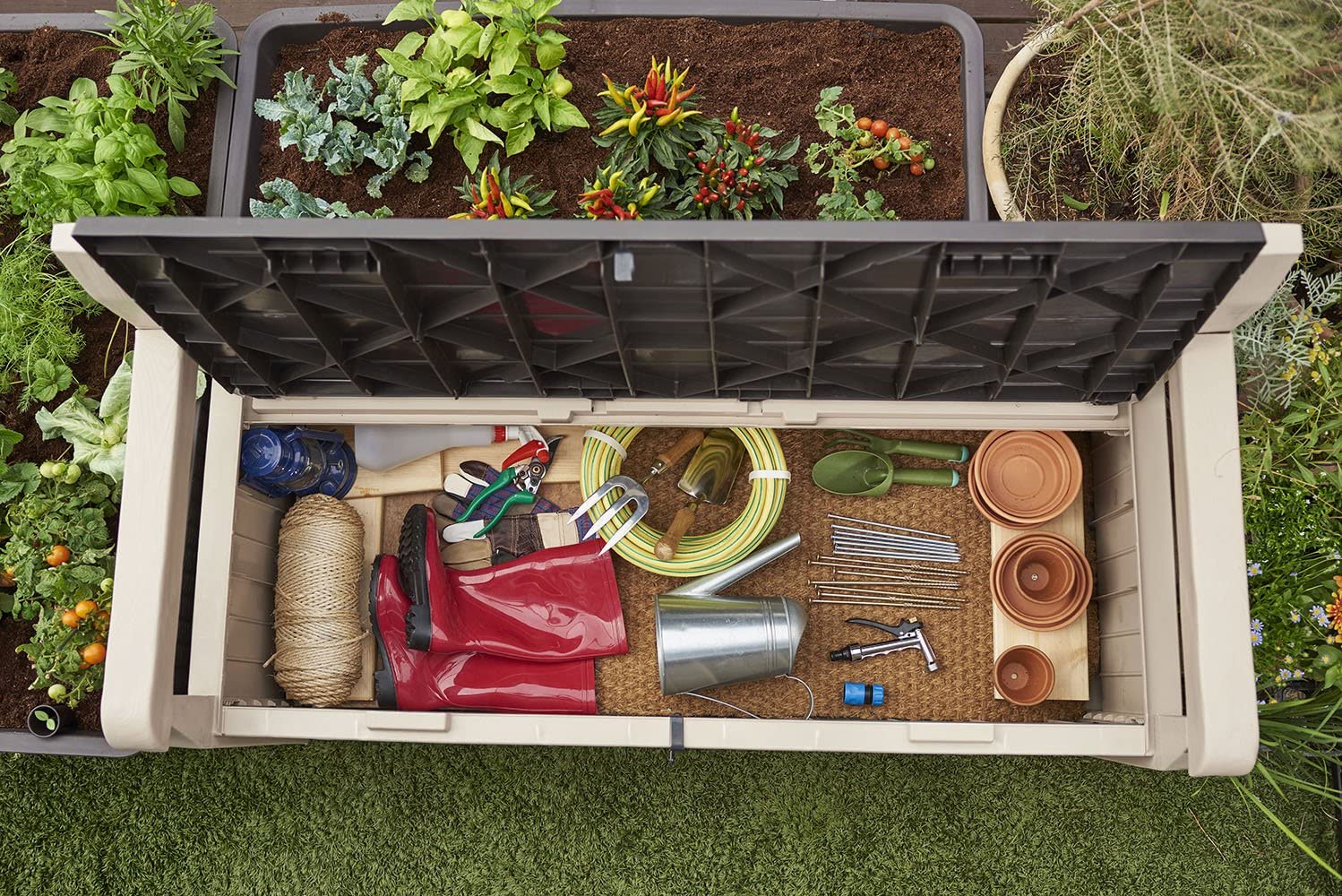 I think the bottom panel of the storage is a bit flimsier than the rest of the bench. I wish they used the same material for the bottom. That's why I won't advise you to put in extremely heavy items. Anyway, if you have to find storage for heavy items, you should buy an actual storage cabinet and not a bench.
The Lid
The lid of this outdoor storage bench has a latch where you can fit a padlock. The bench doesn't include a padlock, but it would be so much nicer if the company provided one. If you intend to keep important items inside or keep them away from your kids' reach, you should lock the lid down. What I don't really like is that the latch is just below the seat. You can hit your legs with it when you sit. Nevertheless, as long as you stay on the sides, the latch would be far from your leg.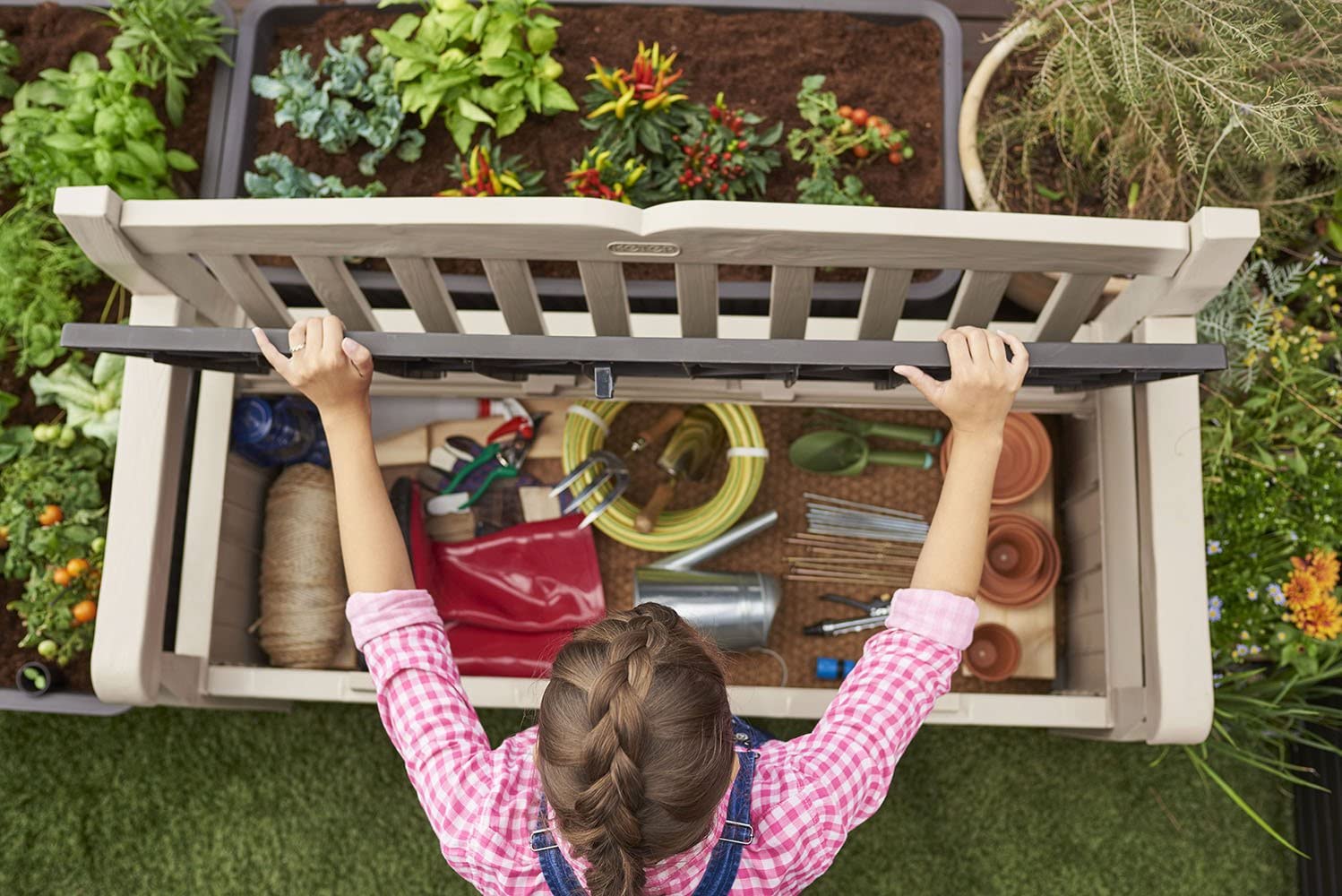 The lid lifts all the way up until it touches the back of the bench. You will have no trouble inserting your items because of this. The lid connects to the bench with an ordinary hinge. When the lid falls down, the hinge can't slow it down. However, the lid is lightweight so should the lid slam shut, it would not hurt your fingers. It is, therefore, safe for kids.
Good Seal
The storage box keeps its contents dry and clean. I would hose the bench down and none of the water would leak into the storage area. It's amazing! Just don't open the lid while the seat is wet. Water can accumulate on the seat, and opening the lid would make the water pour down the storage area. Make sure to wipe the seat dry first.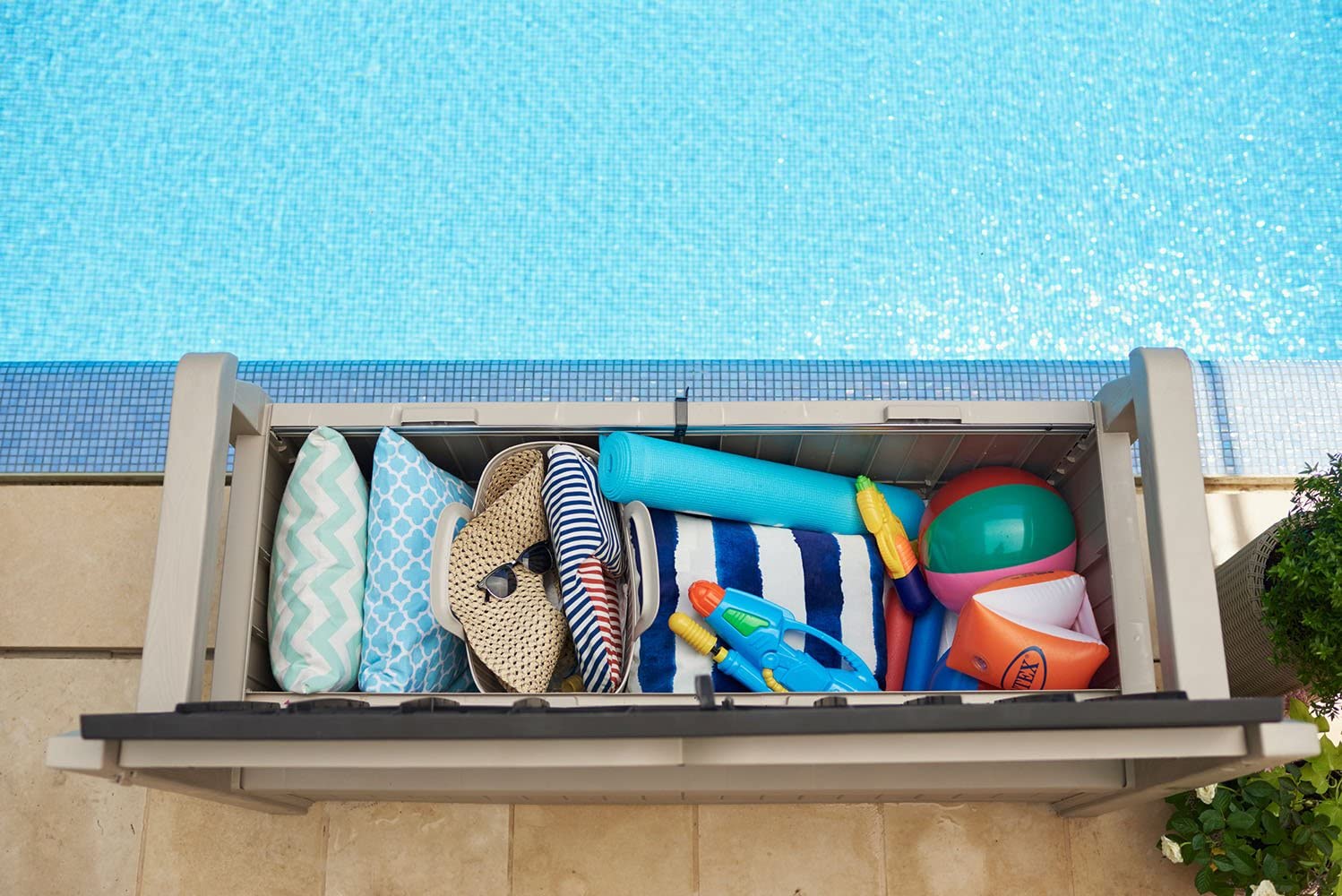 It can get pretty dusty where our bench is. Luckily, even dust can't get inside. The contents of the storage box stay as clean as when I left them. Likewise, insects can't get in too. As for ants, that is something that would have to be put to test. There are no ants where we have the bench, so I can't say for sure. Since water can't get in, air can't too. Depending on the contents inside, you may have to open the lid and air it out occasionally.
The bench has around an inch of clearance beneath the storage area. This means your pet won't be able to crawl their way under the bench.
Seating
The dark brown color is beautiful and could pass off as wood from a distance. The bench also comes in beige, which is a neutral color too. You can have the bench anywhere, and it would go well with the rest of your décor and furniture.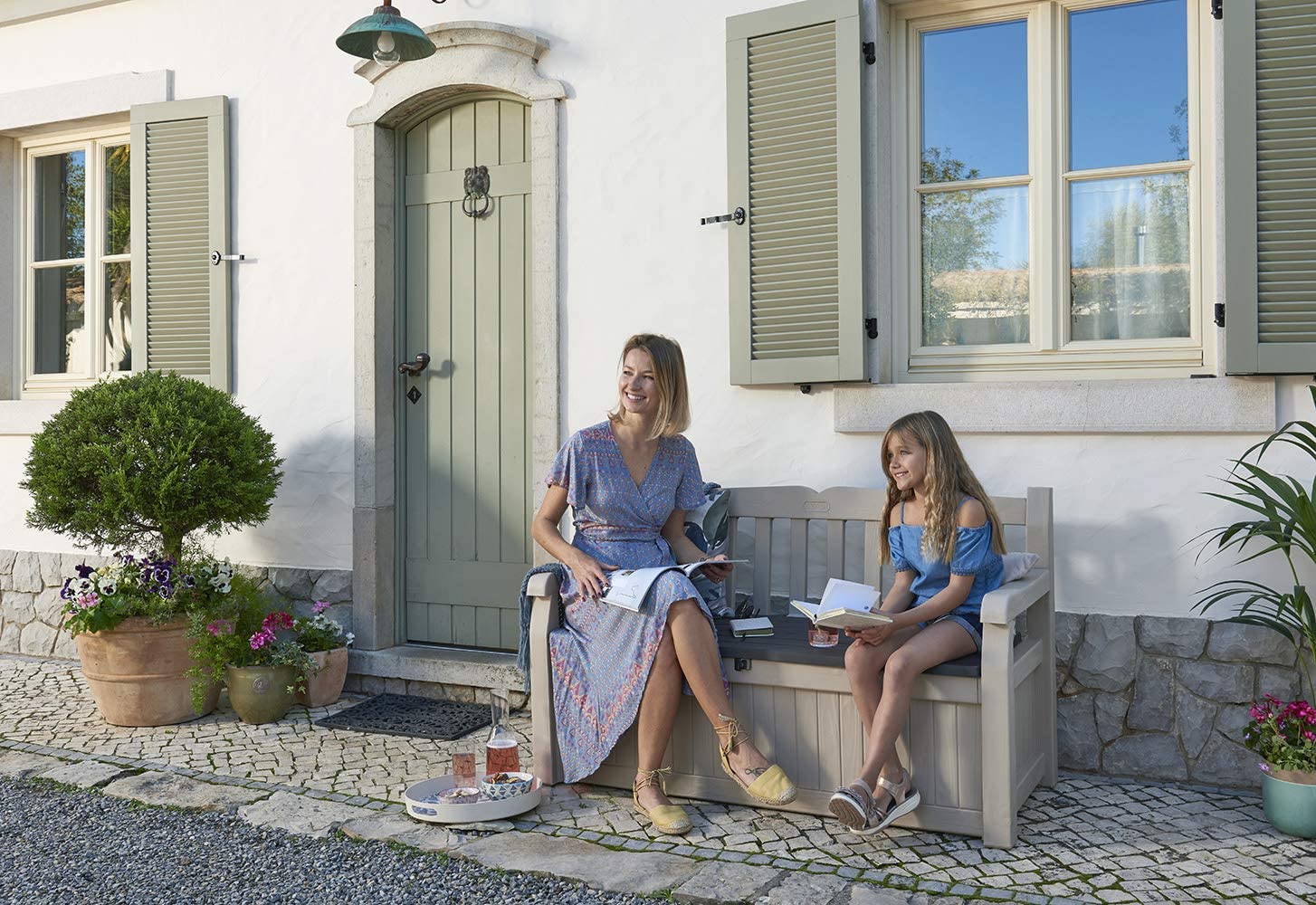 The holes on the back are handy for tying cushions on. While the cushions are completely unnecessary, they would make sitting on the bench much more comfortable. Being a plastic bench, it's not something you can sit on for the whole day. Adding a bench cushion can change that. A standard one, which you can easily buy from a home improvement store, would work. The seat is around 50 inches wide, so grab a cushion that is close to that size. We got a black cushion for ours. If you would like to add a splash of color to the bench, you should maybe go with a red or blue one. I was concerned with how dirt would easily show if we have a light-colored cushion. That's why I went with the black. Well, it's entirely up to you.
The back of the bench is pretty comfortable to lean back on. It is a bit tall, so back support shouldn't be a problem. Adding throw pillows is optional. If you lean on it, the back would move a little but not like it's going to bend or snap.
As advertised, the bench can seat two grown adults. I suppose you could fit a child in the middle too. The seat is deep, which is great. If you have short legs, your feet may not reach the ground. Both my husband and son are tall, and they're very happy with the depth of the seats. My husband weighs 190lbs. and my son weighs 170 lbs. They can sit together without causing evident stress on the bench. Needless to say, you should have the bench on a flat surface. This is to eliminate any wobbling.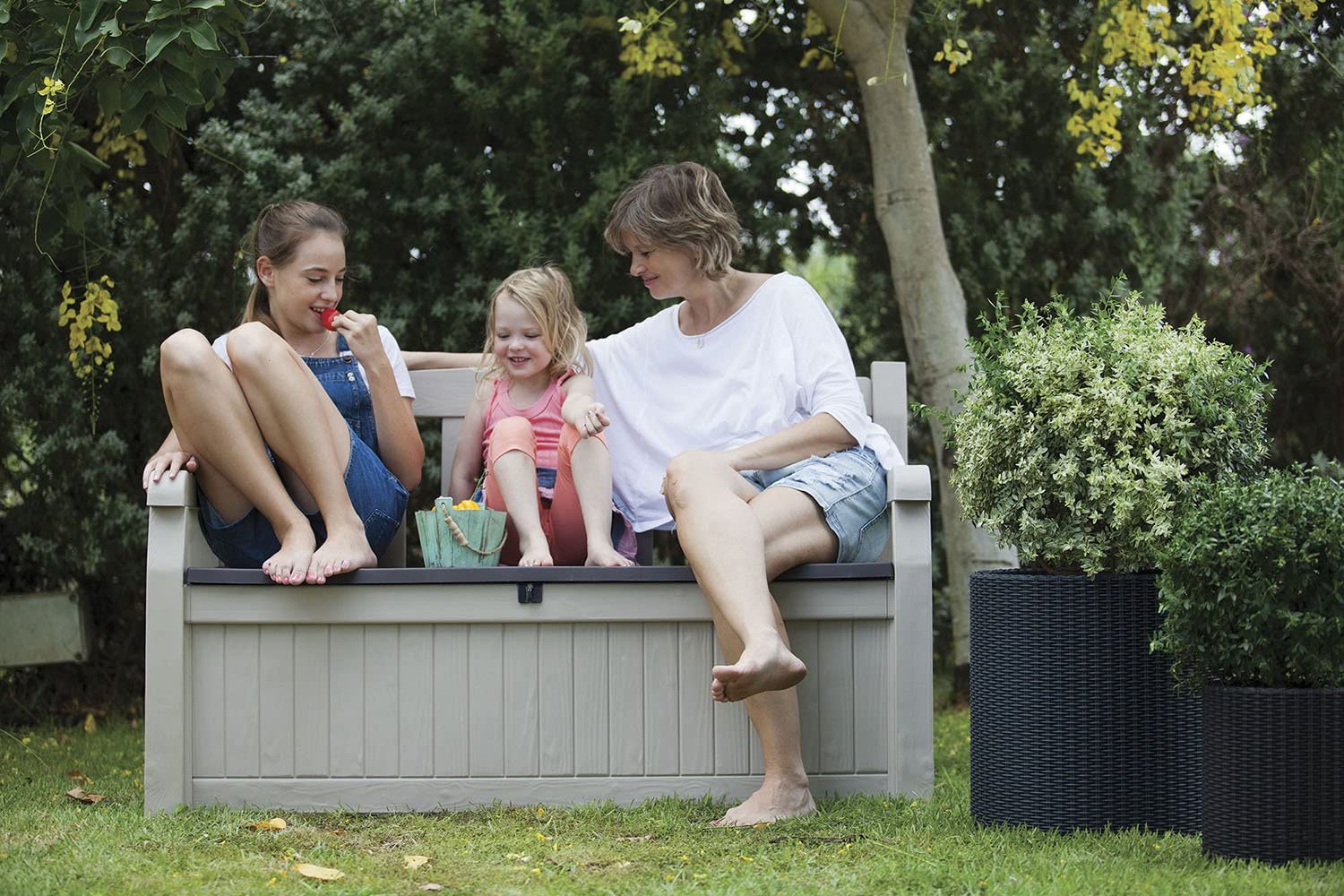 The resin plastic is smooth to the touch. The finish is beautiful. I did say earlier that there are bits of excess plastic on the bench, but you won't really notice them once the bench is set up. If they're bothering you, you should trim them off.
Durability
I've had this Keter storage bench for almost a year now. The bench makes use of a heavy-duty and weather-resistant plastic. I can attest that it will last outside exposed to the elements because we have ours outside. It still looks as good as the day we got it. I have never used an outdoor cover for this, and you don't have to as well. The resin does not crack or peel. I haven't seen any discolouration. The bench has been under the summer sun and through powerful storms, and it's managed well.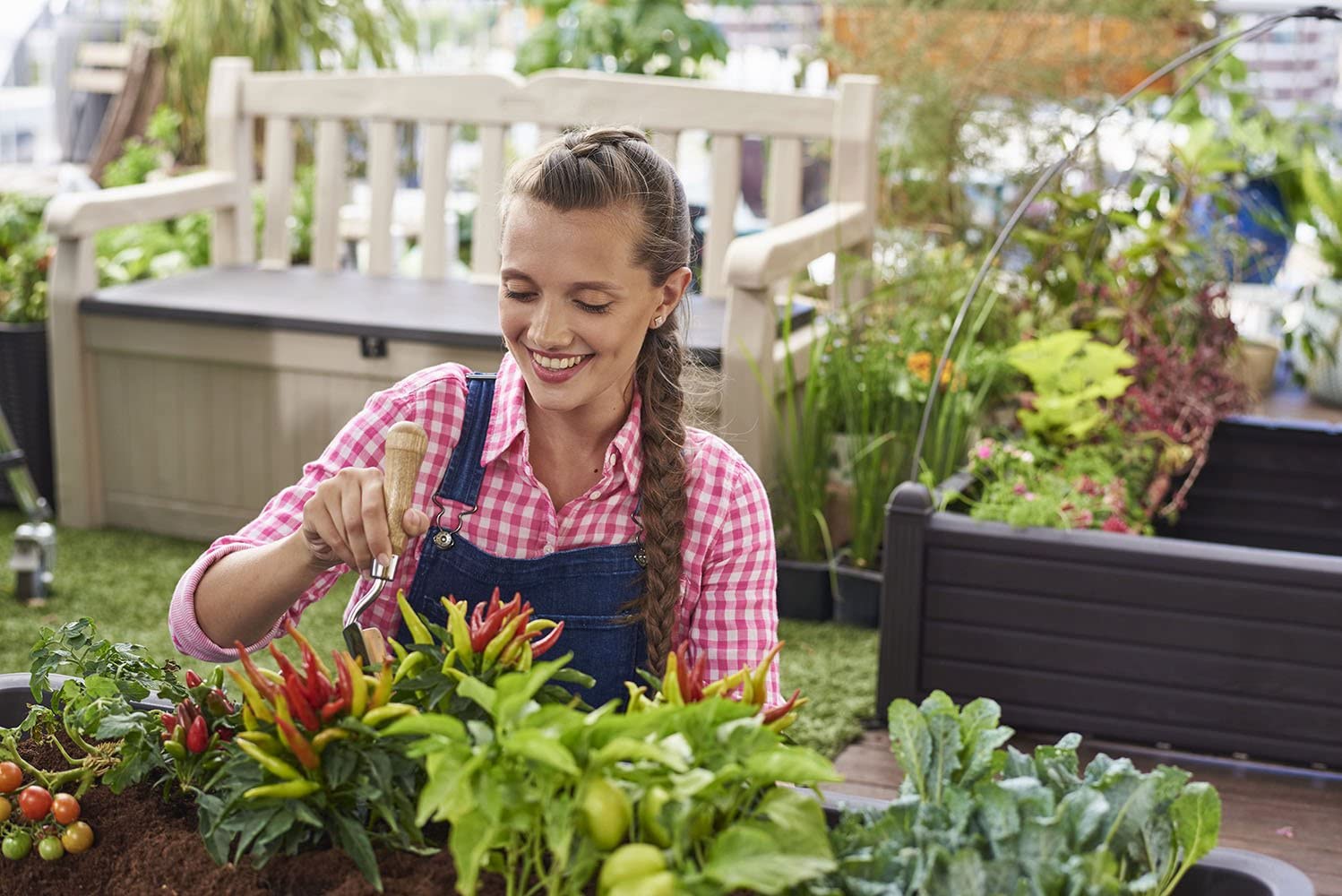 I love that there are metal bars on the frame. They are strategically placed in areas that need the most support. They are hidden well, and they strengthen the entire bench. I have no fears of the bench collapsing or bowing under our weight. The bench is easy to move around too, but I recommend removing the contents first.
My Verdict
At the bench's price point, it is a very worthwhile buy and a great deal. Its versatility and durability are impressive. I know how companies compromise quality for profits, but I don't see Keter doing that. This is not my first time to buy something from Keter, so I would know.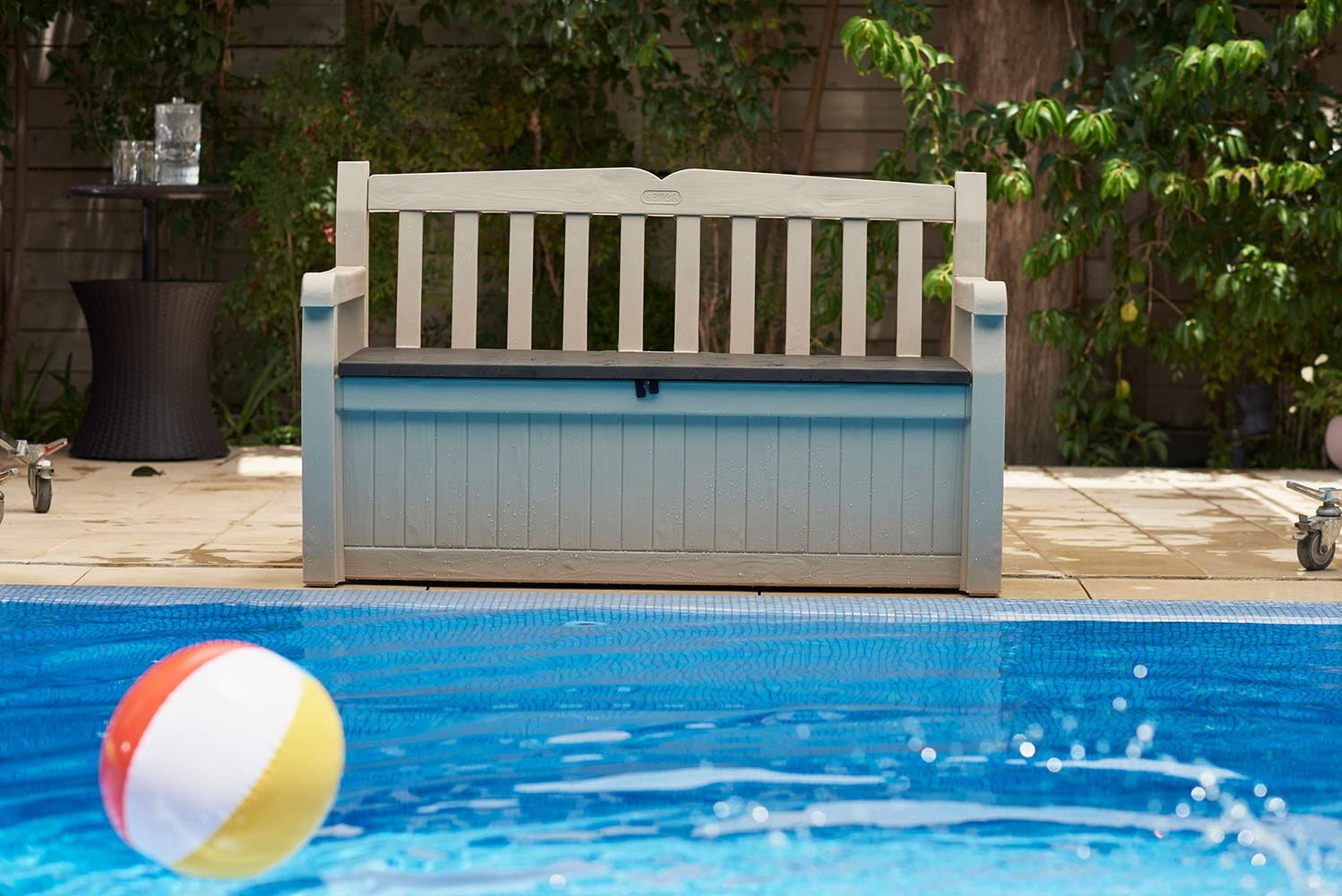 I totally understand how the assembly can give you the wrong idea and make you feel bad about your purchase. Once you have it all set up, though, you'll be surprised with its beauty and stability. This outdoor storage bench does exactly what it is designed for, and that's what matters most. – Jenny K
---
Purchase the product on Amazon Marketplace (USA or CANADA) with free delivery
---
---
Purchase the product on Amazon Marketplace (USA or CANADA) with free delivery
---