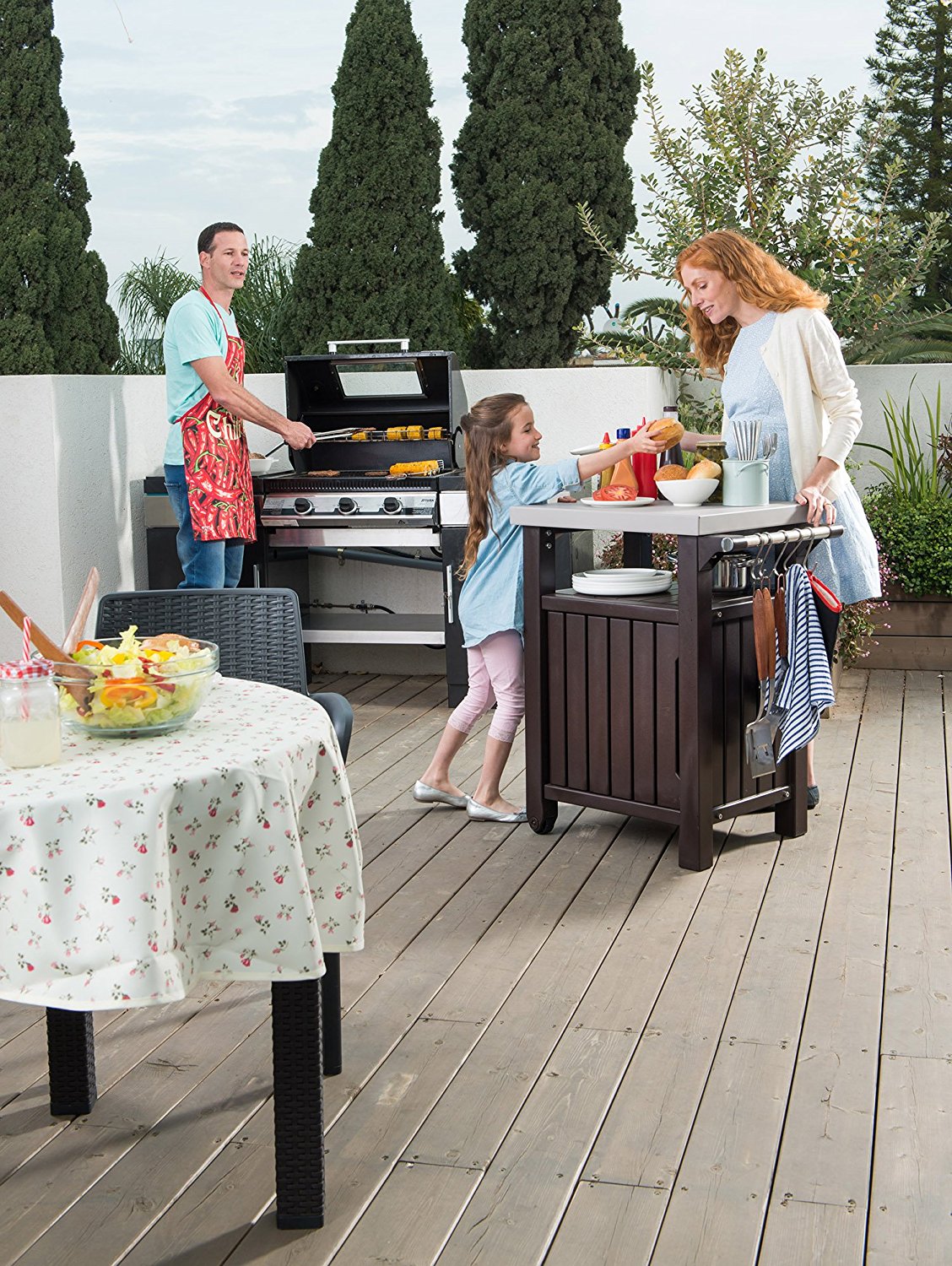 [Review] Keter Unity BBQ Entertainment Storage Table/Prep Station
The Setup
It was actually quite fun to put the prep station together. It didn't feel like I was assembling furniture. Instead, it felt like I was just playing around with tools for a little project. If you love playing with Lego blocks, you should enjoy snapping the plastic pieces together. Most of the assembly involves clicking the pieces into place. You will also have to put a couple of bolts in, but this part should be quick. I have to stress that you should read the instructions carefully. Once you snap the pieces together, they won't come apart easily. I mounted a piece in the wrong place once. I almost kicked myself for making that mistake. Boy, did I have a hard time getting the wrong piece out! The assembly guide comes with more pictures rather than written instructions. It certainly isn't the best, but the pictures do show you where the parts are supposed to go to.
What I really like about the assembly is that there is room for customization. You can choose to mount the cabinet door on either side. Think about which way you want the door to swing out. You can also install the spice rack and handle on either end of the storage table. No matter how you choose to mount those components, keep the ease of access in mind. Consider how it would be easier to reach for your essentials while you're busy cooking. You can also choose not to mount the paper towel holder if you do not need it.
Main Features – A
This prep station is a fantastic choice if you're looking for an extra workspace when you're grilling or preparing food outdoors. The compact size is just what we need. It is large enough to hold our cooking essentials. At the same time, it does not occupy too big of a space in our garden. I love the convenience of just having to load it up with everything we need from the kitchen before we wheel it out.
You can use the prep station both indoors and outdoors. While this is designed for outdoor use, there's no harm using it inside the house. You can freely wheel this around the house since the wheels won't scratch your floor. Just make sure that the wheels are clean, so you don't end up with mud tracks around the house. I imagine you can use this if you have a small countertop in the kitchen. It would also come in handy when you are entertaining guests inside.
The prep station comes with a stainless steel top. Moreover, it is just the right thickness. It is just what you would need to chop things without causing dents on the surface. It is wide and spacious enough for me. The top allows me to do most of my chopping in the garden while exchanging stories with guests. Aside from that, the stainless steel is easy to wipe clean after a busy BBQ night.
Main Features – B
Below the steel top is an open shelf. I do wish that the shelf is a tad taller than it is. I usually keep utensils, plates, bowls, and glasses on it. Further below is a cabinet. It is lockable. You just have to provide your own lock. I keep a small propane tank inside. The only reason why I'm locking it inside is to keep the door from opening. The storage cabinet is more spacious than I anticipated. You will find it very useful. It will also make an excellent storage for charcoal.
On one side of the station is a spice rack that holds our condiments and sauces. Below it is a bar that can hold a roll of paper towel. On the other side is the station's handle. The company provides 4 hooks, which you can use to hang your grill tools and accessories. Keter also provides a free bottle opener with every purchase. I think that's a very nice freebie.
Materials
This prep station's body is made of weather-resistant plastic. It didn't have an odor to it when I just got it out of the box. This is a great thing because I don't want the toxic smell passing onto our food. The plastic is similar to what you'll find in outdoor furniture. And like in outdoor furniture, the plastic holds up well to the elements. Because of the plastic, you can leave it under the sun and rain without causing any damage. However, I still won't suggest keeping this outdoors. Remember, it has a stainless steel top. It is only natural for stainless steel to rust when not taken care of. It's okay if you forget to keep the station inside from time to time. There are times when I would go straight to bed and leave the station in the garden. I would stow it away in our garage in the morning once I wake up. My tip is to keep the top thoroughly clean and dry before you store it inside the house. Do that and the top would stay shiny and rust-free like ours.
I've had no problems with the parts falling apart. Once you have snapped the parts together, they stay intact. I've had the prep station for 1 year and 3 months already. The only issue that I have with the prep station is with storing it when it is not in use. There is no way to fold it flat, so it takes quite a lot of space in our garage. I also have a cover for the station to keep it free from dust while it's in the garage. The cover really isn't necessary, but you can always get one. You no longer have to clean the table before using it if you have a cover.
Other Features
The prep station has a pair of casters on one end. To move it from one place to another, you simply have to lift the other side of the table with the handle and then push it. The wheels roll smoothly and quietly. The outdoor prep station is lightweight, so you should find it easy to wheel it in and out. This is excluding the weight of the contents of the table, of course. Before you push the station, make sure that there is nothing on top and the shelf below it. If you have anything breakable like glass or ceramics, don't try to move the table. You will just end up with broken glasses and plates.
The prep station has a pair of adjustable feet on one end. You will find this feature very helpful if you don't have a leveled floor. Unleveled floor is something very common outdoors. Not everyone has a deck built in their patio or garden, and I can definitely relate to that. We used to have a small prep station with no adjustable feet. It could not sit flat on the ground. It wobbled and sometimes, it felt like it would fall over on its side. That's why I was ecstatic when I came across this Keter station. The adjustable feet keep the storage table stable. It is also easier to chop vegetables and meat, now that our new table doesn't wobble. Plus, in case one of my guests happen to hit the prep station while walking, the table and everything on it won't easily fall over.
Exterior
We got the prep station in espresso brown. It looks as beautiful as shown in the photos. A friend of mine has the one in graphite, and it looks equally as nice as mine. However, the graphite does look more like grey in person than in the pictures. The graphite and brown are both neutral colors, and you can never go wrong with neutrals. It won't really matter which color you choose. You'll love the prep station all the same.
Final Thoughts
I love this prep station from Keter mainly because of two reasons. The first is its practical design. The mix of open and enclosed storage gives me so much space to work with while I'm busy grilling and cooking. No space is wasted with the inclusion of hooks, spice rack, and paper towel holder. Whoever thought of the design clearly deserves a raise! It's a very practical piece, so you can't possibly go wrong with this purchase. The second reason why I'm happy about this is the price. For the size of it, the storage table has a very reasonable price. For sure, you will see cheaper prep stations somewhere else. However, if you put them side by side, they won't even come close to Keter's in terms of function.
I highly recommend this for families who entertain guests often and do a lot of grilling. Buying this should be a no-brainer if you love having BBQ nights just like us! This would surely make the perfect addition to your home. Once you use the prep station, you'll wonder why you waited so long to get this. – Jenny C
---
Brand: Keter
Product: Unity Indoor Outdoor BBQ Entertainment Storage Table/Prep Station
---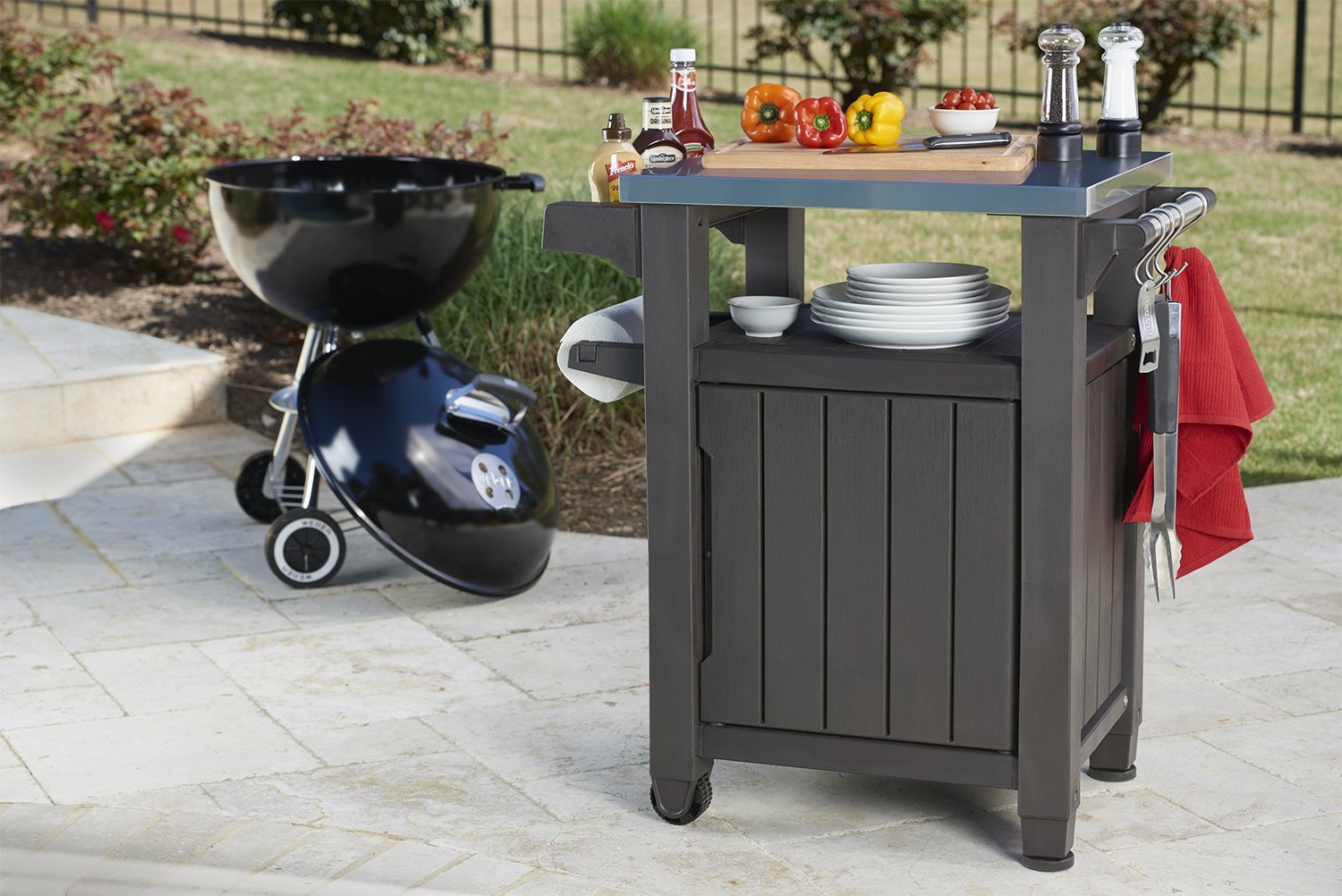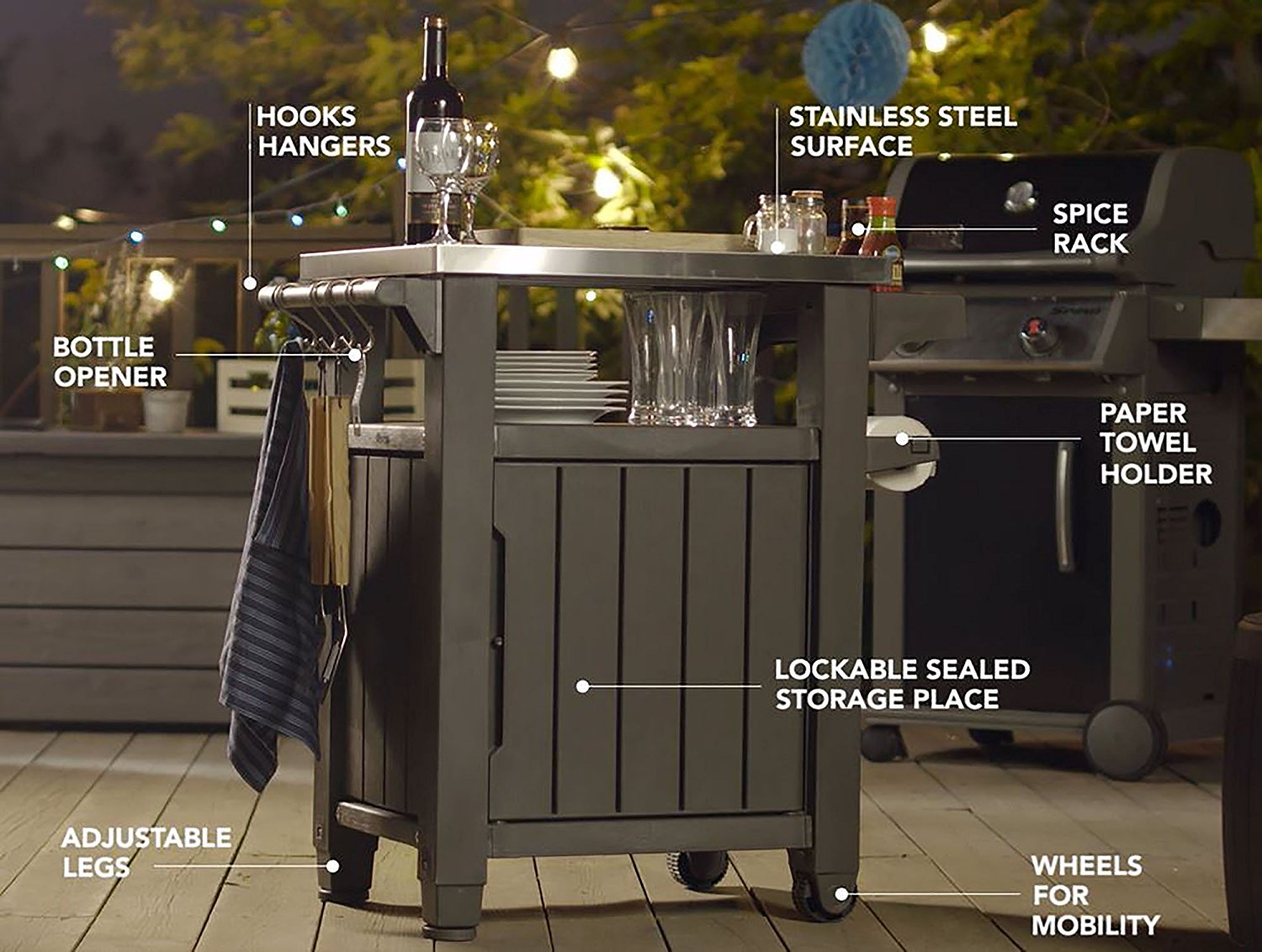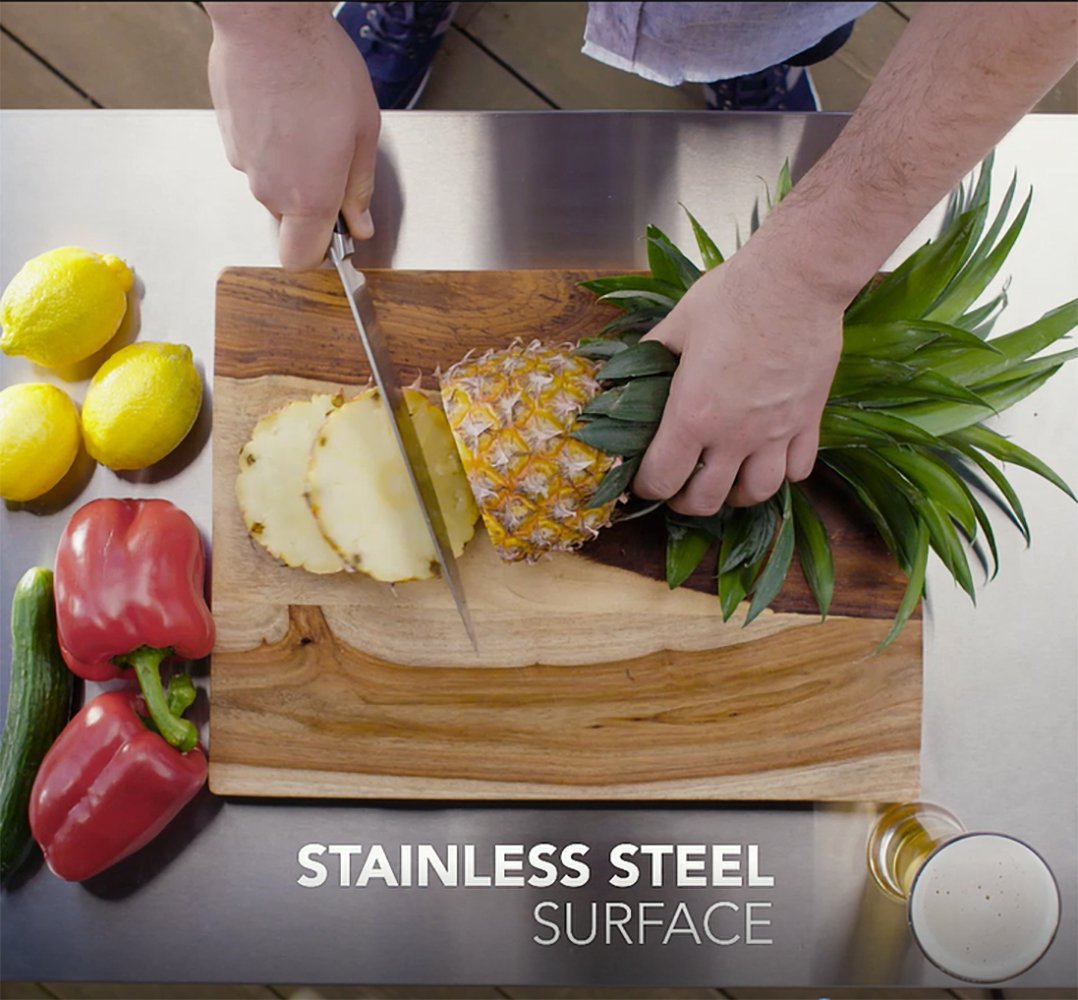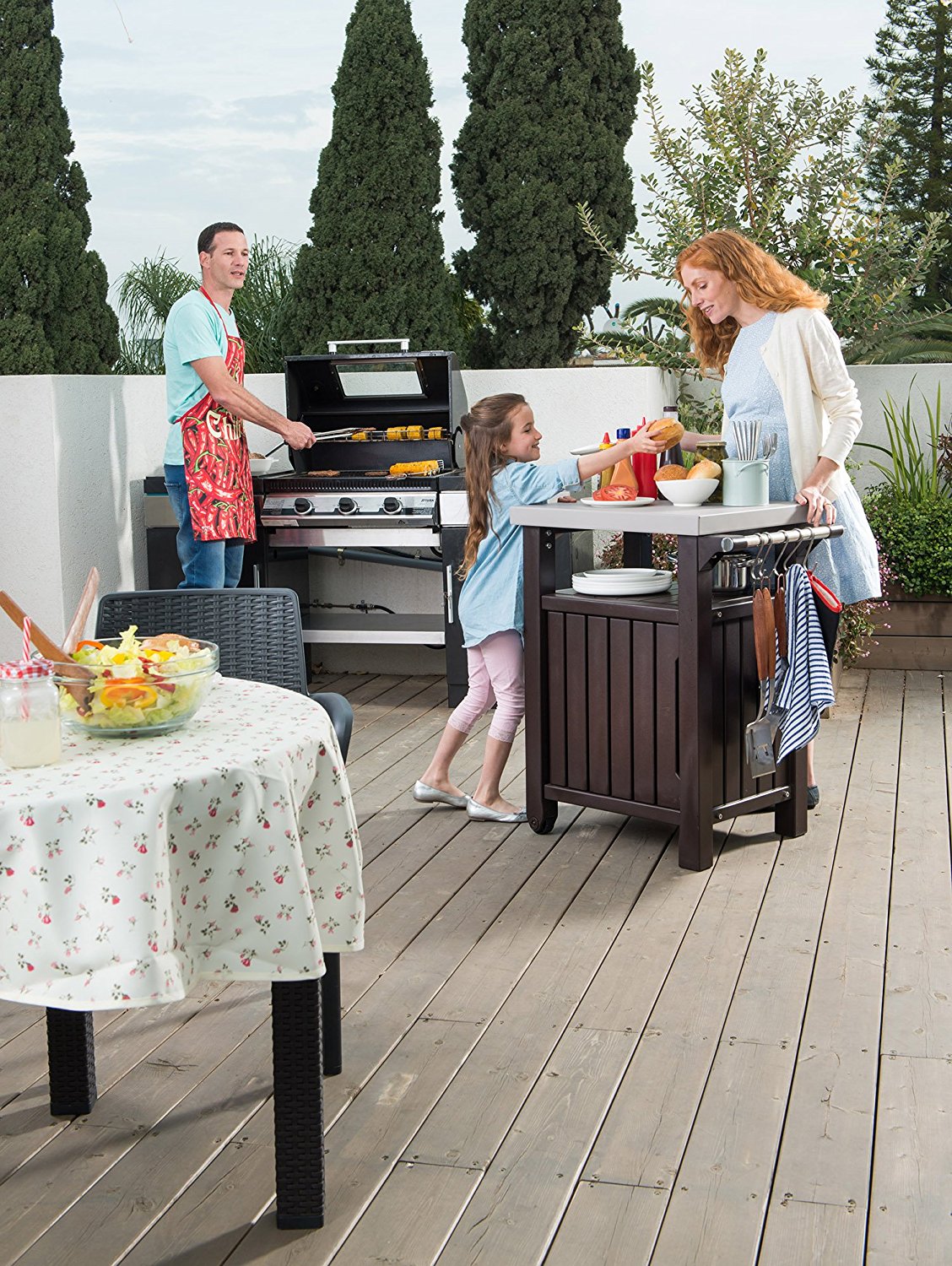 ---
Purchase the product on Amazon Marketplace