[Review] Mainstay* 3 Seat Porch & Patio Swing
First Things First
The box of our patio swing arrived in good condition. None of the steel components came with dings. Everything came without any damage and nothing was missing from the box. At first, we couldn't find the assembly guide. It turned out to be in a bag together with the cushions. Take note of that, so you won't have a hard time looking for it. The box came with two Allen wrenches. You just need to supply your own screwdriver.
It says so on Amazon that the assembly would take about an hour. Well, it took us two hours. Two people should work on the assembly together. I find it difficult to imagine how one person can set up the patio swing unless you're very handy.
The directions and illustrations can use more details but we managed all the same. Make sure to read the instructions carefully, so you don't have to redo anything. Check if all parts have been tightly bolted down. If they are, everything should feel very sturdy. Stability is particularly important for a swing and more so if you have kids.
The fabric for the canopy fits very tightly around the frame, so it took both me and my husband to stretch it out. That's not a bad thing at all. The perfect fit gives elegance to the whole swing. An ill-fitted canopy would gather water and wear faster too. The canopy has Velcro at the ends to secure it to the frame. There is no need to worry about the wind blowing it away. It goes without saying that you can remove the canopy whenever you think fit. I take off the top when the wind is strong enough and I feel like the wind is going to rip it apart.
Once fully assembled, the swing looks just like in the pictures. Although the swing isn't that heavy, it takes two to move it. Don't just drag it or else you'll see scratches on the floor. Carry it instead to your desired location. It's not that heavy anyway.
Design
Design-wise, this swing nails it. The tufted button on each of the back cushions looks adorable. The piped edges also make the cushions sturdier. If regular stitches were used, the cushions would more likely have torn seams at some point.
The tan is just the right shade. It goes well with any decor since it is a neutral color. It also blends well with the greens in our garden. But of course, it's up to you to keep the swing beautiful. You'll have to wash the cushions and canopy occasionally. Don't worry, they are easy to clean.
Although I didn't get a cover for the swing, I do suggest getting one. It would give you the liberty to not wash the canopy and cushions as often as you should. The cover would keep dirt and dust away. The cushions are not waterproof, so you'll find a cover very useful.
The swing looks amazing in our garden. It has a very sophisticated and resort-like look. I've gotten a lot of compliments for it as a matter of fact.
Comfort
The dimensions of the swing are great. It is wider than I expected. It easily fits three people. When turned into a hammock, it can fit two people. However, I love to hog the whole hammock to myself.
You simply fold down the back to turn the swing into a hammock. It makes for a great napping place in the afternoon. It is worth noting that if you turn it into a hammock, it can no longer swing back and forth. I like that since it makes getting up from the hammock easier. I do believe that others prefer to have a swinging hammock. It would have been so much better if we have the options to lock the hammock in place or swing it.
The cushions are large and plush. The back and seat cushions come together, so there will be no complaints about any gaps in the back. The cushions stay put and don't slide off at all. They have Velcro straps that attach them to the back. I love how tall the cushions are, allowing you to lean back comfortably. The depth is pretty great too. These things give you the best lounging experience.
It swings easily and smoothly. It does not make any squeaking noise that you usually get if certain parts were not oiled up. I'm happy about that since I like reading while I'm on the swing. Who would want to read with annoying creaks bothering you? If you want a quiet place to rest, the swing can give you that. Our garden happens to be my favorite spot in our house. I thought I could never love our garden more until we got this swing. It is an amazing addition to our home.
The best part about this patio swing is the tilting canopy. You can move it to provide you shade from the sun if it's hitting you from a certain angle. The canopy does keep light rains off. When the rain gets strong enough, though, you can still get wet.
As I've mentioned earlier, the cushions aren't waterproof. I have to grab the cushions in when it's starting to rain hard. There are times when I fail to get them in on time. I just dry them out when the sun is back up again. Having waterproof cushions would be so much better, but for the price, I can't possibly ask for more.
As for the height of the swing, I think it sits a bit low to the ground. It isn't that bad, though. No one has a hard time getting up from the swing. My mother-in-law has bad knees and she can still get up from the swing by herself. My husband, who stands 6'2", doesn't mind it as well. He said that it would be nicer if the swing sat a bit taller. He doesn't feel uncomfortable, so he said that it would do. If you think the swing is sitting too low to the ground, getting a plusher cushion would help.
Maintenance
For me, this is the most important part of my review. The swing's stability depends on how you treat it. I think the people saying that their canopy tore apart just had it up when the wind was too strong.
I make it a habit to take off the canopy whenever it is unusually windy or there's a storm coming. Last winter, we disassembled the swing and kept it in the garage. If you think about it, no one is going to sit outside in freezing temperatures. It was a delightful moment when we had it set up again in the garden and we can sit out again. Take it from me. If you want the swing to last for many years, you'll have to give it proper care. I don't think ours could have lasted more than a year (we have had ours for 1 year and 5 months) if not for treating it well.
The steel frame is built to last. So far, I haven't noticed any wobbling. The frame doesn't bend on our weight either. The swing keeps its balance well too. It won't tip over if you just sit on one end. I like that there are support bars on various parts of the frame. They make the frame more stable. I have two kids, and I'm confident enough to leave them on the swing.
The patio swing has a good weight to it, so it won't get pushed off by the wind. Ours stays put even after a stormy day. I know how others would like to anchor it to the ground, but I'm sorry to say that there is no way you can do that.
As for the cushions, I won't leave them out on a storm. I doubt the Velcro strips can hold onto the frame.
The black metal coating doesn't scratch easily. Thanks to that, the swing has managed to stay pretty after using it almost every day.
Final Thoughts
If you're in the market for a patio swing, I strongly recommend this one from Mainstay*. Considering its exceptional quality, it is well worth your money. I won't say that it's cheap but you get what you pay for. I have found less expensive swings on Amazon but they usually have thinner cushions. They don't look as pretty as this one and the reviews aren't that good too. That's why it didn't take me that long to finally decide on this swing.
Aside from the swing's beautiful design, I love how everything works exactly as advertised. First of all, it is very easy to convert the swing into a hammock and vice versa. The canopy tilts smoothly to provide us with shade. Lastly, the frame is durable. The swing's quality has exceeded my expectations. It's everything I wanted, and I'm sure you'll love it too. – Sarah P
---
Brand: Mainstay*
Product: 3 Seat Porch & Patio Swing (Tan)
---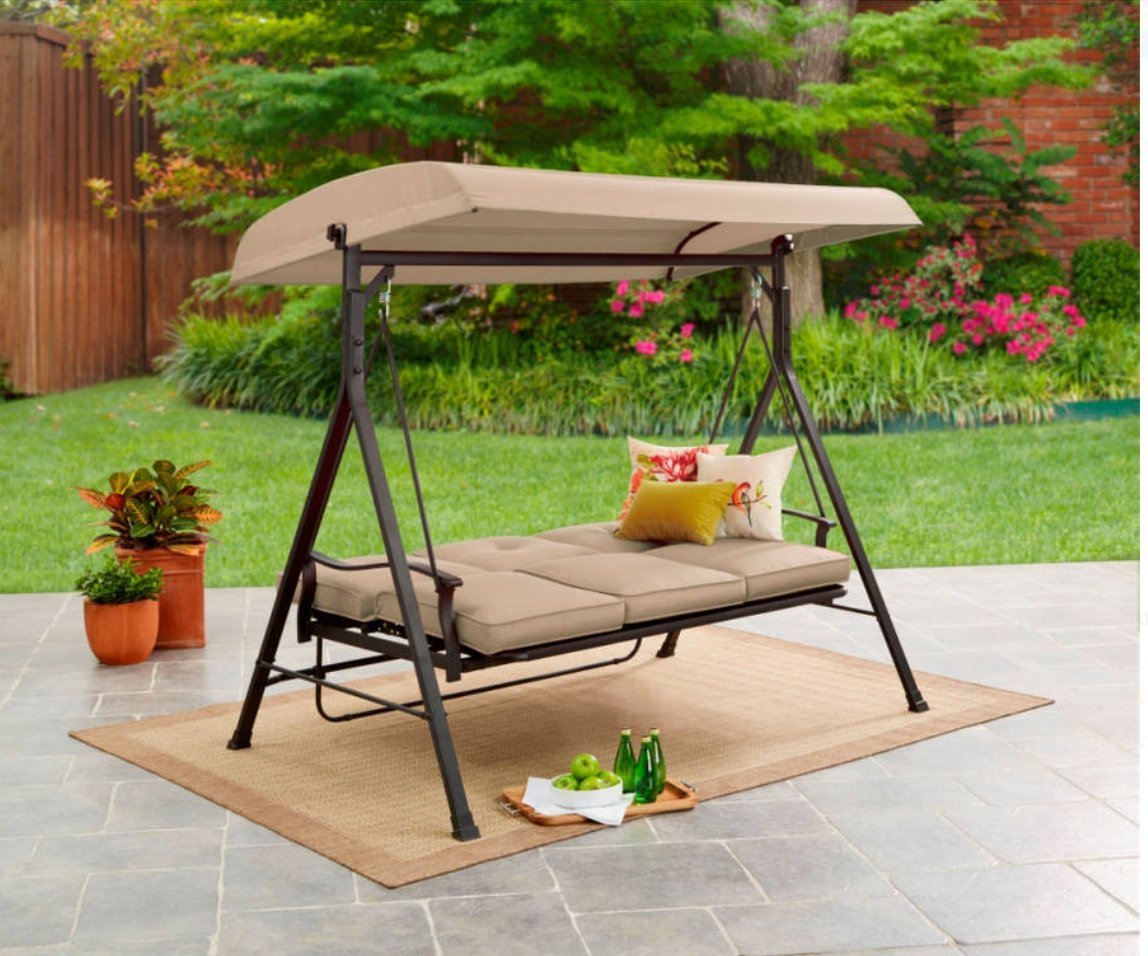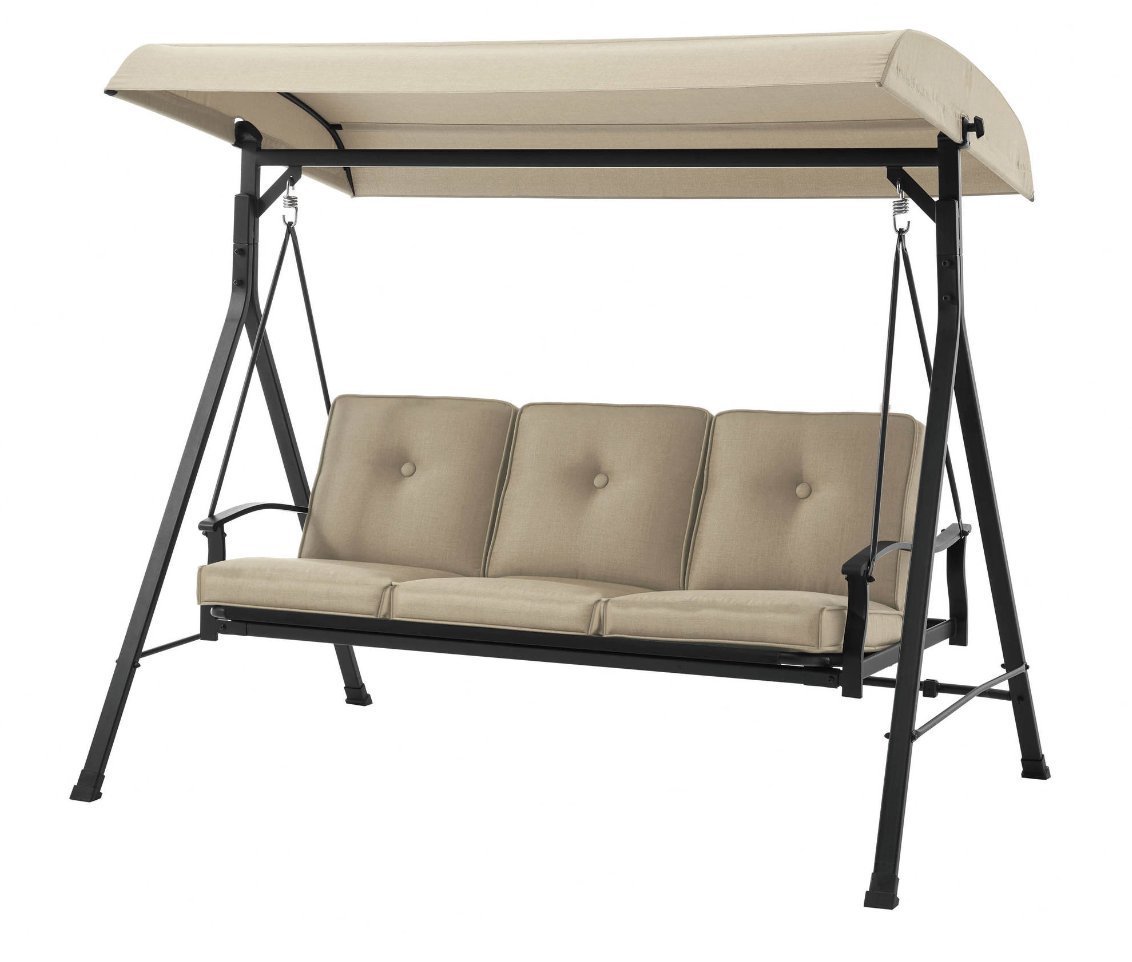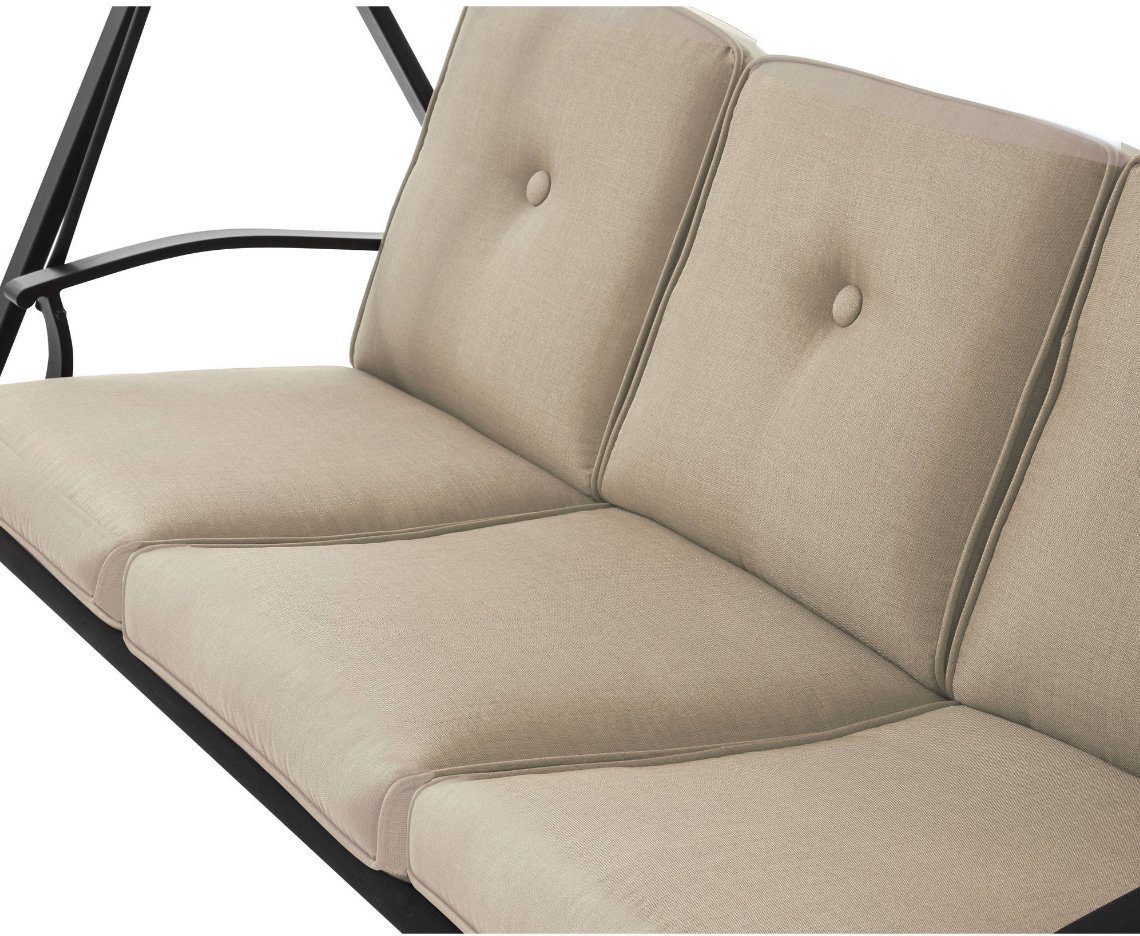 ---
Purchase the product on Amazon Marketplace