[Review] Convenience Concepts American Heritage Console Table
First Things First
I started to refurnish our home last year. We went with a minimalistic approach for this ambitious task. I stuck with a lot of black and white furniture. I only went for other colors whenever I thought a pop of color would be nice. This console table drew my eye because of its simplicity. The clean lines make it a classic piece. It's like a blank canvas, which I can customize and dress up the way I wanted. The simplicity of it gave me more room for creativity. If that's something you'd love then this console table is for you.
The best thing about black is that it blends rather easily with other furniture. I understand that not all people like black. Luckily for those people, this table also comes in cherry, espresso, and gray. This console table would go well with both modern and traditional furniture. Whatever furniture you have at home, this table would make a great addition for sure.
Shipping
The console table arrived a few days after ordering. The first thing I did was to tear the box open and check every piece for defect and damage from shipping. At a time like now, you can never be too safe. If I needed to return it, it's best if I did it as soon as possible. Well, I found no damage. I wasn't really surprised to have found none. They used Styrofoam pieces as well as a couple of plastic sheets to keep the pieces from bumping to each other. This is one of the better-packaged furniture I've seen. The touch-up pen inside the box came as a pleasant surprise. At that time, I told myself that I'm never going to need the pen. I was wrong. I've actually started to use mine just a month after. My nine-year-old son gave me no choice. He used a pair of scissors and drew a line on the bottom shelf. I used the pen and the scratch is now barely noticeable. When it comes to wooden furniture, scratches are almost unavoidable. That's why the free touch-up pen is a big plus. It will definitely come in handy for buyers.
Assembly
This console table is extremely easy to put together. Just attach the legs and bolt in the bottom shelf. I had no problem lining up the legs. The top and drawer do not require any assembly. They come assembled together. That makes the whole setup process very quick. You should take less than an hour, or half the time, to do the assembly.
The console table has a great finish. It has a subtle sheen to it, giving it a more elegant look. It's not too shiny that the table ends up looking cheap. The surface is smooth except for the drawer. It has a different texture from the rest of the table. I think that's a cute touch. The back of the console table is painted black as well. You can have this in the middle of the room, and everyone would think it's flawless. The corners are not that sharp. You can see just how much work was put into the finishing.
Storage – A
This console table is as functional as it is decorative. You may buy this to fill up a dead space in your home or use it to keep things within reach. In my case, it's both. We have a decorative bowl on the console table where we store our car keys. It's the perfect spot to keep our keys since it's one of the last things we see before we head out. I've also decorated my console table with picture frames, colorful candles, and an accent vase. It's the first thing guests see when they get into our house. That's why it is important for me to fill up the table with pretty decors. I suggest you do the same too. I get lots of compliments for this table from guests. If putting decors on top of the table isn't enough for you, you can replace the drawer's knob with one of your choice. You can easily get a replacement from furniture stores.
Storage – B
This is one of the few console tables sold in Amazon that have a drawer. It felt like a smarter choice to get one rather than a console table without a drawer. Take note, though, that the drawer is a bit shallow. Don't expect to put anything bulky inside. If you have your phone on the console table, the drawer is a great place to keep a few sheets of paper and a pen. If I can make some changes to this thing, I would make the drawer a tad deeper. I'm sure people would appreciate the extra storage. What's good is that you can't pull the drawer all the way out by accident. It won't come all the way out unless you intend to. It has a stopper that keeps it in place. This is great if you have kids around who touch everything and anything. The drawer slides out without issues.
It's the perfect size for the spot where I wanted to put it, which is by the doorway. It is wide enough to fit all the things that I need there. At the same time, it doesn't block our way at all. The height is perfect too. This table is an excellent alternative for a bigger one if space is an issue for you.
The bottom shelf provides additional storage. It provides room for some of our books that we may want to read while we're in the living room.
I noticed that most console tables with a similar design are more expensive. I'm really unsure why. Considering that they don't have as many good reviews as this, it's a no-brainer for me to choose this one.
Durability – A
Every part of the table feels solid. I don't see any information on what they used to build it, but it seems like laminated wood. Almost everything is now made with particle board, so this is a welcome change. The table doesn't chip. The surface doesn't peel either. The console table looks almost new. That's not possible without the touch-up pen, of course. I've been using it way more often than I would like to admit.
Aside from the usual four legs for the table, there's an extra one in the middle. I believe it's there for support. It is also there to help keep the table's balance so it won't tip over. The extra leg does look quite strange. However, I don't really mind that as long as it serves its purpose. Anyway, the leg is very short so you can only see it from a certain angle.
Durability – B
The console table is a bit lightweight. You can easily move it from one place to another. Since it's not very heavy, I highly recommend keeping the weight distributed on the entire table. If I were you, I wouldn't allow guests to lean on the table if you have too many things on it. It goes without saying that you're not supposed to stand on the table. Don't attempt to use it as a step stool. I wouldn't want to risk it. Nevertheless, this console table is not something that would tip over or collapse with reasonable weight. That's all thanks to the solid legs. Speaking of the legs, they are of decent thickness. They're made of a strong material that seems like real wood. As long as you did the assembly right, the legs should support the table well. I have to stress the importance of doing the setup correctly. The way you assemble your furniture can have an impact on how well it holds up. This applies to any kind of furniture. Make sure to do the assembly right and take care of it. That way, it will make you happy for years.
We have had this console table for a year now. So far, it is holding up very well. Its durability is better than we have expected. Surely, this is nothing you'd expect to pass on to your grandchildren. For the price, you can't possibly expect that. This is one of those bargain pieces that far exceed your expectations. I could not have picked out a better console table for our home. As a matter of fact, I am planning to order another one for our living room.
In My Opinion
If you're on the market for console tables, you should strongly consider this one from Convenience Concepts. It's got the looks and the function, all at the perfect price. Its appearance won't give away its price. While this is one of the less expensive pieces in our home, it certainly doesn't look like it. I would recommend this if you're looking for something simple and elegant. This is not for those who are up for an eye-catching piece. Anyway, if you're eyeing this piece, go get this ASAP! You'll love it too. – Sarah P
---
Brand: Convenience Concepts
Product: American Heritage Console Table with Drawer and Shelf
---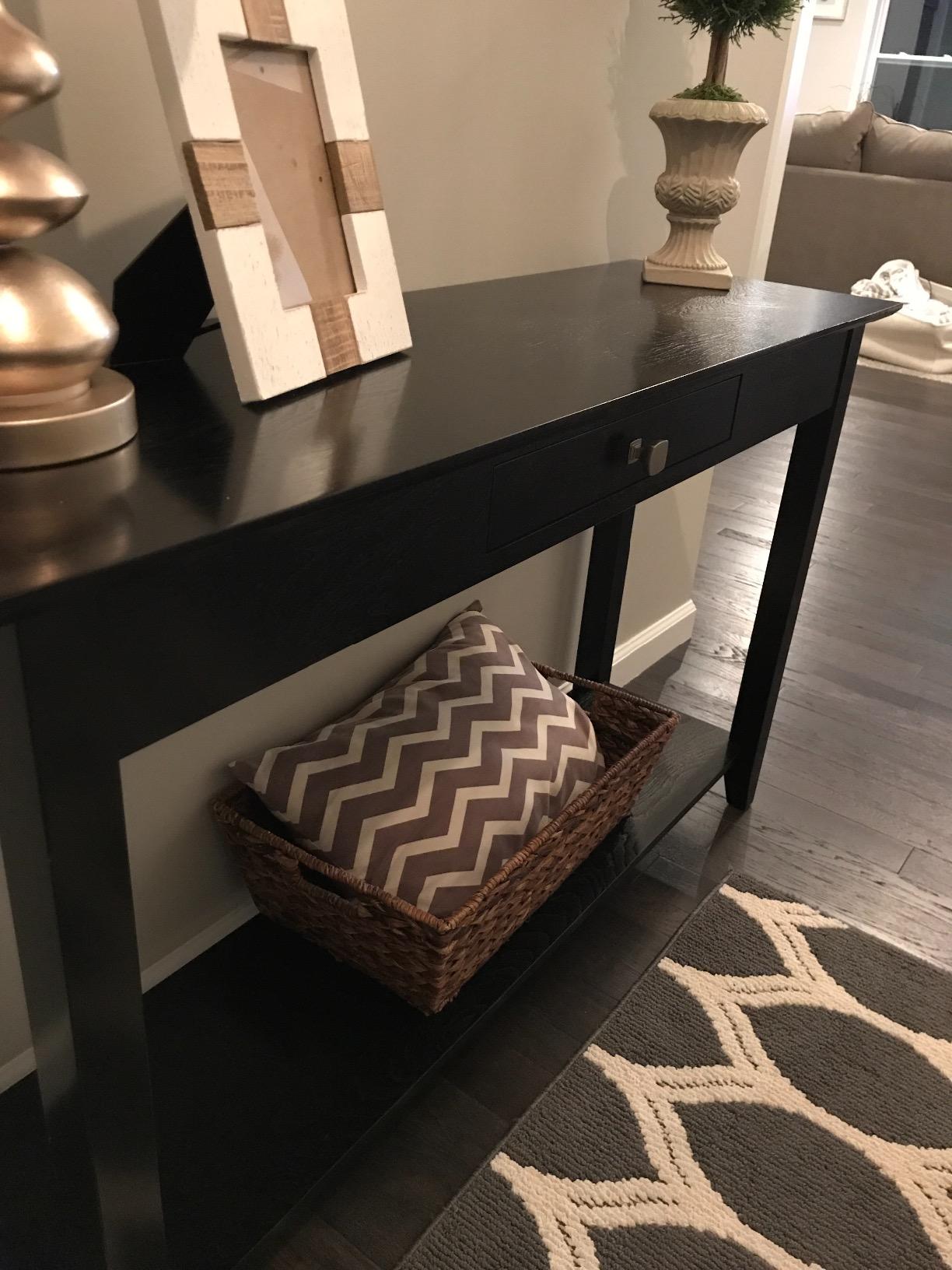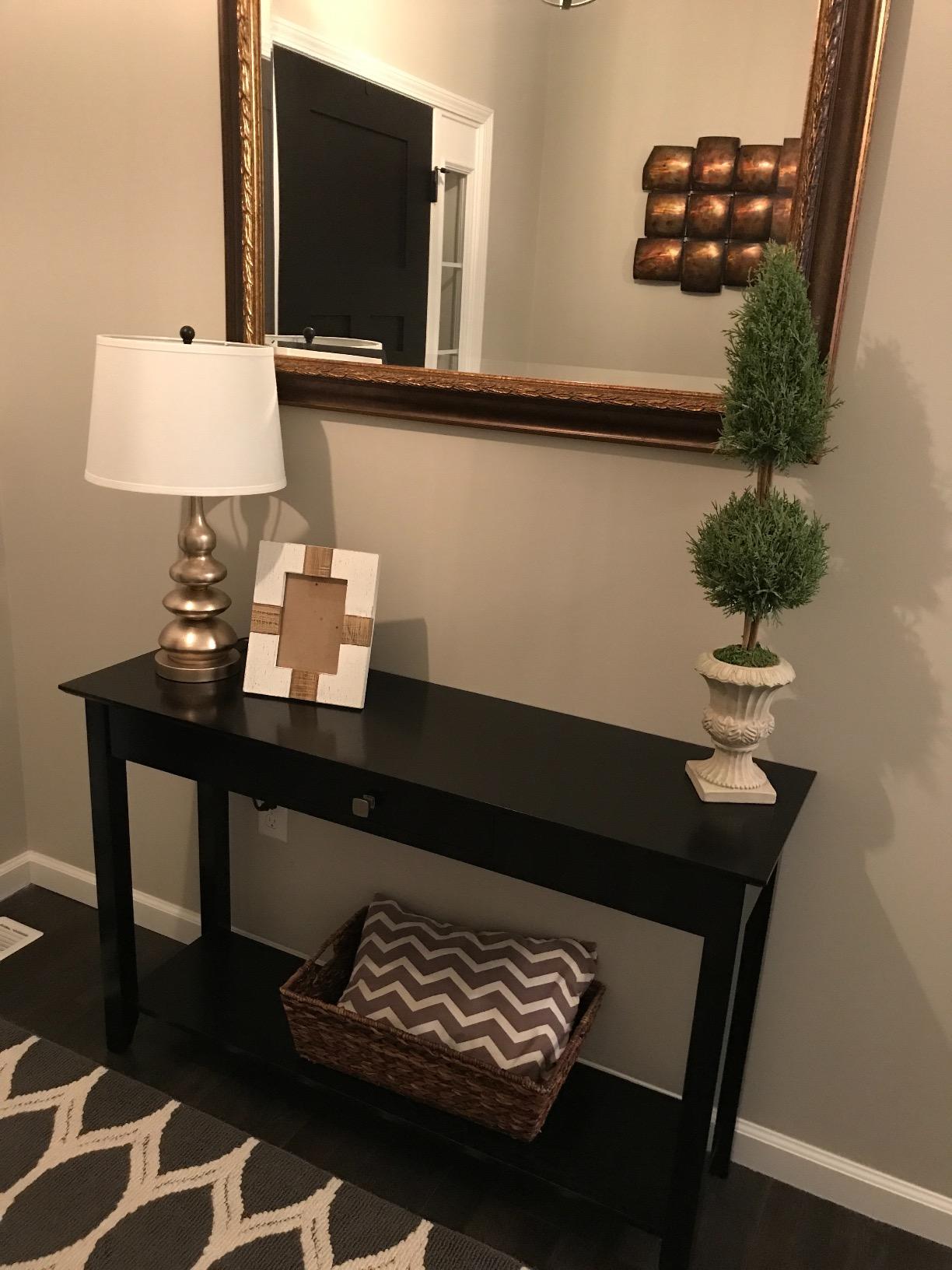 ---
Purchase the product on Amazon Marketplace