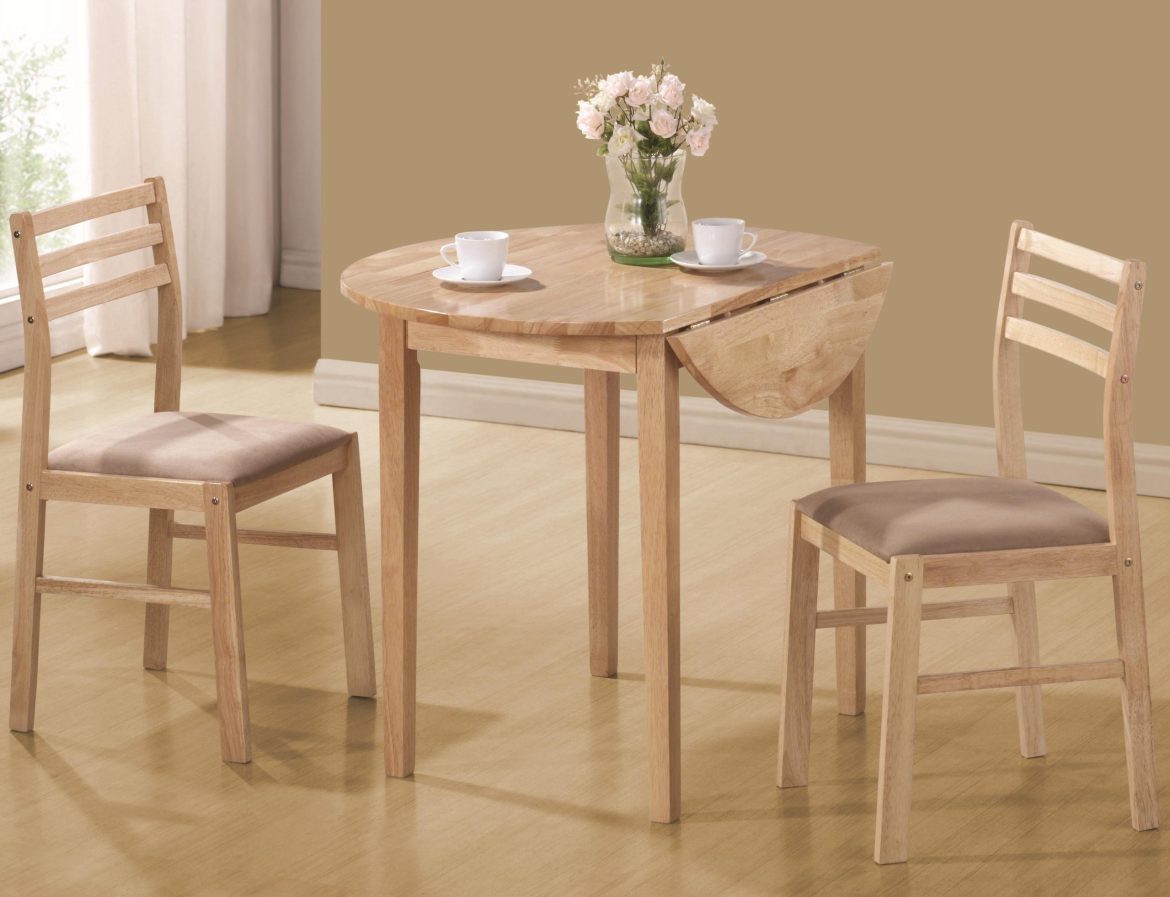 [Review] 3 Piece Dining Set with Drop Leaf
Assembly
The 3-piece dining set consists of a table and two chairs. Everything in the box came with no damage. The only con here is that I had styrofoam bits scattered all over the floor. I do understand that it would have caused more inconvenience if I got broken pieces and had to ask for a replacement.
The setup went fine. You just need to attach the legs to the tabletop. The chairs took more time to put together, but I managed on my own. It took me about 2 hours to assemble. I have to mention that I had breaks and several sips of wine in between.
Size
Just to give you a bit of a background, we got this dining set because we moved into an apartment. There was no way our old 6-seater table could fit in our new dining room. I'm glad that the size is perfect for me and my husband. I would highly recommend this for couples living in a studio.
I love the drop-down leaves on both sides of the table. You can either make the table smaller or larger depending on your needs. You can extend the leaves if you want more room. On the other hand, you can lower down the leaves to fit the table into a narrow doorway. It's perfect for romantic dinners too. You can instantly change up the look of the table with a nice tablecloth. Add some candles, good food, and wine. Your partner would love you for that.
Stability
This is no fancy table. It is an inexpensive set, but it does everything it is supposed to. The table is sturdy and does not wobble. It has a good weight to it too. It feels like solid wood, and that's amazing considering the price.
The chairs are easy to carry around. They are lightweight, but I see no problem with their stability. They can support my husband's weight (he's 220 lbs.) with no issues.
The chairs are comfy. I like sitting on them, but they're not something you'd sit on for hours. The seat is well-cushioned. It is also wide enough for a big person to sit on. Just take note of the 300-lb. weight limit. The back is high enough to provide support. I would prefer if it was taller, though.
In case you're wondering, the leaves have support brackets to keep them up. You can put your elbows up on the leaves, and they would stay put.
Final Thoughts
I love the light beige color of the set. It has a clean look to it. If you're going for a minimalist look, this would make a wonderful addition to your home. The surface has a smooth finish. That makes everything easy to clean. The seat cushion is easy to keep clean as well. As you may well know, the fabric on there is usually the most difficult to clean. I have tried spot-cleaning on it, and the stain went off with a little scrubbing.
This dining set only costs less than $200. If you try to look in stores, a 3 piece-set could easily cost over $300 and up. This deserves a 5-star rating for sure! – Jennifer H
---
Brand: Coaster Home Furnishings
Product: 3-piece Dining Set with Drop Leaf Beige and Natural
---
---
Purchase the product on Amazon Marketplace