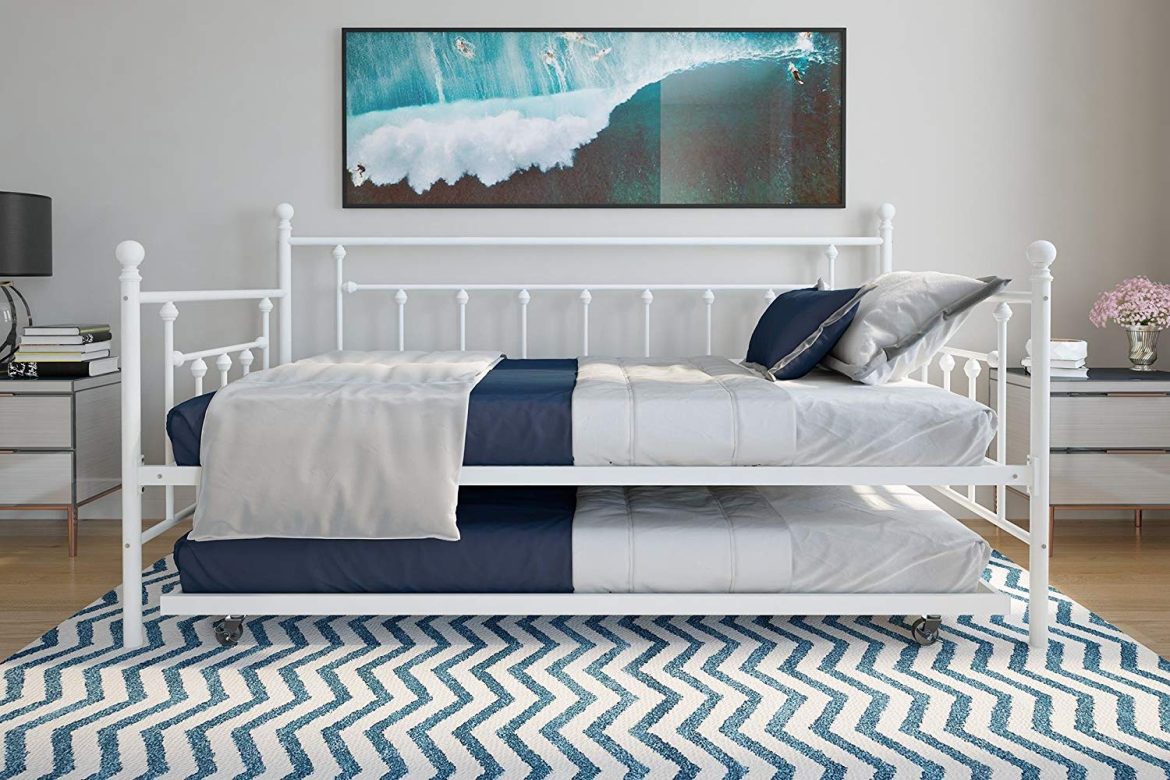 [Review] DHP Manila Metal Daybed and Trundle
Assembly
This DHP Manila metal daybed and trundle arrived a few days after I ordered it. I was impressed with the fast shipping. Everything came in one heavy box. There were no broken parts or missing pieces. The assembly was pretty straightforward. It took me around an hour and a half to put it together. That's quick considering that there are a lot of parts to it. The directions are easy to follow. The illustrations helped a lot too. If I could give a friendly advice to buyers, that is to tighten the screws only at the very end. Install all the pieces first so that you'd have no issues fitting them into place.
If you're getting the twin size just like I did, it's good to know that a regular twin-sized mattress would fit perfectly. I got 8-inch mattresses for both the daybed and trundle. You can get a 10-inch mattress for the top. For the trundle, though, that would be a little too tall.
The Pros
I got this bed for our guest room. My husband and I didn't want to spend a fortune for a bed that would get slept on for only twice or thrice a month. I couldn't have made a better choice. It's awesome that I got two bed frames at the price of one. Many people might think that beds with trundles are for kids transitioning into a bigger bed. I don't disagree, but this bed frame has no problem accommodating adults too. We've had a couple of guests who slept over and there have been no stability issues.
The daybed doesn't squeak even if you move around. This is great news if you're a light sleeper. If it does squeak, that is a sign that you need to tighten the screws.
The pull-out trundle wheels in and out smoothly. We have a carpet underneath the bed, and the casters glide without problem. There are 4 casters. Two of them can be locked into place. This is useful in keeping the trundle out when it's in use.
This beautiful daybed and trundle has a metal bed frame. It is sturdy and will likely last a long time. I like the use of metal slats. It allows airflow into the mattress. The slats are spaced evenly so it provides support to the bed. You won't feel the slats underneath the mattress.
The Cons
I can imagine that the entire bed is difficult to take apart for a move. Each slat is locked into place. You would have to take caution in removing them or else you risk causing some damage.
Another thing that I have to point out is that the white is closer to cream. If you're very particular about the color, you may opt to paint it white yourself.
Last Thoughts
With all things considered, I could say that the pros far outweigh the cons. It is solid, affordable, and not to mention, attractive too. Undoubtedly, it is a fantastic space-saving piece. It would work well in apartments and small spaces. You'd love it as much as we do! – Karen F
---
Brand: DHP
Product: Manila Metal Daybed and Trundle
---
---
Purchase the product on Amazon Marketplace