[Review] Home Styles Liberty Kitchen Cart with Stainless Steel Top
First Things First
The box this kitchen cart came with was very heavy. Here's a pro tip: Make sure to ask the shipping guys to carry it into your kitchen. You'd thank me for giving that advice.
It took a while to unload everything. The parts were individually wrapped with styrofoam. The packaging provided more than sufficient protection for the parts during shipping. On the downside, I ended up with styrofoam pieces scattered on the floor.
It takes two to assemble this thing. Luckily, my dad was around to help me. Assembly could be a bit challenging if you have no experience in putting things together. The labels on the parts were a big help. Several parts came pre-drilled as well. In the end, everything lined up. There was no need to force anything in. It took us a little over an hour to set it up. It was definitely worth the time. The kitchen island looks a lot better in person.
Space and Storage
I barely have no counterspace in my kitchen, so this cart is a lifesaver. My canned goods and kitchen tools used to be all over the place, much to my mom's dismay. So when my friend suggested that I get a kitchen cart, I wasted no time to check out Amazon. Seeing that this was one of the more affordable carts (and the prettiest too!), I decided to ordered this.
The drawers are very deep. You can fit many of your kitchen tools inside. I store my canned goods and baking supplies in the cabinet. The cabinet has adjustable shelves, which is a big bonus.
This is highly recommended for people looking for extra storage space in the kitchen. With a spacious cabinet and three drawers, this won't disappoint.
Other Features
I love the casters. They roll smoothly on the floor. They are handy for moving this thing around. You can also lock them into place.
There is a paper towel holder included with the cart. You can put it on either side. Having the paper towel at hand makes it easier to keep the kitchen island clean. The stainless top is a breeze to clean. So far, I see no rust. Just make sure to wipe the top dry after each usage.
For the price, I expected something less sturdy. It is stable and the casters provide enough support to the entire thing. The stainless top looks like it can keep its shape even if you use it for chopping.
Let's not forget that this Home Styles kitchen cart is easy on the eyes too. It's something mom would surely approve. You can bring it out of the kitchen and into the dining room when you're entertaining guests.
I wish that the white is a brighter white, though. The color looks closer to cream. Nevertheless, it still looks clean and elegant. That is exactly the look that I was going for.
Overall, this is a great kitchen cart at a very reasonable price. It is multi-purpose, so practical buyers would love this. – Angel S
Other Popular Reviews
"I love this Kitchen cart!! I searched high and low for a kitchen cart/island on all of the amazon and all of the bed bath & beyond for my wedding registry. This seemed to be the best option, because of the finished back and easy mobility" – DesRoulette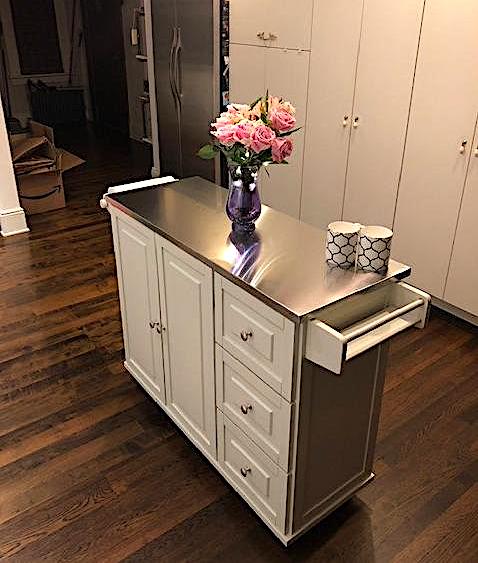 "This kitchen island with storage was very easy to put together. All the hardware was labeled to match the corresponding pieces. The wheels on the bottom make it easy to move around, or you can look the wheels to keep the island in place. The material is very sturdy and looks great. I am very pleased with this product." – Anna Lang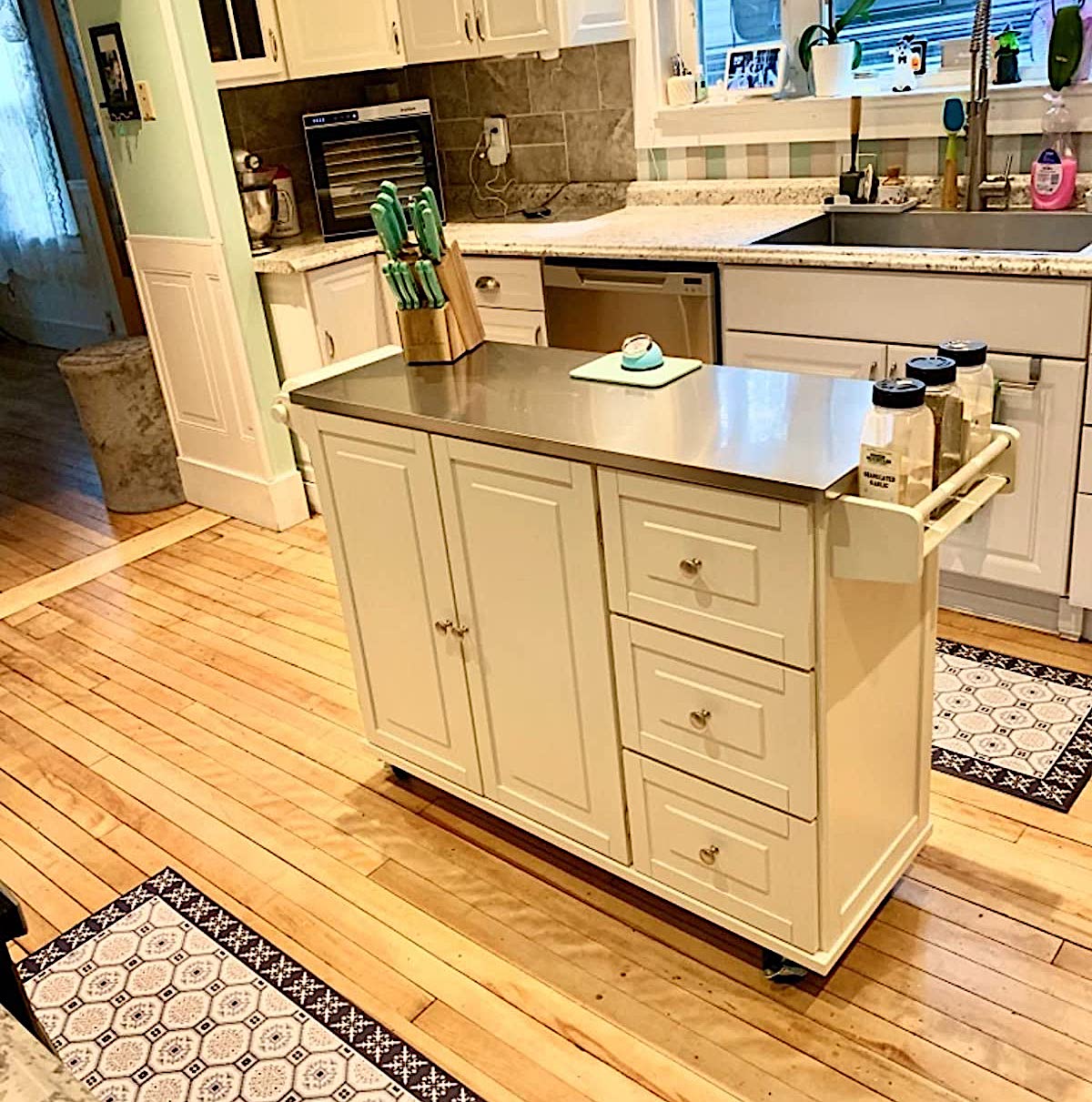 "Just exactly what I needed for my kitchen. Holding up great. Love the spice rack on the end as well at the paper towel holder on the other. Very practical and beautiful." – FlaSunshine16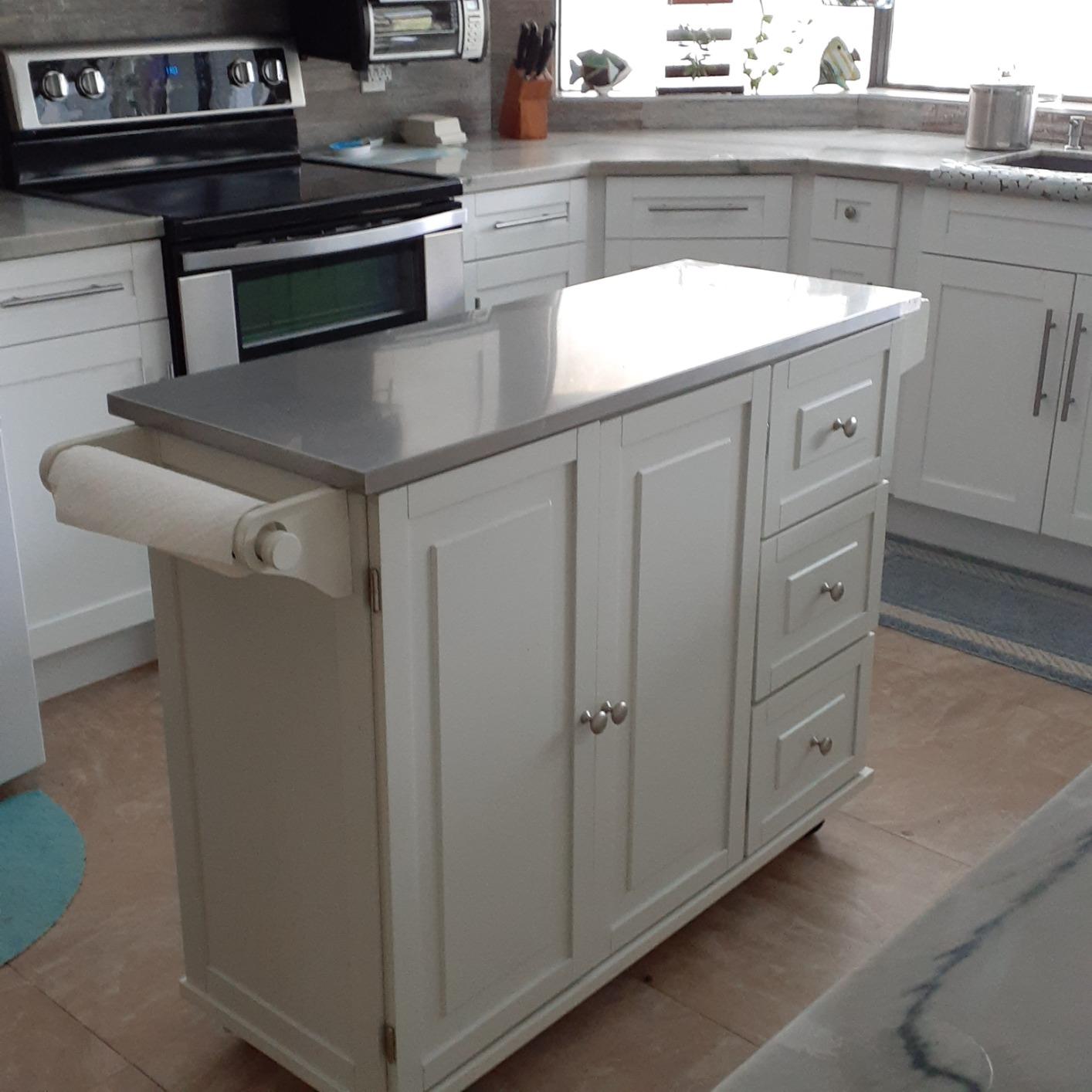 "I love this cart! It is perfect for our coffee bar and holds tons of cups inside. I even have some of my counter clutter items in the bottom (hand mixer, electric can opener, toaster). The drawers have a lot of space and hold my extra coffee, teas, parts, etc. I love it and decorated it exactly as I wanted!" – Ms. Kayla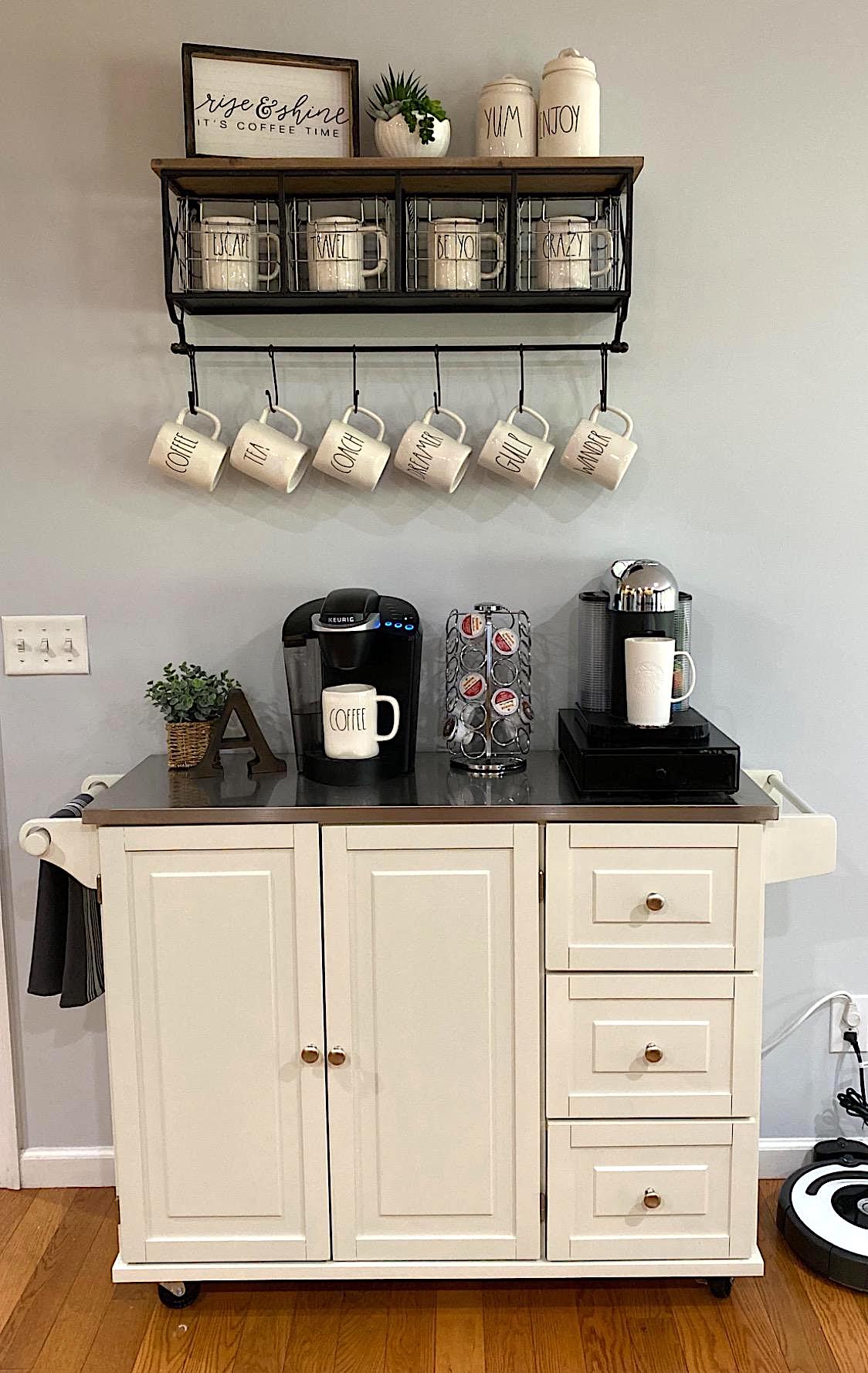 "Sturdy, beautiful and very clean design! Wanted an island to utilize it as a coffee bar after using small foldable tables for more than a year, being hideous. Looked everywhere to find a good one for a reasonable price and bought a different one that was delivered w missing items and was of poor quality. This one is amazing! Great quality, great dimensions (on the big side be aware) and unbeatable price! Very happy w this purchase!!" – Skatulli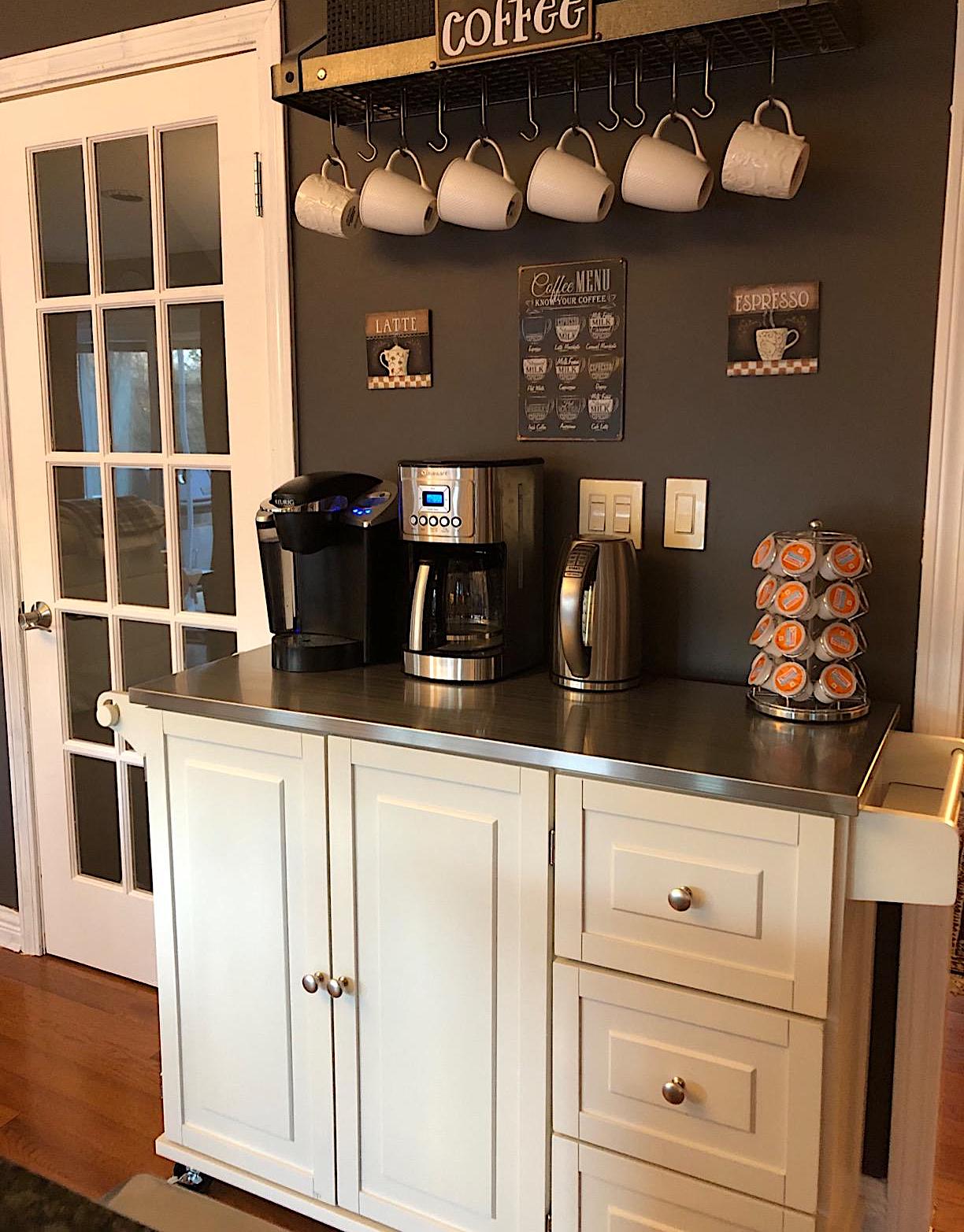 ---
Purchase the product on Amazon Marketplace (USA and CANADA) with free shipping
---