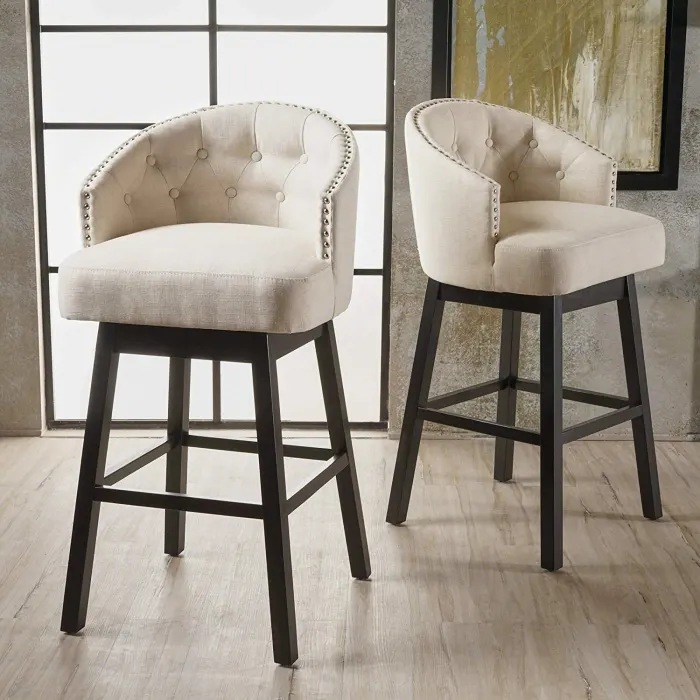 10 Best Selling Swivel Bar Stools with Back, According to Thousands of Amazon Reviews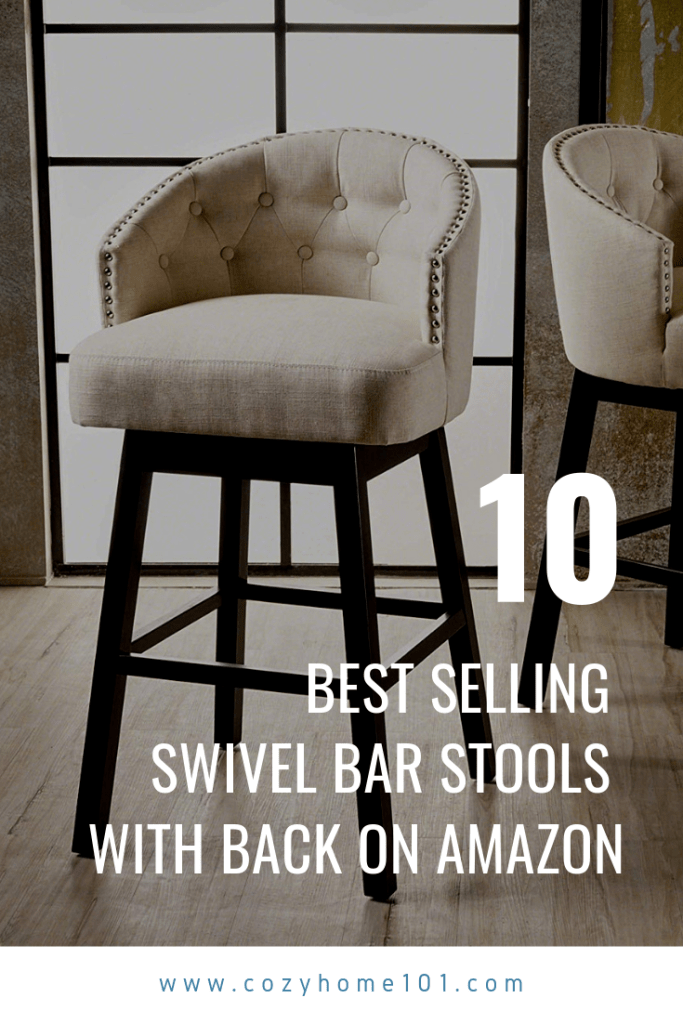 Bar Stools and Counter Stools
Counter stools and bar stools offer ideal comfortable seating space for dining rooms, pub tables, and kitchen counter areas. They are available in various styles, for instance, traditional, modern among many more. Visit amazon to assess the wide selection of counter stools and buy that which meets your specifications.
The Right Stool Heights For Counters and Bars  
Most people tend to think that counter stools and bar stools are one and the same thing. The two types of seats have distinctive features that separate them from one another.
In regards to height, bar tools have 28 inches high seat heights to fit perfectly under tabletops that have a height ranging from 40-42 inches.
On the other hand, counter stools have a standard height that ranges from 24 -27 inches, specifically for tables with a height of 36 inches. You can also pair counter stools with high tables whose height is 35 -39 inches.
To buy the right counter height or bar height stool models, we recommend you first get accurate measurements of the distance between your floor and your counter's underside. After that, you can place your order.
Reasons to opt for adjustable Stools
It is not a guarantee that you will get a counter or bar stool that fits perfectly under your high table. Your table or counter might either be lower or higher than usual. In that instance, you will need an adjustable counter or barstool that will fit well under your table. That kind of stool has been explicitly designed to be modified easily to fit well under your high table.
The Adjustable counter and bar stools have their seats attached to hydraulic columns. You can use the lever to alter the seat height to accommodate people with different heights.
Note: You can still get the right counter or bar stool without purchasing one that is adjustable. All you need to do is ensure there is a 9-12 inches height space deficit between the underside of your counter and the seat top.
What is the right number of bar stools to have?
There is no specific number of barstools that you will need. The number will depend solely on the size of your counter space and the number of people you intend to host.
Below is a formula you can use to establish how many barstools you need:
Create 6" of pace between stools that are 16" and 18" wide.
Create 8"- 10" between seats that are at least 18" wide and above.
For swivel stools, ensure you leave some extra distance from one seat to another to allow free movement.
What are the Barstool options?
Here are other features and options you can consider before buying a bar or counter stool.
If you do not fancy, barstools with arms, armless barstools will serve you just right. The armless barstools take up less space and allow more effortless movement than those stools with arms.
For easy access, you can buy swivel bar stools that come with a rotating seat.
Backless barstools can also be an ideal option for you. They come with a streamlined look just like armless stools. 
Furthermore, they save on space since you can easily slide them under your counter when not in use. For enhanced comfort or traditional bar setting, a counter stool with both arms and a back will be appropriate.
You can also consider various materials like leather, wood, or metal to get barstools that blend well with the décor in your home.
There are a lot of options when it comes to shopping for a counter stool or bar stool. This means you can easily find a stool that fits well in your kitchen counter and blends well with your kitchen design.
We will also recommend to you some of the best barstools you can buy from Amazon.
12. Armen Living Vienna 26″ Counter Height Barstool in Grey Faux Leather and Walnut Wood Finish
Promising review: "Very high quality product for the price, nice finish, comfortable, robust. The frame and twist mechanism are so stable. Easy to assemble, just 4 screws and ready. It comes with all needed to do it (screws and hex key). Delivered on time and complete. I bought a pair to play with a bar table in my favorite corner at home." – JUAN MANUEL TOCCI
11. Stone & Beam Sophia Modern Swivel Kitchen Bar Stool, Wood
Promising review: "Perfect fit and height. We ordered the slate color counter level ones, and we are very pleased. It goes with our wood block perfectly, and the color makes our back splash pop. Super sturdy, well made and great fabric. We looked everywhere, Wayfair, Living Spaces, Mathis..on and on. These are by far the best option. Worth the price. You will not be disappointed." – Ronni
10. Winsome Wood Wagner Arrow-Back Counter Stool with Swivel Seat
Promising review: "I purchased these for our vacation home, which was already outfitted with Windsor style solid oak dining chairs. Those chairs are 20 years old and solid as a rock. I was hoping these bar stools would be a match. But I was afraid they might be rickety and cheap. It is just the opposite — they are terrific, very solid and supportive. I am 235 pounds and never feel that they are tipsy or breakable. Putting the base on the seat can be a bit challenging for those with less than nimble fingers, but if you read the instructions and work slowly you will succeed. The swiveling action is just right. These stools look like they will be good for at least 20 years." – M. White
9. Roundhill Furniture Round Seat Bar/Counter Height Adjustable Metal Bar Stool
Promising review: "I bought these for my kitchen island/breakfast bar. I figured to try these out and upgrade later. Now, I know I won't need to upgrade. Every other place I've looked, bar stools are starting in the 50 dollar range, and they're not upholstered. I spent half that, they're upholstered, and there's no concern on whether the seat will hold at height. You can adjust the height fairly easily, just add the extension posts. They go together really easily, and the instructions were great! Totally recommend them." – Marshall C
8. COSTWAY Vintage Swivel Bar Stools with Leather Padded Seat 
Promising review: "My husband put them together in no time and they look great with my breakfast counter. The seats match my kitchen cupboards which is a mahogany color. The chairs are very sturdy and the swivel works well. Would recommend to buy" – Beverly D
7. Christopher Knight Home Swivel Bar Stools
Promising review: "Quite possibly one of the most pleasant surprises I've had from items ordered from Amazon, and I order a LOT from Amazon. These stools far exceeded my expectations for the price–they look like they cost a lot more than they actually do. They are comfortable, sturdy (no wobbling at all) and very well made with nice quality fabric and straight seams. The fabric color is a warm creamy beige that is true to the photo, and is almost perfect for my particular decor. The bottom cushion is thick and comfortable and the low backs are just right for feeling supported without extending too high over the counter to block the view into the great room. Assembly was a snap (it took us about half an hour to assemble both) and delivery was surprising quick. I would buy them again in a heartbeat." – Ducksoop
6. SUPERJARE Swivel Barstool Chairs with Back
Promising review: "In love with these bar stools! Very comfortable and they look much more expensive than they are. The stool moves up and down to sit at different heights and your bum doesn't slide off! Don't pay someone to put them together. We finished 6 chairs in under 30 mins. No tools required aside from what's included. We can't wait for our pub table to arrive now." – H. Frazier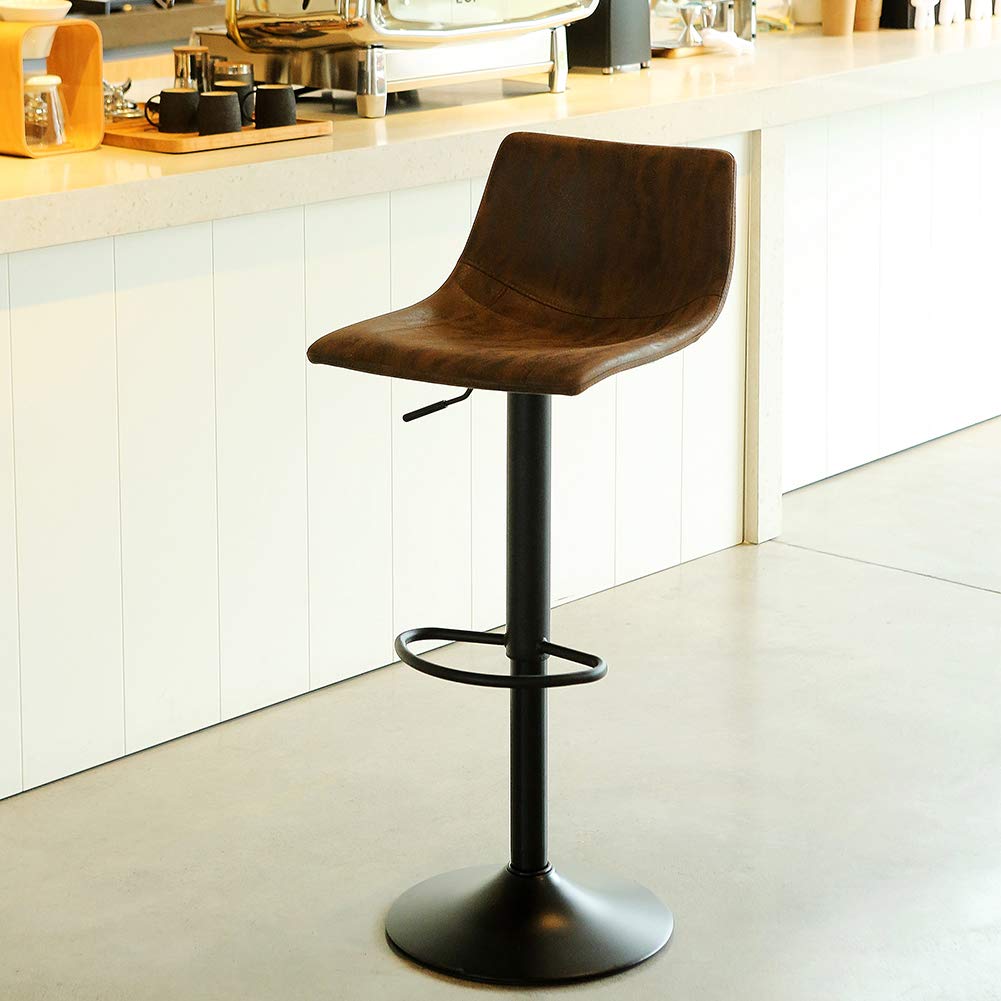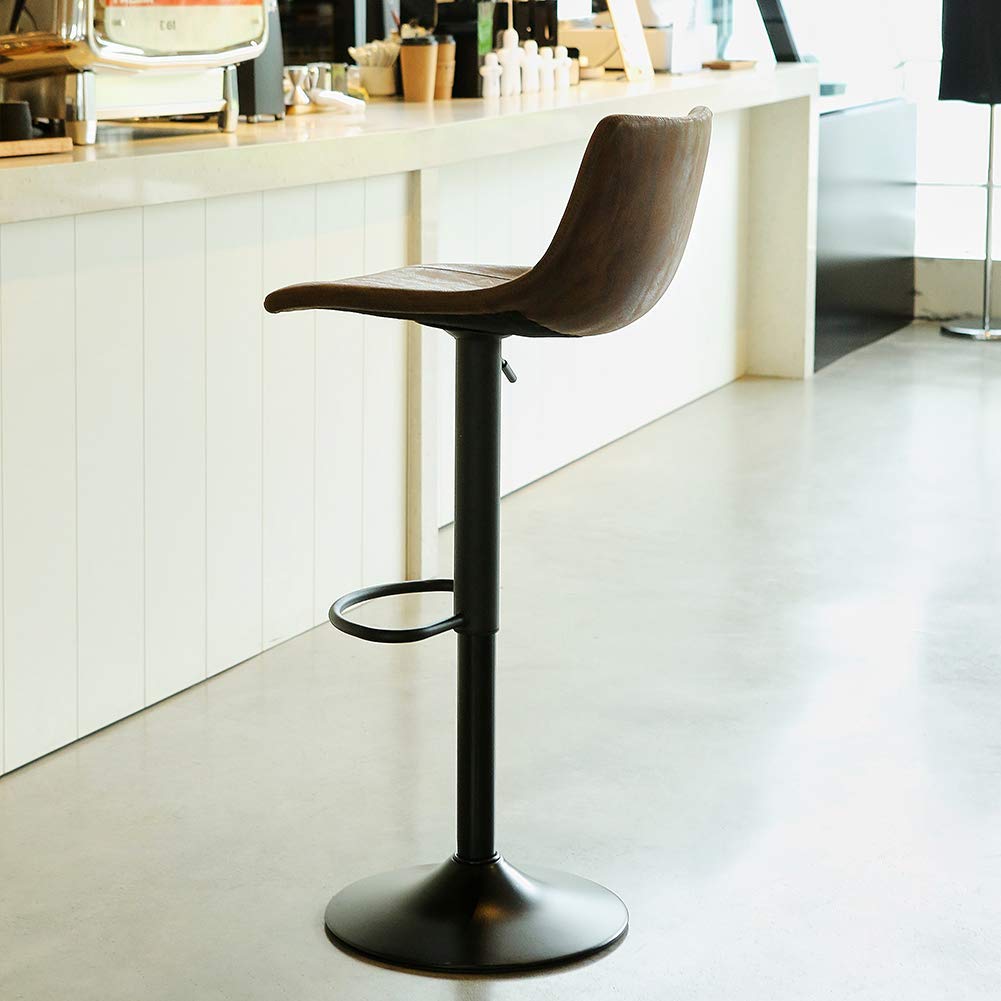 5. Roundhill Furniture Masaccio Cushioned Leatherette Upholstery Airlift Adjustable Swivel Barstool
Promising review: "I have a small place so I purchased these stools so that I could raise the seat while working on my computer (at my counter) And be ergonomically correct. I was so surprised that two stools were in this small box, but once opened, perfectly packed pieces were enclosed. There were picture directions that were easy to follow and within 30 minutes I had two beautiful stools. They gave my counter a fresh modern look and actually make the area look more spacious. I may need to add more in time regarding the wear and tear of them but for now I can testify that they are gorgeous!" – Coly
4. Ashley Furniture Signature Design Pinnadel Swivel Barstool
Promising review: "I love them! I debated back and forth and looked at many different lines from many sites but I wanted something with backs for the kids and leather on the bottom to easily wipe spills but still had a rustic look for me! I couldn't be more pleased! They are sturdy, rustic, and beautiful!" – Stacia T
3. BestMessage Height Adjustable Bar Chairs with Back
Promising review: "These bar stools look great even with our ugly counter top. They go high enough for a pub table and low enough for a card table almost. The assembly is ridiculously easy, I literally did it in my recliner, this is something I am a stickler for as well. It is hard to impress me with assembly, these were so easy I thought I forgot something or that they would be unsecure feeling, I assure you they are not. Great product great price I have already recommended them to friends. These are the ones you want." – TimK
2. BestOffice Modern Adjustable Synthetic Leather Swivel Bar Stools Chairs
Promising review: "I cannot believe how nice these look. They were very easy to put together and they look perfect for my condo. Being a condo space is at a premium but it doesn't mean you have to give up style . Very worth the money. I can now remove my dining room table which takes up way too much space." – A. Shockley
1. Homall Modern PU Leather Swivel Adjustable Barstools
Promising review: "Just what I wanted. I bought 4 of them for my kitchen and they arrived about 3 days earlier than expected. My 14yr old son put them together for me. Piece of cake. All the tools come in the box. Yeah, I'd agree that it's a little tippy if you lean your entire body weight forward but in normal use it's fine. An adult can't possibly fall over on this seat. Maybe a caution for fidgety younger kids sitting on these seats though. The base is really wide so it's pretty sturdy and VERY comfortable to sit in. I have it on hardwood floors as well – the base slides easily on the floor. No concerns about scratching hardwood." – PIA
.
.
.