[Review] Whitmor Baker's Rack with Removable Wood Cutting Board
Assembly
Assembly was a breeze. You don't need any tool to put this baker's rack together. I can imagine that it is easy to take apart too. It would be very convenient if you had to move and bring this thing along.
The rack comes with 4 hooks. These are for hanging cooking utensils like your pans. I wish Whitmor provided more. Aside from that, I have no other complaints about this rack. It can accommodate 4 more hooks, so it's a total waste of space. That's why I purchased more hooks separately. Amazon sells a lot of these S hooks. They are easy to find in hardware stores as well. They come in one size only, so you shouldn't have any issues.
Features
I badly needed more counterspace and cabinets for storage in my kitchen. I'm glad I came across this baker's rack. Contrary to what it is called, I think this rack is better suited for cooking. I don't think I can so much roll out a dough on it. Nevertheless, the rack can be handy for storing baking supplies.
The cutting board top is a lovely touch. This is really useful for someone who has limited counterspace. The top gives you extra room for prepping. Although it's not as spacious as expected, extra space is always appreciated. The chopping board can easily be taken off the rack. When you're not using the surface for chopping, you can use the space for storage too.
Everything is adjustable. That includes the shelves and the top. I am quite tall, so I had the top higher than it is in the pictures. You would definitely find the adjustability of the rack useful. If you are on the shorter side, you can simply have the shelves lower. Kids can also help you prep. As the shelves are adjustable, you can fit taller items as well as shorter ones. I use the lower shelves to store kitchen appliances that I don't usually use.
The rack is made of chrome-plated steel. That already says a lot about its strength. It is not as heavy as it seems, but it is very sturdy. There are no worries of it toppling over. My advice is that you put the heavier items or appliances on the lower shelves. I highly recommend putting this up against the wall too. Since it is not that heavy, I can move it when I'm sweeping the floor underneath.
Last Thoughts
This Whitmor Supreme kitchen rack is not as large as the others being sold in Amazon. That makes this perfect for smaller apartments. It won't make your kitchen look crowded. Although it can't hold as much things as a larger rack can, it has made a big change in my kitchen. My kitchen has never looked as organized as it is now. The rack helps you put everything you need in one place and reduce clutter in your kitchen. So far, this kitchen rack is doing the job I needed it for.
I would also give this rack extra points for looking sharp and sleek. It looks beautiful in my kitchen. – Helen P
Other Popular Reviews
"Picture says it all! You won't believe how useful and sturdy this baker's rack is. We have a open concept kitchen with limited wall space and storage. This has been a life saver!!!! Assembly was a bit rough because I did it alone. So much easier with another person to help. Instructions were pretty clear for the most part. I LOVE IT!!!!" – Vanessa C.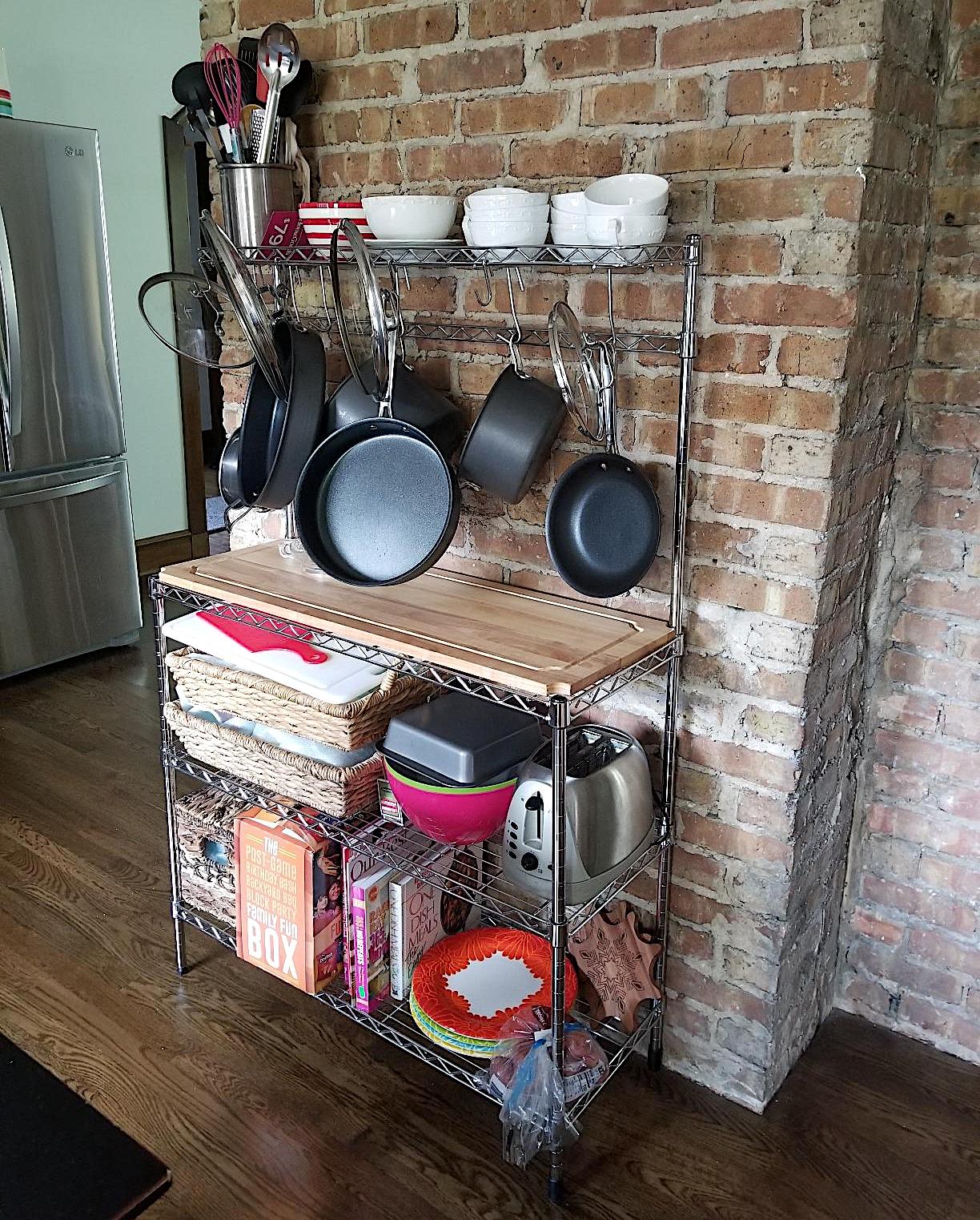 "My daughter's college apartment has very little storage space, so she ordered this to store mainly her pots and pans. It is very sturdy and was very easy to assemble without any tools. We also purchased extra S-hooks and were able to hang things from the hanging rack as well as off of the side. It looks really good, was affordable, and was available for prime shipping, so I could not be happier!" – David C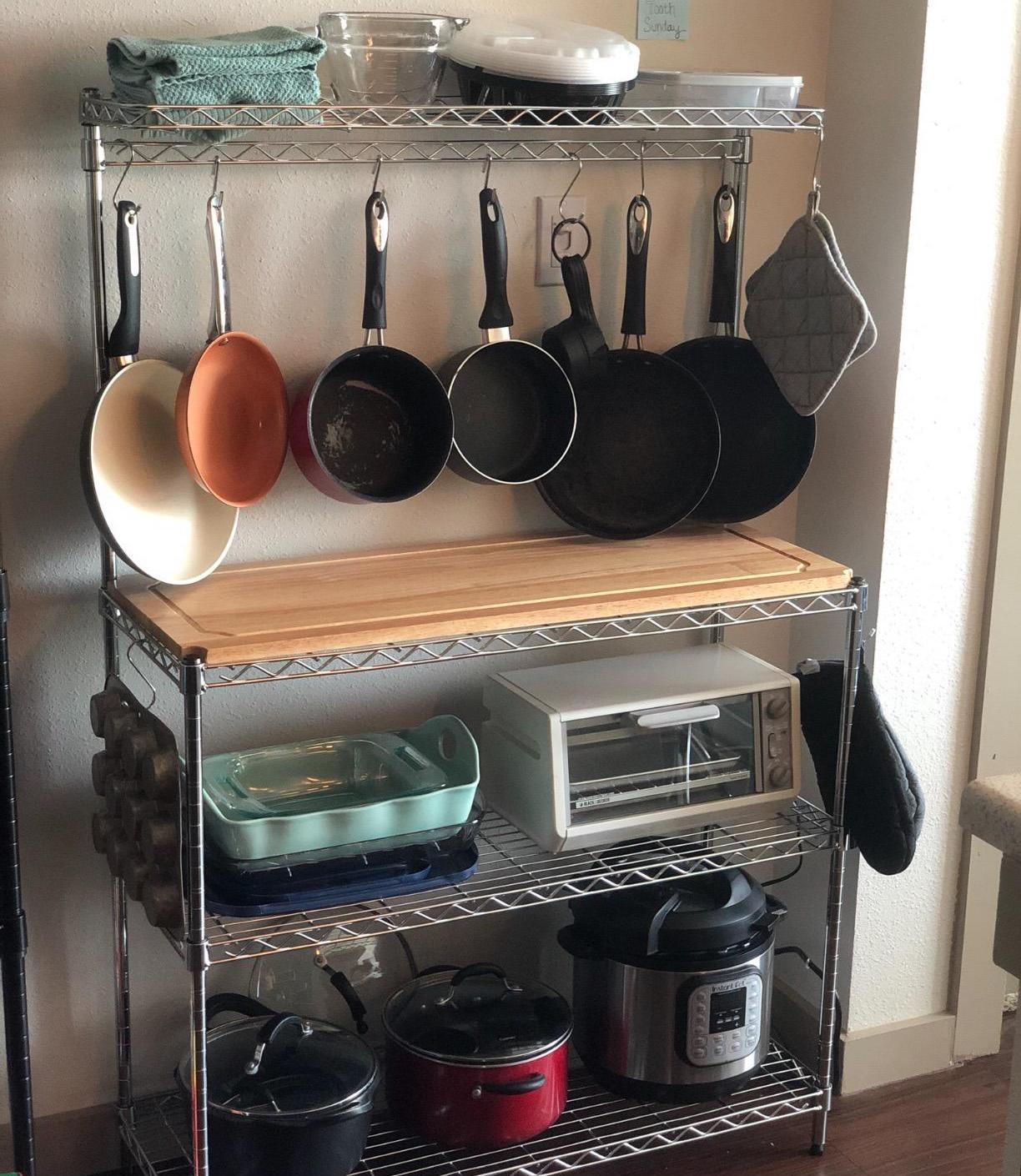 "I love my baking rack! I know many reviewers mentioned it being a bit too short for them, but I am 5' tall, and it's perfect. It took up just the right amount of space in my apartment kitchen. I love that the racks are adjustable and I was able to twist the bottom pieces to make the rack completely stable. I would recommend this product to anyone looking for a baking rack that can also serve as storage for small appliances." – Ashley Cosme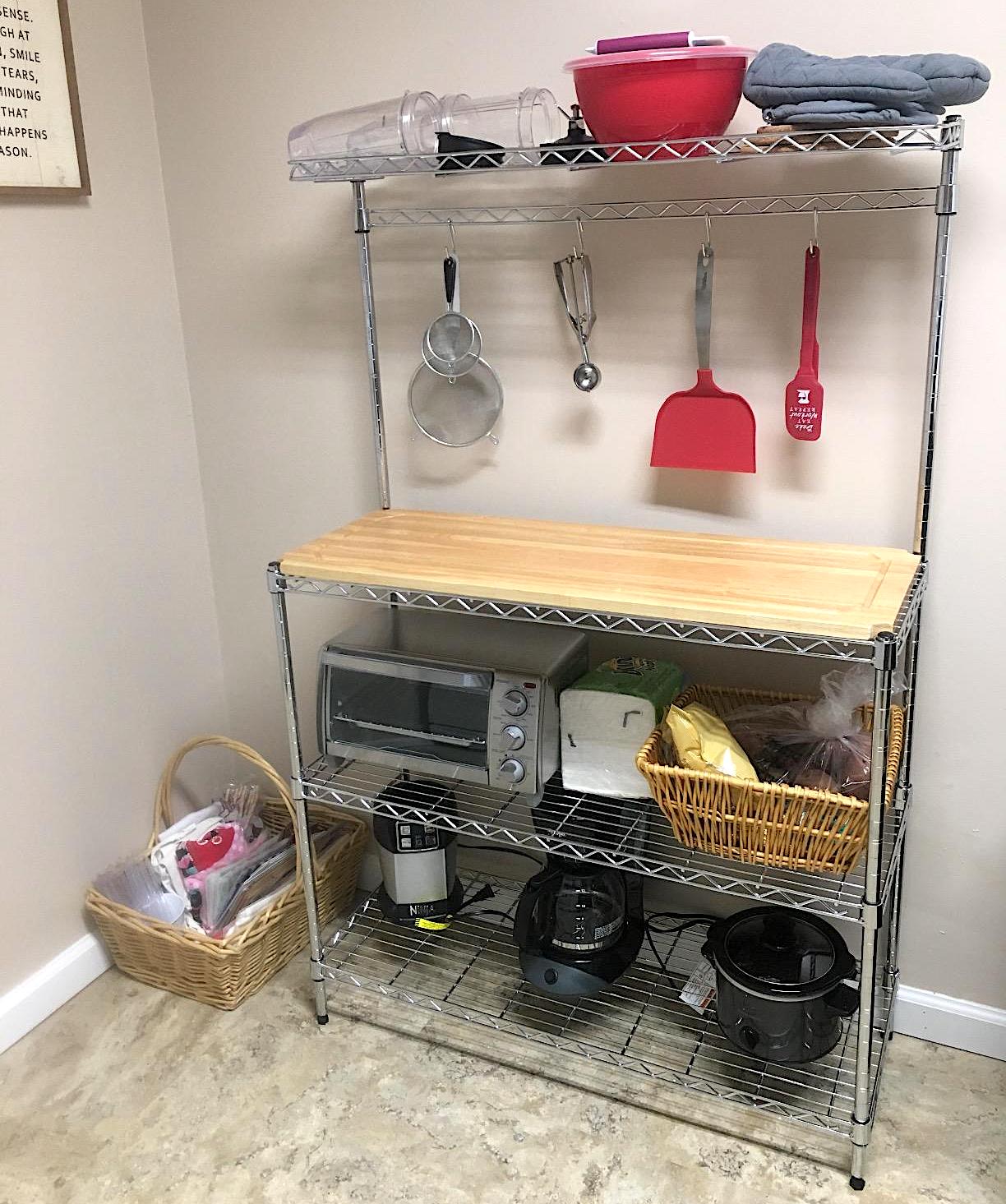 "Both my parents and I don't actually use the cutting board. It's just nice to have there as a solid, flat board to put coffee stuff and a microwave on." – LQ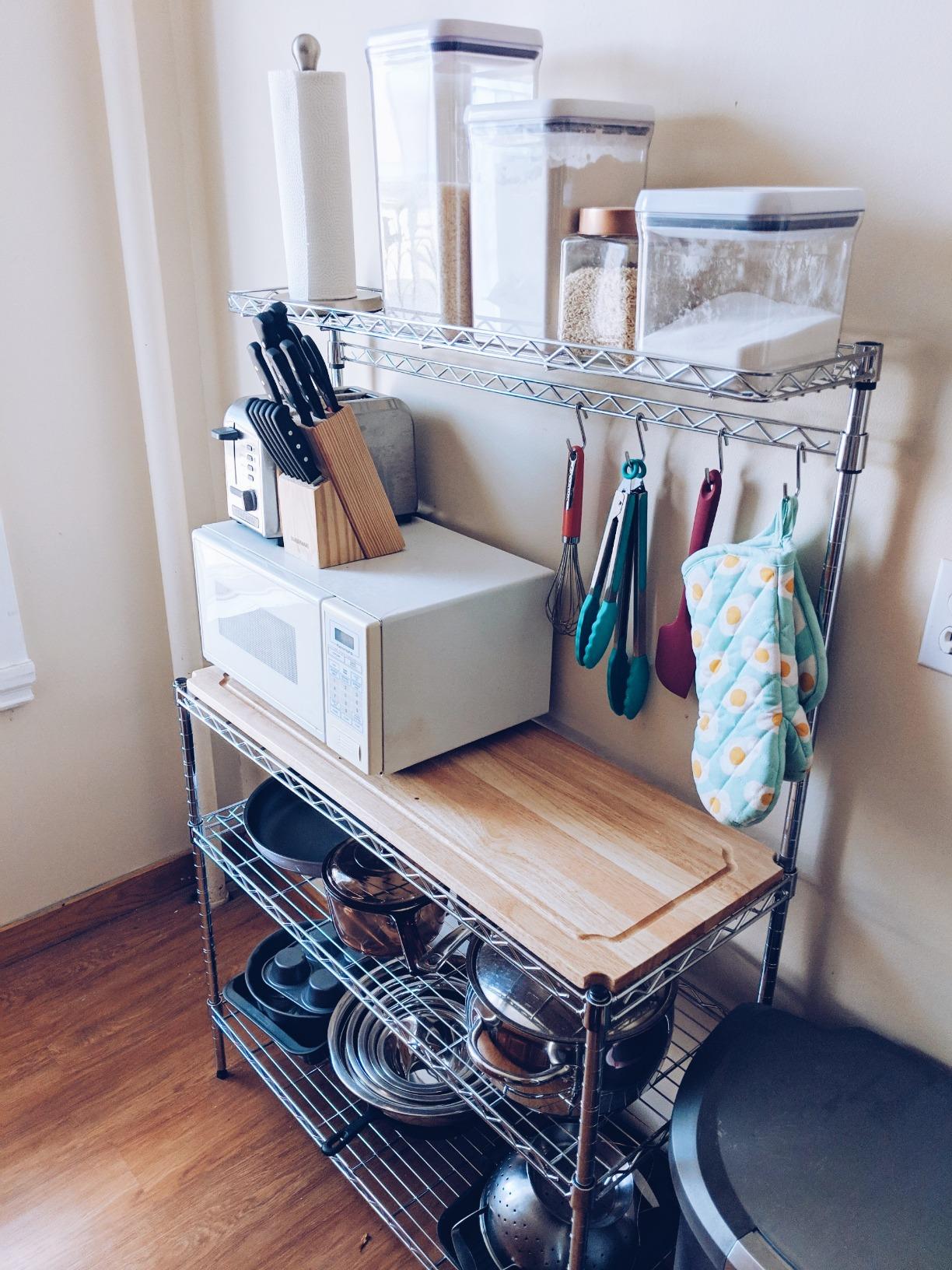 ---
Purchase the product on Amazon Marketplace (USA and CANADA) with free shipping
---