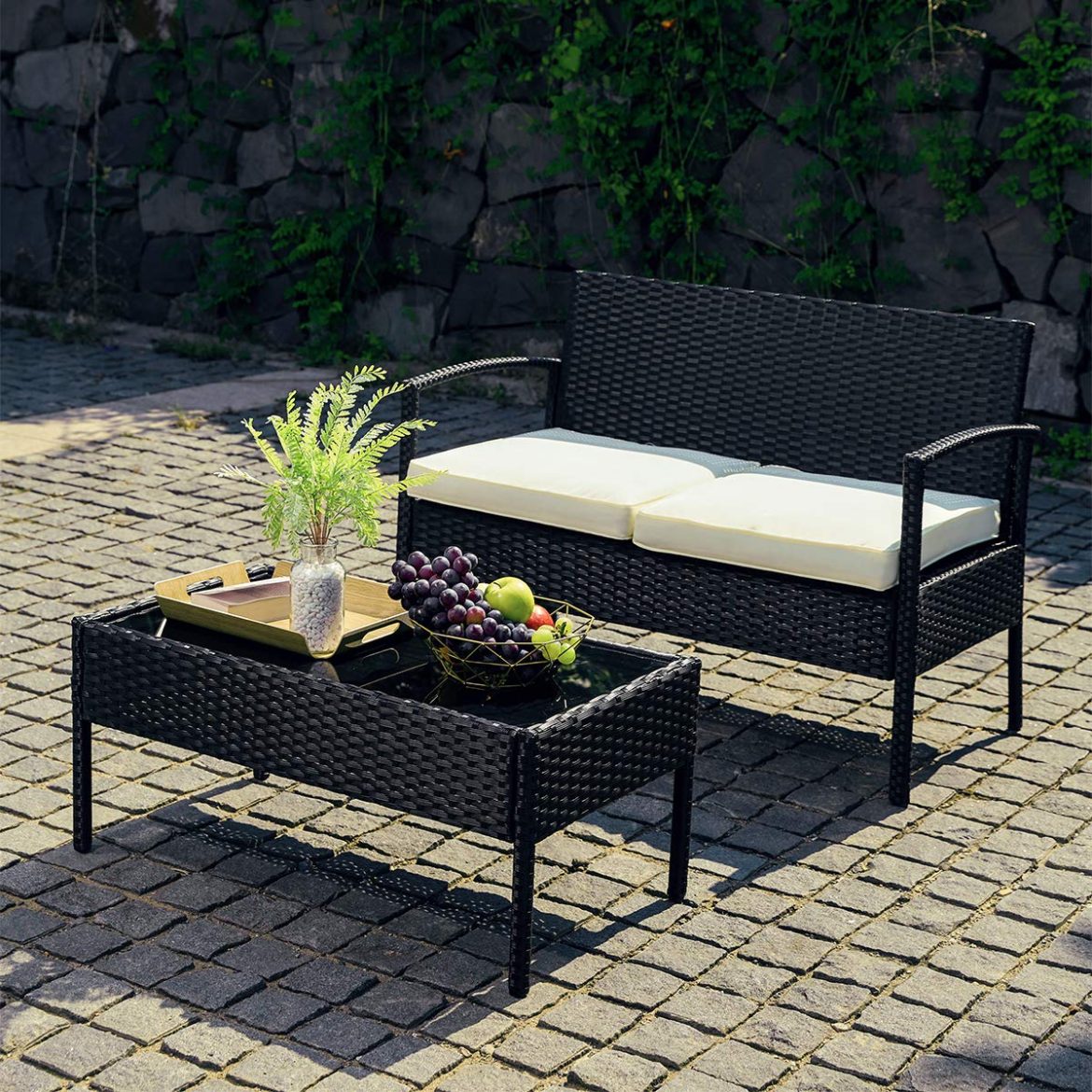 [Review] Pamapic 2 Piece Outdoor All-Weather Black Wicker Loveseat
We got this 2-piece outdoor furniture set for our patio. My parents visit us once or twice a week, and the set gives us a cozy space to chat. It is also useful when I have my friends around. So far, it is serving the purpose we got it for. It is worth the price. In fact, I don't think I could have found a better set at around the same price point.
Things I Like
The assembly was very straightforward. I appreciate that the set came with extra washers and screws. I happened to lose one of the washers, so the extra piece is a total lifesaver. Nevertheless, all hardware are pretty standard. You can easily get them from a hardware store. The instructions can be better. Some of the steps are a bit confusing but I managed. I put it together on my own for about 30 minutes.
This patio set is made of PE rattan. This material makes it perfect for outdoor areas, but it would work indoors too. You can leave it exposed to the elements without causing damage. I have the set in a spot where the afternoon sun hits it. The heat can sometimes be quite harsh, but the set is holding up well.
I like the size of the coffee table. It is just the right size for entertaining a small group of guests. The glass top stays put with a suction underneath it. You don't need to worry about the glass falling off the table even if you have kids running about. The table doesn't wobble at all too.
The individual chair and loveseat have a bit of a lean to them. I can lean backward rather than just sitting completely upright. That makes them more comfortable to sit on. I wouldn't go as far as saying that you can sit on them for hours, though. Your back would obviously get sore. The seats are lightweight, so they can be moved around if need be.
Things I Don't Like
I wish that the cushions are waterproof. I have to grab them in whenever it looks like it is going to rain. You can leave them out in the rain, but it may take a while for them to dry.
The cushions are not as thick as I would like. The great thing is that they are easily replaceable. For now, I am sticking with the cushions the set came with. I would replace them once I feel they are no longer comfortable to sit on.
Last Thoughts
This 2-piece PE rattan set is suitable for small spaces. It is a smart choice if you are searching for a compact outdoor furniture. It's not for you if you have a big family or you entertain a lot of guests. In terms of durability and comfort, this set from Pamapic really does deliver. It is budget-friendly and has great design too. The set looks elegant and appears more expensive than it really is. – Sarah P
---
Brand: Pamapic
Product: 2 Piece Patio Furniture Sets
---
---
Purchase the product on Amazon Marketplace