[Review] Volans Mid Century Modern Velvet Upholstered Swivel Accent Chair
First Things First
It can be difficult to choose from upholstered chairs. There are a range of considerations to make. The material, how it feels against the skin and color are all important. When you're shopping online, you can't touch the material and check if it would make your skin itch. You can't even be sure that the color you see in your screen is the same color in real life.
As for this chair, what you see is what you get. The colors look similar to what they look like in the pictures. The posted dimensions are correct. The fabric is very tight around the chair. It's free from wrinkles. This accent chair is a good size too. This would fit in small spaces without making them look cramped.
Design and Comfort
The round design of the seat is eye-catching. It has an interesting shape. The depth of the seat just draws you in and entices you to take a seat on it. The egg-shaped seat extends to form armrests. They are a bit harder than the rest of the chair. A little more padding on this area would have been very welcome.
The back and seat are all covered with cushion for comfort. It's on the firmer side and seems like it will get softer over time. If you're after something that is pillow-soft then this isn't it. I do like that the chair starts off as firm. I wouldn't like to end up with a flat chair in just a few months or 1 year of use. In any case, you can add a small pillow for comfort. If you have lower back issues, I highly suggest getting a pillow. The padding on the back offers enough support.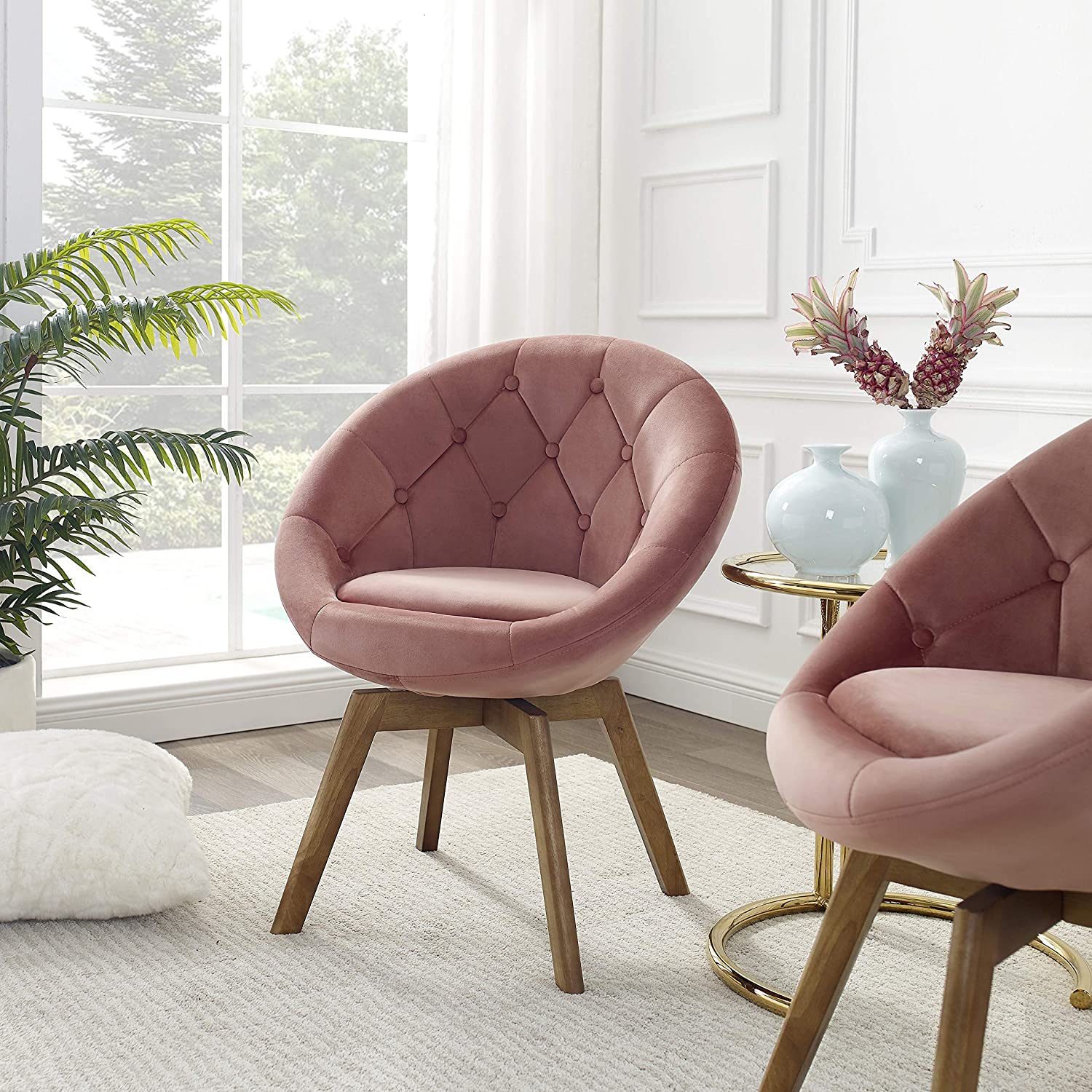 It swivels a full 360 degrees. You can twist it to any direction you want. Many accent chairs I've found in stores can only spin a 180 degrees so this is a big plus. This vanity chair swivels smoothly and quietly. It doesn't let out that annoying sound you get from other swiveling chairs.
This velvet chair has a weight limit of 280 pounds, which is pretty great for an accent chair this size. The wooden legs are very sturdy. They make up most of the weight of the chair and are heavier than they look. Considering the price, the legs have an excellent construction. The wood doesn't easily get scratched. In case the paint chips off, a touch-up pen would do the trick. You can simply fill up the affected spot and it would look good as new.
This is by no means an office chair. The full swivel design does make it suitable for work but I would only recommend this for a home office. This won't beat an office chair with ergonomic features. I can imagine using the chair while using a laptop or filing documents, though.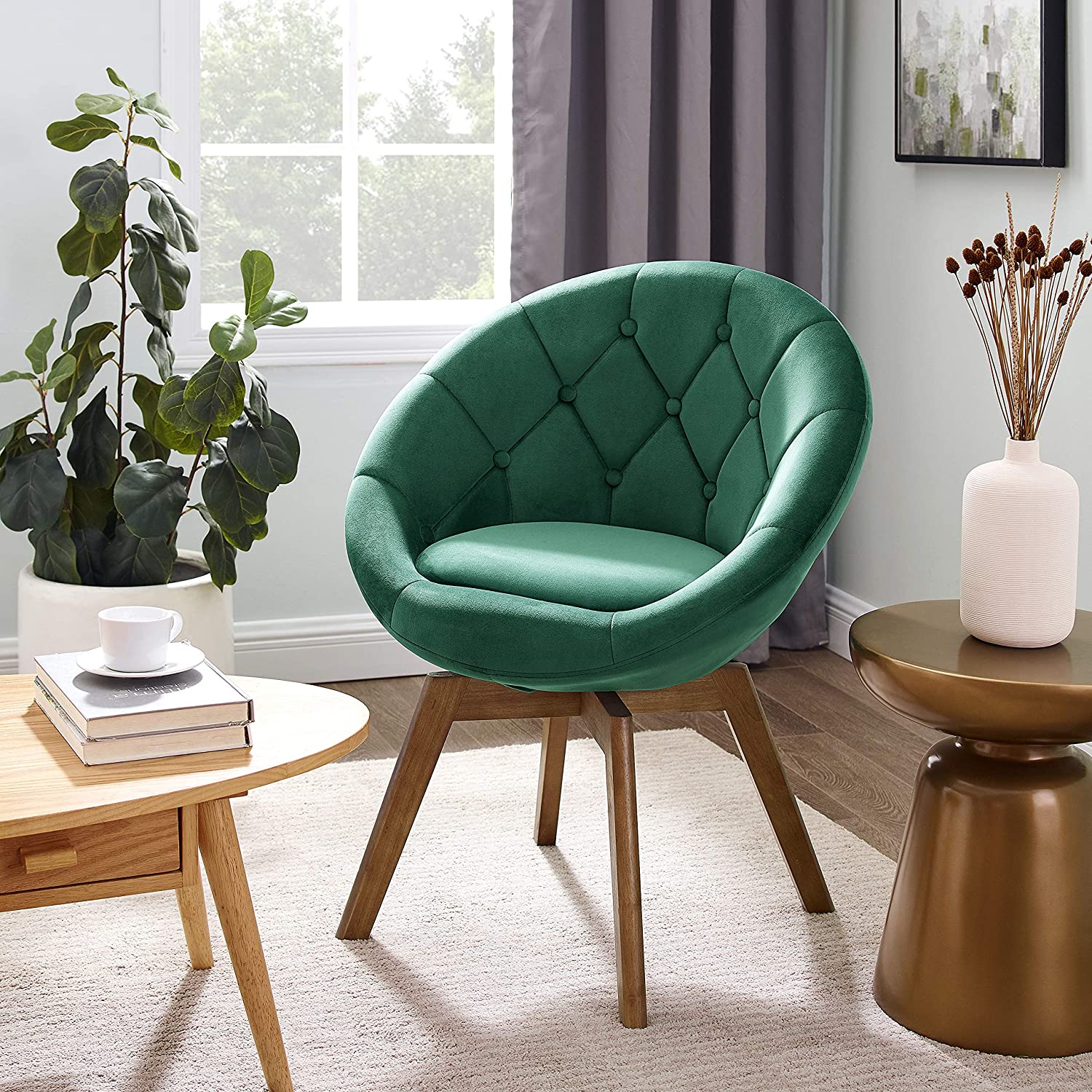 My favorite part about the chair is the tufting details. They give depth to this chair, which would have looked one-dimensional without them. The buttons are spaced evenly and sewn tightly.
This would make a great vanity chair. It is the right height for a vanity table. The swiveling design makes it all the better.
The legs come with felt pads to protect the floor from scratches. They also keep the chair from slipping. Felt pads can get thinner over time but they are very easy to replace.
In Our Opinion
This tufted chair is a stylish way to fill up an empty spot at home. Get two of these and you instantly create a cozy place where you can have conversations going. Accent chairs like these look amazing in living rooms. Living rooms are usually the place where the most seating option is needed and where guests spend the most time. Having such a stunning chair in a high traffic area is probably the reasonable thing to do. You wouldn't want to hide this beauty, right?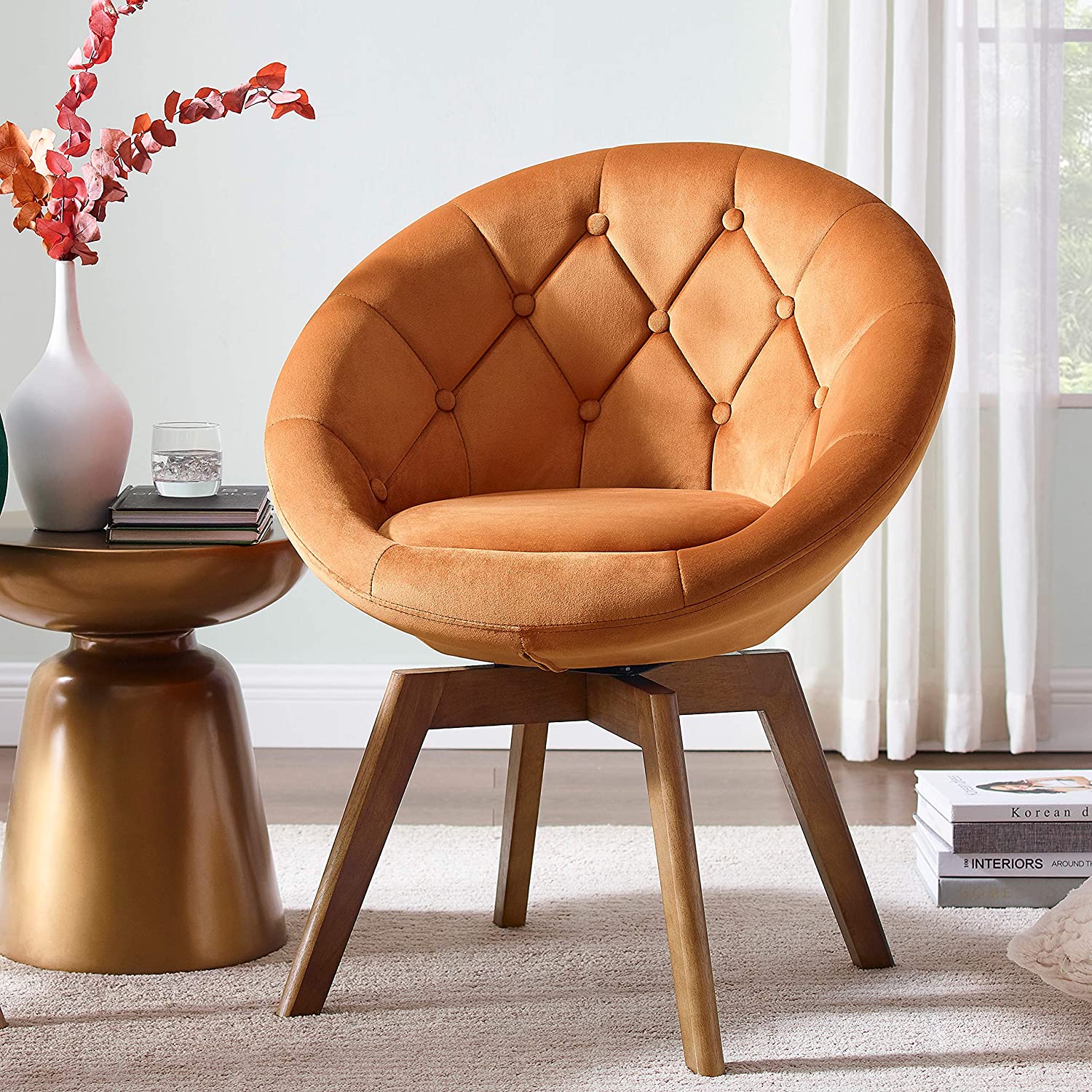 For Amazon Prime members, this beautiful upholstered chair can be shipped without any cost. If you are not yet a member, I believe it's high time you check out the affordable monthly and annual plans. It comes with a free trial too.
Other Popular Reviews
" I am in love with the mid century modern style of this chair! It's comfortable and my kids love it too. It's a great picture taking chair. Taking cute pics of kiddos in it because it's such a great style. I love the feel of the material (it is velvet)and it's quite wipeable if it gets dirty. It feels sturdy with the 4 legs (has an impressive 280lb weight limit) and it swivels a full 360 degrees! The foam is very supportive in the back and the seat. It's a firm chair. I talked my hubby into assembling this for me and he said instructions were simple. He did it by himself in around 30 min." – Sara
"These chairs are very impressive in every way, shape and form. They are very high quality, especially when you consider their price. They are also a very nice mid-size, in contrast to a lot of these types of chairs, and fit in a smaller space. The color is very rich, the fabric is soft, and they are comfortable with good back support. They also swivel well. Highly recommend. Great value!" – Aileen Thomas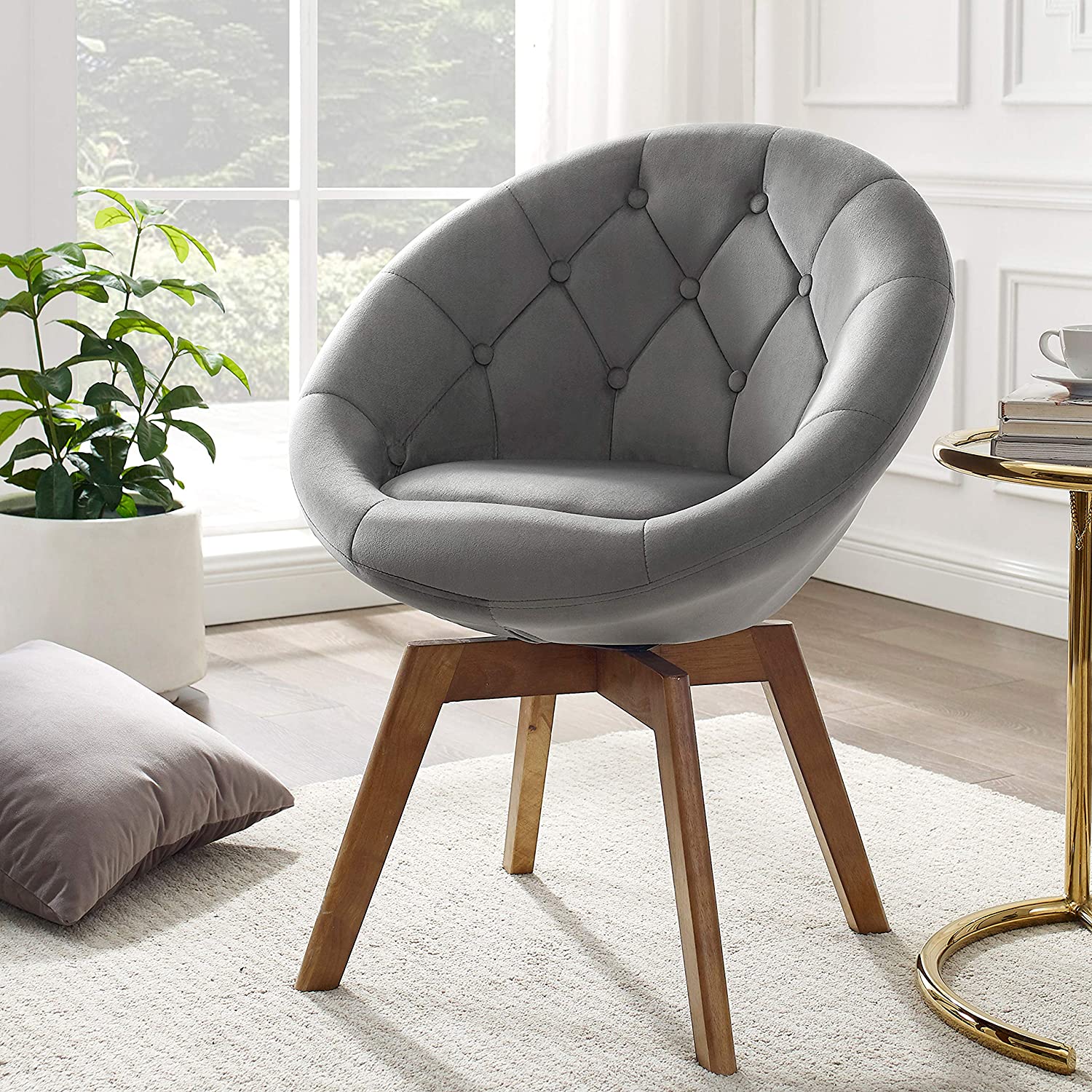 "I needed a chair for my home desk and I didn't want a one with wheels, too office space nostalgia. This chair is not only aesthetic pleasing, but supportive. I have lower back issues, and I can sit in this chair to relieve the pain I'm experiencing. I also like that it swivels or spin a complete 360. One of the best purchases since working from home." – Chrs
"Beautiful, good quality chair. Cushions are pretty stiff but I think the purpose is to accent the room which it certainly does." – RitaB28
"I bought this chair to use with my vanity. It is exactly what I was looking for! It's very easy to assemble, basically just attaching the legs which took maybe 10 minutes. Although I bought it mostly because it was cute, it is surprisingly comfortable and very durable. I highly recommend if you're looking for a comfortable, girly, pink velvet chair!" – Adrianna Leon
---
Purchase the product on Amazon Marketplace with free shipping
---