6 Good Reasons Flamaker Has The Best 3 Piece Patio Set on Amazon
Simple, classic patio furniture is always best. When you have a small patio or balcony, but you still want a couple of chairs and a small table, you should buy the Flamaker 3-piece Patio set sold by Amazon. Here are six good reasons why you should buy this set as opposed to any other patio set on Amazon.
Simple, Modern, No-Frills Design
The frames of the chairs and the small table itself are both made of metal covered in weatherproof electroplating. The frames are straight, cubed tubular design with construction that supports weight and pairs function with ease of use. The entire set is black, with only the option to purchase the set with differently-colored seat cushions.
The backs of the chairs are tightly woven rattan, a weather-resistant natural fiber taken from the rattan vines. It allows the flow of water through the fibers and will not rot or become moldy over time. That is very different from wicker, which is taken from other stalks, vines, and fibrous plants and can rot or become moldy. The bottom panels of each chair are rattan too.
Compact Size for Tiny Spaces
As we mentioned before, you can easily place this set on an apartment balcony several stories up and still have room on your balcony for plants or anything else people put on a balcony or apartment patio. If you have a small deck behind your house and even smaller yard, this set won't take up so much room as to make your deck or yard look even smaller than it already is. Some people even use it as indoor living room furniture when they live in a studio apartment with very little space. You can even take this set to college with you for use in your dorm or to set up outside in warm weather to hang out with friends or study.
Extremely Affordable
Competitive pricing is what Amazon is all about. This "bistro" set costs less than any other patio set you could buy from a home improvement or outdoor goods store. It provides sturdy outdoor furniture for an excellent price and value. If you want extra protection because you live in a place where tornadoes or hurricanes are common, buy the $21 protection plan to replace pieces that are tossed about in these dangerous weather conditions.
Let's Talk Q&A Transparency
More than one hundred questions about this set have been asked by consumers like yourself, and more than one hundred answers have been given. It's not likely you will find any 3-piece patio set with greater transparency anywhere. With its simplistic design and modern appearance, you're not likely to come up with a question on your own that hasn't been answered already.
Yes, It's Basic Black, but the Cushions Aren't
Not everyone likes straight up black on black. That's okay. Flamaker figured it out in advance and has created this set to be sold with cream, dark gray, ocean aqua blue, bright red, and classic black seat cushions to help you decorate with a pop of color. Pick the set with the cushion color you want most, and Amazon and Flamaker do the rest.
#1 Best-Selling Patio Set
This particular patio set has almost 5,000 reviews, 80% of which are five-star reviews. No other 3-piece patio set ranks higher on Amazon. The 3-piece set in second place rankings has less than half the reviews of this set, and the third place 3-piece set doesn't even have 1/6 of the reviews of this Flamaker set. It places Flamaker's set several steps above the second and third highest ranking 3-piece patio sets.
Below are some top reviews we found quite informative and promising:
"I wanted a smaller bistro set for my front porch and this was perfect. It arrived WAY earlier than expected and was not difficult to put together. It gives my front porch an updated and modern look. I am very happy with my purchase." – JillPill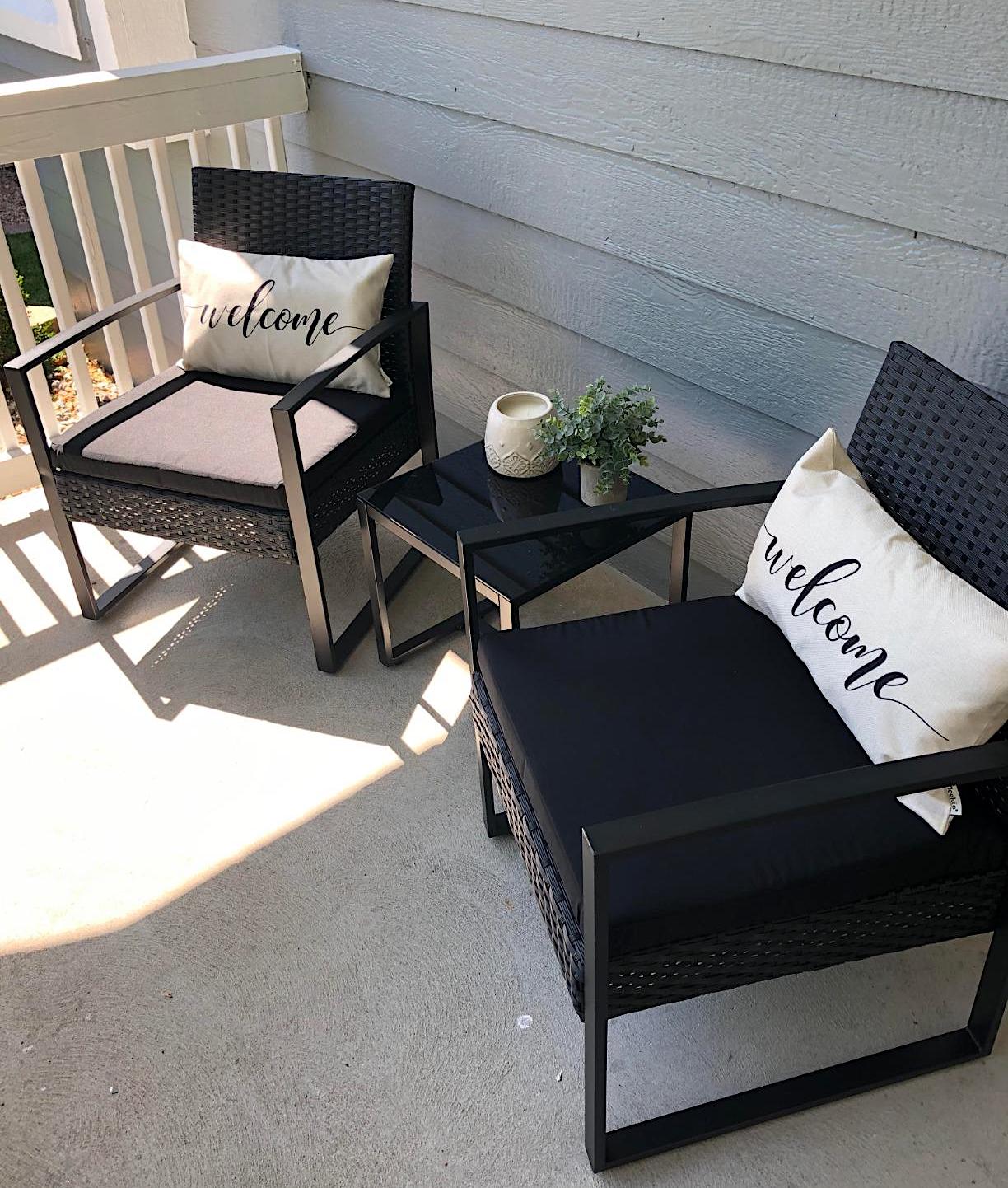 "These look great and are very comfortable. Believe the reviews about not tightening the screws til the end. The back piece will NOT fit unless the back bottom section is loose! First chair took 30 minutes. Second one took like 5! LOL I added colorful pillows to break up the black." – Stephanie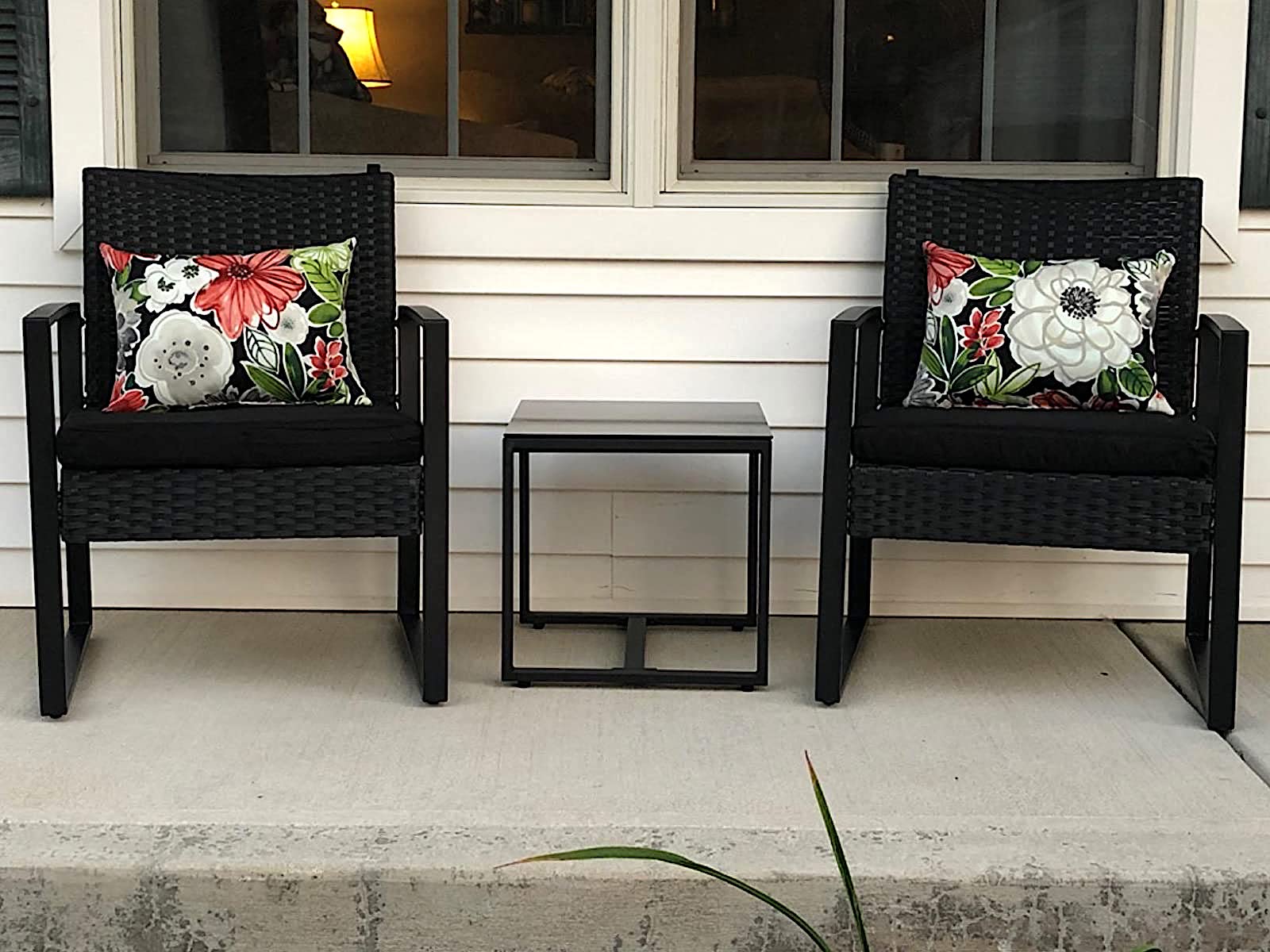 "Very comfortable, and perfect for our small apartment porch. Assembly was pretty simple. Easy to put together by one person. The directions were easy to read by pictures." – Aubrey Podschweit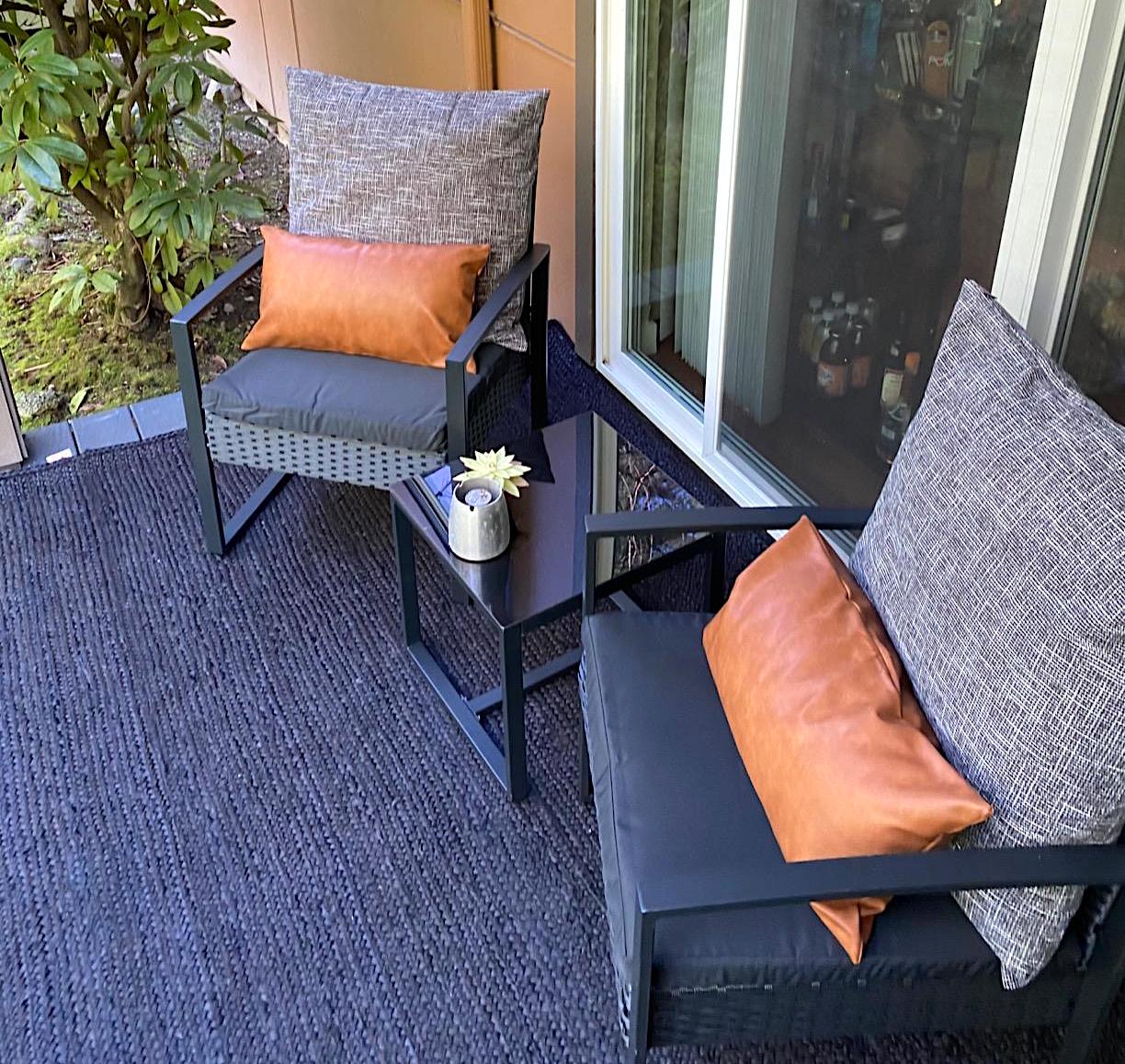 "Surprisingly for the price this is a really nice and sturdy set! It was easy to put together once I had the pieces facing the right way ? If you want a nice bistro set without spending a lot of $$ this is the perfect set!" – Sheri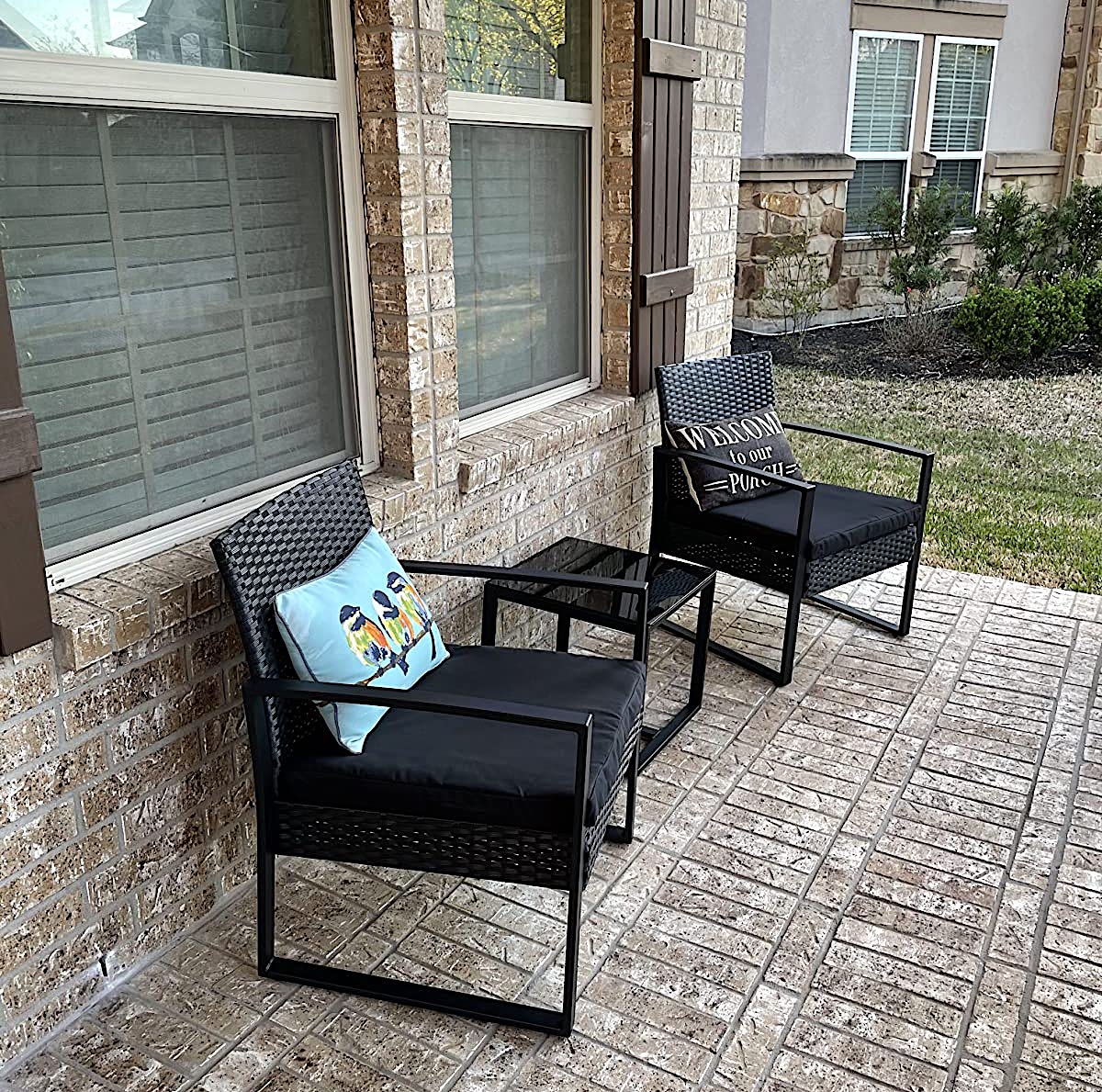 "Alright, I don't usually post reviews but I have to give credits to the amazing customer service. Let me start by saying that the set is a really good quality for the price, easy to assemble, very sturdy and I love the style. Props to the customer service, I broke the glass table top of the set by accident, so I contacted them to see if I could purchase a replacement part. They responded the same day then went above a beyond by sending me a replacement for free and sent me a tracking number as soon as it was shipped. Couldn't be happier!" – Jon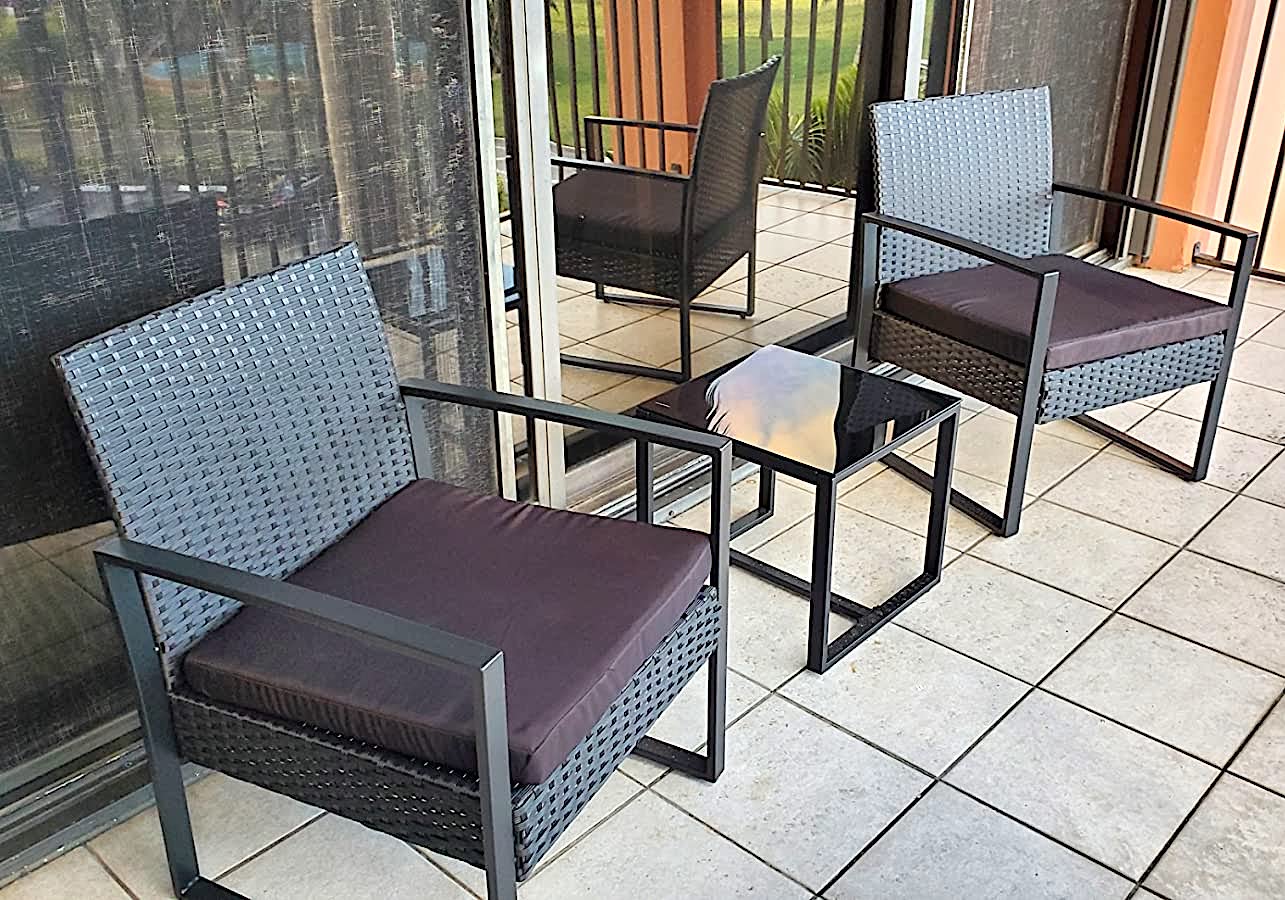 "Really like these chairs for my front patio. They are smaller in stature, but that is what I wanted for the space. I will say the bottom cushions are very light weight so one of mine has already blown away. But not that big of a deal as the chair still looks fine. I'll have to figure out how to tie the other one down. I shopped for quite awhile and was happy to find these and the Price is amazing." – Mark B.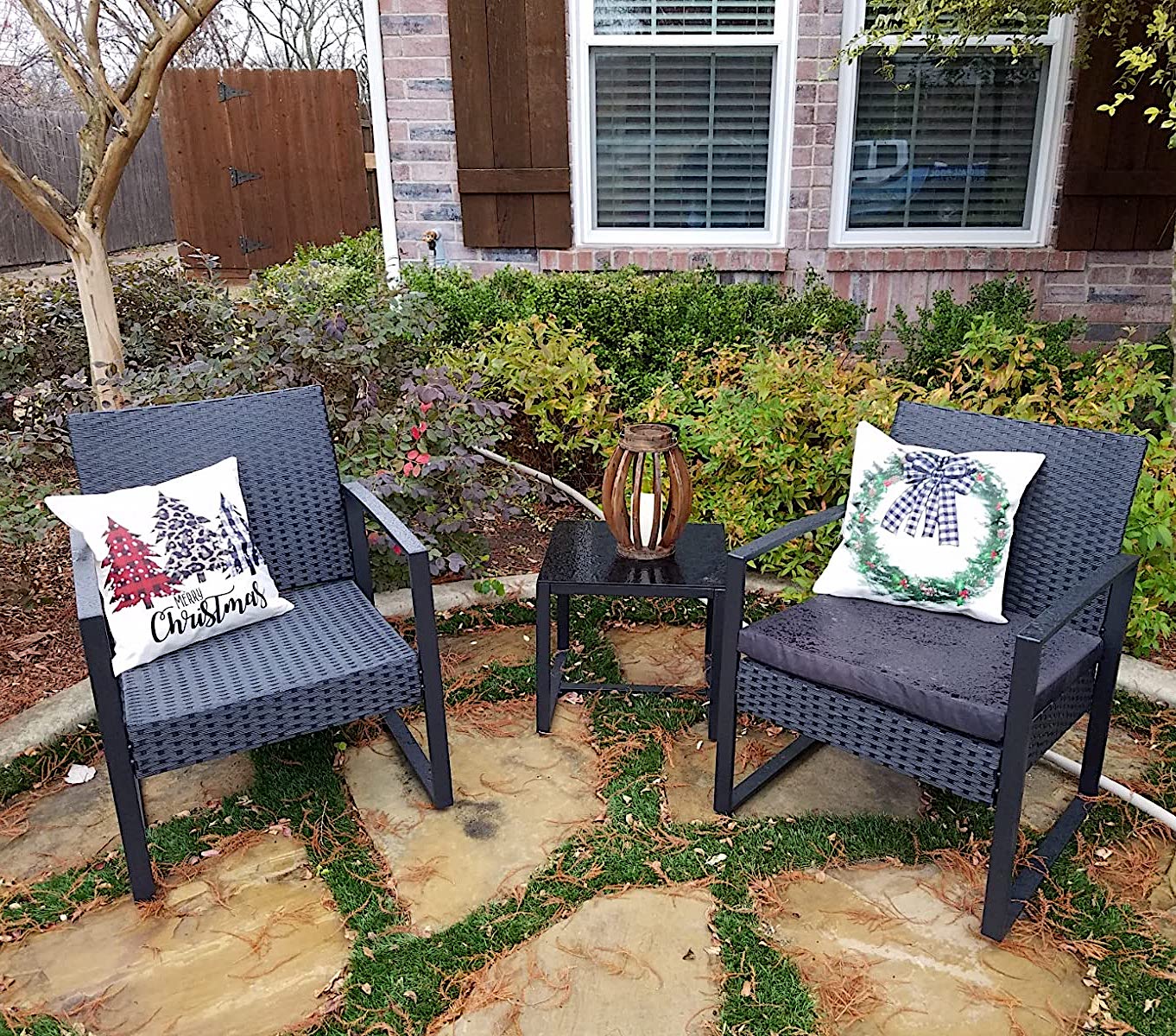 "Such a fantastic little set! We have a 5 ft by 7 ft patio to work with in the city. I needed something small enough to fit but with room to stand and walk in or out also. This set fits the bill. Actual black I color- which is exactly what I wanted. Cushions included are comfy enough. Both husband and friends say the chair wouldn't be as comfy if I didn't add throw pillows, so those are definitely recommended. The glass table top sticks to the stand via suction cups, but it still slides it seems, so we may take some liquid nails and actually glue it down. Overall- very pleased!" – Megsandbacon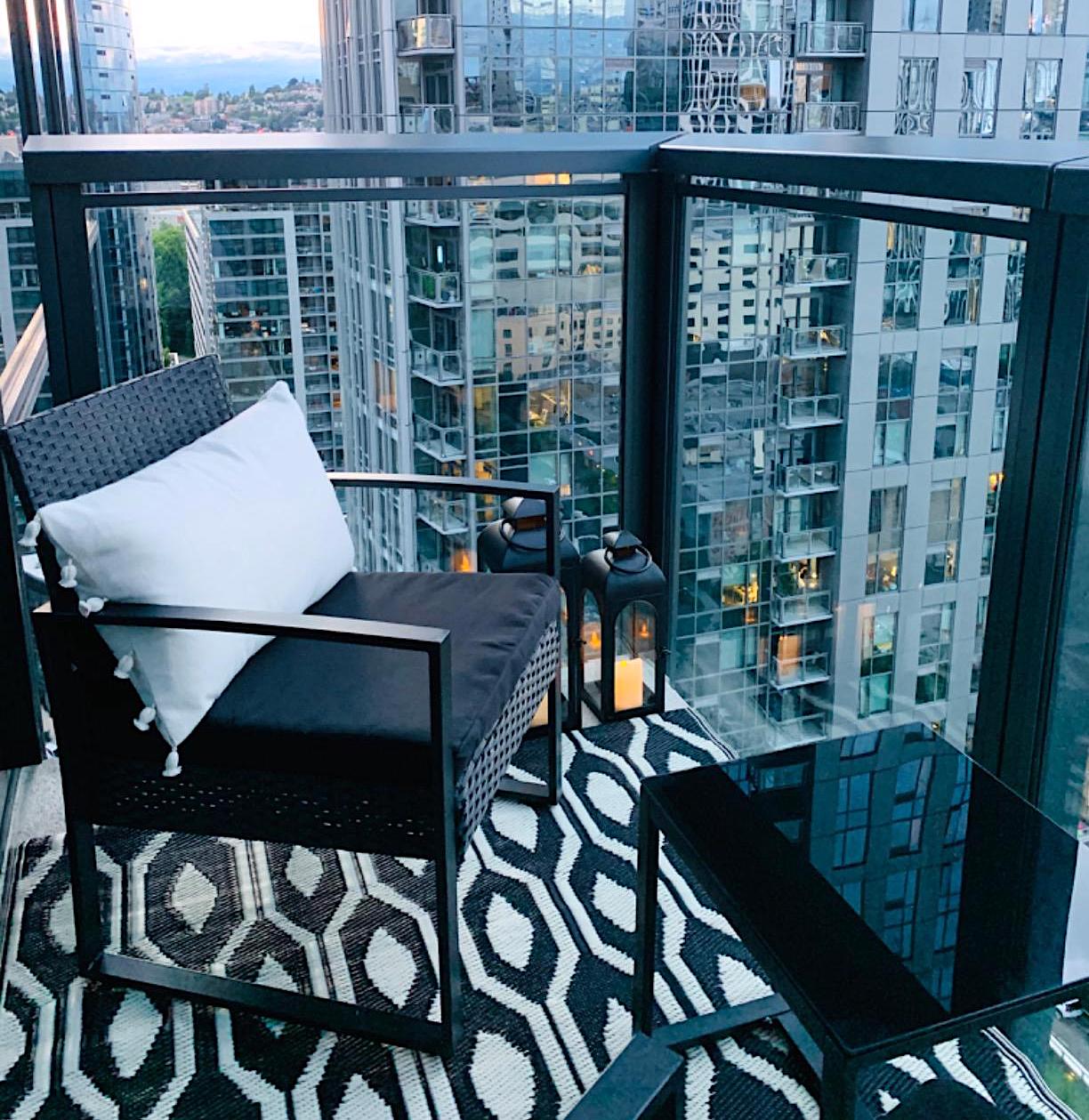 "First I would like to say as many other reviewers pointed out these chairs are low to the ground, I don't mind as I am 5'5 and I don't feel like they are too low for me. Also for the price (160) you really can't beat this set. Most comparable sets are 300 or 400 dollars. The assembly was easy. Don't tighten all the bolts till the end. This set suits my needs perfectly and fits on my small apartment patio without making it feel cramped. I can't speak to quality since I have only had it for about a week. But from the times I have sat on it I can say it's comfortable and I am pleased with my purchase." – Samantha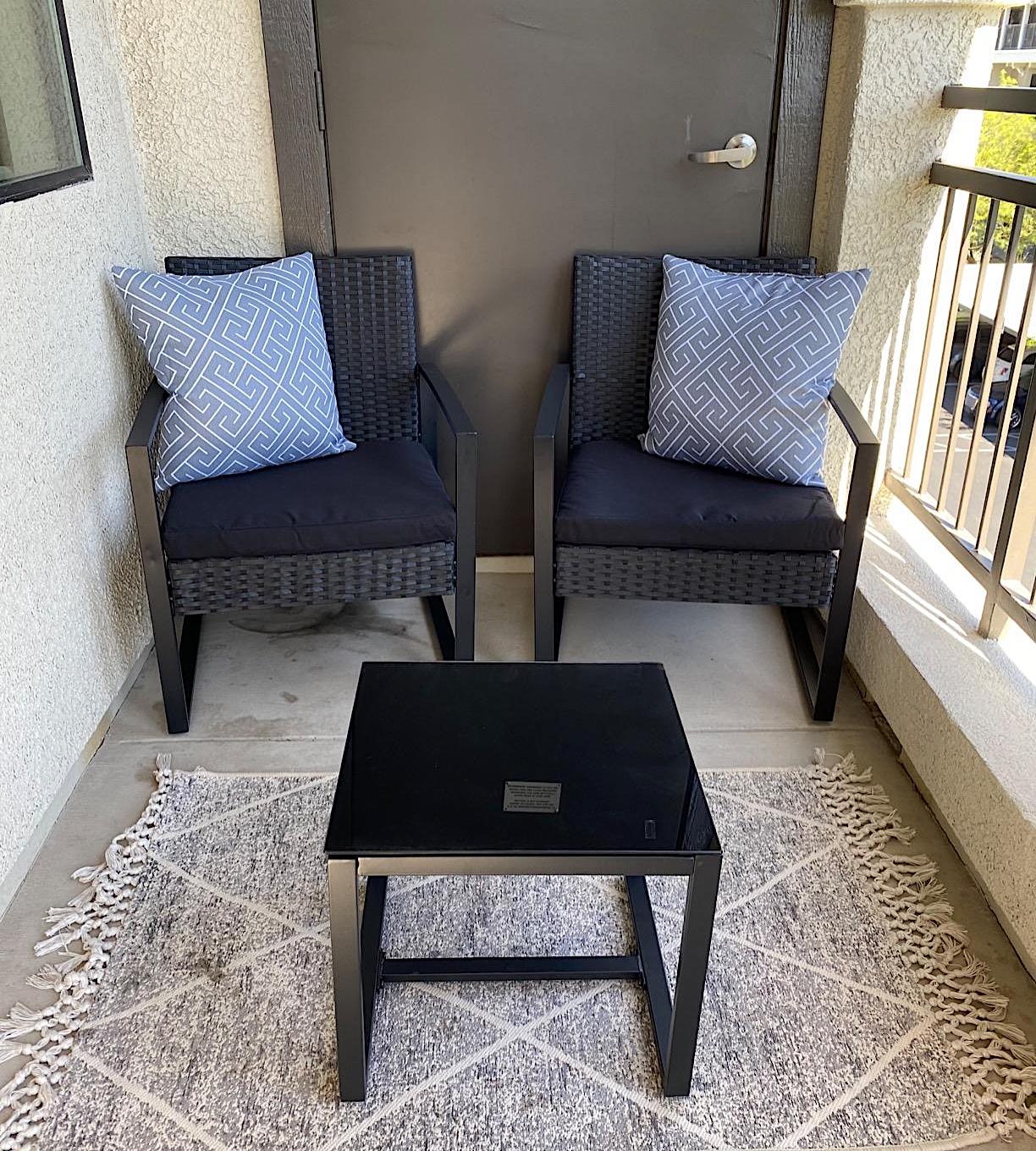 "I have a small patio and this set is perfect! It was easy to put together and sturdy. In some of the reviews I saw people were putting the seats on upside down….lol. I believe this is because when you get it the cushions are put in the bottom of the seat but that is so everything fits in the box when they ship it. That doesn't mean that is where they go..lol. Goodness people. You will see in the reviews people complain about them sinking in the chair….that is not how the chair should be put together. Anyway, I love mine! Well worth the money." – Crystal Hinzman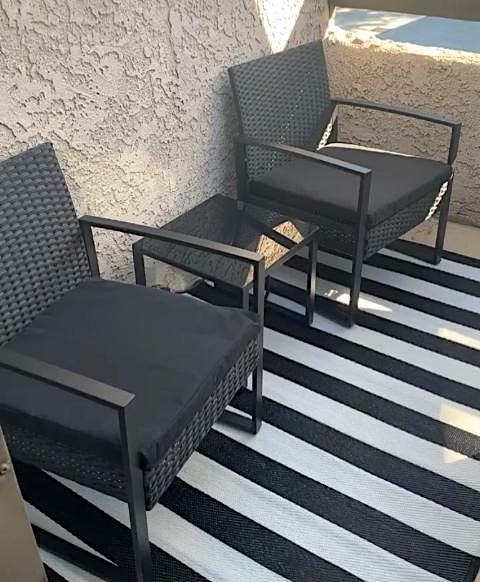 "Very chic and pretty easy to assemble. Took me about an hour and I didn't even need to watch the video just went off of the diagram. Instructions for the table were annoying because half of the pieces weren't labeled in the diagram and the label for the screws in the diagram were mixed up but it was easy to figure out. Can't wait until it warms up so I can actually enjoy it instead of staring at it all day!" – Sarahlizx3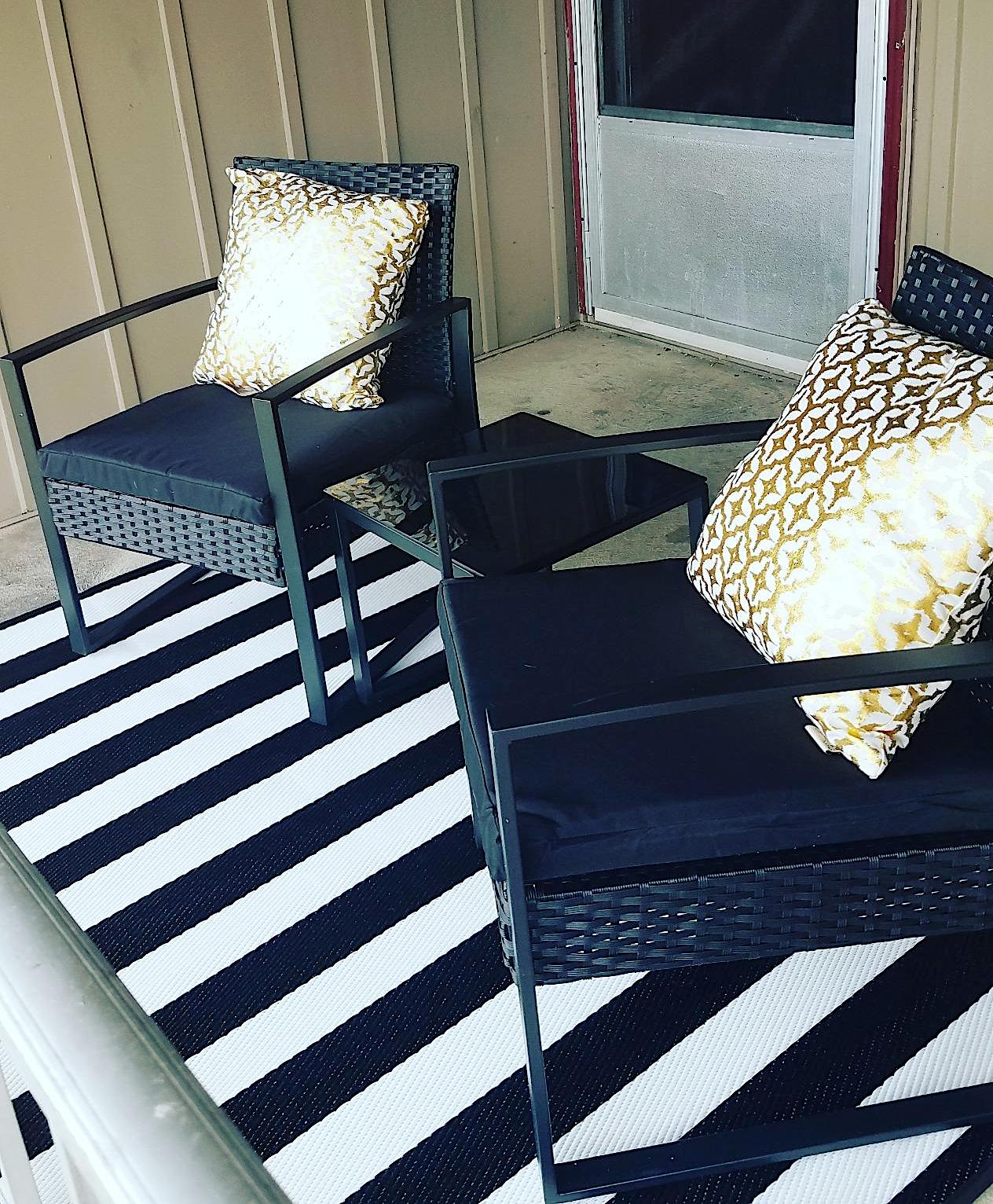 "I needed to update the look of our front porch from ranch style to contemporary and this did the trick at a reasonable price. The comfort is decent for the price. If it lasts a few years, it'll be worth it." – CC Ryder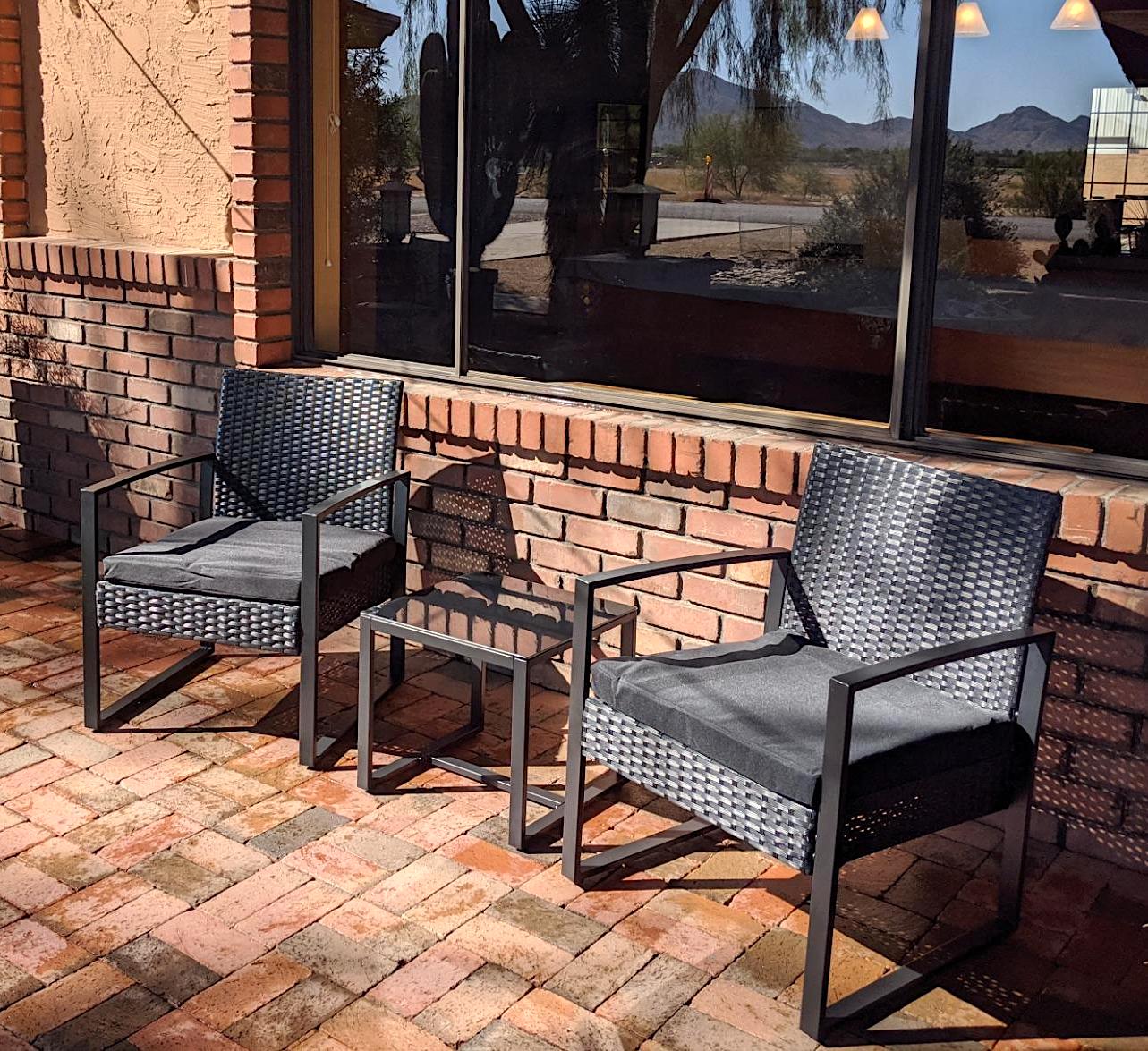 "I am ABSOLUTELY in love with this patio set. It's great for small spaces and apartments. Low but not low enough where it is hard to get back up (I am 6 feet). Definitely is a whole vibe." – Netta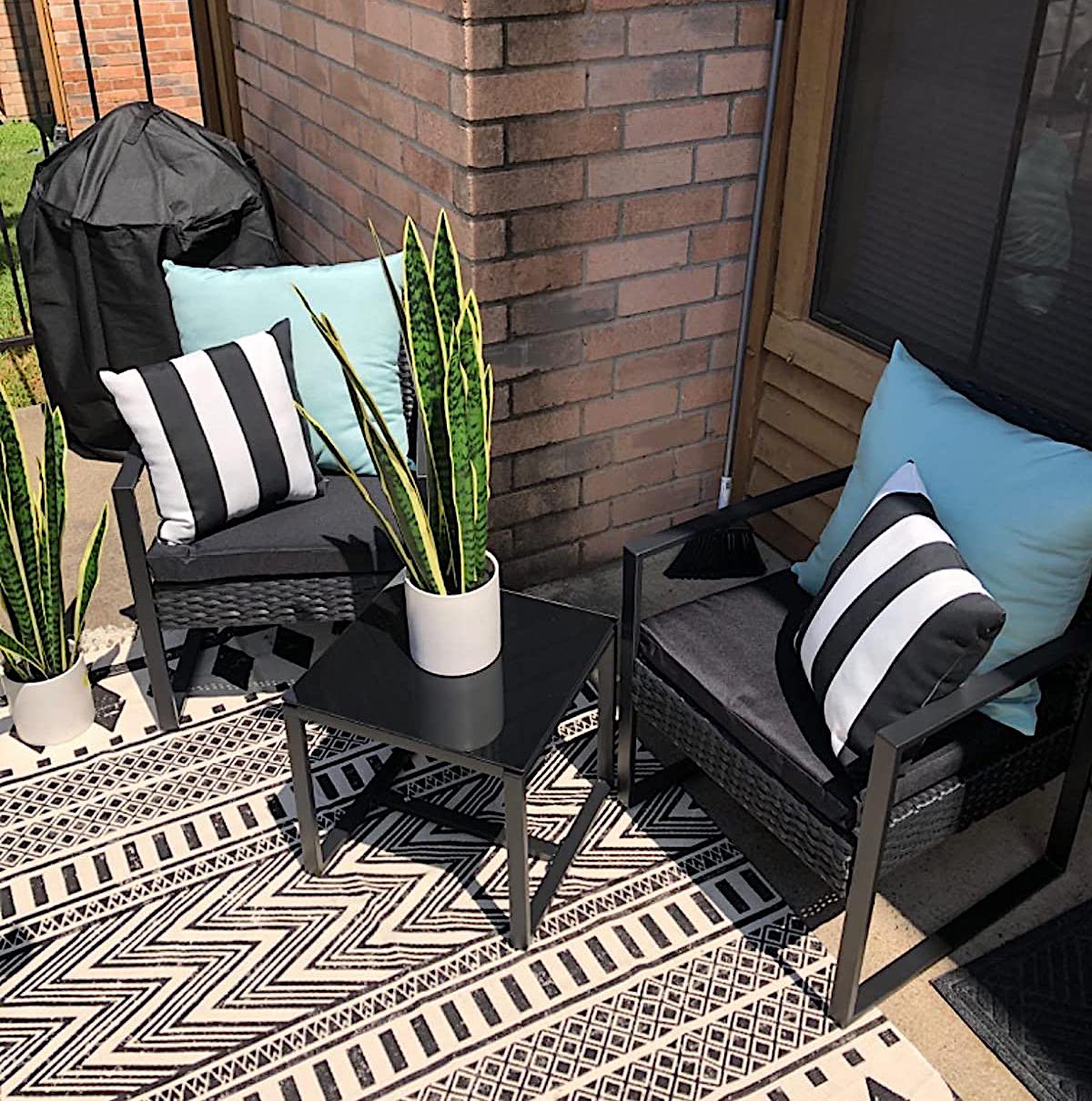 "Perfect set for small spaces. Spruced up our front porch and this set sure makes a statement. Easy/quick assembly. Sturdy pieces and everything came in excellent condition." – R.Galvan