[Review] Coavas Industrial Style Folding Laptop Table
Setup
First of all, this Coavas folding table arrived in a flat box. I knew I was going to get a foldable table but I didn't expect the box to be that as slim as it was. It was a breeze to carry the box into my apartment. It is lightweight and not bulky at all. The next fantastic thing about the table is the setup. If you're not the type to put things together by yourself, this table would come in perfect. All you have to do is get it out of the box, fold the base out, and attach the top to the base. All that wouldn't even take you more than 5 minutes. You don't need any tools for the assembly. Not even screws or glue. Everything comes pre-assembled, including the clip that you use to snap the desktop and base together. This is so much better than a desk from Ikea.
Materials
The top is not real wood but it doesn't look cheap. The top isn't as large as a regular work desk's but it has space for everything I need. It fits my laptop, mouse, and some office supplies. I also have space left for writing.
For a folding table, it is surprisingly stable. The steel frame provides excellent support and doesn't fold down on its own. It stays put without any wobbling. While they may look flimsy, the thin metal bars that make up the frame are in fact strong.
The table has plenty of legroom. I'm tall so that is a big deal for me. I need space underneath as I hate it when my legs feel cramped.
The table is just the right height. The key here is to look for a nice chair. I suggest holding off getting a chair until you get this table. That would give you a better idea of what chair to get.
I don't plan to fold this table away when not in use. I see myself using the desk daily. It does fold neatly and really flat, so it would fit inside a closet or under the bed. The table is compact so you can bring it along with you in your car. It is lightweight too, making it very portable.
This desk is pretty versatile. You can use it in your bedroom, living room or office. It would work well as a vanity table, work desk, or even a side table. The top has ample of space. The only con is that it doesn't have a drawer. However, I don't see how you can fold the table flat with a drawer.
Style
This portable work desk is very stylish. The frame made of thin metal bars give the table a modern look. I love that it doesn't look like a foldable desk. It doesn't look like a thousand bucks but it does look much more expensive than its actual price. If you're just looking for an elegant foldable table then look no further. Coavas has what you want.
Other Popular Reviews
"Love this table! It's easy to assemble and I love that if I need to store it away it doesn't take much space. Perfect for bedrooms or for small places." – Liz88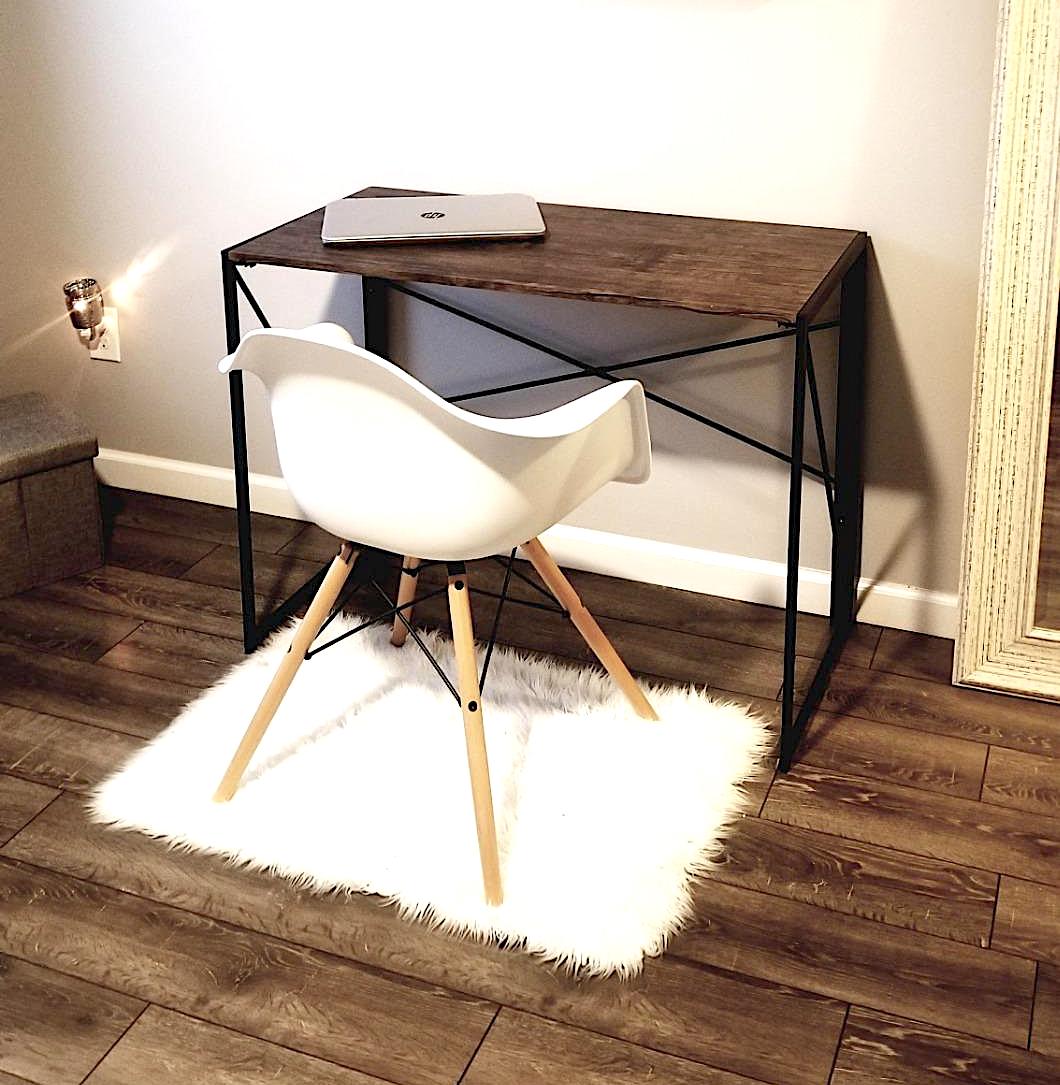 "I am typing on it now and the setup is steady, sturdy, compact, and yet exactly the correct height for my chair, knees, and typing. The dimensions for me are exactly correct. It is small enough for the space requirements, and yet large enough to have the laptop, an iPad for Zoom, coffee, and papers. I am very satisfied with this choice." – DrJodyC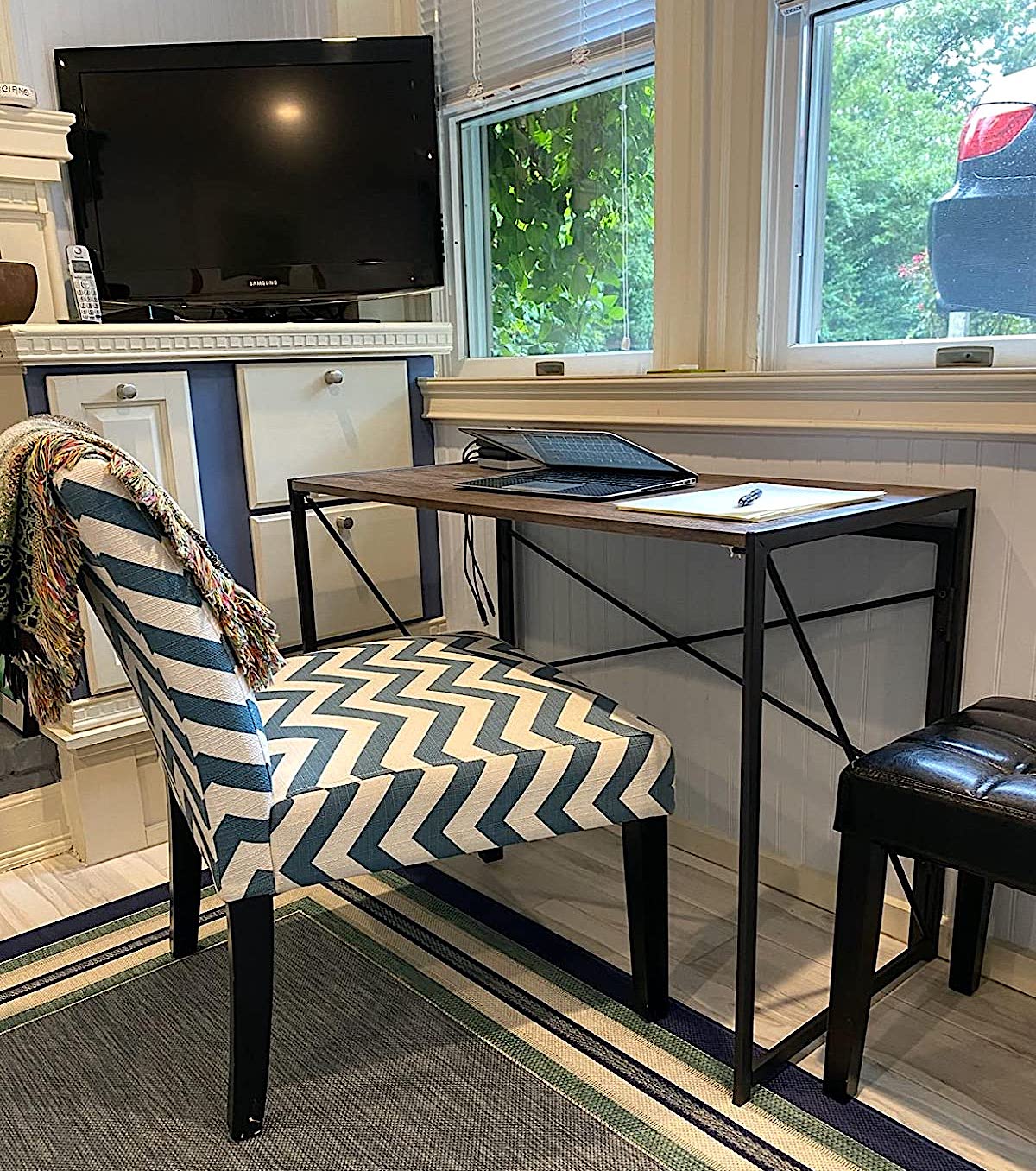 "It took me longer to unpack the box than it did to put the thing together. It took me maybe 1 minute to put everything together. After I decorated it and then voila! It was done. It came clean and free of scratches. The desk is perfect and beautiful. I would recommend this for sure." – Gaby
"Soooo easy to assemble. Exactly what I was looking for! I think pictures speak for themselves. It's fantastic for a small space or if you just aren't wanting a big bulky desk." – Megan & Lane Oswalt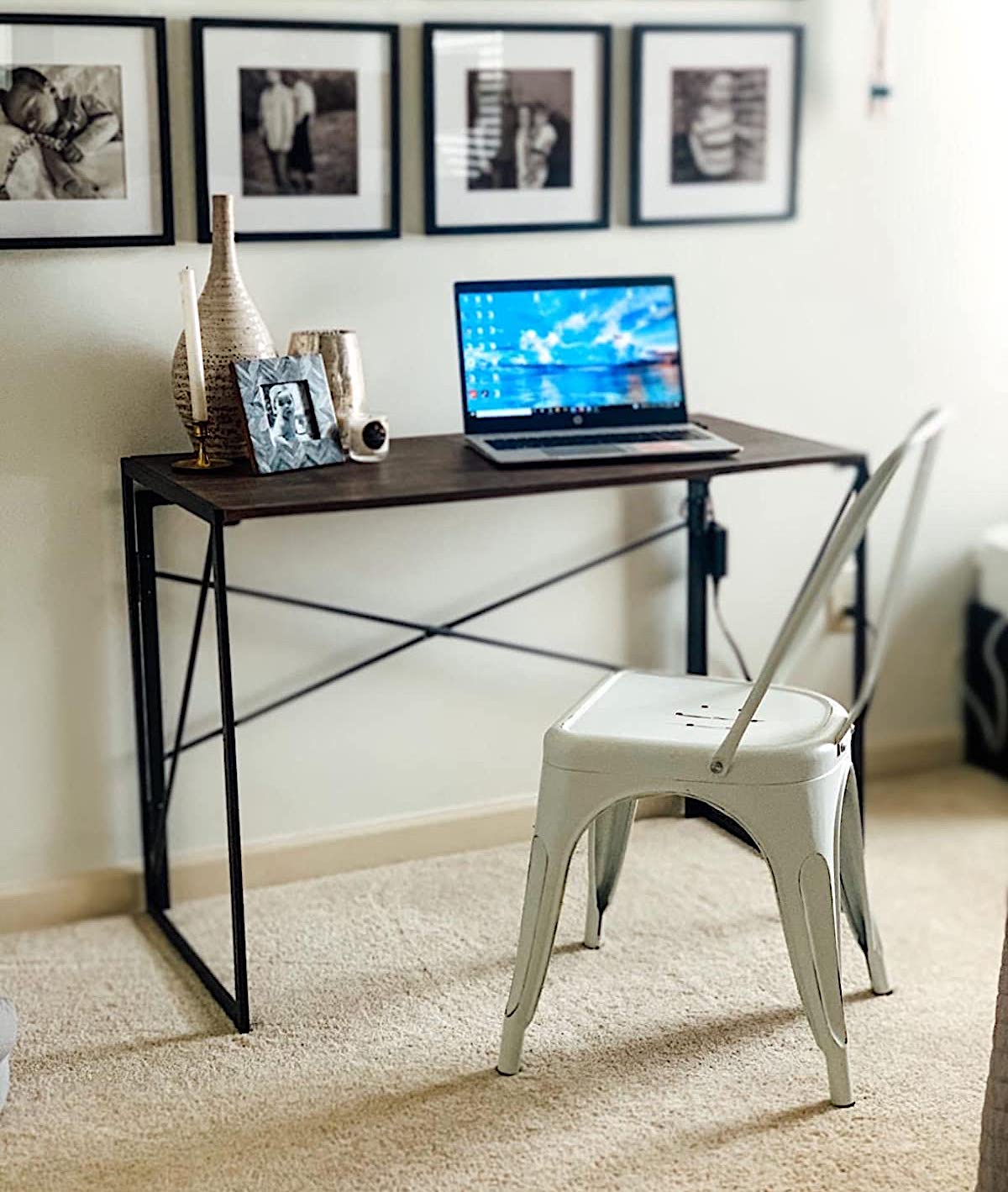 ---
Purchase the product on Amazon Marketplace (USA and CANADA) with shipping
---