[Review] Zinus Jen Mid-Century Modern Wood Dining Table
First Impression
As with all things, first impressions matter. With furniture, it is the packaging that greets you and creates your first impression of the product. That's why I pay good attention to the packaging whenever I write a review. I am pleased to report that the packaging of this Zinus dining table is superb. The pieces are protected with styrofoam. The styrofoam pieces are each covered with plastic. That keeps the styrofoam from spreading around the room and eliminate the need to sweep the floor after the assembly.
This modern dining table has a very simple construction. It is assembled with a total of 8 screws or 2 screws per leg. Everything needed is in the box with a few spare screws. You don't need any tool because it's included as well. The assembly would take you less than 30 minutes.
Elegant Style
The wood table comes in 2 elegant colors: espresso and natural. The former is a beautiful deep brown color and the latter an oakwood-like color. Both comes with natural wood grain.The surface doesn't have a completely smooth finish, so you can't use it as a writing desk. As a dining table, though, it's as smooth as you need it to be.
As advertised, it has a modern look. With the table's simple lines, matching it with your walls and other furniture should be easy.
This dining table has room for 4 chairs. You can fit 2 more chairs on both ends if you like. Both upholstered and wooden chairs would look good with the table. The size of the table fits in small spaces, making it a good option for apartments.
Sturdy Materials
The table is made with real pinewood. For a table within this price range, it is difficult to find a table made with the same or better material. It reacts to liquid well. You don't need to use coasters on it unlike tables made with MDF. The surface has been treated to give it a bit of water-resistance to it. Water would just bead on top without causing damage.
The legs are made with real wood as well. They are slightly slanted to provide better balance and stability.With the slanted legs, the table is very unlikely to tip over.
Pinewood is generally lighter than other kinds of wood. Although the table does have a good weight to it, it is lightweight enough to be carried. Pinewood is also known as a resistant and sturdy variety of wood. It is, however, a soft wood. Putting too much weight on top may cause a dent. You must refrain from setting heavy items on the dining table.
The surface is easy to clean. Food stain doesn't cling to the surface, so they wipe right off with a damp cloth. The dining table's corners are rounded, making it very safe for kids.
Overall
This dining table from Zinus is solid and durable. It should last a few years with proper care. The screws on the legs may loosen in time but you would just have to tighten them.
Other Popular Reviews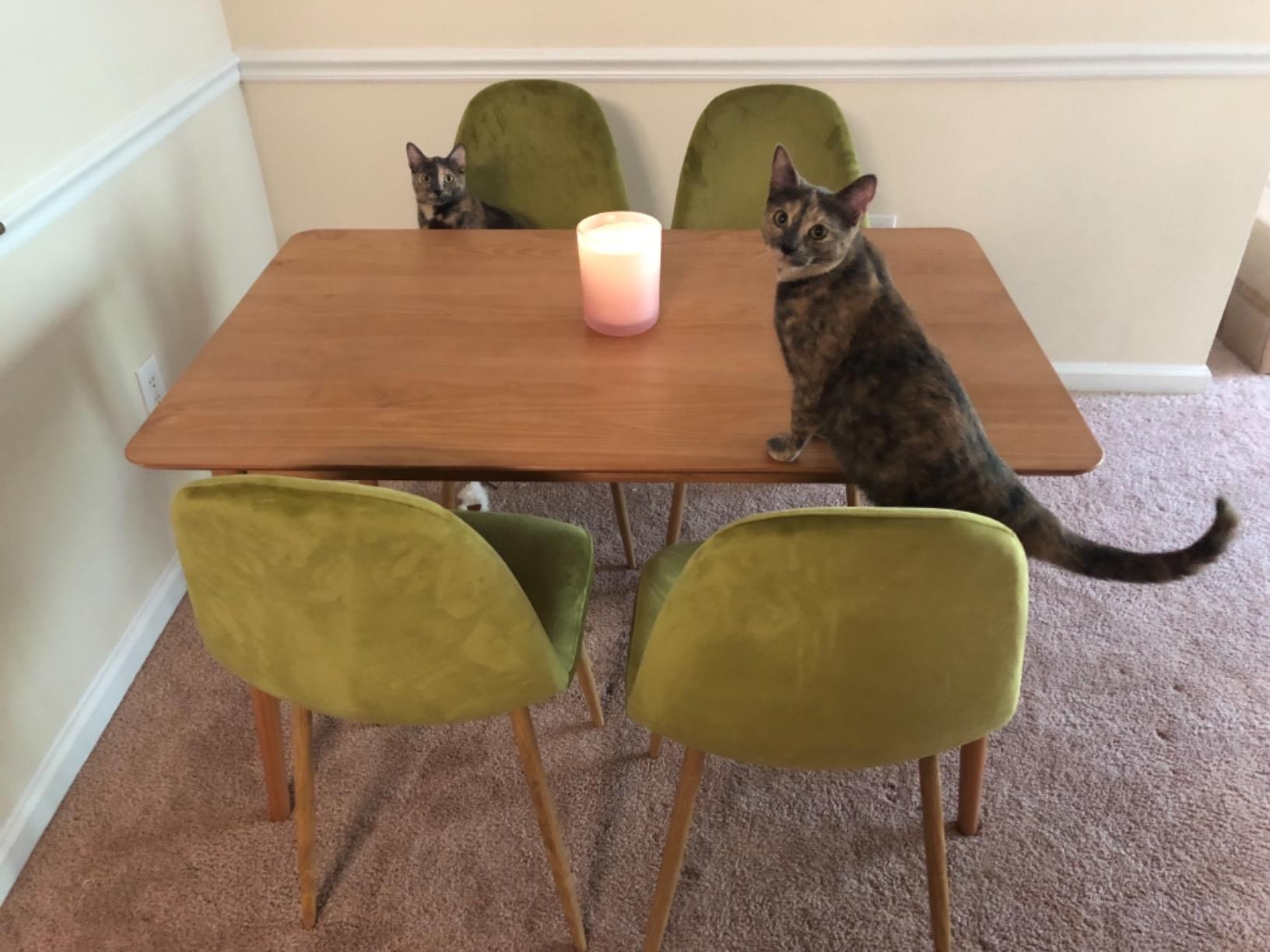 "This table arrived to my apartment just about a half hour ago. Assembled in less than 10 minutes. Fits nicely in the smallish dining space of my apartment and is a good sturdy little REAL WOOD table. No damage to the table although the box was a bit banged up. I am happy and even when I eventually move and get a bigger table, I'll keep this little gal around! And obviously the cats approve." – Emily J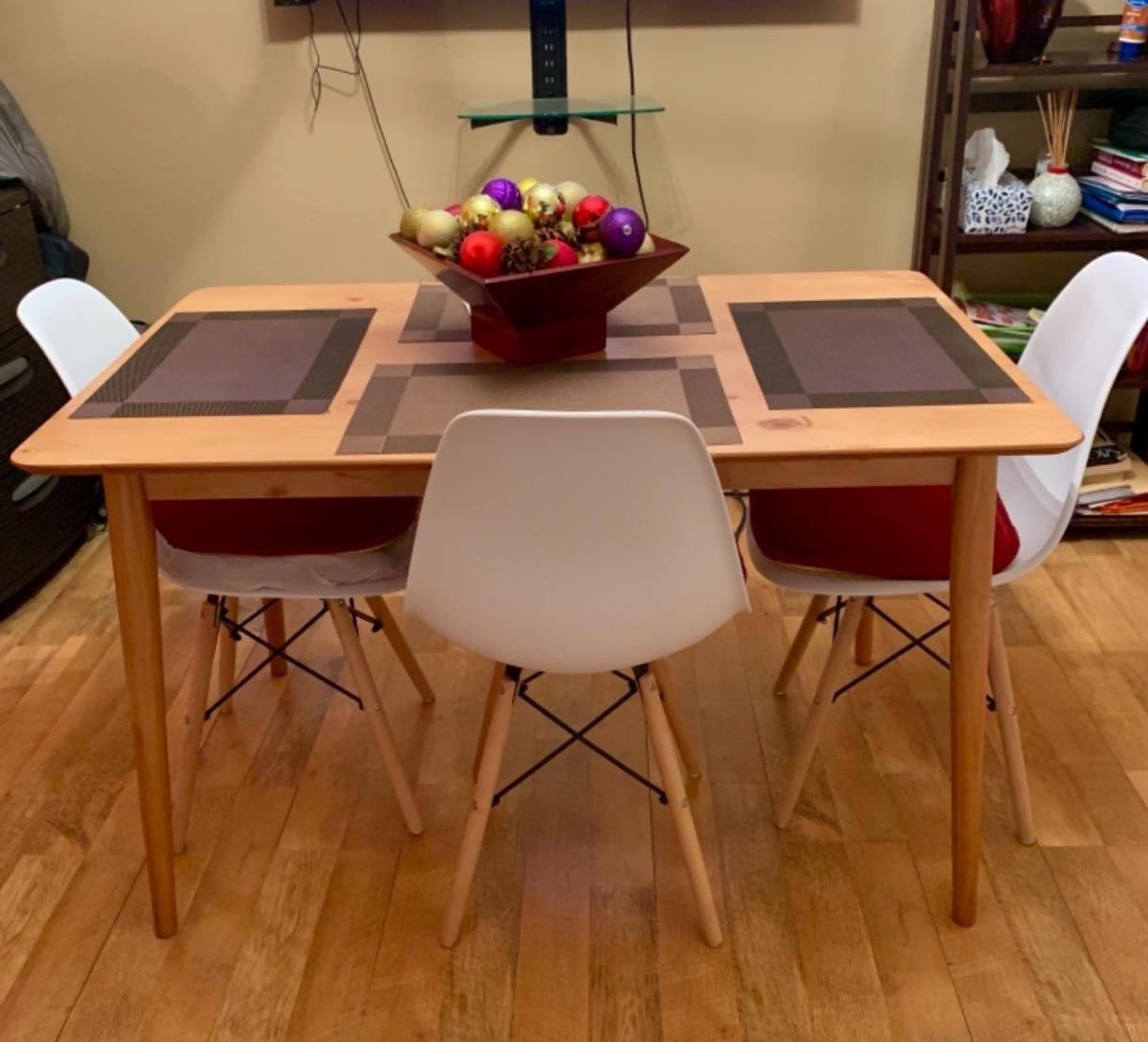 "This real wood table is beautiful and really fits in with my mid-century modern decor. The table was very simple to assemble; just screw in the legs. As much as I love the table I was astounded by the manner it was shipped. I have never had a delivery so well packed. The table top was suspended inside styrofoam packing. If there had been any damage to the box during shipping, it would not have affected the table top because if the superb packing. " – DCB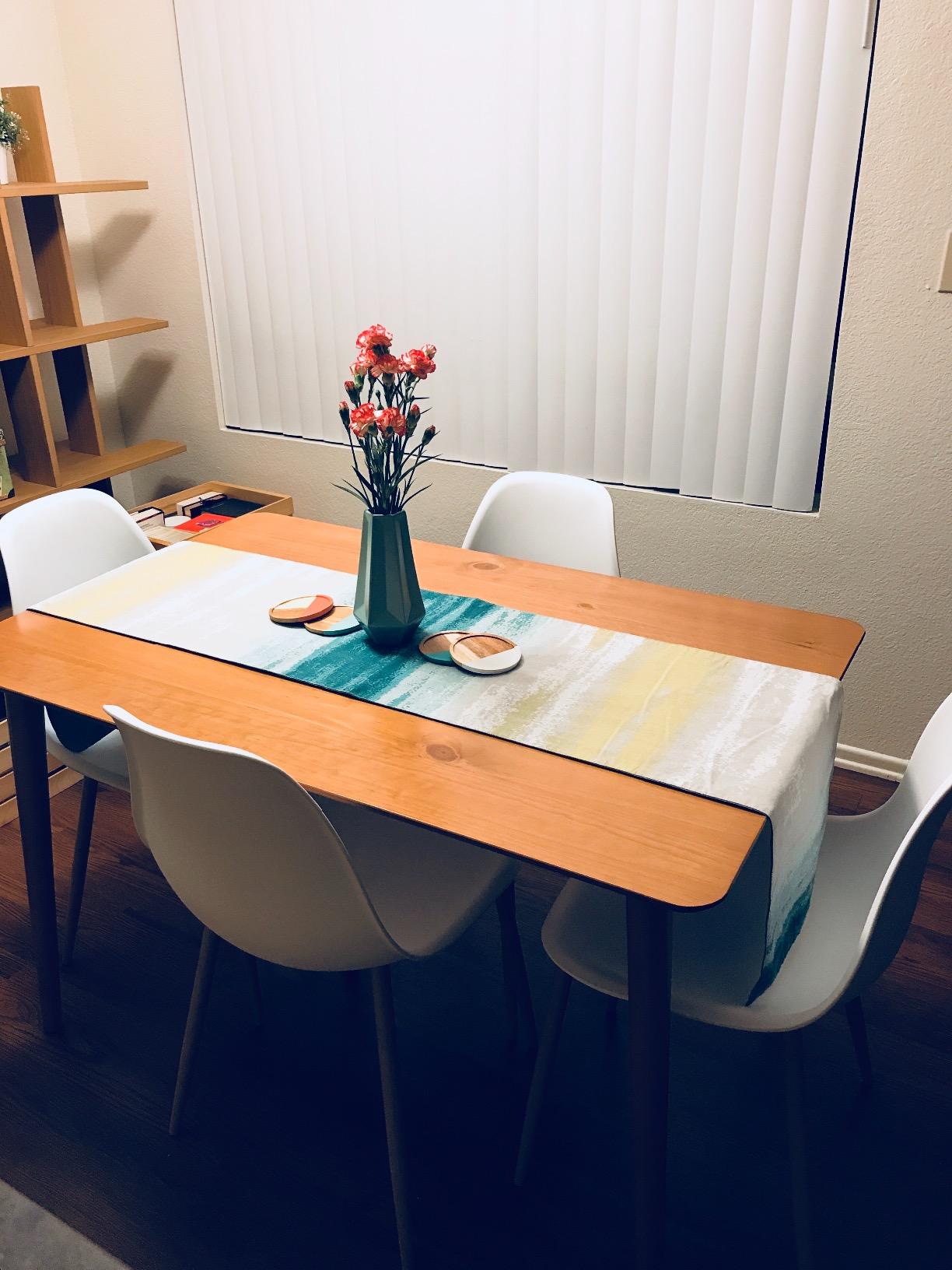 "It's a small, light table. Just what I was looking for! We just moved into a smaller place and needed a breakfast nook set. It's a lovely piece." – Chris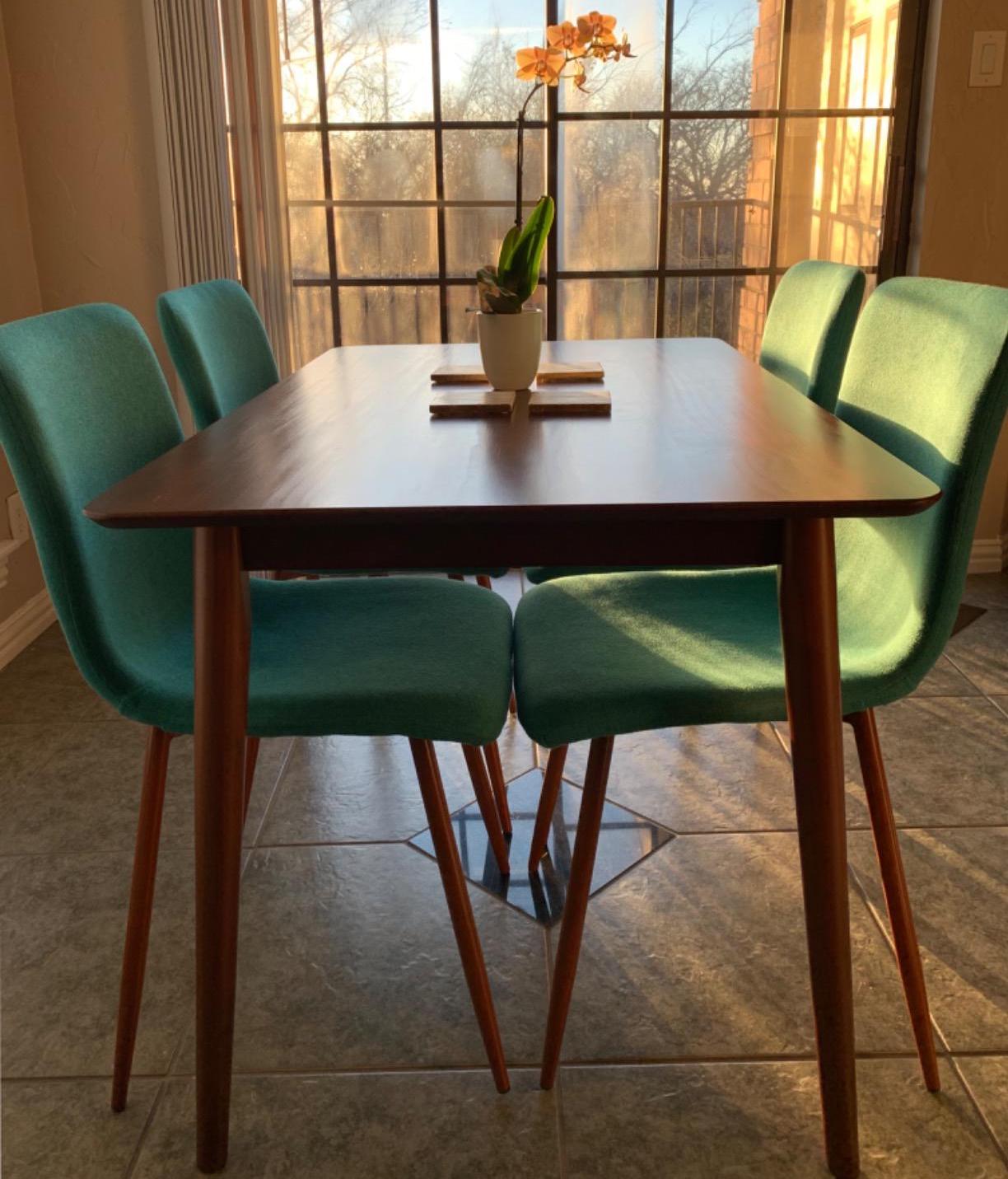 "This table is perfect for a small space! It's solid wood and was a breeze to assemble. It was packaged extremely well and arrived faster than promised. I've seen so many mid century modern tables at higher end stores for hundreds of dollars more than aren't even solid wood. I'm temporarily in an apartment now, but I can also see myself using this table as a desk once I'm in a larger space again. I'm so happy with this purchase!" – Shanna Leigh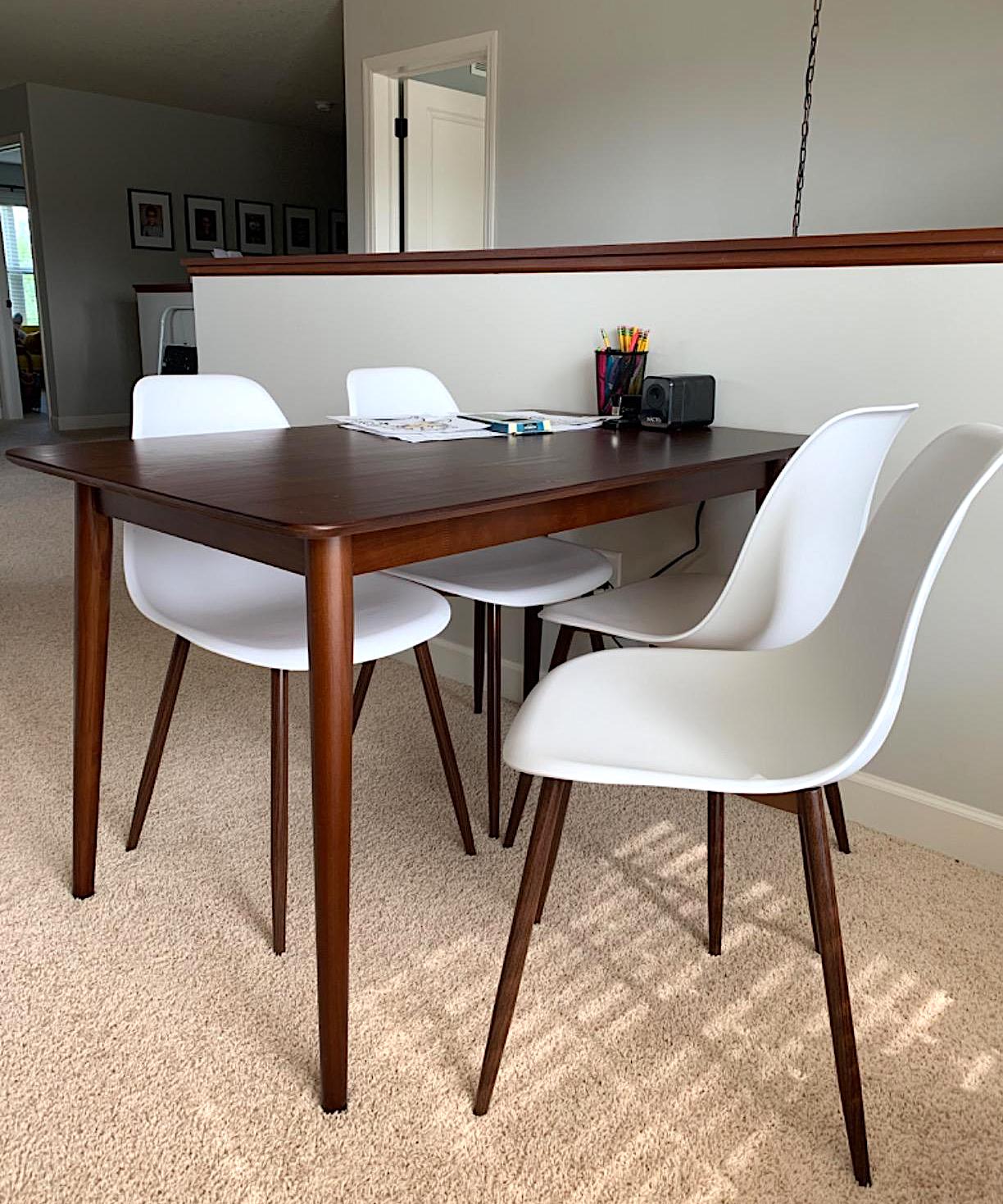 "I purchased this table for my kids to do schooolwork if they end up needing to do distance learning again this fall. I was having the hardest time finding something larger than a little kids table but didn't look like it belonged in a kitchen. This table works perfectly! It is so much nicer than I expected. It came packaged very well and was super easy to put together. It is 100% solid wood, no nasty particle board or veneers here. I am so happy with this purchase. I paired it with a set of four chairs I also found on amazon from the 'Poly and Bark' brand." – Meghan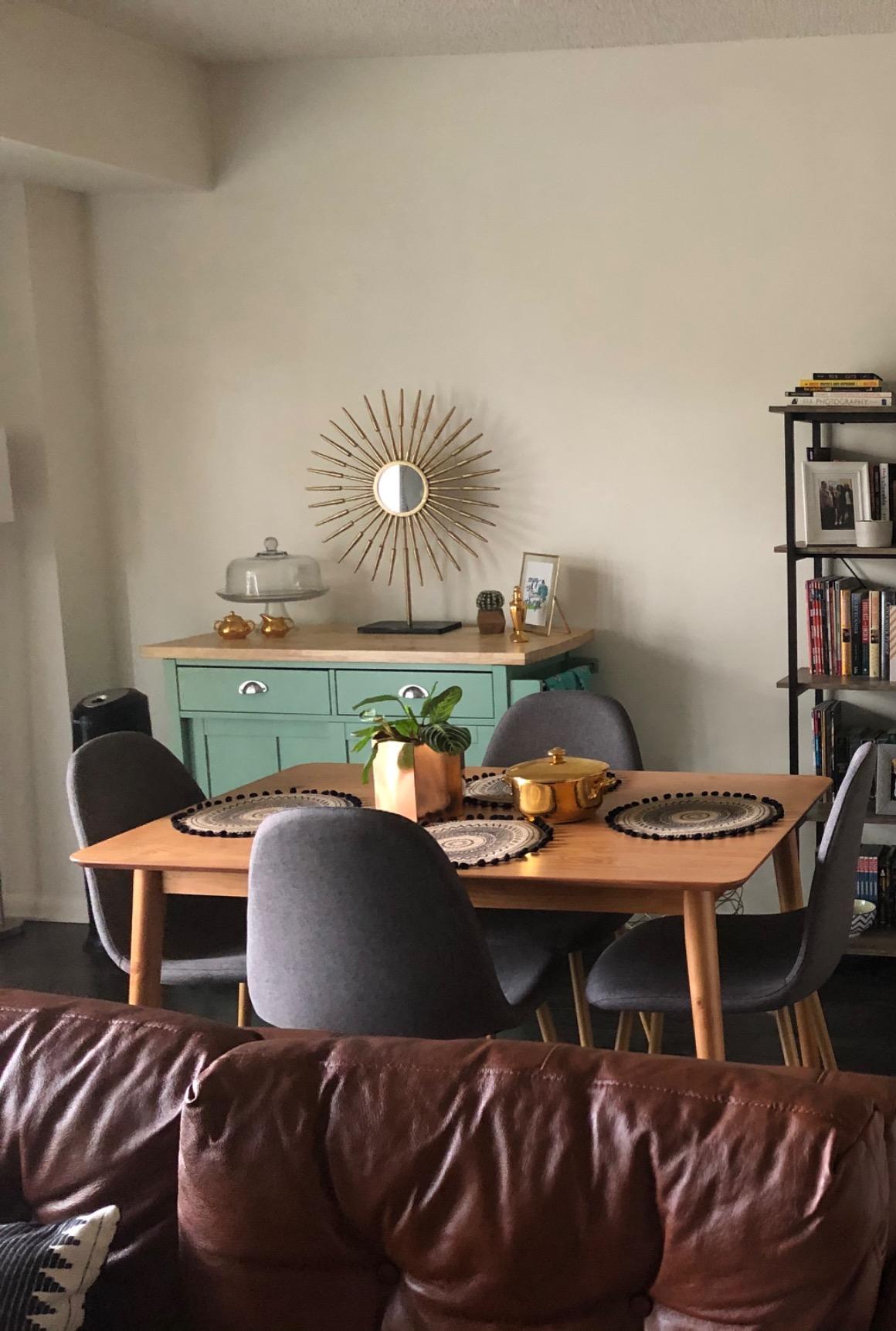 "Was really surprised that this table was packaged as well as it was. I ordered a table previously from another large company and the table arrived with chips and dents in it. Not so with this table. I was able to set it up by myself in less than 20 minutes and it is sturdy and real wood! I get comments about it all the time whenever people come to my apartment. I love how well it fits the space and how it's so easy to clean and care for." – Megan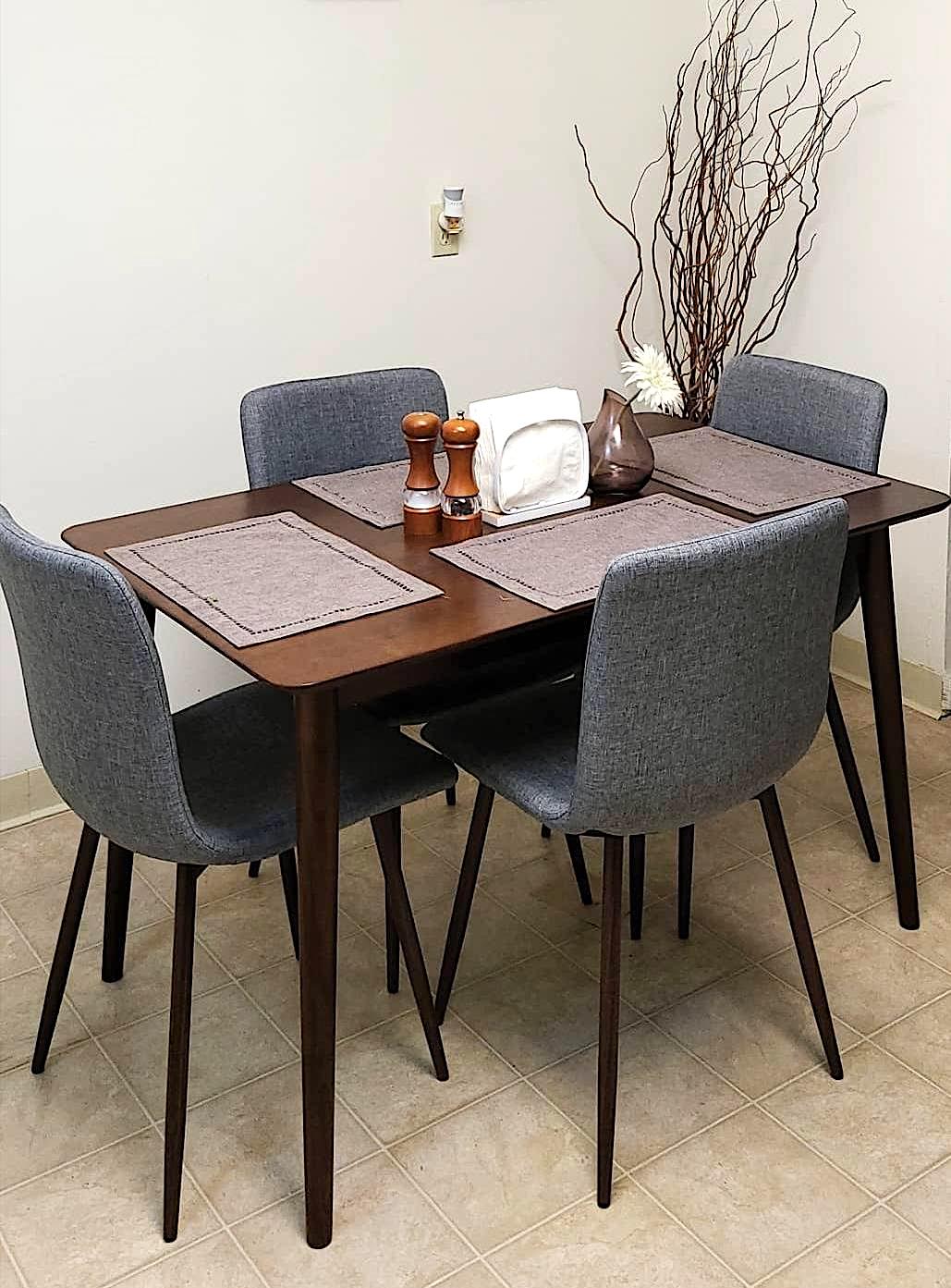 "It is so cute and sturdy. The best part is that my son, who is 11 years old, put it together himself. The only reason I gave it a four stars is because I wish it would have been a little bigger. It's more like a desk table not for kitchen. I really like the color and overall look. In the future I will be purchasing a bigger kitchen table and using this one as a desk but for now it will be fine." – Cristina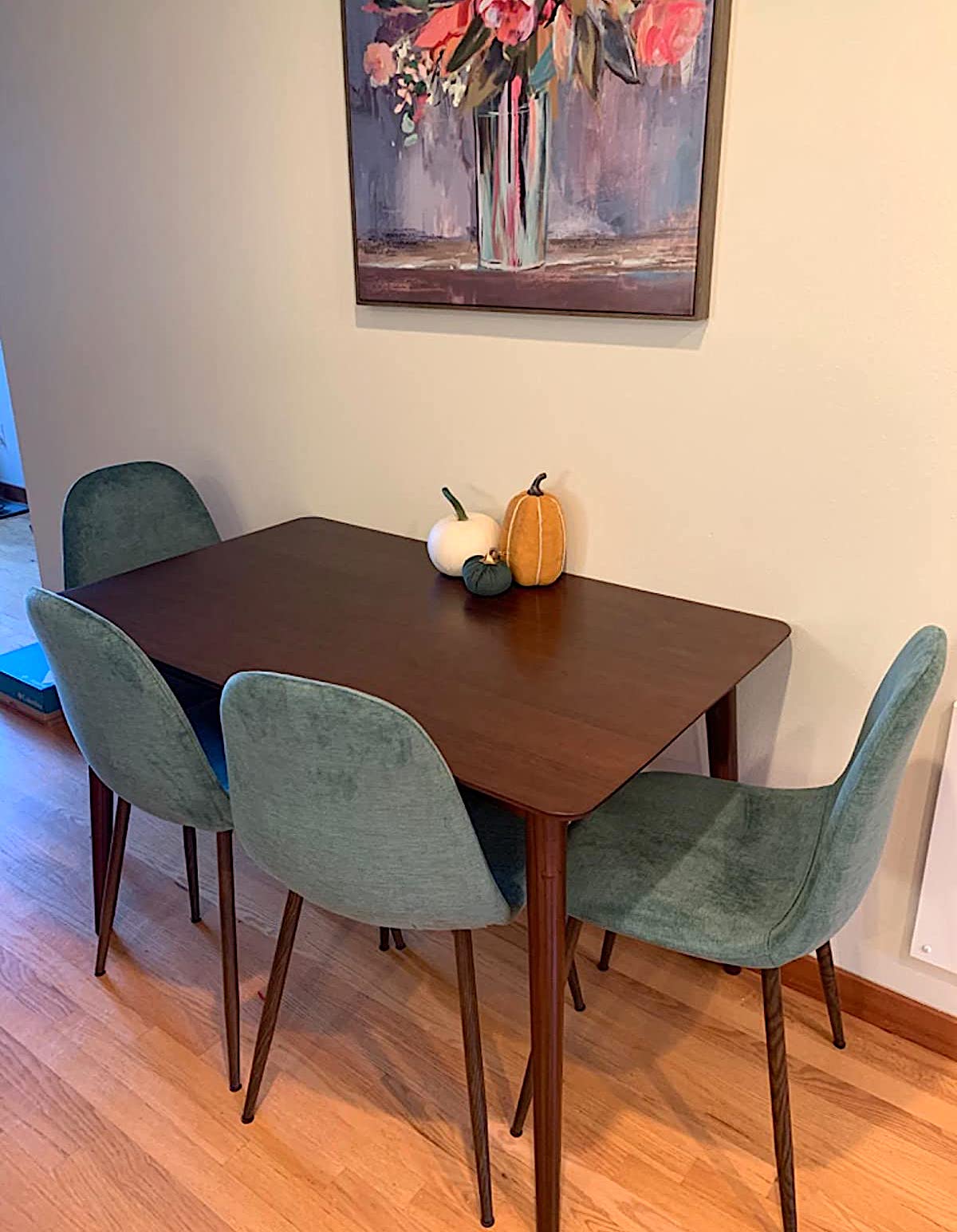 "I'm so impressed with this table. I've been looking for the right dining table for a while that is a mix of fitting my small space, quality, and simple/modern style. This table is exactly what I've been looking for. It was very easy to put together and very sturdy – it's solid wood! It's definitely small but this is exactly what I'm looking for, and you can still fit 2 adults on the longer sides if you squeeze a bit. Would definitely recommend." – Nicole Conley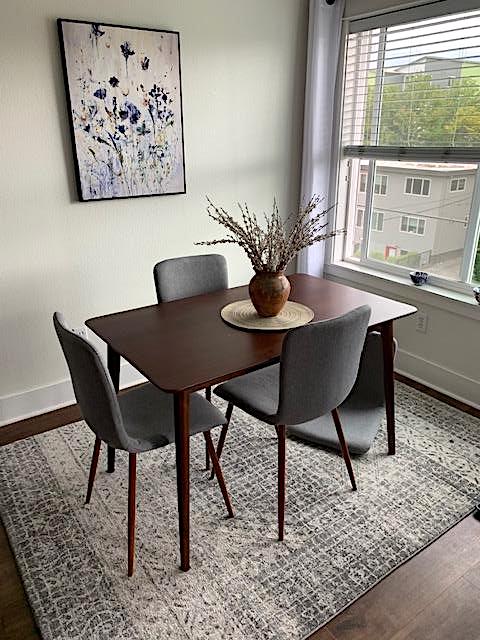 "I was so surprised how much I loved this table! It's perfect for small apartments and small dining areas. The quality is excellent and it looks extremely expensive. It's very sleek and modern looking. Also the assembly took me 15 mins. Highly recommend this product!" – Michelle2234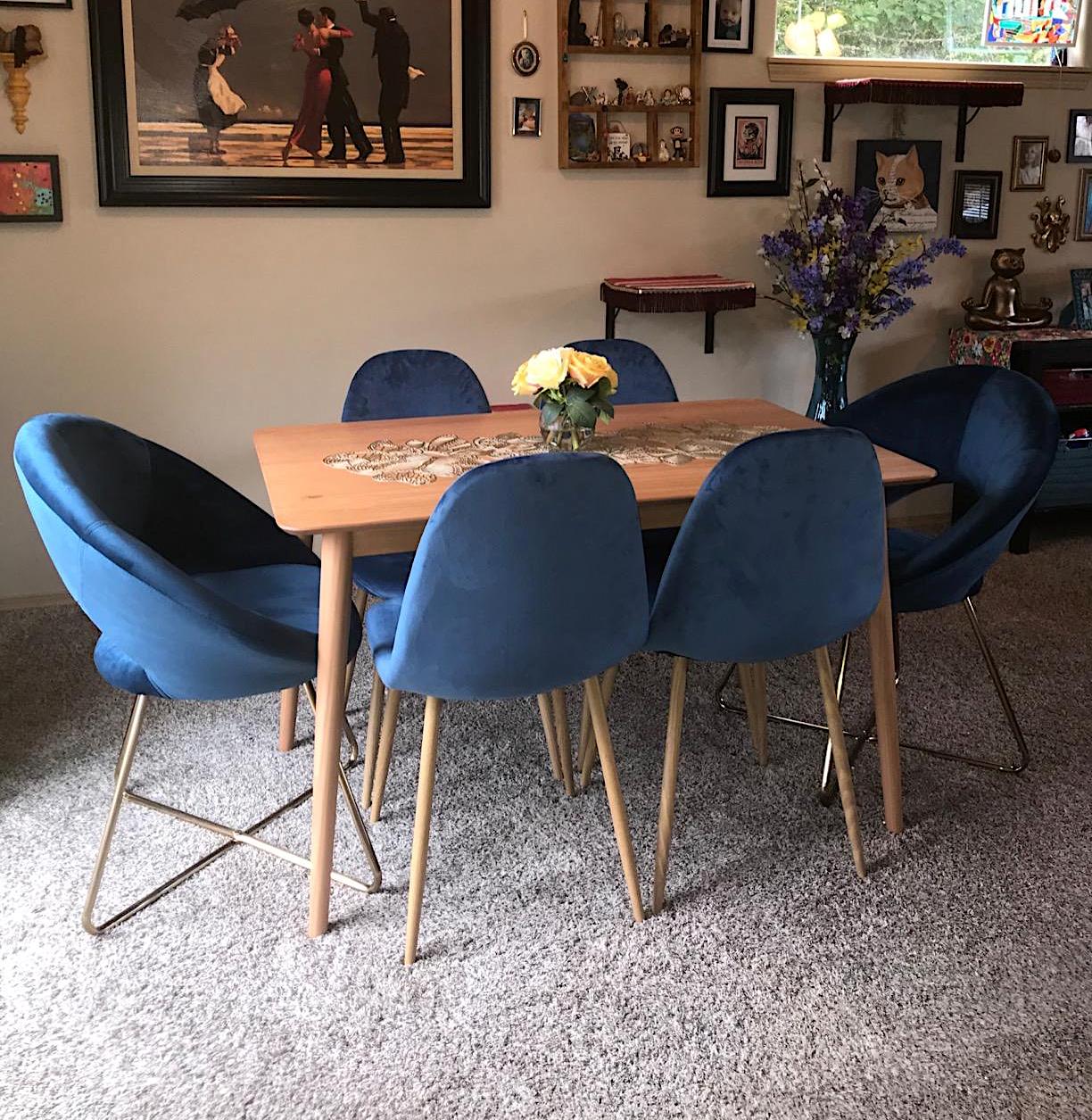 "This table came in superb packaging with a nifty tool for assembling easily. It's sturdy and just the right size for my small dining area. I've gotten many compliments on it." – Kelsey Horine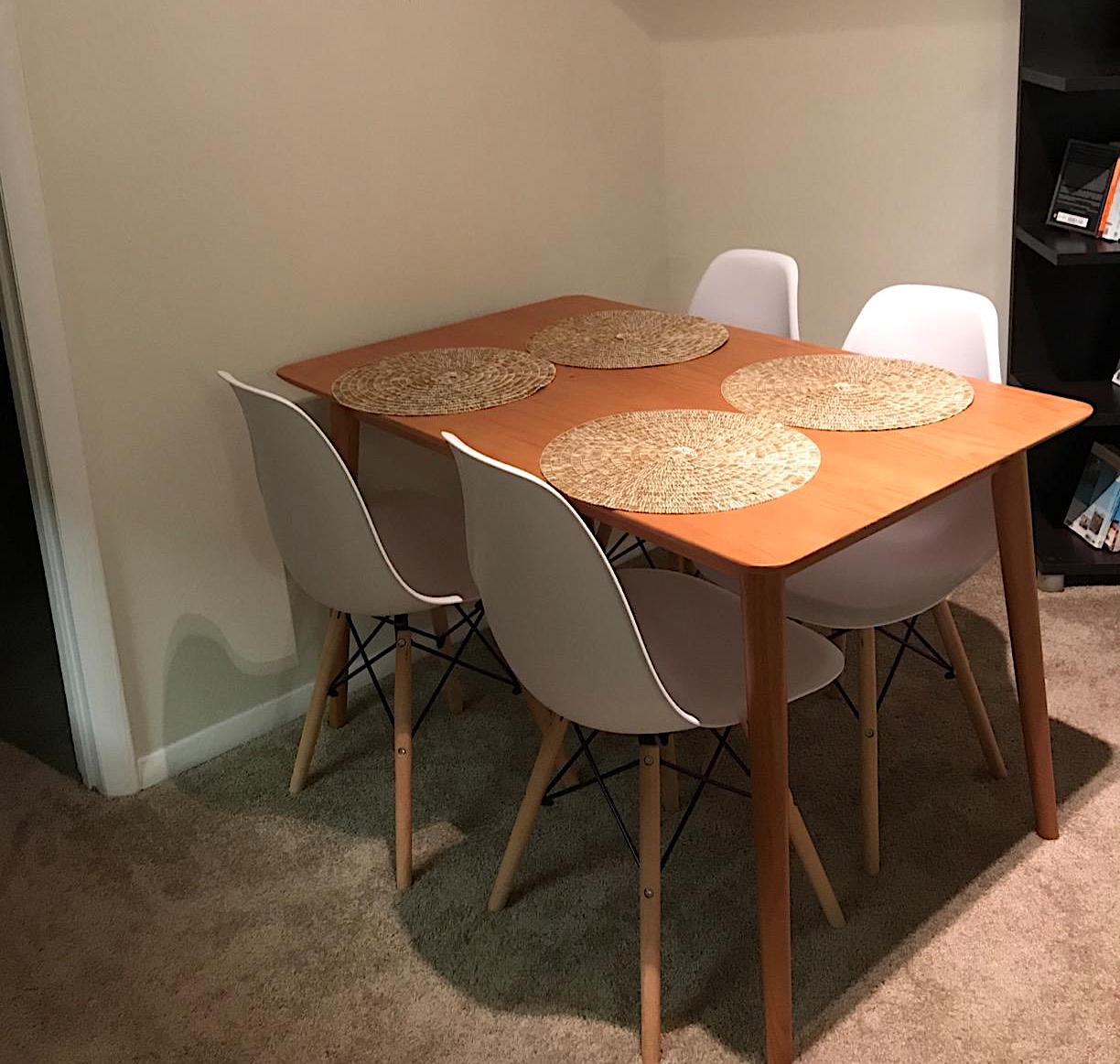 "We needed something to fit our small apartment. This fit the bill. Extremely easy to put together. Literally took 10 minutes by myself." – Karin M. Carthew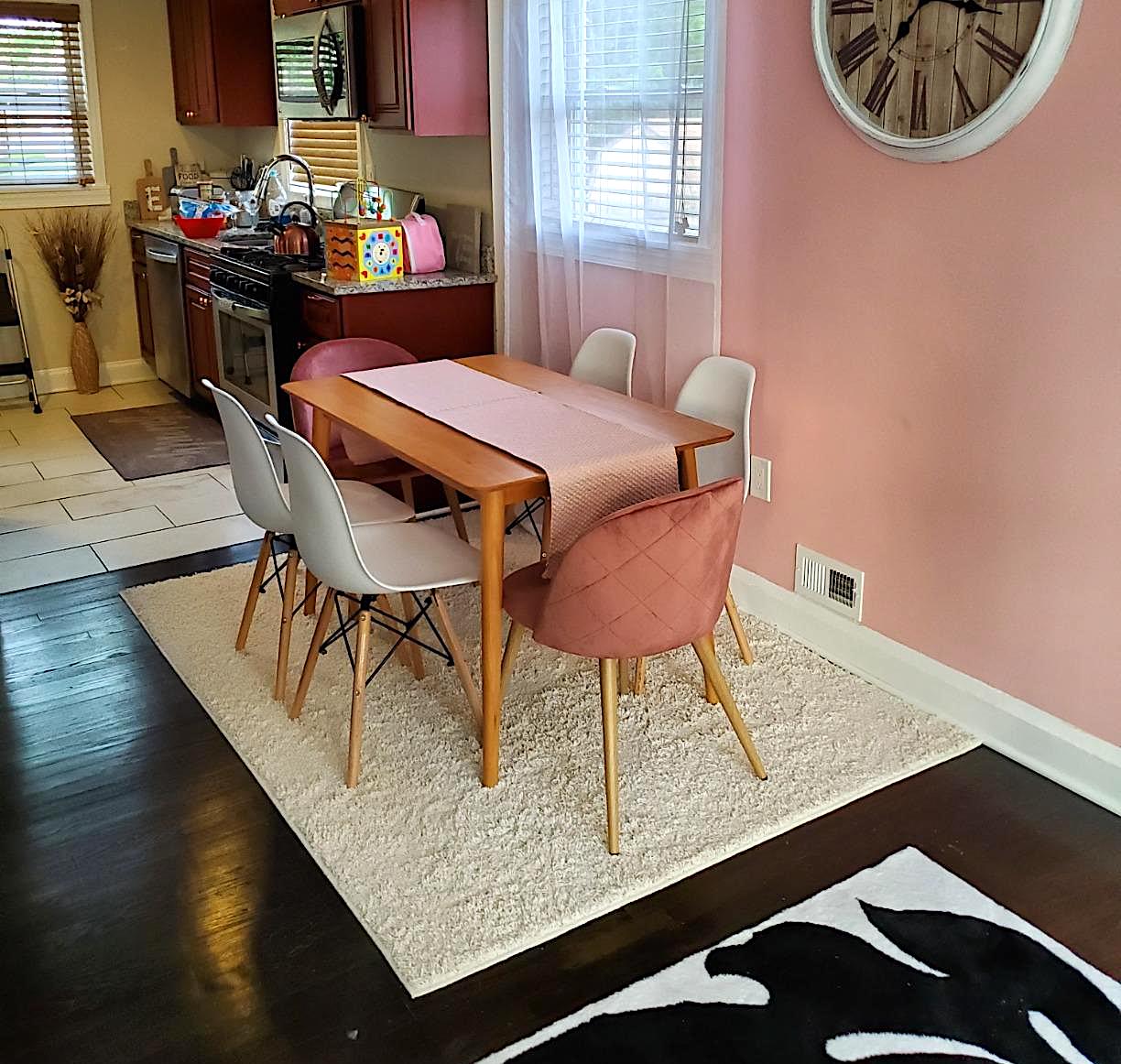 "Easy to put together. I was able to fit 6 chairs under the table. Also, the table comes with a custom tool to assist with assembling. It's super easy." – The Hills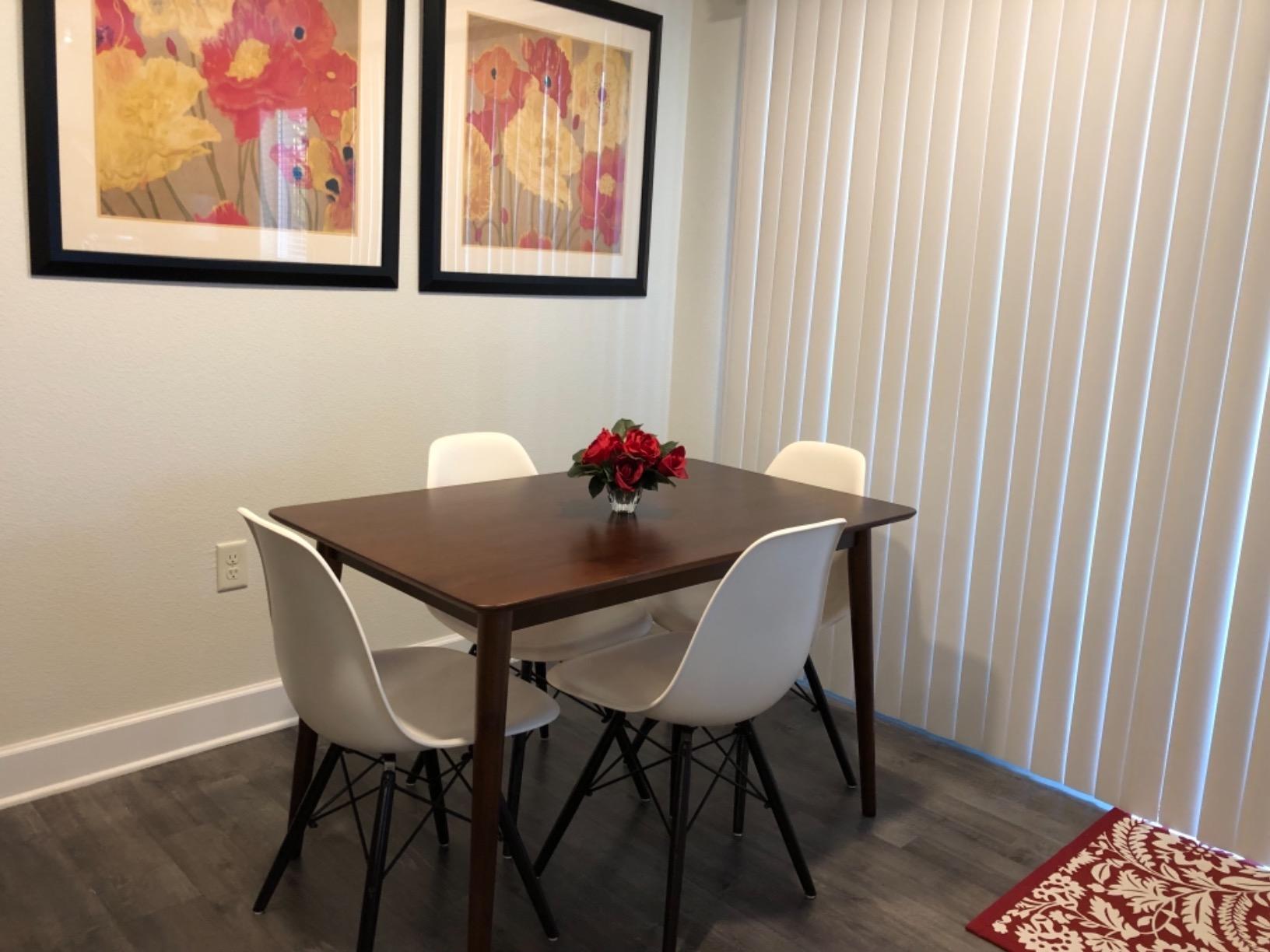 "Perfect little table for a small space. Super easy to assemble, (15 minutes) and really seems sturdy. Arrived a week earlier than promised." – Lapin Grand-mère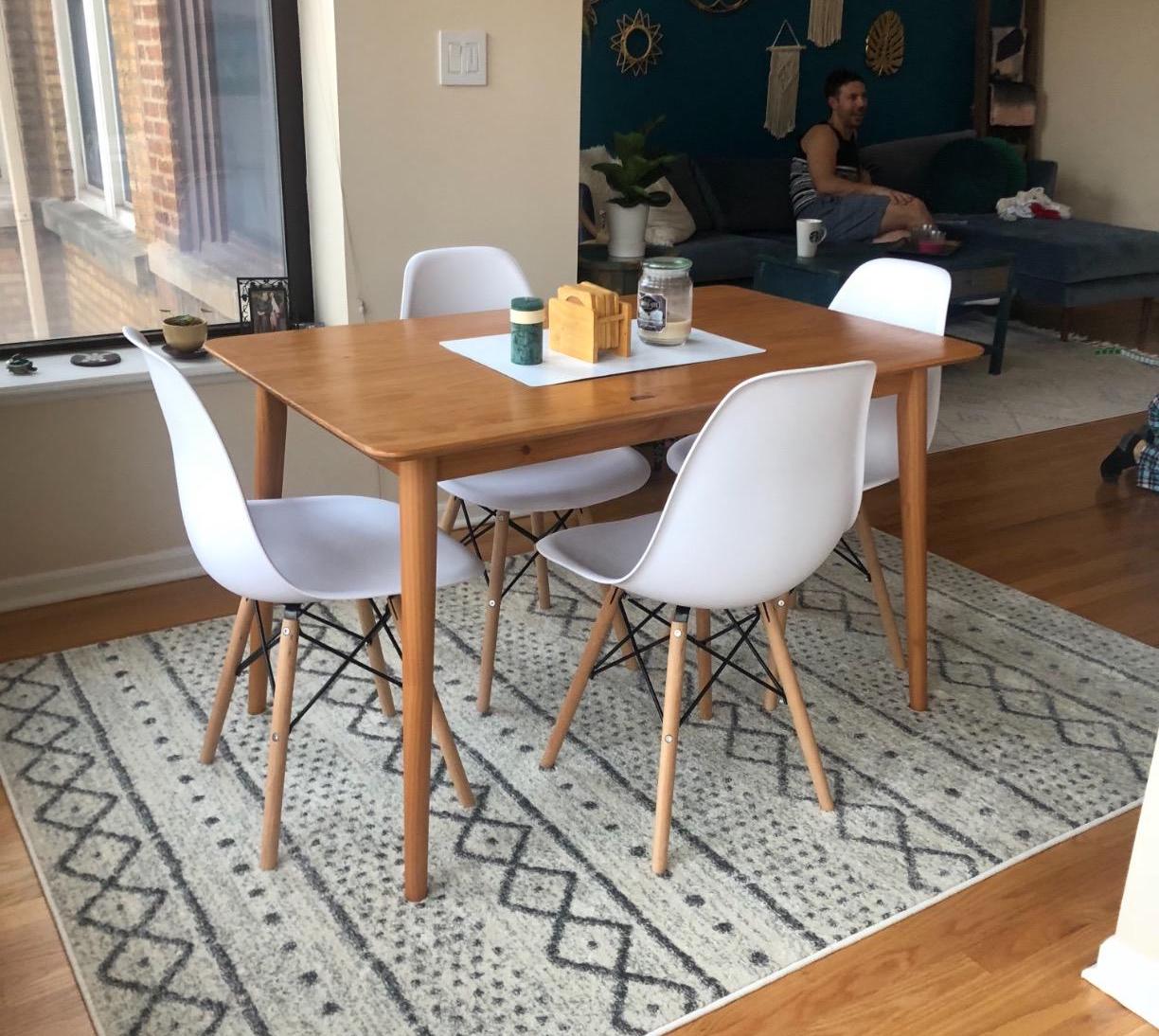 "Amazing! The top is easily damaged, but it's to be expected, and I feel like that just adds to the charm of this table." – Maksimas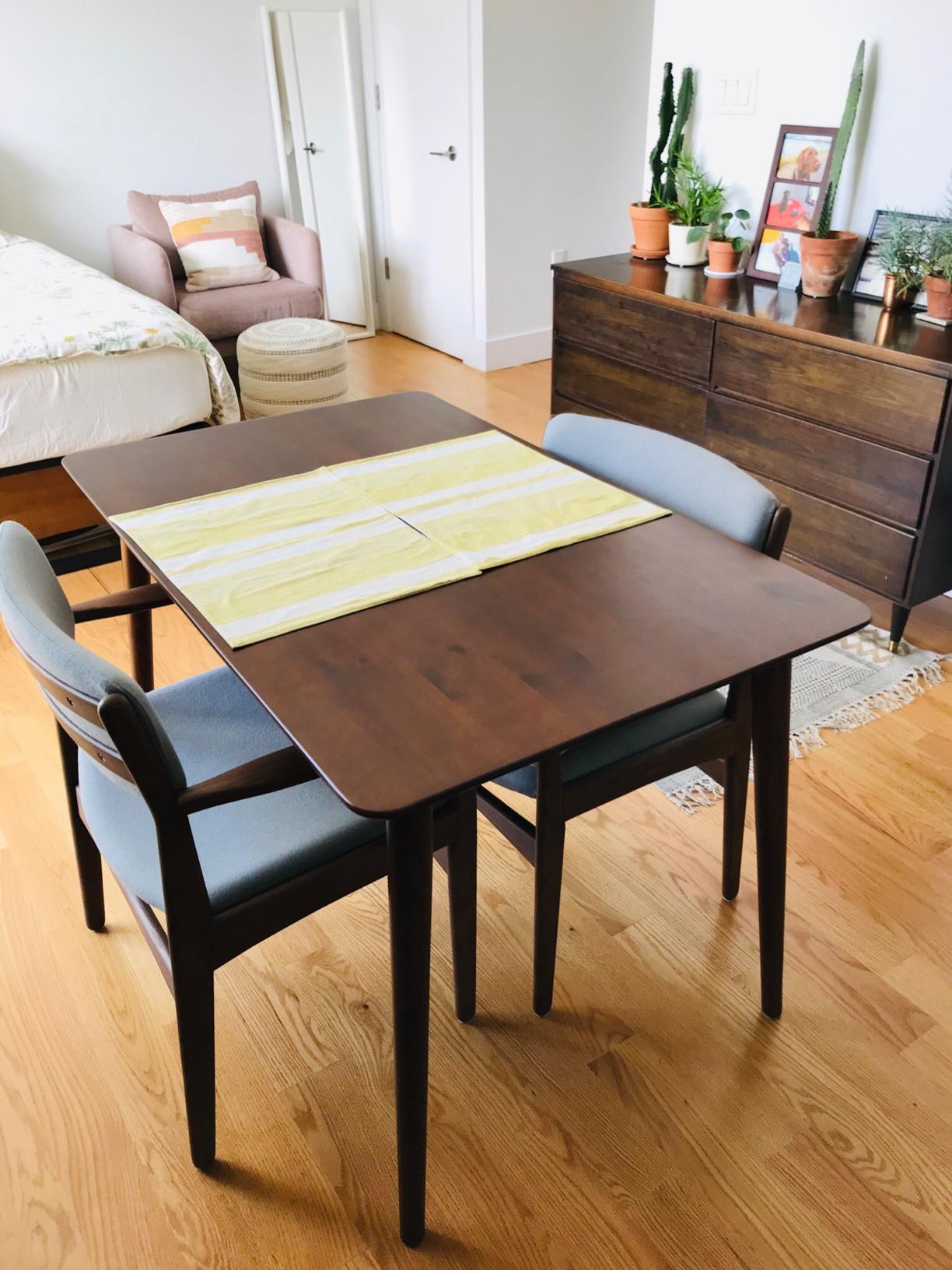 "Love this table! It's perfect for my small studio. It's not made of solid wood, but it's still well made and looks great. Very lightweight, incredibly easy to put together and move, and arrived well packaged. A great product from Zinus!" – hyacinth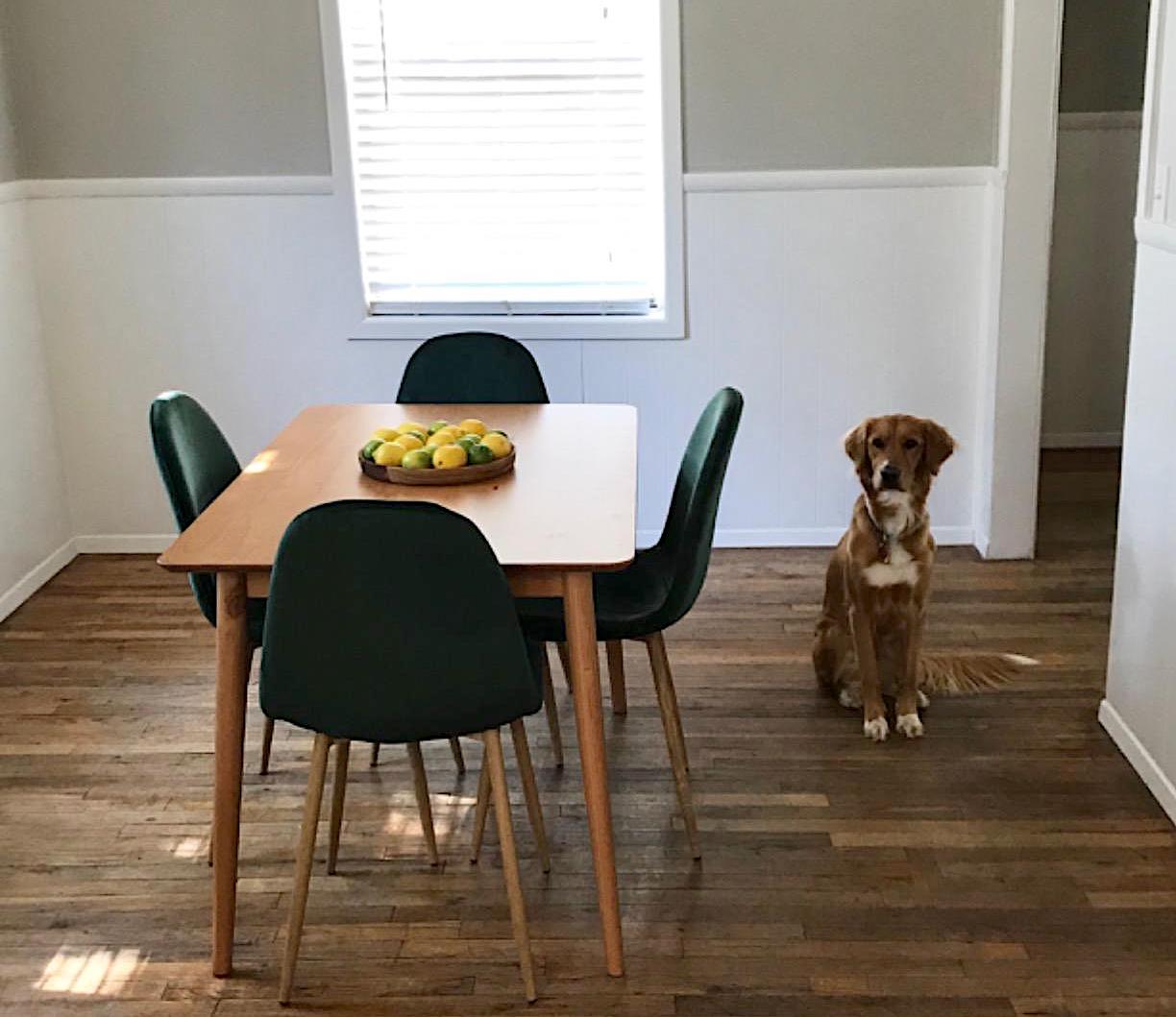 "This table is awesome! The color is nice, it's great quality, sturdy, and good for a smaller space. We could have went with something a little larger for our space, but this was in our budget. It can seat 4 or 6 comfortably as well. I may repurpose it into a desk if we decide to get something larger in the future." – Tina Bostick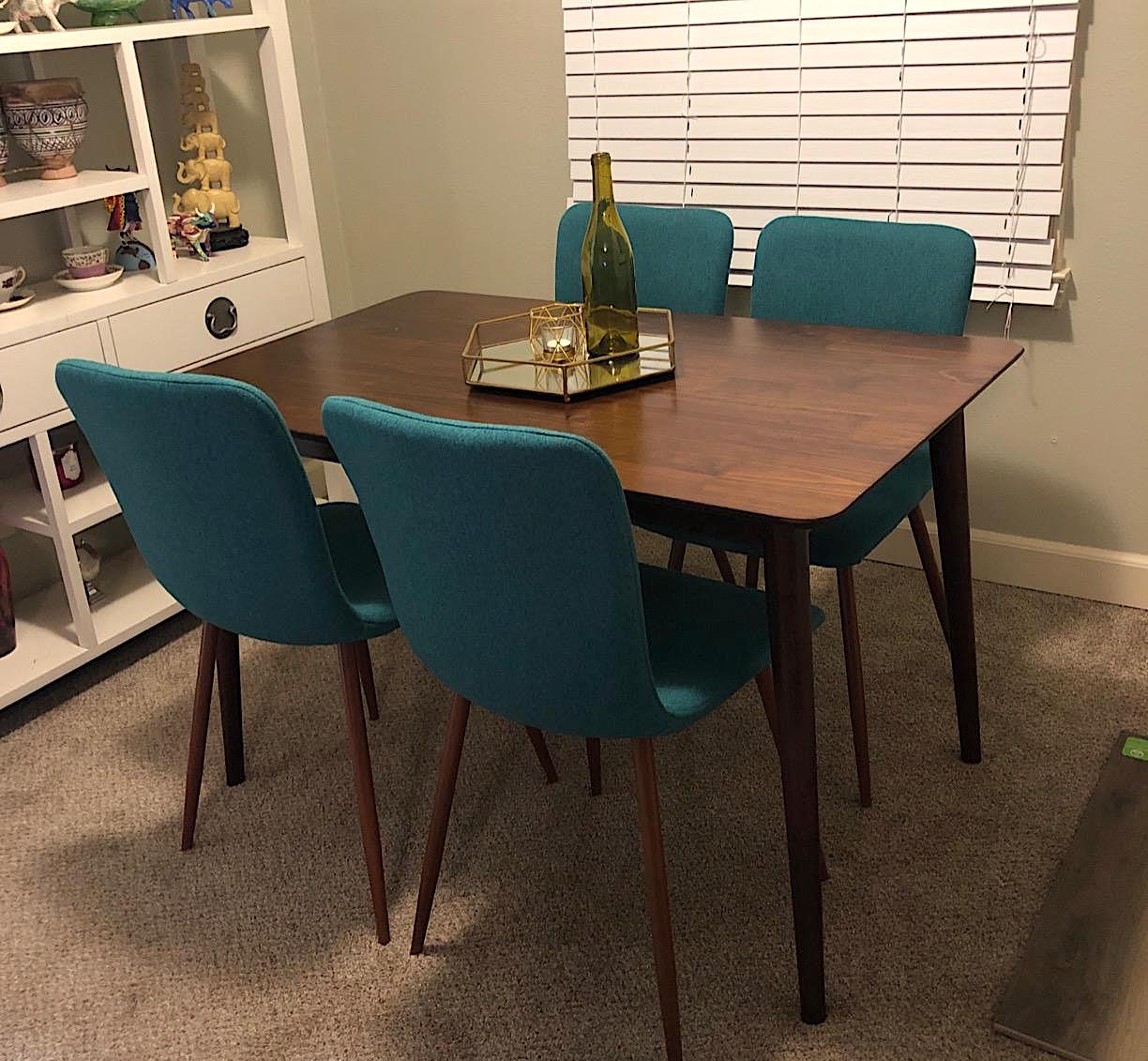 "Love this table! So easy to put together and looks really nice. Great quality for the price. I also have a Zinus bed and mattress, which have been great purchases as well. Really love this brand." – Landrey White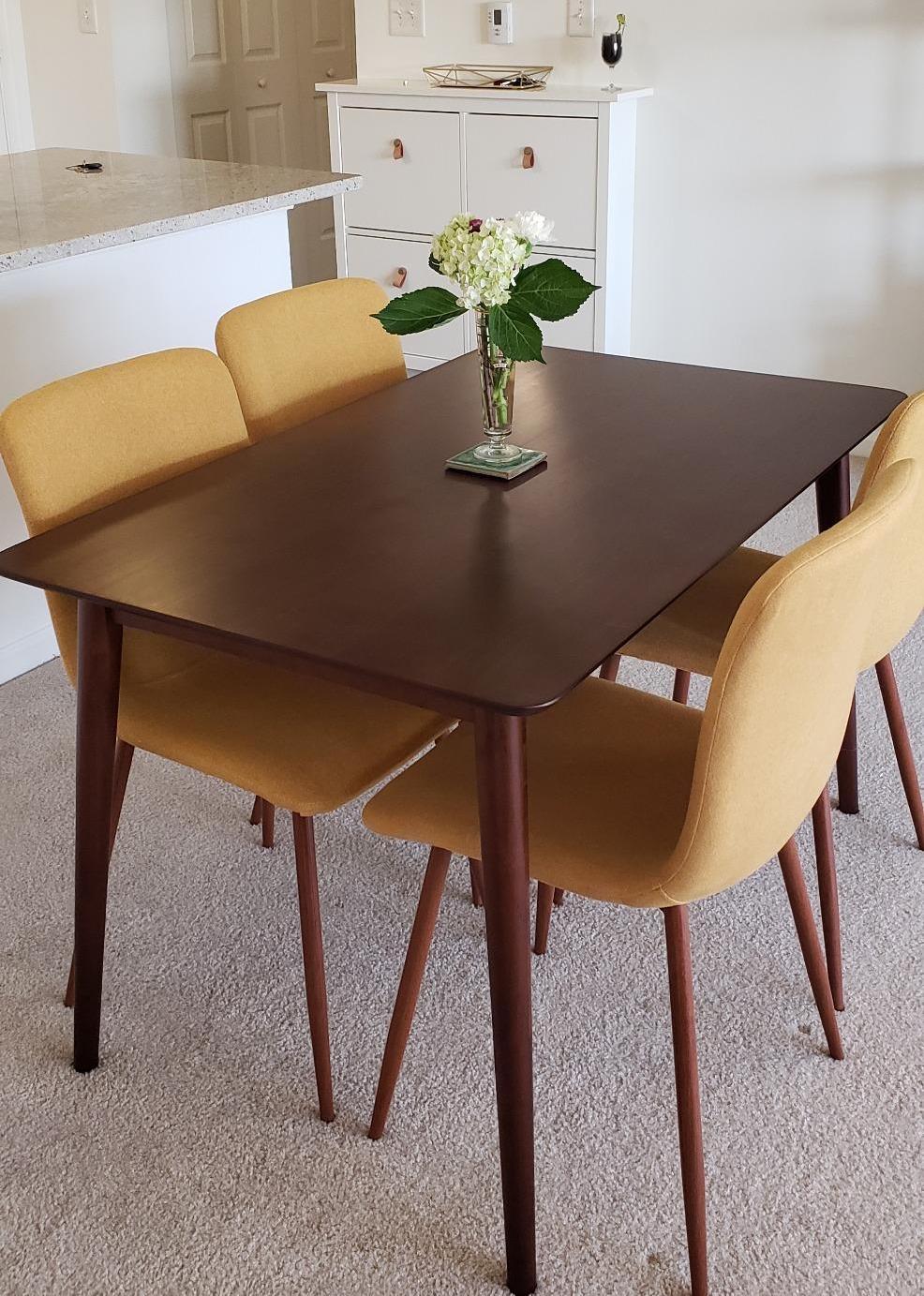 "Easy assembly, and much more sturdy than I was expecting for the price point. It's also a beautiful, simple peice. I highly recommend this table for a smaller dinning space. You can comfortably fit four people at the table for an intimate meal, but it's small enough that the table won't take up every last inch of square footage if you have a small place. It's perfect for apartment living. I highly recommend." – Vicki Sherman Doueck
---
Purchase the product on Amazon Marketplace (USA and CANADA) with free shipping
---