[Review] Nathan James Telos Home Office Computer Desk
Assembly
Minimal assembly is required. It only involves screwing the legs onto the top. The entire tabletop comes pre-assembled. Even the glides that hold the drawer comes attached. This is good news for people who don't like putting things together. Nathan James provides an allen wrench, which is the only thing you'll need for the job.
Space
The table has sufficient room for a laptop or computer monitor. What it doesn't have is a dock for a computer tower. If you are specifialy looking for a computer desk then you should look somewhere else. If you use a laptop, this is an ideal table. After all, you would only need a flat surface for that. Even with a 14-inch laptop, you would still have room for books and supplies.
The wide tabletop makes it easier to organize your things. To make the most out of the space, the use of bookends is highly recommended. If you lose the laptop, you have ample of writing space. Speaking of writing, the desk's surface isn't completely smooth. If you write on a paper, you would need a smooth surface like a notebook to prevent the texture from showing in your writing. On the bright side, the texture prevents scratches on the tabletop.
This spacious desk can also be used as a vanity table. Just add a mirror and you're all set.
The drawer is handy for smaller items like pens and other supplies. It is wide and deep. The glides allow you to pull the drawer all the way out. It pulls out smoothly too. It is a bit lacking in terms of height. The inside looks like the manufacturer has forgotten that part out. The painting job was done poorly. That isn't a significant issue, though.
This office desk is compact. It is suitable for tight spaces and small corners. It takes up little room. I suggest putting it in a corner of the room if you have limited space.
Quality
The tabletop has a weight limit of 120 lbs., which is pretty heavy. The desk is sturdy and does not wobble at all. The legs are thick and not the flimsy kind. The extra bar on each pair of legs provide additional support to the table.
Design
The contrast between the white top and brown wood legs is beautiful. It gives off a modern vibe that is easy to match with different interiors. It can be used in the office but is more ideal for home use. An office setting would require a more professional-looking desk and this might not be the best available choice. This may, however, work for a home office. This stylish desk would also appeal to students and young professionals.
The tabletop has curved edges, so you won't scratch yourself if you accidentally hit one.
Both regular chairs and adjustable computer chairs can be used with the desk. The desk's height is the normal height so you won't have a hard time finding a chair to use.
Each leg comes with a rubber pad. You don't need to get them separately. It is useful for protecting sensitive floors like hardwood floors.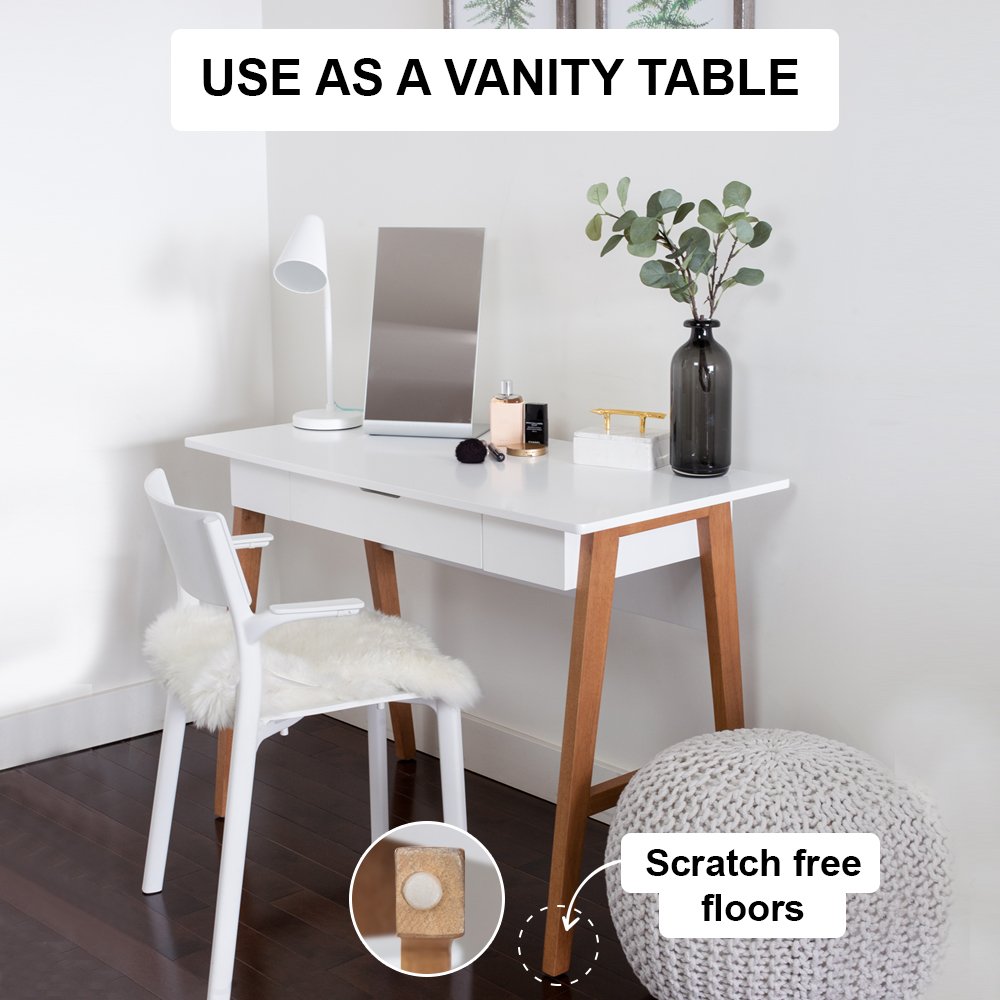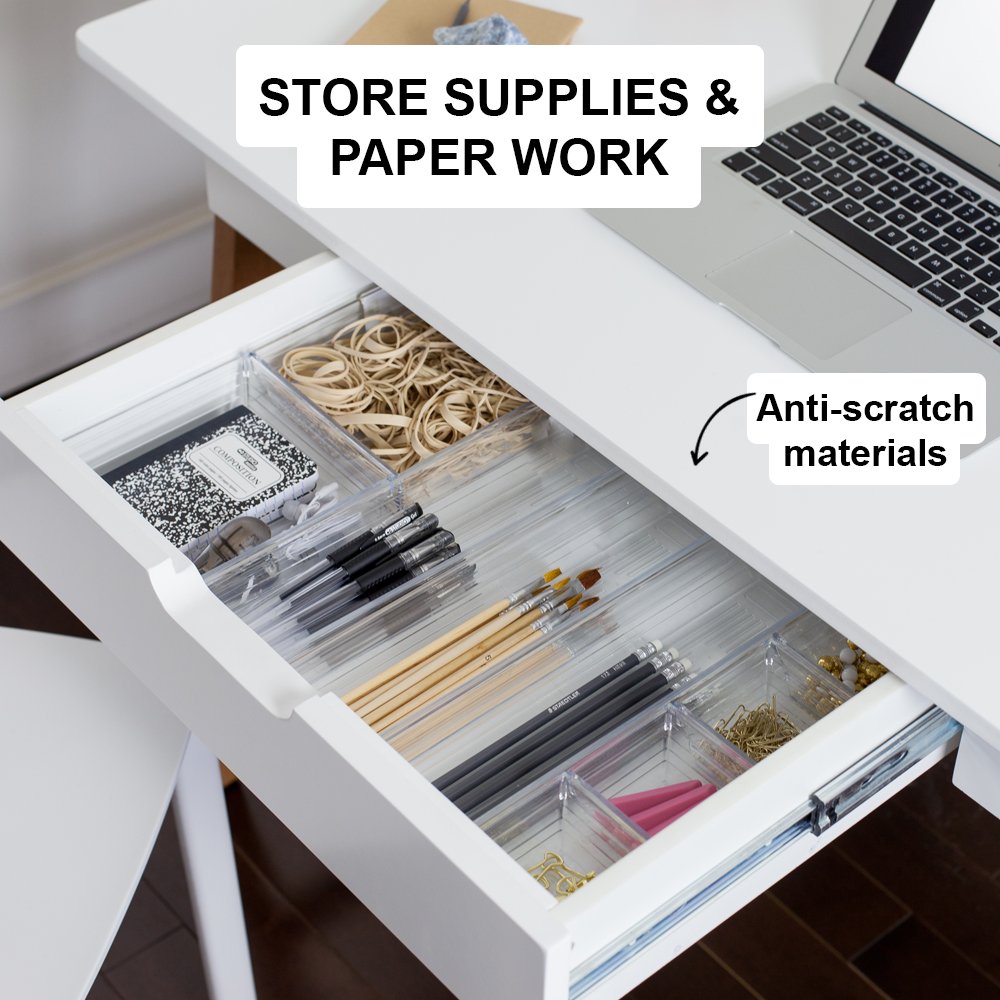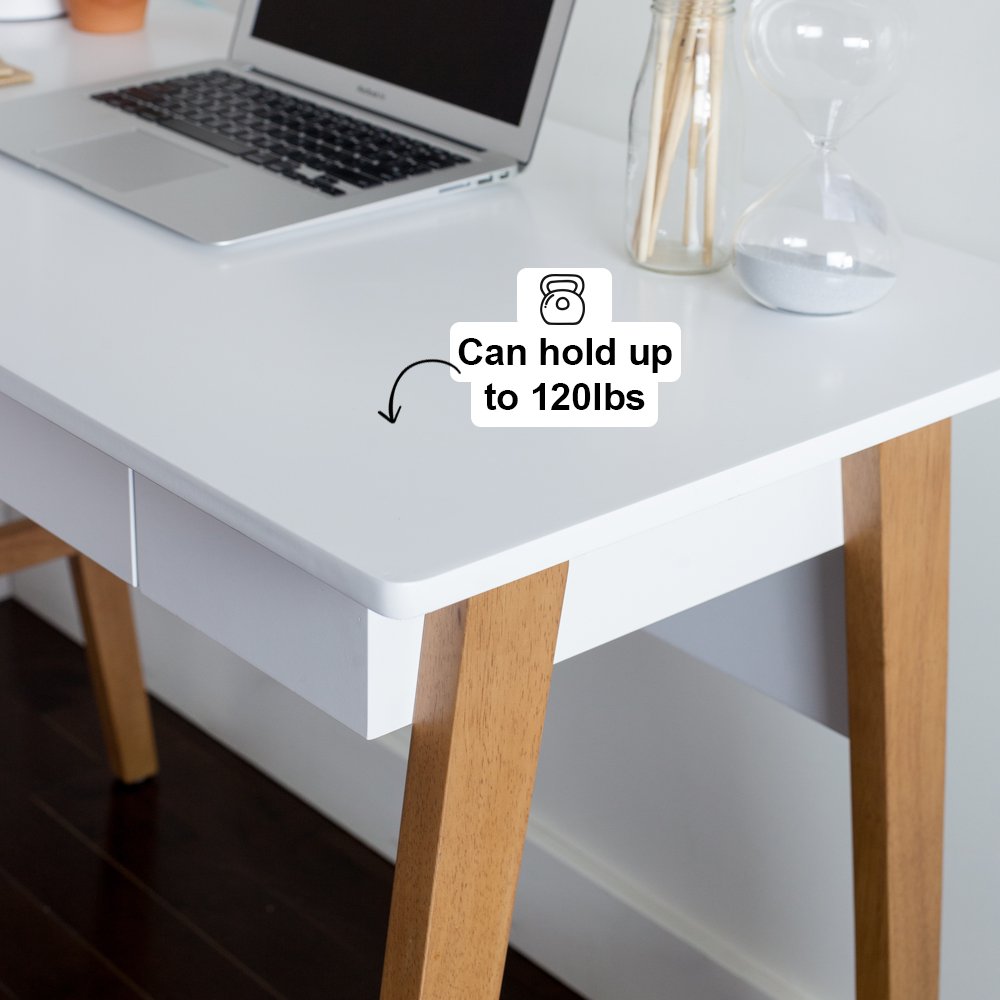 Other Popular Reviews
"I have to say, this was the easiest piece of furniture I have ever had to assemble, it was amazing. It is a very sturdy, sleek looking piece, with just kind of that clean natural look to it which I like. I use it in my bedroom as a makeup vanity and it is perfect for that. It does just have the one drawer, so if you need more storage than that this is not the vanity/desk for you." – Rachel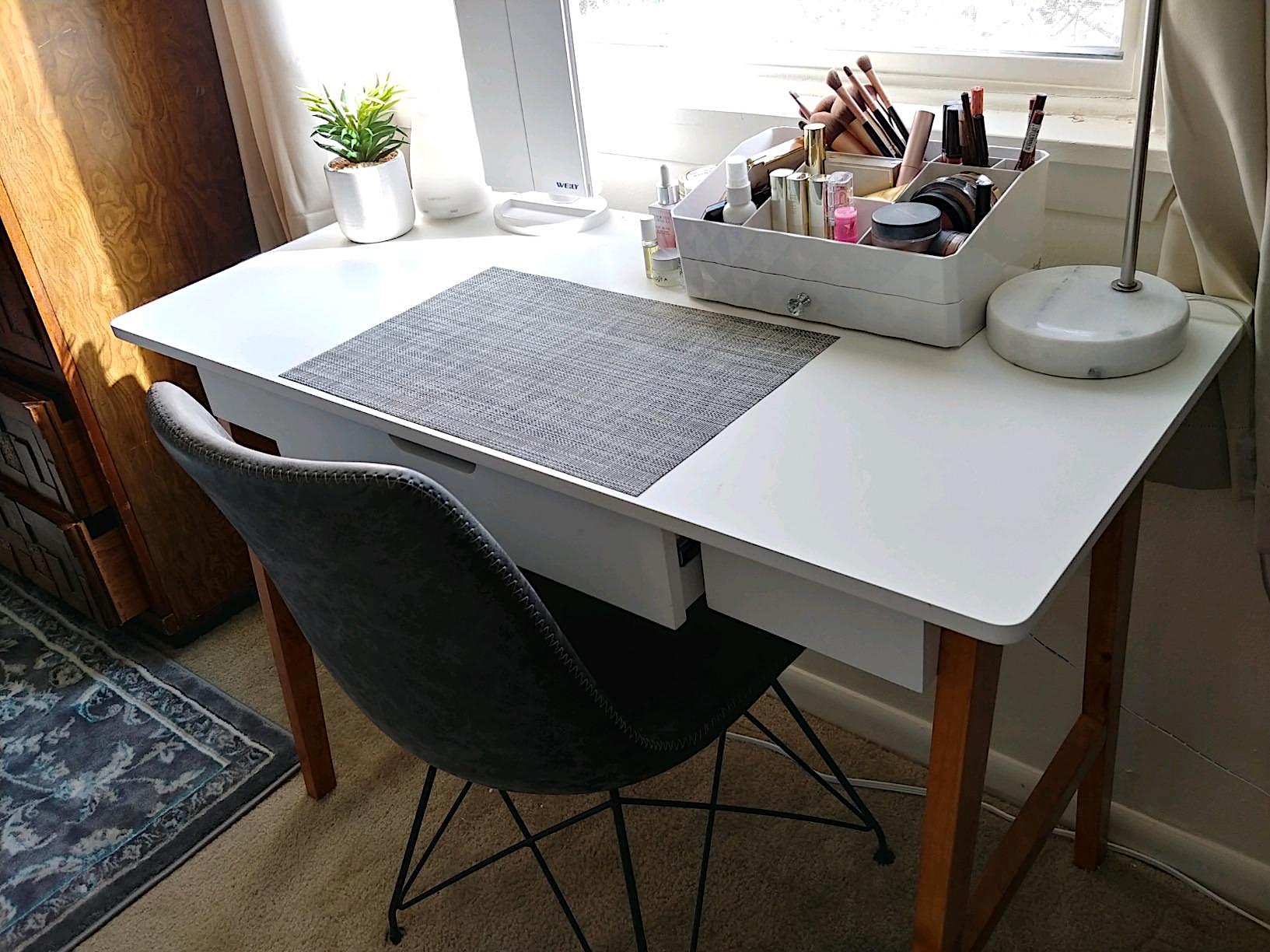 "Very happy with this product. It's sturdy, well made, and just looks really nice. It took about 15 minutes to assemble, no tools needed. The drawer is perfect for keeping paper, folders, pens, pencils or whatever you need. Would buy it again!" – Amber Wahl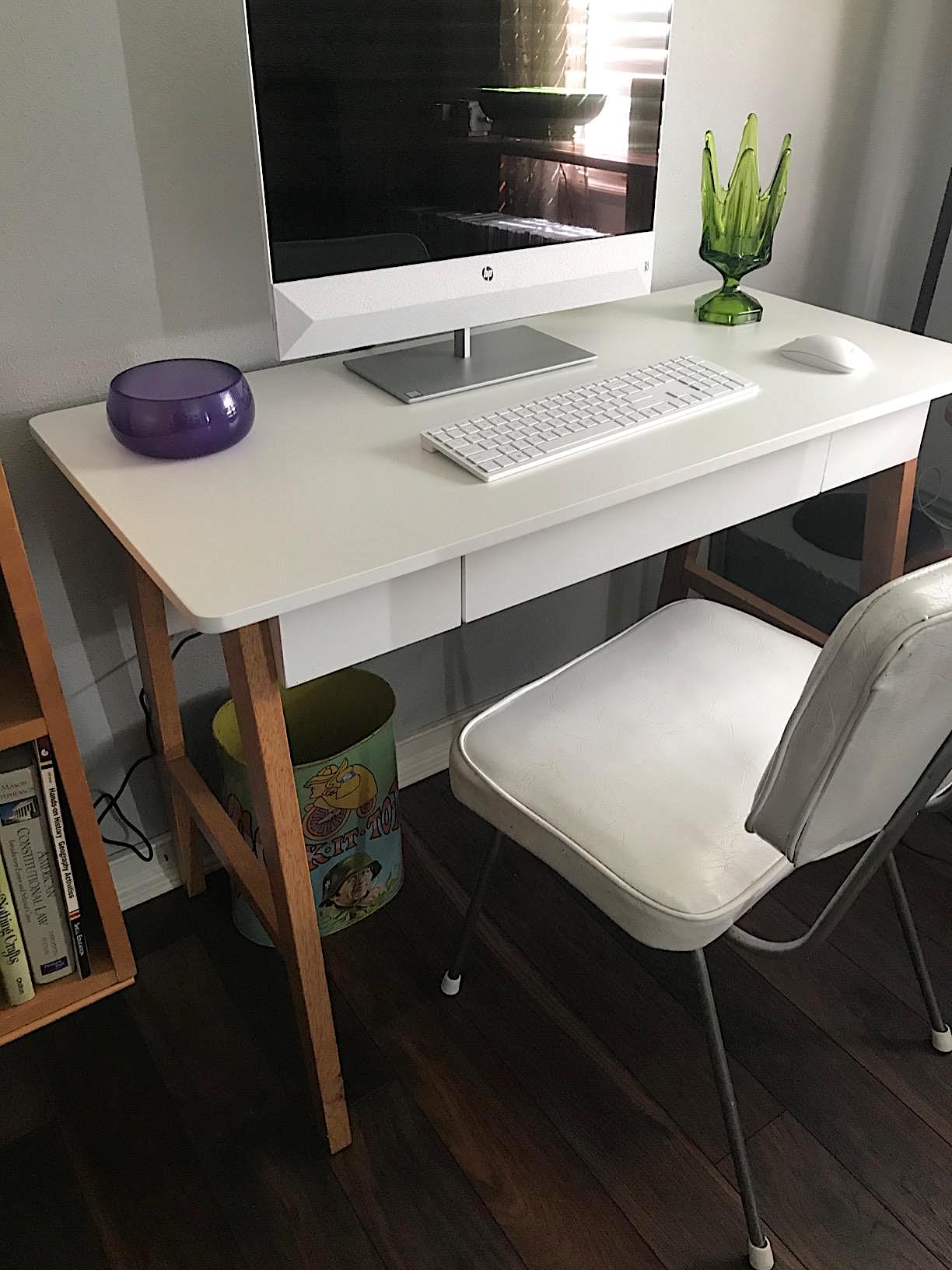 "Great desk and easy set up. Modern design fits perfectly in small space. No complaints and great quality." – Natalie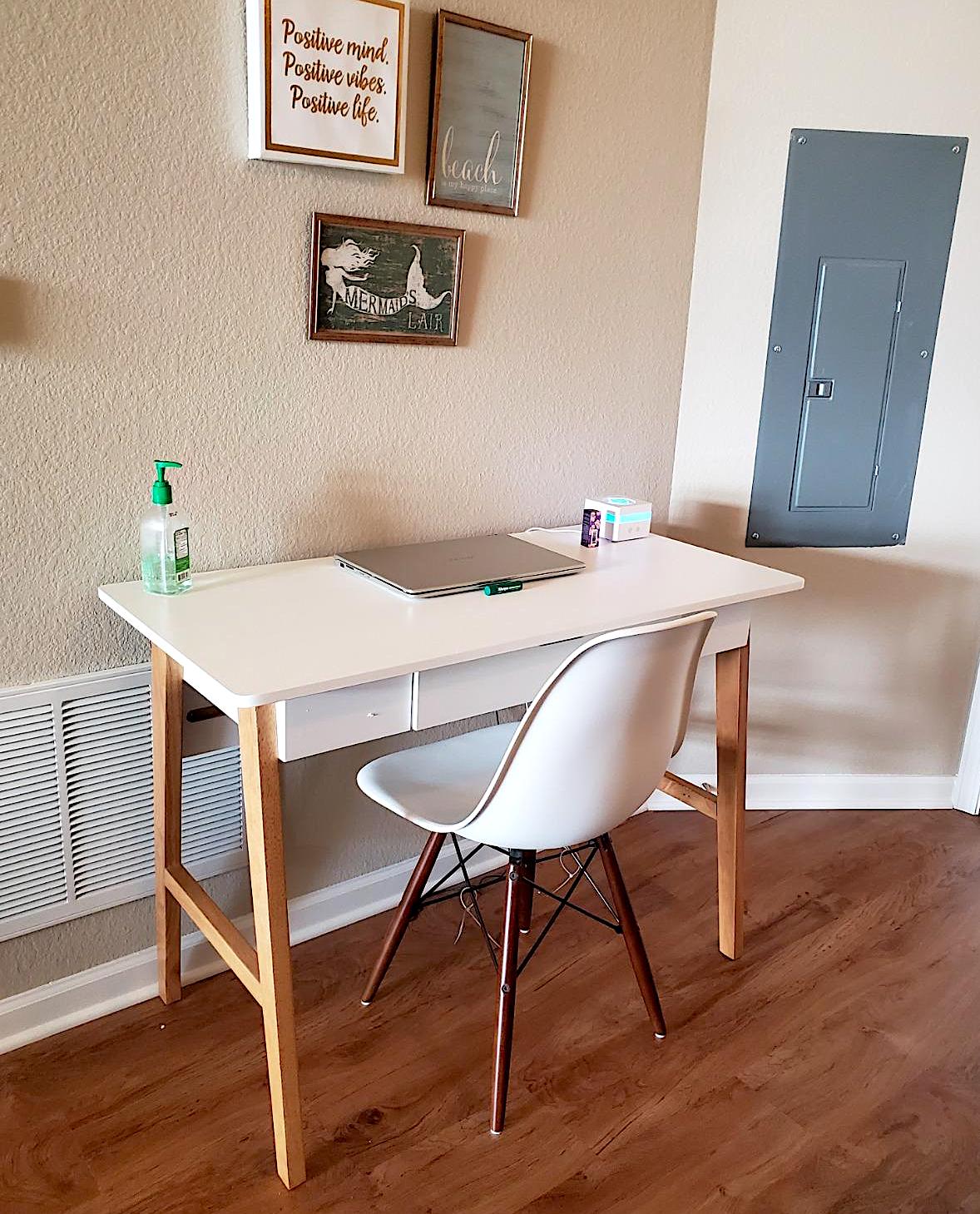 "I love this desk! Just put it together in about 20 minutes and the sturdiness is so impressive. It's also the perfect size for my smallish room. The quality is well worth the price!" – Shelby Flowers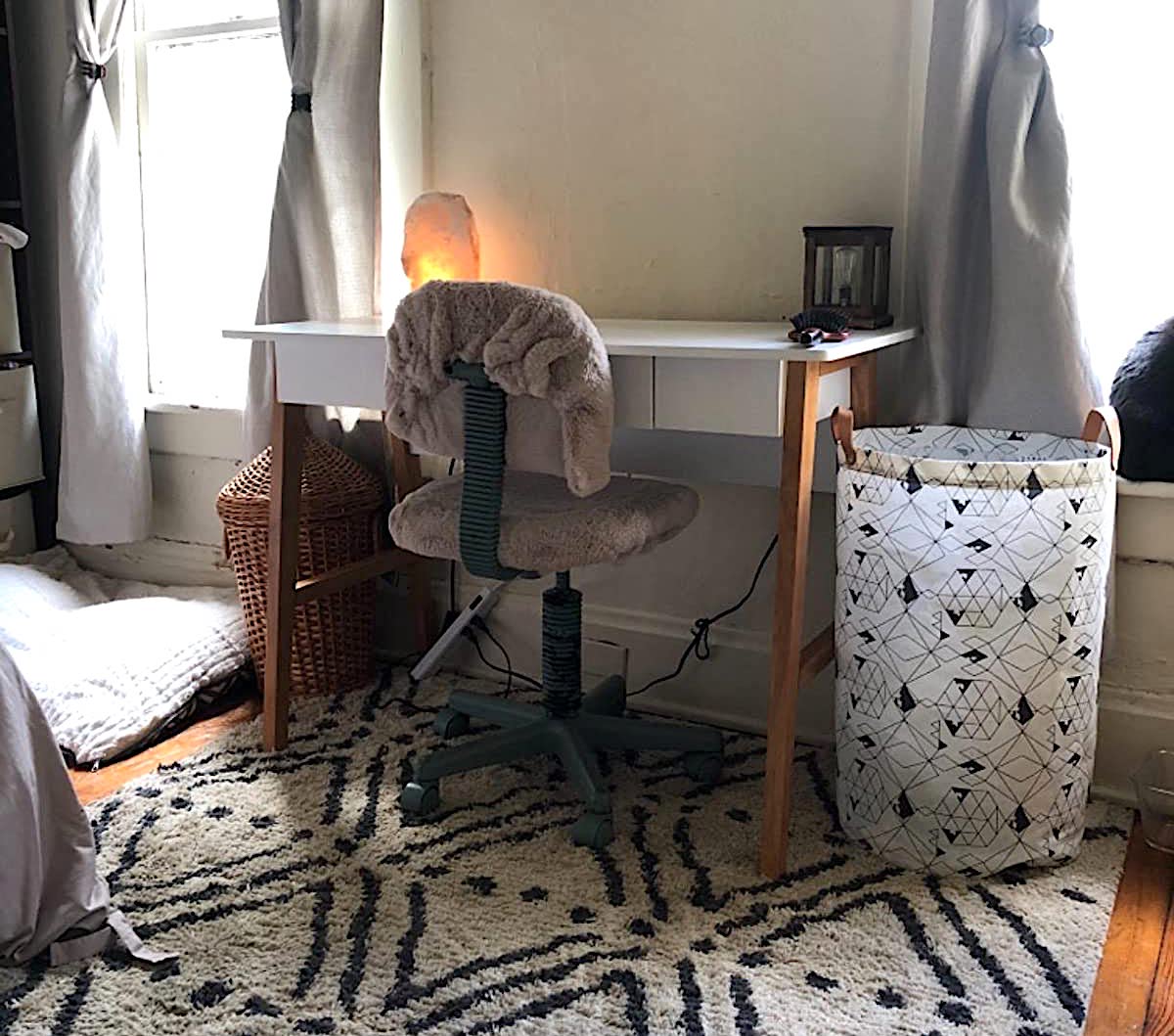 ---
Purchase the product on Amazon Marketplace with free delivery
---