[Review] Zinus Becky Farmhouse Dining Table Set with Benches
This Zinus 3-piece set is inclusive of a dining table and 2 benches. It is a space-efficient dining table set that won't hurt your wallet. At less than $200, it is a smart buy. It's unlikely that you regret a purchase that you can use daily for a long time and serves its purpose in your home, right?
Excellent Packaging
The pieces are packed carefully to protect them during shipping. Zinus uses styrofoam wrapped in plastic to prevent scratches and dents.
The table has a subtle wood odor right after unboxing. This should take a day to completely dissipate. You have to take this into consideration and understand that you may not be able to use it on the first day. The box includes an allen wrench, which you need to put this together. All holes are pre-drilled. The pieces align with the holes without a hitch.
Space Saving Table
Rectangular tables generally occupy less space than circular ones. Likewise, this farmhouse dining table takes up little space. It works great in tight spaces. I also recommend this set if you want to add a dining area in the kitchen.
The benches fit under the table perfectly, so they occupy even less space when not in use. Sliding them under makes a lot of difference. In addition, you can push the table against the wall to make more room. If only 2 persons are going to use the table, you can always have it against the wall and use one bench. The other bench can then be used in other rooms where an extra seat is needed.
While the set is compact to fit a small dining space, it is large enough to comfortably accommodate a family of 4. Each bench can seat 2 people, 3 if you want to push it. The table is spacious enough for all utensils needed for meals for 4.
Quality Construction
The table and bench are made of sturdy materials. They don't feel flimsy but the use of coasters and placemats is highly recommended. This would keep the surface in tiptop shape for a longer time. Placemats can also protect the surface from scratches.
The surface is smooth. In fact, you can write on paper on top of the table. The beautiful finish speaks volume about the excellent construction of the set.
The bench has a good weight to it. It is lightweight but heavy enough to keep it from tipping over. Kids 5 years old and below shouldn't be left sitting alone on the bench. As the bench doesn't have any rail on the back, they may easily fall over. If you plan to have kids sit on the bench, you should have the bench up against the wall.
The legs come with floor protector pads already. There is no need to go to a hardware store to get them. I'm sure there would be a lot of pushing and pulling of benches so the pads are important. They may become thinner in time, requiring you to replace them with new ones.
Other Popular Reviews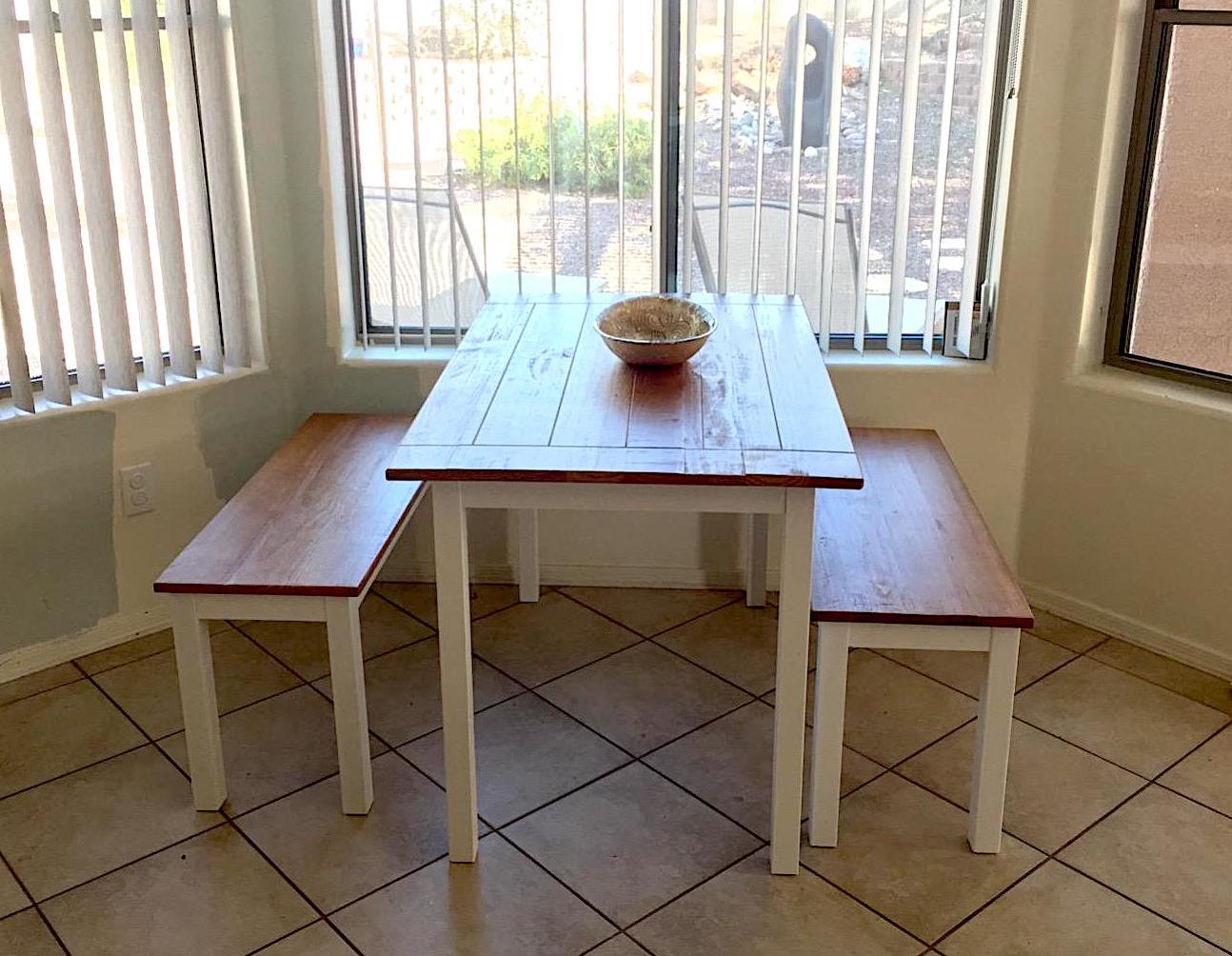 "My wife and I love this table. Very sturdy and easy to put together. Small enough for our tiny eating area but large enough for 4 average sized people. My wife and I can both sit on one side together. The top wood is un-even, but we like the little distressed look of it on top. For the price we're still surprised it's all solid wood! I saw some people's reviews saying it was green, ours isn't that way at all. Highly recommend this table. After seeing it in person I'd have paid much more for it, great deal." – Steven K.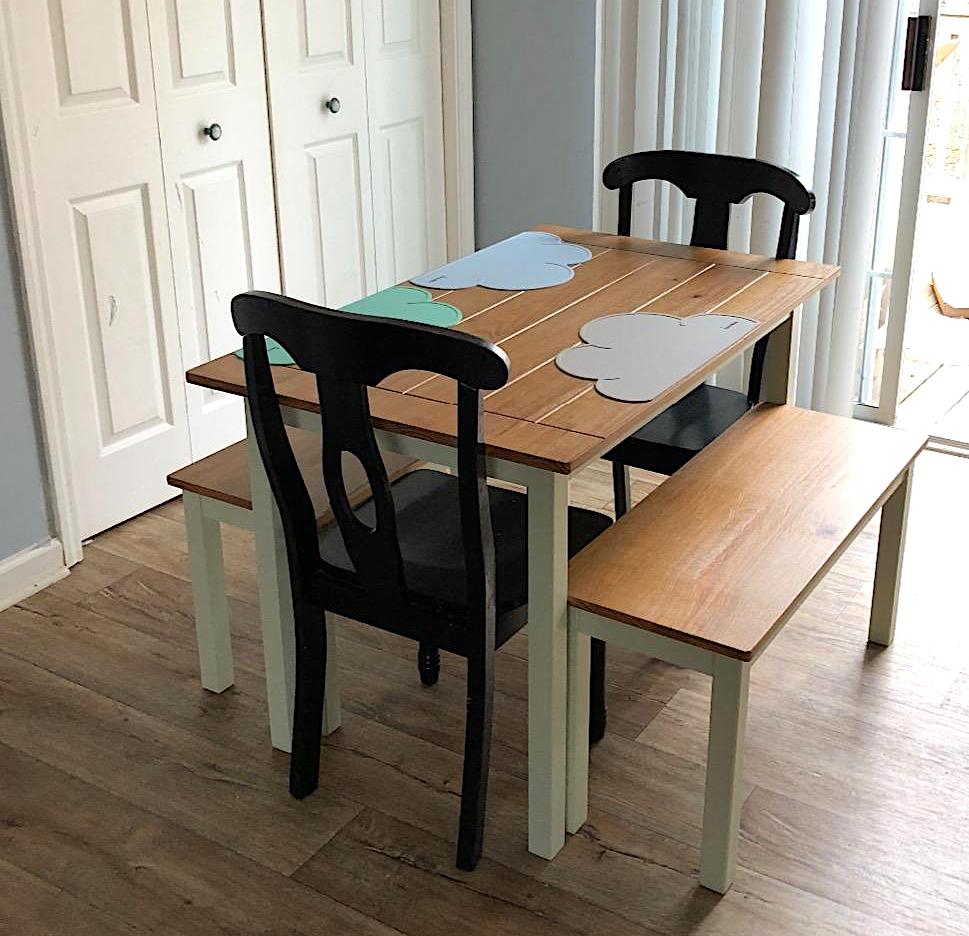 "Slightly more narrow than anticipated and a little bit on the green side instead of white, but I'm happy! Our family of 5 fits comfortably" – Allison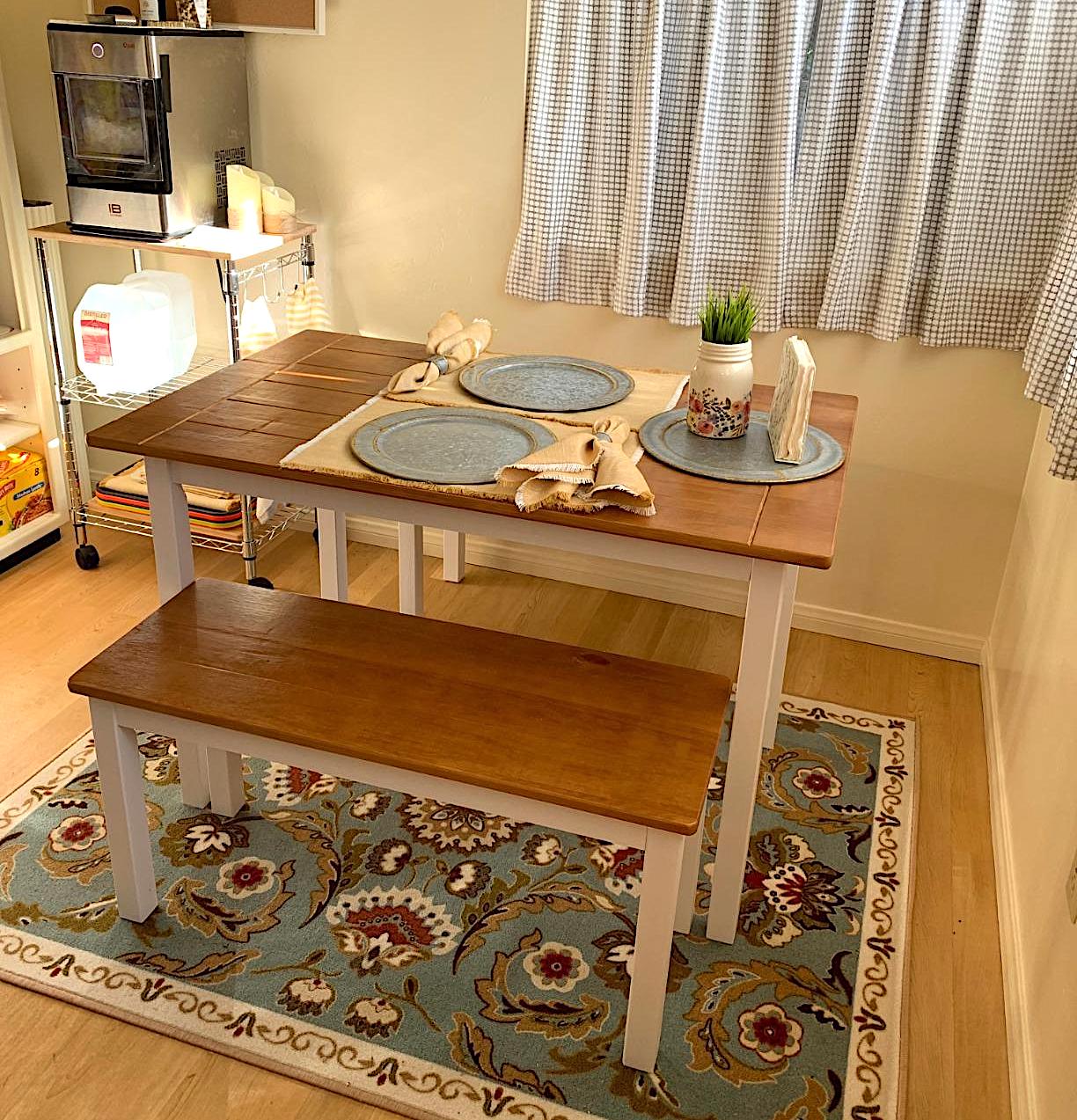 "We were looking for a small table for the limited space in our rental unit and this one is absolutely perfect. I carefully read reviews before making my decision to buy sight-unseen online and I'm really glad I went with this one. The other reviewers were right, this was super well packaged so there was no damage during delivery and the manufacturer even included a handy little ratcheting allen wrench for quick, super easy assembly. The thing I love the most about this table, other than the excellent quality for the price is the fact that the benches store completely under the table when not in use for better maneuverability of the room when not eating. I would say this table is perfect for 2 large adults, 4 smaller adults or a family with 2 young children. I would definitely highly recommend it." – CaliNurse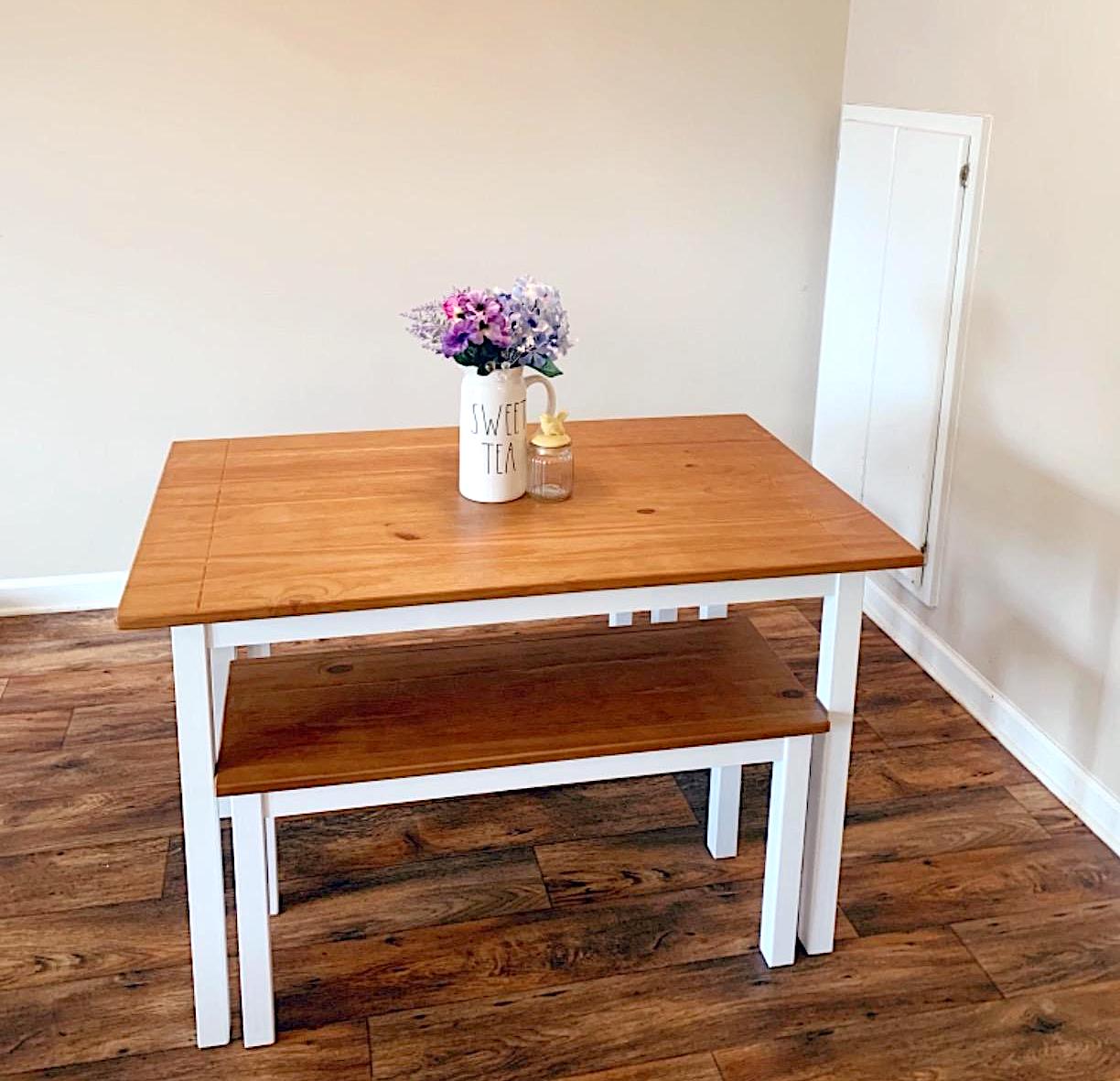 "You need this table if you are looking for something small and cute. This table is awesome. It was super easy to assemble. It came with all of the tools and parts necessary to put it together. I love the benches and they go all the way under so they don't take up space like regular chairs. It is very sturdy which is necessary in my house since we have a little one. I think it looks amazing and am so happy I picked this table!" – Mariah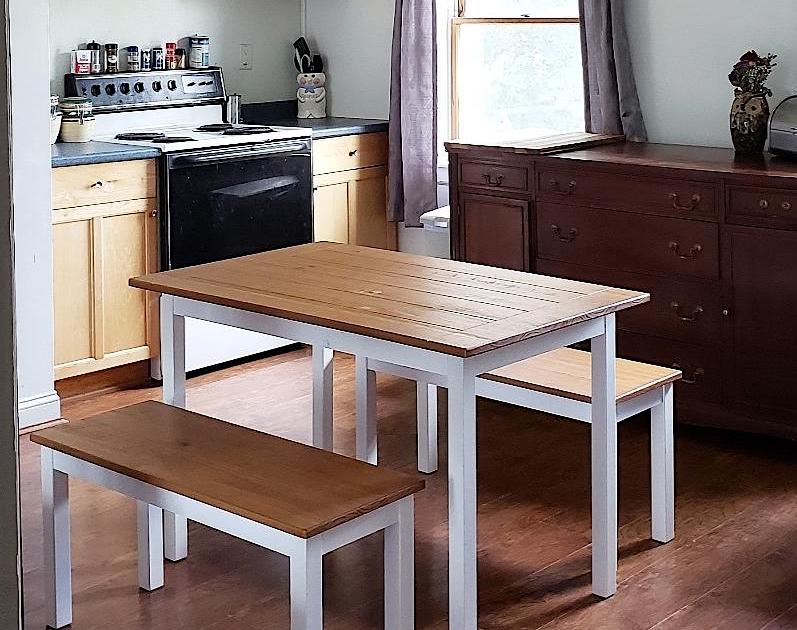 "We have a very small awkwardly build kitchen. Finding a table to fit this space has been challenging. When our last table broke, I wanted something small and cheap until I found something that was better. I ordered this May22nd and it wasn't supposed to arrive until July 17th. It came a a month early, this past Monday (June 10th) and I LOVE it! It fits our space perfectly and our family of 5 just fine. The white is pure white with no hints of green and the table top and benches are smooth to the touch with the exception of a few knots. It's solid wood, built very well and very sturdy! For the price, it exceeded all my expectations!" – Hillary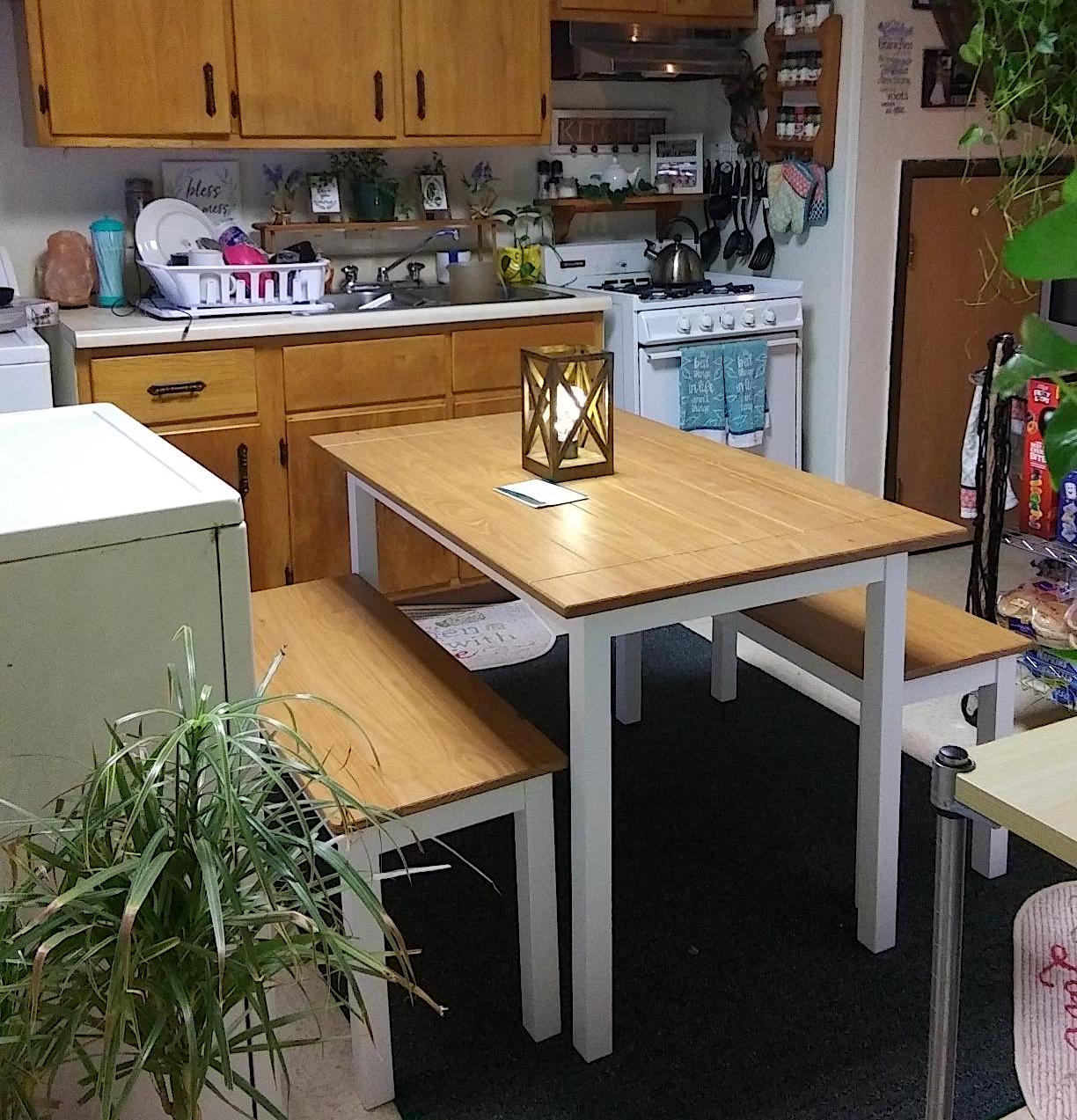 "My table is absolutely beautiful and sturdy. There is more then enough room for me and my three teenage kids. I highly recommend this table not only for its good looks but also fits in my small kitchen and we love it. Another thing that I love about it is how the benches store neatly under the table and out of the way when not in use I would give this Gorgeous Table 10 stars if I could." – JennyB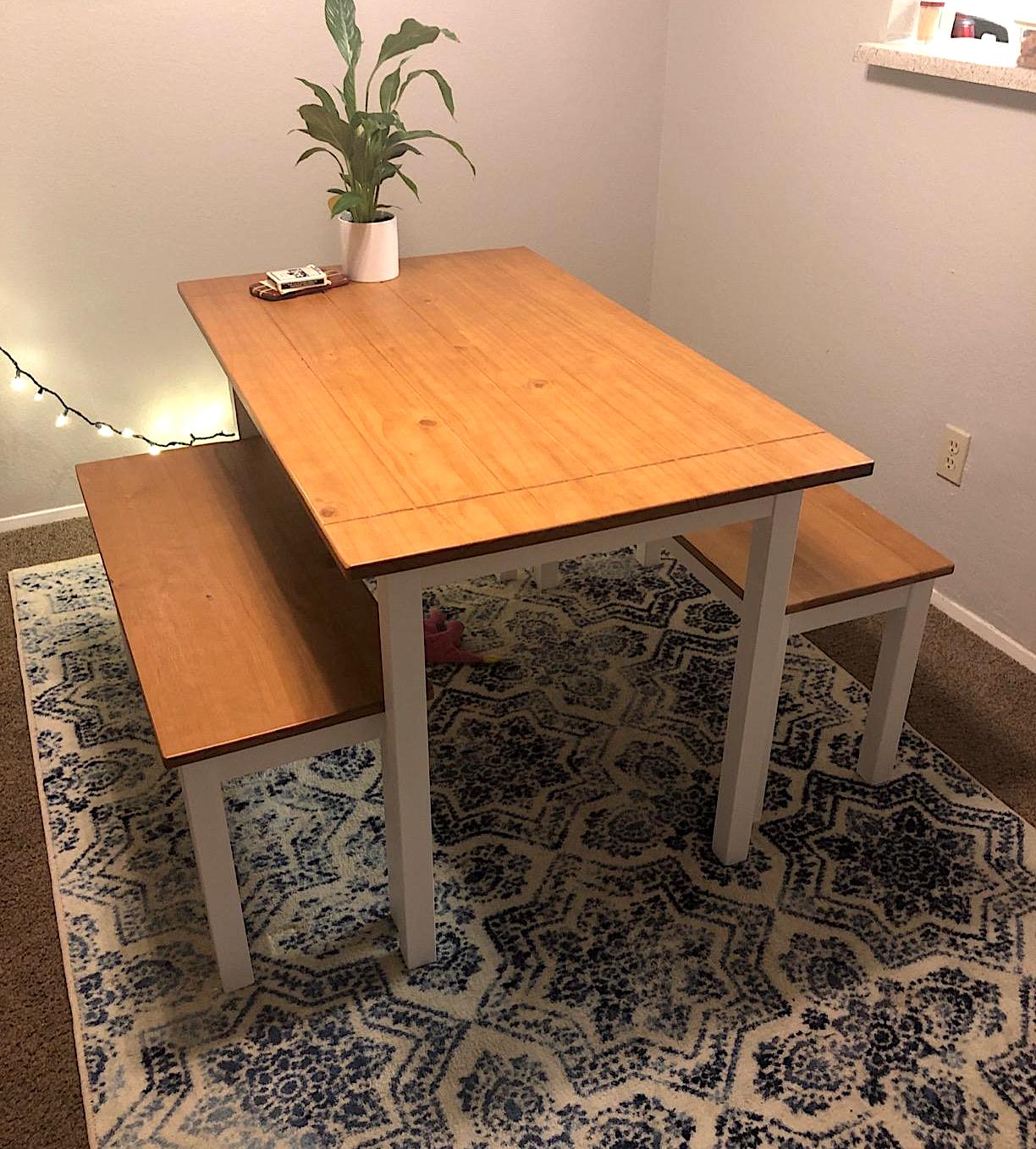 "We're loving it! Very easy to put together (30 minutes with two people). I've use it everyday and it's sturdy. The benches can easily fit two people (and we're not tiny). We have two folder chairs to add to the ends if we have 6 people over. That does make it really right, but can work." – SLB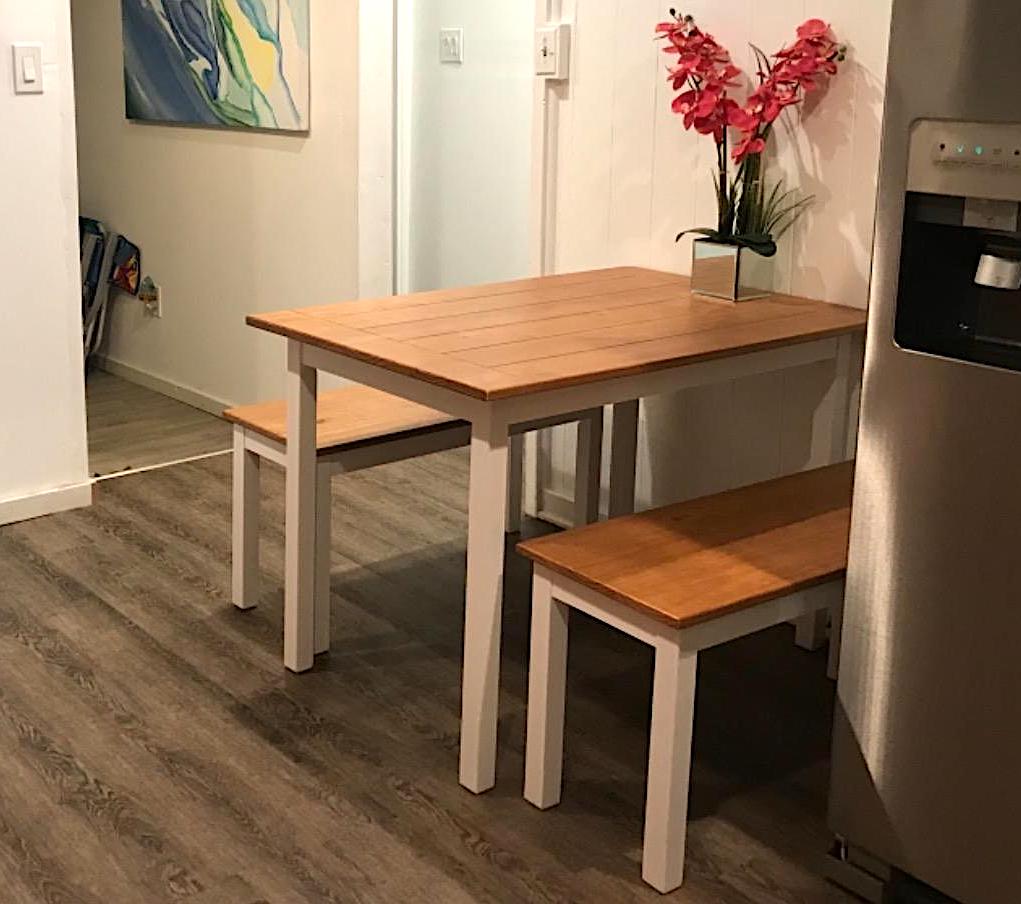 "Obsessed with this table. My boyfriend and I were so impressed with every detail! If you are looking for a space saving table this is perfect. It took us less than 20 minutes to put it all together and the quality is outstanding for the price. The legs of the table and benches are pure white, so I'm not sure why other customers had a green tint. Also, shipping was way faster than expected. I never leave reviews but this company deserved a good one!" – Deborah Skwiat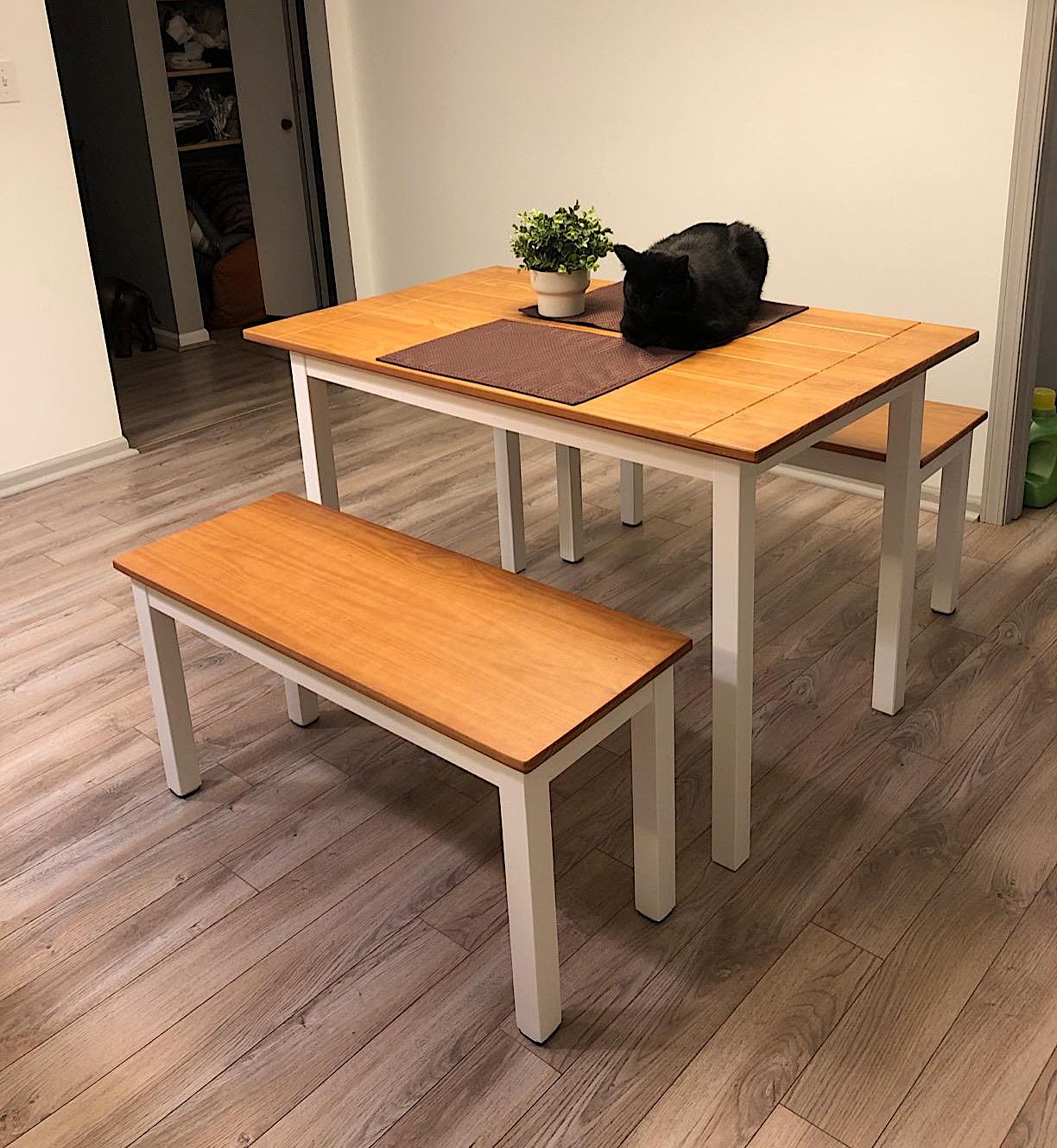 "I LOVE this table! We just bought a house and this was perfect because we have a small dining room. It was super easy to put together and I love that they included a nice message and a few cards! Definitely recommend." – Tessa McDaniel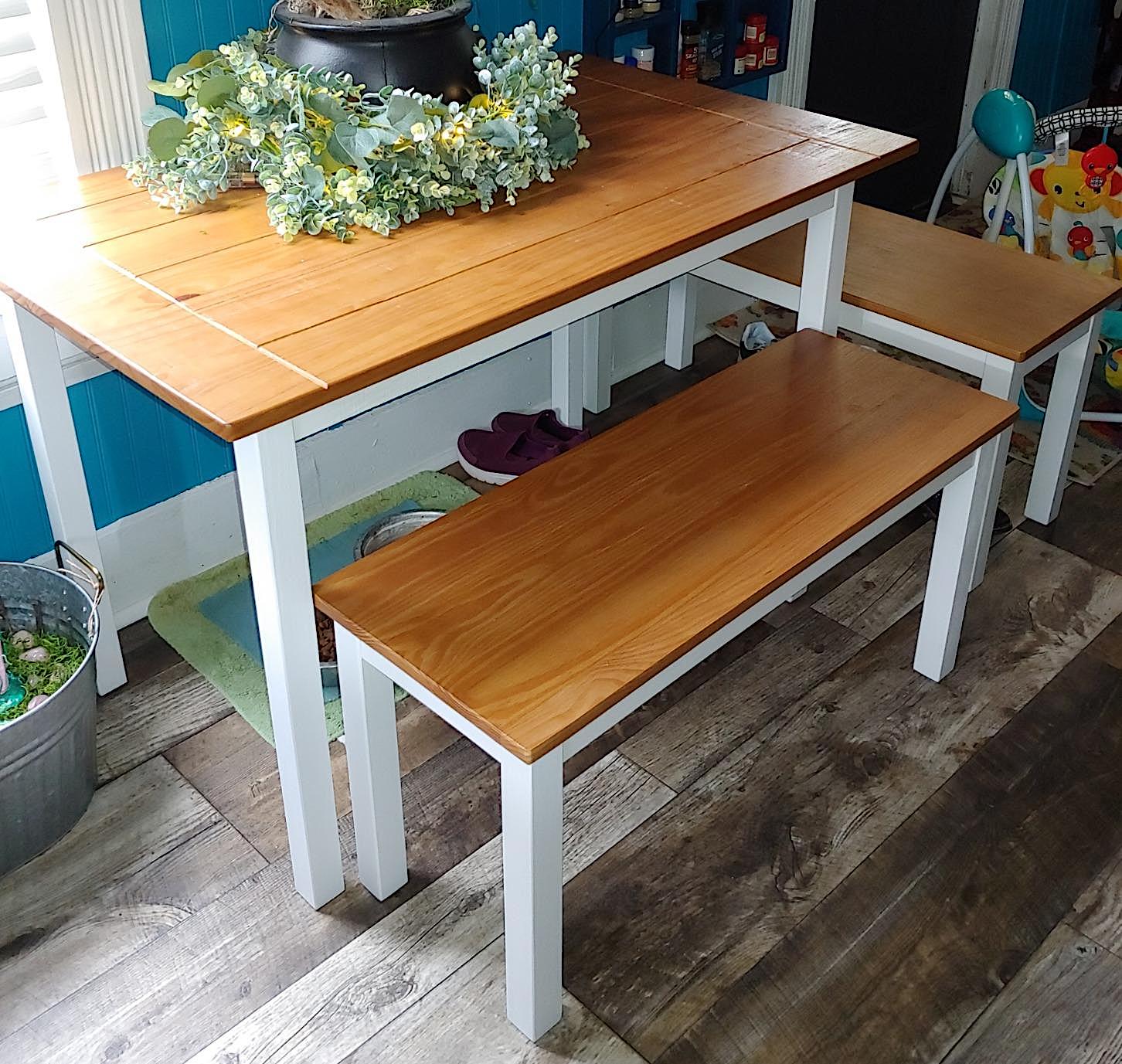 "Great table! Very high quality, and the wood grain has interesting grooves and knots, which I love. You can definitely tell it isn't cheap fake wood. Sturdy and fits well in my rectangular kitchen. Bigger families wouldn't have much room to use this to eat at, but my family is more of a "we sit on the couch to eat dinner type" so I use this for extra prep space in the kitchen and an area to do some crafting. It's a good breakfast table for the kids, too." – Sarah
---
Purchase the product on Amazon Marketplace (USA and CANADA) with free shipping
---