[Review] Modway Render Console TV Stand
This TV stand marries style with function. It is also very reasonably-priced. It has an impressive quality that you won't normally find in similar entertainment centers within the same price range. It comes in different sizes to fit various makes and models of TV.
It is a great fit for anyone who:
Opts to keep their TV on a stand rather than have it mounted to the wall
Requires additional storage for games, media players, consoles, and other entertainment paraphernalia
Has interiors inspired by a mid-century style with modern elements
Assembly
The directions were written clearly. Both words and illustrations make up the assembly guide. The latter makes the assembly much simpler, as they help you visualize how the stand would look like on each step. The pictures also keep you in check and let you know early on if you're doing anything wrong.
While completely optional, using a wood glue would reinforce the various parts of the stand. Doing so would keep it structurally sound. The stand doesn't come with a glue. It does come with a remarkable number of braces that securely hold the pieces together. Although that made the assembly more time-consuming, it is worth the time and effort.
Structure
The TV stand sits low. The height keeps your TV at eye level. If you require a stand with higher clearance for taller items, this may not work for you. Also, if you are not happy with how tall it is, you can choose to mount your TV to the wall. One benefit of mounting it is that you can make room on the surface for more items.
The top is very unlikely to sag. It is made of a one-inch-thick particleboard and can support the weight of heavy TVs. The shelves have supports on each corner. These keep the weight distributed throughout the entire length of the shelves.
Storage
The TV stand is a stylish storage solution. The space allows you to keep your entertainment needs all in one place. There is no need to look for bulky cabinets and end tables to house your electronics.
The two sliding doors are a unique component of this furniture. They conceal whatever you like to stay hidden without foregoing style. The doors leave space for an open display shelf. You can showcase your prized console, games, DVDs, and even books.
There are holes that are strategically positioned at the back. They have been drilled for you, which may or may not be a good thing. It depends on where you plan to have your electronics. Nonetheless, you can drill more holes in spots where you think fit.
Style
The walnut veneer looks nothing like veneer. It can pass off as real wood unless you touch it and look up close. For someone looking at it casually, the TV stand would look like a very expensive wood furniture. The finish is perfectly smooth, which makes it prone to scratches. The slatted sliding doors add an interesting, eye-catching look to the stand.
Other Popular Reviews
"this is better quality than almost anything in its price range, it is stronger by far than most ready to assemble furniture – especially if you use glue as I recommend. For those who prefer a low cabinet this is one of the nicest available. And once assembled I think it really does look beautiful." – PhotoGraphics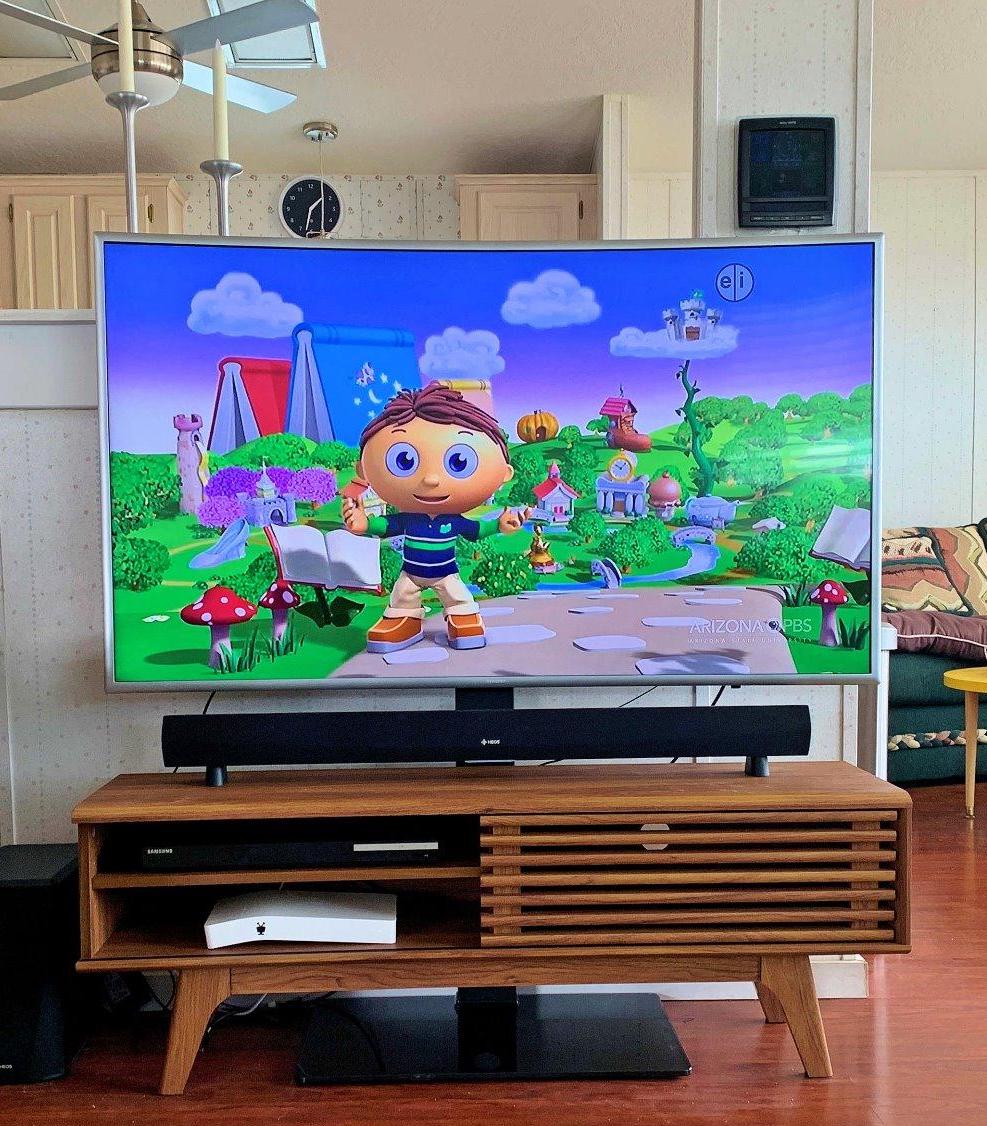 "I bought this item to use as a tv stand. It is on the smaller side for a console but I prefer that. I love the sliding door that allows me to conceal the DVD player. On the open shelves I have some games displayed. Not much room but perfect for what I need. I think it is very attractive, especially at this price point. I have received compliments from friends who are surprised by the price." – Erin Elizabeth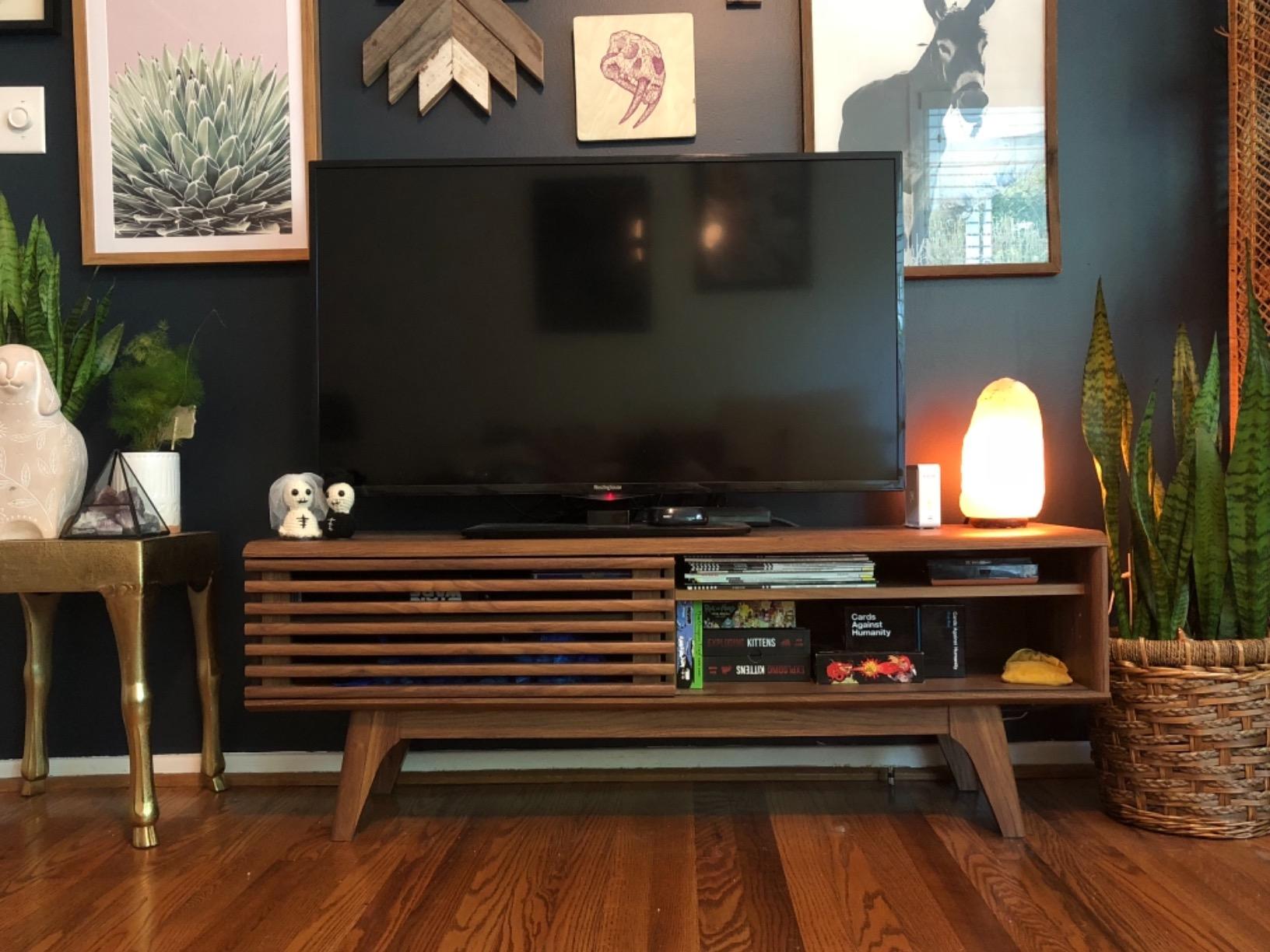 "I bought the shorter tv stand for my 40" tv. Looks great. It is wide enough to actually put some of my vynl records, which are exactly 12inches. Just a tad half an inch more and the slider thing could close it but it can't. I'm not too worried about it. It's also very hard to find a thin tv stand (it's about 13in) bc my living room is small and all the rest are 15 or 17 inches deep, which would obstruct the natural pathway. I'm glad this works out just right. The ability to put some records inside is a bonus for me. The assembly itself is easy but make sure you read the labels on the side." – TheCabinCoder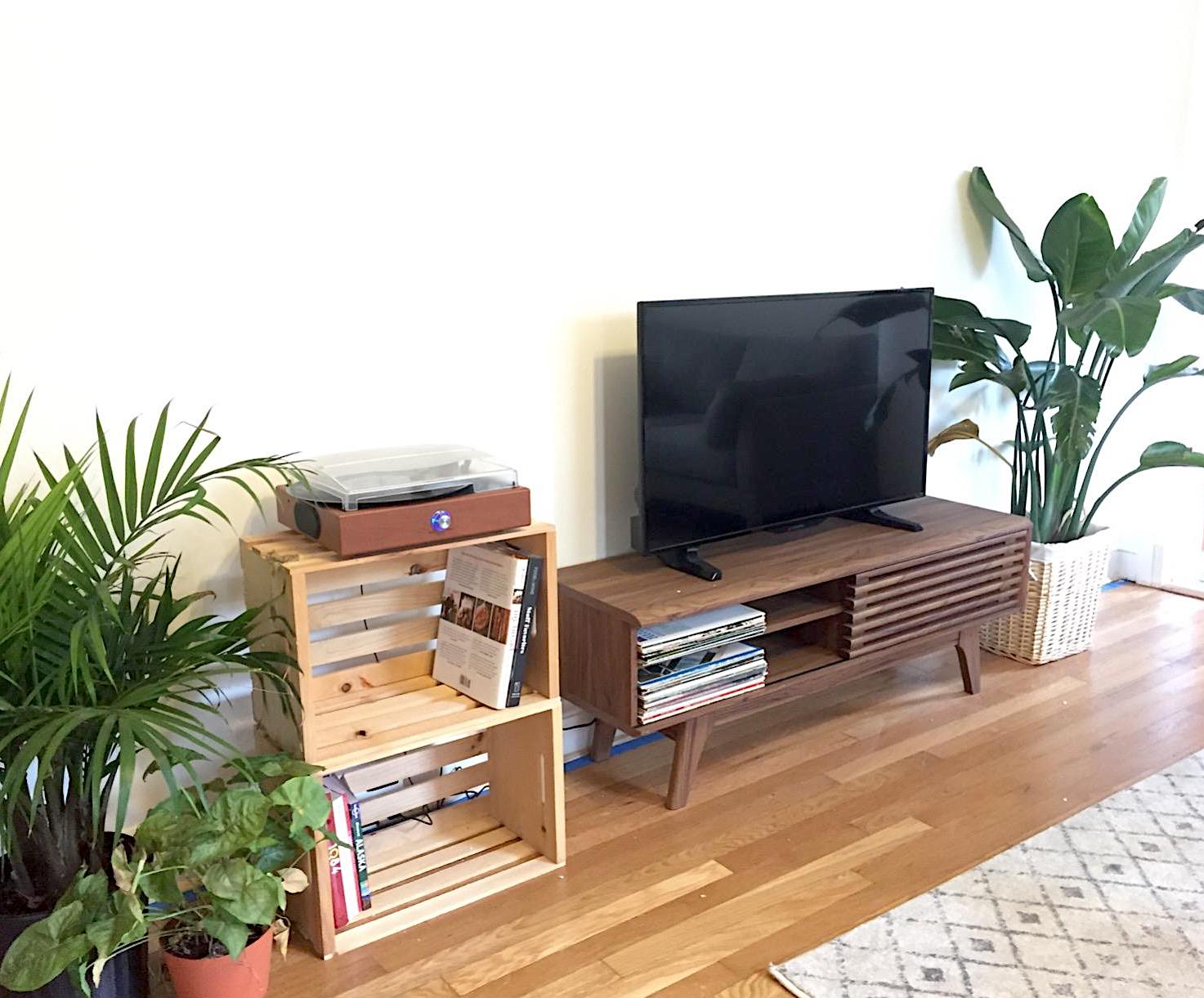 "This is a great inexpensive tv stand (48 in.)! It looks nice and seems really sturdy. I assembled it by myself, it took me a few days because I glued and clamped the base and body and let them dry overnight." – lovinlife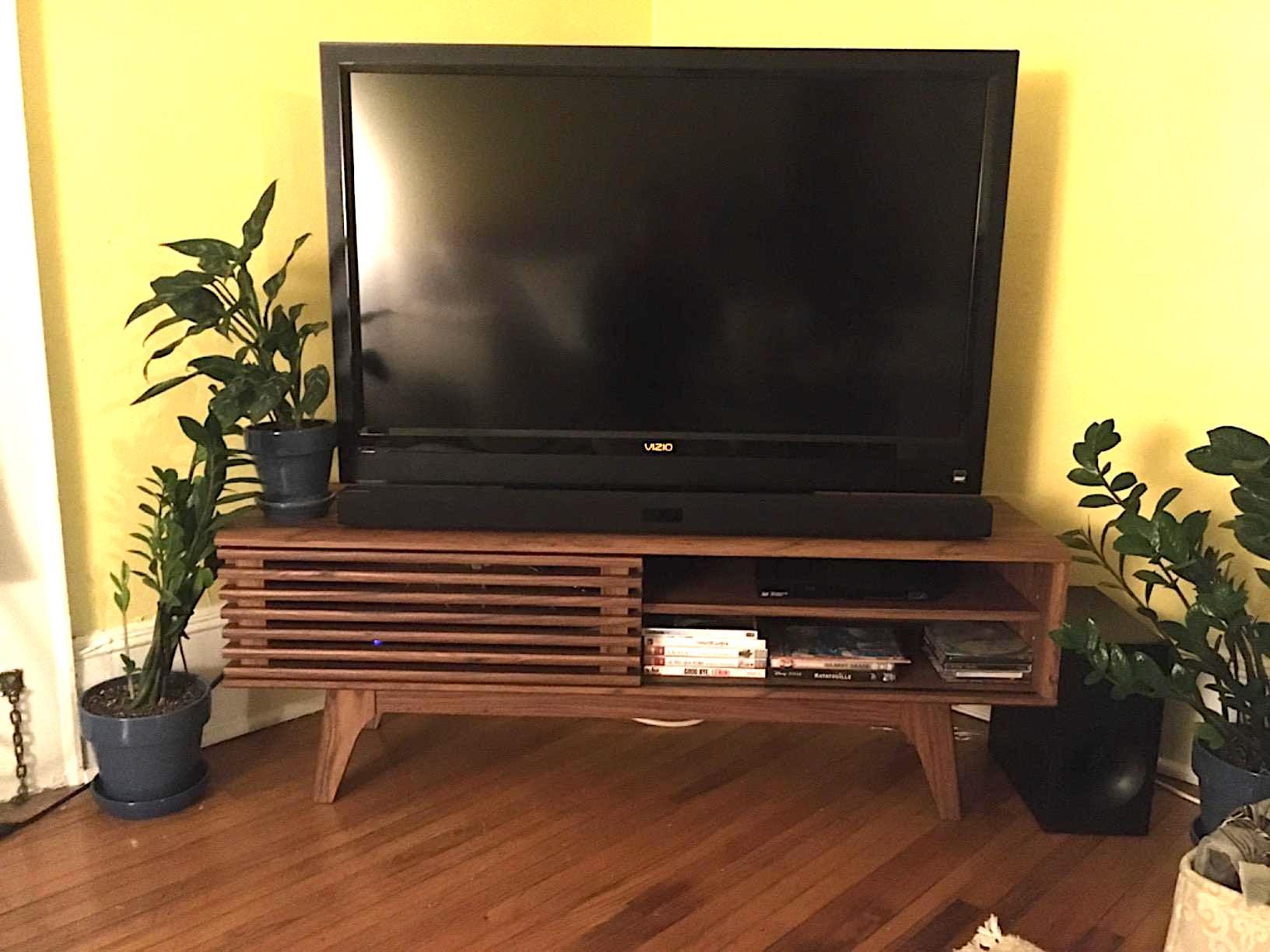 " Honestly, this is the prettiest piece I have in my living room. It looks so good with my decor. I had my boyfriend assemble it and it took him about 2 hours even though the manual said it would only take one. But that was no issue cause when it was finished it literally took my breath away. I decided not to put the shelf in one of the cubbies so it could be one large one and I was able to fit my projector (in its box) so its a good size. I was really going for a mid-century modern look for my living room and this tv stand completed that look." – Elo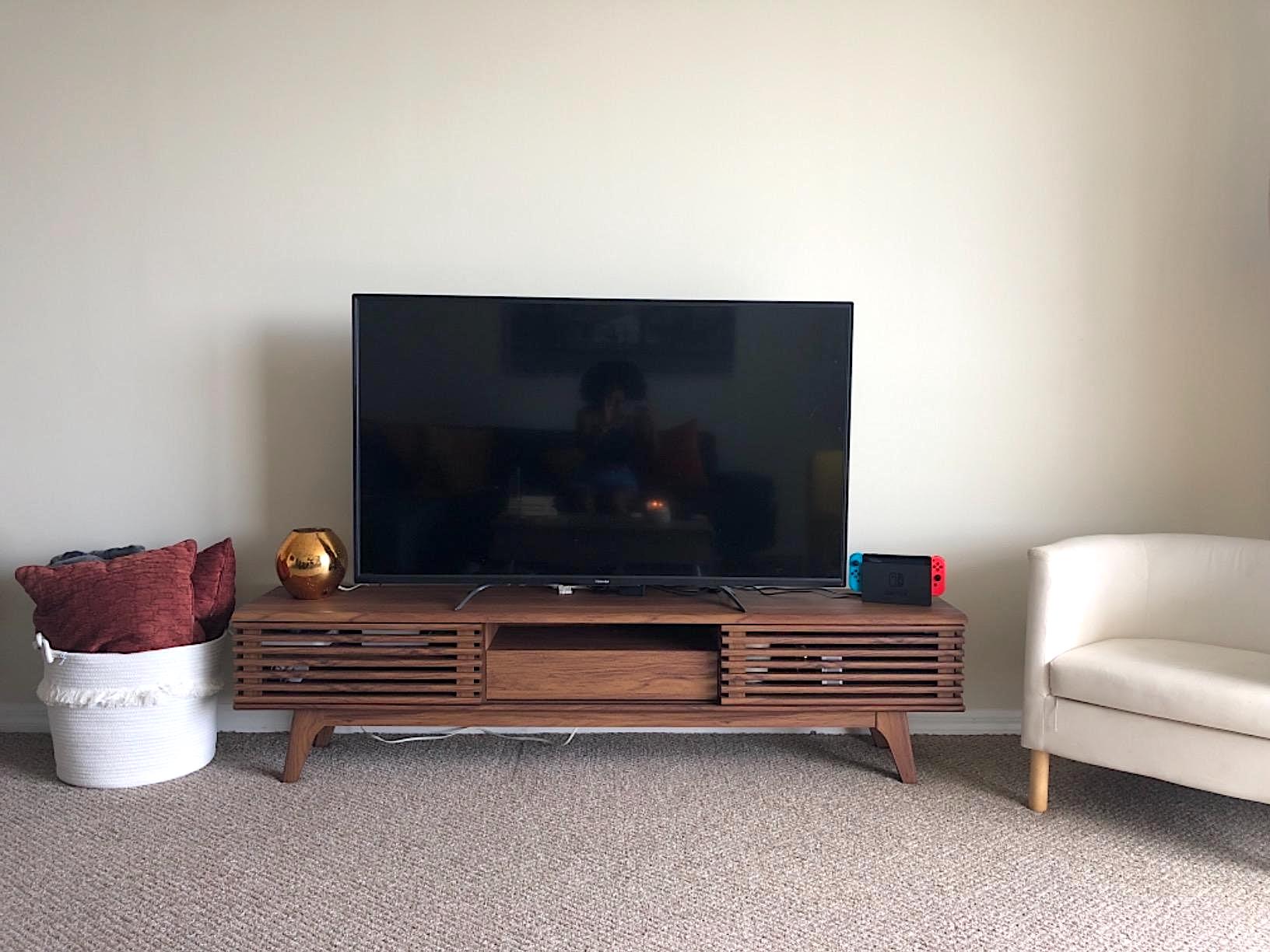 "Cool little TV stand. Kind of a pain to assemble with one person so I recommend having a helping hand or two. I have a 50″ TV on right now and realize I need a bigger TV to fit the stand. The slots are too small to fit standard size records and the little doors won't slide, so that was a big bummer. If you don't put the back piece on you shouldn't run into that issue at all!" – Buttsteak69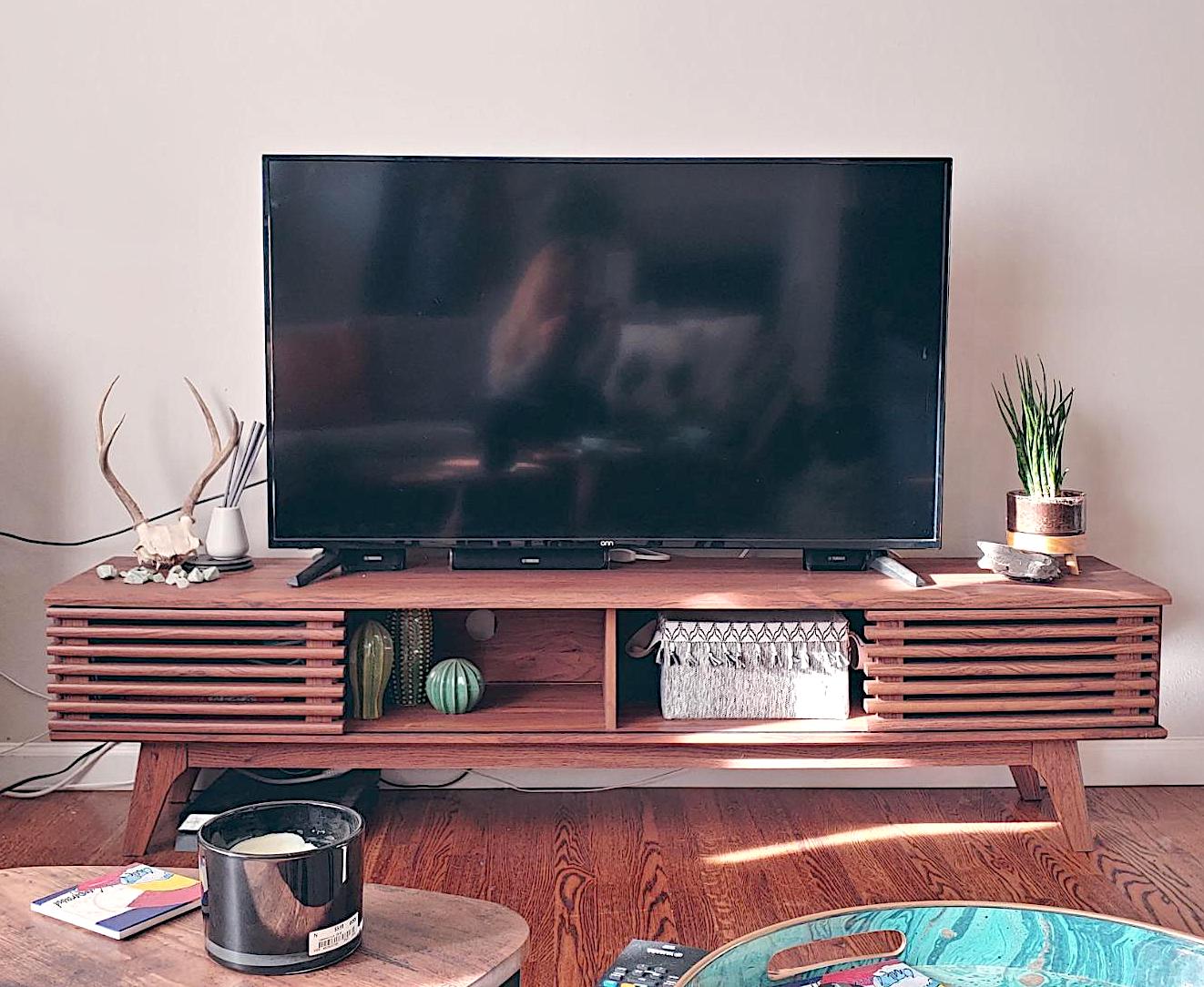 "I'm very glad that I've decided to make this purchase. The unit looks exactly like the featured pictures and the size works perfectly well for my rather small living room space. Assembly was pretty straightforward for my husband and I- did not take 60 minutes of time for us, which is what the instruction sheet first noted. All assembly tools were neatly packed and labeled, which made the whole assembling process very smooth. All in all, it was a pleasant experience for us from delivery to putting it together. Would recommend!" – Lydia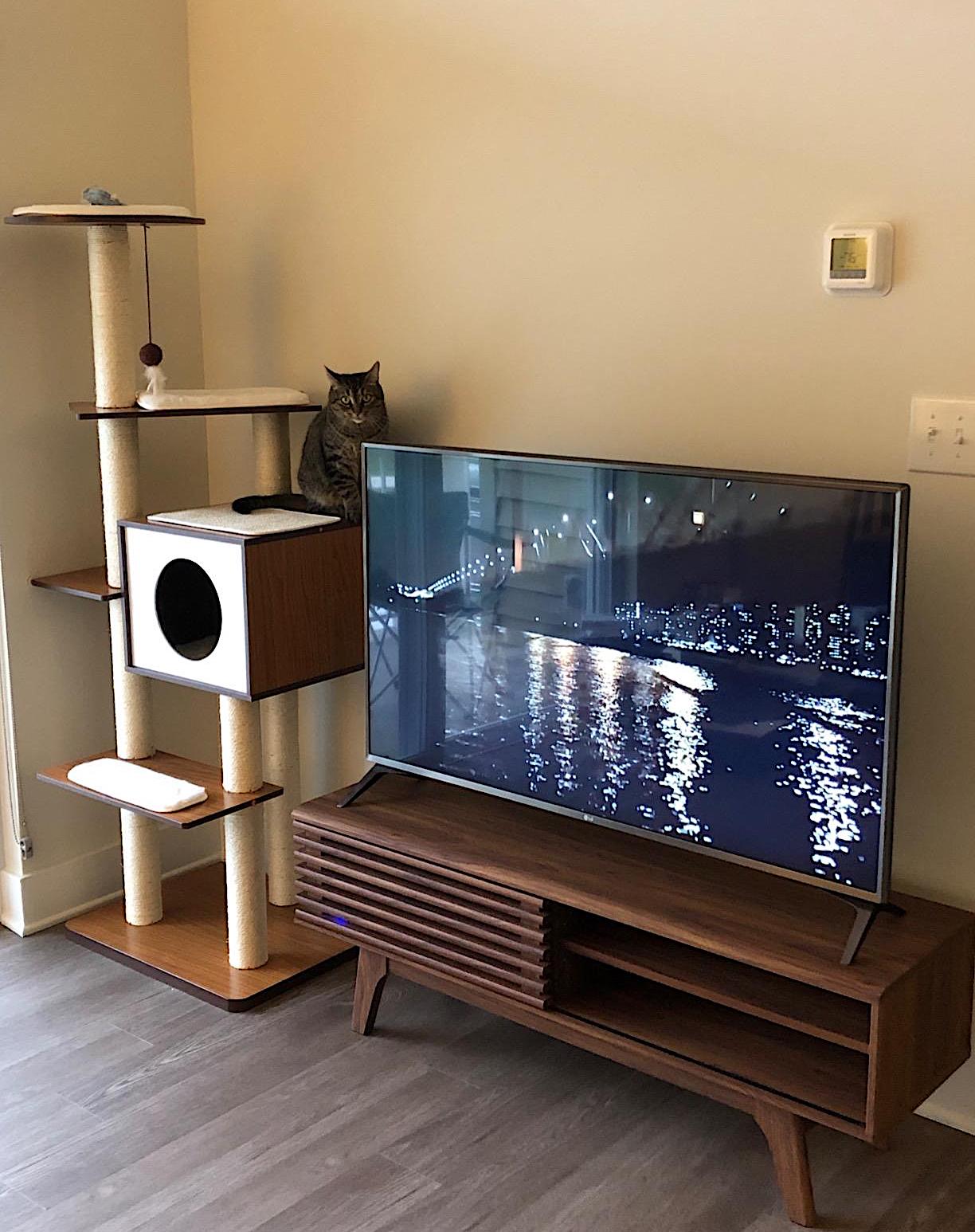 "Just what I was looking for. Sturdy, quality piece of furniture. My 50 inch tv fits great. Best price for a tv stand this style and size." – Alejandra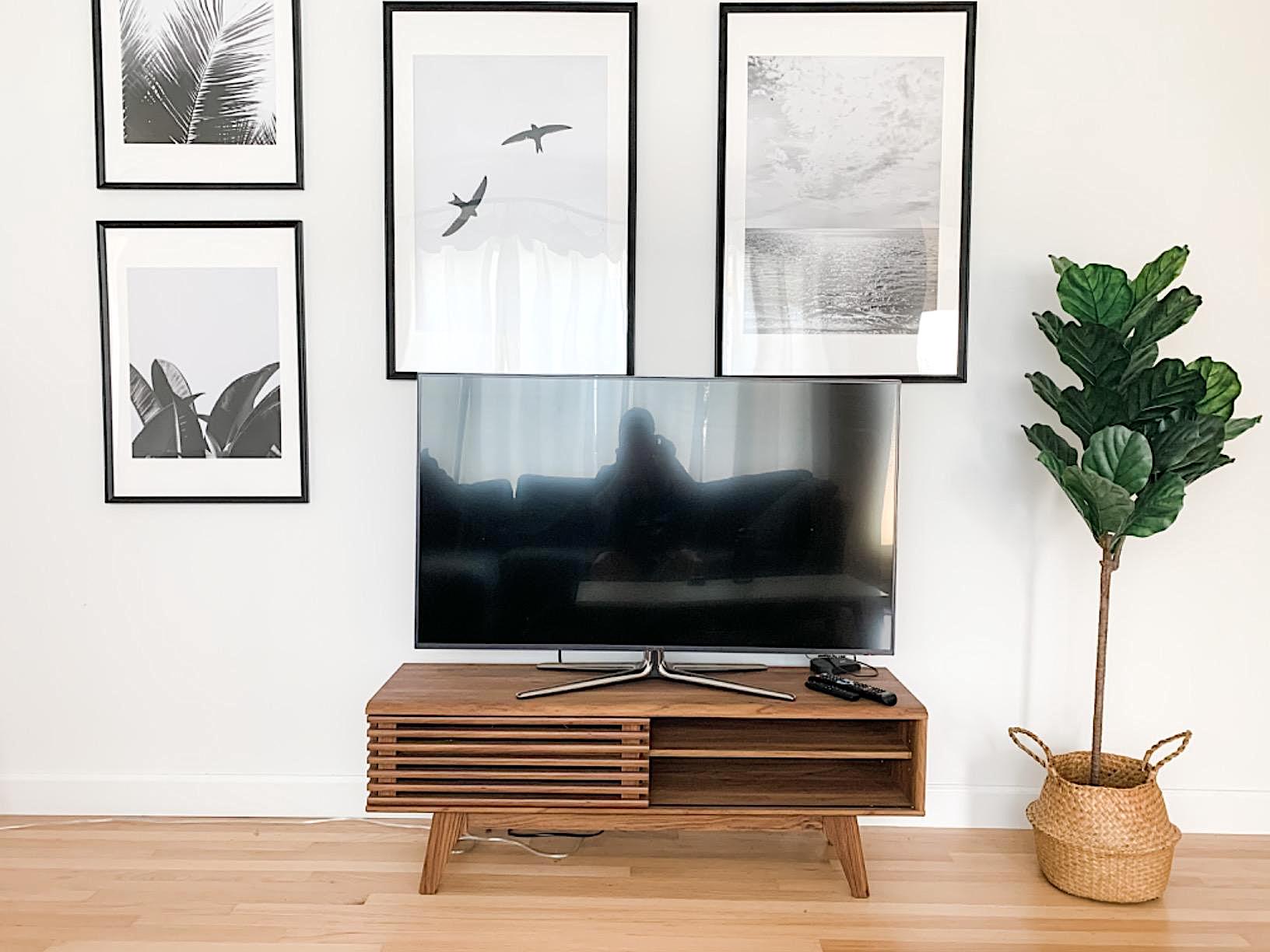 "This tv stand is exactly what I was looking for! Relatively easy to assemble, just time consuming. Modern, sturdy, low-sitting, and it didn't break the bank. Beautiful piece of furniture that resembles the overpriced pieces I looked at initially. Great find, 100% recommend!!" – Mackenzie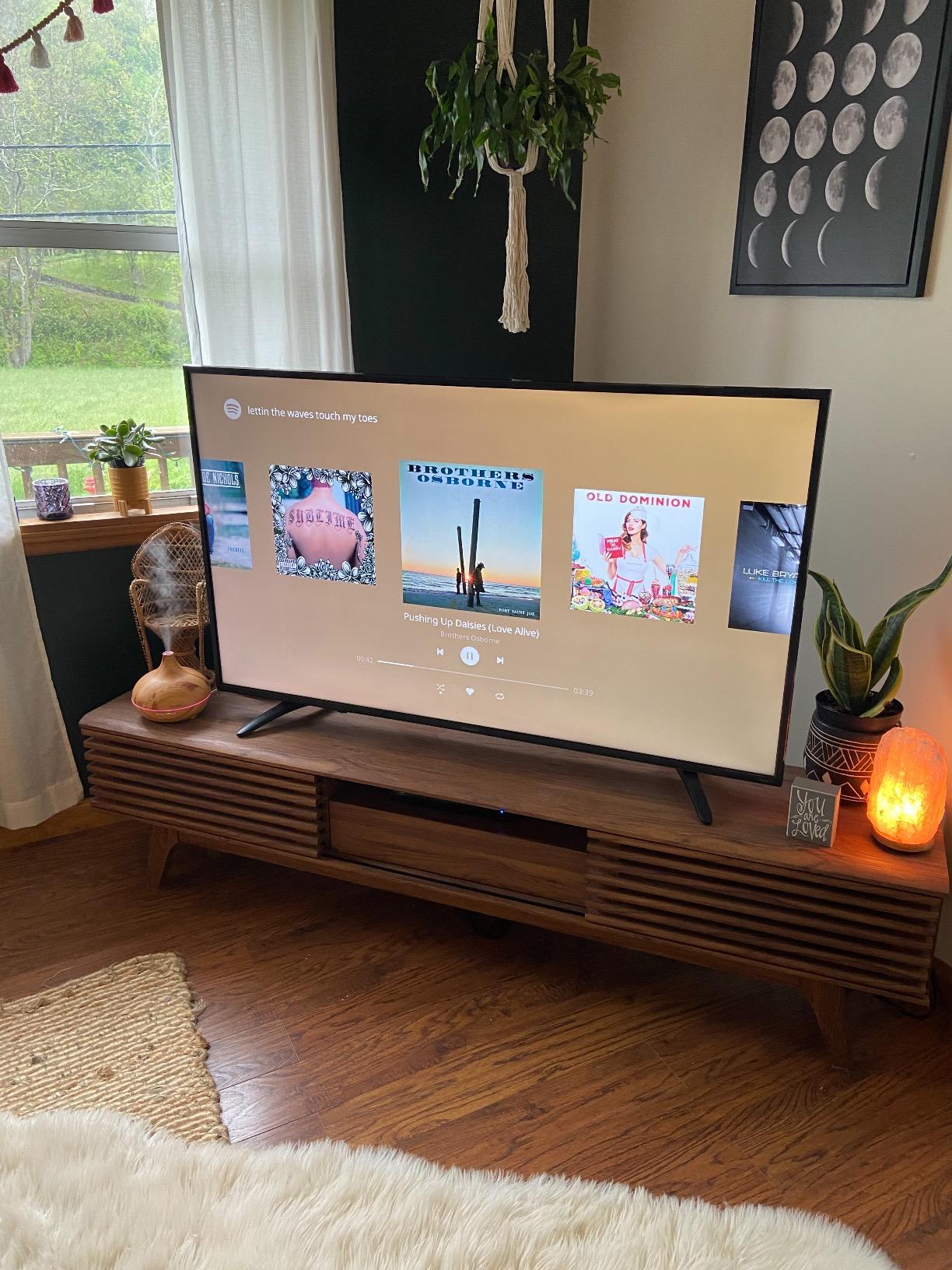 "I love it! We spent in a couple of hours to set up, and everybody who visited us says it's reaaaallly beautiful." – Maressa Brito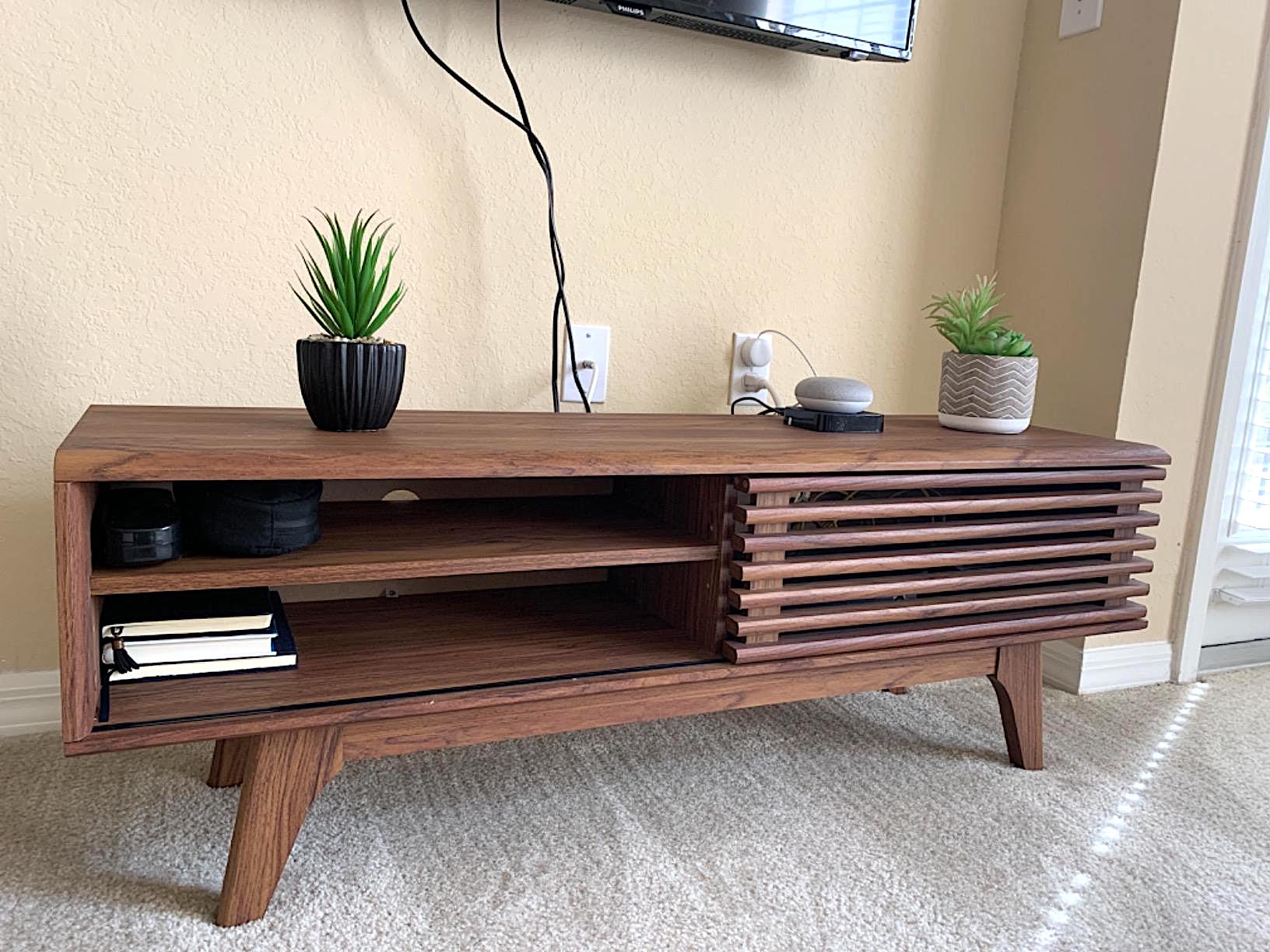 "Easy to assemble, looks nice, very sturdy. The sliding door runs smoothly – super satisfying." – Caroline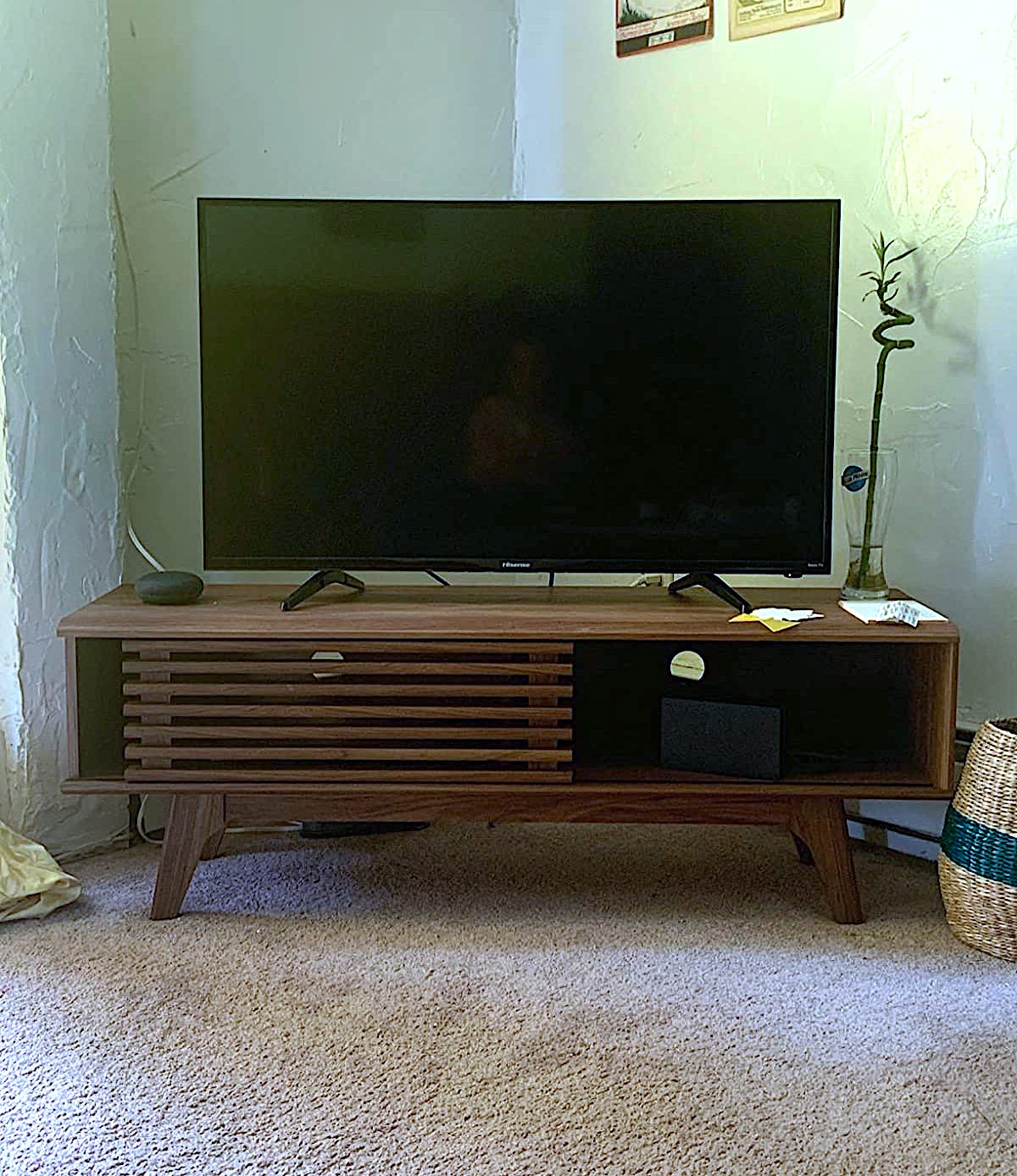 "This is a fantastic and beautiful media center. So happy with my purchase" – Chicago Reader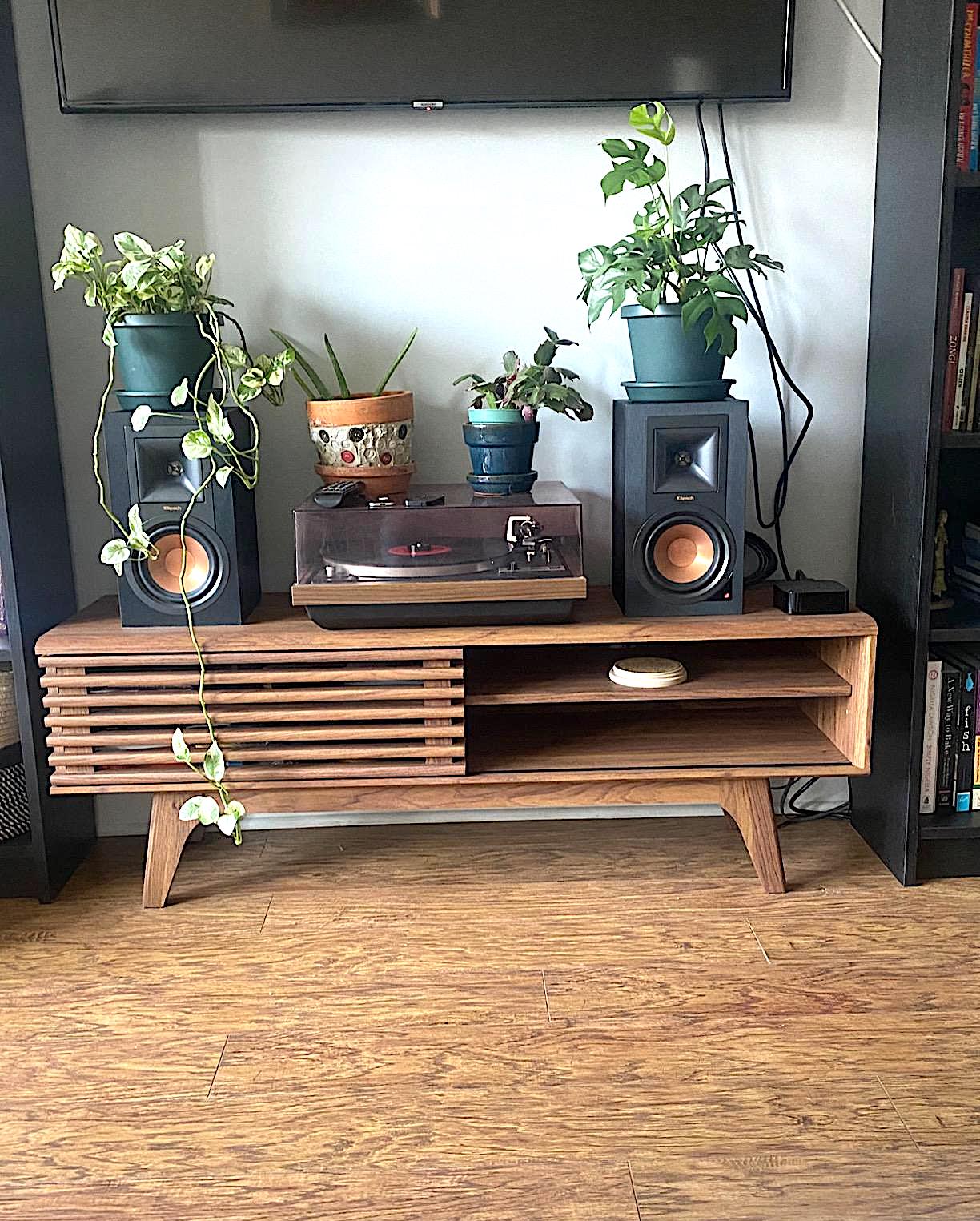 "This TV stand is absolutely beautiful. After assembly, the lines look clean and the curves are just right. The drawer works smoothly (but no soft-close) and the doors slide without wobbling or scraping. I was initially worried that the tolerances wouldn't be up to snuff, but it came together perfectly. I also read some of the veneer was wrinkled for other customers but I only had a wrinkle on one piece, and it is underneath the stand where it will never be seen after assembled." – Cat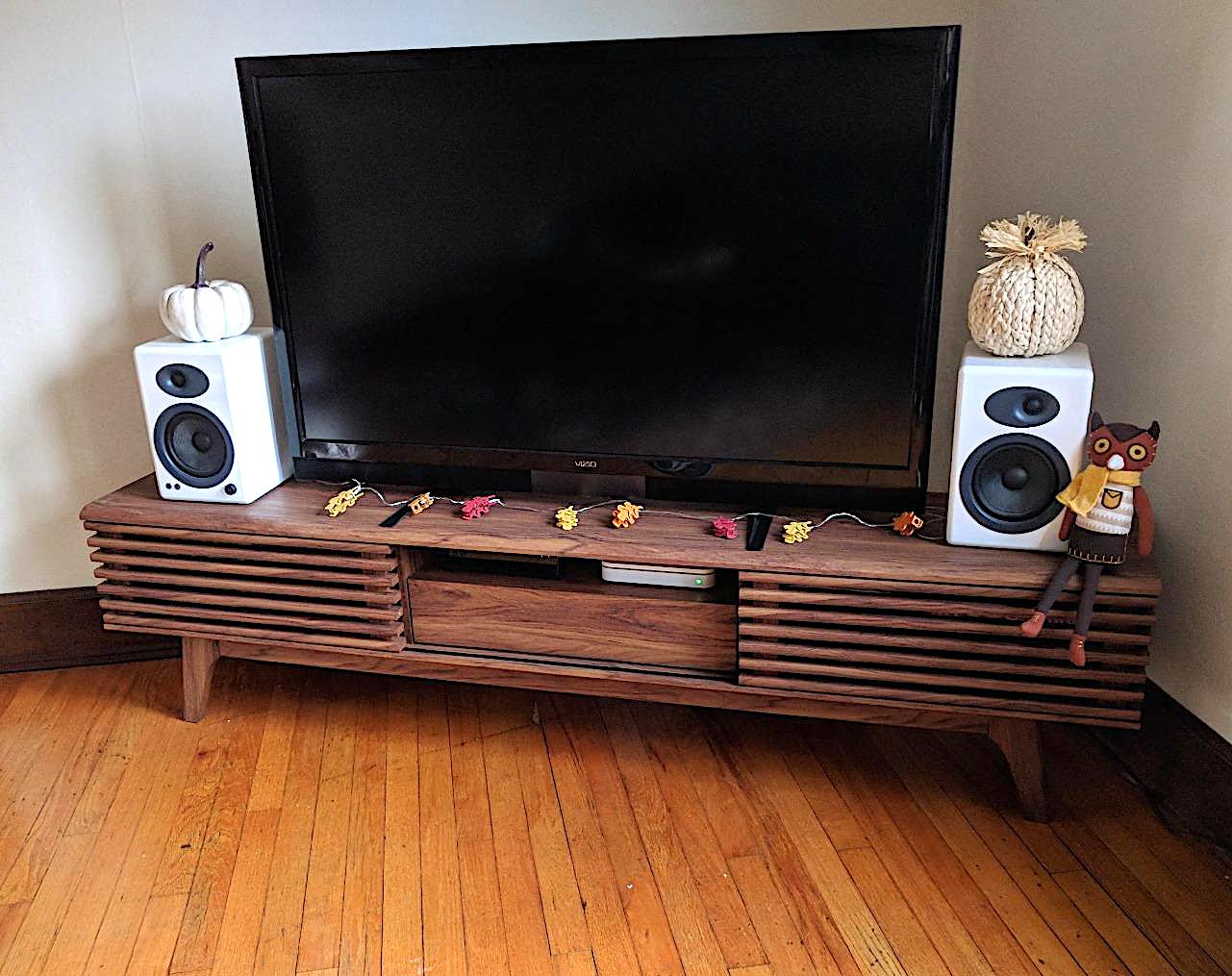 ---
Purchase the product on Amazon Marketplace (USA and CANADA) with free shipping
---