[Review] Furmax Metal High Backless Bar Stools
First Things First
Furmax's bar stools make a beautiful addition to mini bars, kitchens, and backyards. It works for indoor and outdoor use. With this versatility, it is possible to use the stools in 2 different areas of your home. The only problem is that the stools are not sold individually or by pair. One set comes with 4 chairs. This can be a problem for people looking to get only 1 or 2 chairs. If you try to look at other brands, though, you will find yourself having to spend more for fewer chairs. Getting four stools at this price makes it a steal. If you need more than 4, you have no choice but to get another set.
All 4 chairs come stacked in 1 huge box. The chairs comes fully assembled, so you can use them right off the box. It is useful to check for damage when you get them out of the box. Anyway, they are securely packed and should not have any dents and scratches.
Function and Comfort
The backless stools are stackable for easy storage. They stack pretty flat on top of each other. They won't take up that big of a space when not in use. You can also carry all 4 of them in one go. They can be very heavy for you, but having them stacked makes them easy to transport.
These are 30 inches high. They are the right height for a standard tall bar or counter. Although lightweight, they feel very stable. You can move around or lean on your side without the fear of tipping over. It doesn't wobble too. There are cross bars under the seat that provides support.
Sitting on high stools for an extended period of time can become uncomfortable. Luckily, each chair has 4 steel bars at the lower part of the legs which you can rest your feet with.
These stools are designed for those who don't want stools that swivel or have upholstered seats. They typically require some upkeep. These metal stools require absolutely no maintenance. You may have to repaint them in the future but that's about it. Keeping the bar stools clean is quick and simple. All you need is a dry or damp cloth to wipe off dust and stains, if any.
As I have earlier mentioned, the chairs are also suitable for outdoor use. I do recommend using it under a roof or covered spot to protect from rusting. Having them under direct sunlight would also make the chairs too hot to sit on. The chairs are water-resistant so a light drizzle won't hurt.
Style
The chairs have a basic look that would go well with any table or furniture. In terms of style, it is along the lines of modern and industrial. They come in different colors too. This is great for people who want matching tables and chairs. Whether your goal is to upgrade the look of your bar or kitchen or to create a place for entertaining, these metal stools would do the job.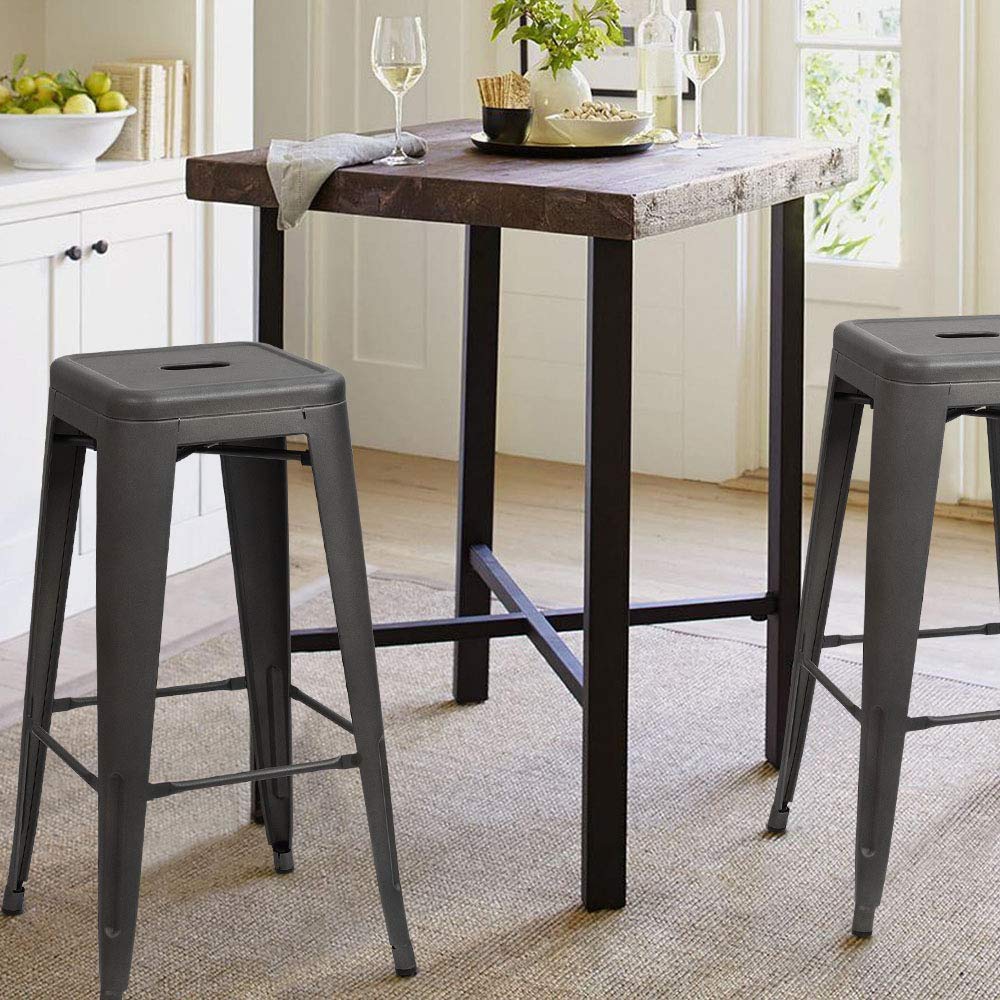 ---
Purchase the product on Amazon Marketplace