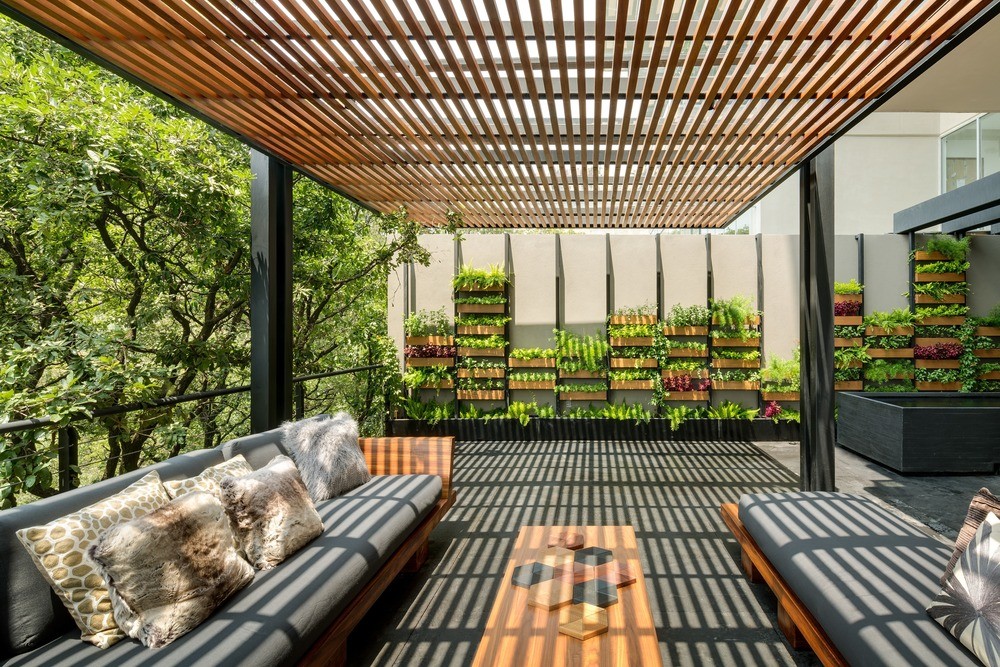 255 Most Popular Pergola Design Ideas, Tips, and Inspirations
A backyard can be a peaceful retreat or an entertaining space for your home. You can decorate this outdoor area to suit your taste and enhance its beauty. A pergola is a lovely addition that can make a backyard an inviting space in which to relax. Similar to a patio roof and a gazebo, a pergola can be constructed according to a wide spectrum of designs to fit a variety of tastes and budgets.
What is a Pergola?
A pergola is a structure that provides shade. Unlike a patio roof, a pergola roof typically has slats or crossbeams that allow light and air to pass through. Its roof can either be supported on posts or attached to a wall so that it projects out from the main structure of your home.
Pergola designs tend to be simple and mainly functional while still being aesthetically pleasing. A simple pergola provides privacy, creates an intimate space, and generates visual interest and aesthetic appeal. It can also help unify multiple outdoor spaces and make it seem as though they are gracefully flowing into each other.
The designs for a pergola can span the entire spectrum from simple to elaborate, and rustic to elegant. But choosing the right pergola for your space involves careful planning during which a few factors have to be considered.
Functional Tips for Building a Pergola
Permits and approvals: Local building codes differ by region and so the first step is to ascertain if a permit is required for building a pergola. If not a permit from the city, approval by your homeowner's association may be needed. Approvals are usually not necessary unless some electrical wiring is involved.
Underground lines: Before you dig holes for the pergola posts, you will need to ensure that you will be staying clear of electrical and fiber optic cables, and sewage, water, and gas pipelines. Almost every city has a number you can call to request utility companies to come and mark the lines so that they may be avoided.
Frost line: If you live in an area that is prone to frost, it is advisable to find out the average frost depth in the area from the local building code department. Digging the post holes deeper than the frost line will guarantee that the posts do not get pushed out of the ground when the frost thaws.
Design: Once the basic requirements are determined, it is time to develop a plan and design. First, the location and the amount of space have to be decided. After that, design elements like the shape of the roof and the shape, size, and placement of the rafters and crossbeams are developed.
Materials: Wood is a preferred medium for pergolas. It is readily available, many varieties exist, to suit every aesthetic, and they are easy to cut and construct.
Metal can be used for a sleek, modern look. Stone is used for a solid structure or to match a vintage house.
Synthetic fabric can be used on pergola roofs to partially filter out the harsh glare of the sun. Glass or fiberglass can also be used in the form of roof panels.
Pressure-treated pine is the most easily available and inexpensive option. Redwood and cedar are also preferred types of wood because of their resistance to insects, but can they are more expensive.
Paint: Wooden pergolas, in particular, require a protective coating to make them weather-resistant. They can be painted as well. A coat of white paint offers a lovely neutral background for greenery.
Post holes: The post holes can be drilled into soil or cement. If they are being installed in soil, they can be reinforced by pouring cement into the holes. Posts can also be installed into stone or concrete pedestals as an additional aesthetic touch.
Design Tips for Building a Pergola
Roof design: While the common trend is to arrange the rafters and crossbeams at right angles, pergola roofs can have unusual designs as well. An asymmetric arrangement lends a bold and contemporary look, while a pitched roof can give it charm. A retractable canopy or awning can be used as a setup that changes with the seasons.
Roof materials: Unlike a patio roof, a pergola allows sunlight to percolate in through slats. These slats can be covered by fabric, glass, or fiberglass for diffused light to filtered into the space. Synthetic vinyl can be used and is also easy to clean with a hose.
Greenery: A pergola can be a lush and peaceful retreat surrounded by greenery. It can reflect the landscaping in your backyard with its share of verdure. Posts or additional trellises can be entwined with vines. A wall of plants in rows of pots affixed to it can provide privacy. For a vineyard look and feel, vines can be grown along the crossbeams so that the leaves overhang the space.
Tropical look: A thatch roof made of bamboo or rustic wooden poles can be used to attain the feel of an island or a tropical rainforest. It is also a good match for wicker patio furniture.
Detached pergolas: While most pergolas are a projection of the main structure of the home, freestanding pergolas are also in vogue. They differ from gazebos since they typically have a flat roof instead of a slanted one. These freestanding structures can be set up to frame a view, like that of a valley. They can also be used to shelter a poolside barbecue area, bar, kitchen, or fire pit.
Multipurpose and functional pergolas: A creative design for a pergola is where in-built and upholstered benches constitute the sides of the pergola. The rafters on the roof are recessed and contain plants. Another functional design idea is for a poolside pergola with a landscaped deck area on top of the pergola roof.
Elegance: For an elegant look, the pergola may have curtains between the posts. This also provides privacy and creates a peaceful, intimate setting.
Transition: A pergola that is attached to the house provides a smooth transition from the indoor space to the outdoor space like a deck or a patio.
Connecting walls: When an outdoor space is flanked by the walls of the main structure or two different structures, a pergola roof can be constructed to connect the walls. This creates a cozy and functional space without the need for posts or pillars.
Energy conservation: A pergola that is attached to a wall can provide partial shade, which has a cooling effect. This can help keep that portion of the house cooler and reduce air conditioning costs.
Unify spaces: A single pergola roof that encompasses multiple adjacent outdoor areas can serve to unify them and create a graceful flow from one to the next. Some backyards may have a poolside deck, an adjacent fire pit, an outdoor bar, or a kitchen. A pergola that shelters all of them can aesthetically consolidate the spaces and create a seamless transition between them.
Popular Design Ideas
Whether your outdoor space requires some privacy, some shelter or some added charm, a thoughtfully designed pergola can help provide it while being cost-effective and relatively easy to construct. A wide spectrum of creative design ideas for pergolas can help complement any visual theme or perform any practical function.
Hillside Luxurious Pergola
This luxurious pergola advanced up on the hillside designates a confidential space in which a hammock rests. Here, you can take a snooze on a good, warm afternoon. Inspiration for a substantial provisional courtyard concrete patio remodels in with a fire pit and a pergola.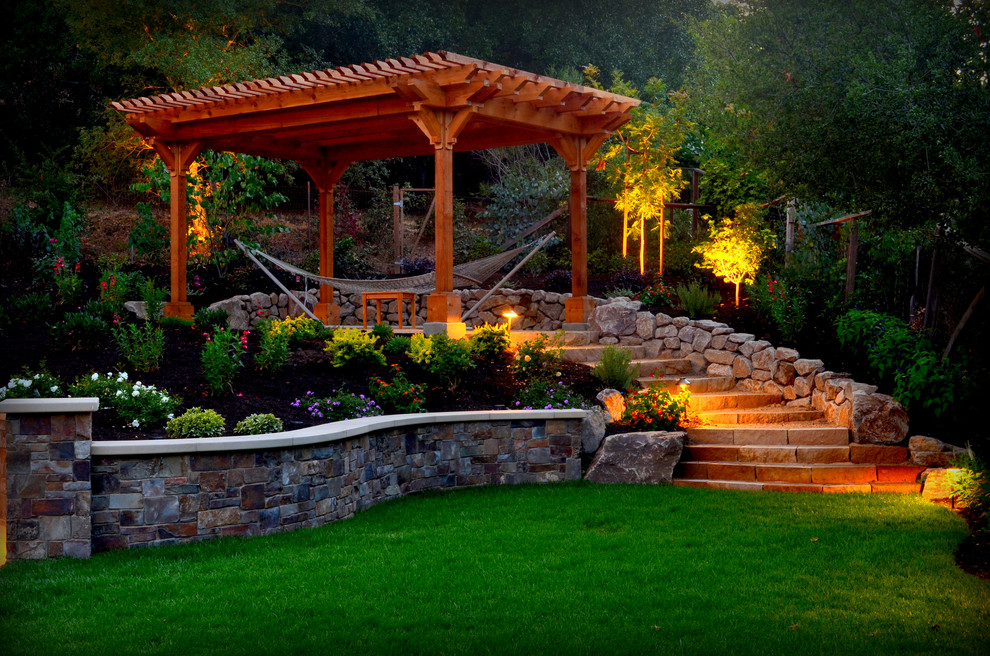 Container Garden Pergola
The outdoor space is designed to provide space for recreational and dining, and it is situated next to the residence. Additionally, there is a pavement that connects the residence and the outdoor space.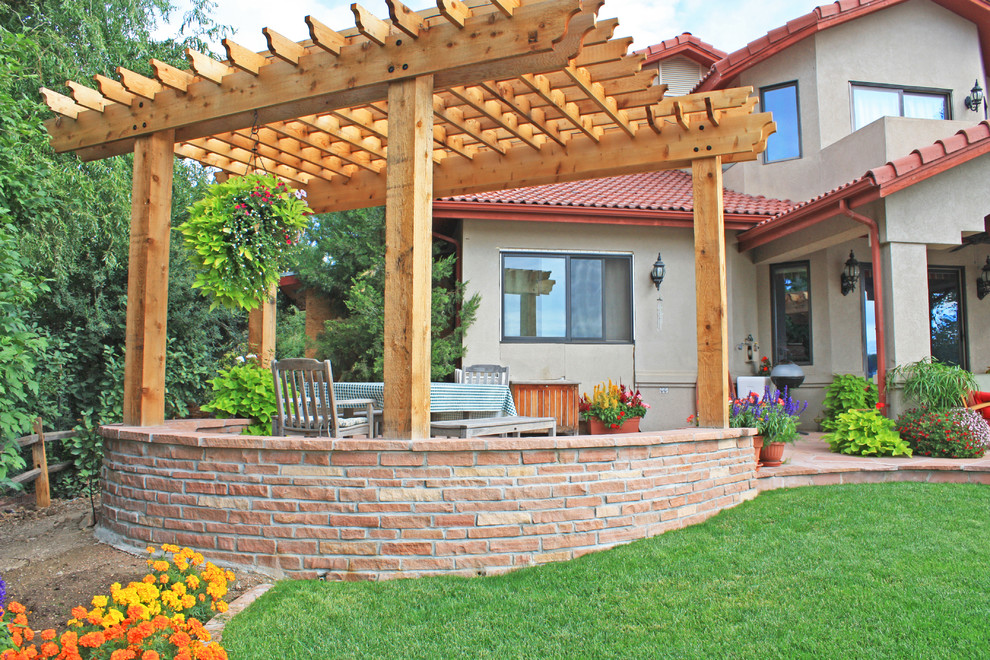 Refined Relaxation with Relaxing Colors
This is a condensed backyard that provides entertainment and fun space. It has a completely shaded kitchen or bar location and a fireplace. It is also installed with a custom hot hub that provides a decent sheer wall and outdoor tile patio, which is big enough to offer entertainment.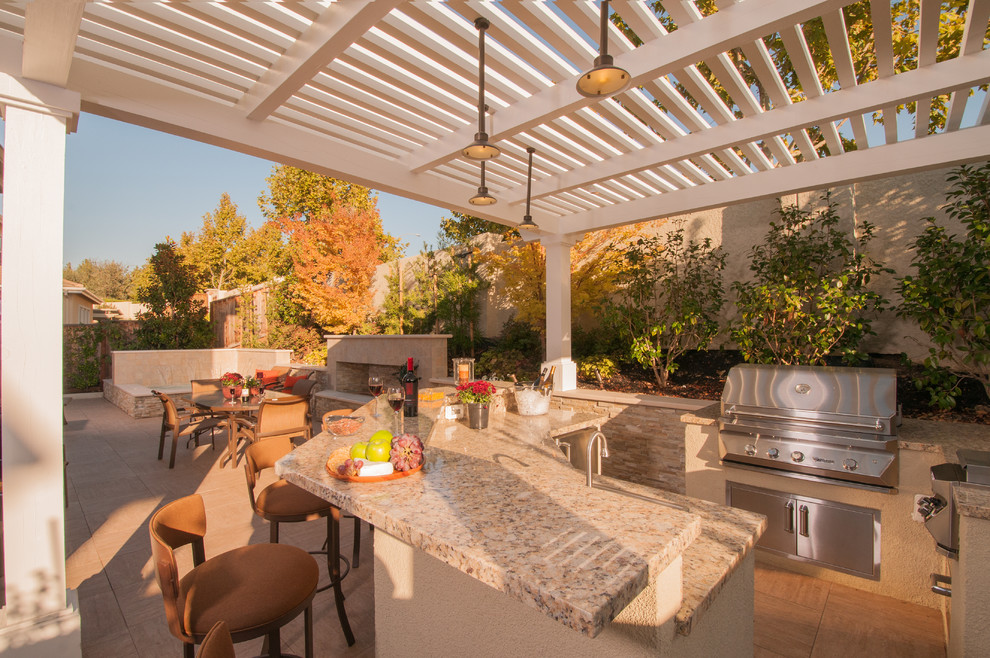 Modern Ultimate Pergola
This is a modern ultimate pergola version with louvers, which provides shade, and when it is completely closed, it waterproof. It is also installed with dimming lights and ceiling fans.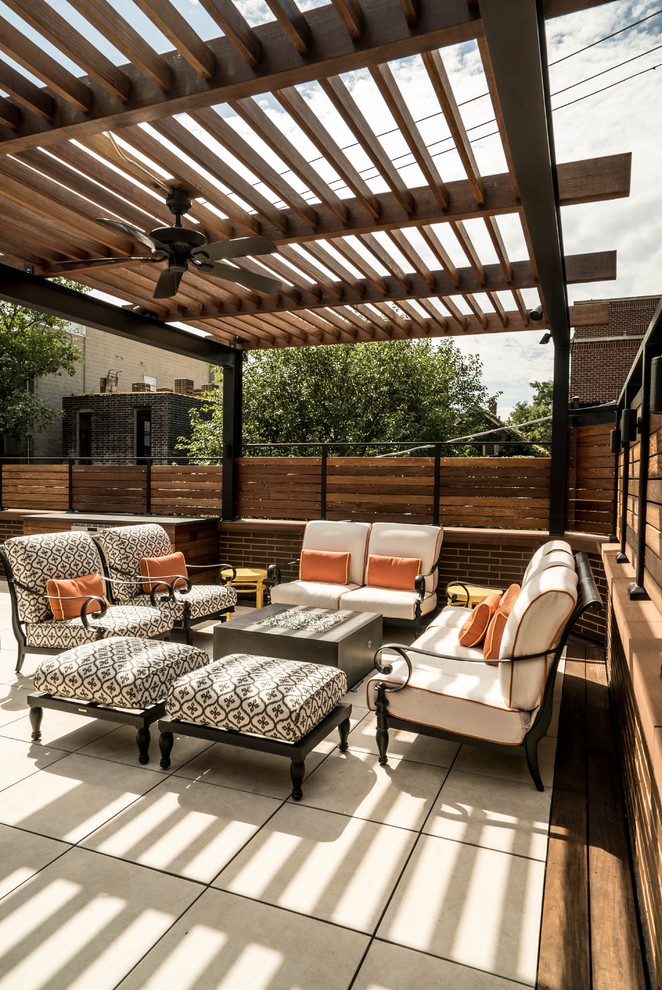 Contemporary Outdoor Bar Set-Up
This design has a spacious outdoor area for cooking, a fireplace, bar, and dining table. The overall arrangement ensures that the garden is optimally used.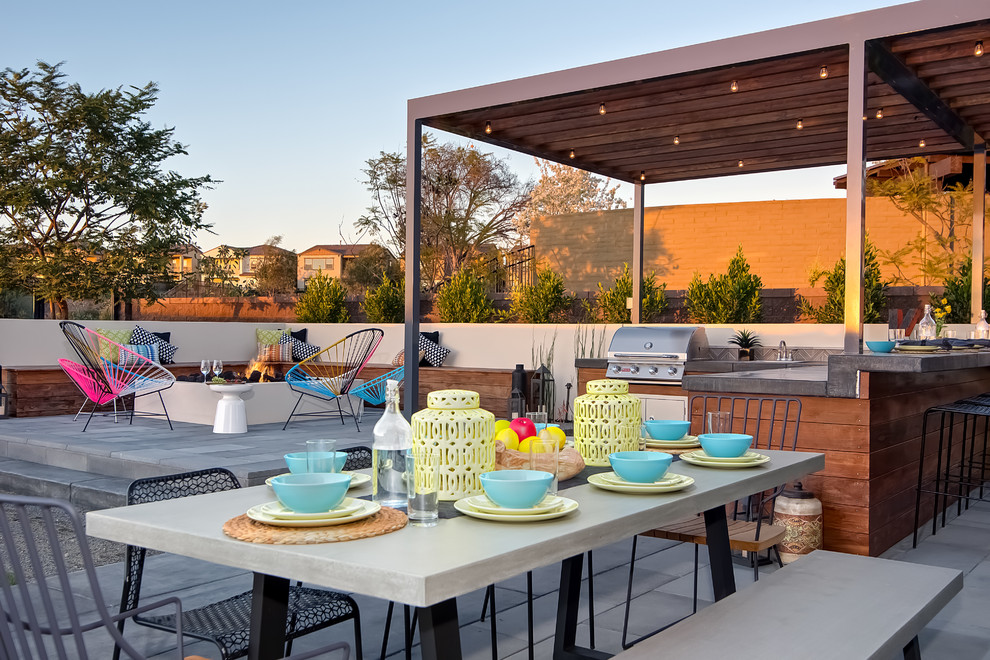 Relaxing Patio with Maximum Protection of Rain and Sun
This is designed outside the house to offer a conducive environment for eating, relaxing, and good weather. It is adjourned to the residence has a pavement. It is also roofed to offer protection from the sun and rain.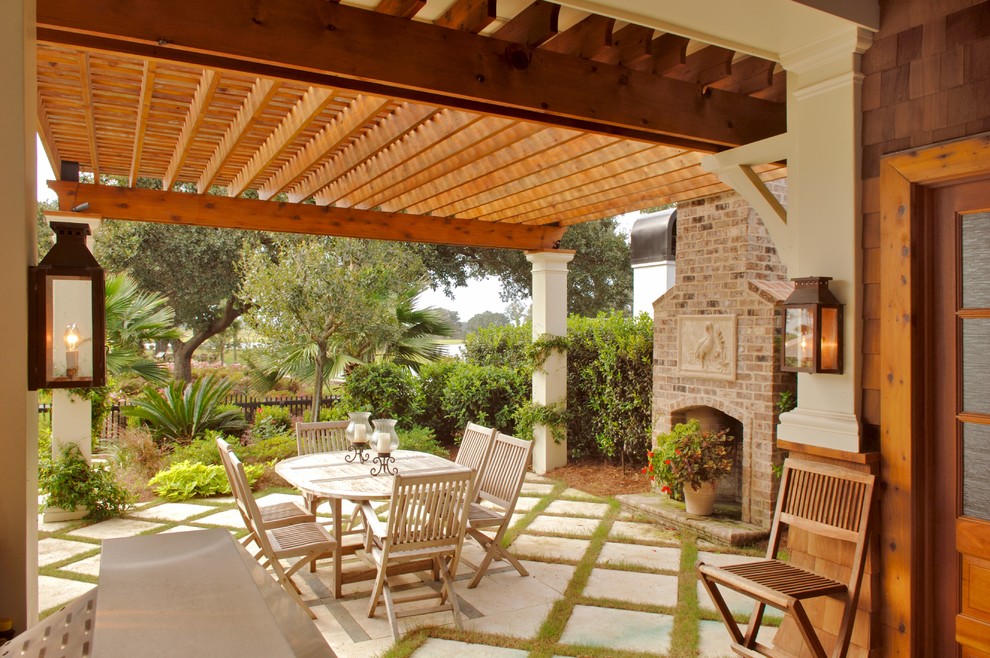 Outdoor Kitchen with Retreat Vibe
This a pergola designed for cooking, dining, entertainment, and enjoyment. It has a dining table, and it is also mid-sized. The design is open to provide a bright scene of the environment.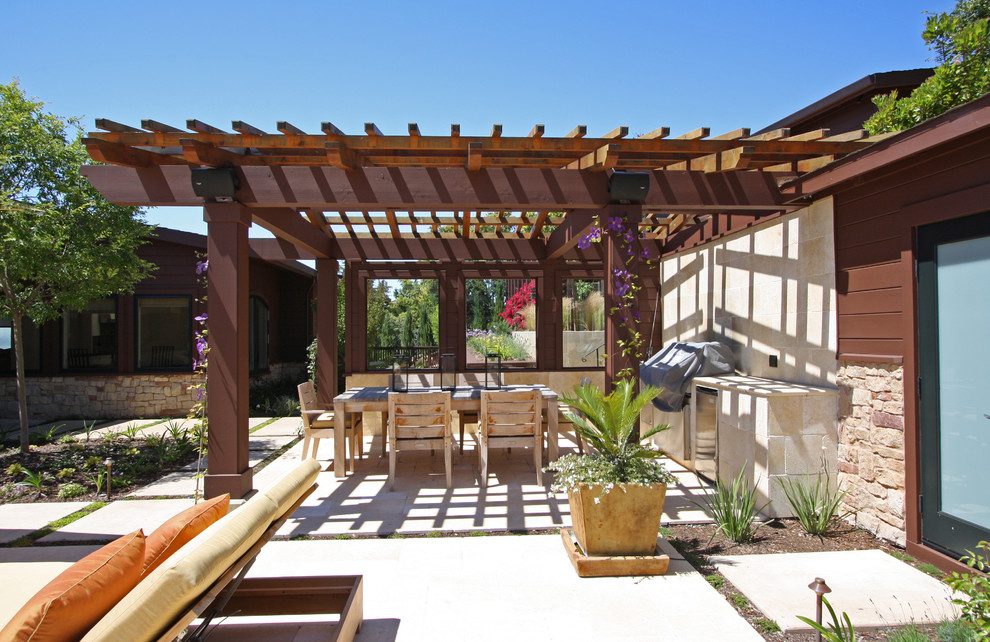 Custom Luxurious Outdoor Kitchen
This design is made to achieve a luxurious kitchen design that is fully equipped with customized appliances. It has roofing that allows sunlight hence providing a beautiful view. It is also equipped with a dining area for refreshment.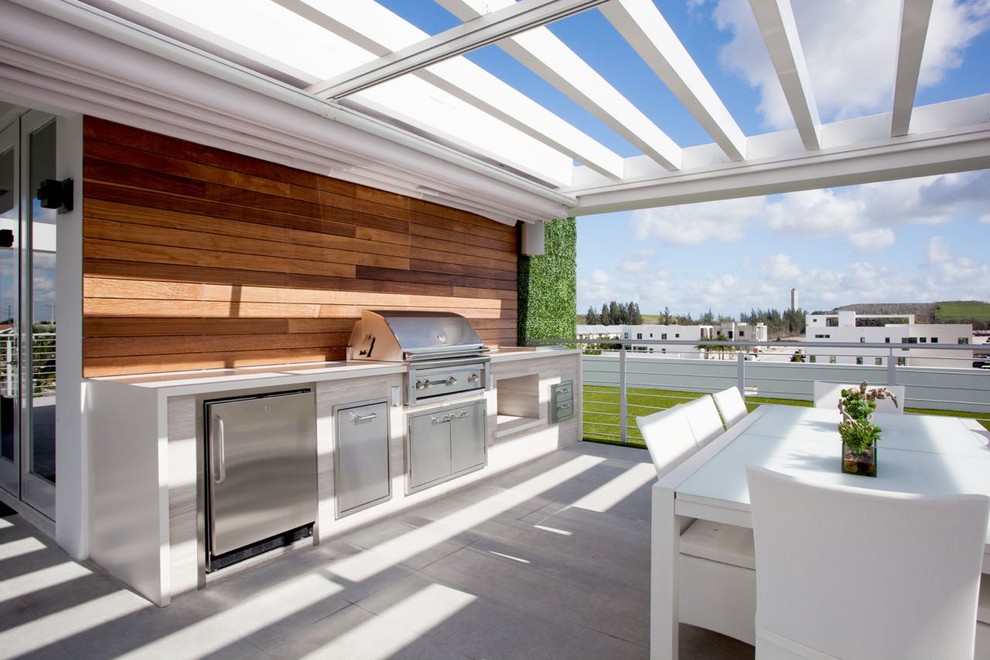 Relaxing Backyard for Your Family
This pergola is designed behind the residence. It's aimed at providing recreation for relaxation and resting. It is normally surrounded by a garden that offers a conducive relaxing environment. It is designed with a shade that offers protection from sunlight. The chairs are cozy, enable an enjoyable meal with family or guests.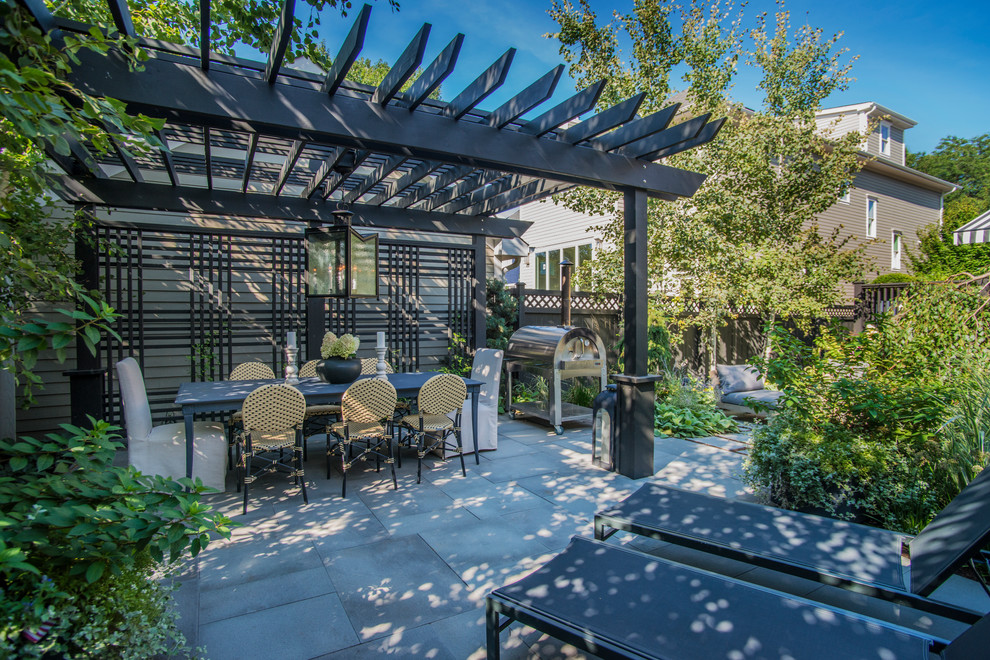 Beautiful Modern Solution
The pergola is open to hence creating a conducive environment for recreation, resting, and dining. The dining table with cozy chairs facilitates having an enjoyable meal. It is roofed to provide shade from rain and sunshine. It has a concrete flow. The trees in the surrounding also provide a smooth breeze.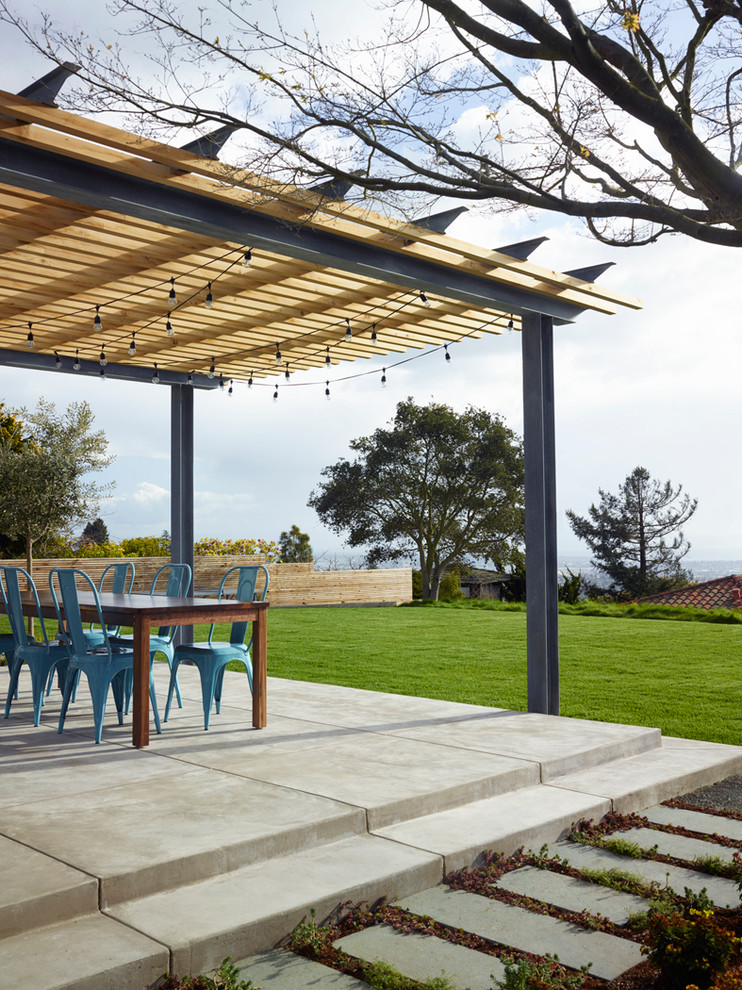 Sleek Design Contemporary Wood Shade
The simple curved wood shade provides a comfortable recreation and resting place. The cozy chairs offer a relaxed sitting environment. The pergola is located in an open environment with a beautiful scene. The floor is concrete, and the pergola is adjacent to a pool.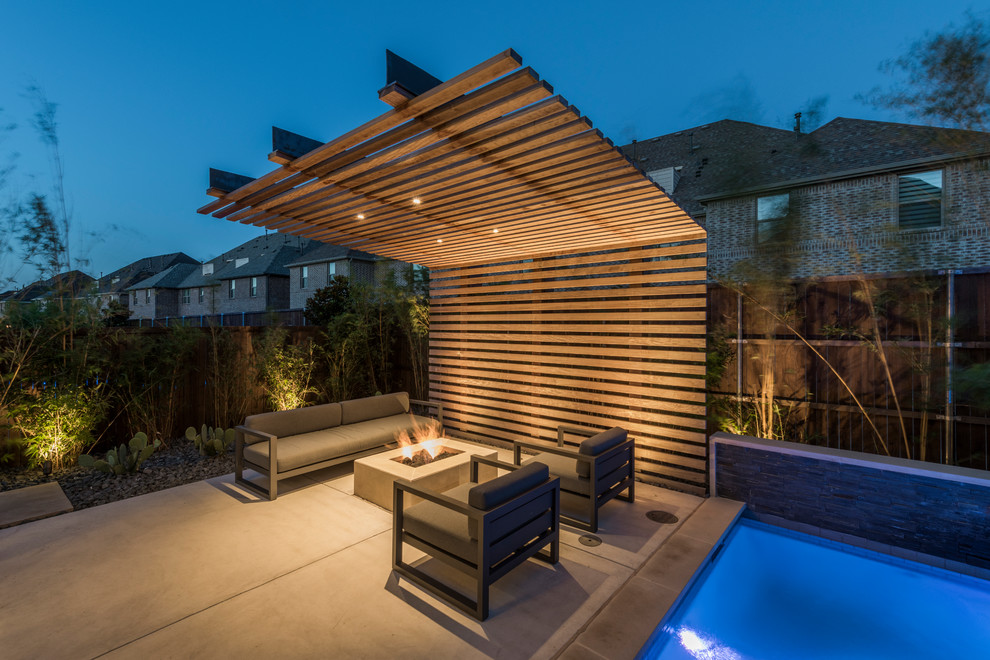 Pergola Bar with Flower Surrounded
The pergola is surrounded by a flower garden that makes the design look awesome. The shade is equipped with lights that facilitate night vision. The wooden chairs and dining table offers a comfortable dining area for both meals and drinks. The floor is concrete and tiled.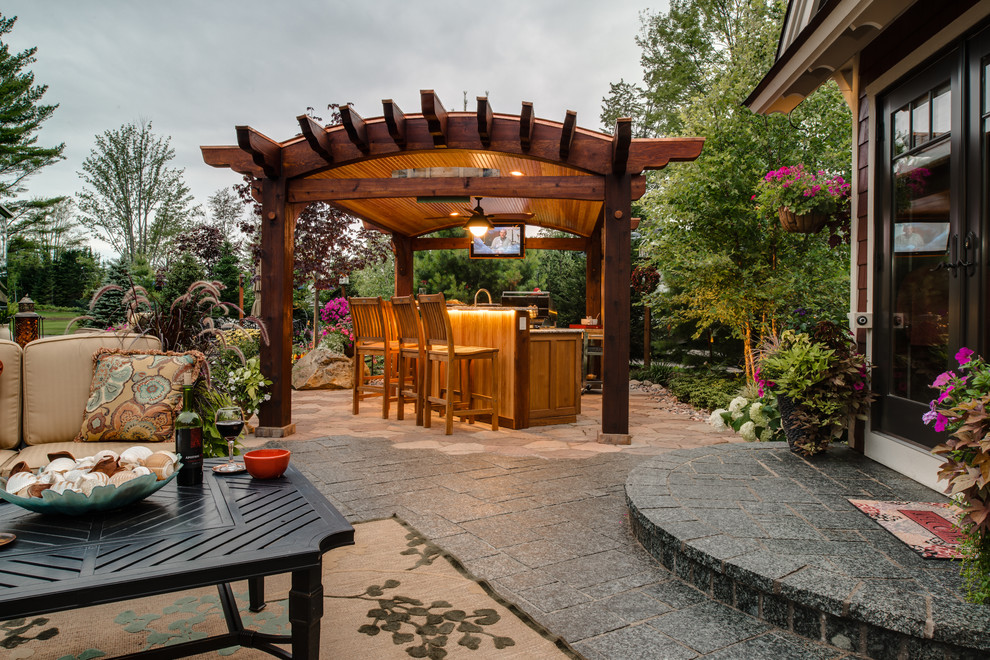 A Matching Extension
The pergola design matches the exterior look of the residence. The floor is concrete and tiled. It is shaded, and the trees in the surrounding provide a moderate breeze for relaxing and resting. The dining table and the chairs offer a comfortable environment for having meals and drinks. The lights enable a clear vision during the night.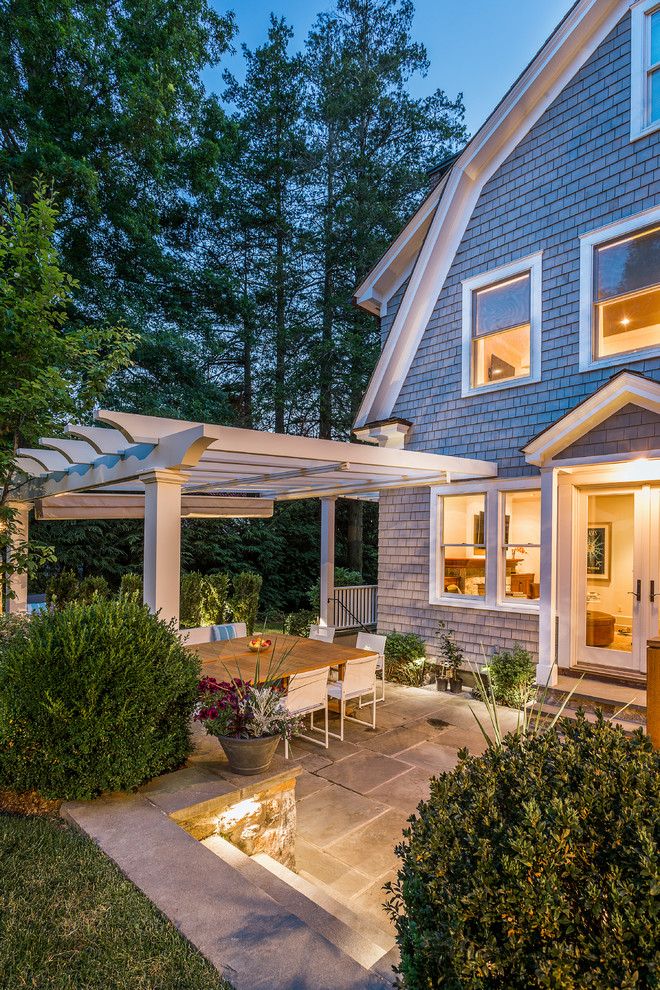 Pergola with Retractable Awnings
The awning provides an awesome decoration, as well as providing shade. The luminous lights facilitate night vision. The cozy sofas offer a comfortable resting and recreation facility with friends or family. The floor is tiled and matches the color design of the pergola. It is also equipped with chairs and tables to facilitate meals and drinks.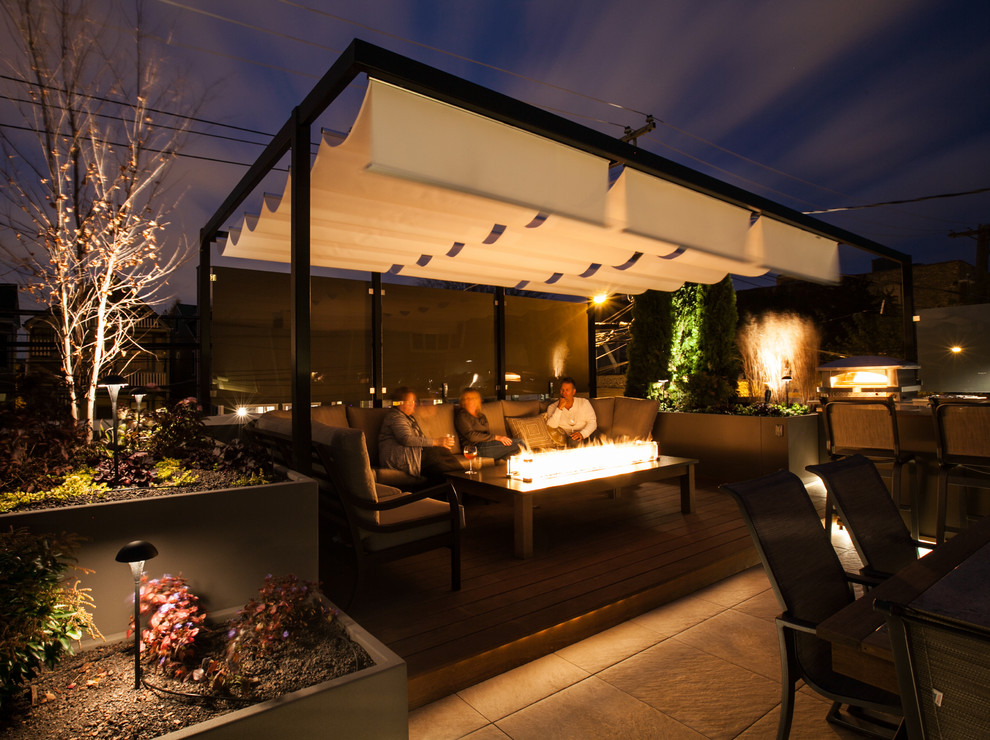 Luxurious Modern Outdoor Kitchen
This outdoor kitchen is fully furnished in a luxurious way. It is fully equipped with kitchen appliances. The floor is concrete and tiled colorfully. The dining area provides a comfortable and cozy place for meals. It is also shaded. The white color of the chair matches the interior wall painting.