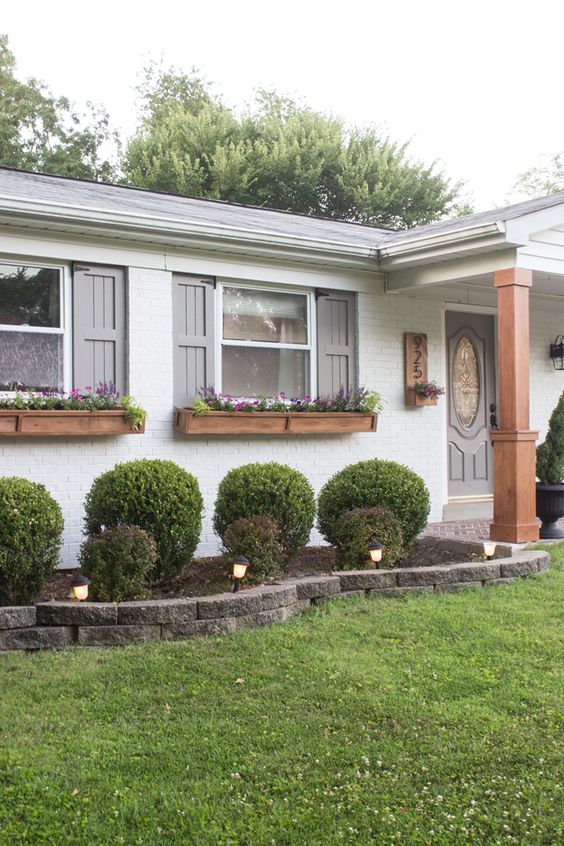 100 Window Box Design Tips and Popular Ideas
Gardeners have always made the most out of window boxes, which provide a cost-effective way to showcase their gardens. These window boxes can also create an amazing landscape as front yards, especially in homes with sidewalks. However, for these window boxes to enhance the aesthetic value of your home, you must put into consideration the following factors.
Use a sturdy box
Choose a strong box that will perfectly hold soil for your plants. Usually, a box made from cedar or redwood is sturdy enough for use. You can then use the Panacea Holdall Flower Box Holder to secure your window box.
Use quality and regularly fertilized soil
The quality of your soil matters a lot with planting window boxes. You need nutritious soil that will serve your plants or flowers for a long time. You can also carry out regular fertilization in your window boxes, for instance, once a week to supply the soil and plants with necessary nutrients. 
To provide your plants the best chance of flourishing, replace the old soil around your plant with fresh soil. Add a few crystals to window boxes receiving direct sunlight.
Moisture is an important condition that allows plants to stay dehydrated and grow well. Therefore, your window box should store enough water to sustain your flowers or plants. You can add a few crystals to your window box if it is located directly under the sun. These crystals will absorb water, only releasing it to the plants when the need arises. Hence, plants will remain moisturized when hot days come by.
Window boxes should be easily accessible
Ensure your window box is very accessible from either side and does not expose you to any injuries. That way, you can always check on your plants, water and tend them with ease.
Do not shy away from over planting
With window boxes, you do not have to avoid planting plants closer to each other. If you want full and lush window boxes, normalize planting your flowers closely together to get a fuller appearance. If by any chance the plants look unhealthy because of insufficient space, pull out a few or just prune them.
Water your window boxes regularly
Window boxes require a lot of water to give your plants sufficient moisture. Since these plants are not growing from the ground, they have a limited amount of soil from where they can get moisture. If the water gets depleted, your flowers will become dehydrated and wither away. Therefore, your window boxes must be watered regularly to sustain whatever you are growing. But also, as you water your window boxes, ensure they have holes to facilitate drainage. Cover the drainage holes using landscape fabric so that soil does not seep out.
The amount of sunlight matters
Your window boxes only need sufficient sunlight for the plants to grow. If your window box is located under direct sunlight, you need plants that grow well in direct sunlight like English Lavender, Erigeron karvinskianus, prostrate rosemary and any other evergreen, hardy and decorative sempervivums. But in case your window boxes are located under the shade, choose plants that thrive in such conditions for example mint, parsley, trailing fuchsias, hedera and ferns.
Each plant plays a significant role
Every type of plant in your window box plays an important role in ensuring you get that lush and attractive landscape. Some plants, like alocasia, coleus, salvia, and the African Iris will look amazing in the center of your window box. Then fill up any blank spaces with the best-suited plants to get a lush and vibrant window box. To achieve such an amazing appearance, you can use repeat bloomers and integrate several annual plants like alyssum, petunias and lobelia.
Popular designs on Pinterest