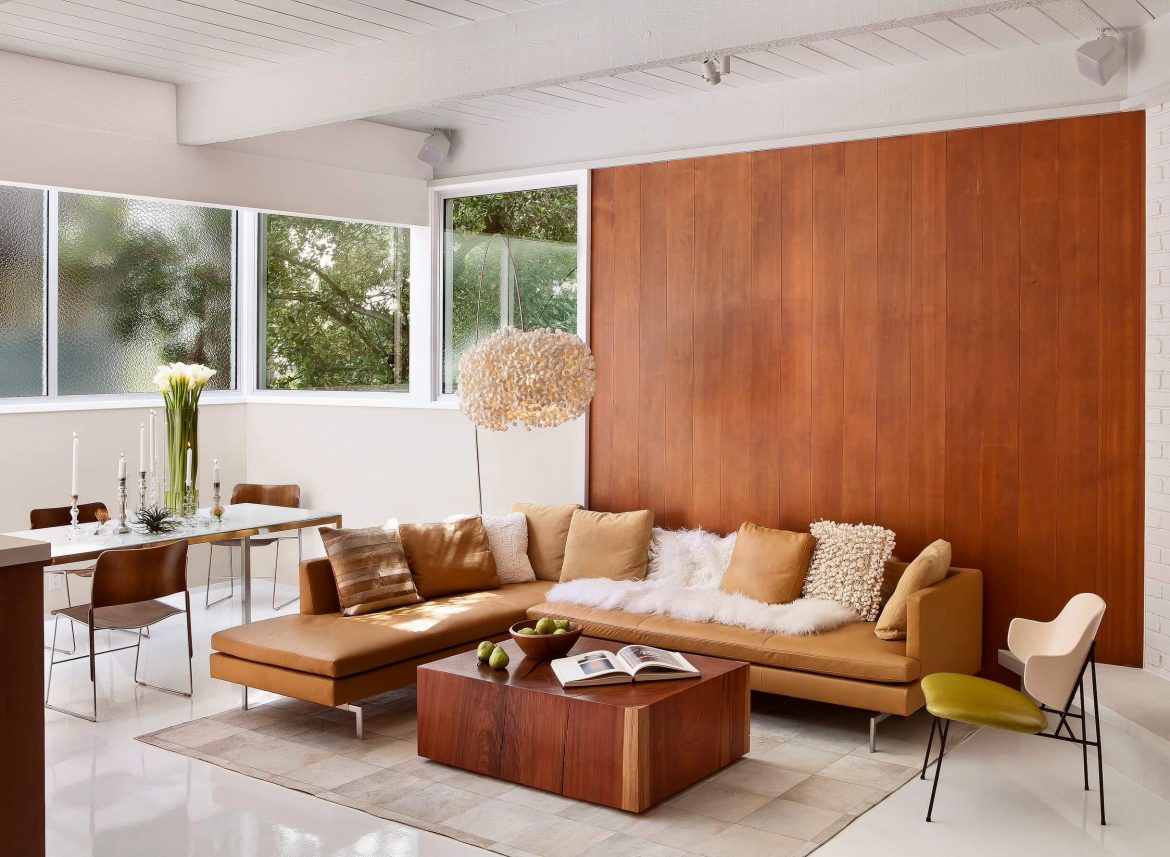 From Mid-century Modern to 21st Century LEED Certified Transformation by Studio Schicketanz
Carmel, California, is the location for this transformation into the first LEED-certified home in Carmel-by-the-Sea. It received a platinum level rating. Studio Schicketanz used the flow and space of the original mid-century modern home, but added an extra bedroom, new kitchen, and new bathrooms as well as the latest technology. They included photovoltaic power generation.
On the exterior, the white two-story house has a flat roof and a grouping of slim, floor-to-ceiling windows by the red front door. Entering the house, you find a wood-paneled living room with a white brick fireplace diagonally across the corner. The dining room is well lighted with the natural light from a skylight and joining rows of windows on two walls. The new galley kitchen has stainless steel appliances, white flat-panel cabinets, an island with wood base, and a white backsplash. The home office has a built-in bookcase and wood flooring. The bedrooms are ready for personal touches. The first bathroom features a hanging vanity, a brick wall behind the tub, and a brick front on the tub. The second bathroom has a walk-in shower with a brick wall behind the shower. The house also offers a deck and a balcony.
Studio Schicketanz, the designer of this renovation, is a full service architecture firm. They offer custom residential and commercial building design, LEED certified architecture, historic preservation restoration, and land-use planning. If you live in the areas of Carmel-by-the-Sea, Monterey, Pacific Grove, Del Rey Oaks, and Pebble Beach, contact Studio Schicketanz for your architectural needs.