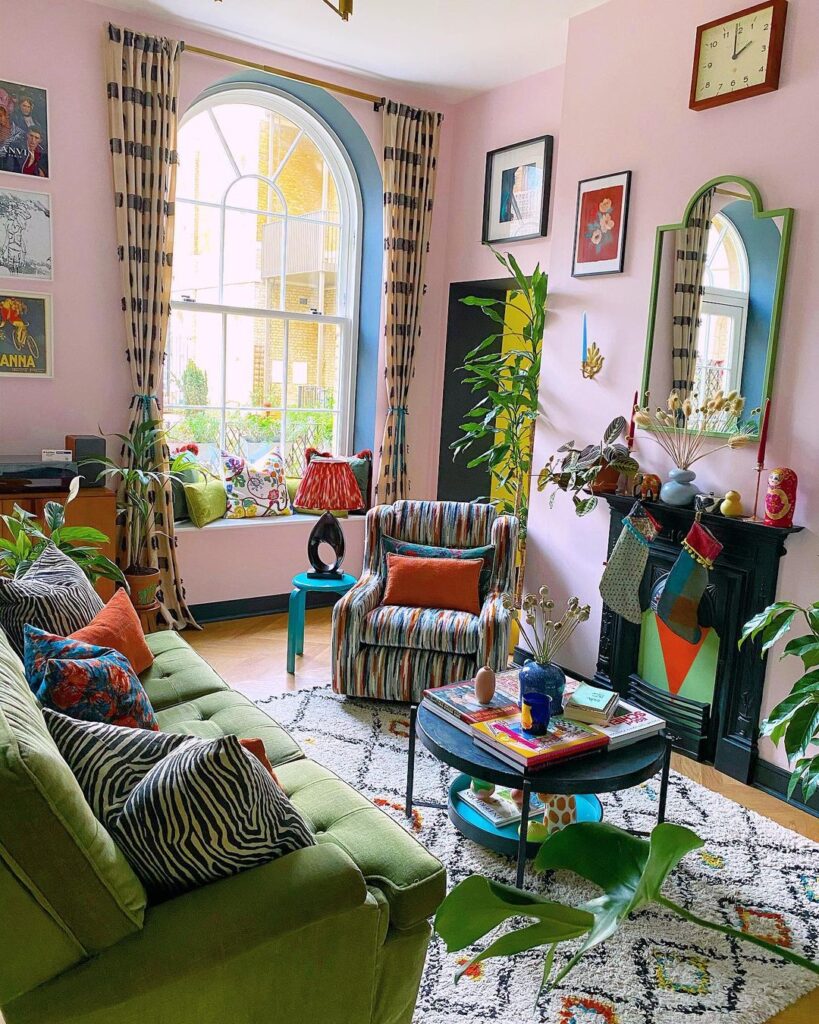 Update Your Living Space: 78 Eclectic Living Room Designs That Express Your Decorative Style
If you've been looking for some new decorative ideas for your living room, these designers can provide you with the inspiration to transform your living room into a magical space. Whether you prefer bright colors or understated designs, here are some decorative elements that will make the heart of your home complete.
Martin Rabbitt Atwell Decorates with Holiday Flair
Vivid colors, a variety of patterns, and signature furniture pieces are at the heart of Atwell's designs. A mixture of jewel tones and stunning artwork make his decorative holiday design palette complete.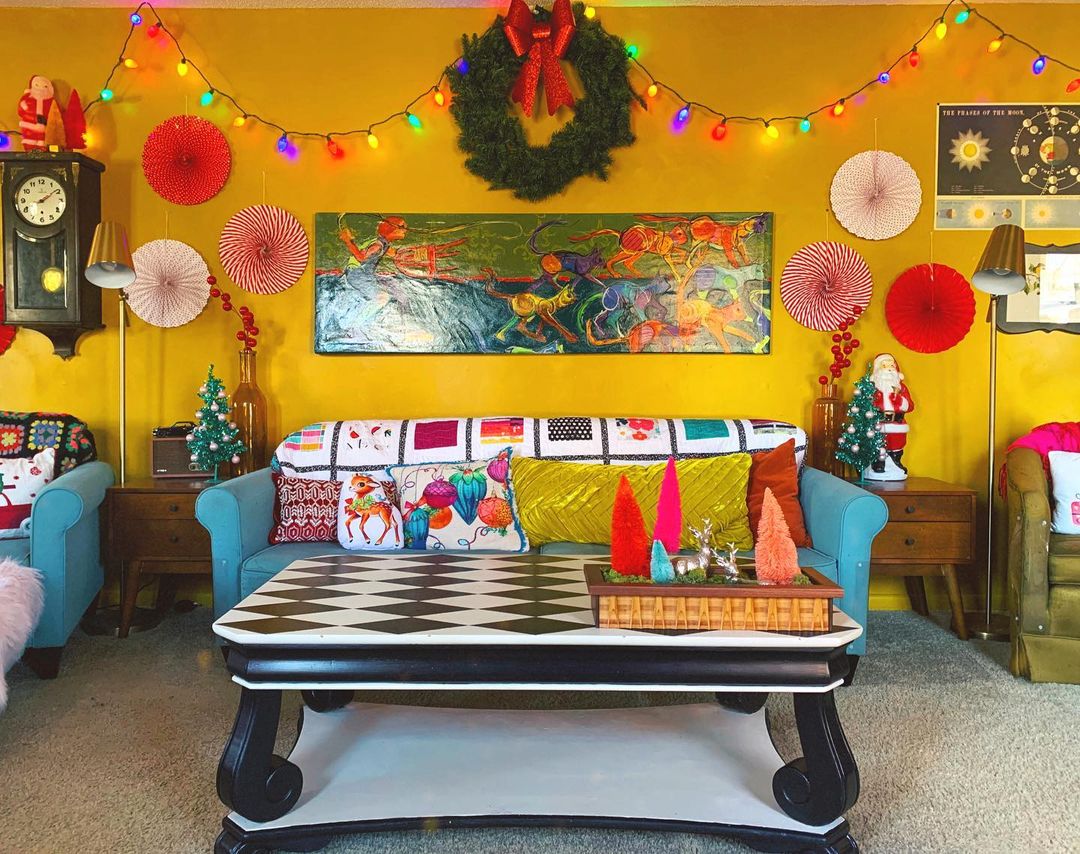 Sabine Lamet Offers Sophisticated, Modern Style
A mixture of neutral tones, conversation pieces, and attractive centerpieces characterize Sabine Lamet's designs, who works under the name Interior by Sabine. Both warm and cool neutral hues, like chocolate brown and gray, are included in her living room designs. Textures like velvet and leather add visual interest to the room as well.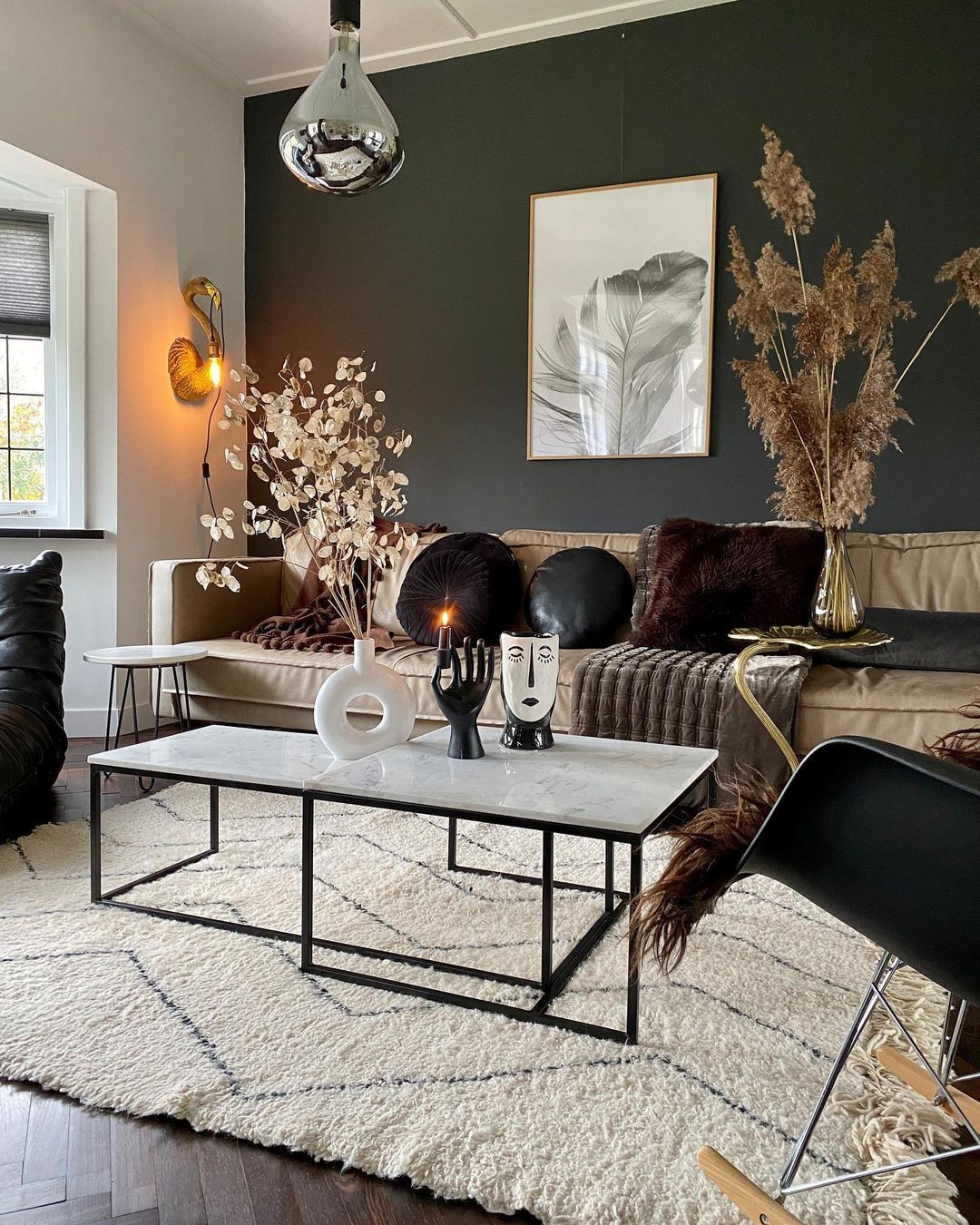 Industrieel Chique Specializes in Customized Comfort
If you're into black-and-white photos, plush throw blankets, and sofas in unconventional colors, Michele, known as @industrieelchique, has the design inspiration for you. Colors like peach, muted hunter green, and gray make the living room cozy and inviting, and the artwork adds a modern touch to the room.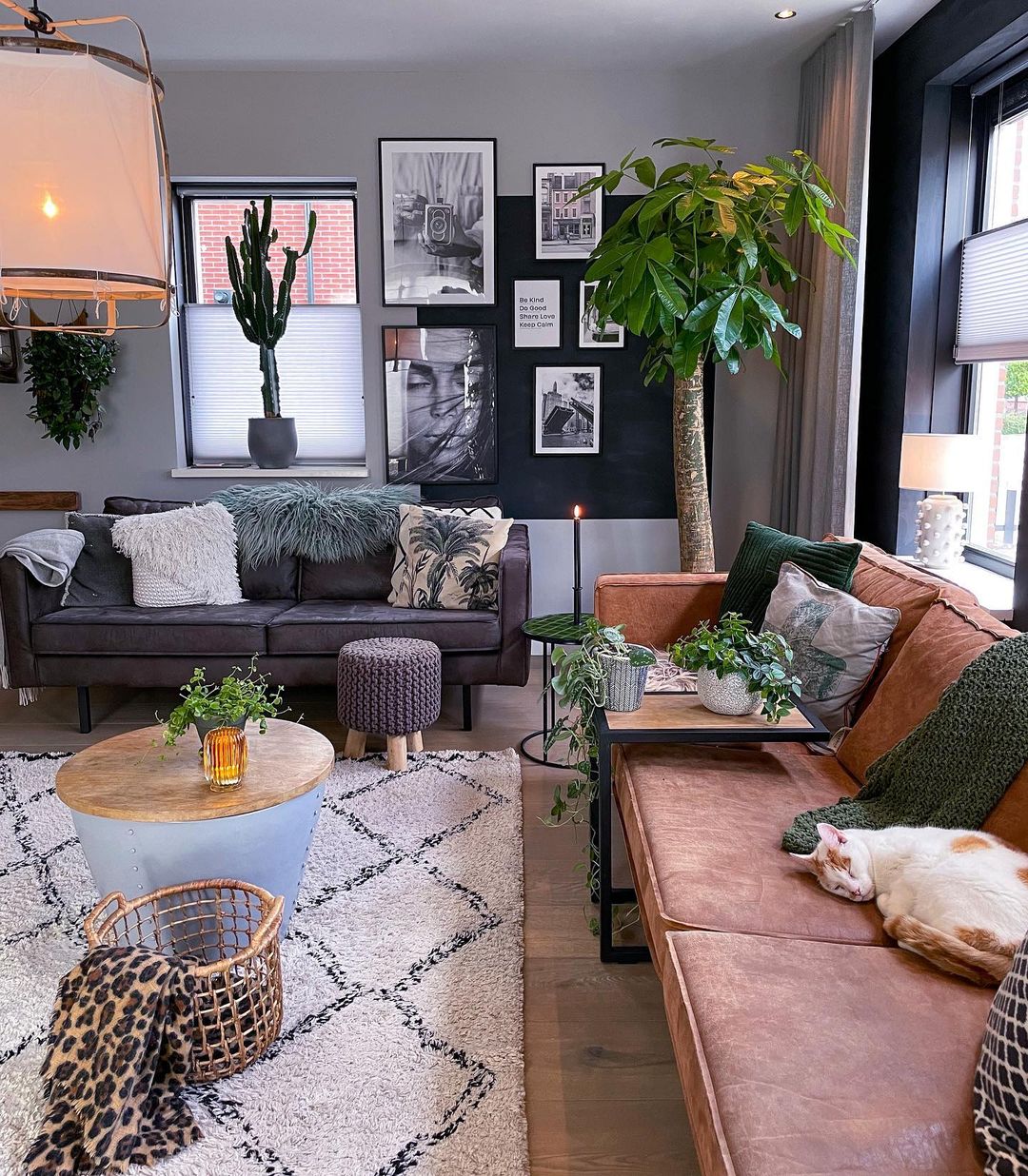 Enjoy Abstract Art b Mia
Mia (@mehr.von.mia) provides lush greenery, cacti, and small end tables to create a living room that is inviting and offers more space for seating. A signature piece like a mirror that also serves as abstract art, as well as a textured area rug, will a simple pattern, makes the room complete.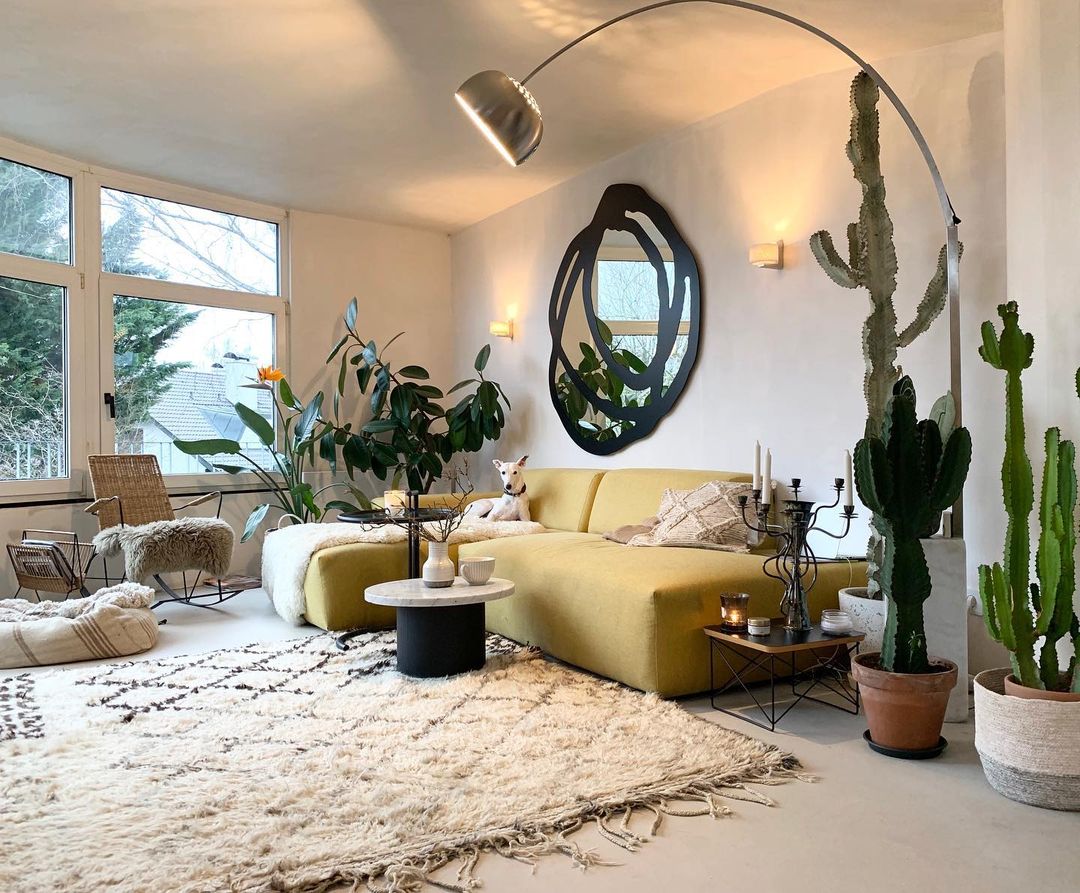 Consider Resort-Style Decadence from Mika Lavien
Mika Lavien uses a variation of light, neutral tones like off-white and beige, as well as a variety of wicker furniture, to make the living room look like an exotic resort. You can use this design inspiration if you want to feel like you're on vacation, and add an intricate light fixture and synthetic plants so time in your living room will feel like a getaway.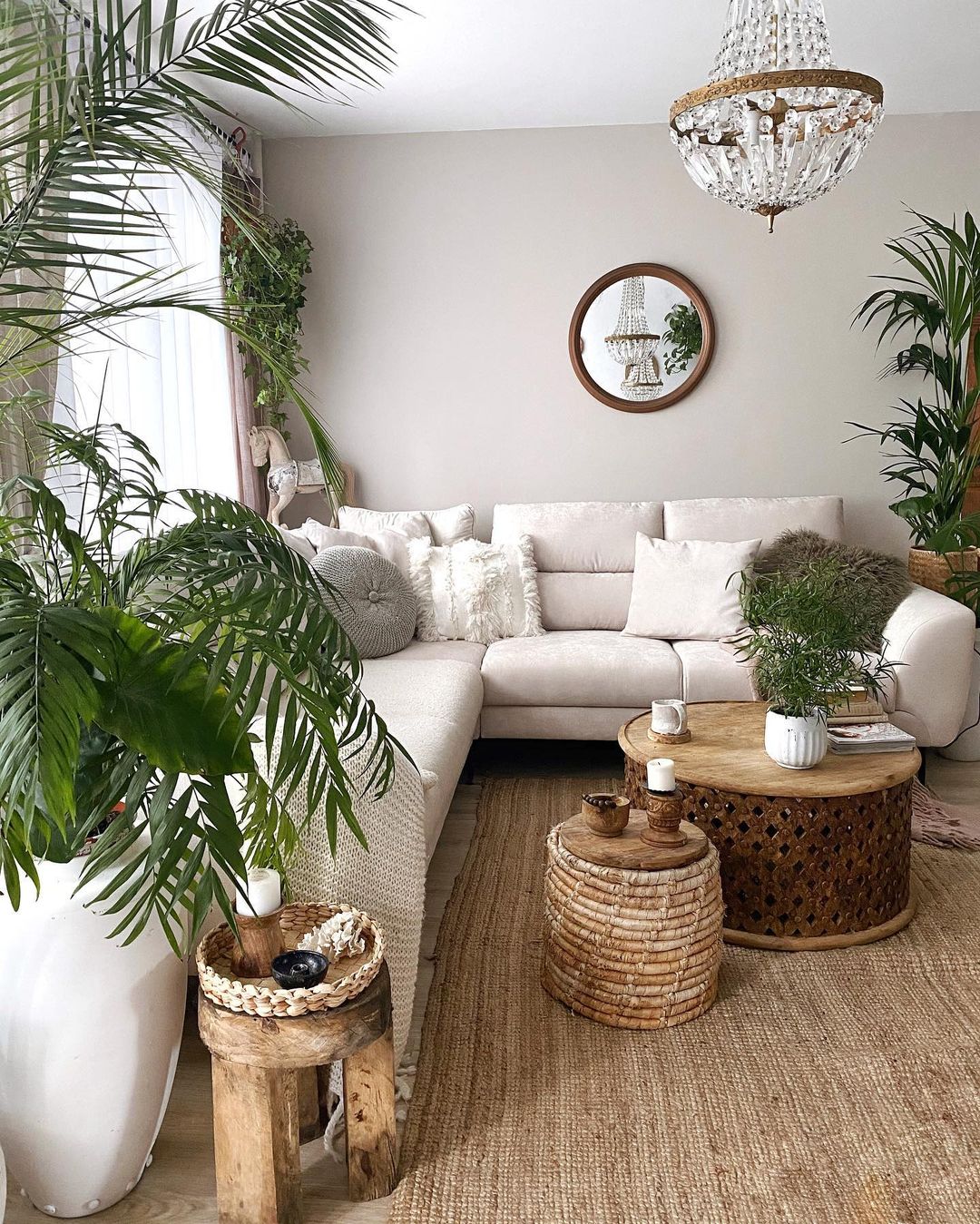 Kasia Makes a Customized Living Room Feel Like Home
Kasia (@kejti.ts) makes a combination of wood and brick elements work for a small, cozy living room. Several neutral colors in warm and cool tones, patterned decorative pillows, and live plants make the room relaxing, and several tiny frames filled with colorful artwork adds visual interest to this space.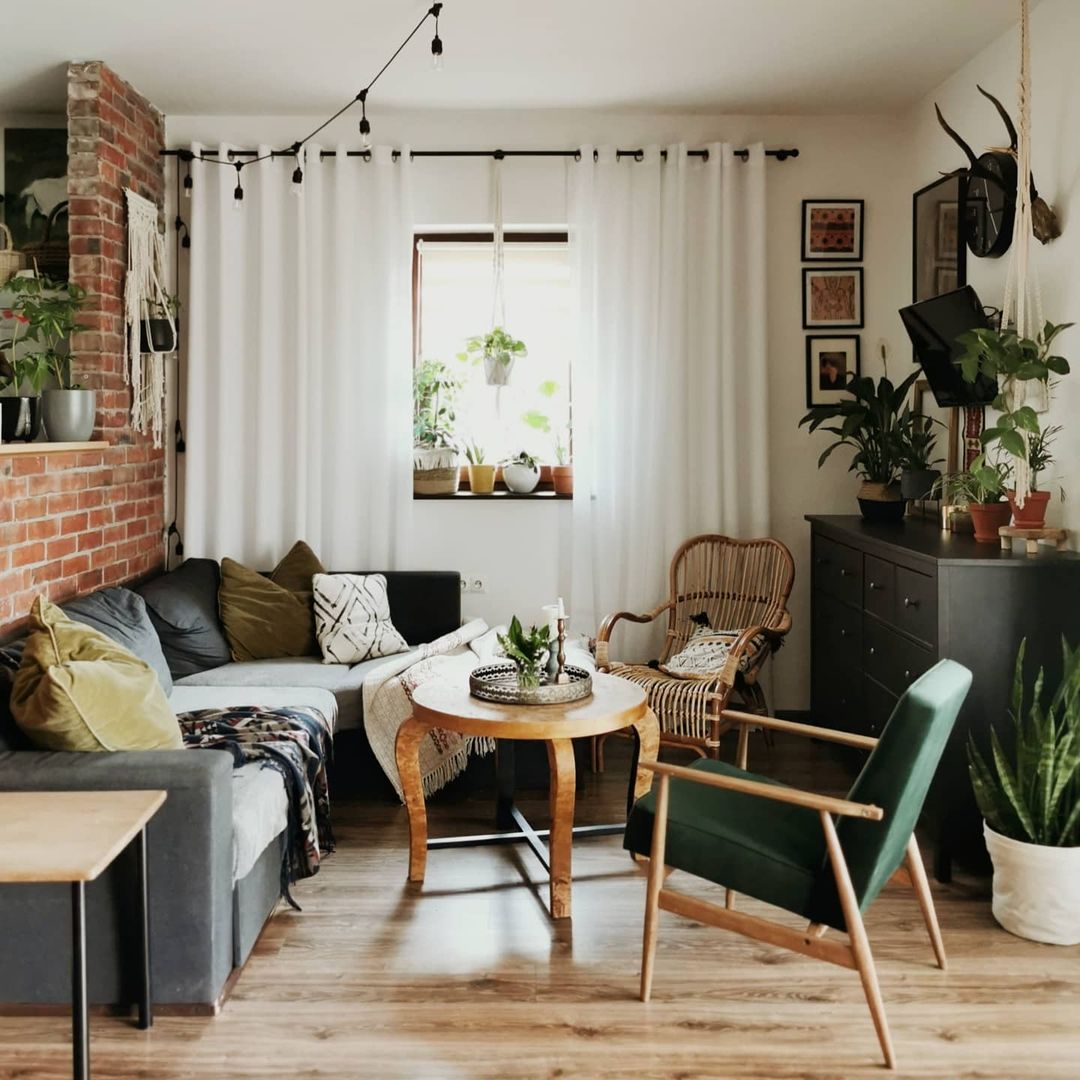 Create a Tranquil Living Room with Inspiration from Joanna
Joanna (@manufaktura_splotow) incorporates shades of blue into the living room so you'll immediately feel a sense of relaxation when you enter the space. Pastel shades of blue and blue hues with gray undertones make the walls visually appealing, and light blue and gray furniture pairs nicely with the medium brown hardwood floors.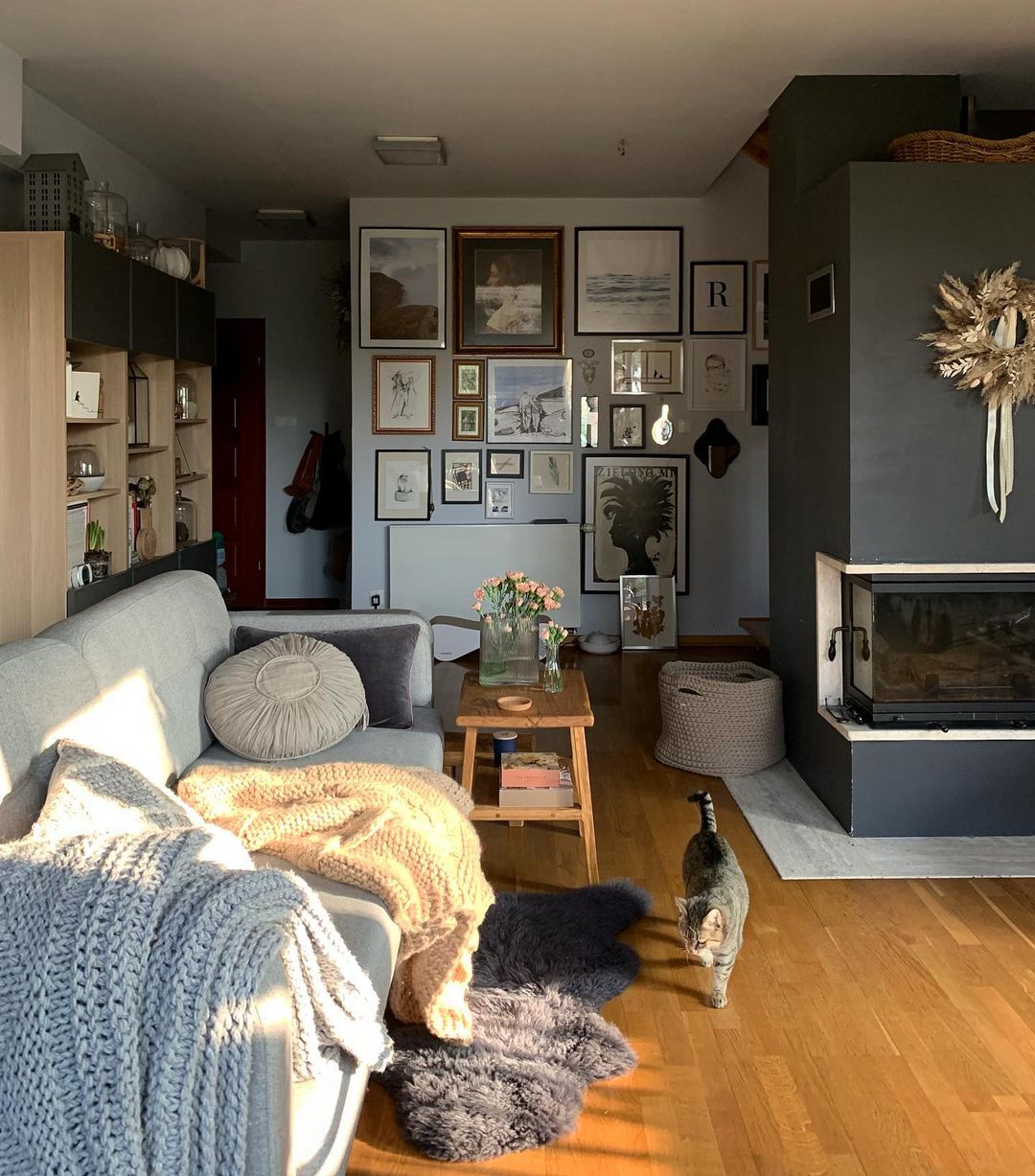 Judith's Designs are Rustic and Beautiful
Judith (@huizedop) favors the cool side of the color wheel with white, gray, blue furniture elements. Small accents of brown and tan balance the color palette out and small, industrial-style tables complement the clean lines of the sofa. The dark gray accent wall makes the room more elegant without making it appear too closed in.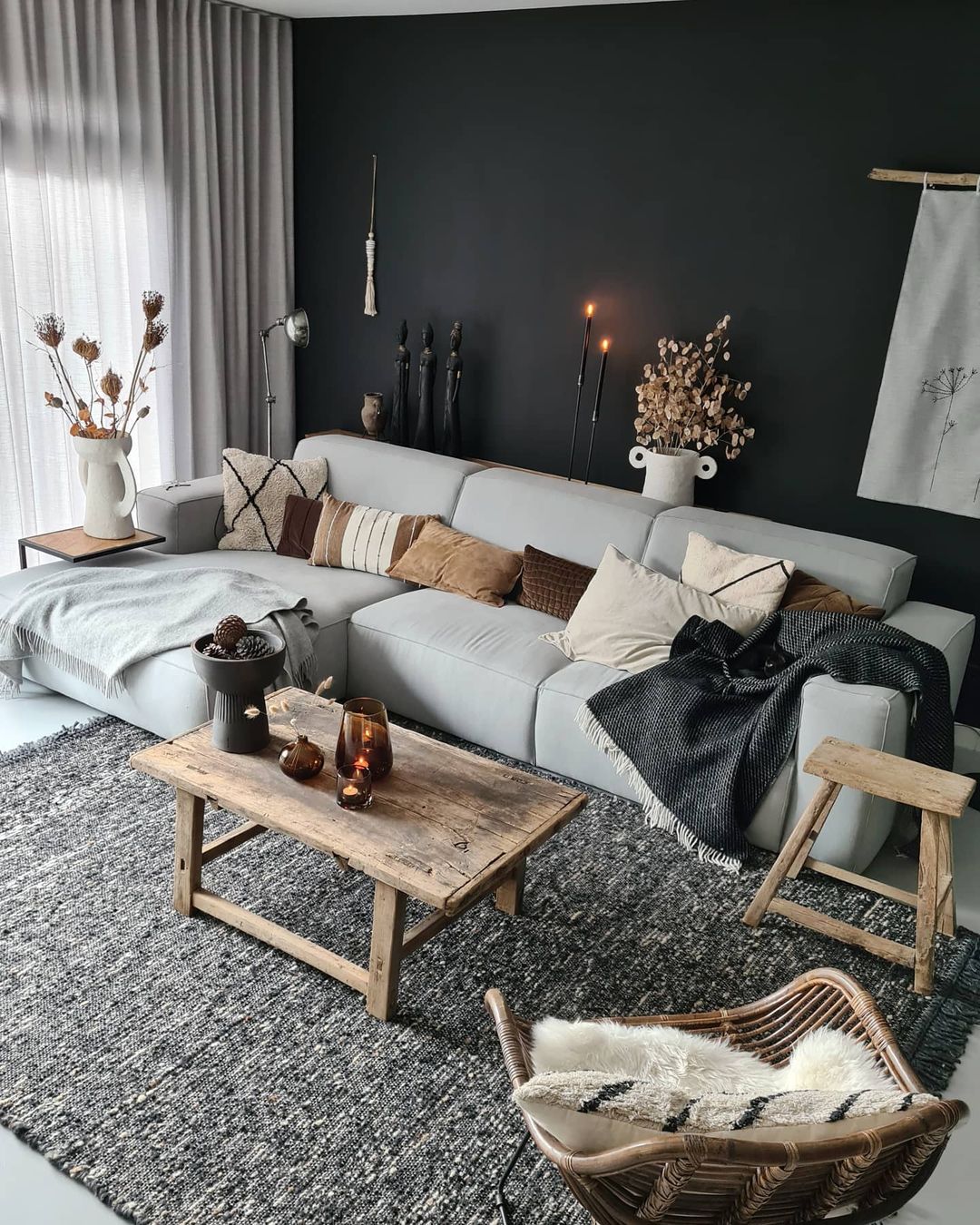 Jenni Laila Offers the Best of Bohemian Home Design
Candles and subtle lighting, wicker furniture, and soft throw blankets are among the decorative yet comforting elements @jenninlailla includes in her home designs. You won't miss the absence of bright color since the pillows, blankets, and plants in the room add texture and pleasant patterns to the living room.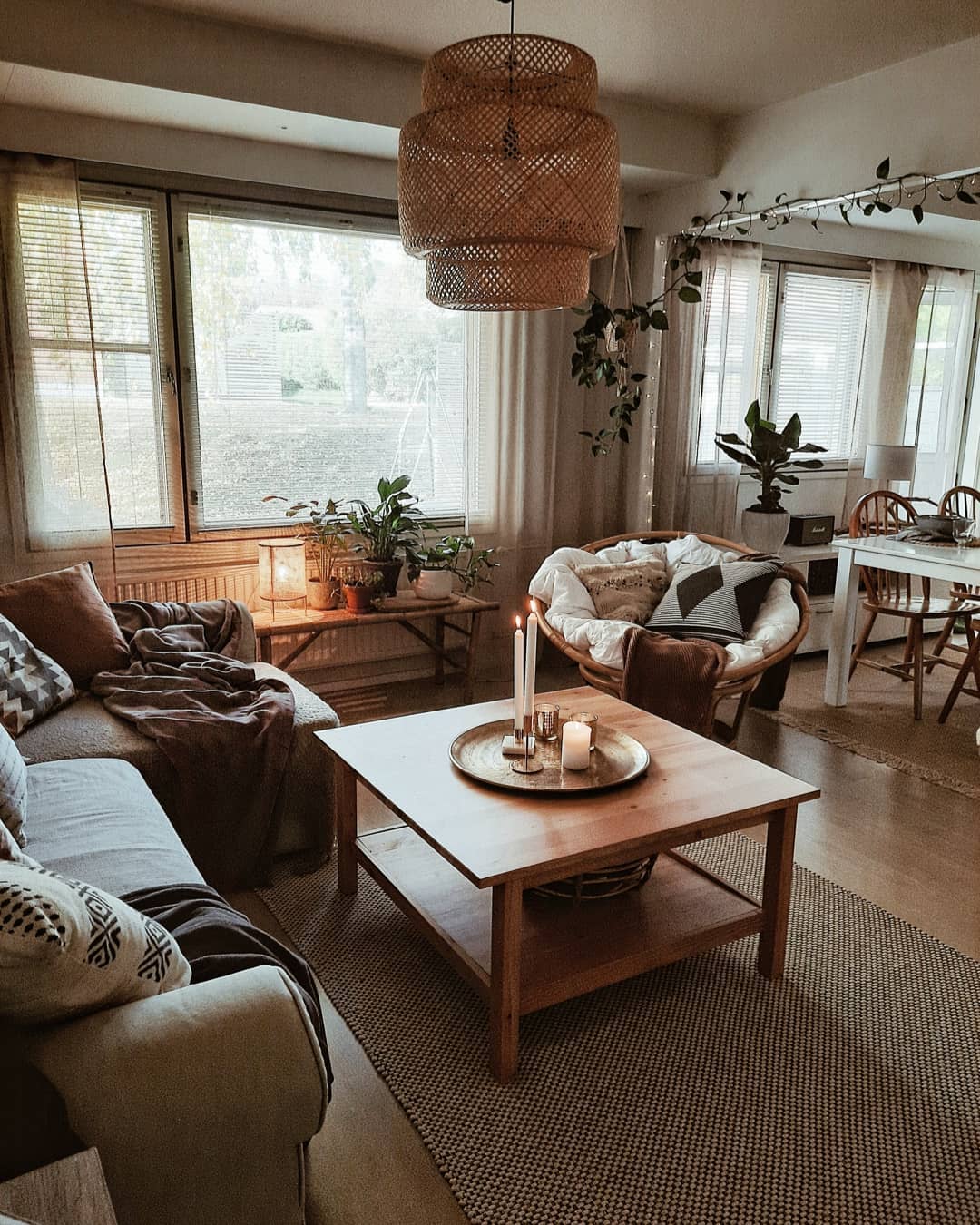 Cha Cha Garcia Adds 1970s Charm to the Living Room
If you enjoy the hippie style of the 70s, @3chacha will inspire you to create a living room that makes you feel peaceful and upbeat. Fresh sunflowers adorn the center of the small coffee table and embroidered pillows in several pastels and muted jewel-tone colors to create a living room you'll love spending time in.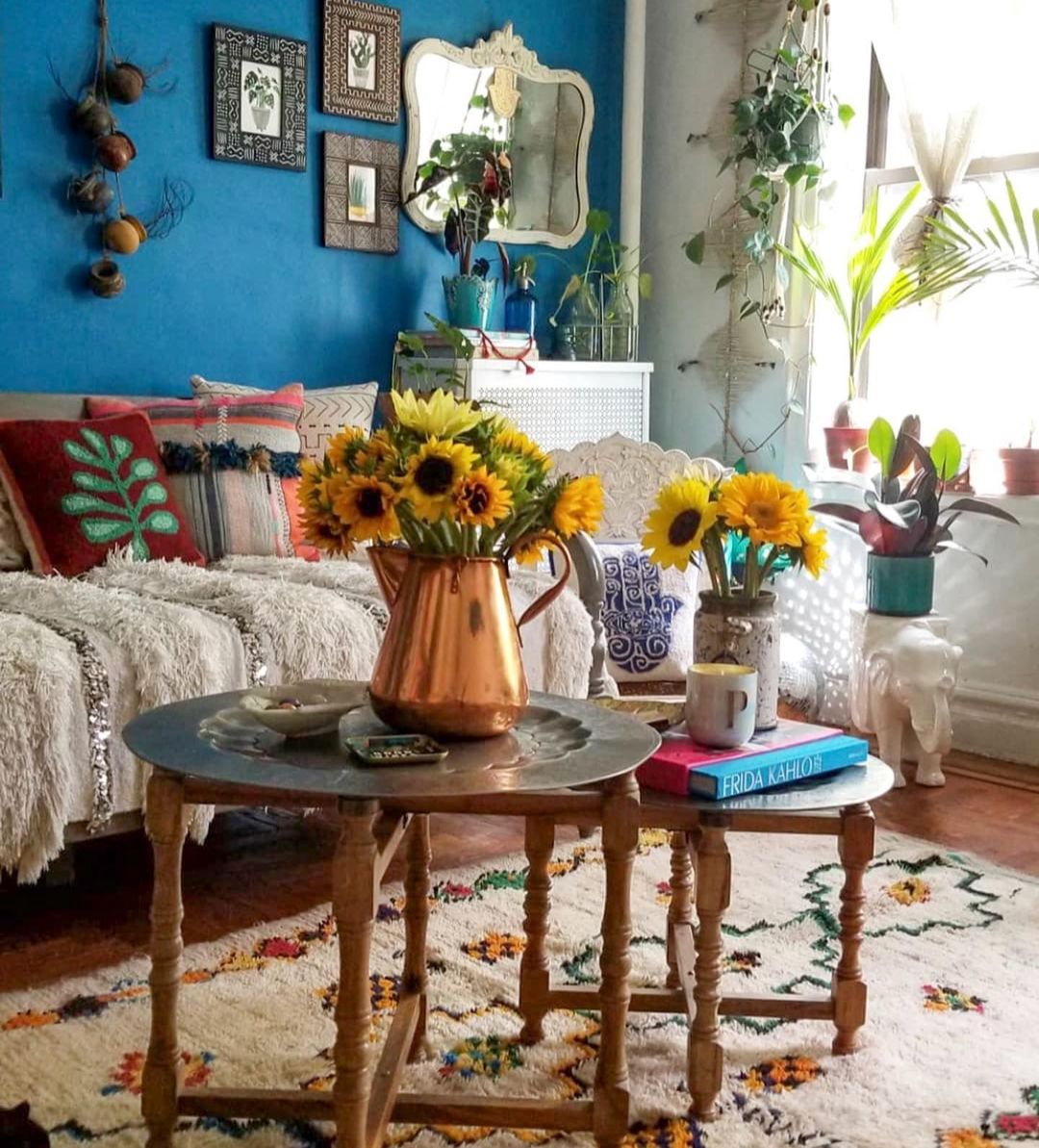 Shawn from Urban Eclecticism Combines Culture and Texture
African-inspired prints, stones, glass, and wood are all standout elements in Shawn (@urban_eclecticism)'s design scheme. This bohemian showcases several colors and patterns, from the curtains to the area rug, as well as hanging plants and ottomans that make it easy to relax.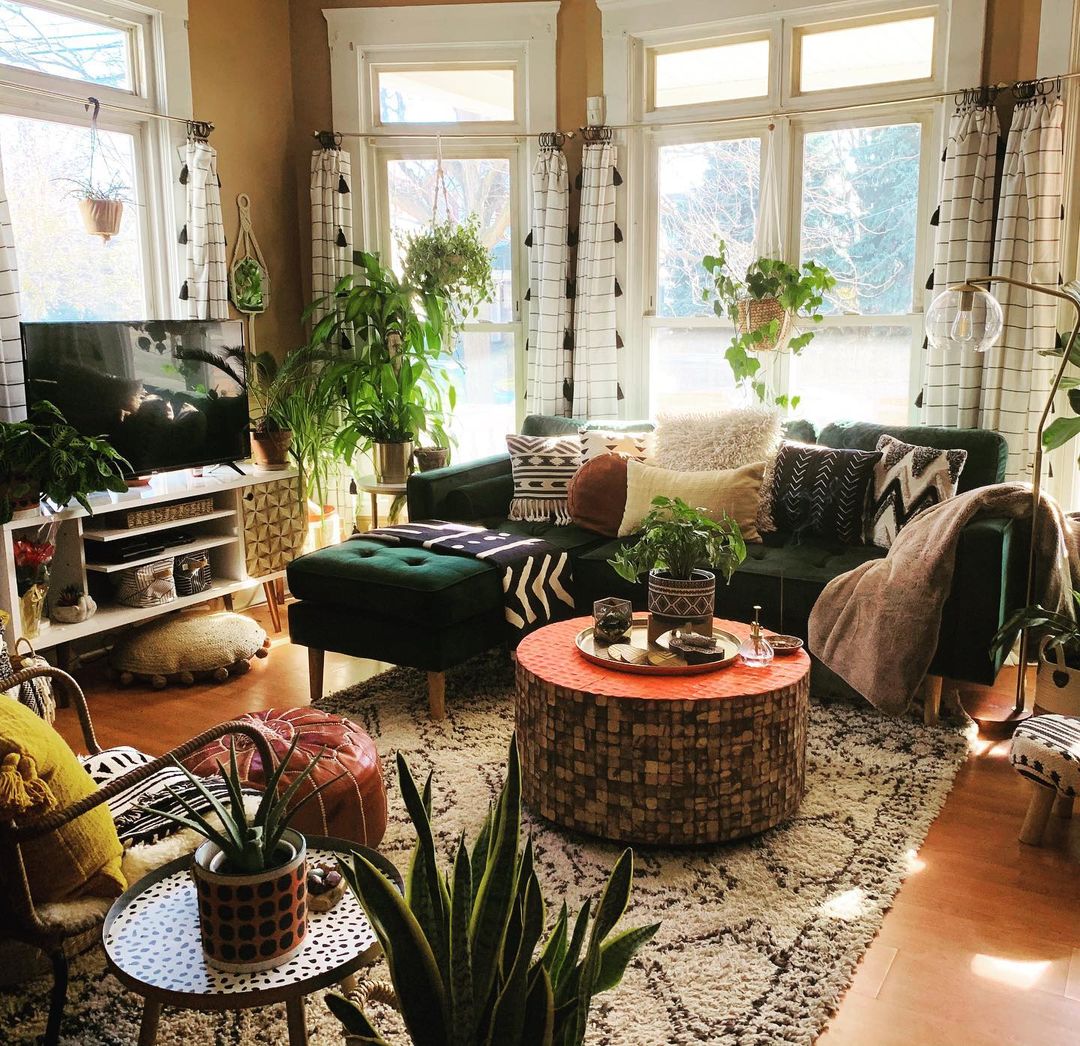 Melissa from Glam & Glitters Wows with Color
Melissa (@huisjevanmelis) immediately draws attention to the living room with a vibrant accent wall in a pronounced peach shade. Pillows in vibrant colors complement the velvet gray sofa nicely. A stunning light fixture, combined with various flower arrangements and a sleek, modern coffee table, bring the look of the living room together.