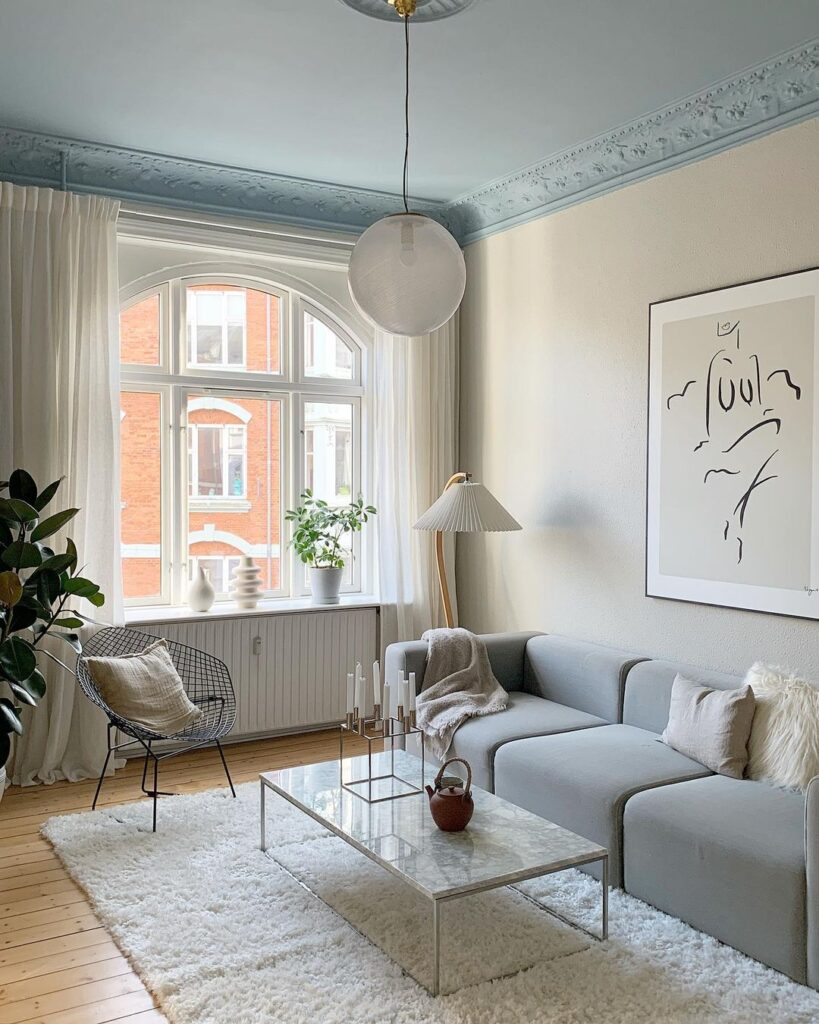 Modern Minimalism and Vintage Charm Live Harmoniously in Helene's Historic Aalborg Home. 
Helene Katrine is a home decor stylist who lives in Aalborg Denmark. Her beautiful old home is in an apartment building in the historic city center, which is chock-full of buildings dating back to the middle ages.
Her home exhibits tons of character. Large picture windows and bay windows not only brighten the interior, but also frame splendid views of the surrounding historic buildings. Helene's home has a balanced design that combines sleek modern minimalism with strong vintage touches. 
The walls are painted in tones of soft grey and beige. Large modern light fixtures bring a touch of whimsy. The old-time curved window frames are preserved as they are and painted white so that they present the views without distraction. They are framed with soft white sheer curtains for a homely feel. The ceiling brings the vintage exterior view inside with an ornate carved trim and a central pendant. It is accented with pale blue paint for added charm. The sleek minimalist furniture is softly upholstered and colored in pastel hues. Plants bring in some extra color. A large abstract print above the couch adds a touch of pizzazz. 
Light wood floors and brown and white bookshelves bring warmth in true Scandinavian style to the living and dining areas. A plush area rug and throw add comfort. In the bedroom, a decidedly vintage vibe is provided by the old woven cane headrest of the bed and is juxtaposed by the large white modern pendant lamp above the bed. Modern and vintage touches are further added by contemporary and old-fashioned pieces of sculpture. 
While Helene has decorated her home in contemporary style, she has also lovingly preserved its historic charm with carefully chosen accents.