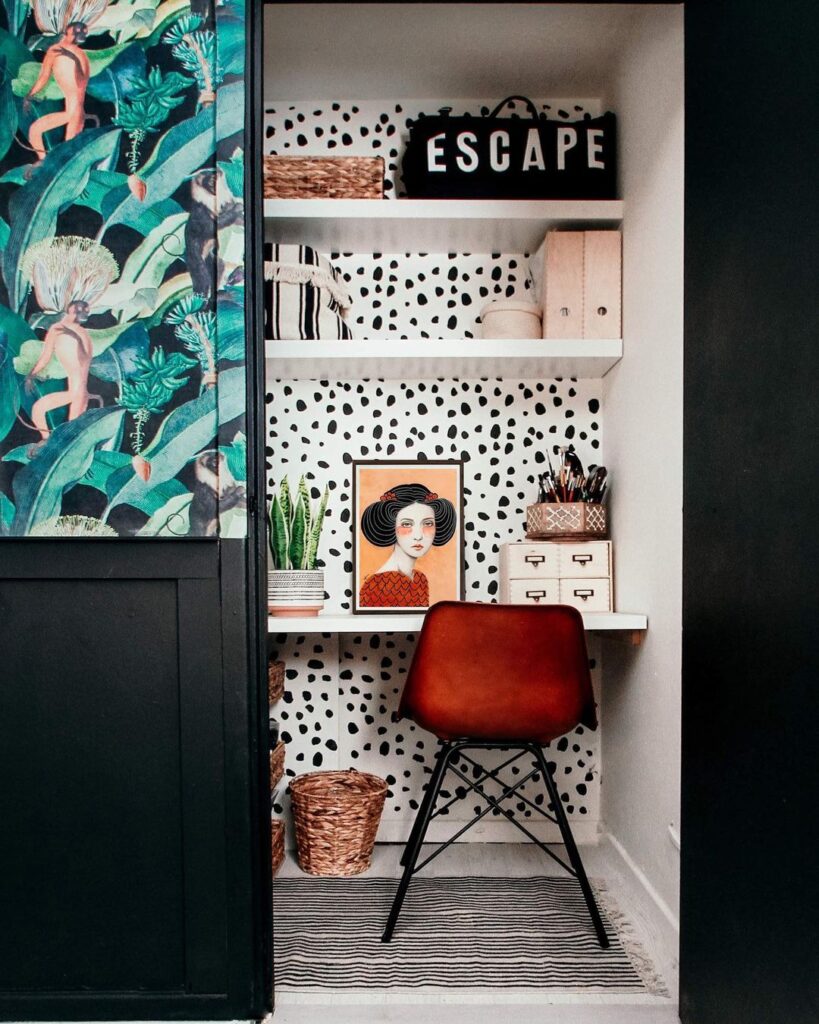 People are Going Back Into The Closet! These 60 Super Cool Cloffice Ideas Will Show You Why!
Initially, the cloffice was born of necessity. New work-from-home professionals or students desperately needed a quiet nook — one in which to take Zoom calls and tune out noisy home surroundings. When the kitchen table just wouldn't cut it anymore, people looked within their homes for a small space to call their own. Thus, the cloffice has taken hold in a really big way.
If you are a little out-of-the-loop and have no idea what a cloffice refers to — think office within a closet. The cloffice is a closet, nook, or other small, underutilized space within the home with a full office vibe. If you have been thinking about creating your very own cloffice, here are 16 super cool design ideas straight from Popular Instagram Influencers. You will be in awe of how these closets have been transformed into unique and stylish workstations.
Create the perfect little working alcove with a backdrop of bold floral wallpaper in blush and navy. Brass accents in the lighting, desk pulls, frame, and plant holders beautifully tie the whole look together. Don't forget to sit in comfort with a coordinating pillow.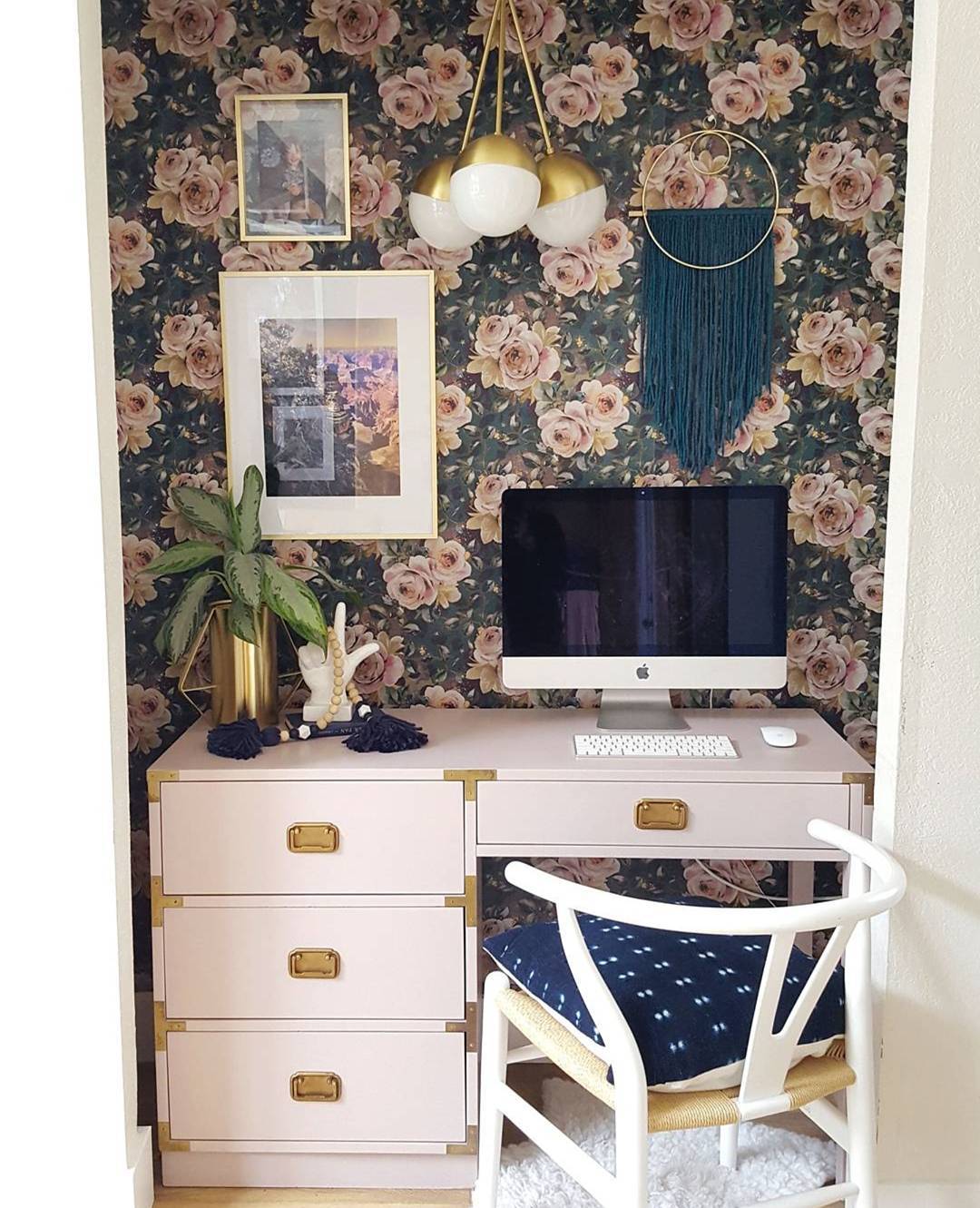 Modern Organic Vibes
This little cloffice, with room for two, gives off modern organic vibes with ample light-colored wood shelving on a backdrop of white and gray wallpaper. Rattan baskets stylishly house the plants. Understated accessories like a brass light, a small clock, and a globe complete the look.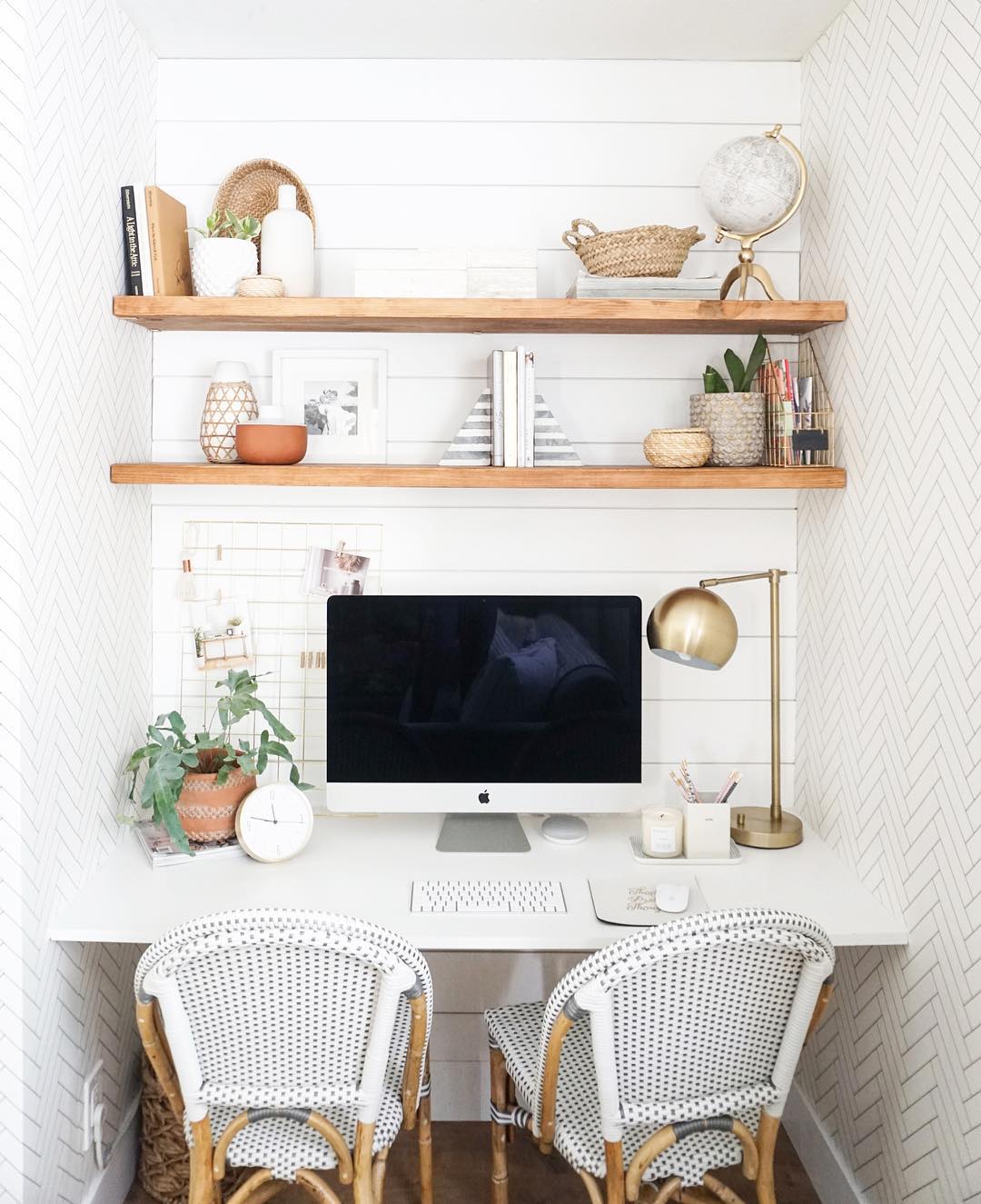 A Bold Escape
Find your perfect working escape in this bold space with complementary polka dot wallpaper lining the interior and a bold jungle-themed paper on the exterior. Wide white shelves offer plenty of room to store office essentials. The bold artwork, green plant, and basket storage tie all the colors together so beautifully.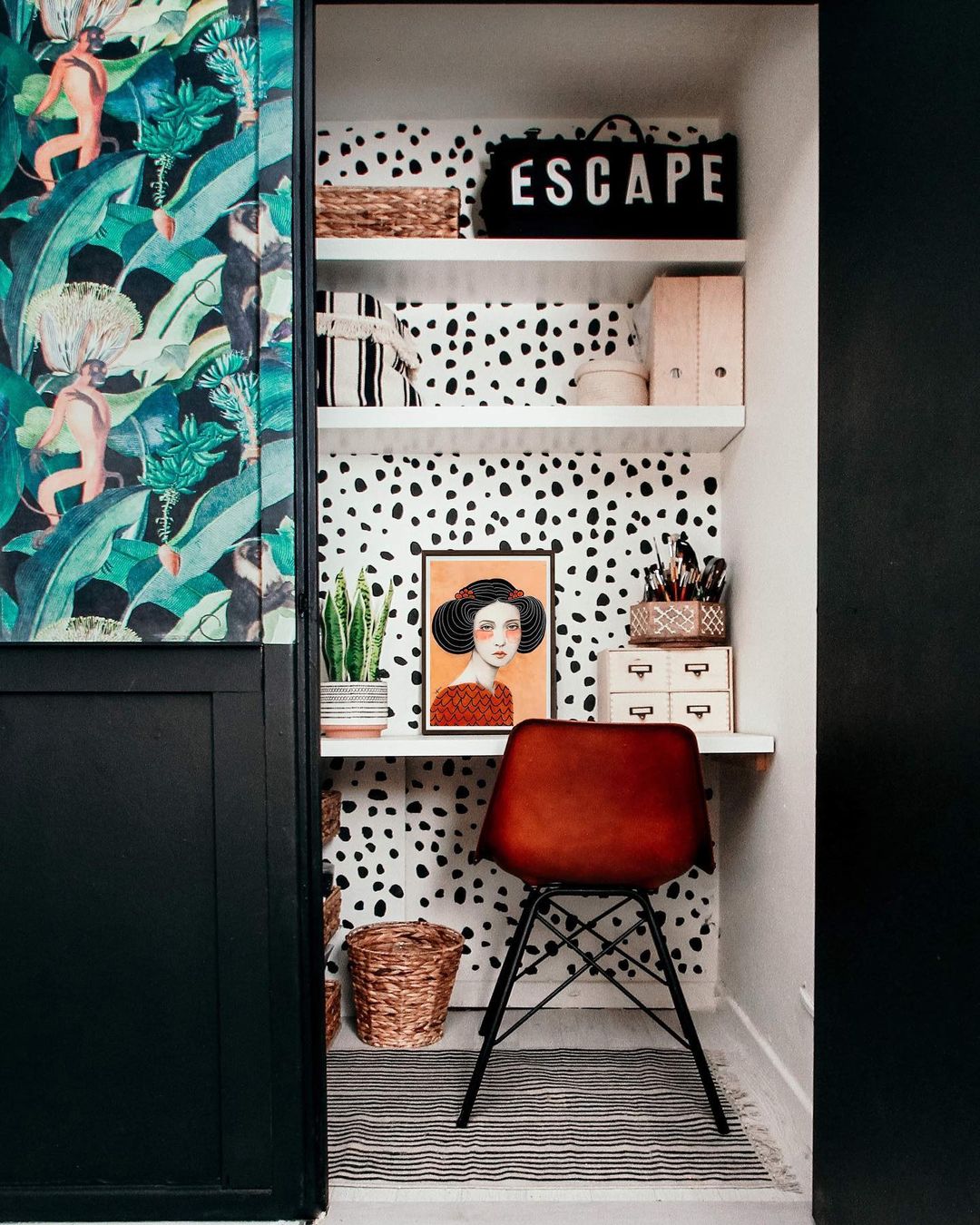 Serene Refuge
Take refuge in this workspace with a neutral color palette, a comfortable chair, a cozy throw, and some great overhead hanging lights. A plant on the perimeter welcomes you into this space. Some unique animal prints tie all of the elements together.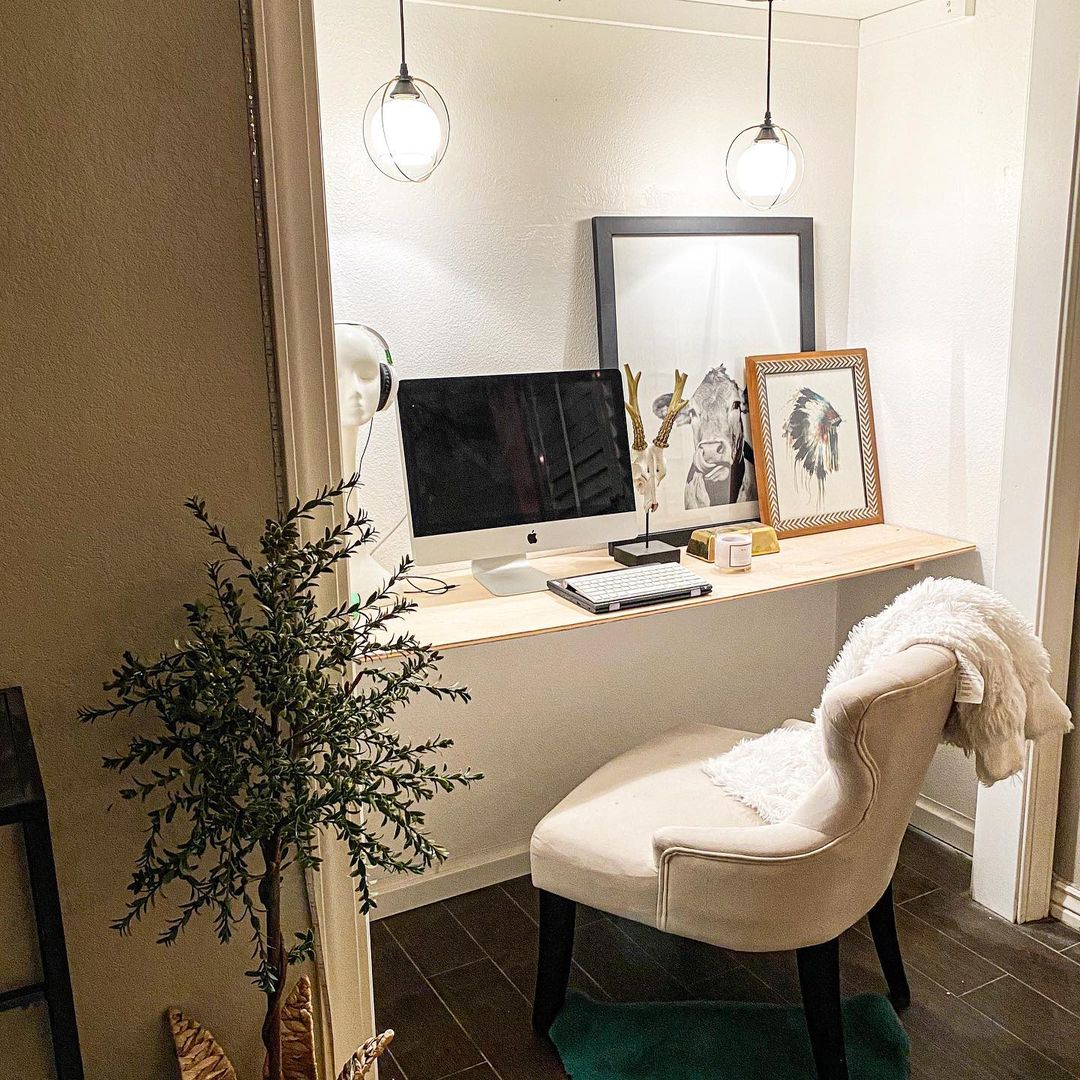 No Space Too Small
This little cloffice shows how you can house a lot of productivity in one small space. Using a little elevation, two monitors sit on top of a simple white desk. A multi-tiered storage drawer offers some organizational bliss. And no cloffice would be complete without a few personal touches like a "girl boss" sign.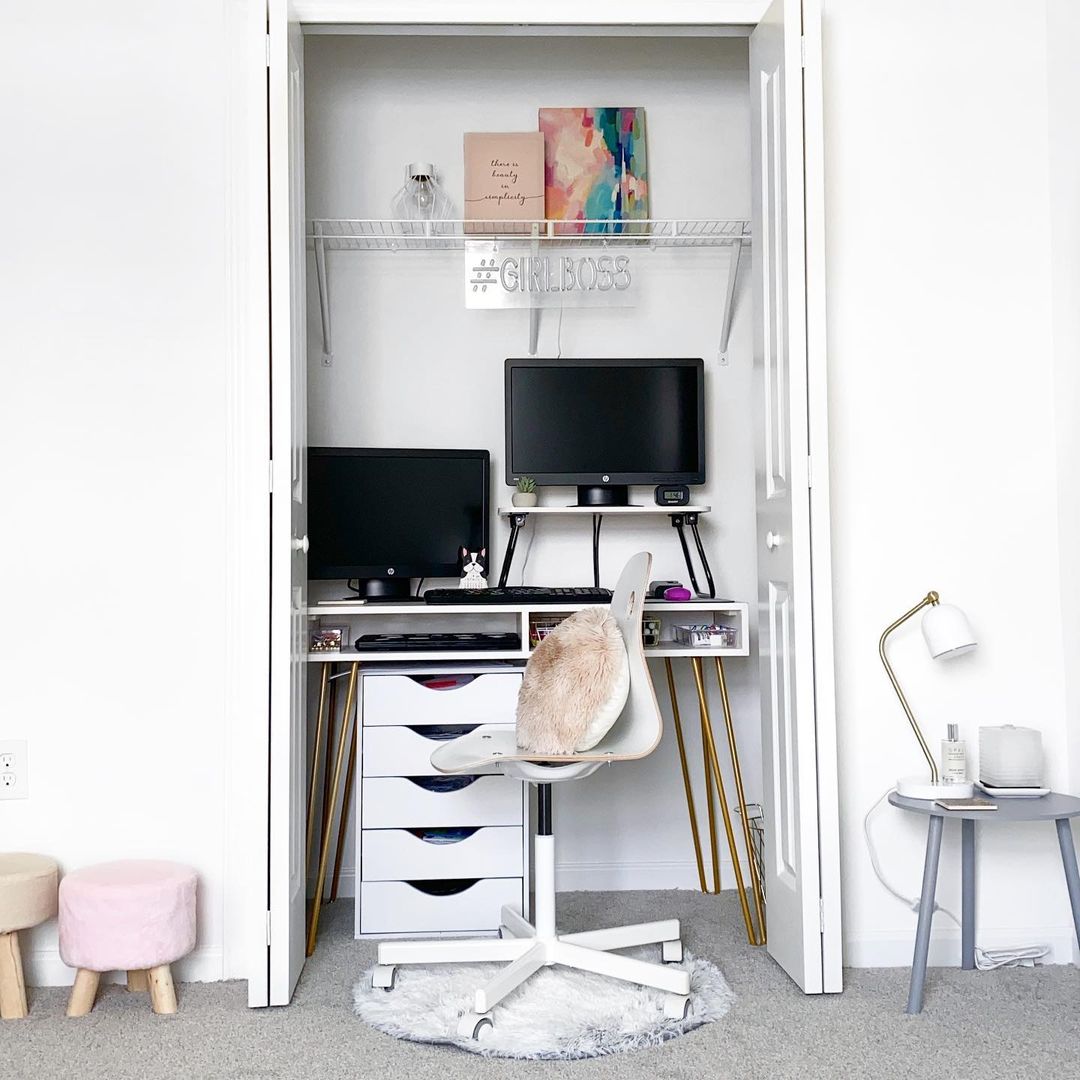 Inspired Work
You will feel inspired working in this little cloffice. White and gold polka dot wallpaper serves as the background for gold accessories like the framed calendar, lamp, and paper sorter. Store all your necessities together beautifully in ample baskets and lidded boxes. Sit pretty on a comfortable chair perched on a plush rug.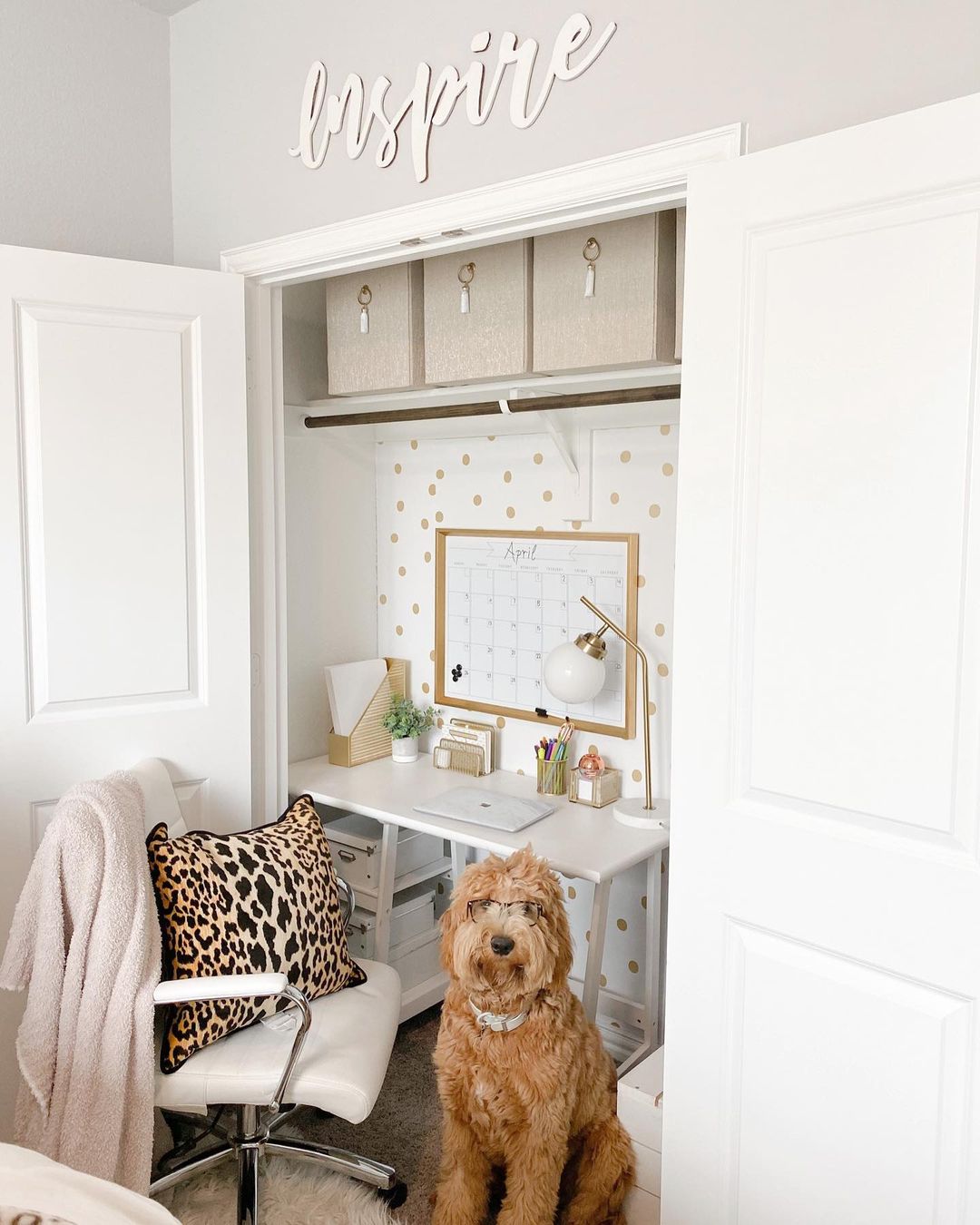 Boho Retreat
Create a stylish Boho retreat in your very own closet. Line the walls with bold palm frond wallpaper, add a little white desk for office necessities, some simple white shelving, and a round bench seat. You will love paying bills or catching up on paperwork in this perfect little space.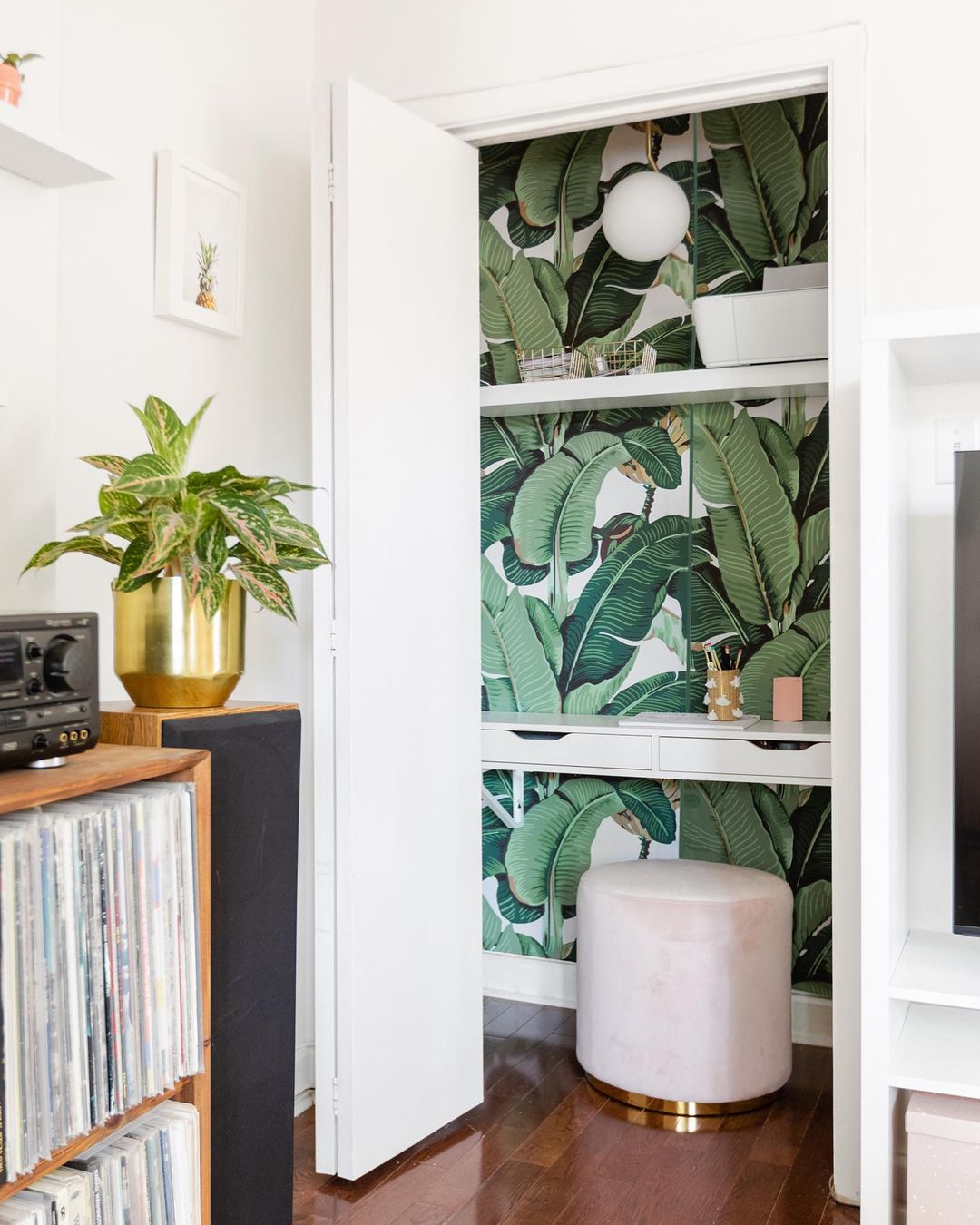 Upcycled Details
This crowded closet was transformed into a bright and inviting workspace with upcycled furnishings and thoughtful touches. A bar height workspace and stool seating offers enough room for two.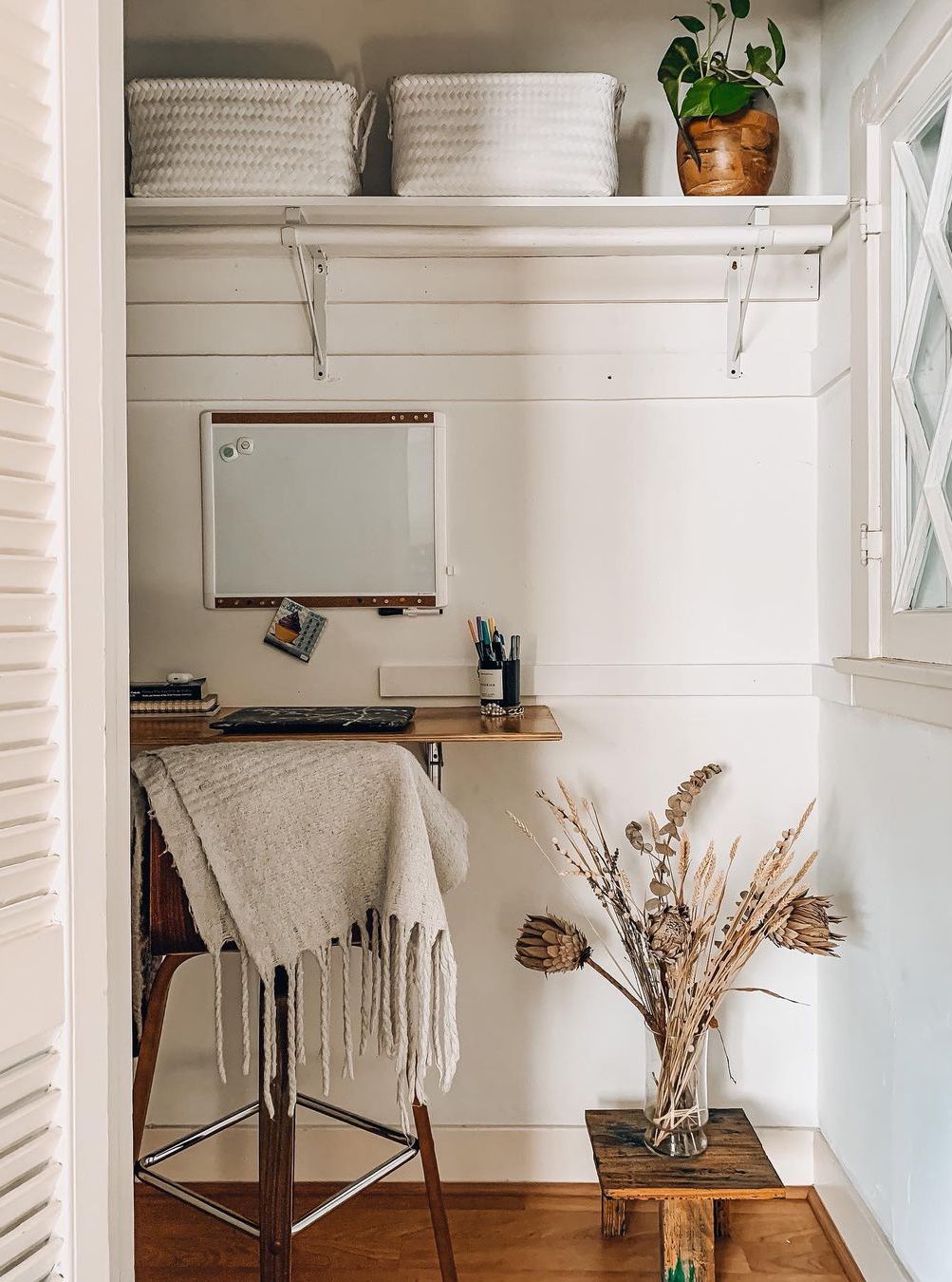 Coordinated Bliss
Turn a cluttered closet in your home into your favorite little work nook. The neutral gingham wallpaper perfectly coordinates with the desk, rug, floor lamp, and chair. A meaningful print and a few curated touches make this space sheer bliss.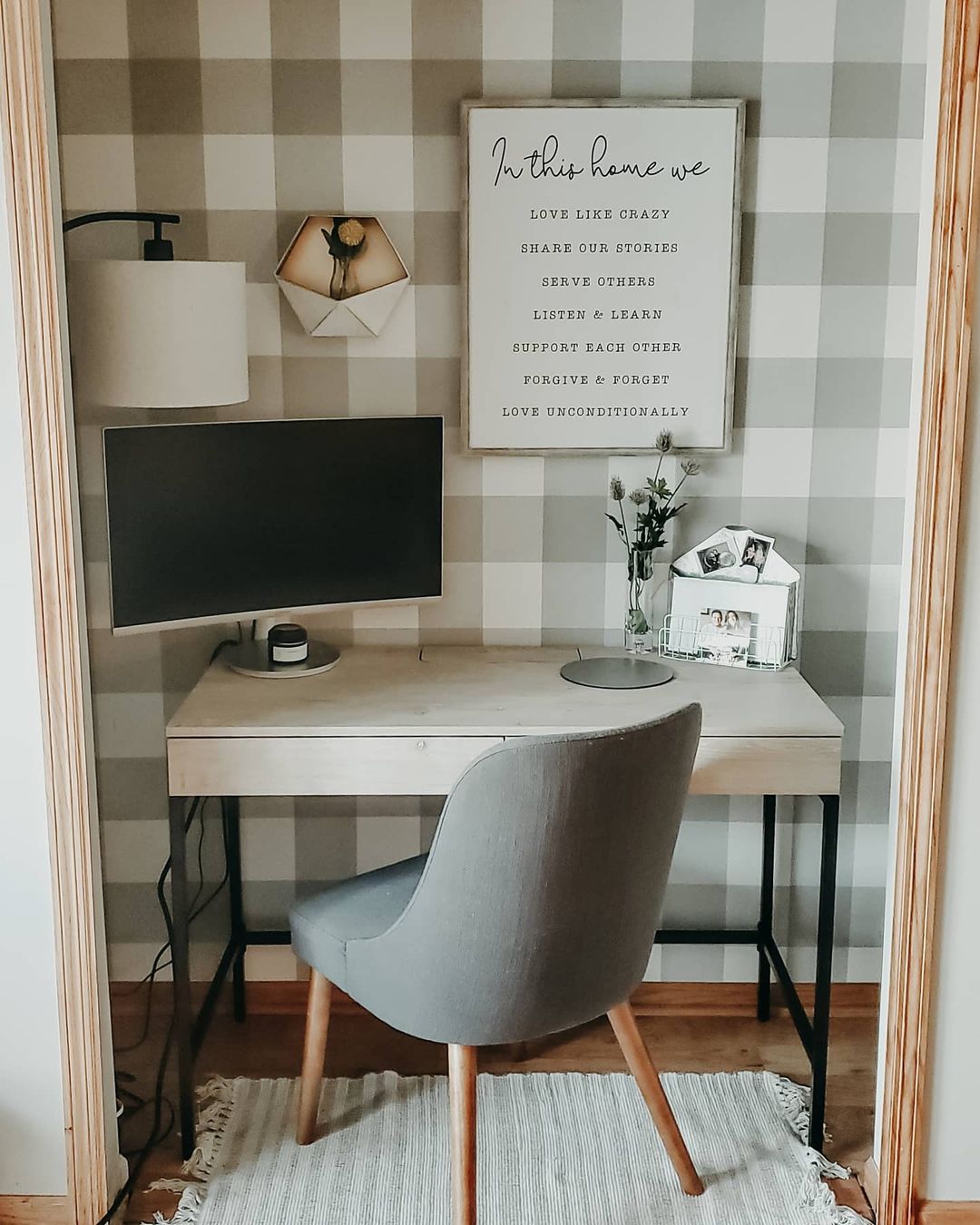 Great Lighting
The overhead lighting in this cloffice perfectly illuminates the bold, organic wallpaper. A simple, but functional desk, offers ample working space with a piece of wood suspended on two coordinating filing cabinets. This cloffice demonstrates how easy it is to close the doors on your work at the end of the day.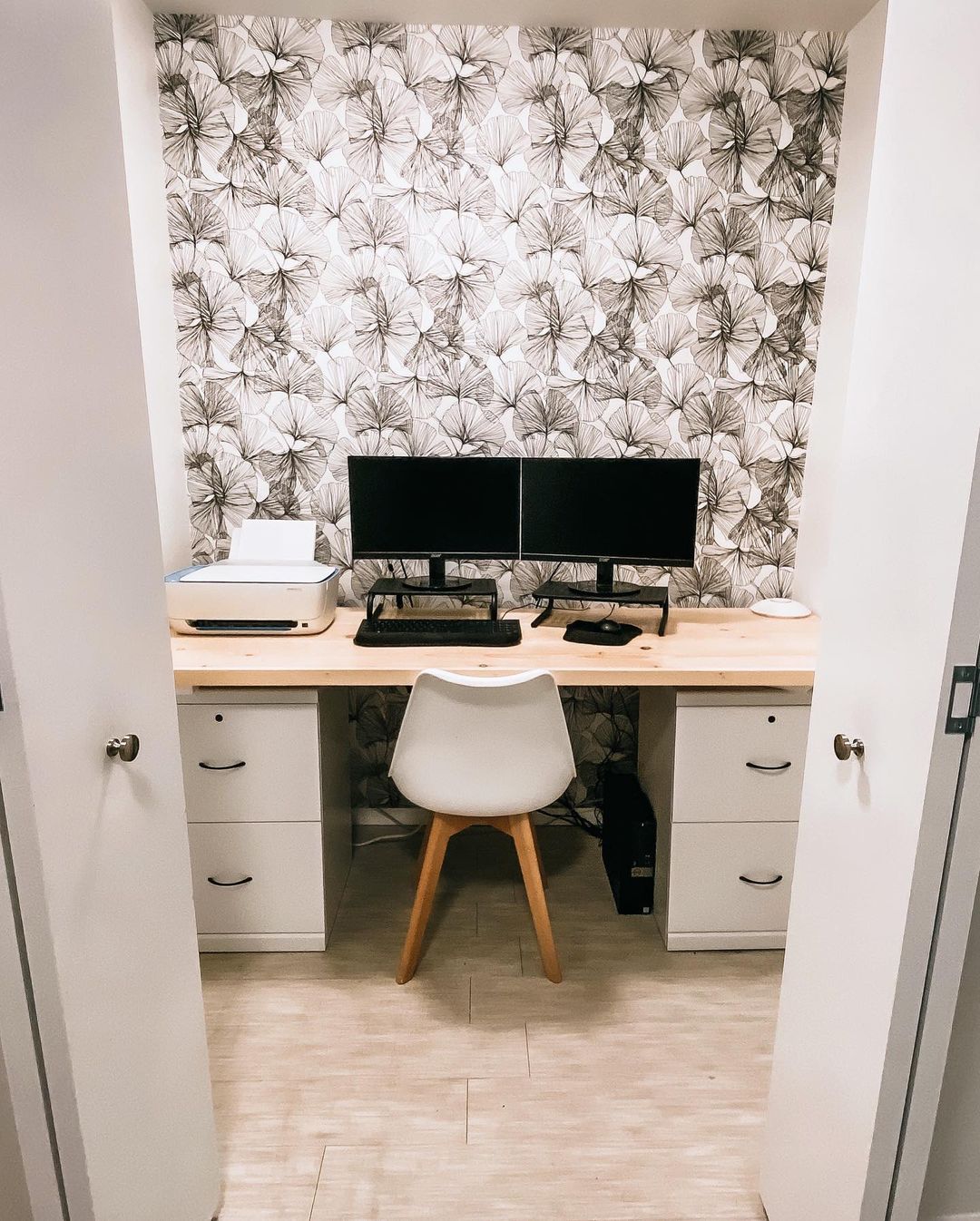 Handwoven Rug
Unique touches from the handwoven rug to the wood-lined walls may make you never want to work outside of the home again. This light and bright space has lots of personality, with plants situated on stacks of books, a woven bag hanging from the wall, and a distinctive cabinet to hold the printer.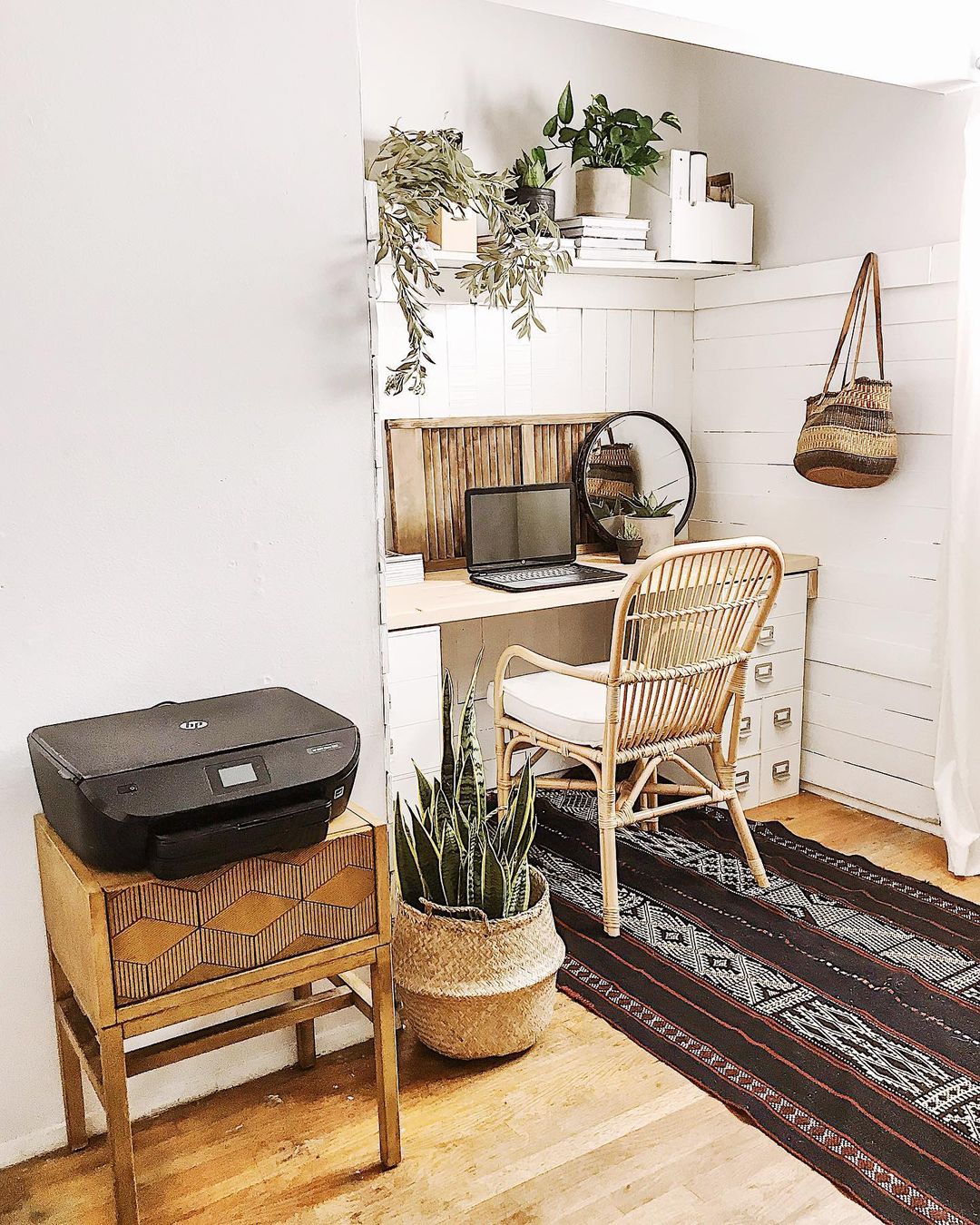 Coordinating Wallpaper
This little workspace was created on a budget of less than $100. The walls are lined with wallpaper that coordinates beautifully with the rest of the room. Multiple shelves and lidded boxes offer ample storage. A simple wood table offers the perfect work surface.