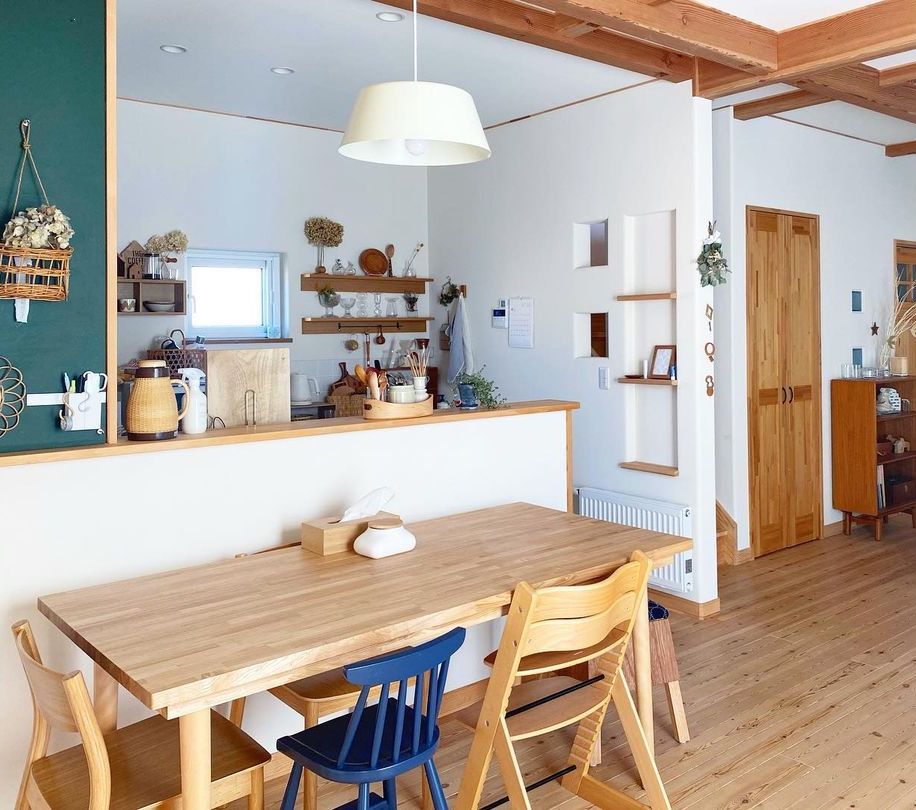 132 Ways to See Japandi Interior Design in Your Next Redesign
Japandi is the result of combining the design traditions of Japanese minimalist and Scandinavian design for spaces that feel like true serenity. By mixing the best parts of these styles, Japandi offers plenty of flexibility with lots of relaxing options. This decor theme is all about intertwining simplicity, comfort, craftsmanship, and embracing the beauty of the imperfect.
The key to creating a Japandi space is integrating the Japanese idea of wabi-sabi and the Scandinavian concept of hygge. Inspired by Japanese minimalism, wabi-sabi is the idea that an object does not have to be perfect to be incorporated into your space. From its Scandinavian origins, Japandi designs are steeped in a special kind of comfort called hygge. Because the minimalist lifestyle is highly valued in Japandi, each item should be chosen intentionally both for its function and sustainability.
What is wabi-sabi?
Japandi design hinges on wabi-sabi, or the idea of seeing perfection in the imperfect. Because the concept of wabi-sabi does not easily translate into English, it can be difficult to understand. It is best fully understood by breaking down each word. "Wabi" can be described as the loneliness experienced in nature while "sabi" can be understood as something ephemeral or in transition. An example would be that wabi is the feeling of peaceful solitude when on a long hike. Sabi is like rust: it is a natural journey that does not last forever. In the context of home design, wabi-sabi shows that there is more beauty in a handmade piece with imperfections than a mass-produced piece that has no imperfections.
Wabi-sabi designs are often asymmetrical or have markings indicative of being made by hand. A piece of furniture with wabi-sabi will have imperfections that tell its story. Encircled by the idea that everything in the world is on a journey, Japandi design welcomes furniture and decor with imperfections that help tell a story.
What is hygge?
Hygge is a Scandinavian concept and all about the feeling of being comfortable, cozy, and feeling whole. It has roots in ancient Norse words that mean "to embrace," as well as "to consider." While hygge includes making comfortable spaces, it also encompasses the idea of making comfortable moments.
Interior design that incorporates hygge is more about how the furniture makes you feel than how it looks. For most people, that means warm blankets, luxurious rugs, and comfortable chairs. Any decor that makes you feel like you are being hugged has hygge, and is embraced by Japandi design.
Simplicity: A Small Step Away from Minimalism
In true minimalist decor, every single item must have a purpose. Because Japandi is inspired by minimalism, some of the same aesthetics hold true. In addition to elevating your space, minimalist decor should serve a purpose while avoiding extra details.
Minimalism is all about paring down designs and simplifying geometry. The first step to getting your space into the Japandi mindset is to find furniture that focuses on geometry. However, Japandi harnesses the Scandinavian concept of hygge here to make sure that a living space is comfortable.
While Japandi may not be as strict as true minimalism, you will need to be intentional when choosing which objects to display. Imagine switching out the figurines on a shelf for functional items like books or candles. Because books and candles have a use beyond their visual value, they are more welcomed in Japandi designs. However, Japandi is fluid and you are able to decide exactly what you find useful.
Japandi Colors, Materials, and Vibes
The beauty of Japandi is that you can decide which tradition to draw from when choosing color schemes. Those who prefer a more Scandinavian appearance will choose neutral color palettes while those who prefer the Japanese tradition will choose one or two deep earth tones. Black is often used as an accent color.
Generally, Japandi design focuses less on the colors and more on the textures. This goes back to the hygge concept that values how inviting a space feels. The same rustic materials used in Scandinavian-themed spaces are used to great effect in Japandi spaces. You will notice lots of warm, heavy blankets to help make hygge moments possible. Japandi materials are often warmer and more textured than those used in the Japanese minimalist tradition.
Both Japanese and Scandinavian cultures have a generous respect for well-crafted items. Valuing craftsmanship means that Japandi spaces often feature handmade pieces. This is also a way to shift to a more sustainable way of living. Instead of lots of mass-produced cheaper pieces, Japandi designs feature a few exquisite handmade objects.
Another feature often seen in Japandi designs is the use of houseplants as a focal point. Because spaces rich in wabi-sabi echo the isolation experienced in nature, bringing the outdoors inside is an important element when creating a Japandi space. This can be in a large potted houseplant, cut flowers, or a single branch in the Japanese style.
Because Japandi style is a mix of two robust design traditions, there is a lot of flexibility for you to decide what nuances of Japandi style are right for your space. Will you stay with the muted Scandinavian palette or experiment with a bold splash of deep blue or rich purple? Here are some examples of this unique style to get you excited about designing your own Japandi space.
Playing with Textures by Dave
Comfortable textures and muted colors are used to make this Japandi sitting area welcoming. The chair's furry upholstery contrasts the branch's stark bareness, illustrating the idea of wabi-sabi. Showing that you can have fun with your Japandi space, the black desk lamp gives the space a vintage, mid-century modern flair.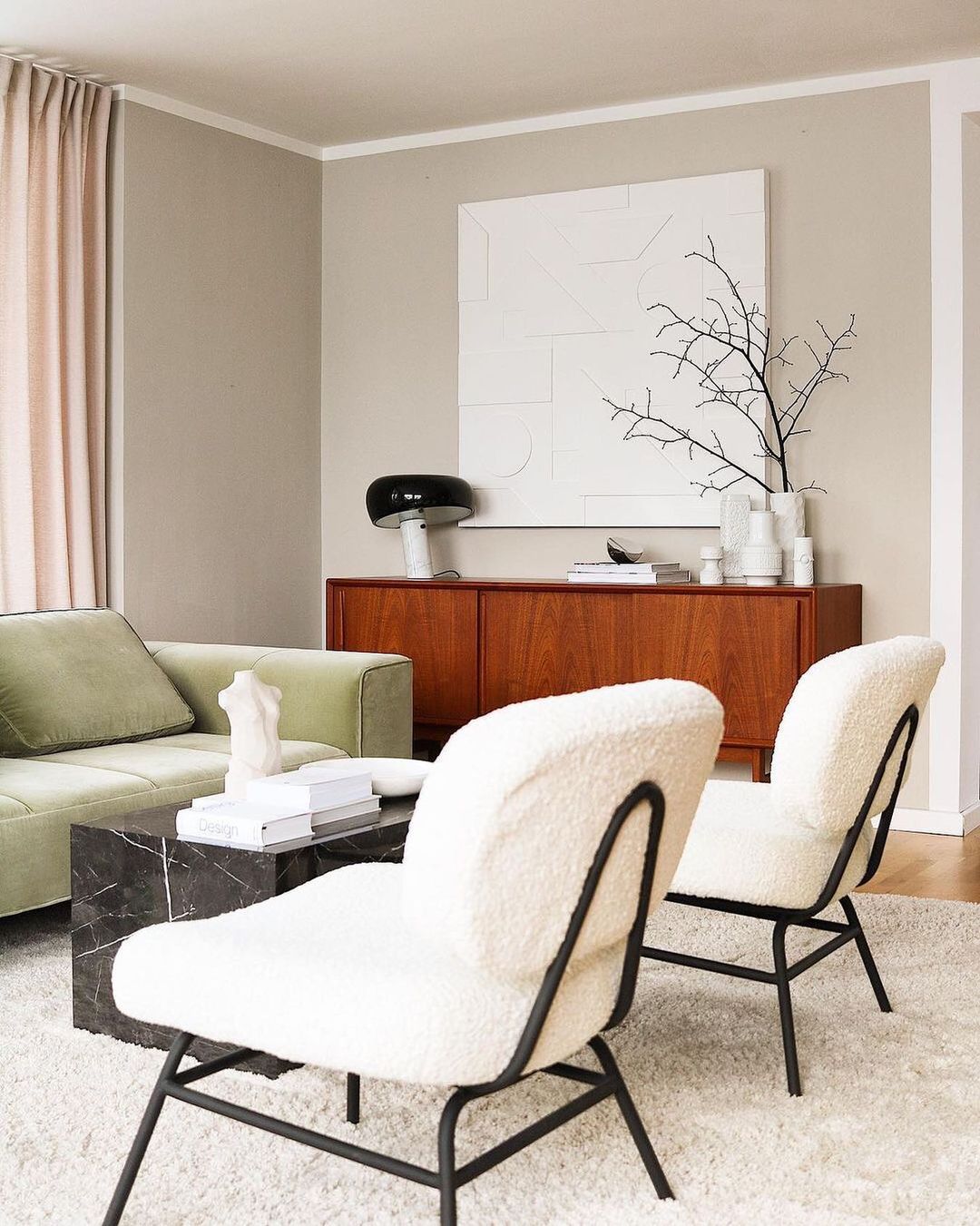 Neutral Palette with Houseplant Focal Point
This bedroom design by Jana incorporates Scandinavian rustic textures with some Japanese-inspired lighting. A tree-like houseplant in a black planter accents the space and draws the eye. A light wood floor and lots of natural light help this bedroom seem large and airy.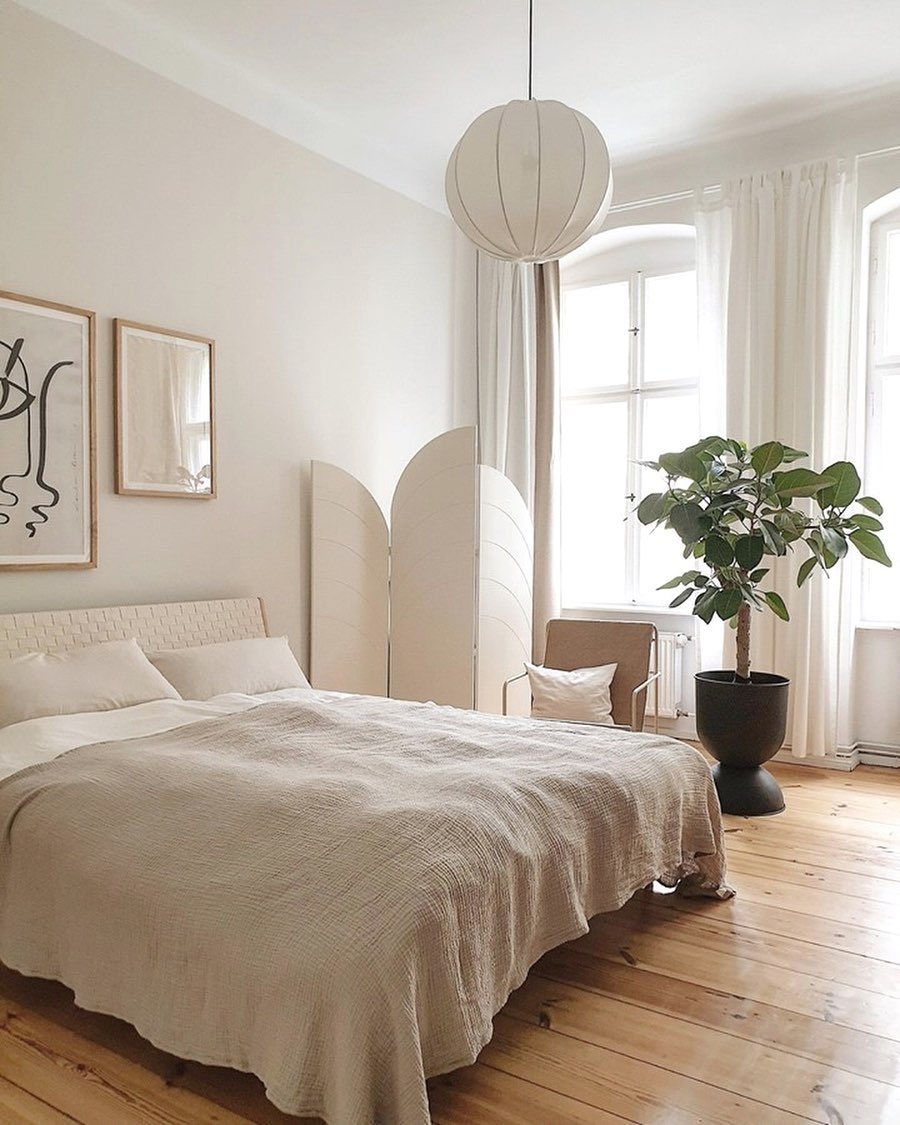 Bold Artwork with Soft Seating
The seating in this room by Fredrik Karlsson looks absolutely relaxing. Notice the soft blanket draped over the couch to make those hygge moments possible. The eye-catching artwork and slatted table charge this space with energy while offering visual contrast.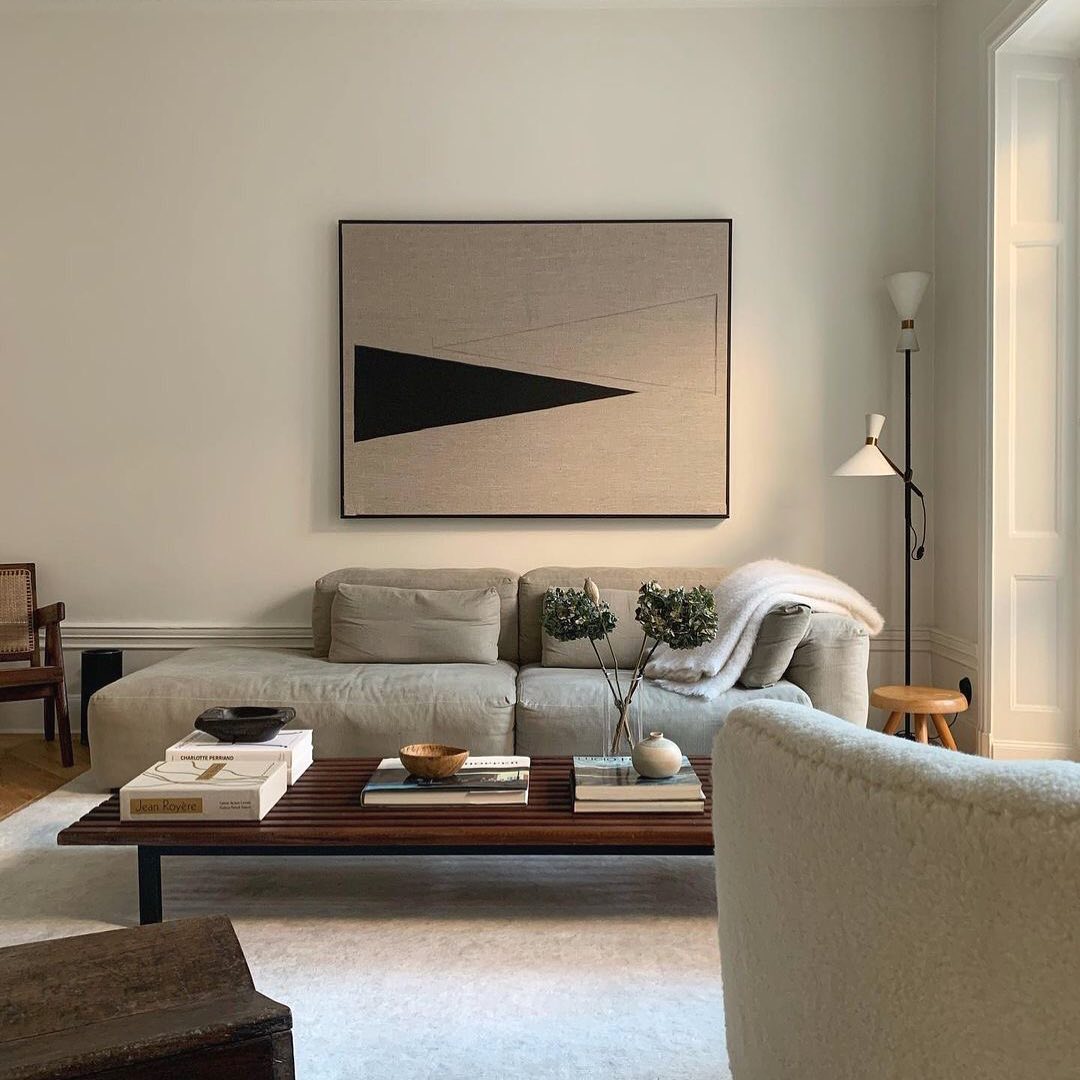 Pinwheels with a Cactus
A palette of blonde wood, green cactus, and white gives this space a serene je ne sais quoi. Asymmetrical lights reminiscent of wabi-sabi values pair with symmetrical pinwheels to make this dining room designed by vtwonen a feast for the eyes.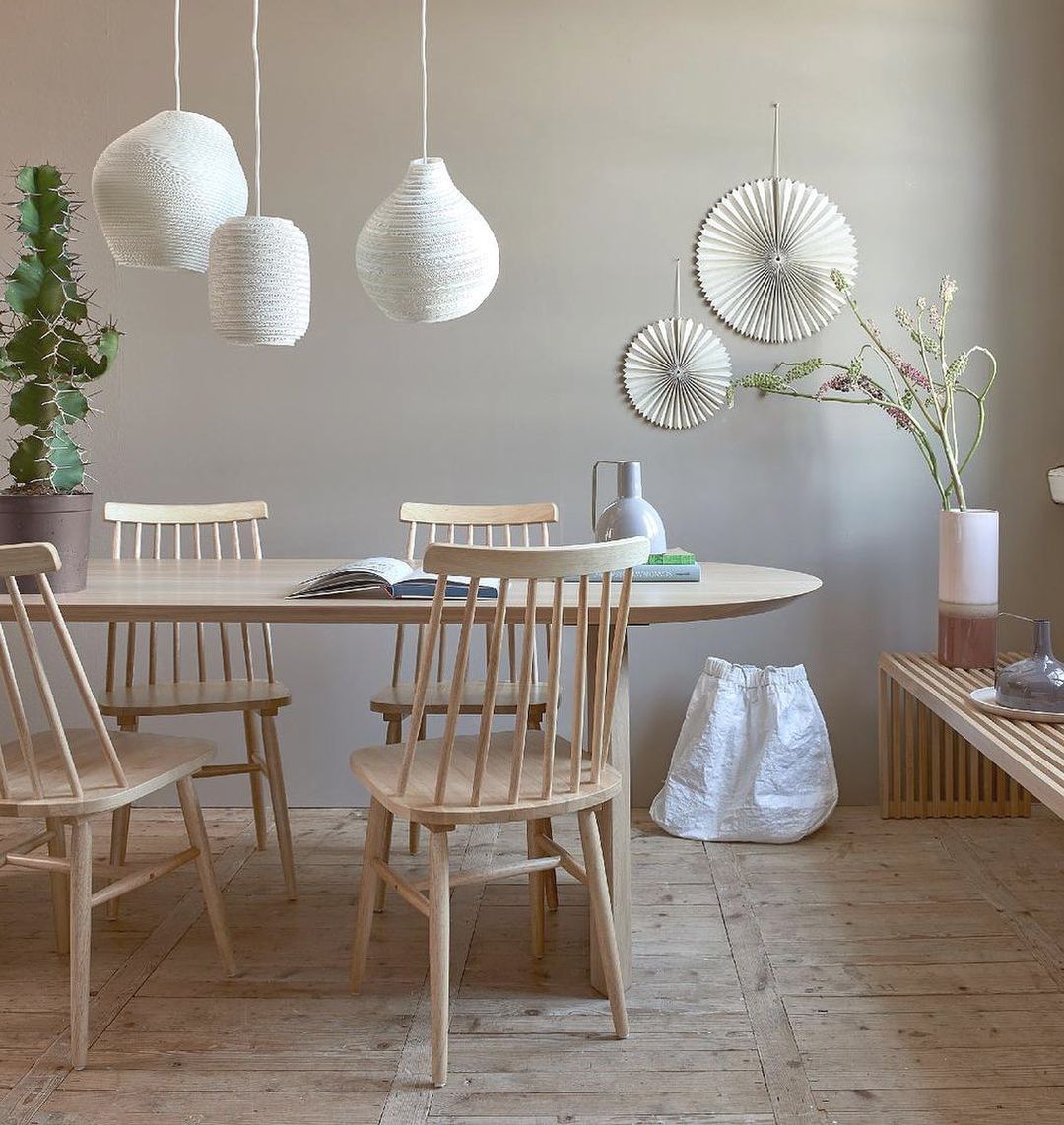 Soft Austerity by Marie-Astrid Pelsser
This space contrasts hard lines with soft seating for maximum Japandi effect. Wooden slats emphasize the wood's grain while plump pillows highlight the overstuffed couch. For extra hygge, a warm blanket is draped within easy reach of the couch.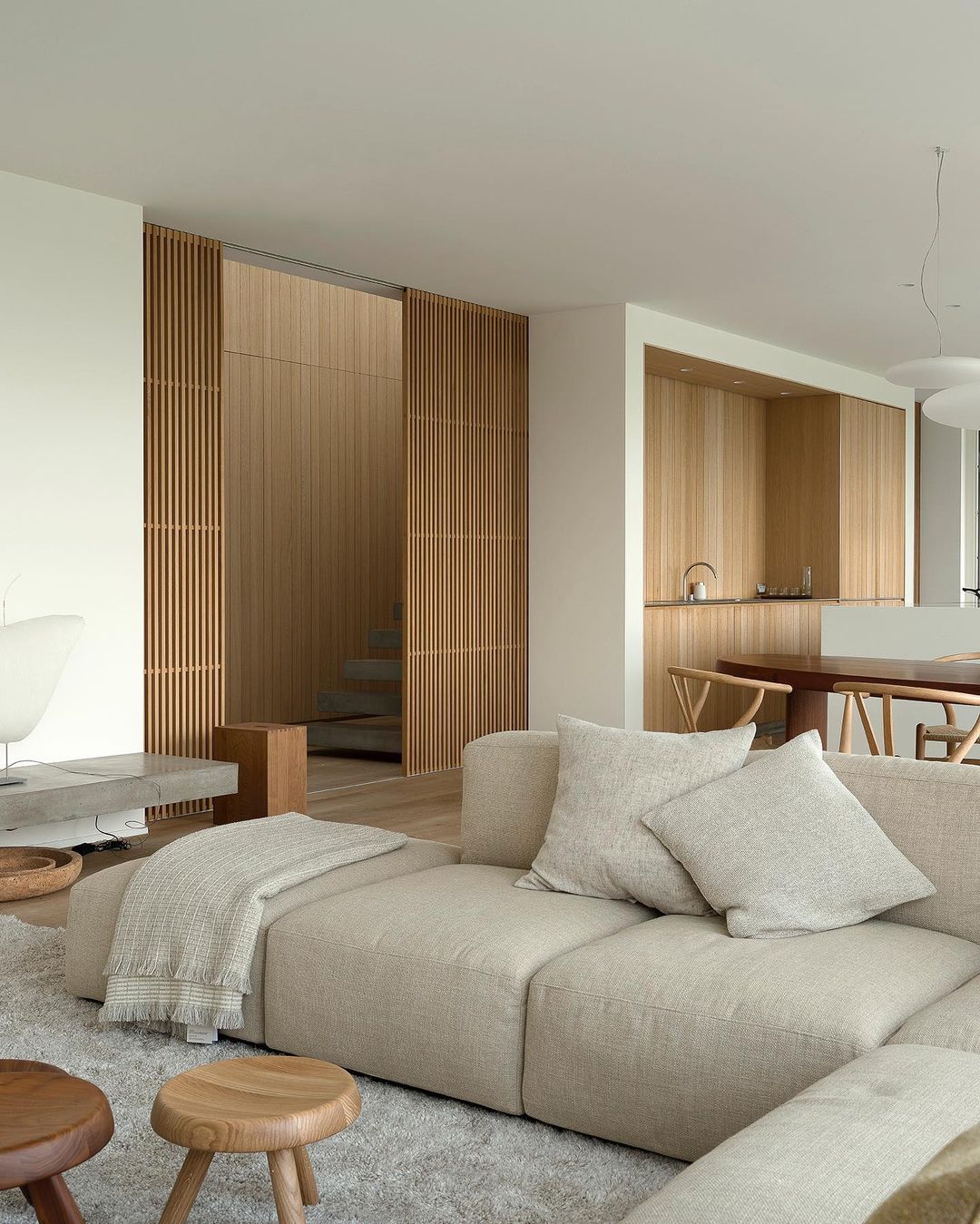 Accent Rug and Dramatic Lantern
Rich, rustic textures envelop this space to make it feel inviting. Warm colors and a heavy blanket are inviting. Bare branches and an Asian-inspired lantern give this space a true Japandi feel. To draw this space together, Ruth Wellyn designed this seating area with a soft accent rug.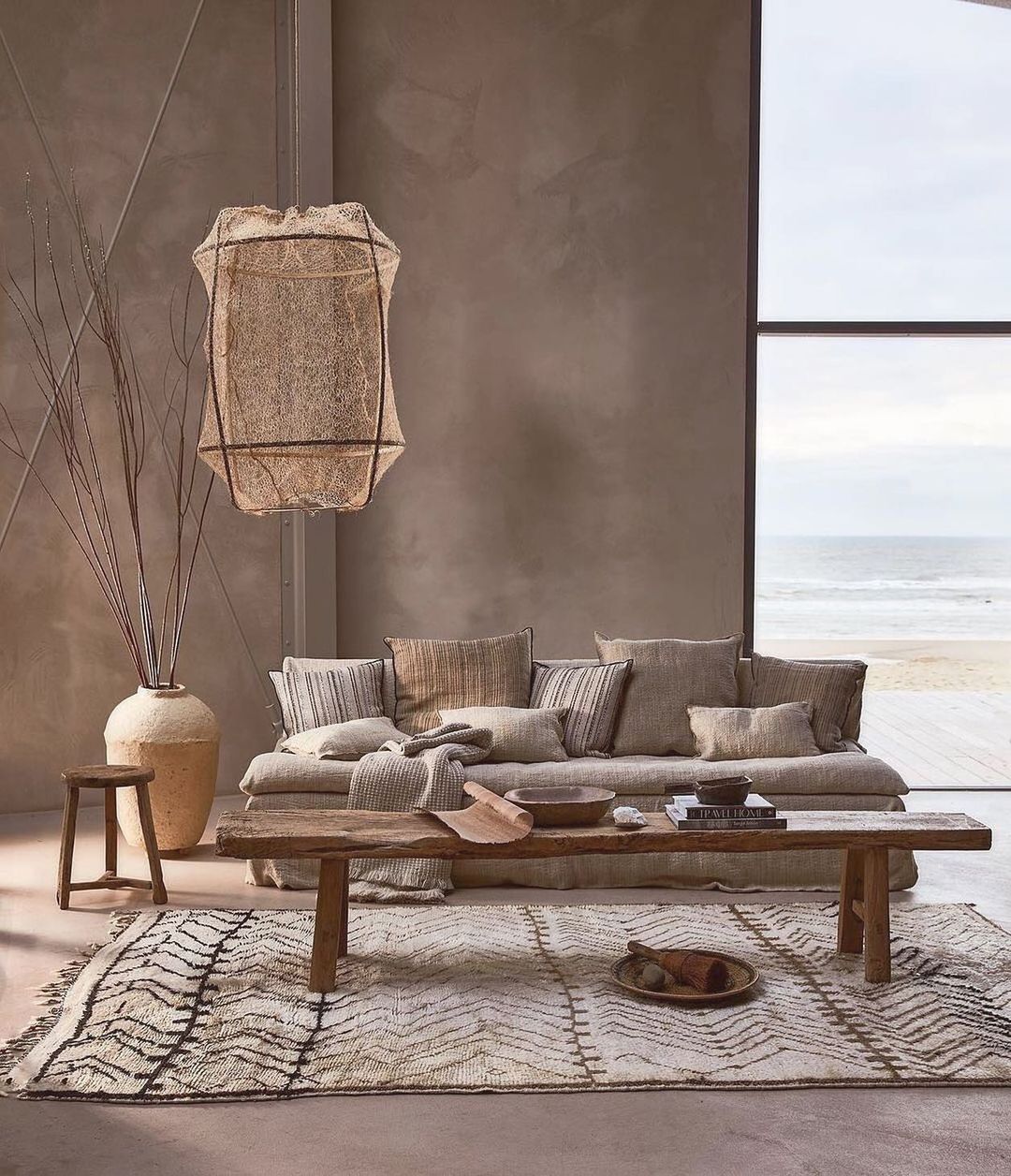 Being Intentional with Books
As Japandi design is dependent on decorative functionality, Pelia Hedeby curated this seating area with color-coordinating books. As you design your Japandi space, a few coordinating books can add sophistication and offer an interesting design element.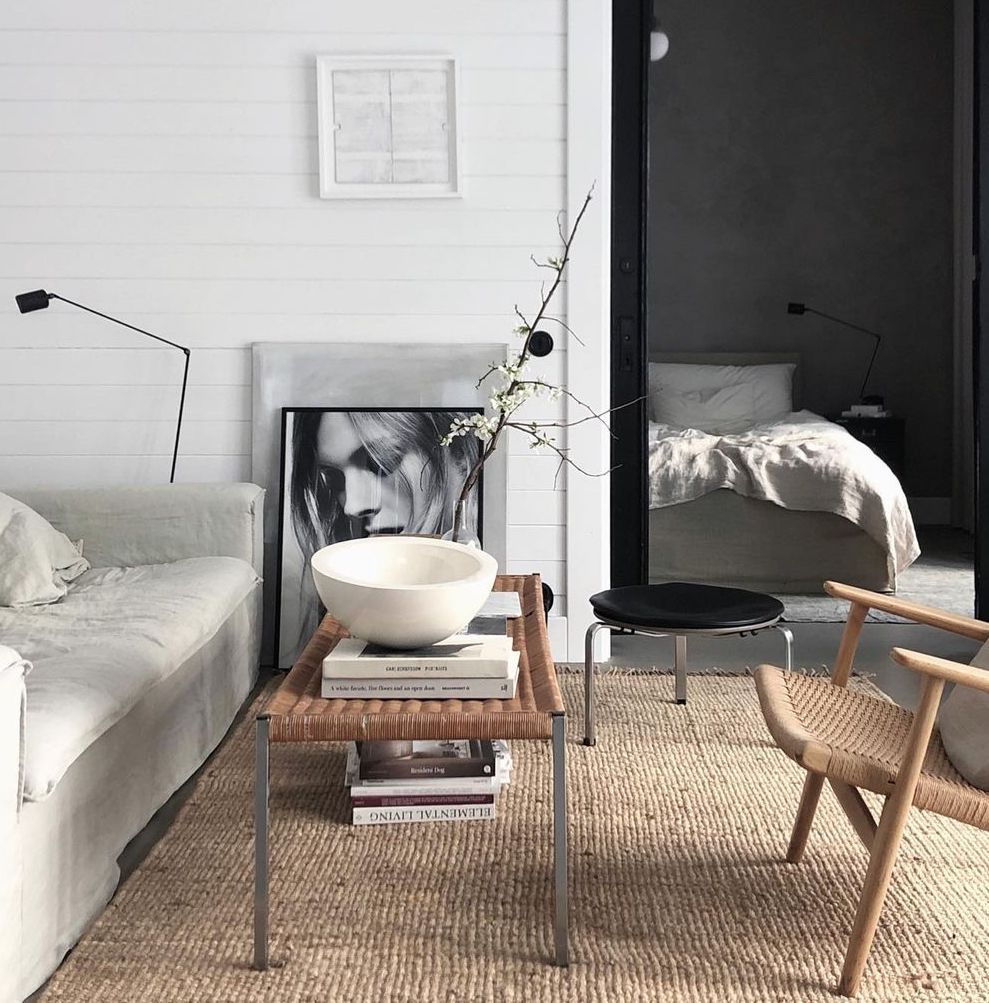 Light, Shadow, and a Blanket
Designed by H&M HOME, this seating area is nothing short of captivating. The restrained palette allows the play between light and shadows to take center stage. To add some visual interest, the blanket contrasts with the couch.