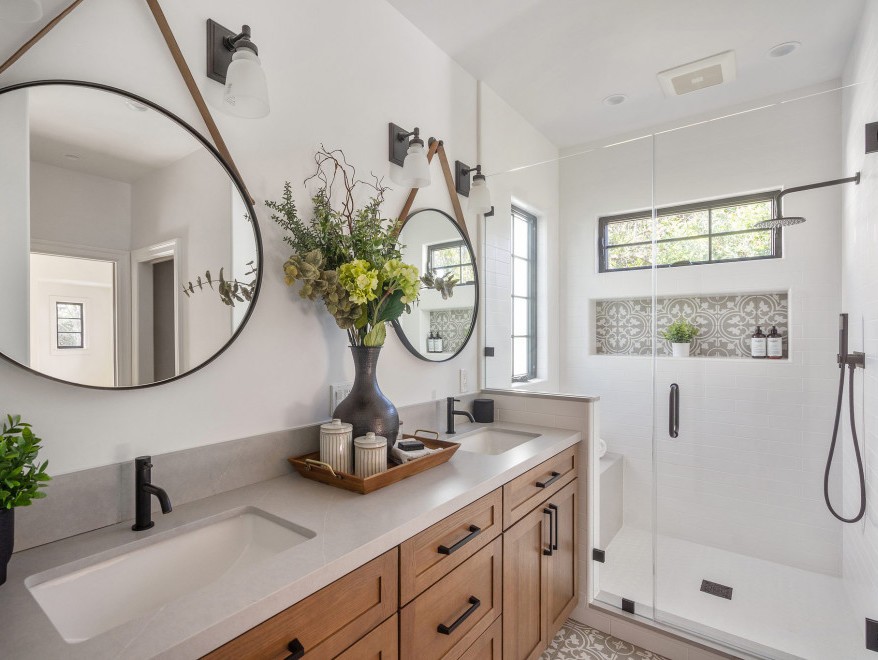 18 Most Current Bathroom Remodel Designs from Popular San Francisco Contractors
Next to a kitchen remodel, your bathroom remodel is the second most expensive room in the house to remodel. However, a proper remodel can add a lot of value to your home and increase the resale value should you ever decide to sell. If you live in San Francisco, here are some fun and exciting bathroom remodel designs from 18 of the city's best contractors.
Cabinets in deep ocean blue, stone tiles in white and sand, white tile walls, and a double undermounted set of sinks set in white quartzite countertops only need the sounds of the ocean to be complete.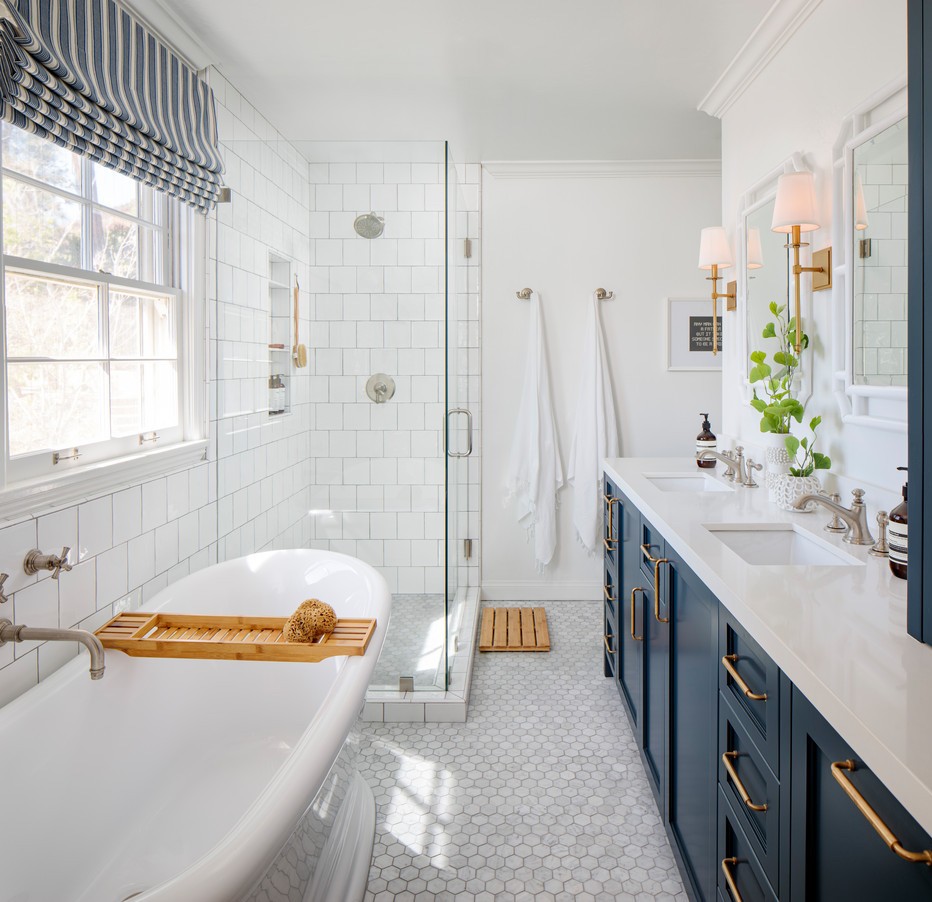 Melinda Mandell Interior Design Blends Modern and Unique Bathroom Features
Subway tile flooring and custom furniture-like cabinets as a free-standing vanity add fascinating modern touches to a smaller bathroom.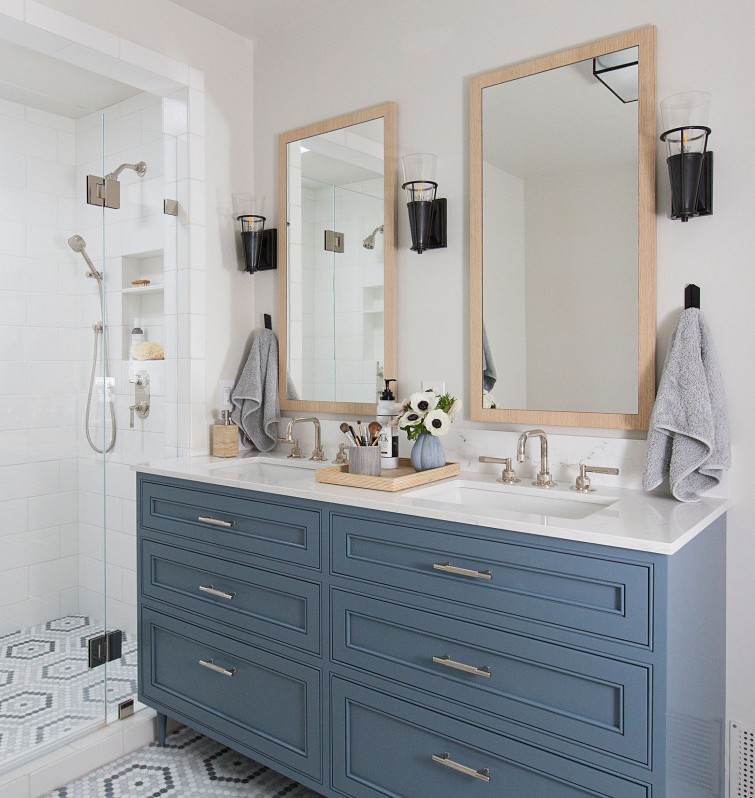 Carrara marble is stunning as a construction material. Its natural variations in patterning mean that no two bathrooms (or other rooms in your home!) are ever exactly alike. Here you can see a marble floor repeated in the marble vanity counter and again in the corner shower floor. Tiles of marble create the walls of the shower too.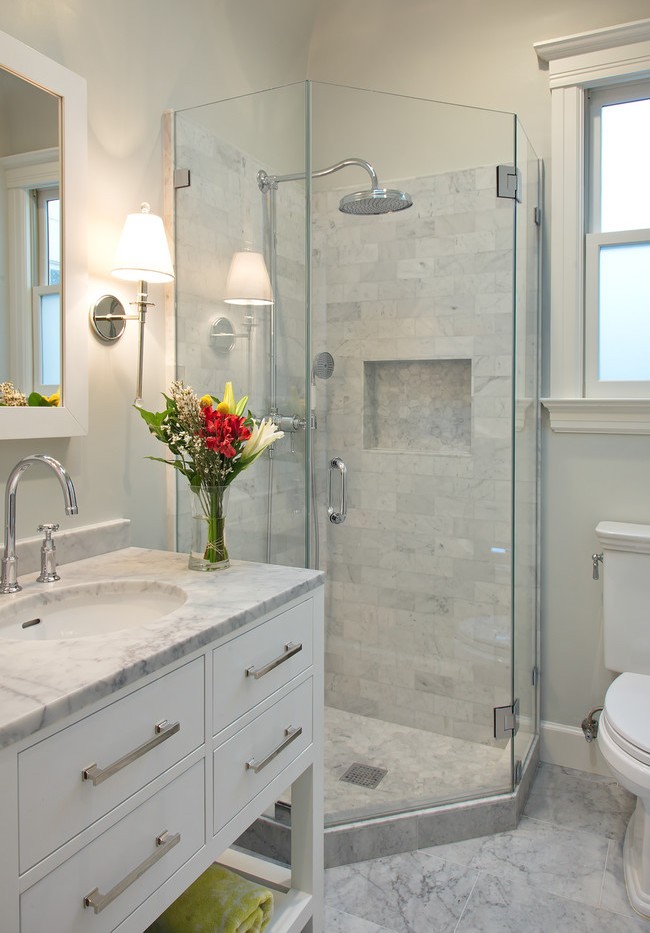 Design elements taken from contemporary, modern, and vintage periods combine. Deep blue cabinets, porthole mirrors, navy octagonal floor tiles, and iridescent pale blue shower tile walls combine for an eye-catching bathroom like no other.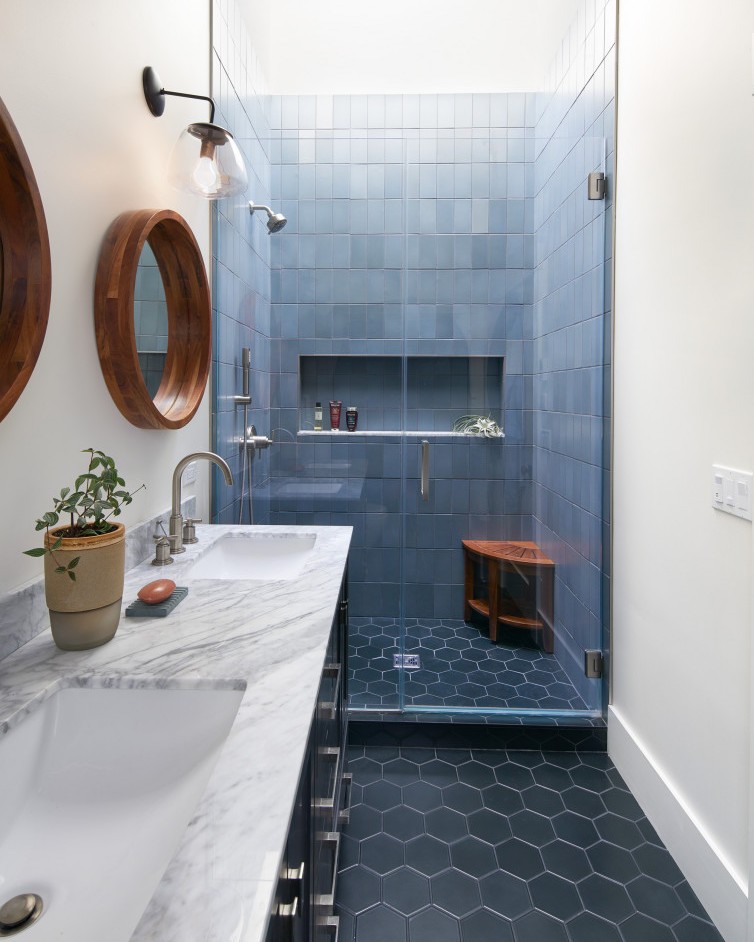 Laura Hunt Design Presents the Shingle Style Bathroom
Shingle style homes had shingles on their faces as well as their roofs. This design style carries over into this bathroom, where the mosaic tile on the floor and in the shower is fascinating to look at. The shower floor is framed in marble, which matches the marble vanity atop deep blue custom furniture-like cabinets.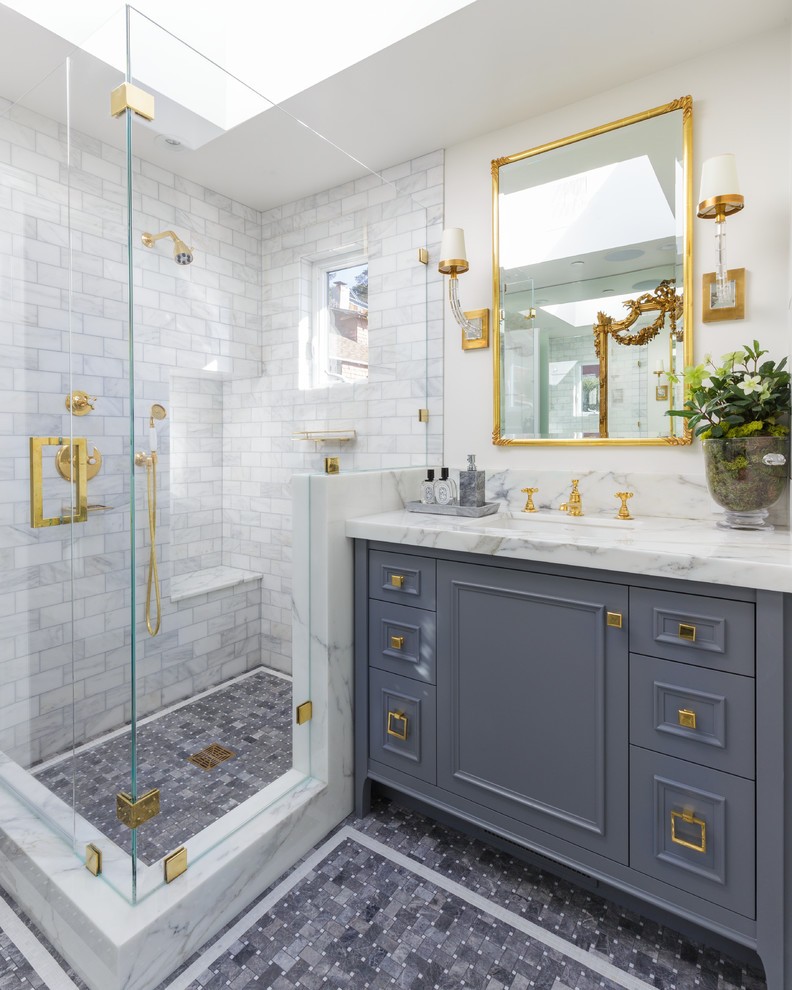 McCutcheon Construction's Vintage Design With Modern Details
Small mosaic tiles in the floor, heavy footed freestanding wooden icebox-style cabinetry, and white walls meets the freestanding modern tub. A separate glass shower stall is erected in the corner diagonally across from the toilet.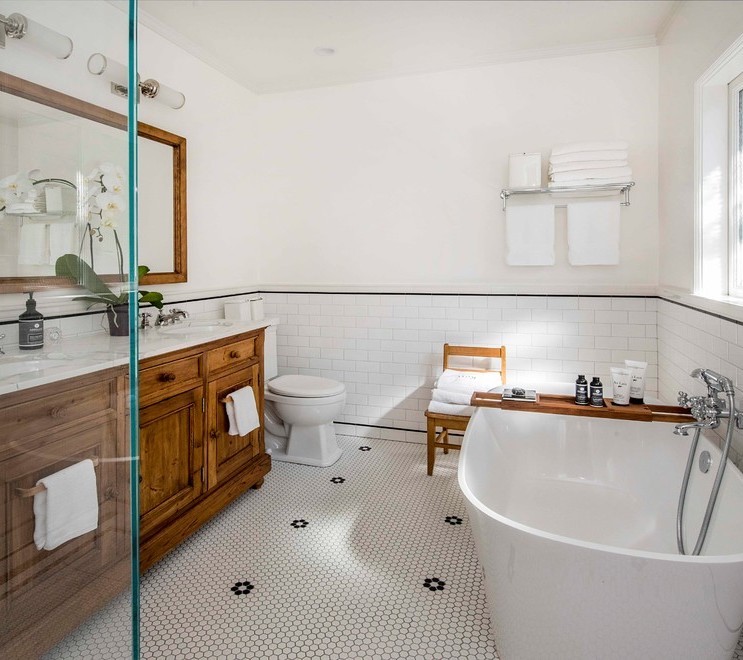 ARC Design Inspires With Their Mediterranean Bathroom
A Tuscany freestanding tub sets atop a beautiful wood floor. The wall-mounted double sinks are reminiscent of vintage 1940's era Greek or Italian sinks. Exposed wood beams overhead are even more striking with Mediterranean blue paint on the bare ceiling spaces in between.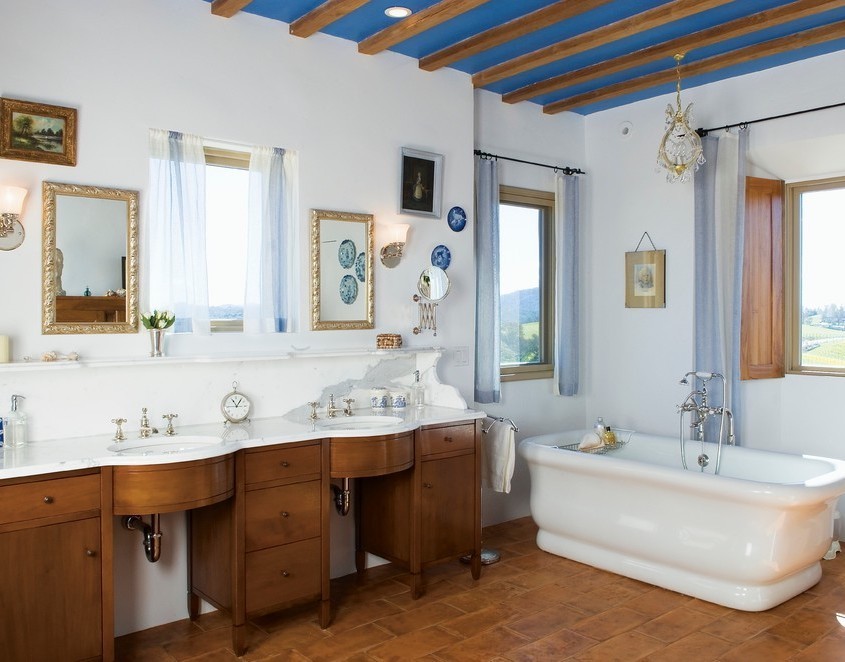 Craig O'Connell Architecture Tessellates Marble Floors for Visual Interest
Marble is beautiful in and of itself, but when contractors install a marble floor in a unique tessellated pattern, it becomes something more than just marble. Inspired by 1950's vintage marble floors, the floor in this bathroom isn't the only striking feature. The deep mahogany purple walls, flat-faced floating wall cabinets and hinged glass shower door with wood slat flooring makes this bathroom a very intriguing space.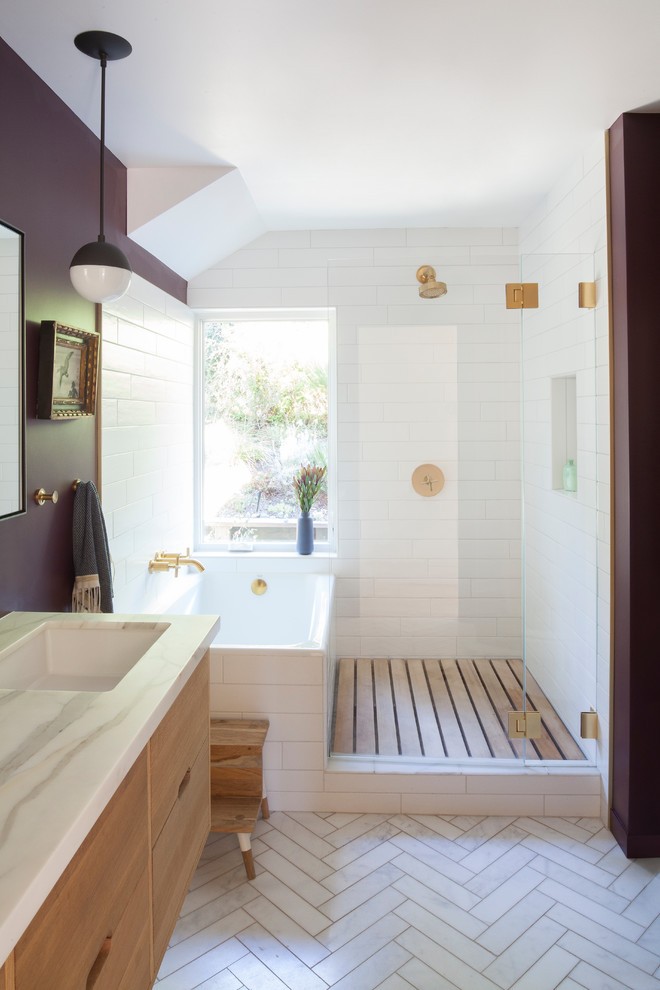 Spanish Meets Mediterranean in This Alina Druga Interiors Remodel
The Tuscan tiled floor has a pattern that is repeated in the round mirrors hanging from triangular leather strips above the two sinks. The gray countertops match the gray coloration in the Tuscan floor tiles. The whole design harmonizes, even though some components are more Spanish than Mediterranean.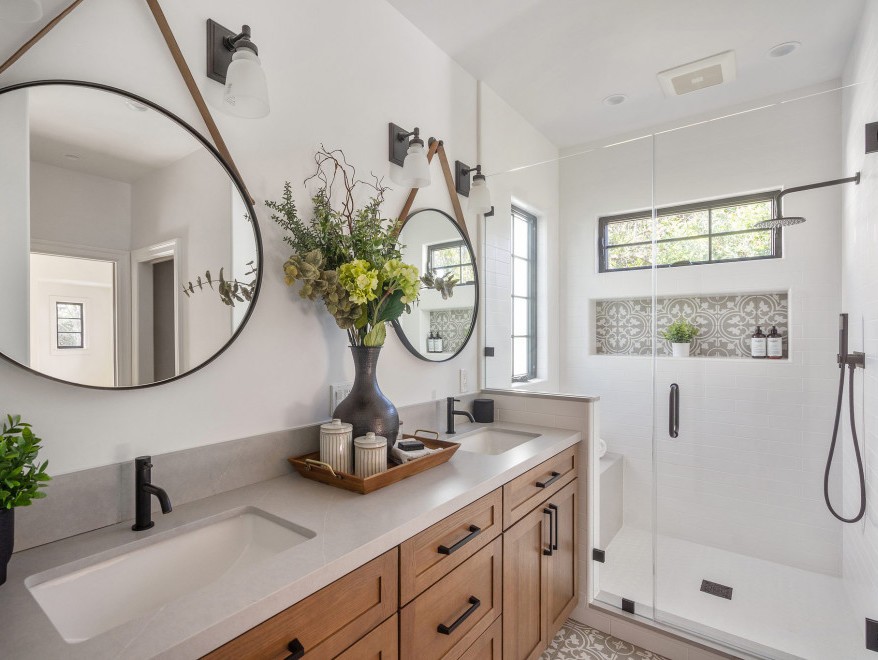 Shades of Green and White Pretty up This Jeff King and Company Bathroom Project
Green in bathrooms is coming back, but in surprising and beautiful ways. Hints of green swirl through the marble countertop, while rectangular green tiles in all different muted shades line the shower walls. The white mosaic floor stretches underneath the floating, light-colored, mission-style vanity cabinets.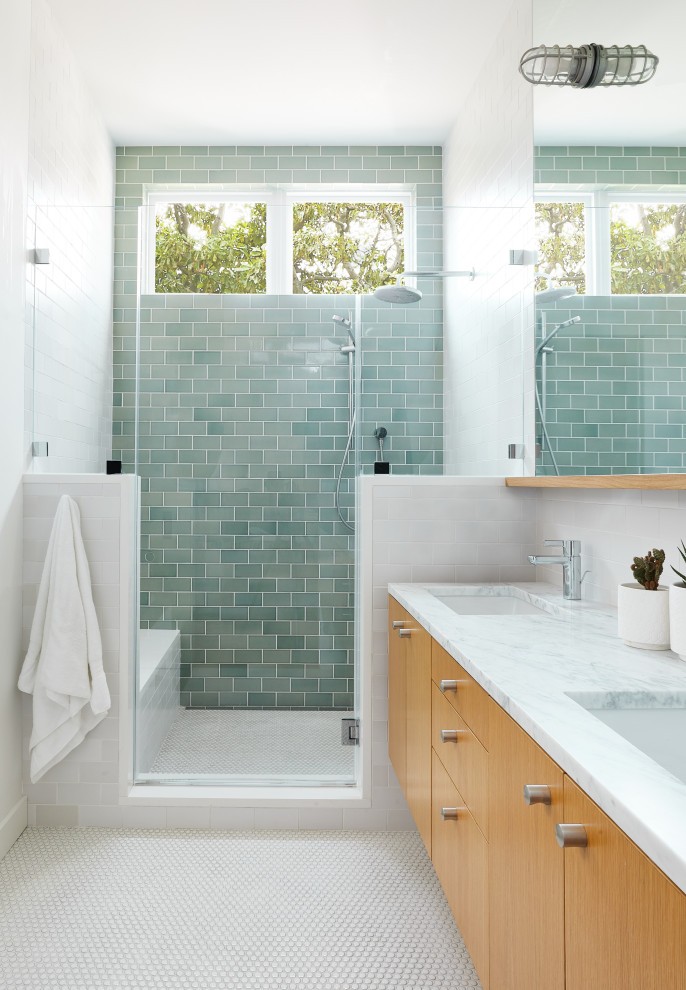 Studio Alle Squeezes Extra Features Into the Bathroom
A compact toilet is mounted to the wall to create the appearance of more floor space. Black octagonal tiles in a larger size cover the main floor, and smaller octagonal tiles cover the shower floor. A dressing nook was added off of the toilet area.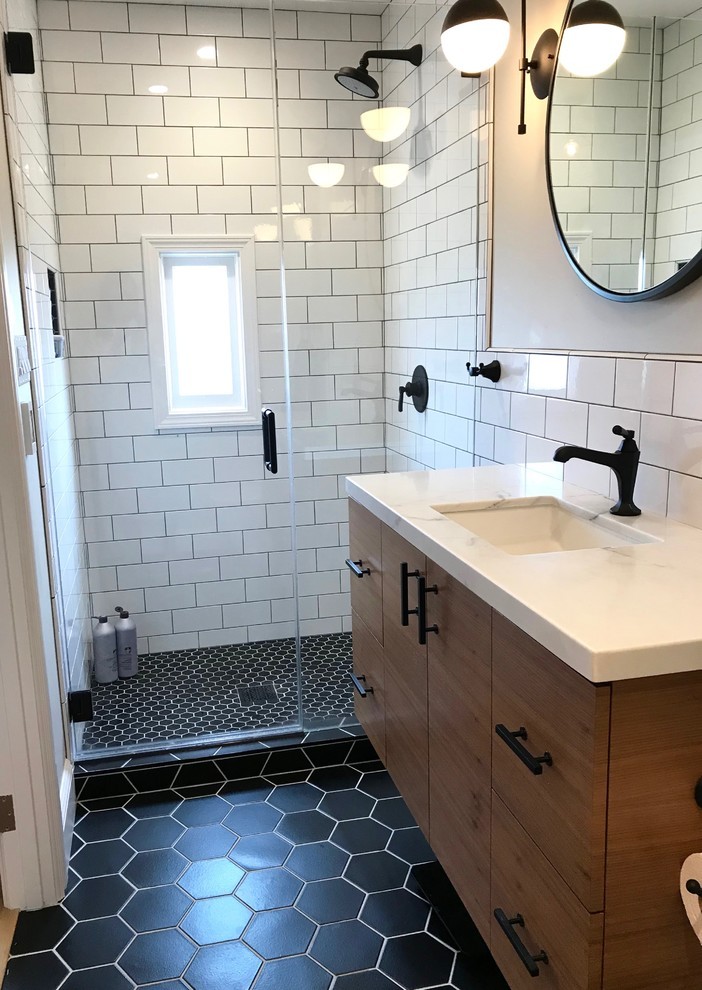 Alice D'Andrea Design Offers You the Contemporary Resort Bathroom
If you have ever visited a posh hotel or resort, there's a good chance that the contemporary bathroom was impressive. This impressive contemporary bathroom design offers gray tile flooring, wall mounted compact toilet, and a very generous double-long shower stall with glass doors.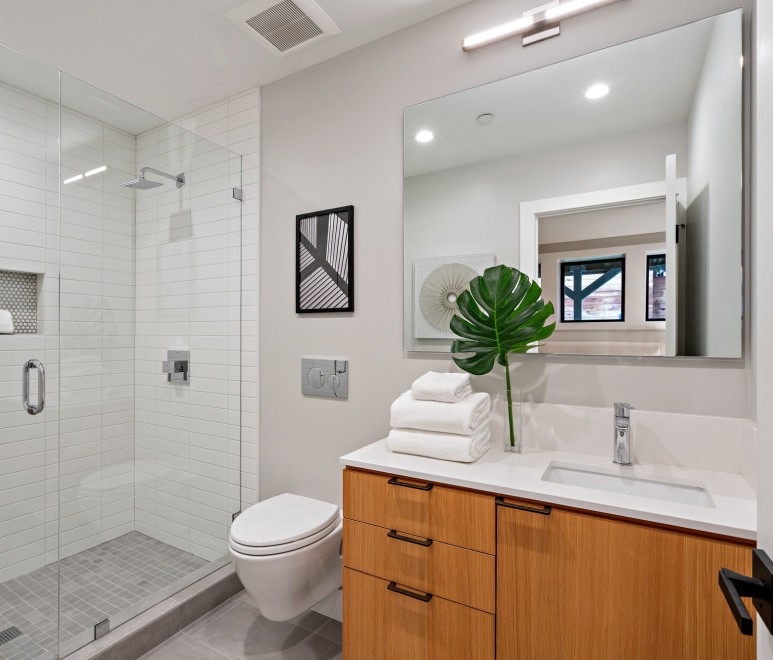 Bathing in a marble tub is said to soothe the most painful muscles. If you want to know if that's true, add a marble tub like this one to your remodel list. Add the marble countertop to the vanity to match, and then use white and gray limestone tiles for the floor to really make the marble stand out.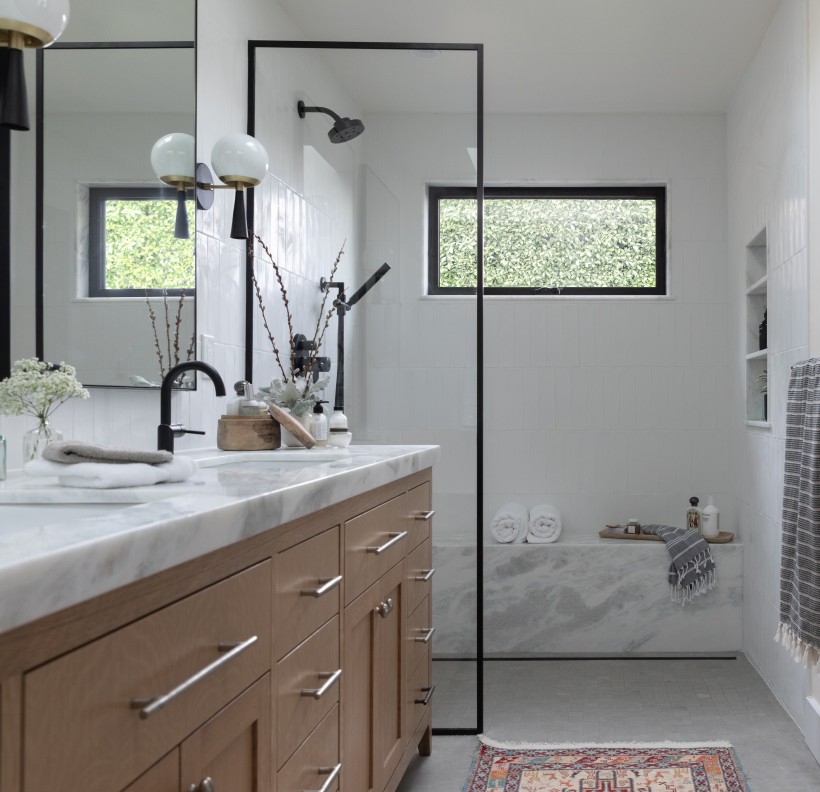 The Large Mirror and Light Tiles Make This Jennifer Tulley Architects Bathroom Look Larger
A small Sonoma farmhouse bathroom gets a do-over with the light-colored shower and floor tiles. Light tiles combined with the enormous mirror reflecting the whole of the room makes a smaller bathroom look much larger than it is.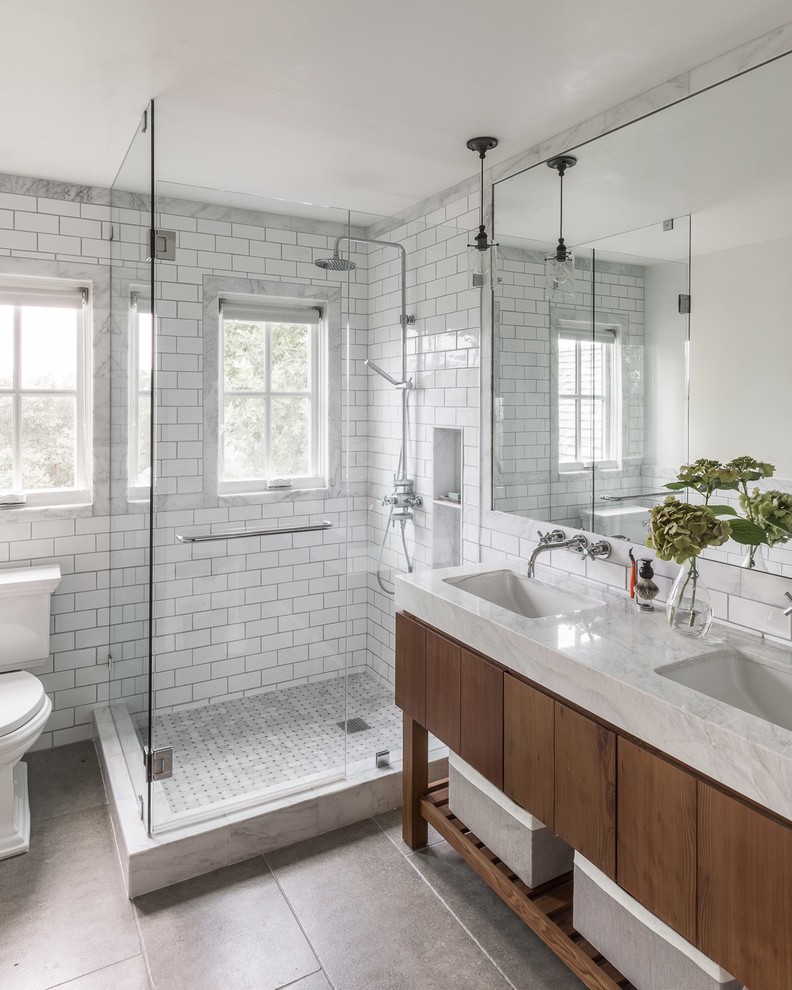 For Minimalist Designs, Consult Caroline Myers Interior Design
This bathroom has a very generous but minimalist cabinetry topped with what looks like marble but is actually white quartz. Soapstone tiles make up the walls in the shower and around the tub. A recessed wall area with mosaic tile backsplash houses your bathing supplies.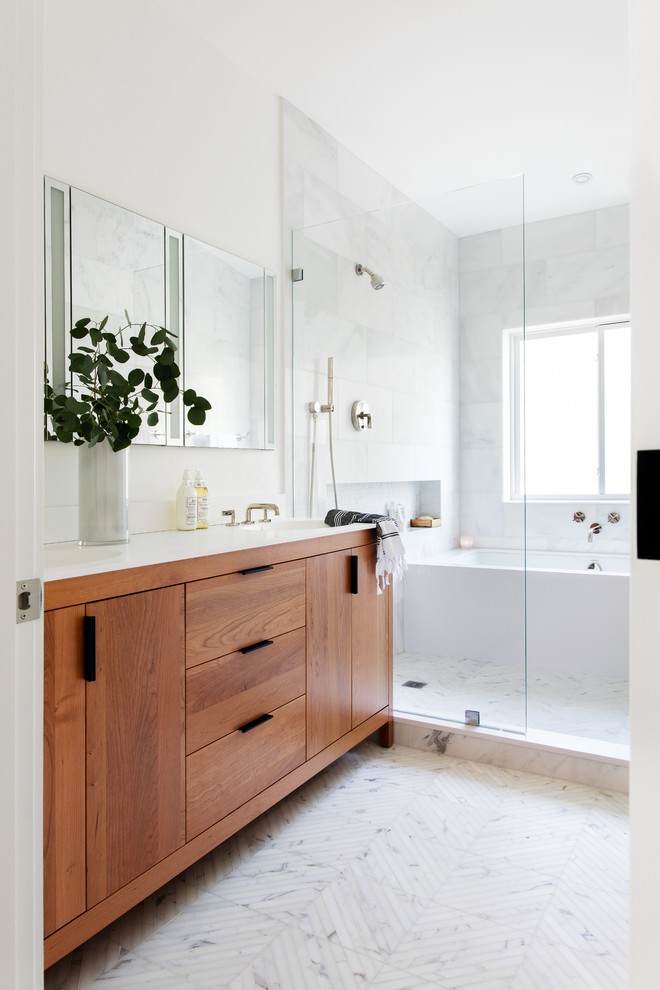 A geometric tri-colored floor tile is combined with the cerulean blue cabinetry to create this very unique look.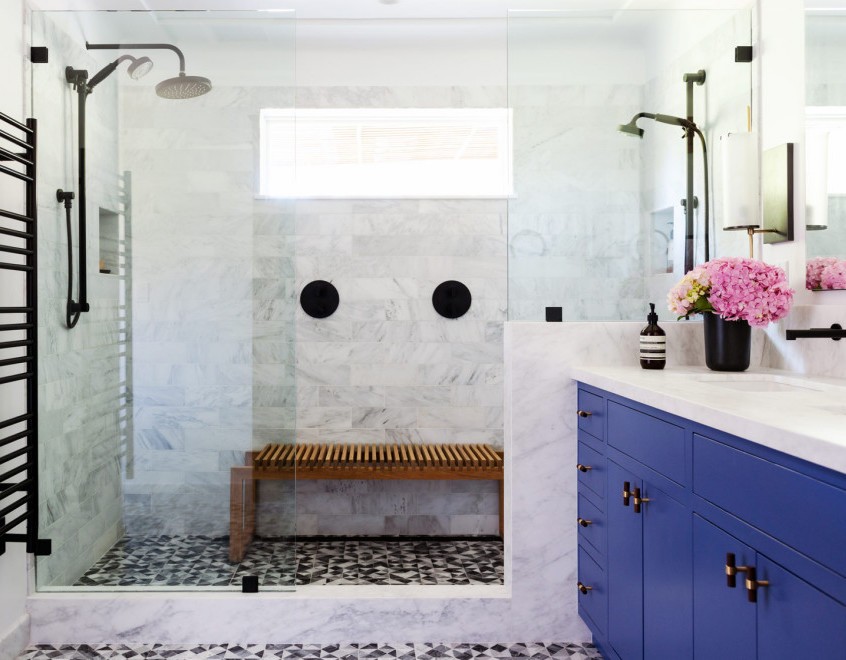 The seventies tile in the shower, the Mediterranean mosaic vessel sinks, and the sand pebble mosaic flooring in the shower definitively defines "eclectic" style.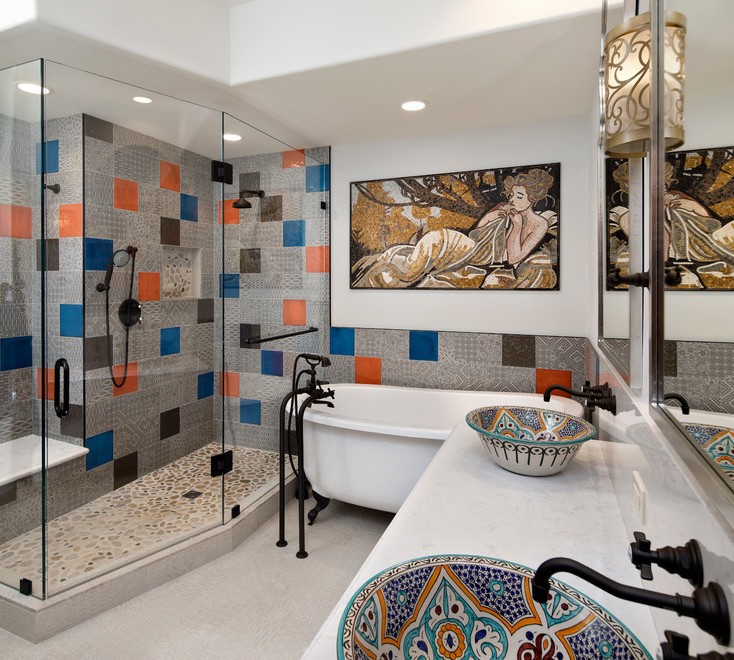 RemodelWest's Everything in Threes
Well, there aren't three toilets or three showers, but there are three sinks in the trough sink, three mirrors above that, and three columns of recessed panel cabinets in front of the sinks. If you love the number 3, this is the right design for you.