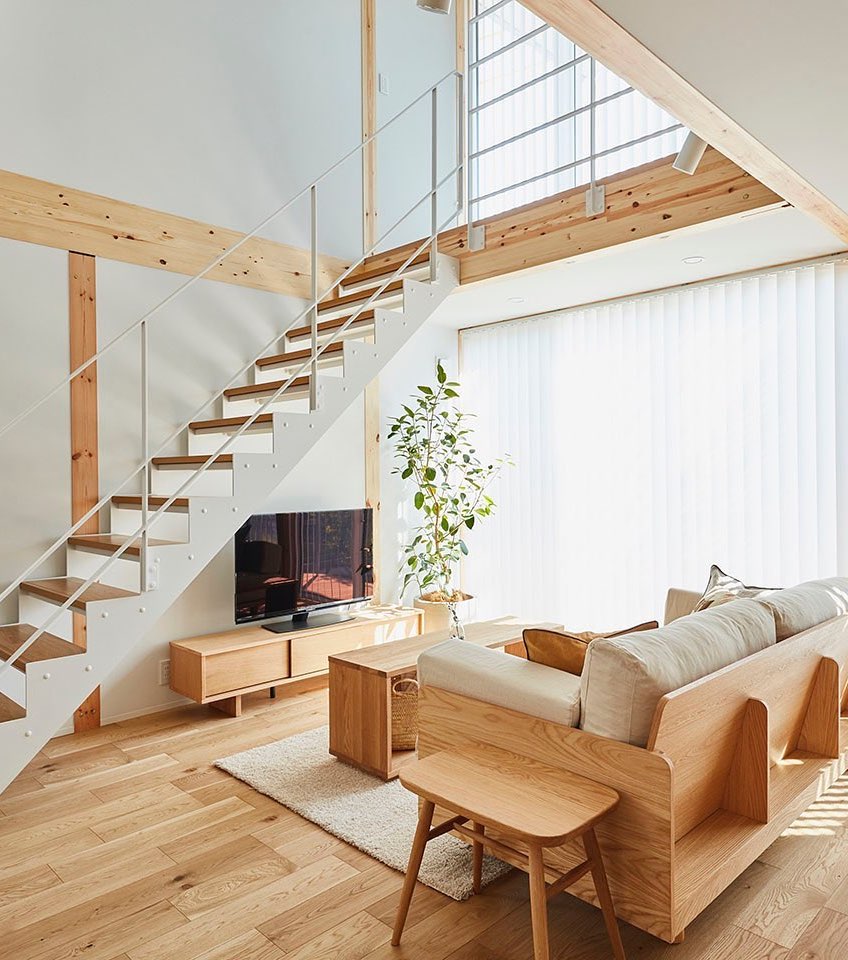 24 Must-Try Japandi Living Room Design Ideas to Brighten Your Home
Ah, Japandi! The beautiful marriage of "Scandi-Japanese" or Scandinavian simplicity and Japanese minimalism. This isn't a flash in the pan idea, but a truly livable sort of home fashion. With plenty of hideaway storage, open spaces, and functional and elegant furnishings, it's hard to not fall in love with this mash-up of styles.
Whether you're here for a new look, a lasting style, or even just a fun and functional way to work out some stress, here are the 24 most trendy Japandi living room designs on Instagram that you just have to try!
Sunday Mood
Here is one living room that really embraces the Scandi-side of 'Japandi'. Rugs in soft, cream tones of different textures, sizes, and shapes make up the floor. A simple couch in pale gray with a warm, tan pillow and blanket set help to blend the rest of the simple room together. A wooden chair with a matching hidden storage table offer extra seating and storage. Wood shelving allows space for wood arrangements and other unique art pieces that bring life and liveliness to the room. A simple black adjustable lamp helps to bring a more centered feel to the casual elegance.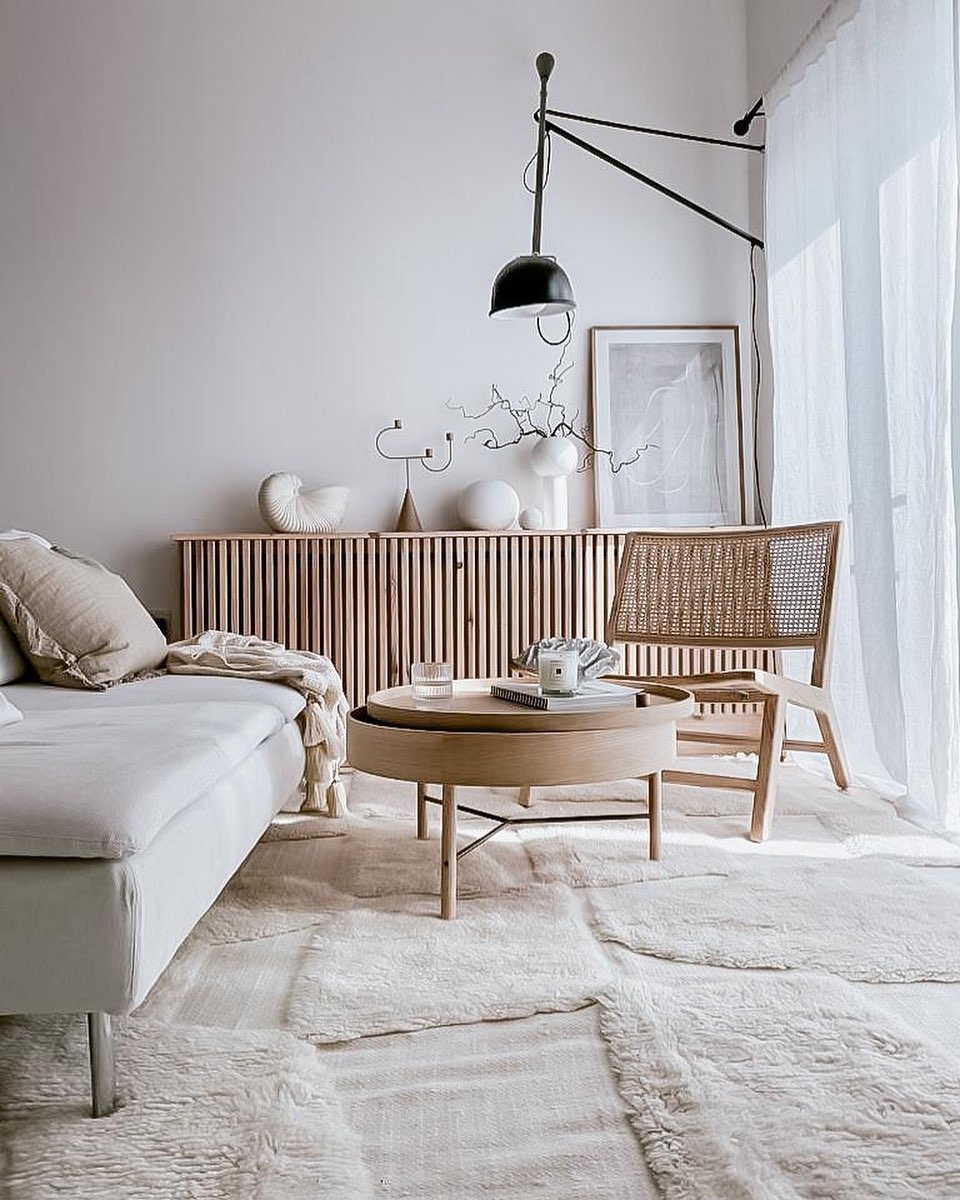 Livingroom Inspiration
Bright, open, and cozy – this Japandi living room offers class and comfort even with small spaces. A large window is surrounded by white drapery, while an eclectic light cover softens the light and offers something more unique. Subtle wood tones are incorporated in the flooring, tables, and mirror. Flower arrangements, throw pillows, and a rug offer more pops of color to help break up this bright beauty.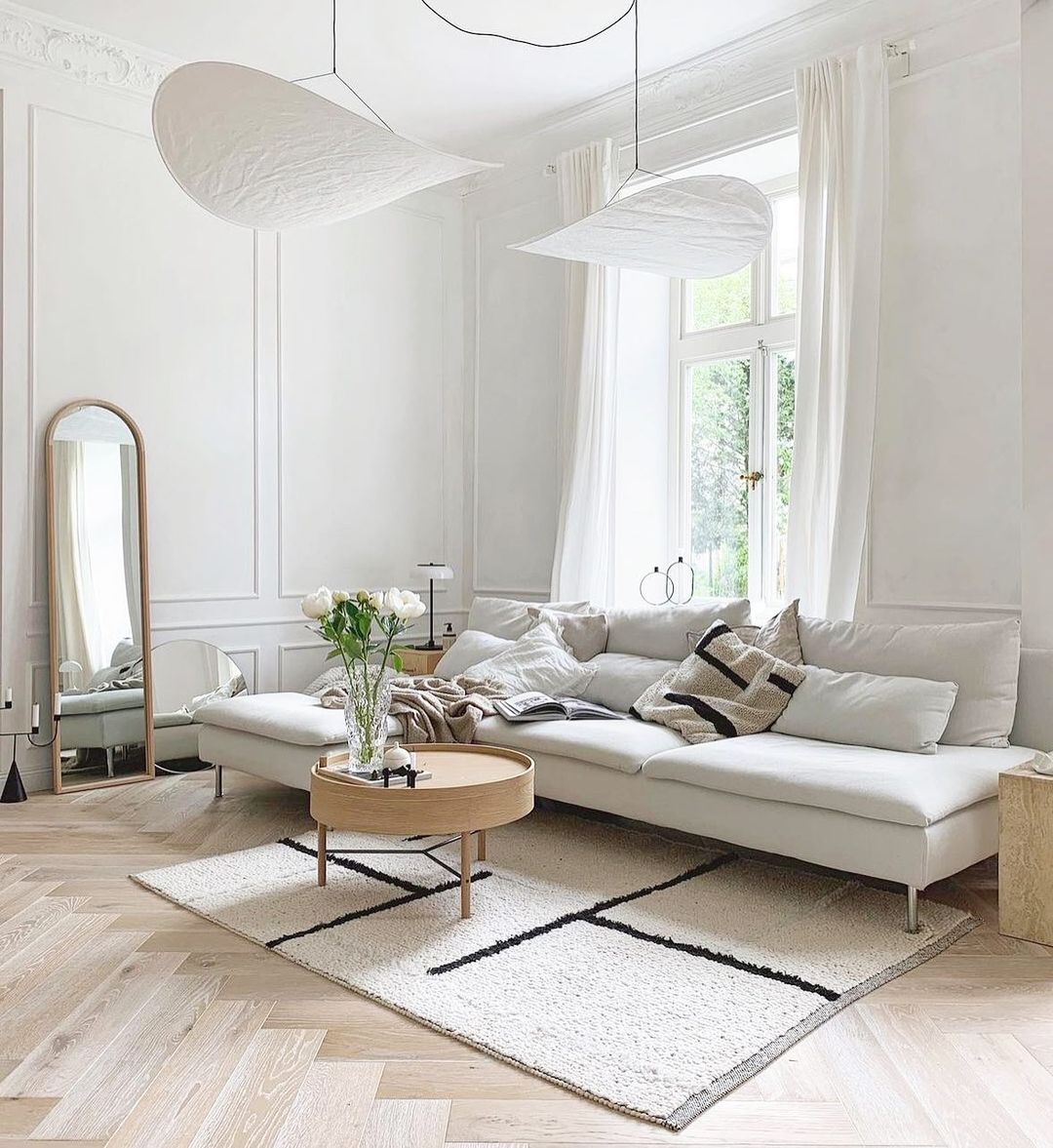 Hallo Sommer, Hallo Neue Woche
This subtle approach to Japandi is both relaxing and upscale. The luxurious and comfortable corner couch is marvelous – but hardly the focal point. Instead, the simple glass-on-gray table with a beautiful, vibrant floral arrangement, encapsulated by different woods and shades of white and creams from the furniture, catches the eye first. Above it, a large avant-garde light cover offers an upscale pop of black.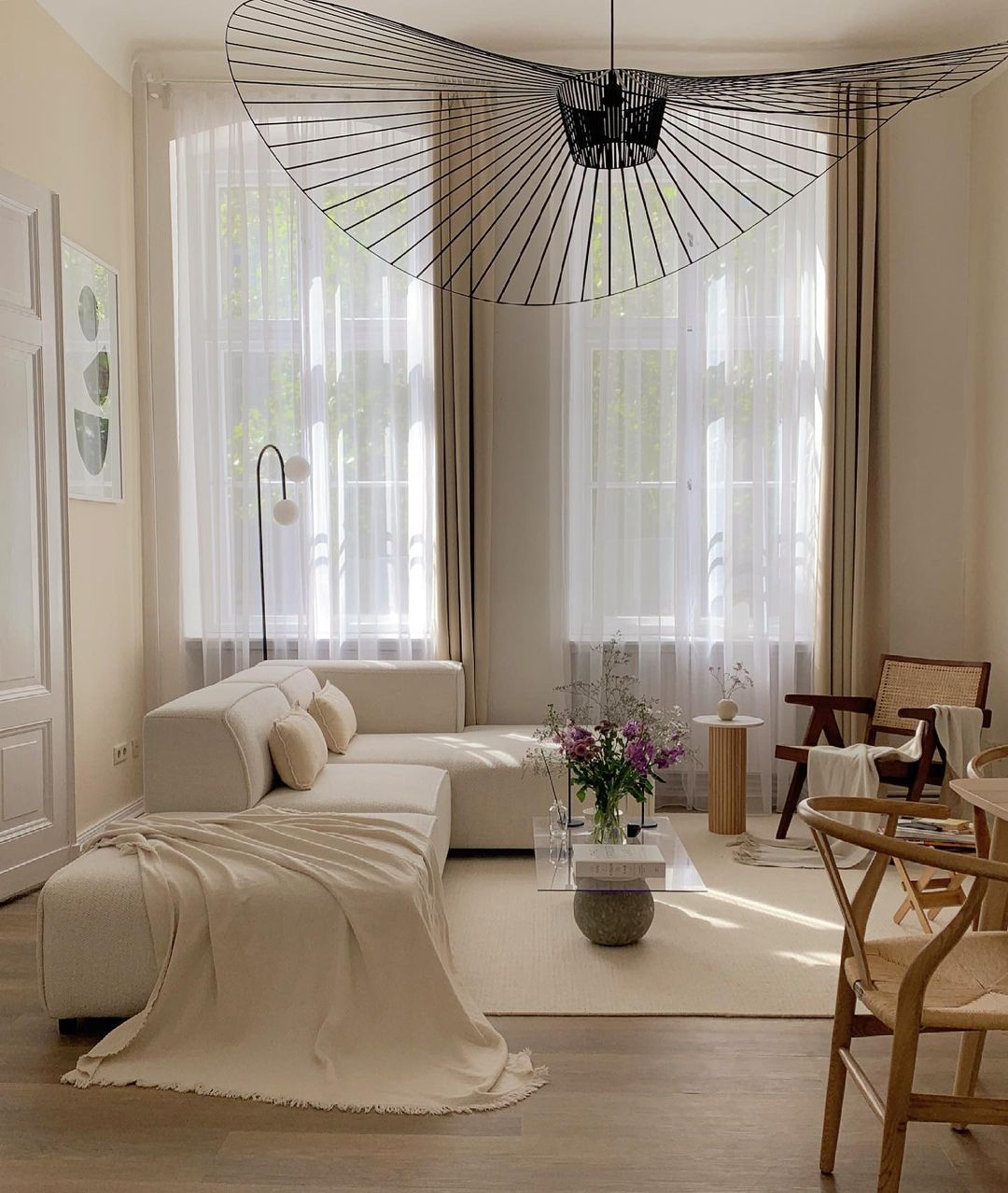 Cloudy Day Shooting
This little living room packs plenty of color! Simple shelving under the TV, storage cubbies and boxes, and side tables and shelving offer plenty of storage space for all your living room comforts (and not to mention, plenty of eye-catching plants)! Upscale lighting adds to the elegance, along with black-framed windows. Throw pillows and artwork help the plant life give this room a truly colorful flair. This is a great solution for those of us who love minimalism but need all of our odds and ends, too.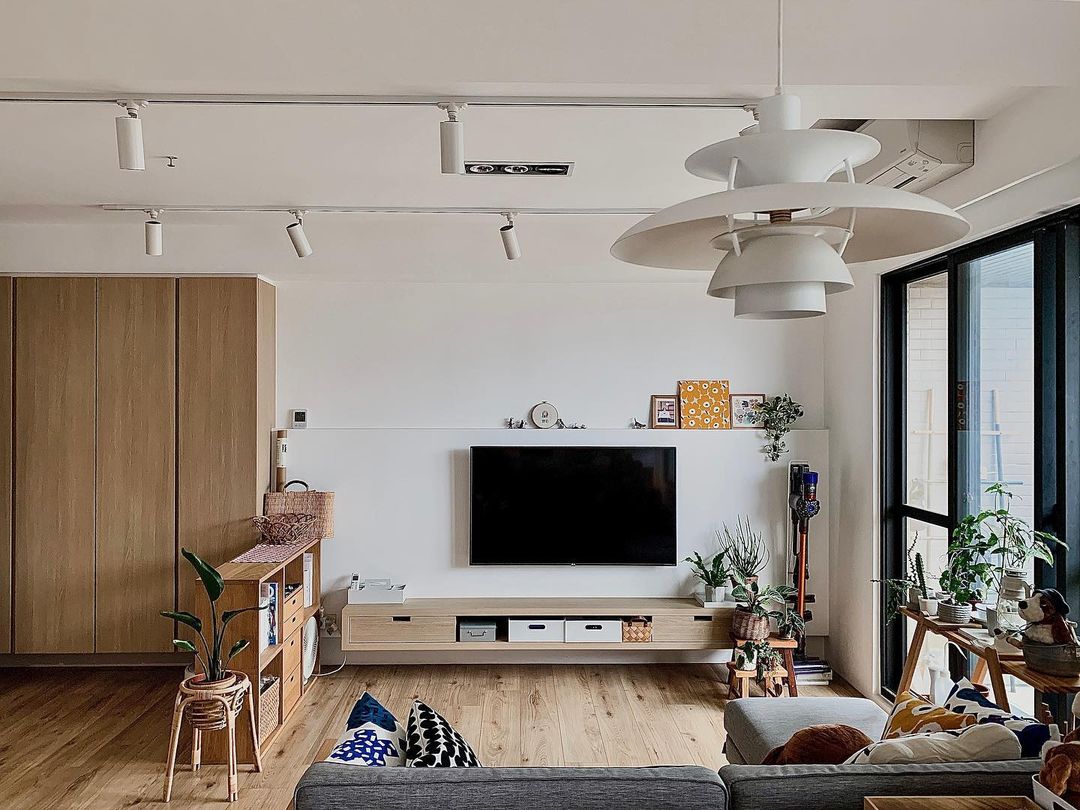 Muji's Wooden House
This is minimalism in its purest form. A TV stand provides storage, and a little bench table near the front door offers a place for pops of life with potted plants – but that's about it. The focal point of this white-on-wood living room is a light tan rug with matching cream floor chairs. A small wooden table offers a place to set your drinks. This simple design gives an air of elegance with subtle lighting and plenty of plant life. At the same time, its basic layout gives you no choice but to keep this beautiful room clean.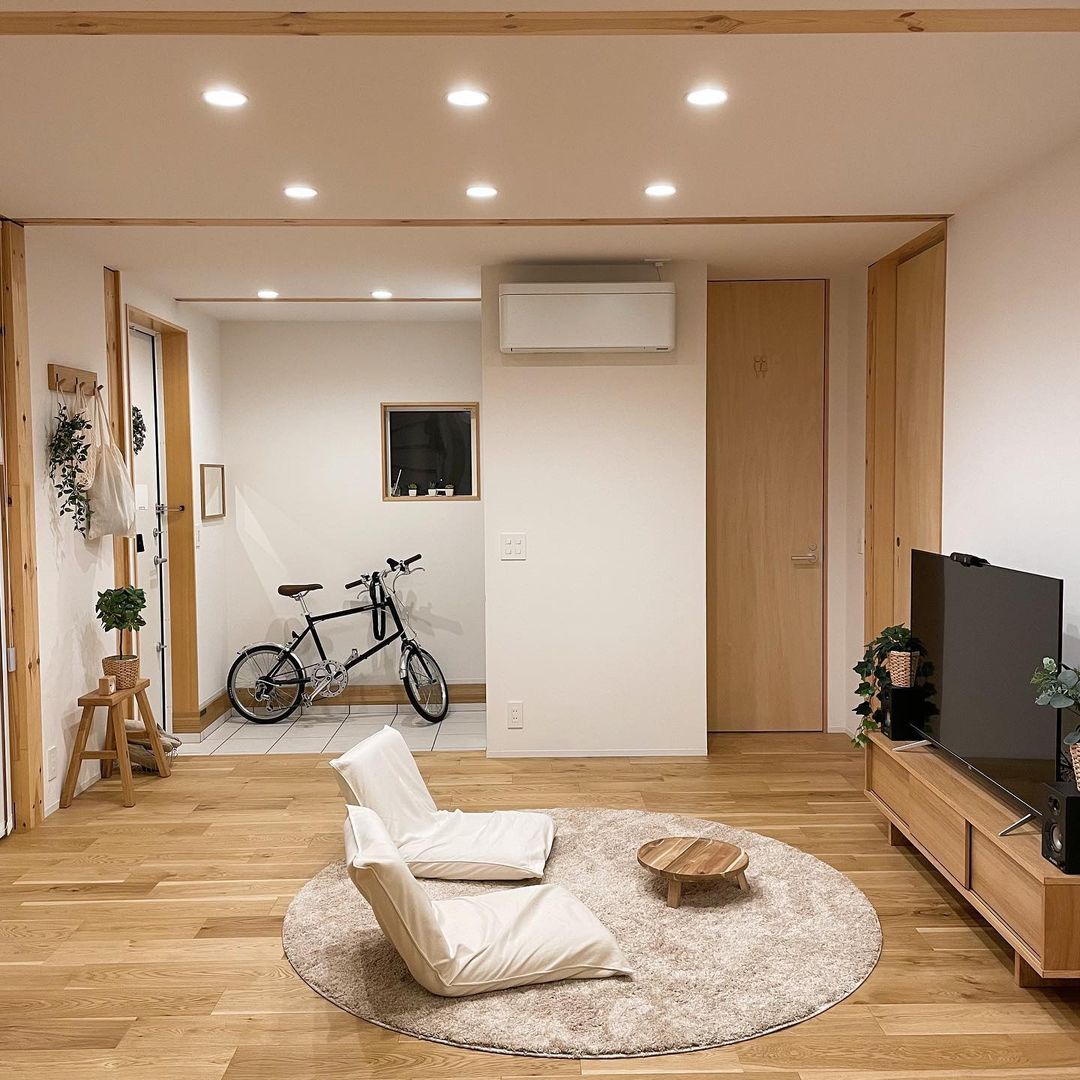 New Atmosphere
If you're working with a tiny space, this is perfect for you. This Japandi living room makes the most of small spaces. A wooden-rimmed mirror with a minuscule shelf offers pops of greenery and dried arrangements. A stand-up lamp gives the hint of tress and life. Small shelving around the TV and along the wall offers more space for both live and dried arrangements, as well as storage space and artwork. Grays, whites, creams, and tans offer a cool, relaxing atmosphere. A small, fold-away desk makes working from home even easier. Definitely a must-try for someone working with extra small spaces.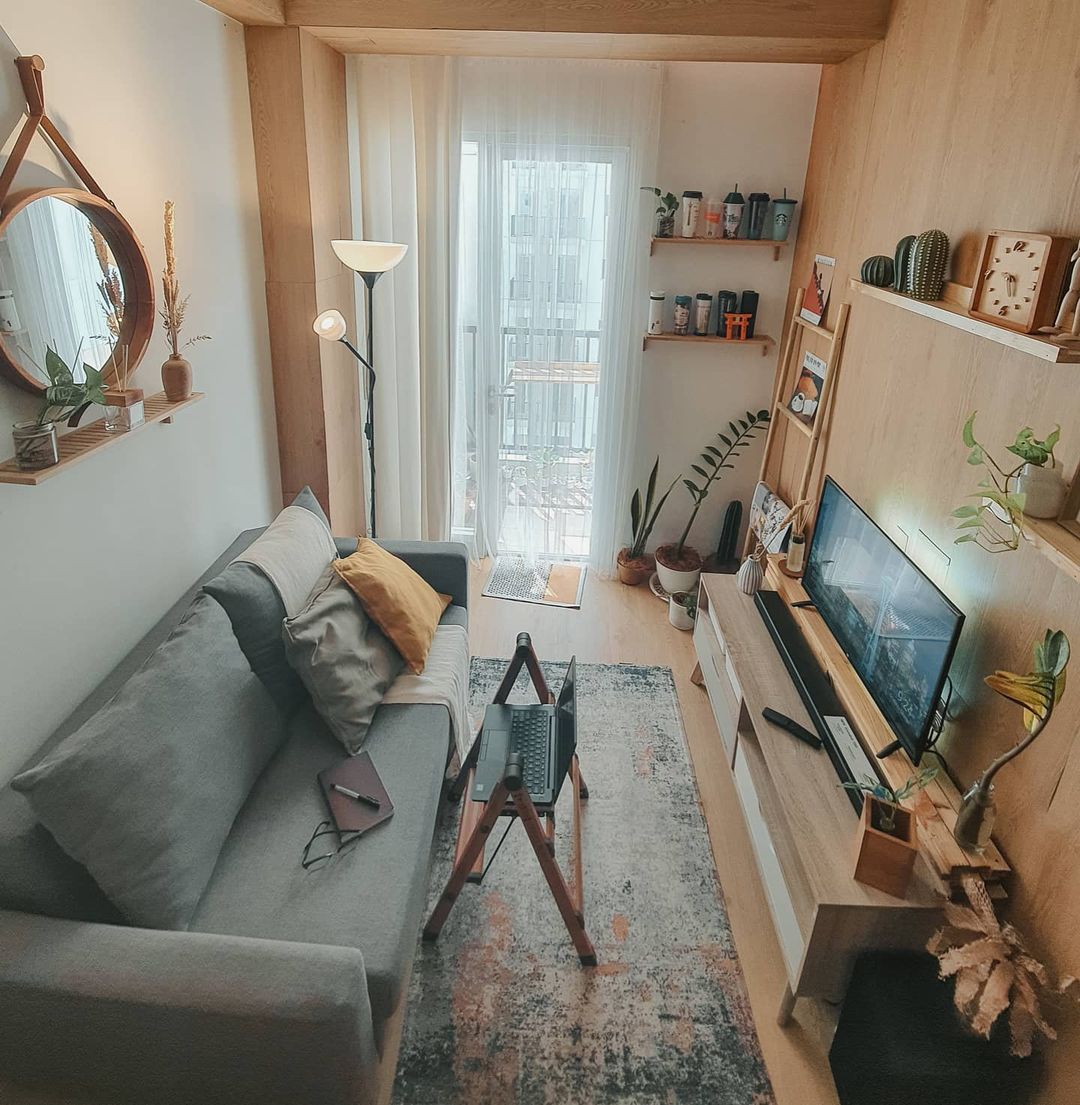 First Floor from Entrance
This open concept living room offers plenty of color with blacks, blues, and several wood tones. It embraces the colors and eclectic sense from the Scandi side while keeping bare wood floors and white walls from the Japanese side of things. Shelving both under the TV and table offers a decent amount of storage to help keep this simple space clean and clear of clutter.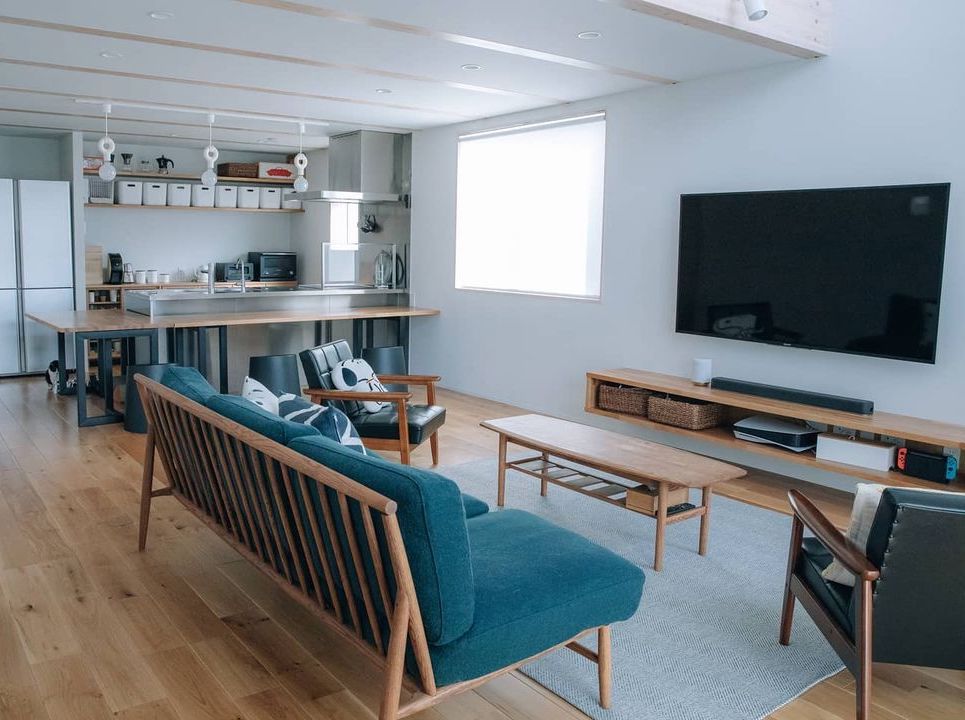 Ima dan Chanoma
Make your small living room feel larger with this simple, yet elegant approach to Japandi style. White and neutral walls and floors become the canvas for warm and cool splashes; a large, comfy rug in gray and white, a corner couch in gray tones with plenty of pillows in matching colors, a gray-on-wood chair, wood-weave poufs, and even a little seat for the little one separate out the living room from the rest of the open concept home. A fresh pop of vines helps to break up the color scheme.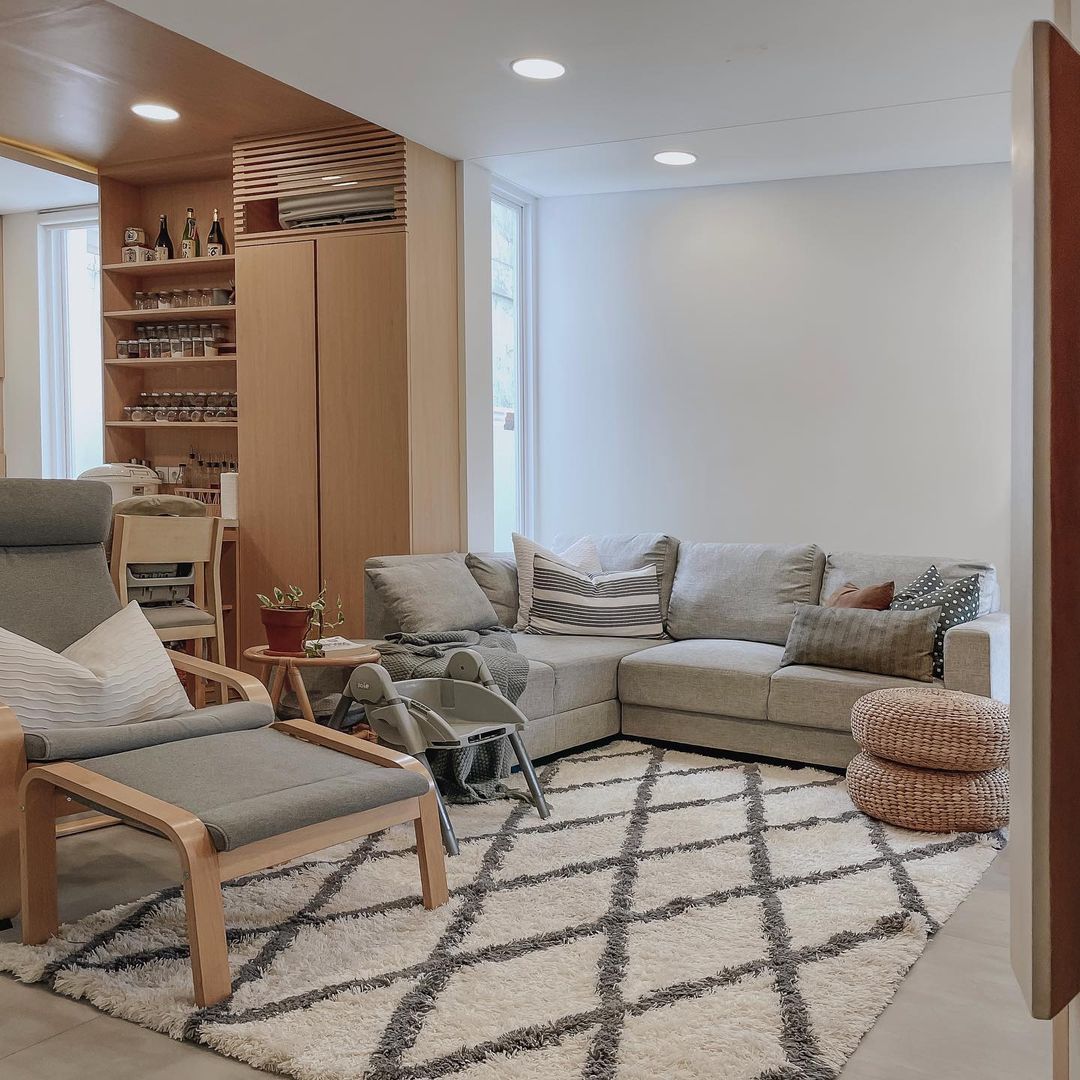 Everyday Coping
A blend of neutral tones ranging from warm to cool make up this cozy little living room. Light tan and gray seating blend beautifully with the white walls, tan flooring, and brown drapery. But this living room is far from drab. With its eclectic decor and mix of modern artwork, it offers style and comfort.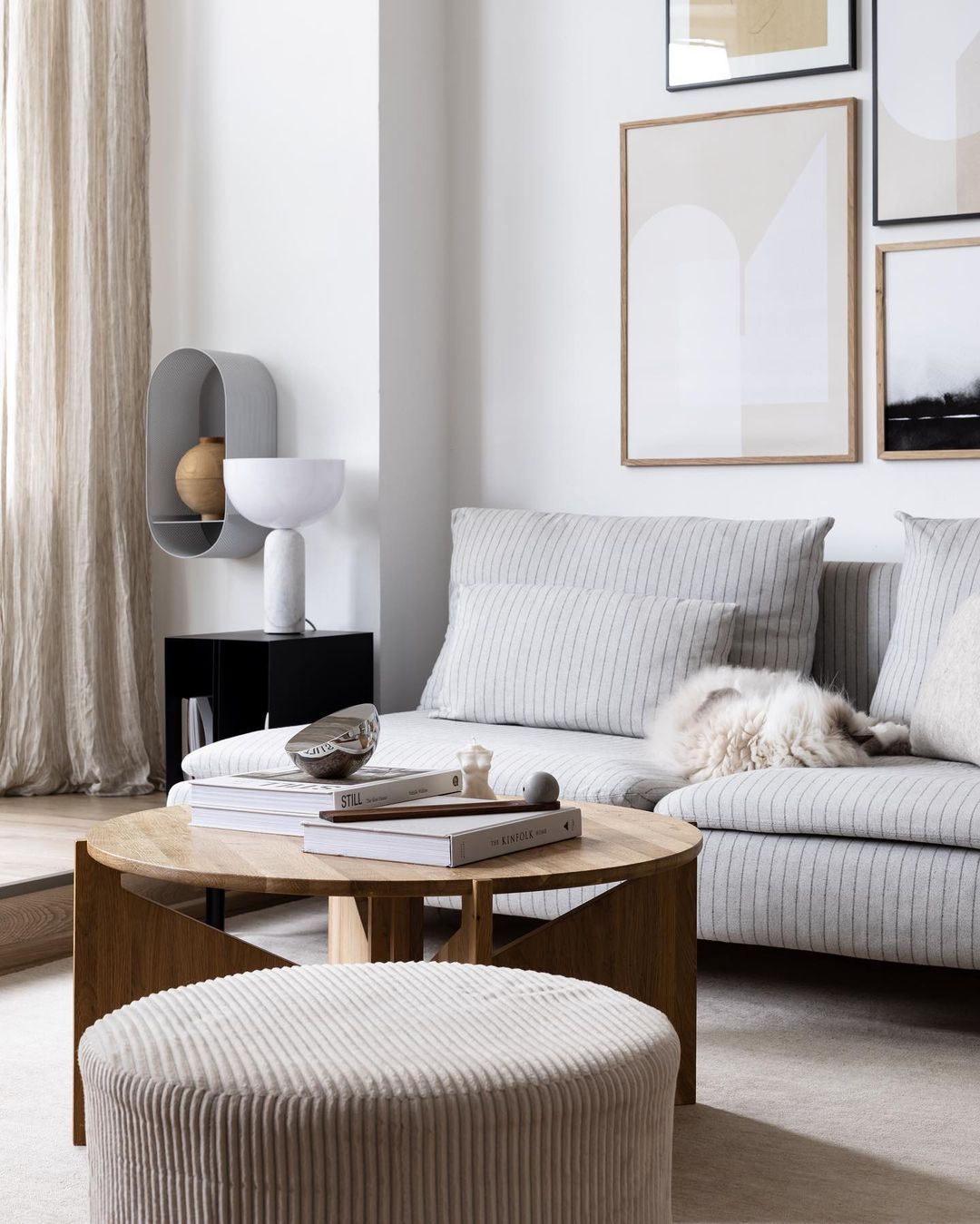 Week 22
This is true minimalism. White walls and accents complement the pale and tan woods of the floor and furniture. A simple, neutral rug offers scuff protection from the gray seating. But what makes this truly minimalistic is the lack of tables. Instead, shelving for both storage and the television, cubbies, and space for all your living room accouterment is set against one wall. This means that there's plenty of open space and not a lot of mess.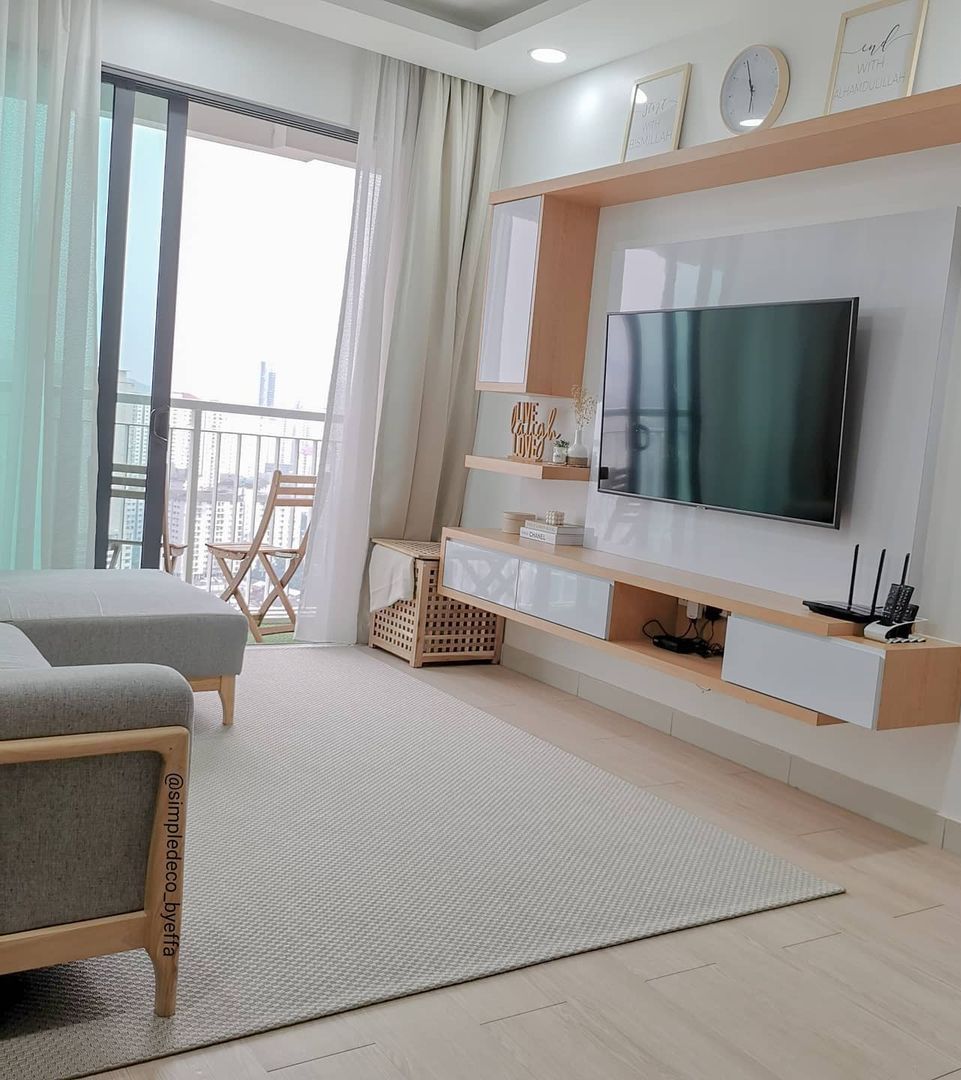 Muji Infill 0
This is another great idea for someone with a dining and living room combo. Comfy bench seats in neutral and blue tones offer great seating whether you're sitting down for a meal, or to just relax and unwind in front of the TV. Dark, leafy greenery and a tall, bright tree give us fresh pops of life, and a dark blue pouf gives us another great place to just veg out. Black and white artwork and black accents throughout give a more serious tone against the white, neutral grays, and natural wood of the room.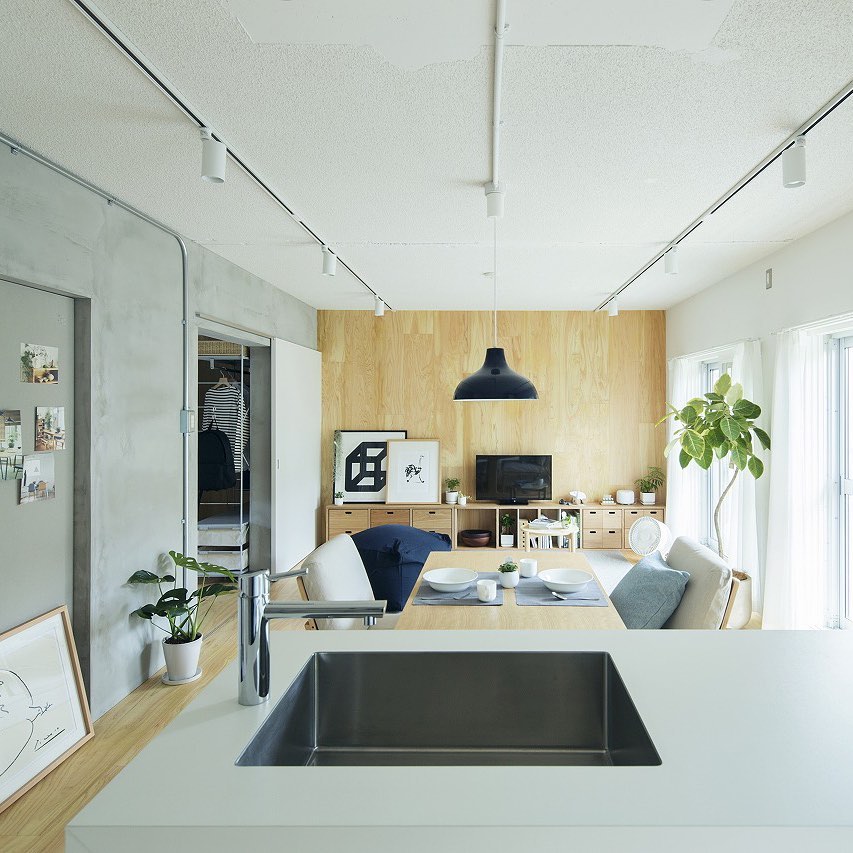 Kinoie Model Part 1
If you're working with a smaller space and a larger staircase, this is a great option for you. Large windows and bare wood trimming give a very open feel while keeping you in touch with nature. Subtle blues and grays help to break up the white-on-wood look, without distracting from the calm. Storage is hidden away under the tables, leaving plenty of space for daily life, while the TV stand offers a little extra storage for magazines and parlor books.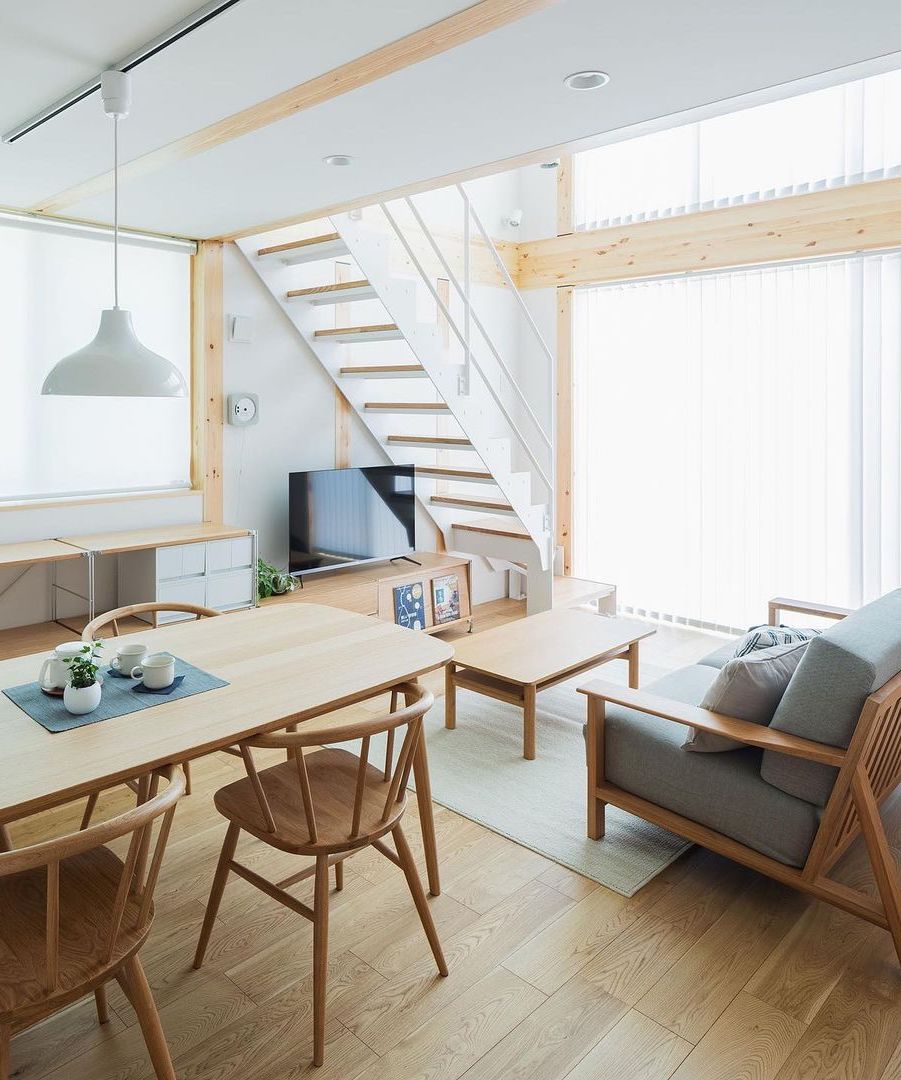 Sources: https://www.instagram.com/p/CPfWWb_MD4L/ 2. https://www.instagram.com/p/CPoYKcsniXa/ 3. https://www.instagram.com/p/CPi_3VxMzl7/ 4. https://www.instagram.com/p/COHvSU6HS12/ 5. https://www.instagram.com/p/CLCc2Ptlsdz/ 6. https://www.instagram.com/p/CNWTrbfgVvf/ 7. https://www.instagram.com/p/COEESTYjO2m/ 8. https://www.instagram.com/p/COjZk80AboC/ 9. https://www.instagram.com/p/CPRLnODLAvH/ 10. https://www.instagram.com/p/CL38uzRFq1h/ 11. https://www.instagram.com/p/CK55zBBlBhN/ 12. https://www.instagram.com/p/CONNBRinkDo/